Boston High School:

Dan Collins
November, 10, 2012
11/10/12
11:05
PM ET
By
Ryan Kilian
| ESPNBoston.com


DANVERS, Mass. -– The stage is now set for yet another Thanksgiving Day game between St. John's Prep and Xaverian to see who will represent the Catholic Conference in the Division 1 playoffs.

Prep (9-1, 3-0) took care of business on Saturday afternoon's Senior Day as they defeated a motivated and resilient BC High team 21-16. They will face their archrivals Xaverian (4-6, 3-0) for the outright Catholic Conference title.

"We knew that they were back and they were healthy and that they are one of the best teams in the state," St. John's Prep head coach Jim O'Leary said of BC High.

BC High struck first in the opening quarter as senior kicker Jackson Bockhorst knocked home a 37-yard field goal with 6:14 on the clock.

With the BC High defense not giving an inch and the St. John's Prep defense playing just as stingy, early yards and first downs were tough to come by.

The play of the game occurred in the second quarter and would shift the momentum in St. John's Prep's favor as they held BC High on a Fourth-and-One attempt at the Prep 28 yard line.

"We came out slow and but that play certainly changed things for us," O'Leary said.

After the hold, Prep fed star junior running back Johnny Thomas six times in a row for 72 yards, culminating in a 14-yard touchdown run.

After a three and out by BC High on the following series, Thomas carried the ball five more times in a row en route to his second touchdown run of the game from three yards out.

"Our defense really motivates are offense," Thomas said. "We just feed off them."

Thomas ran for a game high 172 yards on 28 carries and two touchdowns. He also added two catches for 31 yards.

After a scoreless third quarter, BC High got the big play that they needed to get them back in the game. Senior quarterback Dan Collins would find wide receiver Tim Johnson for a 52-yard touchdown strike with 6:41 remaining in the game to cut the lead to 14-9 after a failed conversion pass.

On the ensuing drive, Prep used a steady dose of Thomas and Moore as they drove 74 yards in five minutes with Moore finishing off the drive by scoring from four yards out to give St. John's Prep a 21-9 lead with 1:21 reaming.

"We looked at each other in the huddle and we knew we had to dig deep," Moore said. "We did not want to leave it on the table so we focused and executed"

BC High would not give in after Moore's score as Collins would lead them down field and find Skelly Enabuele from 17 yards out with 2.1 seconds remaining before the horn sounded on the following kickoff to end the game.

In the Prep Trenches: The St. John's Prep offensive line has done it game in and game out this season, led by senior captain and center James Fagan.

The remainder of the Prep line is made up of underclassmen. They include junior left tackle Sean Hoey, junior left guard Kent Blaeser, junior right guard Dominic Hooven, and sophomore right tackle Jacob Palmer.

On the defensive side of the ball the Eagles front seven played well led by junior middle linebacker Sean Smerczynski (12 tackles), senior defensive end Tucker Mathers (eight Tackles, sack), and senior defensive end Chris Newton (two Sacks).

Turkey Day: Xaverian has now won three games in a row and will host this year's annual Thanksgiving Day rivalry game.

Xaverian has struggled out of league play this season but after defeating Catholic Memorial on Friday 17-7 and BC High last week, 21-17, the match-up should provide a competitive and dramatic ending to the 2012 Catholic Conference season.

"I do not think people understand enough the strength of schedule that we play, BC High plays and Xaverian plays," O'Leary said. "It is a dog fight. Records do not matter right now. We are 3-0, Xaverian is 3-0 and whoever wins on Thanksgiving goes to the playoffs."
November, 3, 2012
11/03/12
11:59
PM ET
By
Corey J. Allen
| ESPNBoston.com


WESTWOOD, Mass. -– Xaverian held the lead for only 1:22 out of 44 minutes, but it was the most crucial minute of the game as the Hawks edged BC High at The Hawk Bowl, 21-17. Hunter Taute capped a theatrical 72-yard drive with a 6 yard bull rush that put the Hawks ahead while the Xaverian defense denied BC High the chance of scoring on the final drive.

"We made some big plays," said Xaverian coach Charlie Stevenson. "We were balanced. Certainly one of out better drives this year and it was a very opportune time to have it."

Xaverian (3-6, 2-0 Catholic Conf.) started its final possession of the afternoon from their 28 with 8:00 left on the clock after a BC High punt from the Xaverian 34 went out of bounds. Alternating between Shayne Kaminski (10 carries, 40 yards) and Mike Brennan, the Hawks got two quick first downs on four rushing plays. From midfield, Kaminski kicked down to the 46 of the Eagles (3-5, 1-1 Catholic Conference), where Austin DeCarr found Aiden Desrosiers for a 14-yard gain.

Brennan was stopped on the following play for no gain, and the end around to the right ran by Pagliuca netted only one yard before he was collared by BC High's Brian Robinson. On third down, Pagliuca caught the ball but the play was blown up by Brandon Owens, who sent Pagluica down to the ground and the ball flying straight back, setting up fourth and 9 from the BC High 31. Joe DeNucci, who had fans in the stands wearing t-shirt replicas of his jersey, made a crucial catch for a ten-yard gain and the first down with 3:35 to go.

Kaminski resumed his tugboat duties and rushed for three, three then eight yards on third and four from the 15, setting up first and goal on the 7 with just over two minutes to go. Brennan rushed for a yard, but another incomplete hookup between Pagliuca and DeCarr brought up third down. DeCarr threw the ball and it sailed out of the end zone, but the head referee called defensive holding, allotting the Eagles a fresh set of downs with under two minutes to go.

Kaminski rushed for two, bringing the ball to the one, and Maurice Hurst ran in his second score, but an illegal motion brought the ball to the six. Hunter Taute (9 carries, 39 yards, TD) ran left and with fire and desire, and crossed the plane at 1:22 with a stretch play to take the lead for Xaverian for the first time on the day. Kyle Darrow's kick gave Xaverian a four-point lead, necessitating BC High to score a touchdown.

Although the Hawks' defense missed two in-hand interceptions on BC High's final drive and got a 15-yard unnecessary roughness penalty on third and long, Xaverian held the Eagles to a one-yard run in the last 1:14, seal a slippery victory.

"Our defense played great during the final possession we had. We did a great job of shutting them down throwing the football."

Love is Love: Although there were no stories being shared between the first whistle and the last whistle, there was camaraderie after the matchup between the rivals and their players.

"As you can see, [BC High's] Jack [McDonald] and Mo are down there hugging and kissing, taking pictures for their moms," Stevenson half-joked after the game. "That's the kind of game it is when Xaverian plays BC High."

XAVERIAN 21, BC HIGH 17
BCH (3-5) 7 7 3 0 --- 17
XAV (3-6) 0 7 7 7 --- 21

First Quarter
B – Dan Collins 17 interception return (Jackson Bockhorst kick)

2nd Quarter
X – Maurice Hurst 1 run (Kyle Darrow kick)
B – Collins 11 run (Bockhorst kick)

3rd Quarter
X – D.J. Pagliuca 88 kickoff return (Darrow kick)
B – Bockhorst 34 field goal

4th Quarter
X – Hunter Taute 6 run (Darrow kick)
September, 27, 2012
9/27/12
12:42
AM ET
Another big inter-state matchup is on tap this weekend, as No. 22 Boston College High heads to the Garden State to take on Jersey City, N.J. powerhouse St. Peter's Prep, at Rutgers Stadium, as part of the 2012 Great American Rivalry Series.
St. Peter's won last year's contest in Dorchester, at Viola Stadium, 35-19. For a refresher of that game,
CLICK HERE
.
To break down the two matchups, we've collaborated with MSG Varsity senior editor Brian Fitzsimmons to get New Jersey's perspective on this matchup. ESPN Boston High Schools editor Brendan Hall provides the skinny on what to look for from BC High.
WHEN BC HIGH HAS THE BALL
Brendan Hall, ESPN Boston High Schools Editor:
Under Jon Bartlett the previous four seasons, the Eagles experienced one of their greatest periods of success, winning Division 1 Eastern Mass. Super Bowls in 2008 and 2011. But a lot has changed since last season, when the Eagles showed some late mettle in an otherwise forgettable 35-19 loss to St. Peter's and used it to kick-start a run to the D1 Super Bowl title.
For starters, Bartlett stepped down as coach last April, but remains on as the school's Athletic Director. Defensive coordinator Joe Gaff was swiftly promoted to head coach status. At quarterback they graduated Bartley Regan (Stonehill), and at running back they graduated one of their best ever in Preston Cooper (cousin of veteran Chargers linebacker Stephen Cooper), who is currently enrolled at Dean Junior College down the road in Franklin, Mass.
And with it, the Eagles have apparently lost some firepower. Most of us were pretty high on BC High heading into the season, starting at No. 2 in ESPN Boston's statewide MIAA Top 25 poll, largely on the hype of its Division 1 talent in offensive lineman Jack McDonald (Virginia), wideout Lincoln Collins (Villanova), and linebackers Brandon Owens (Bryant) and Luke Catarius. The craziest story might be senior quarterback Brendan Craven, who received an offer from Valparaiso University before he even took a snap of varsity football.
But things went south quickly for the Eagles, who were shut out on opening night by Brockton (21-0), then outgained in yardage 445-96 in a 27-7 loss to North Attleborough the following week, to tumble 20 spots in our poll. In the first two games the usually sure-handed Collins, a big target at 6-foot-4, was also held without a catch.
Worst of all, the injury bug hit hard, with seven starters missing in that North Attleborough loss. Craven took a nasty shot to the knee at the end of the Brockton loss, though he's expected back soon, and Catarius -- a returning ESPN Boston All-Stater -- suffered a hairline fracture on his ankle in the preseason and isn't expected back until mid-October.
The Eagles appeared to break out of their funk last Friday, however, with a nice 31-0 win over upstart Dartmouth. McDonald moved from guard to right tackle, a new Collins (Andrew) did enough at quarterback to get the job done, and Lincoln Collins broke through with a monster night -- five catches for 181 yards, including one electrifying play in which he turned a five-yard out into an 85-yard touchdown scamper. Once again, however, the injury bug hit, taking Owens, who is also the feature running back.
Lincoln Collins had a nice day last year against St. Peter's, for those who recall (6 catches, 84 yards). If BC High is to have a chance in this -- and by the sounds of it, it's a puncher's chance -- then they're going to have to find a way to get Collins open. That will likely incorporate a good share of screens, and if there is one positive so far, it's that they have executed those well for big gains in spurts.
Brian Fitzsimmons, MSG Varsity Senior Editor:
BC High's offense will need to be in its finest form if the squad plans on trading punches with its latest opponent – and it starts with Villanova-bound wide receiver Lincoln Collins.
If Collins can explode for at least one or two home runs and catch the Marauders off guard, perhaps the score will be even closer than last season's matchup.
St. Peter's defense isn't one to doubt, though. Senior linebacker Shane Huber leads the team with seven solo tackles and two sacks, while Tre Bell and Brian Githens are quick, agile corners.
BC High is no stranger to the intense pressure of facing talented teams from New Jersey; the Eagles had DePaul Catholic (Wayne, N.J.) on the ropes in a 49-35 loss in Week 2 before falling to St. Peter's in Week 4.
This past weekend, BC High coach Joe Gaff reflected on what last year's 35-19 setback to St. Peter's meant to their Super Bowl season.
"We went down there and we competed against two really good teams with great speed," Gaff told ESPNBoston.com. "When we came back, we solved things. As a defense, I know it really clicked for us because we saw faster players. So that's what we're hoping for."
An upset victory wouldn't be so bad, either.
WHEN ST. PETER'S PREP HAS THE BALL
Hall
: St. Peter's quarterback and current West Virginia athlete Brandon Napoleon had a field day against BC High in last year's meeting, racking up 145 yards from scrimmage and making some electric returns in the kicking game. By the sounds of it, if this St. Peter's squad is anything like the St. Joseph Regional squad that pasted Xaverian 62-0 in Week 2, then the Eagles are going to have their hands full once again.
And worst of all, they are missing their quarterback of the defense, Catarius. At middle linebacker he is among the state's elite in run support, and makes the calls that orchestrate Gaff's defense. Without him, there have been communication errors and some holes that were exposed often in the first two weeks of the season.
After pitching a shutout last Friday, the Eagles appear to have solved a few of those issues. But with Owens' status unknown, there will be some added pressure on the front four, led by McDonald, Billy Breen, Mark McGuire and Jaleel Johnson. By Massachusetts' standards, they certainly have the size and strength to hold their own, dominating up front on Friday, never letting the Dartmouth running game stretch the field and get out of first gear. How that translates against elite New Jersey parochial talent remains to be seen.
In the secondary, the player to watch is senior Tim Johnson, another one of seemingly a handful of FCS prospects. He first gained recognition for his back-breaking interception in the D1 Super Bowl last December, and has since followed up with some nice performances early on this season. But like every other area, he will be tested thoroughly.
Fitzsimmons
: BC High covets a grueling test filled with speed, and there's no doubt the Eagles will get their wish when taking on St. Peter's Prep (N.J.) on Saturday.
The Marauders, ranked fifth among all New Jersey/New York/Connecticut teams in the latest MSG Varsity Tri-State Top 25 poll, are off to a rousing start thanks to their formidable offensive unit.
They won by forfeit over Kearny this past weekend, so coach Rich Hansen and his team will look to recapture the explosiveness displayed in the opening weeks of the season. St. Peter's opened the campaign with a 31-6 victory over McDonogh (Md.) in Annapolis and then cruised past Memorial by a whopping, 77-7 margin.
Jonathan Hilliman, Trejon Dinkins and Minkah Fitzpatrick anchor the ground game, combining for nearly 600 yards in two contests. Hilliman, a junior who has attracted offers from nearly every big-time Division I program, is the group's workhorse with 293 yards and four touchdowns.
Quarterback Mike Rabasca is a solid game manager, and he gained valuable experience last season, when starter Brandon Napoleon – now at West Virginia – went down with injury for several weeks. Don't be surprised to see heralded freshman Brandon Wimbush under center more often as the weeks go by.
As potent as the running backs are, the Marauders' biggest threat is wide receiver Charlie Callinan. The 6-foot-4, 200-pounder is long, athletic and possesses great hands – all sparkling attributes that make the Boston College-bound senior a true game-changer.
Under the guidance of Hansen, the Marauders have established themselves as the measuring stick for all Hudson County programs. They haven't lost to a Hudson County opponent since 1999, but joining fellow North Jersey parochial powerhouses Don Bosco Prep, Bergen Catholic and St. Joseph Regional remains the ultimate goal year in and year out.
St. Peter's Prep hasn't won a Non-Public Group 4 state championship since 2005, thanks to the remarkable run authored by Don Bosco, which has clinched six straight state titles and two of the last three national crowns.
So naturally, this weekend isn't so much about defeating an out-of-state foe; this is about excelling during another tune-up for a championship run against the Goliaths of the Garden State.
September, 25, 2012
9/25/12
3:36
AM ET
RIGHT NOW, QURON WRIGHT IS WITHOUT PEER
At least, statistically speaking. In a blowout of Arlington Catholic last weekend, the Holy Name senior tailback needed just five carries to rack up 216 yards and three touchdowns. Two weekends ago in another blowout win, this one over Westborough, Wright carried six times for 160 yards and three scores. So after garnering a Yeoman's workload in a Week 1 shootout loss to parochial rival St. John's of Shrewsbury (28 carries, 282 yards, 4 TD), Wright's stat line looks like this: 39 carries, 658 yards, 10 touchdowns, for a ridiculous average of 16.5 yards a carry.

Forget the opponents. That, folks, is just insane. Especially considering the Lilliputian scatback's generously-listed size of 5-foot-7 and 165 pounds, and the Naps' brutal double wing scheme that predicates itself on an intense measure of physicality at the point of attack.

But sometimes, it's the little guys that are the most durable -- just ask Ray Rice or Darren Sproles. And perhaps even moreso, Wright has the benefit of a particularly huge offensive line. Basit Dennis (6-foot-2, 290 pounds) gets the most attention on account of being the lone senior, but from tackle to tackle this is a unit that moves people off the ball, aided by junior Joe Fitton (6-foot, 245 pounds), freshman Liam Perry (5-8, 235) and sophomores Antonio Paulino (6-0, 255) and Nick Geneva (6-4, 310). Throw in the one-inch splits and convoy-style sweeps, and you have a recipe for disaster.

Last year, we were spoiled with unheard-of performances by running backs, between Melquawn Pinkney's 2,900 rushing yards for Putnam, Jared Taylor's 308 yards at Gillette Stadium for Mashpee, and Armani Reeves averaging a touchdown almost every three touches for Catholic Memorial. It's still a bit premature to stack Wright up against any of these guys just yet, but none of them have averaged 16.5 yards a carry over a full season.

As it stands, Wright is on pace to break his school's record for career rushing yards, held by current Philadelphia Eagles fullback Emil Igwenagu. If Wright keeps it up at this clip, though, he could be in for a lot more accolades.

CAN ANYONE SCORE ON READING?
Through the first three weeks of the season, No. 6 Reading has kept its opponents' offenses pin-drop quiet. But allow Jaddiel Polanco to break the silence with some self-awareness.

"Hey @BHallESPN just want to say I think I'm the only person to score on Reading #4 #LawrenceHigh #JustSaying", the Lawrence High senior cornerback wrote to ESPN Boston High Schools Editor Brendan Hall in a tweet early Monday evening.

There has been some stout defense demonstrated by some of the state's top teams in the first month of the season. Nashoba, Beverly, and Everett come to mind so far, either locking up in crucial moments or -- in the case of the former two -- never letting the opponent get out of first gear. But nothing compares to what Reading is doing right now. Since Polanco's safety in the third quarter of Reading's 46-2 blowout of the aforementioned Lancers, the Rockets have pitched nine straight quarters of shutout football, outscoring the opposition 80-2 so far in 2012. That includes a very nice 12-0 shutout of Brockton on the Rockets' home turf.

We can credit a lot of things for the stifling start to Reading's season, as it looks to win a sixth straight outright Middlesex League title. But most importantly, it starts at the line of scrimmage, and few players in the state have been as dominant in the interior as senior Matt Comerford. The 6-foot-4, 290-pounder has surprising agility for a player his size (blame his skills in net as a lacrosse goalie, if you must), and that trait has been contagious.

Where does it go from here? The Rockets figure to have an interesting time slowing Burlington running back Marcus Odiah when they meet the Red Devils on October 5. Last year's 32-27 Reading win will surely be on Burlington's minds, as Odiah quietly crossed the 100-yard plateau but was held in check for good stretches of the game.

TAKING OFF, OR GROUNDED AGAIN?
The injury woes that have beset BC High in the early season are on par with a Greek tragedy, or at least a comedy of errors on par with NFL replacement referees. A seemingly impossible string of seven starters missed BC High's Week 2 loss to North Attleborough.

While the Eagles were fortunate to get a few bodies back for Friday night's non-league matchup with Dartmouth, including run-stuffing defensive tackle Jaleel Johnson, they suffered yet another potential big blow. In the midst of running away with a 31-0 win over the Indians, BC High saw starting running back Brandon Owens go down with a high ankle injury. While the Eagles got into the win column on the season, the road doesn't get easier with a trip to New Jersey and St. Peter's Prep.

But, as Eagles head coach Joe Gaff sees it, things are only getting better.

Gaff cited last year's game against St. Peter's as a formative experience in the Eagles eventual run to a Division 1 Eastern Mass. Super Bowl title. After Friday's win, Gaff had positive memory of last year's encounter, despite a loss. Having to play against the speed of the New Jersey powerhouse (ask Xaverian about competition in the Garden State), Gaff said the Eagles were better prepared to take on their Catholic Conference and playoff schedule.

Plus, there's another pot of gold coming in Week 5 for BC High – a bye.

"That will be an important week for us," Gaff said, "it'll give us a chance to get some bodies back hopefully and let us regroup a little bit."

The Eagles have done their best plugging holes in the interim. Dan Collins has effectively taken the reins of the offense from Brendan Craven in his absence and Skyler Evans showed good instincts running the ball during the second half at Dartmouth, filling in for Owens.

For the Eagles now, it's just a matter of time.
September, 22, 2012
9/22/12
1:03
AM ET


DARTMOUTH, Mass. – What's the old expression that you have to crawl before you can walk? No. 22 BC High football did a little bit of both while capturing its first win of the season in a 31-0 blanking of Dartmouth on Slocum Road.

Hampered by an ever-mounting list of injuries to starters, the Eagles weren't about to make excuses for themselves and their 0-2 start. So they continued plugging holes, watching younger players step into greater roles. Of course, it always helps when you're star receiver puts up a 5-catch, 181-yard night as Villanova commit Lincoln Collins did Friday night. But even as Collins was doing big things, it was the little things that sprung the largest gains.

The prime example was Collins' electrifying 85-yard touchdown midway through the third quarter.

Mired in a competitive 10-0 battle at halftime, the Eagles (1-2) distanced themselves with Collins' lone touchdown of the game in the third. After starting a drive backed up in their own end, BC High was simply looking for a first down and some field position on a third-and-3 drop back by quarterback Dan Collins (6 of 9, 199 yards). The play call had Lincoln Collins, the rangy 6-foot-4 target, as the right outside receiver. Lincoln's route a routine 5-yard out on a play designed simply to pick up that crucial first down.

What happened from there took everyone by surprise.

Lincoln shook his defender, using his sizable wingspan to stiff arm the cornerback. Once he wiggled a couple more yards downfield, it was fellow receiver Tim Johnson, who with a downfield block on Dartmouth's strong side safety, allowed Lincoln space to burn down the right sideline to paydirt.

"That was just all teamwork," Lincoln Collins said. "Tim [Johnson] came underneath and made a great hustle play."

From there, the Eagles were off and running with 21 points after halftime to close out an emphatic and much-needed victory.

"We came in as a unit and said, 'We've gotta' finish it,'" said Eagles head coach Joe Gaff, who also collected his first win as head coach at BC High.

INJURY BUG STRIKES AGAIN
BC High was out to a 7-0 lead on a 9-yard touchdown run by Brandon Owens (11 carries, 63 yards, TD) and finding increased success in the running game.

That is until the Eagles were again thrown for a loss.

With less than three minutes to play in the first half, Owens was running a stretch play to the left side when he was met in the backfield by Indians linebacker Dalton Soares. Both players went down in a heap, with Soares taking a nice angle to the ball. However, when Owens cleat was caught in the turf and Soares corralled him to the ground, BC High's senior back was left on the field grabbing his left ankle.

Owens was assisted off the field flanked by two his teammates and was unable to put pressure on that leg.

Gaff said Owens will be evaluated tomorrow. But the scenario strikes home with the Eagles who'd already lost seven starters to injury coming into Friday's action.

"I hate to say it, but we've gotten hardened to all the guys going down," Gaff said. "We've got seven starters not playing – that's not an excuse, we're BC High, we've got plenty of guys. They're stepping up and trying to the best we can. That's all I can ask from them and tonight they did it."

It's also helped the Eagles shape a mentality early in the year.

"Our mentality is plug-in and plug-out," Lincoln Collins said. "We'll just keep pushing and we'll get guys back eventually. We've just got to keep going."

CONTAIN YOURSELF
The key to BC High's defense shutting down the Dartmouth attack was keeping their outside contains. As the Indians (1-2) tried to bounce their running backs outside, they were often met by an Eagles end or outside linebacker – many times at a loss. While Dartmouth has some talented runners in senior captain Mitch Loranger and running back turned quarterback Tim Smith, but BC High was able to all but erase the Indians' ground game, forcing Smith (who was making his first start under center) to beat them.

There was simply no getting around the outside of BC High's front seven with Steve Dicienzo, Mitchell Laferriere, Brian Robinson, and Owens doing the duties. Coupled with a strong inside presence from defensive tackle Jaleel Johnson, who returned from injury, the rushing lanes largely were unavailable.

"They kept widening and widening, so we tried to run it inside,' Dartmouth head coach Rick White said. "They took away our outside run, they did a good job of that. Those outside ends were very good athletes."

ALL'S NOT LOST
While it might not have been the result the Indians were looking for, White and Co. made a statement in adding the Eagles to their 2012 slate. White was pleased with his team's ability to match BC High's physicality.

Had the Indians been able to scrape across some points in the first half, the game's complexion might have been very different. Dartmouth started four of its five first-half drives on the plus side of the 50-yard line, including a first-and-goal from the 7 after a fumble recovery by Eddie Cadorette (2 TFL). Both teams lost fumbles on their respective opening drives. The Indians also missed a 27-yard field goal attempt at the tail end of the second quarter.

"We had three chances to score in the first half of the game and we couldn't do it," White said. "That was the difference."

BUILDING TO A POINT
BC High doesn't have long to enjoy win No. 1 with New Jersey power St. Peter's Prep looming.

Next Saturday, the Eagles travel to play the Jersey City school at Rutgers University.

While the Eagles will have their hands full with one of the nation's top programs, their boss reflected on what last year's 35-19 loss to St. Peter's meant to their Super Bowl season.

"We went down there and we competed against two really good teams [St. Peter's and DePaul] with great speed," Gaff said. "When we came back, we solved things. As a defense, I know it really clicked for us because we saw faster players. So that's what we're hoping for."
September, 8, 2012
9/08/12
12:16
AM ET
By
Adam Kurkjian
| ESPNBoston.com
BROCKTON -- There have not been a lot of recent instances where Brockton was beaten as soundly as it was by BC High in last year's season opener.
The Eagles' 42-0 win was complete in every phase on their way to a Division 1 Super Bowl title. The loss sent Brockton into a tailspin that resulted in a 5-6 season, the program's first losing mark since 2001.
Well, last night at Marciano Stadium, the Boxers delivered a rousing counterpunch with a 21-0 shutout that felt even more decisive than the final score indicated.
"Last year, we couldn't match them, physically," said Brockton coach Peter Colombo. "This year, we obviously did."
And then some. Both lines dominated for the host Boxers, as they rushed for 310 yards and held BC High to 143 total and just 62 in the second half.
[+] Enlarge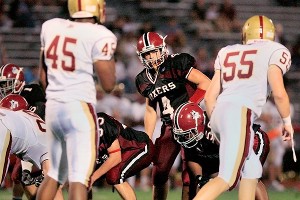 Jon Mahoney for ESPNBoston.comBrockton QB Austin Roberts orchestrated the offense in a vengeful shutout of rival BC High.
Senior quarterback Austin Roberts led the way for Brockton with 139 yards and two touchdowns on 23 carries, while junior tailback Aaron LeClair added 83 yards and a TD on seven attempts and fullback Ricardo Calixte contributed 61 yards on 10 rushes. Brockton only threw two passes (one interception, one incompletion), but didn't need to the way their front was blowing BC High off the ball. The Boxers completely eschewed the passing game in the second half with zero attempts but didn't punt, either. Their four second-half possessions read: touchdown, touchdown, lost fumble, touchdown.
The defense was physical and had its way between the hashes just as much as the offense did. Nowhere was that more apparent than at the end of the first half with the game still scoreless, when BC High marched inside the Brockton 10. On third down, quarterback Dan Collins took off and made a leaping attempt to the goal line but was leveled a yard short by a host of Brockton tacklers. After a timeout, BC High decided to go for it but Collins' sneak was stuffed by backup middle linebacker John Flaherty. The momentum lifted Brockton into the second half and the Boxers never looked back.
"I can't describe it. I'm still speechless, actually," said Brockton defensive back Micah Morel, who made an interception in the second half and played tight man coverage in the first half on Villanova-bound receiver Lincoln Collins. "I mean, I know it was only 21-0, but whenever you pitch a shutout against the No. 2 team in the state, that's saying something. That's saying a lot."
STRENGTH IN SENIORS
Usually, when BC High and Brockton meet up, no matter what the final score says, the ledger of the line play favors BC High. That was not the case Friday night. Not even close. Despite boasting Virginia-bound lineman Jack McDonald, BC High was pushed backwards on both sides of the ball by Brockton's line. The difference? For the first time in at least seven years (maybe longer), Brockton started five seniors on the offensive line. The defensive line is also a veteran unit. Four-year starters Joe Previte and Anthony Davis led the way, as Previte showed off the strength he displayed this offseason in throwing up a 410-pound bench press. On defense, players like Malik Cooley-Walker, Jeff Celestin and Max Castor were in the backfield all night.
LEADING ROLE
Like many teams, the Boxers have taken on the personality of their quarterback and it looks like it will pay big dividends this fall. Roberts is a tough runner who creates extra yards after contact and is simply a natural leader on the field. Many of his runs were just pure sneaks that he turned into 5-yard gains as the line pushed the pile forward. Coach Peter Colombo had the difficult task of retooling an offense that was shut out four times last season and built one around the strengths of his returning talent. The option scheme used most prominently in the college game by the likes of Navy and Georgia Tech can only work with a smart, tough quarterback and Roberts has both of those traits in abundance. He is also bigger, stronger and faster than he was last year, as he simply refused to go down on the first hit.
ROUGHED UP
BC High came into the game missing fullback/linebacker Luke Catarius to injury. The Eagles were also out three other starters on both lines, which needs to be factored in to an extent when taking into account how much Brockton controlled things physically. But at the end of the game, BC High suffered yet another brutal setback when quarterback Brendan Craven was carted off after getting hit low as he released a pass on the final possession of the game. In a scene eerily similar to Preston Cooper's season-ending ankle injury against Everett, Craven's injury looked very serious and left a pall over an already shaken squad.
BROCKTON 21, BC HIGH 0
BC High (0-1) 0 0 0 0 – 0
Brockton (1-0) 0 0 7 14 – 21
Third Quarter
Austin Roberts 1 run (Levon Merian kick)
Fourth Quarter
Aaron LeClair 10 run (Merian kick)
Roberts 23 run (Merian kick)
September, 2, 2012
9/02/12
10:41
PM ET
By
Bruce Lerch
| ESPNBoston.com
With a new head coach patrolling the sidelines, some preseason injury concerns and a cast of new faces stepping into crucial roles on the field, an element of change has certainly been in the air around the BC High football program.

Joe Gaff, a 26-year veteran of the Everett police department, was tabbed to replace Jon Bartlett this summer. Gaff served as the Eagles defensive coordinator the last four years and has previous head coaching experience with Chelsea, Matignon, and Malden Catholic.

The Eagles quest to defend the Division 1 Super Bowl title has gotten off to something of an auspicious beginning, most notably because of the loss of All-State linebacker Luke Catarius. Catarius suffered a slight fracture to his right ankle earlier this week in a scrimmage with Mansfield, and will miss five to six weeks according to Gaff.

Standouts Jack McDonald, Billy Breen and Jaleel Johnson all sat out Friday's scrimmage against Lawrence with what Gaff called "nagging injuries", but all three are expected to be ready to go for Friday's season opener in Brockton.

On the field, the Eagles strength looks like it will be on defense, even with Catarius sidelined. Mark McGuire and Johnson are the anchors at defensive tackle while Tim Johnson and Mike McAuley (who had two interceptions in the Lawrence scrimmage) are standout cornerbacks.

At the linebacker spots, replacing Catarius will be difficult but the Eagles will lean on returnees Danny Collins and Brandon Owens. Brian Robinson has had a terrific preseason, Brian Landry is back after taking two years off from football, and Steve Dicienzo will also contribute.

When asked who would be looked to step up to fill the void left by Catarius, Gaff pointed at the group and talked about some changes the defense will have to make.

"I don't think I can pinpoint one guy. It's more of a unit," Gaff explained. "We've been playing a lot of base defense and letting Luke just read and go so we're going to have move our defense a lot more. We're going to have to be a bit more aggressive and make things happen instead of letting Luke clean things up. We have to set the tempo now and move our guys around a lot more than we have in the past."

The kicking game will also be stellar. BC High boasts one of the state's elite kickers in Jackson Bockhorst, who can hit from 50 yards out, and a strong punter in Pat Ahearn.

Offensively, the Eagles are extremely talented but very inexperienced. Virginia commit McDonald (6-5, 270 lbs.) and Breen (6-4, 240 lbs) will anchor the line from the tackle spots, although the versatile McDonald can play all five positions if needed. BC High adds three new starters to the unit, but the expectation is that they will be able to continue a fine tradition of line play at the school.

"We'll be a pretty quick offensive line this year," said Gaff. "We don't have the huge size all the way across but we'll be very athletic up front. We're looking to keep the tradition of solid offensive line play, keep the running game going, and they know that's what we want."

Senior Brendan Craven steps in at quarterback after spending the last couple of years watching former starter Bartley Regan, although Gaff hinted that Danny Collins may be used in spots as a change of pace, running QB in certain situations. Craven's main target should be 6-foot-4 Lincoln Collins, who committed to Villanova over the summer. Tim Johnson and Mike McAuley step into the lineup alongside him.

Brandon Owens will be the main tailback, joined by Skyler Evans. Catarius also served a crucial role as the team's fullback, so look for DiCienzo and Mitch LaFerriere to pick up the slack.

"I think we need some experience in the passing game," Gaff admitted. "We have talent but its been a lack of playing time for those guys. (Craven) is a first year quarterback and we have inexperience at WR. Even with Lincoln as great as he is, our two and three guys haven't got too much experience as receivers. And we have a new running back too, and losing Luke from that means we will have to do some different things."

BC HIGH AT A GLANCE
2011: 10-3, Division 1 Super Bowl champion
Coach: Joe Gaff (1st season)
Key Returnees: Billy Breen, Sr., OT/DL, 6-4, 240 lbs; Jack McDonald, Sr., OT/DT, 6-5, 275 lbs; Jaleel Johnson, Sr., DT, 6-2, 240 lbs, Mark McGuire, Sr. DL, 6-2, 200 lbs.; Tim Johnson, Sr. DB/WR, 5-10, 175 lbs.; Danny Collins, Sr. MLB/QB, 6-2, 185 lbs.; Lincoln Collins, Sr., WR, 6-4, 180 lbs; Brandon Owens, Sr. LB/RB, 6-0, 200 lbs.; Mike McAuley, Sr. DB/WR, 5-11, 170 lbs.; Brendan Craven, Sr. QB, 6-3, 180 lbs.; Skyler Evans, Sr. RB, 5-9, 180 lbs.
Strengths: Defense, kicking game, senior leadership.
Weaknesses: Inexperience on offense, key injuries.
Outlook: The defending Super Bowl champions have a different look and feel from the team that won the title, not just because those seniors are gone but also because those seniors were able to get playing time as juniors and sophomores, something much of this year's senior class hasn't had. "I think this is a different group," Gaff said. "That senior class last year was so good that we have a lot of guys that are seniors now and are stepping on the field for the first time. Last year we had a lot of guys that had played as juniors and I think that's the big difference. This years group is good, just not game experienced." Gaff and his charges will be put to the test early as the Eagles open with games against Brockton, North Attleboro, Dartmouth, St. Peters Prep (N.J.), Marlboro and Everett before finishing with its Catholic Conference slate. A strong defense should give the inexperienced offense time to get its feet wet and allow its talent to shine through. Bockhurst is a weapon that few other teams with his ability to boom field goals from as deep as 50 yards, something that may come into play early and often.