Boston High School:

Dan McMahon
March, 19, 2012
3/19/12
3:00
AM ET
By
Dan Hickling
| ESPNBoston.com


BOSTON – Dirty is a beautiful word.

At least it was to Burlington.

The Red Devils kept their game on the gritty side – in a clean sort of way – and wound up with their first Division 1 state championship, following their 6-2 triumph over Milton, Sunday, at TD Garden.

"It's the best," said Burlington junior goalie Derek DeCastro. "We just won Division I state championship. I wouldn't ask for anything more, right now. And it's the best group of guys to do it with, too."

Senior defenseman Steve Mattos agreed wholeheartedly.

"It means everything," he said. "There's nothing better than a Division I state championship. It's a great program. Great people. We do the right thing."

What they did best against Milton was keep it hard and simple.

Skate the lane, crash hard to the cage, finish the chance.

The Red Devils did all of the above and reaped the reward.

"With all shots," said senior forward Brian Hood, who scored twice for Burlington, "keep them low and just drive the net. See if you can get some rebounds. Games like this are always dirty. Both teams going as hard as they can."

The Red Devils led 1-0 after the first period and 3-1 after the second.

Hood struck for Burlington at the 1:31 mark, after jetted down the right wing in search of his own rebound, then and popped it past Milton goalie Jay Hankard (25 stops).

"It came off the goalie's pad," said Hood. "I had to finish that. Right on the doorstep."

The Wildcats missed out on a chance to tie the game at 10:31, when Dan Curran blew past a pair of defenders, but was thwarted by DeCastro (25 saves).

Brett Romkey made it 2-0 at 3:13 of the second, when he drove hard to the net down the right side, then sliced a backhander inside the near post.

The Red Devils seemed ready to pull away when, at 8:24, Adam Crowley took Joe Moran's right side centering feed and parked a 12-footer.

"We get to be a little too finesse at times," Burlington head coach Bob Conceison said. "I felt like in a hot rink, if you can beat the guys to the
outside and get the pucks to the net, things can happen. And it happened."



However, Milton began creating scoring chances of itself, and was able to work itself back into contention.

At 11:45, Mike Davis stole the puck in the Burlington zone but was beaten by DeCastro from point blank range.

But at 12:57, the Wildcats finally broke through, when Brendan Kelley's centering feed from behind the net found Lloyd Hill in the slot. Hill pulled the trigger and his tally gave Milton new life heading into the third period.

"I told our team," said Milton senior defenseman Dan Curran, "'there's plenty of time."

Hankard kept the Wildcats within reach with a huge glove save on Trevor Cimino on a power play just 40 seconds into the final stanza.

However, Burlington soon scored twice more, beginning with Dan McMahon's tally at 1:16, to put the game away.

"I don't want to say that took the wind out of our sails," said Curran, "because we scored again. But that hurt the most."

Milton's Brian Higgins made the margin closer, 5-2, when he deposited a wraparound at 3:47.

However, with the state title within their grasp, Burlington buckled down the rest of the way.

"To go out with your friends at the Garden," Mattos said, "it's unexplainable how it feels."


March, 8, 2012
3/08/12
1:44
AM ET
By
Matt Noonan
| ESPNBoston.com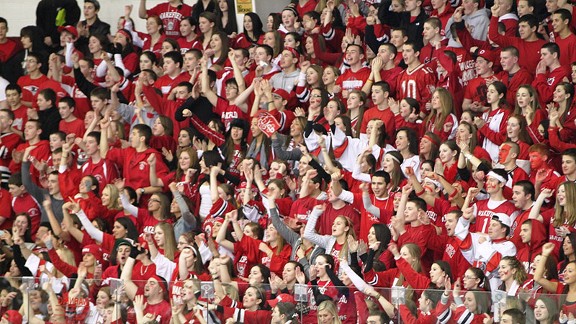 Ryan Kilian/Special to ESPNBoston.coWakefield's "Red Sea" were out in full effect to help the Warriors to a second-straight Division 1 North sectional final in a shootout win over Chelmsford on Wednesday.
CHELMSFORD, Mass. -- It was déjà vu all over again for the Wakefield Warriors, who escaped Wednesday's Div. 1 North semi-final clash by defeating Chelmsford, 2-1, in a shootout.
With the win, Wakefield once again earned themselves a spot in the sectional final, as the Warriors repeated their performance from a year ago. Wakefield also went to a shootout with Billerica in last year's semifinal.
"Down two periods all night, but we've been there before," Wakefield head coach Derek Edgerly said. "We've been down a couple games this year, [but] we just comeback fighting hard, and that's all it takes."
"It's called composure, positivity, keep your positive up all night and these kids just played excellent," Edgerly added. "What a great game."
Chelmsford notched the first goal early in the opening period when senior David DeDonato beat Wakefield senior goaltender Joe Cerulo (31 saves) before the Warriors answered in the third period with junior Daniel Cardillo, riffling the puck into the back of Lions' net, forcing overtime.
In the extra session, both teams chased the puck up and down the ice, but no resolution was found.
DeDonato eventually registered his team's first strike in the shootout.
Wakefield answered on their third attempt when senior Kevin Doherty beat Chelmsford's junior netminder Derek Noble, tying the shootout, 1-1. The Warriors then answered on their ensuing attempt when junior Alec Brown scored the clincher before Cerulo denied sophomore Jesse Lye.
"We go over shootouts every night in practice for 15 minutes because when it comes down to this end in a tournament, you've got to do your shootout," Edgerly said. "And one thing about these games, it's usually a blowout or it's an overtime win or shootout, there's nothing in between."
"We had a great year," Chelmsford head coach Mike McGrath said. "I would have to say if there was a word I'd use for these kids, it's adversity because we had kids out with mono, we had a lot of things where we were missing kids, and we battled through it, and peaked at the right time, and had a nice little run."
BURLINGTON 5, ACTON-BOXBOROUGH 1
After a sluggish two periods, the Red Devils offense exploded by tallying four goals in the final 15 minutes, which lifted Burlington past the Colonials, 5-1.
Senior Trevor Cimino registered his team's second goal 22 seconds into the final period before senior Brian Hood, junior Joe Berardi (1 G, 1 A) and sophomore Joe Scali (2 G) struck.
"[Dan McMahon] made a good play, dumping it into the zone and I just had a breakaway, put it home," Cimino said. "We got that first goal in the third period, [and] I think they kind of shut down because they didn't know what to do anymore."
"It took us two periods to figure it out," Burlington head coach Bob Conceison said. "They played Monday night, [and] I felt like we could wear them down in the third period, and I think that showed in the third period."
Burlington earned a one-goal advantage when Berardi connected with Scali late in the first period before Acton-Boxborough evened the score at 1-1 when senior T.J. Barrett wrapped around the cage and squeaked the puck past junior netminder Derek DeCastro for the score.
"I think he was disappointed in the goal that [he] let in," Conceison said of DeCastro. "It was kind of a funny late period goal that might have been in the nearside, but he made a big save on a break away at 3-1, it was a huge save for us. And Derek's that type of goalie, he comes up big in those situations when we needed and that was a big step, and we needed that, we really needed that."
A-B had chances to earn a lead, but solid defense and goaltending by Burlington helped them escape with a victory, and set up an exciting Division 1 North final against Wakefield, Monday at Tsongas.
"It will be fun," Conceison said. "I don't know [if our] crowd can outdo their crowd."
January, 21, 2012
1/21/12
9:16
PM ET
By
Bruce Lerch
| ESPNBoston.com


WILMINGTON, Mass. -- At the conclusion of Saturday's matinee showdown between Burlington and Wilmington, Red Devils junior forward Joe Berardi returned from the locker room to search the empty net for a puck.

Berardi came away empty in his postgame quest, but he certainly won't need a keepsake to remember his performance on the afternoon of the region's first major snowfall.

The junior either found himself in the right place at the right time, hustled himself into position, or even relied on a little luck to finish with four goals to lead No. 11 Burlington to a 5-2 victory over Wilmington at Ristuccia Arena.

Berardi's linemate Brian Hood dished out assists on all five goals while junior netminder Derek DeCastro sparkled at times during a 27-save performance. In the process, the Red Devils (7-1-2, 3-1-1) moved into a first-place tie with the Wildcats (5-3-3, 3-1-1) atop the Middlesex League's small schools division.

"Joe has been playing really, really well the whole time but he was really good tonight," praised Burlington coach Bob Conceison. "Wilmington is a good team, they are a good addition to our league and I thought they played really, really well. We got kind of lucky with some of our goals at the beginning of the game."

In the final minutes of a first period primarily dominated by Wilmington, it was a hustle play by Berardi that opened the scoring. Trevor Cimino fired a shot toward Wildcats goalie Drew Foley that Berardi got a piece of. Foley made the initial stop, but the rebound came right back to Berardi off the far post and he buried it with 2:27 left in the frame.

"I saw Trevor Cimino came down the boards and I saw it was like a three-on-two developing so I crashed the net because I was the second forward and when he shot it, I kind of got a stick on it and tipped it towards the goalie," Berardi described. "The goalie made the initial save but I kept fighting through the defensemen toward the net and the puck just happened to drop right down in front of me and I just put it in."

The Red Devils seemed to have a renewed energy for the start of the second and Berardi scored on what he called a "flukey goal" in a shorthanded situation. Burlington broke up the Wildcat power play and Berardi fired in on Foley from outside the blue line. Foley dropped in time but the puck managed to sneak past his right pad at 6:24.

Just over three minutes later, Berardi scored an almost identical goal, this time getting his shot from inside the blue line. Foley flashed his glove and got a piece of it, but the puck landed behind him and over the goal line to give Burlington a 3-0 lead.

"I just took two shots form the blue line thinking, this goalie's really good," said Berardi, who admitted he was hoping to create rebound chances for his teammates. "You never think they would just go in that way but..."

On the Red Devils next trip into the Wilmington zone, both Hood and Dan McMahon set up senior captain Brett Romkey for Burlington's fourth tally.

Wilmington actually regained momentum after that courtesy of a wicked slap shot from the right faceoff circle by sophomore Cody McGowan that can be best described by taking a mental picture of former Red Sox slugger Rob Deer almost screwing himself into the batter's box dirt while chasing a fastball down the heart of the plate and sending it screaming over the Green Monster.

Luke Foley got back a second goal for the Wildcats, pouncing on the rebound of another hard shot by McGowan that cut the deficit to 4-2 with 2:06 to go in the second.

"They don't give up which is the good thing about them," said Wilmington coach Steve Scanlon of his team. "They keep going right to the end. That was a big spark, getting those two back."

A stellar effort by DeCastro would be needed to douse that spark, and the junior came through when his team needed him in both the first and the third periods.

The Wildcats had multiple opportunities from point-blank range in the first, all of which DeCastro was able to stifle among his 10 saves.

In the third, the junior came up big again with 12 stops, stoning Wilmington's Brendan McDonough three times on prime scoring chances, and thwarting a one-timer bid by Trevor Foley among the highlights.

"He's very focused," Conceison said of DeCastro. "They got the two goals that shifted the momentum a little bit. We got a little bit of momentum on the lucky goals, it got us going, it motivated us. And they got some momentum after the second goal, they were back in the game but Derek has been very focused and very consistent all year. I thought he had a great game today."