Boston High School:

Dave Giribaldi
February, 28, 2014
Feb 28
11:44
PM ET
By
Ryan Hannable
| ESPNBoston.com
ANDOVER, Mass. –- An instant classic.

Friday night's Division 1 North quarterfinal game between host No. 3 Andover and No. 6 Lynn English featured two teams that simply did not want to go home, scratching and clawing, doing everything they could not to have their seasons end, but eventually it was Andover coming out in top, 86-81 in overtime before a sold out crowd at Dunn Gymnasium.

"Craziest game I've ever been involved in," Andover coach Dave Fazio said. "That team (Lynn English) has the heart of a lion. It was one of those games where the coaches say whoever has the ball last wins. That's what it was. We never quit. I thought we had them and they would hit a three, hit another three, they made plays, that's just a heck of a team right there. In my 25 years of coaching we deserve a break. We've had some hard aches over the last 25 years, this is maybe the God's giving us some luck."

The overtime featured up-and-down action with the teams matching basket for basket before Andover's David Giribaldi's hoop and the foul following a steal gave the Warriors an 82-79 lead with 42.5 seconds left. The Bulldogs wouldn't go down quietly as on their next possession Fred Hogan nailed a three, making the score 82-81 with 23.7 seconds remaining.

Connor Merinder was then fouled and he made both free throws increasing Andover's lead to three, 84-81. English had one last chance, but they air balled a three before Giribaldi was fouled with less then five seconds remaining with the game all but in doubt.

"It's the most fearless team I've ever had," Fazio said. "In 25 years we had one team that went to the Tsongas Center, but this is the most fearless team I've ever had. We do some crazy things. We throw the ball away, we kick it out of bounds, we foul, the kids do the craziest things, but the one thing they are not afraid of is to win. It just says an awful lot about these kids, I'm just so proud of them."

It was a fantastic end to regulation as Lynn English found themselves down 68-60 with just over four minutes to go, but went on a 7-0 run in just over a minute's span to get right back in it.

Hogan's layup with 42.1 seconds left tied the score at 73 and then Andover turned the ball over on their ensuing possession, setting up the Bulldogs with the ball and 15 seconds, but Hogan's runner was swatted away by Merinder forcing overtime.

Lynn English was led by Danny Lukanda, who had 25 points, while Hogan added 20 and Erick Rosario contributed 19 in a losing effort.

Giribaldi had a game-high 28 points, 21 of them coming in the first half to lead the Warriors. Freshman E.J. Perry had a tremendous game finishing with 28 points, including two huge, back-to-back three-pointers in the third quarter. Despite battling foul trouble Merinder had a solid game as well finishing with 11 points and had a major presence on the glass.

"We have a killer in Giabarldi, but these kids are stepping up and that is a tribute to their hard work," said Fazio.

Andover will now take on Everett in one of the Division 1 North semi final games to be played next week.

REFUSING TO GO DOWN
It's been a wild two tournament games for the Warriors as they barely beat No. 14 seed Billerica, 54-52 in their opening round game and then found themselves down 24-12 and 24-14 after the opening quarter Friday. But they have remained calm at all times.

"These kids don't panic, they just don't panic, man," Fazio said. "Sometimes I don't even think they know the score. I say to them 'we're up three' and they just say 'OK, let's go'. They just play. They play for the love of the game. It's crazy but it's working. Let's just hope it works for a few more games."
January, 25, 2014
Jan 25
8:44
PM ET
By
Andy Smith
| ESPNBoston.com
BOSTON -- No. 12 Andover's guards might not be the quickest or the most agile in the state, but against No. 19 Brookline Saturday at the Good Sports Invitational, they impacted the game in a big way.
Andover's Dave Giribaldi had 26 points in his team's 57-48 victory. Fifteen of those points came in the first quarter alone. He was never deterred from driving the lane or shooting from outside if he felt like he was open. Right as the first half ended, he drained a three from just beyond the left elbow.
[+] Enlarge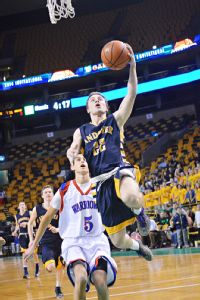 Brendan Hall/ESPNDavid Giribaldi (26 points) was clicking on all cylinders as Andover downed Brookline.
"It doesn't matter what defense they play, he's going to attack no matter what," said Andover (10-2) coach Dave Fazio. "It doesn't matter. They can play box-and-one, triangle and two, he's just a killer. He's just going to keep attacking. The bigger the game, the better he plays."
Freshman E.J. Perry IV (12 points, six rebounds, three steals) made his mark on the game in the second quarter. After draining a three-pointer in the halfcourt, Andover switched to a 2-1-2 full court press. Perry intercepted a Brookline (7-4) pass and drained another three to extend its early lead to 17-13.
Brookline coach Luke Day came away from the game impressed with the guards' defensive prowess and ability to capitalize on other team's mistakes.
"They're pretty good, they really penalize mistakes," he said. "I thought for most of the game, particularly in the first half, we didn't lose them too often. Every time we did, they make you pay. There's just kind of a confidence there. They're going to keep coming at you, keep coming at you, and keep coming at you."
Brookline's guards had strong games for themselves as well, most notably senior Elijah Rogers, who finished with 13 points. He made a habit of hitting long-distance, off-balance threes Saturday, some when the shot clock was winding down. His first three came from beyond the right elbow.
"We're well aware of their abilities, but we were trying to focus more on Andover, believe it or not, than Brookline," said Fazio. "We started out straight man-to-man on the line, up the line, but Rogers is so quick and so dynamic that when he caught the ball we dropped a couple guys in just to try and not give him those lanes."
In the third and fourth quarters, Andover's Connor Merinder made his presence felt on the offensive end. Earlier in the game, he was doing the dirty work of defending Brookline's bigs and rebounding in the post. As the game went on, he started hitting baseline jumpers and even a three-pointer. He finished the game with 10 points and 11 rebounds.
"This season, we're going to go as far as those two guards and our big guy take us," said Fazio.
Staying the course:
Saturday was the second loss in a row for Brookline. It lost 65-64 Tuesday against Natick. Day has been a high school basketball coach long enough to know not to overreact to two straight losses.
"You get to three or four losses in a row and you start to worry a little bit," he said. "The cliche about the season being a marathon and not a sprint is really true. It's about peaking at the right time. That being said, there are some lessons to be learned. We still have a ways to go."
Special atmosphere:
The Good Sports Invitational is a way to not only showcase MIAA boys' basketball to the community, but it also gives players the chance to play on the famed TD Garden floor. For many of the players, the opportunity to play in the same arena as the Boston Celtics is a once in a lifetime opportunity. After the game Saturday, Day was able to put the loss in perspective in the big picture of the entire season.
"I told the kids in the locker room they aren't going to remember the wins and the losses," he said. "Obviously it would be my preference to win, but I told them 20 years from now, you can take your kids to a Celtics game and tell them you played on the floor. You can tell them you won, nobody will know the difference and they are going to think it's great. Those are the kinds of things that are really important.
"We got a lot of kids involved today and got a lot of contributions from a lot of kids. The loss is secondary on a day like today. It just is."
January, 11, 2014
Jan 11
1:41
PM ET
ANDOVER, Mass. -- ESPN Boston High Schools editor Brendan Hall breaks down all the action from last night's sold out contest at Dunn Gymnasium, where No. 12 Central Catholic got revenge on No. 4 Andover for last month's upset, setting up a highly-anticipated rubber match next month.

(Video by Cam Farnham)


December, 29, 2013
12/29/13
2:07
AM ET
By
Mike Abelson
| ESPNBoston.com
NORTH ANDOVER, –- Andover's David Giribaldi said he felt magic in his hands before the final of the Commonwealth Motors Christmas Classic against rival Central Catholic.

For 32 minutes, he put on a show of slight of hand that mesmerized the over-capacity crowd at Merrimack College's Volpe Athletic Center. Giribaldi pumped in 27 points to lead Andover past Central, 72-68, in the finals of the Commonwealth Motors Classic.

"I knew coming into it I'd have a pretty good shooting day," Giribaldi said. "I felt like it was my time to shine."

Giribaldi exploded for 12 points in the third quarter, including seven points over three straight possessions. Giribaldi led the way for a showcase night for Andover's shooters.

Seniors Ben Brown and John Pisacreta rose to the occasion when their number was called. Brown scored 12 points and pulled down three rebounds. Pisacreta scored six points, including four free throws to seal the win, but his biggest role was running the point and setting the pace of the offense.

"Everything they do contributes," Giribaldi said of Brown and Pisacreta. "Having them is key. They're all the reason I did well."

Central romped early, scoring the first eight points, but a timeout by Andover's Dave Fazio turned the game around. Andover came out of the break and finished the final six minutes of the quarter on a 22-5 run.

"We just got together and said we've got to get the nerves out," Andover's Connor Merinder said. "Once we did that we were able to play the game we wanted to."

Andover's box-and-one defense shut Central's Tyler Nelson for long chunks of the game. The Fairfield-bound Nelson was held to four points in the first half and 11 for the game. That opened the door for Kevin Fernandez and A.J. Pettway to step up.

Fernandez finished with nine points, and Pettway had 12 on four arching rainbows form three-point land.

"When you rely so much of your offense on Tyler Nelson and the team is doing a good job of shutting him down you have to do different things," Central coach Rick Nault said. "For two young guys they have a lot of confidence and I think it shows well for our future. But we're not playing for our future; we're playing for now. We're a highly-considered team throughout the state and we're playing to win this year. We expect them to make plays for us; that's why they're in there."

Andover opened up a 16-point lead midway through the second half, but the Raiders clawed back and closed the gap to a point before Andover opened the gap back up to nine and held on.

A major part of the comeback was the massive game from Nick Cambio. The senior forward shouldered the load for Central putting up a double-double with 26 points and 13 rebounds. He also had two steals.

"When you go box and one on Nelson you've got to give up something and Cambio got us a bit," Fazio said. "We ended up a bit of matchup man-on-man at the end of it."

Nault said that he liked Cambio's performance and wants to see him repeat it more often.

"He had a good second half; he's a key guy for us," Nault said. "To be honest, I think we need more from him. We need more scoring, more rebounding. I know he played very well tonight, but that needs to be consistent. Nick's a guy that we count on for so much, and have for the last few years, and now it's time for him to be the senior captain and to shine."

Merinder had the task of matching up Cambio and he had a solid game with 11 points and eight rebounds.

EJ'S DAY
It was E.J. Perry's first ever Andover-Central game. No one would have blamed the freshman if he had clammed up in the moment. But when the lights got bright EJ got loose.

Perry started the game and netted 14 points in the win. His 11 first-half points were key in Andover opening up it's big early lead.

Perry's coaches and teammates couldn't heap enough praise on the young guard.

"We tell him every game: he's one of the best players we have," Merinder said. "We tell him it doesn't matter who we're playing, play the same way and get those nerves out of the way."

"He's fearless," Fazio said. "We love him to pieces. We're not afraid to go to them. That's what you need against Central."

"I thought he did awesome," Giribaldi said. "He's a freshman coming in, playing in this crowd. He's good. He's going to be good."

Perry himself said that the feeling was hard to describe.

"It was awesome; unbelievable," Perry said. "The excitement, the adrenaline going through my body was unbelievable."

AN ANSWERED PRAYER
Up six with the first quarter winding down, Andover's Gabriel Hernandez threw up a last gasp shot at the horn from 50 feet.

The ball ripped the twine and sent the Andover faithful into madness. Merinder laughed and it was one of the coolest things he's seen.

"It was the greatest thing ever," Merinder said.