Boston High School:

David Giribaldi
January, 17, 2015
Jan 17
1:30
AM ET
By
Mike Abelson
| ESPNBoston.com
ANDOVER, Mass. -- Geometrically, the triangle is the strongest shape and, in the sport of basketball, it can also be one of the strongest defenses.

After going shot for shot with North Andover through two-plus quarters, Andover coach Dave Fazio instituted a triangle-and-two defense that stymied the Knights offense and allowed the Warriors to cruise to a 76-61 win.

After the Warriors made the defensive switch, in a last-ditch effort to stop the North Andover guard duo of Wabissa Bede and Robbie Couyoumjian, the results piled up fast. Andover turned a three-point deficit with three minutes left in the third quarter into a four-point lead by the end of the period, and extended the lead to 10 three minutes into the fourth.

"They went to that triangle-and-two which hurt us," North Andover coach Paul Tanglis said. "We practiced a lot against the box-and-one, and not enough against the triangle-and-two, so I told my guys I take full responsibility for that. We play a lot of guys, we don't give a lot of guys rest some times, and they wear you down. They're a good team."

Bede (30 points, five rebounds) and Couyoumjian (18 points, nine rebounds) lit it up for the Knights and caused a headache for Andover. The duo scored all but four of North Andover's 23 points in the second quarter and were the force that propelled North Andover to a 33-30 halftime lead.

Once Fazio made the defensive switch the faucet dried up for the guards. Andover stifled Bede and Couyoumjian, by forcing the ball away from them with face guarding and double teams, and held them to eight combined points over the last 11 minutes of the game. With North Andover's attack stunted the Warriors were able to fully kick their offense into gear and sew up the game.

"I got to find and push the right buttons for us to defend," Fazio said. "Maybe it's not our old school, Andover man-to-man defense. I don't know what it is, but we got to be more proactive. At the end of the day it's 11 games in and I've got to find something for us to be great at defensively. Offensively we're going to score, but we just got to play better defense."

ANDOVER ASSAULT

After a slow first quarter that saw the Warriors take an 11-10 lead into the break, Andover's prolific offense opened up.

While Couyoumjian and Bede shouldered the load for the Knights, Andover distributed the wealth across the floor. Five Andover players scored in double digits led by Connor Merinder with 17 points and Jonathan Rodriguez and E.J. Perry, who each had 16 points.

Perry played like a man afire in the second half, scoring 14 of his points and pulling down six of his team-high eight rebounds.

"These games border the Central games from past years," Perry said. "It's just a rocking crowd. You're playing against the kids you played against in travel ball. You've got to come out fired up up to play. We didn't in the first half, and we did in the second half to show what this game means to us."

The Warriors played a balanced offense despite having to play around David Giribaldi. who was nursing a hip injury and was in foul trouble throughout. Giribaldi, though, did finish with 13 points including a pair of three pointers in the fourth quarter to put a bow on the game.

North Andover had few answers for Merinder, who controlled the paint. Ryan O'Connell had another solid performance with 10 points, five rebounds, and a pair of steals.

"One thing you know for sure is that Ryan's going to show up and give you everything he has," Fazio said. "Every time he's going to give you everything he's got."

Despite having to play different faces in different places it was Andover's depth top to bottom that was an X factor to getting the win and snapping a two-game losing streak.

"It's tough when you got new faces in there, but that's what Faze does so well in practice: you've got competition," Perry said. "You're playing with new guys every day in practice. You get to learn every player's strengths and weaknesses, and we got a lot of players with a lot of strengths.

"Two losses you got to come back from that with a win. We did it. Shaky in the first half, but we showed our true form in the second half."
January, 9, 2015
Jan 9
12:14
AM ET
By
Andy Smith
| ESPNBoston.com
LAWRENCE, Mass. -- No matter what the records are, where the game is played, or what month the game is played in, Andover versus Central Catholic is always a tightly-contested basketball game.

Thursday night was no different. Central took a one-point lead with just over five minutes remaining, but Andover slowly pulled away to a 71-60 Merrimack Valley Conference victory.

Central's (3-6) three-guard lineup of A.J. Pettway (6 points), Tanahj Pettway (23 points, 7 rebounds), and Kevin Fernandez (12 points) gave Andover problems at both ends of the floor. Its lead got as large as 21-12 early in the second quarter, but the Golden Warriors went on a 9-0 run out of a timeout to tie the game.

"They're very quick," said Connor Merinder (21 points, 10 rebounds) of Central's three guards. "The freshman Tanahj is phenomenal. We respect him more than any other freshman that we've seen so far."

"It's tough when you come out with low energy like we did to guard quick guards like that, especially on their home court," he added. "Once we got our guards to click and once we got everyone on the same page, we were able to compete and go on a run."

The teams were tied at 33 coming out of halftime. To amplify the pressure on Central's guards, Andover (8-0) coach Dave Fazio employed a 2-1-2 half court trap. This helped to slow Central's offense down and held it to three baskets in the entire third quarter.

Andover was only ahead by three points heading into the fourth, but that was where it was able to pull away. Merinder, the team's anchor in the middle, left the game early in the quarter with four fouls. He reentered the game with five minutes to go and converted two crucial three-point plays to extend his team's lead.

As a team, Andover was 23-of-25 from the free throw line. In the final 5:30 of the fourth quarter, it was 15-of-16.

With less than a minute remaining, David Giribaldi (17 points) stepped to the line converted the final four free throws and made sure his team left Central Catholic with an 11-point victory.

"I think we can get better in all facets," said Fazio. "I like when we make the extra pass. I'm all about making the right play. I love when our guys make plays for each other and we get 'we' shots. We have to get better there. Sometimes we get a lot of 'me' shots. But right now, we're doing okay. It's a long season. You know we're going to have some bumps in the road, but the kids just kind of show up and they grind. That's all you can really ask as a coach."

Manning the post: Guards Giribaldi and E.J. Perry (14 points) might have more opportunities to fill up the stat sheet than their Andover teammates because they have the basketball in their hands, but Conor Merinder is the catalyst of the team. The 6-foot-5 big man plays physical under the basket fighting for rebounds, but he is also able to run the floor on the fast break and pop out and hit midrange jump shots if necessary.

Late in the fourth quarter of Thursday's game, he converted two and-one opportunities when he backed a defender down and used an array of moves to score the basket and get fouled. Those two sequences stretched the Andover lead to 10 points and helped the team ultimately win. He finished the game with 21 points and 10 rebounds.

"He's getting better," said Fazio. "We've always said he's a 10 on defense, and he's a 6 trying to make his way to an 8 on offense. He's got his little up-and-under moves going and he's just so much more relaxed on the defensive end. We're trying really hard to get him comfortable on the offensive end. But when you have two snipers like Giribaldi and Perry, sometimes we run out of shots for him."

"He's just a smart, smart player who has great technique defensively and takes personal pride in being our anchor back there. You can't even speak to what he does for our program. The kid is just amazing."

In an effort to become a more complete player and wreak havoc on Merrimack Valley Conference defenders, the senior has worked on refining his post-up game and offensive efficiency around the basket. However, it is a change in attitude that might have made the most difference.

"My coach works with me a lot in the post in practice," he said. "I think I've been more aggressive this year and that's kind of what it's been. I've been scoring more than I have in the previous years. These have always kind of been in my arsenal, I've just kind of been a passive player these past few years."

End of the gauntlet: Andover will cap off a stretch of three games in five days when it heads to the TD Garden on Saturday to play Catholic Memorial in the Good Sports TD Garden Invitational. It will be a slugfest between two teams in the top 5 of ESPN Boston's statewide basketball poll. Both teams like to push the pace offensively and score in a multitude of ways. The Golden Warriors know the large challenge that lies ahead of them when they step on the parquet floor.

"They're phenomenal, they're great," said Fazio. "I think we're at a point right now where there's no pressure. It's a great experience against a great team. I saw them play and I think they put up 98 points. It's fun and our guys like the bright lights. Giribaldi and Merinder and (E.J.) Perry, they went last year and played against Brookline, and they like the bright lights. It's going to be a great challenge, they're really good, and it should be fun. Hopefully we can take some notes and get back there again in March."

CM's only loss of the season came in a double-overtime game against Newton North, where each team almost broke 100 on the scoreboard (Newton North won 102-99). Andover will have to be on its A-game to keep up with Guilien Smith and the high-powered CM offense.

"We know they're very quick and they like their guard play," said Merinder. "The game we played tonight, as great of a game as it was, isn't the best game that we've played by far. It isn't the best game we can play by any means. If we come on Saturday and play the way we know we can- which I think we will on such a big stage in such a big arena, we always rise to those kinds of things- I know we're going to play a phenomenal game. I know our guards are going to be on point and hopefully I can keep the big man moves up. I can't wait for this Saturday game."
December, 17, 2014
12/17/14
12:25
AM ET
By
Mike Abelson
| ESPNBoston.com
ANDOVER, Mass. -- Down nine to Methuen midway through the second quarter, the Andover Golden Warriors looked anything but a team with a top-five preseason ranking and aspirations of winning a state championship.

Coach Dave Fazio was able to right the ship, and the Warriors wound up rolling past Methuen 86-68. Despite the impressive scoreline, Fazio was anything but happy. The Warriors' listless first half piggybacked on a mediocre performance against Lowell that saw Andover claw back from a 12-point halftime deficit to escape with a two-point win.

"They're not a team yet," Fazio said. "Last year we were a team; this year we're not a team yet. Honestly, that's where we're at right now. When you're a team you play for each other. Last year we were led by our point guard, John Pisacreta, we're missing him right now. We're not cohesive. Last year everyone had a role and played to their role. This year we've got work to do."

Offensively the Warriors look to be able to compete with anyone in Massachusetts. The Warriors had four players over 16 points and dropped in a combined 13 three pointers against Methuen.

The offensive capabilities were on full display by Andover's backcourt duo of Giribaldi and E.J. Perry. Giribaldi, a senior tri-captain, sat for the majority of the second quarter, and still was able to pile on 20 points including 12 in the third quarter that helped Andover blow the doors off the game.

"I don't even care what he does offensively," Fazio said of Giribaldi. "He's a shot maker. He's going to take bad shots, make tough shots. Offensively I'm not worried about these guys. We're going to make shots."

Perry, playing just his second game at point guard after playing last year at shooting guard, looked like a natural in the role. The sophomore quarterbacked the offense smoothly for much of the night and was also the team's top outside threat, with six three pointers and a team-high 21 points.

"Last year I was off the ball so it's a much different game on the point," Perry said. "It was definitely a much tougher role. You have the ball in your hands, and you're responsible for everything."

Inside, Connor Merinder was a terror against the Rangers and he'll pose a matchup nightmare for most teams in Division 1 north. Against a sneaky good Methuen team, and talented big man Tim Galloway-Burke, Merinder went for 17 points, pulled down 11 rebounds, and had a pair of blocks. Beyond that, Merinder had a pair of assists which makes him that much more of a matchup problem in the low post.

Having four-year varsity players, especially in this year's loaded Division 1 North, is a plus and a motivator for younger players like Perry.

"Both Dave and Connor are unbelievable role models," Perry said. "Day in and day out they bust their [butt]. They're a great example for me to watch them play, watch them practice. Getting to play with them you know when you pass it to Dave, you pass it to Connor, you're getting an assist."

Giribaldi and Merinder have the preseason accolades, and Perry is a three-sport star, but the X factor for Andover might be junior swingman Jonathan Rodriguez. Rodriguez had 16 points against Methuen including a pair of three pointers that sewed the game shut. His ability to step back take a kick out pass from a driving Giribaldi wreaked havoc with Methuen.

"He's our secret weapon," Merinder said of Rodriguez. "He can step up and have a phenomenal game like that our of nowhere."

The Warriors have offensive weapons all over the floor, but if they don't defend they can be beaten. Lax defense doomed Andover in last year's North final, and Fazio said he doesn't want it to happen again.

"We lost to Central Catholic in the north finals because we gave Tyler [Nelson] four open three's at the end of the game," Fazio said. "We didn't lose over turnovers. We didn't lose over bad shots. We lost over poor closeouts. We're going to keep working, keep preaching, and if they want to do special things they'll cover."
February, 16, 2014
2/16/14
10:17
PM ET
By
Chris Bradley
| ESPNBoston.com
DANVERS, Mass. –- David Giribaldi had a feeling Sunday's showdown at Everett could be a big night for himself. He even knew it before the opening tip.

"You kind of know going into it when you have a nice shootaround before the game," Giribaldi said, "I definitely could feel that coming into it."

Feel it, indeed. Giribaldi, a junior guard, totaled 34 points on Sunday for the Golden Warriors, teaming up with junior center Connor Merinder (14 points, 13 rebounds) to lead Andover past Everett at the IAABO Board 130 Classic, 74-54.

For Andover coach Dave Fazio though, Sunday's performance from Giribaldi was nothing out of the ordinary.

"He's been doing it for 17 games, same old story -– he's just relentless, he plays hard. He's a killer, he attacks, attacks, attacks, we're up 20 and there's no such thing as a bad shot -- he just keeps throwing them up," Fazio said.

Merinder the 'glue guy' for Andover: At many points on Sunday, Merinder's play perfect reflected the in-your-face, hard-nosed style of defense that Fazio preaches to his players. An athletic 6-foot-5 forward, Merinder was all over the offensive glass and showed off his touch by hitting several shots outside of the paint.

"At the end of the day, with Merinder we've won 15 games, and without him we can't win three games," Fazio said, "He gets every rebound, he's our defensive force inside, everybody in our program knows how important he is. [Giribaldi] is our offensive killer, but Merinder controls everything. Everybody knows we just have to take care of that kid and give him some love on offense -– he's been that way the whole year."

The role of tough guy certainly isn't meant for everybody, but it's a role that Merinder has come to embrace this year –- asserting himself as a dominant post presence and reliable defensive rebounder.

"I'm usually the one who gets the majority of the rebounds. We try to get everybody involved with rebounding and boxing out, but I know that being the tallest one on the team that's its my responsibility to get the majority of the rebounds," Merinder said. "When we can come out with a lot of energy, the bench has energy and the starting five has energy, we know that we can compete with anybody."

Fazio, who has preached energy, defensive intensity, and fundamentals to his team all year, seconded Merinder's all-or-nothing attitude. Everett's 54 points on Sunday was their second lowest scoring total of the season, something Fazio and his team take great pride in.

"That's our staple," he said. "As I said to the kids: 'you have the opportunity to go against a great team. Let's do what we do.' We'll make our adjustments along the way, but that's what we do."

Playoff preparation: At this juncture of the season, the main goal for coaches of playing in big tournaments before the MIAA playoffs is getting their players prepared for playing in different gyms against seldom-seen opponents. The IAABO Board 130 Classic has brought just that for the Golden Warriors, who will take on St. John's Prep on Monday.

"The more teams we play and the different ways in which they play, it helps prepare you so that there aren't any surprises in the tournament," Fazio said. "That's a pressing team, we'll see somebody who presses or does a diamond or something like that. It just gives you an opportunity to prepare for it."

A loaded offensive team with as much firepower as any team in the state, Sunday will certainly be looked at as a learning experience for Everett. Gary Clark led Everett with 19 points and eight rebounds, but the Crimson Tide struggled with Andover's ball pressure, as well as the 2-3 zone the Golden Warriors went to in the second half. That being said, Fazio will be hoping to not see Everett on the opposite bench again anytime soon.

"I know I don't want to see Everett in the tournament cause I think they're pretty damn good," Fazio said. "I think Everett's a lot better than they showed today. We'll take the win, we're happy, we get to play another good team tomorrow. We really just want to get ready for the tournament, that's how you judge. The whole thing at the end of the day is to be tournament ready."
January, 11, 2014
1/11/14
12:06
AM ET
By
Mike Abelson
| ESPNBoston.com
ANDOVER, Mass. -– Sometimes, the sequel doesn't live up to the original.
After Andover beat rival Central Catholic by four in the Commonwealth Motors Classic two weeks ago, the hype leading up to the rematch last night at Dunn Gym was huge.
The gym was packed midway through the junior varsity game, and Central made sure the home fans were silent before the fourth quarter even began. The Raiders held Andover to just 12 points in the second half and cruised to a convincing 58-37 win.
"We're a defensive team," Central coach Rick Nault said. "We were embarrassed by our effort on December 28. We made it a point to come out and do what we do and we defend. We might not be the most smooth offensive team, but we defend at a high rate."
[+] Enlarge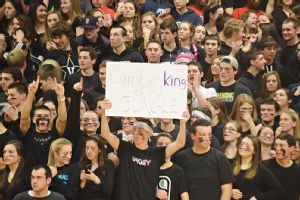 Brendan Hall/ESPNTyler Nelson scored 11 of his 13 points in the second half to spark Central Catholic, who held Andover to 12 second-half points.
Andover's E.J. Perry IV and Connor Merinder each had 11 points, but the rest of the team combined for just 15. Central's guard rotation of Tyler Nelson, A.J. Pettway, Alec Buresh, Kevin Fernandez, and Alex Santos wreaked havoc all night on defense. Santos marked Andover star David Giribaldi whenever both were on the floor. Giribaldi had seven points, his second-lowest point output of the season.
Central led from the tip but couldn't pull away in the first half. Seven-point leads would dwindle to two, be blown out to eight, and shrink back to three. Andover shot 9-of-11 from the free throw in the first half to keep it close, but the offense was out of sync from the start.
"We were too many individuals; we didn't play team basketball," Andover coach Dave Fazio said. "I think everybody put a lot of it on their own shoulders, didn't trust each other. We didn't make shots. When you miss shots you start pressing, and every shot becomes a little more difficult. We didn't work cohesively together offensively. You've got to make shots to win games."
With Central leading by four with 4:55 left in the third, the Raiders scored six points in 71 seconds to open up a 10-point lead. The Warriors were never able to close the gap back down.
Nelson, who was held silent for much of the first meeting, solved Andover's diamond-and-one defense on him in the second half and pumped in 11 of his 13 points in the final 16 minutes. His first field goal of the game ignited Central's run in the third quarter.
"It's frustrating when they play the box-and-one because you're taken out of the game no matter what you do, no matter how many screens you get," Nelson said. "I talked to coach and came up with the gameplan to be a distributor tonight and then I knew later in the game I'd get my baskets eventually. I always score in games; I'm a scorer so it's what I do. Early in the game I just tried to be a distributor and get the guys the ball because that was where the advantage was."
Nick Cambio had another stellar game at center, pumping in 17 points, pulling down nine rebounds, and registering a pair of blocks. He also altered numerous shots when Andover's guards drove the lane.
"Defensively we put the 2-3 zone on them," Cambio said. "We threw everything we learned in practice at them and it worked very well."
The rubber match will be Feb. 13 at Central Catholic.
CAN'T HOLD HALL BACK
As the center, Cambio almost always draws the attention of the opposition's best big. That leaves Aaron Hall room to roam and do damage. The 6-foot-6 senior was matched up against a rotating corps of Andover guards and torched them to the tune of 15 points, seven rebounds, and a block.
"I thought tonight we really utilized Aaron Hall," Nault said. "He matched up with one of their guards. We play with two big guys and we have a mismatch in that post area. We went there early tonight. That was the key for us.
"I thought he was huge tonight. I thought he had a lot of big rebounds. It seemed like every time we needed a big play off the boards he was the guy. We've been pushing him in practice and he stepped up tonight."
On the defensive end Hall matched up against Merinder, Perry, and senior John Pisacreta, and was up to the task despite playing against three different playing styles.
"He's the best defender on our team," Nelson said. "He always covers the other team's best player. He was huge for us."
Fazio said that playing against a player like Hall poses a matchup nightmare.
"You've got to kind of mix it up," Fazio said. "When your four man is six feet and their four man is 6-7 you've got to kind of mix it up a bit."
February, 11, 2013
2/11/13
12:26
AM ET
By
Brendan Hall
| ESPNBoston.com
NORTH ANDOVER, Mass. -- Outside the locker room at North Andover High's field house, where the No. 5 Scarlet Knights had just strung together a nice 73-50 defeat of border rival No. 11 Andover, coach Mike McVeigh was told by a reporter the stat line for senior Chris Bardwell, and he couldn't believe it.

"Jesus, Mary and Joseph," he muttered.

A few moments later, Bardwell appeared from the locker room, and McVeigh turned to him to ask: "Thirty-four, are you kidding me?"

"Wasn't keeping track," Bardwell grinned.

To which McVeigh quickly shot back, chuckling, "Yeah, you better not be."

It was a career-high and career-defining night for the 6-foot-5 senior, who transferred into NA from Central Catholic for his senior season and made his impact felt almost immediately. Tonight's effort -- 34 points, 14 rebounds, and a pair of pretty assists -- rectified that impact.

Good players know how to get to the rim, and Bardwell did exactly that in the first half, starting off 8-of-9 from the field and finishing shooting 66.6 percent from the floor (14-of-21), mostly coming on high-percentage bunnies around the rim or put-backs. Though there were some dazzling plays, like the one-handed underhand finish off a long Derek Collins lob in transition in the second quarter; or getting his own put-back off his own missed free throw; or one of the more good-karma put-backs of his season, positioning himself at the foul line for a long rebound and hucking it back at the rim one-handed.

But mostly, it was about finding open space in the paint and making the most of it -- "Our mentality was just to go all out," he said.

And all of that keeps NA (14-2, 13-1) in the hunt for the Merrimack Valley Conference's Large division title, in the Knights' first year of league membership. Headed into Tuesday's matchup with Central Catholic (14-3, 11-1), the two teams are tied for first, with one loss each in the league (Central to NA on Jan. 29, NA to Andover on Jan. 18).

"I didn't want to lose," Bardwell said. "I know on the line [tonight] was the MVC title. I know us coming into the MVC in our first year and winning the MVC title [would be] outrageous. It's never happened before, a team coming in and winning, so...I was just ready to play. We were all ready to play. We played smart. We were just awesome as a team, everything."

Leading 35-26 at the half, the Knights came out firing on all cylinders from long distance to start the third, outscoring the Golden Warriors (12-5) by a wide margin, 24-8. That included five 3-pointers, including a back-to-back-to-back swing by Derek Collins (11 points) and Brett Daley that put the Knights up 50-31 with 2:42 to go in the frame.

Also helping the cause was a dominant presence on the boards. Just as they were in last week's historic upset of Central Catholic, the Knights were everywhere on rebounds. With margin for error, the Knights unofficially held a 42-16 advantage on rebounds, including a 17-2 edge in the second quarter, thanks to the presence of St. Anselm-bound 6-foot-5 senior Isaiah Nelsen (14 points, 10 rebounds).

That's quite the turnaround from the previous two meetings this year. In their first meeting on Dec. 20, in the first round of the Greater Lawrence Christmas Tournament, the Warriors prevailed 76-63 in overtime. The second time around, on Jan. 18, Andover won 64-52 in regulation.

"There's nothing ever easy about Andover," McVeigh said. "We can't do anything about the first two, all we could do is try to grab one of the three, and that's what the kids did."

Andover was led in scoring by senior Chris Dunn (14 points), who started with three 3-pointers to open the first quarter. The Warriors also got 10 points from Jack Konevich, and nine each from Sam Dowden and David Giribaldi.

Lob City Lite: Late in the third quarter, NA junior forward Casey Walsh heaved up an alley-oop pass from the left wing that found Bardwell on the weak-side post, running for a dramatic lay-in and drawing a foul in the process for a three-point play. McVeigh turned to a reporter seated near the scorer's table and cracked, "You're smiling, but I'm not."

It's not McVeigh's preferred method, but tonight the Knights excelled at the lob, mostly when used as an outlet pass to trigger a fast break. The game opened with a breakaway two-handed slam from Nelsen, firing up the home crowd. In the first 4:20 of the game, the Knights scored three times off deep lobs in the fast break, with either Nelsen or Bardwell crashing down the lane for an easy layup.

"I'm telling you, we're a fast break team," Bardwell said. "They were running a 1-3-1...We'd just bring it up, pass middle, pass to the side, and they just found me. It worked beautifully."

Sentimental visit: Bardwell's visit Tuesday night to Central Catholic's famed Memorial Gymnasium will be his first since he last suited up for the Raiders a year ago. Bardwell had nothing but good things to say about Central, and credits coach Rick Nault (who was in attendance tonight) for helping his development as a rebounder.

But make no mistake, Tuesday night is going to be a big night not just for Bardwell, but for the NA program itself. On Jan. 29, the Knights upset Central in dramatic fashion, rallying from an 18-point deficit midway through the third quarter to earn the program's first win over the Raiders since 1986. Another win over Central on Tuesday would sweep the season series, and put the Knights in pole position for the MVC Large title -- a spot few predicted coming into the season for the Knights, in their first year since moving from the Cape Ann League.

"I'm coming into that game roaring," Bardwell said. "It's going to be unbelievable. We're all pumped up. I'm going to come in with the same enthusiasm I came into with this game, and it's going to be awesome. It's going to be probably the best experience of my life. And we're ready."

And the expected capacity crowd? Bardwell thinks, "It's gonna be insane."

Does he expect that crowd to be riding him?

"All game," he laughed. "I was talking to this kid, he said they've already got chants ready. They're gonna rock."