Boston High School:

Davis Butts
May, 29, 2012
5/29/12
4:00
PM ET
When Loyola University Maryland claimed its first ever Division I men's lacrosse national title on Memorial Day at Gillette Stadium, the Greyhounds trace their roots to Massachusetts.
A pair, junior midfielder Davis Butts and sophomore defender Peter Bowes, both attended Walpole High School, a stone's throw away from the site of yesterday's championship. Another, junior midfielder Josh Hawkins, is a product of Amherst-Pelham Regional, by way of Deerfield Academy.
[+] Enlarge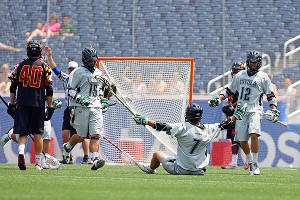 Anthony Nesmith/Cal Sport Media/AP ImagesDavis Butts scored Loyola's first goal in the championship game.
Following the
Greyhounds' triumph
, we caught up with Butts — who also happened to score Loyola's first goal in the 9-3 win over Maryland — to talk about their championship season and look back at his time with the Rebels:
On his goal to put Loyola on the board:
"We came out extremely excited for the game, obviously, it's the national championship. We had a plan and they came out and scored first, but we rallied back. You've got to give a lot of credit to the offense, [Eric] Lusby's played out of his mind the entire tournament. The defense played unbelievable, holding them to just a few points. It was a team effort today."
On how the team built through the season:
"This probably the closest team we've had in a long time … We all live together, we're all on the same page at all points, we're in the same classes. It's just a good chemistry on the field and off the field. No one doesn't like each other. That's what's built into what we have now, which is a national championship at this point."
On whether it was extra special beating another Maryland-based team:
"Absolutely. When you look around and you see Maryland, Hopkins, Towson, lacrosse in Maryland is one of the biggest sports. To bring the title back to Loyola, which never has happened before, is huge. Those teams have won plenty of times, but it's our turn. It feels great and it definitely puts a statement on next year, people are going to be chasing us."
On what it meant having three Mass. natives on team:
"It's good. It was good to have three Mass. boys on the team, especially since we're up here in Massachusetts. Massachusetts lacrosse has been growing ever since I was a little kid. It definitely shows how the youth programs are good and how, coming through high school, how many good players are produced."
On whether he was planning to sleep in his own bed postgame: "
I wish. [Laughs.] I'm going to go and talk to my parents, and see the family and all that stuff, get back to Baltimore, and then hopefully get back up here as fast as possible."
On what he learned playing at Walpole that has made him successful:
"One thing I learned from my coach, Jason Andalo, is just discipline. You know coming in as a freshman that it's going to be a much faster game. What comes with that is discipline. If you do the right things, then you'll be able to play and get on the field."
On the decision to sport a mustache for the tournament:
"Well, it started off as a beard. Then, the mustache started trending a little bit toward the end of the tournament, so I went with it, like some of the other guys."