Boston High School:

Davis Kraft
June, 5, 2013
6/05/13
3:29
AM ET


WORCESTER, Mass. -- It was more a matter of when than if.

With a sizeable 6-1 lead in the third quarter of Tuesday's Division 2 Central semi-final matchup with rival Algonquin at Foley Stadium, St. John's (Shrewsbury) was cruising along. Something felt amiss from a game between teams which have produced countless classics – both regular-season and postseason – in recent memory. It was almost too easy. It didn't feel right.

Inevitably, the Tomahawks made their run, drawing within goal late in the fourth quarter. But the Pioneers wouldn't be denied, closing out an 8-6 win over Algonquin. After the Tomahawks ended St. John's season in each of the last two tournaments, the Pioneers finally had their day.

"We knew it'd be a battle," St. John's junior attack Andrew Smiley said. "It was the last time we played them … It feels great to finally beat them in the playoffs after they got us in the last two years."

After a scoreless first quarter, the Pioneers (18-3) opened it up in the second quarter. They took a 4-1 lead into halftime and amassed a five-goal lead by 6:32 of the third, with Smiley completing a hat trick on back-to-back strikes.

Algonquin (16-7) then went on a 4-0 run, capped by Jacob Scearbo's third of the game, to cut the deficit to one midway through the fourth.

"I knew we'd come back and push hard," Tomahawks head coach Rich Luongo said. "This team doesn't know how to not play hard, especially when we're down against St. John's."

He continued, "It's an ebb-and-flow game, just like basketball. Even at 6-1, I knew we'd have a run in us."

After trading goals later in the quarter, including Scearbo's game-high fourth, St. John's slammed the door on Hunter Burdick's second of the game with 1:26 remaining.

"We kind of got rattled and got out of our game plan a little bit, especially that last one that Scearbo scored," Pioneers head coach Terry Leary said. "We said, 'Look, stay on their shoulders, ride them top side if they're coming from X, drive them down the alleys.'"

HARD-LUCK PERFORMANCE
Throughout Algonquin's attempted comeback, Scearbo was brilliant. Along with senior attack Keegan Gillis (2 G, 1 A), the senior midfielder practically put the team on his back, scoring all four of his goals in the second half.

Scearbo had embraced a great role within the Tomahawks' offense ever since senior captain Davis Kraft was lost to injury during the second half of the regular season.

"We've worked hard with him on his drive," Luongo said. "He's got a very good shot when he comes over the top and, in the second half, that's what he did. He started shooting over the top."

After putting in the hard work and embracing his opportunity, Scearbo shined on the greatest stage.

"He's a quality kid," Luongo added. "He's a kid that we say has the 'Lax Flow.' It's swagger, and that's what Scearbo has."

BREAKING DOWN THE DOOR
After a defensive stalemate in the first quarter, the Pioneers were off and running in the second.

Smiley credited the work of St. John's faceoff extraordinaire Connor Maloney for setting the four-goal period in motion with his draws.

"We started really pushing it in transition," Smiley said. "Our faceoff guy, Connor Maloney, he was winning them forward. We knew we could have them in transition, so we were trying to get the most out of those opportunities as possible."

While Algonquin bridged the face-off gap in the second half, the Pioneers were able to win the ground ball battle in the fourth quarter to close out a victory that once looked a certainty.

"We told them that we expected it to be a one-goal game," Leary said. "That's what we play."

The Pioneers advance to play Grafton in the Division 2 Central final Saturday (3 p.m.) at Foley.
April, 8, 2013
4/08/13
2:24
AM ET
Attackmen:
Tyler Bogart, Soph., Catholic Memorial
Jordan Dow, Sr., Lincoln-Sudbury
Jay Drapeau, Jr., Westford Academy
Brandon Jaeger, Sr., Dover-Sherborn
C.J. LoConte, Sr., Duxbury
Andrew Melvin, Sr., Medfield
Nick Menzel, Jr., Archbishop Williams
Nico Panepinto, Sr., Needham
Robbie Pisano, Sr., Needham
Tyler Reilly, Sr., Grafton
Andrew Smiley, Jr., St. John's (Shrewsbury)
[+] Enlarge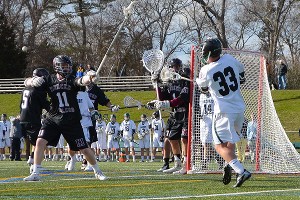 Scott Barboza/ESPN Army commit C.J. LoConte will look to shoulder a bigger part of the offense for defending Division 1 state champion Duxbury.
Midfielders:
Kevin Bletzer, Jr., Catholic Memorial
Will Blumenberg, Soph., Concord-Carlisle
Caleb Brodie, Jr., Hingham
Alec Brown, Sr., Wakefield
Tucker Ciessau, Sr., Scituate
Dan Delaney, Sr., Lincoln-Sudbury
Henry Guild, Sr., Lincoln-Sudbury
Carson Hart, Sr., Wayland
Davis Kraft, Sr., Algonquin
Matt LaCroix, Sr., Westfield
Drew O'Connell, Jr., St. John's Prep
Mikey Panepinto, Jr., Needham
Kieran Presley, Sr., Amherst
Bryan Rotartori, Sr., Grafton
Jack Wheeler, Jr., Xaverian
Long-stick Midfielders:
Nick Brozowski, Jr., Concord-Carlisle
Mike Elcock, Jr., Needham
D.J. George, Sr., Arlington Catholic
John Sexton, Jr., Lincoln-Sudbury
Defensemen:
Evan Boynton, Sr., Concord-Carlisle
Tim Gillis, Soph., Cohasset
Brian Uva, Sr., St. John's Prep
Luc Valenza, Sr., Foxborough
Jay Walsh, Sr., Duxbury
Tyler Weeks, Sr., Andover
Ian Yanulis, Sr., BC High
Goaltender:
Andrew Blood, Jr., Walpole
Matt Comerford, Sr., Reading
Ryan Goodall, Sr., Dover-Sherborn
Nick Marrocco, Jr., Duxbury
Giles Ober, Sr., Algonquin
Jake Reynolds, Jr., Scituate
D.J. Smith, Sr., Billerica
Robert Treiber, Jr., Medfield
Tighe Van Lenten, Sr., Masconomet
June, 16, 2012
6/16/12
2:17
AM ET
By
Ryan Kilian
| ESPNBoston.com


WORCESTER, Mass. -- The Concord-Carlisle boys' lacrosse team wrote a new page in their long and storied history book on Friday night as they defeated Algonquin 13-3 to win the school's fourth state championship and first since 1998.

The undefeated Patriots saved one of their strongest efforts for last as they struck early and often and played some of their best team defense of the season in the Division 2 state championship game.

"We have never had a season where we have played up to or beyond our potential every single game," Concord-Carlisle head coach Tom Dalicandro said. "It is amazing."

Concord Carlisle (22-0) got all the offense they would need in the first quarter as senior midfielder Jackson Finigan set the tone early by netting the games first two goals on strong individual efforts. Finigan and freshman midfielder Will Blumenberg would each net hat tricks in the opening quarter to give C-C a 6-0 lead after one.

Finigan would add his fourth goal of the game with 4:36 remaining in the second quarter to give C-C a 7-0 lead heading into the half.

Concord-Carlisle All-American goalie Doug Gouchoe made five of his nine saves in the first half and the C-C defense held the talented and high-scoring Algonquin attack of Conor Healey, Mike Wood and Keegan Gillis scoreless in the half.

Algonquin (22-2) got on the board with 6:46 remaining in the third quarter as Wood scored the first of his two goals on the night. Blumenberg would answer for C-C with his fourth of the game a minute later.

C-C closed out the quarter with three more tallies to Algonquin's one score to take a 12-2 lead into the final quarter of play.

Wood and Finigan would exchange goals in the final quarter as C-C controlled possession to seal the win.

Finigan finished the game with six goals and Blumenberg added five goals and two assists to lead the C-C offensive attack.

"It was a team effort," Finigan said. "Everything that I did would not have happened without the guys on the field out there."

Senior Leadership: "The seniors on the team this year are the hardest workers we have," Dalicandro said.

Finigan, Gouchoe, All-American long pole Henry Bumpus and midfielder Mike O'Brien (1 Goal) were the C-C captains this year.

Finigan will do a postgraduate year at Deerfield before heading to the University of Delaware to play lacrosse in 2013.

Gouchoe will head to the Air Force Academy where he will continue playing lacrosse.

"Doug has been unbelievable," Dalicandro said with a smile on his face. "We are going to miss him next season along with all of the seniors."

Bumpus, who missed the Shriners All-Star football game at Gillette Stadium on Friday to play in the state championship, will play football at Brown University next fall with his brother John and C-C football teammate Andrew VanderWilden.

O'Brien, an All-American soccer player, will head to the University of Pennsylvania next fall as a member of prestigious the Wharton School.

Refuse to Lose: Concord-Carlisle senior lacrosse players Bumpus, Finigan, Tyler Koning and Anthony West were also members of the Concord-Carlisle football team that went 13-0 and won the Division 3 Super Bowl under head coach Mike Robichaud.

"Going undefeated in two sports and winning two state championships are some really great memories that we will leave behind," Finigan said.

The Futures: Blumenberg, who also starts at defensive back on the football team and guard on the basketball team, is a unique talent at Concord-Carlisle. The freshman was a top scorer this season while playing attack and midfield for the Patriots.

With top long pole Evan Boynton returning for his senior year along with Sam Barrett, Javier Flores and Blaine Taylor, the C-C defense should again be one of the top in the state.

Algonquin also returns many key components next year at attack with Gillis and Wood, in addition to midfielder Davis Kraft and goalie Giles Ober.
June, 18, 2011
6/18/11
1:50
AM ET
By
Bruce Lerch
| ESPNBoston.com
WORCESTER, Mass. -- Medfield had its hands full with Algonquin for three quarters, but it was in the fourth where the defending Division 2 boys' lacrosse state champions turned back into reigning state champions.

The Warriors broke open what was a one-goal game by scoring four straight times in the opening 3:11 of the final frame to surge past the Tomahawks and take a 13-9 decision in the Div. 2 title game at Foley Stadium Friday night.

"I don't think we thought it was going to be as close of a game as it was," said senior goalie Sam Aronson. "All the credit to them. They came out and played hard. They gave us one of the best battles of these playoffs, and we've had some pretty big battles. I'm proud of the mental toughness we all showed. We never gave up. We just kept fighting the whole game until the fourth quarter was ours."

Algonquin (20-5) seemingly grabbed the momentum, capitalizing on a Medfield penalty with a big goal by Davis Kraft (hat trick) in a man-up situation with just 22 seconds remaining in the third.

Instead, the current chose to ride with the Warriors (18-7), who rallied behind faceoff specialist Clay Richard (12-for-13 on faceoffs in the second half) for quick goals by Chris Diana, Connor Roddy (twice) and Matt Crowell. That spurt turned a 9-8 affair into what proved to be an insurmountable 13-8 Medfield advantage with 8:49 left to play.

"We were in the hunt. We were in there in the third quarter," said Algonquin coach Rich Luongo. "I think the difference was their faceoff guy took control of the game in the second half."

The Warriors junior FOGO finished with 19 faceoff wins in 25 attempts but deflected a lot of the credit to his teammates.

"I do as good as my team, it's a collaborative effort," Richard said. "I know I got a lot of help from Ben Mastrogiovanni on the sidelines, calling out where their defense was, where I should put it to best help my team. We've been saying all year that we need to make runs and we made a run and pulled away and that's what made the difference."

Medfield pulled out to a quick 2-0 lead on goals by Peter Gill and Roddy, but received a quick wakeup call as Algonquin stormed back with three straight, one by Ian Kemper and a pair from Kraft, to take a 3-2 lead.

The two teams traded goals to open the second before Medfield went on it's first run, getting consecutive goals from Andrew Melvin, Peter Gill and David Parsons (hat trick) to pull ahead, 6-4. Junior Connor Healey (two goals, two assists) got one back for the Tomahawks before halftime, and Zack Tarallo tied it at 9:52 of the third.

After another Richard faceoff win, Roddy spotted freshman Robert Treiber flashing toward the middle and hit him with a perfect pass for an easy look, but Algonquin responded again as Tarallo ripped a sidewinder into the back of the cage for his third goal just under two minutes later. Parsons and Melvin put Medfield back up by two before Kraft's extra-man tally at the end of the quarter.

The final stanza, however, would belong to Medfield, who was bred for the moment thanks to a combination of having been there before and a brutal regular season schedule that featured some of Massachusetts' elite lacrosse programs.

"One of the things that we told the kids coming in, looking at our run through the tournament and theirs, I think we had a pretty tough draw on our side of the bracket," Medfield coach Bob Aronson said. "But even so, we came out unscathed. Everybody's healthy, everybody's eligible and everybody's playing."

"And we knew they had three overtime games to get here so they're tired and a little beat up," he continued. "We figured if we could stay ahead of them or hang with them for three quarters that we'd own the fourth quarter and that's pretty much what happened."