Boston High School:

Dedham
June, 10, 2013
6/10/13
1:23
AM ET
By
Josh Perry
| ESPNBoston.com


TAUNTON, Mass. – In the biggest moments, the best players need to be counted on. Under pressure, teams rely on the stars to step up, raise their games, and find a way to win. On Sunday evening at Jack Tripp Field at Taunton High, the consensus best player in the state and three-time Gatorade Player of the Year demonstrated once again why she receives those accolades.

Milford's Shannon Smith reached base in all four at-bats, smashed a three-run homer, and struck out nine batters to lead the Scarlet Hawks to a dominating 7-0 victory over Bridgewater-Raynham in the Division 1 South sectional final. It was a meeting of the sectional's top two seeds and the top two teams in the statewide, ESPNBoston.com Top 25 poll, but in the end it was all about Smith and the Hawks.

Smith explained her approach against the Old Colony League champs.

She remarked, "They have some pretty good hitters and I just tried to keep breaking different zones – inside/outside, up/down, just to make sure that they weren't expecting one certain spot."

Smith added, "After the first inning, I adjusted to the umpire and we were good to go."

The Trojans had an opportunity to change the story in the bottom of the first inning. Madi Shaw led-off with a double down the leftfield line and Stacey Korotsky followed with a walk. Chelsea Correia popped it up on the infield, but a tangle at first base allowed the ball to drop and the runners to advance on the infield fly rule.

With two runners in scoring position and only one out, the Trojans looked like they were going to be the first team to score on Milford (23-1) in the postseason. But, cleanup hitter Emily Kurkul bunted a liner right back to Smith, who then fired to third to double up Shaw and escape the jam.

Smith spoke after the game about the importance of that sequence.

"We start off the game a little shaky defensively too; I think we're a little unsure- there's a lot of pressure," Smith said. "It really gave us a lot of momentum, and a lot of confidence too, and it relaxed us to get out of that."

The game was scoreless into the top of the third, when Smith struck with a blast to left. Prior to Smith's at bat and with a runner on base, senior Lauren Hanna battled B-R's sophomore pitcher Sarah Dawson and fouled away several two-strike pitches to draw a walk that continued the inning. Smith promptly stepped up and made it 3-0 by following the plan that the team scouted in B-R's win over Silver Lake.

"We watched them on Thursday, I guess, and we saw that she really pounded the inside corner for pretty much the whole game," said Smith about Milford's gameplan against Dawson. "I knew that she was coming inside and in my first at bat I took it deep, but not quite out…I knew where it was coming the second time and I really got adjusted to her and got a good piece."

After the game, Milford head coach Brian Macchi made sure to highlight Hanna's contribution to the big inning.

He commented, "It was just a real hard-fought at bat by Lauren Hanna that I have to keep going back to that allows that to happen. Without that walk, Shannon never gets up with anybody on. So, it changes the whole complexion of that game."

Smith settled into a groove and allowed only two base runners (both with two outs) after the first inning, while Dawson was struggling against a patient and potent Milford line-up. Macchi credited the team's approach and the work that it did in the cage for being successful at the plate.

"We've been practicing for three straight days…working that inside corner and making sure that we're ready to clear our hips and drive the ball," he said. "The girls bought into it for three days of work and did an outstanding job today."

The Hawks, who finished with nine hits, broke the game open by batting around in the fifth.

A hit, a walk, and an error loaded the bases for senior Caroline Fairbanks, who lined a two-run single to left to make it 5-0. Sophomore Taylor LeBrun drove in a run with a single and then freshman Jill Powers, who went 2-2 with a walk, brought home a run with a hit of her own.

The 6-8 hitters in the Milford lineup reached base a combined six times, which Macchi believes is crucial to the team's success offensively.

He said, "We had an inning where Allie Piergustavo got a hit, Jill [Powers] got a base hit, and Lizzie [Stallone] just missed getting a hit, but it allowed us to get back up to Sam [Bonvino, lead-off hitter]. Turning that line-up over is just as good as getting RBI's sometimes because it allows the top of the line-up to do the damage."

The loss was the first of the season for the Trojans, who finish at 23-1. Meanwhile, the defending state champions will advance to the Eastern Mass. final on Tuesday night against the North sectional champs, Central Catholic.

D2 South Final: Bishop Stang 5, Dedham 3
In Sunday's improbable afternoon match-up, the no. 13 seed Bishop Stang claimed the Division 2 South title with a 5-3 win over no. 18 seed Dedham. Neither team was expected to make much noise coming into the postseason, but the Spartans would take home the hardware at Taunton High.

Stang came into the game on the heels of an 11-inning, 5-1 victory over Eastern Athletic Conference rivals Coyle-Cassidy and jumped out to a 1-0 lead in the bottom of the first. Dedham answered back with a pair of runs in the second on hits by Kristina Mitchell and Brianna Dozier.

The Spartan stormed right back in the fourth highlighted by a two-run double from second baseman Katie Wood, which was followed by another a double from Nicole Andrade. A Dedham error allowed an unearned run to score and it was 5-2 after four innings.

Dedham would get a run back in the sixth but failed to create any chances in its final at bat, giving Stang an unlikely sectional championship.
November, 7, 2012
11/07/12
12:41
AM ET
By
Josh Perry
| ESPNBoston.com
MEDFIELD, Mass. -- The Medfield girls' soccer team demonstrated the importance of a dominant midfield in a 2-0 dismantling of Bay State Herget division champion Dedham on Tuesday night in a Division 2 South quarterfinal match.
Medfield (17-0-3) controlled possession and consistently stepped forward to break up Dedham attacks before they could threaten the Warriors goal. Medfield was so successful in keeping the Marauders at bay that Dedham (15-2-4) managed only one shot on goal and it came off a corner in the 76th minute.
Medfield coach Michael La Francesca highlighted the play of senior Jen Narlee as a controlling influence in the heart of the midfield that allowed the speedier wide players to create chances.
[+] Enlarge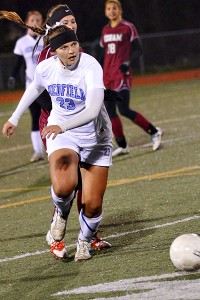 Josh Perry/ESPNBoston.comMedfield's Jen Narlee helped the Warriors win the battle of the midfield in a 2-0 blanking of Dedham in Tuesday night's Division 2 quarterfinal match.
"The goal is, if you can control the ball in the middle and keep the ball on the ground, we would have more possession," La Francesca said. "If you have more of the possession - than you have more of the play."
The Warriors took the lead in the 13th minute.
The sequence began with striker Katelyn Murray had several shots blocked on the edge of the box. The attempted clearance came right back at the Dedham defense and Murray fired in another shot that forced a good save out of Ellen Masalsky, which was turned home by senior Krista Pinciaro.
Dedham played much better in the second half and started to find openings to attack the Warriors defense. The biggest talking point of the second half came seven minutes after the break when a great through ball fed junior Libby Masalsky in behind the last defender. Medfield's Colleen Beggan shouldered the forward off the play and Dedham's bench cried out for a penalty.
The refs denied the appeal and called it a fair challenge. It would be the Marauders best chance until the final moments of the game.
Dedham head coach Don Savi was certainly not happy with many calls from the officials during the game, but afterwards admitted that Medfield's defending was a much bigger factor in the final outcome.
"They're a good defensive team. They only gave up six goals all season, we knew that. We had a couple chances, but couldn't get an open look. It wasn't the reason we lost, but it was a good game and we shouldn't have an official that can't handle it."
The Warriors wrapped up the game in the 26th minute. Freshman Krissy Rimmel reached the end line and cut the ball back to Cami McCurdy, who opened up space on her right foot and the shot found the side netting off the fingertips of Masalsky.
Despite the loss, Savi is proud of Dedham's achievements this season and the success this senior class has had over the past four years.
"I have nothing bad to say about this team, even tonight, they worked hard. Three league championships in four years that's the best we've ever done. It's been a fun year."
Medfield, the No. 3 seed, will move on to face No. 7 seed East Bridgewater in the sectional semifinals. La Francesca was looking forward to the next game after beating two very tough opponents in the opening rounds.
"I do like our chances right now. We beat two of the better teams in the bracket. I'd rather play stronger teams at this point to get us ready."
State tournament notes:
Medfield was not the only favorite in D2 South to advance on Tuesday. The Canton girls' soccer team, the No. 4 ranked team in the state, also moved into the sectional semifinals with a 1-0 win over Scituate. Canton will face Duxbury, which beat Holliston in the afternoon game. The expectation coming into the season was that Medfield and Canton would have to go through each other to win the sectional and right now that showdown still looms on the horizon.

There were shocks galore in the Central sectional as both of the top remaining seeds in the boys' soccer Division 1 bracket were knocked out on Tuesday. Worcester North, No. 10 in the state, was stunned 2-1 by Leominster (who they beat 3-0 during the regular season) and No. 20 Algonquin was beaten, 1-0, by Wachusett. The top seeds in the girls' sectional are still alive setting up the third meeting of the season between Nashoba and Algonquin (Nashoba won each of the first two games).

Several ranked teams went down in the topsy-turvy and ultracompetitive D1 North girls' sectional. Acton-Boxborough, which knocked off No. 2 Peabody on Sunday, fell to Westford Academy in penalties. Westford will face Beverly in the next round, which knocked off No. 18 Concord-Carlisle. On the other side of the bracket, No. 10 Lincoln-Sudbury beat No. 19 Newton North, 4-2, and will play No. 11 Central Catholic in the semifinals.

In the girls' D1 South sectional, No. 9 Needham came from behind in the final minutes of regulation and beat North Attleborough, 2-1, in overtime. Needham coach Carl Tarabelli and North coach Bill Wallace are good friends and shared several laughs during the game. Wallace's gameplan of limiting Needham chances and hitting on the break almost worked to perfection when senior Jamie Grinavic scored with just over 10 minutes remaining. Two headers off corners, by Katie Beval and Sammy Lerner, allowed the Rockets to avoid the upset. Needham will face No. 16 Oliver Ames after the Tigers beat No. 14 Whitman-Hanson on penalties.

The boys' side of the tournament also offered some great matchups and several surprising result. In D1 North, No. 6 St. John's Prep beat No. 4 Acton-Boxborough 1-0 and will face the No. 1 team in the state, Masconomet, in the semifinals. In the South sectional, No. 2 Needham was led by player of the year candidate Mac Steeves, who scored two goals in a 3-0 win over Marshfield. Next, the Rockets will face No. 12 Dartmouth, which dispatched No. 16 Nauset with surprising ease, 5-0. On the other side of the bracket, Weymouth and Oliver Ames will have a rematch of a regular season game that was won by Weymouth 1-0 on a scrappy goal by Mike Lynch.
October, 25, 2012
10/25/12
4:03
PM ET
For the first time in more than a calendar year, there's a new team atop our
MIAA girls' soccer Top 20 poll
this week.
Franklin takes over the top spot in the poll after extending its perfect start to the season to 15 games. Peabody drops a single spot in the rankings after a surprise loss to Acton-Boxborough.
It was only the second time in three regular seasons that the Tanners have been beaten.
East Longmeadow drops a spot to make way for Franklin moving up the poll, but expect all three teams at the top to challenge for their respective sectional titles.
Needham falls from No. 7 to No. 12 after being beaten 4-0 by Newton North. The BSC Carey division champions will take on Herget champion Dedham on Thursday night in the Needham 300 Cup. Newton North's win over the Rockets sees them jump into the polls this week, replacing Auburn which has lost its last two games.
Concord-Carlisle, Dedham, and Scituate are some of the big movers this week. A few teams, such as Bishop Feehan and Danvers, are right on the edge of being ranked and will be a threat come playoff time.
October, 17, 2012
10/17/12
10:37
PM ET
Peabody remains No. 1 both nationally and in our latest
MIAA girls' soccer Top 20 poll
. The Franklin Panthers perfect season continue and has moved them up two spots to No. 3.
Medfield and Whitman-Hanson have done little wrong, but the dominant play of the Panthers means that draws are enough to drop a spot. Back-to-back draws dropped Duxbury a few spots behind still perfect Cardinal Spellman and Lincoln-Sudbury and unbeaten Dedham.
Oliver Ames and Concord-Carlisle remain in the top 20 despite losses. OA fell 1-0 to No. 6 Canton and all three of its defeats are to teams in the top 6. The Patriots lost 2-0 to Peabody and pushed the Tanners as much as anyone this season.
Bishop Feehan continue to be in and out of the rankings. The Shamrocks are replaced this week by Scituate, which beat North Quincy to take control of the Patriot League's Fisher Division.
There are several key match-ups this week to watch, led by No. 8 Nashoba facing No. 15 Algonquin in a central showdown on Thursday, No. 3 Franklin facing a streaking North Attleborough team on Friday, No. 7 Needham playing Winchester on Saturday, and No. 5 Whitman-Hanson traveling to No. 12 Duxbury on Monday.
January, 24, 2012
1/24/12
12:30
PM ET
BOYS MIDSEASON ALL-STATE
F - Brendan Collier, Malden Catholic
F - Ryan Fitzgerald, Malden Catholic
F - Sam Kurker, St. John's Prep
D - Jared Beckwith, Catholic Memorial
D - Jake Secatore, Woburn
G - David Letarte, St. John's Prep

Others garnering consideration:
Tom Besinger, Soph. F, BC High
Tom Cahill, Sr. F, Pembroke
Liam Centrella, Sr. F, Andover
Frank Crinella, Sr. F, Springfield Cathedral
Peter Cronin, Jr. G, BC High
Kevin Emmerling, Sr. F, St. John's (Shrewsbury)
Connor Fenton, Sr. D, Braintree
Jarrod Fitzpatrick, Soph. F, St. Mary's of Lynn
Brian Furey, Sr. D, BC High
Danny Holland, Sr. F, Woburn
Pat Houghton, Sr. D, Westford Academy
Mike Iovanna, Jr. F, Malden Catholic
Mike Kelleher, Jr. F, Central Catholic
Chris LeBlanc, Sr. F, Winthrop
Conal Lynch, Sr. F, Boston Latin
Colin MacGillivray, Jr. D, Malden Catholic
Nikko Markham, Sr. D, St. Mary's of Lynn
Bobby Mullins, Sr. F, St. Mary's of Lynn
Brian Pinho, Jr. F, St. John's Prep
Casey Shea, Sr. F, Woburn
Shane Starrett, Jr. G, Catholic Memorial
Joe Strangie, Jr. F, Danvers
Kyle Williams, Sr. G, Central Catholic

GIRLS' MIDSEASON ALL-STATE
F - Natalie Flynn, Arlington Catholic
F - Kayla Smith, Woburn
F - Kati Goguen, Acton-Boxborough
D - Martha Findley, Duxbury
D - Emily Loebs, Acton-Boxborough
G - Courtney Davis, Woburn

Others garnering consideration:
Cassandra Connolly, Jr. D, Woburn
Lily Connolly, Jr. F, Duxbury
Jackie Denning, Jr. F/D, Lexington
Rachel Donahoe, Sr. D, St. Mary's of Lynn
Jane Freda, Jr. F/D, Hingham
Haley Gaughan, Sr. F, Canton
Samantha Girard, Fr. F, Dedham
Erika Kelly, Sr. F, Watertown/Melrose
Cali Loblundo, 8th G, Acton-Boxborough
Brooke Matherson, D, Walpole
Caroline McCarthy, Sr. F, Belmont
Tori Messina, So. D, Hingham
Annie Messuri, D, Acton-Boxborough
Megan Messuri, Soph. G, Arlington Catholic
Hannah Murphy, Jr. F, Duxbury
Rachel Myette, So. G, Duxbury
Shannon O'Neil, G, Austin Prep
Danielle Phalon, Sr. F, Stoneham
Casey Schaejbe, Sr. G, Arlington
Sarah Schwenzfeier, Jr. F, Hingham
Caroline Shaughnessy, So. D, Duxbury
Kaitlyn Spillane, Jr. F/D, Franklin
Bethany Welch, Jr. G, Walpole
Rebecca Zappalla, Sr. D, Arlington Catholic
January, 9, 2012
1/09/12
5:34
PM ET
The ESPN Boston MIAA girls' hockey Top 25 poll has been updated
here
.
There was movement through the Top 10, with Acton-Boxborough exacting some revenge on Hingham for last year's Division 1 state final defeat. The Colonials moved to No. 3 while the Harborwomen fell to No. 4. Meanwhile, Norwood made the biggest leap of the season, charging from No. 25 to No. 10 after a couple of Bay State upsets over Braintree and Dedham.
Two teams made their Top 25 debuts with Falmouth and Gardner/St. Bernard's checking in at No. 23 and 24, respectively.
December, 29, 2011
12/29/11
5:24
PM ET
The MIAA girls' hockey Top 25 poll has been updated
here
.
We have a new No. 1 this week -- and we'll start by saying, it's not because of what Duxbury didn't do -- it's matter of how dominant Woburn has been.
The big mover of the week was Dedham, which jumped up 14 spots to No. 9 with the Marauders' 4-0-0 start.
We had six new teams join the Top 25, highlighted by Barnstable at No. 10, along with Westwood (18), Chelmsford (19), Wayland/Weston (21), Springfield Cathedral (23) and Norwood (25).
November, 1, 2011
11/01/11
5:28
PM ET
As teams wrap up their regular season slates this week, we provide to you one last regular season look at the
MIAA girls' soccer Top 20 poll
, along with a few observations from resident soccer guru James Walsh:
Medfield stays atop our poll, but there was lots of movement in the Top 10. Lincoln-Sudbury and Dartmouth each lost for the first time this season and the Franklin Panthers jumped into the top 10.
Acton-Boxborough climbs back into the poll after an impressive 3-0 win over Lincoln-Sudbury with Kaylee Sye and Maya Jarostchuk leading the Colonials' offense. The win avenged a 2-0 loss to L-S back on Sept. 22; A-B hasn't lost since.
Falling out of this week's poll were Dedham and Algonquin. The Mauraders and the Tomahawks are still right on the bubble, but strong play of Brockton and A-B moved them up and into the Top 20.
ON THE BUBBLE
Danvers (10-3-0)
- Back to back losses to tough opponents, No. 3 Peabody and No. 1 Andover.
Concord-Carlisle (12-4-0)
LW NR - Took the DCL Small title with a 3-2 win over Wayland with Andrea O'Brien scoring all three goals.
Shrewsbury (10-2-2)
LW 9 - The Colonials defeated Leominster, 8-0, the second time in a week they'd defeated the Blue Devils.
Whitman-Hanson (11-3-1)
- Devin Morse scored twice in a win over Duxbury to win the Panthers' fourth Patriot League title.
Duxbury (11-2-3)
- See above.
October, 6, 2011
10/06/11
3:33
PM ET
Our
MIAA girls' soccer Top 20 poll
is now updated on the site.
Also, here's a couple of takeaways this week from resident soccer guru James Walsh:
TEAMS TO WATCH
One team to look for is Dover-Sherbourn out of the Tri-Valley League who are 6-2-1 on the season. They are lead by captains Elizabeth McMillen in the back, junior midfielder Victoria Ortega, and leading scorer Maddie Dunn. They also have a crop of talented underclassmen including junior goal keeper Julia Perlmutter and sophomore midfielder Jackie Gouldreault, who scored a thunderbolt from distance last Monday against Westwood.
No. 7 Newton North not only has the potential to make a deep run this year, but also to be a top 10 team for years to come. Senior captain and left back Sarah Perlo and co-captain Lauren Smith anchor a defense that has kept five clean sheets and goalkeeper Maddie Bledsoe is just a sophomore. Another sophomore, Christina Callahan scored twice in the Tigers 4-2 win over Needham, with freshman Anna Nesgos also scoring in that contest.
Also on the bubble is Atlantic Coast leaders Plymouth North (7-1-0). The Eagles only loss of the season came against Marshfield.
New to the poll
Lexington at No. 16
Dedham at No. 17
Marshfield at No 20
Out of the poll
Westford (5-3-1) LW 14 a 3-1 loss at Concord Carlisle last week.
Danvers (5-2-1) LW 17 A 2-1 win over Swampscott
Weston (5-3-1) LW 20 Fell to Lincoln-Sudbury 2-0
July, 9, 2011
7/09/11
1:34
AM ET
Courtesy Bay State Games media relations director Peter Cohenno:

ICE HOCKEY
New England Sports Center – Marlboro, MA

Boys Scholastic

Northeast 3, Metro 2
Northeast mounted a comeback to defeat Metro in a thriller, 3-2. Metro scored both goals with less than a minute to go in the first period. The first goal was scored on a perfectly executed two-on-one as Conal Lynch (Charlestown, Boston Latin) threw a centering pass to Kevin Cotrone (West Roxbury, Boston Latin) who finished it off for the first goal of the game. Just 40 seconds later, Northeast got an unfortunate bounce as Metro's Brendan Kerrigan (South Boston, BB&N) fired a centering pass that deflected off a defenseman's skate and into the net. Leading 2-1 going into the third period, Metro maintained its relentless fore check and kept Metro from sustained offensive pressure. With less than five minutes remaining, Northeast found momentum when Tyler McKelvie (Acton, Acton Boxboro HS) corralled the puck off the boards and drove the net, splitting both defenders and sliding the puck past the goaltender. Northeast continued the charge, scoring the go-ahead goal and eventual game-winning goal with two and half minutes remaining. Northeast was able to hold strong in the final minutes despite Metro getting numerous scoring chances, as Alex Buckley (Newburyport, Newburyport HS) stood tall in net.

Central 13, West 0
Central pulled away in the second period to defeat West, 13-0. West struggled to get an attack going after taking four first period penalties, but did play solid defense and only gave up one goal in the opening frame. The Central attack was led by the line of Tyler Kirby (Hudson, Hudson HS), Blake Seymour (Hudson, Hudson HS), and Kyle Griffin (Marlborough, Marlborough HS). Kirby tallied four goals in all. Seymour recorded three assists, and Griffin had a goal and four assists in the win. Nick Stasack (West Springfield, Loomis-Chaffee Prep) and Tommy McCarthy (Longmeadow, Longmeadow HS) combined for the shutout in net.

Coastal 5, Southeast 3
Junior forward Ryan Gouveia (Dartmouth, Dartmouth HS) scored twice including the game-winner and added an assist to lead Coastal over Southeast, 5-3. Joe Kingsbury (Plymouth, Plymouth North), Jonathan Hart (Bridgewater, Bridgewater-Raynham HS) and Daniel Magalhaes (Fairhaven, Bishop Stang) rounded out the scoring for the winners. For Southeast, Jason Riley (Dedham, Dedham HS) tallied two points with a goal and an assist.

Metro 6, West 2
Sophomore Brendan Kerrigan (South Boston, BB&N) scored twice to help Metro beat West, 6-2. Connor Demore (Watertown, Watertown HS) and Colin Defrancisco (Lincoln, Lincoln-Sudbury Reg HS) added two points apiece in the winning effort. For West, Trevor Berman (Turners Falls, Turners Falls HS) and Corey Deres (Leverett, Amherst Reg HS) each collected two points with a goal and an assist.

Girls Scholastic

Southeast/Coastal 4, Metro/Northeast 0
Southeast/Coastal got two goals from Samantha Fallon (Pembroke, Dexter) and Christina Frasca (Norwood, Norwood HS) pitched a shutout in net to guide their team to a 4-0 victory over Metro/Northeast. Haley Gaughan (Canton, Canton HS) and Emily Kelly (Norwood, Norwood HS) added tallies for the winners.


SOCCER
Waltham High School – Waltham, MA

Boys Scholastic

West 6, Central 0
West topped Central, 6-0, on Friday morning. Six different West team members scored in the outing. Goal scorers included: junior Kyle Cupka (Wilbraham, Minnechaug Reg. HS), junior Michael Pope (Springfield, Minnechaug Reg. HS), junior Jon Bzdel (West Springfield, Williston-Northampton), sophomore Ryan Dickinson (South Hadley, South Hadley HS), sophomore Edward Mercer (South Hadley, South Hadley HS), and sophomore Nate Fornier (Belchertown, Belchertown HS). In net for the West, goalkeepers junior Austin Lefebvre (Wilbraham, Minnechaug Reg. HS) and junior Tyler Stratton (Monson, Monson HS) combined for the shutout victory.

Metro 3, Northeast 2
Down 2-0, Metro made a strong second-half comeback to defeat Northeast, 3-2, on Friday. Junior John
Dumbuya (Medford, Medford HS) led the charge for Metro, scoring all three of the team's goals, including the winning goal in the 58th minute. Sophomore Jack Heintzeman (Middleton, Masconomet HS) and junior Valerio Silva (Woburn, Woburn HS) each netted a goal for Northeast.

Southeast 0, Coastal 0
In what turned out to be a defensive deadlock, Southeast and Coastal played to a 0-0 draw. Both teams struggled to create scoring opportunities, as the defense on both sides was impenetrable. The goalkeepers on both sides turned in strong performances to help keep the contest scoreless. Sophomore keeper Alex Sarkis (Walpole, Walpole HS) anchored Southeast, while junior Mike Delgado (New Bedford, Greater New Bedford Voc. HS) and junior James Withers (Coyle Cassidy) split time in net for Coastal to secure the shutout.

Southeast 2, Metro 1
With all of the game's goals coming in the first half, Southeast held on to take a 2-1 victory against Metro on Friday. Southeast scored two quick goals, as junior Jonathan Keys (Norfolk, King Philip HS) netted one in the 24th minute of play and sophomore Roy Butlin (Milton, Milton HS) made good on a penalty kick in the 28th minute. Metro struck in the 33rd, when junior Brent Lo (Arlington, Arlington HS) found the back of the net, but the squad was unsuccessful in its comeback attempt. Junior Colby Gavigan (Canton, Canton HS) recorded the win in goal for Southeast.

Northeast 5, West 3

Coastal 2, Central 0


Girls Scholastic

Metro 1, Southeast 0
With both teams deadlocked through 68 minutes of play, Metro scored with two minutes left to edge past Southeast, 1-0. A defensive battle for most of the game, the lone goal of the game was scored by sophomore Victoria Clancy (Dorchester, Boston Latin School) on a penalty kick in the 69th minute of play to lift Metro to victory. Sophomore Autumn Scanlon (Waltham, Waltham HS) recorded the shutout in net for Metro.

West 3, Central 0
West earned a decisive, 3-0, shutout victory against Central on Friday afternoon. Freshman Mary
Edwards (East Longmeadow, East Longmeadow HS) broke the game open for West in the 25th minute, when she found the back of the net on a penalty kick. The squad never looked back as sophomore Jordan Bates (Chicopee, Chicopee HS) added a goal of her own and Edwards struck again for the third and final goal of the game to seal the victory for West. Freshman Shelby Hall (West Springfield, West Springfield HS) and junior Briana Kubik (Blandford, Westfield HS) combined for the complete game shutout in net for the West.

Northeast 3, Central 2
Northeast edged past Central to secure a 3-2 victory on Friday afternoon. Central struck first, as junior Hannah Millea (Sutton, Sutton HS) found the back of the net in the eighth minute of play. Northeast retaliated, scoring three goals in a row. Sophomore Megan Cullen (Amesbury, Amesbury HS) scored in the 33rd and 65th minute, while junior Lanie Jowett (Atkinson, NH, Central Catholic HS) netted one to make it a 3-1 game in favor of Northeast. Miller struck again in the 68th minute for Central, but the squad was not able to tie it up before time expired. Junior Melissa Toomey (Saugus, Saugus HS) secured the win in goal for Northeast.

West 3, Southeast 0
July, 8, 2011
7/08/11
12:46
AM ET
Courtesy of Bay State Games media relations director Peter Cohenno:

BASEBALL
Bentley University – Waltham, MA

Metro 15, Central 7

In an offensive showcase, Metro earned a decisive 15-7 victory against Central in the opening game on Thursday.

Metro scored six runs on six hits in the top of the first inning to help propel the squad to an early lead, however, Central retaliated in the bottom of the inning, plating five to pull within one.

Metro pulled ahead, 7-5, in the second, as sophomore leftfielder Malcolm Nachmanoff (Boston, Boston Latin) drilled a RBI single, which scored junior right fielder Bartley Regan (Boston, Boston College HS), who had singled up the middle.

In the bottom of the third, sophomore first baseman Zackary Tower (Auburn, Auburn HS) nailed a RBI single and sophomore leftfielder Jake Ryan (Northbridge, Northbridge HS) drew a walk for a RBI to help Central knot the game at 7-7.

Metro put the game out of reach with seven runs in the fourth inning and added one more in the fifth to earn the 15-7 victory.

Nachmanoff and junior second baseman Austin Teal (Malden, Malden HS) led the offensive effort for Metro, going 2-for-2 with one RBI apiece. Sophomore shortstop Michael Woll (Milbury, Holy Name Central Catholic HS) was 1-for-1 at the dish with two RBI for Central.

Junior pitcher James Mulry (West Roxbury, Boston Latin) registered the win for Metro, hurling 21/3 scoreless innings, while tallying four strikeouts and allowing just one hit.

Northeast 8, West 0

A complete game shutout from junior pitcher Ryan McDonald (Boxboro, Acton-Boxboro Reg. HS) propelled Northeast to an 8-0 victory against West in game two on Thursday. McDonald tallied seven strikeouts and allowed just one hit in the solid outing.

Northeast jumped out to an early 2-0 lead in the first, thanks to RBI from junior designated hitter Peter Franchi (Lynnfield, Lynnfield HS) and junior right fielder Sean Glabicky (Peabody, Malden Catholic HS).

The only hit of the game for West came in the fourth, when junior centerfielder John Kinne (Great Barrington, Monument Mountain HS) sent a leadoff single to left field.

The Northeast squad never looked backed, adding six insurance runs on seven hits in the sixth to secure the victory.

Southeast 5, Coastal 5

In the third game on Thursday afternoon, Southeast and Coastal played a hard fought, back-and-forth contest that ended in a 5-5 draw.

Southeast broke the game open in the second inning, when junior first baseman Sean Greene (Hingham, Hingham HS), junior third baseman Mark Pomella (Marshfield, Marshfield HS), and junior centerfielder Jake O'Rouke (Medway, Medway HS) recorded consecutive singles to put their squad up, 1-0. Pomella scored on a wild pitch, giving Southeast an early 2-0 lead.

Southeast added a third run in the third, but Coastal would not go quietly. Sophomore centerfielder Dan Dougherty (Pembroke, Boston College HS), who singled to right field, set up a rundown, which allowed sophomore leftfielder Spencer McCaffrey (South Dennis, Dennis-Yarmouth HS) to score in the bottom of the third. In the squad's next at bat, Coastal registered three runs on four hits to take a 4-3 lead through four innings of play.

Southeast tied the game at four in the fifth on a RBI triple from junior designated hitter Phil Sciretta (Duxbury, Nobles & Greenough HS), but Coastal pulled ahead in the following inning, as junior leftfielder Aaron Chouinard (Swansea, Joseph Case HS) tallied a sacrifice fly to score junior catcher Brian Hocking (Duxbury, Boston College HS).

Southeast plated the tying run in the top of the seventh, when Sciretta lifted a RBI sacrifice fly to right field. The squad then shutdown Coastal in the bottom of the inning to end the game deadlocked at five a side.

West 3, Central 1

West used a seventh-inning rally to defeat Central, 3-1, in a defensive showdown on Thursday afternoon.

The squads were deadlocked at zero until the fourth inning, when junior centerfielder Steve Moyers (East Longmeadow, East Longmeadow HS), drew a walk to get on and scored on a throwing error by the Central pitcher to break the game open for West.

Central retaliated in the fifth, as junior first baseman Adam Goldstein (Worcester, Doherty Mem HS) knocked in junior leftfielder Matt Lavin (Worcester, Burncoat HS) with a single to center, knotting the game at 1-1.

West earned the go-ahead runs in the top of the seventh, as junior first baseman Brenden Geary (South Hadley, Tabor HS) and Moyers registered RBIs to put the squad on top. The West then retired the Central side in the home half of the inning to take the 3-1 victory.

The squads were led by outstanding showings from their pitchers, who each turned in complete game performances. West's junior Rory Ziomek (Amherst, Phillips Andover) allowed just two hits and one run, while striking out six in seven innings of work. Junior Tyler Wager (Uxbridge, Uxbridge HS) struck out seven for Central.

ICE HOCKEY
New England Sports Center – Marlboro, MA

Boys Scholastic

Northeast 5, West 1

Junior forward Joe Czarnota (Reading, Reading HS) tallied two goals and an assist to lead Northeast over West, 5-1. Pat Flanagan (Westford, Westford Academy), Brett Buckley (Wakefield, Wakefield HS) and Blaise Heally (Melrose, Tilton School) also potted scores for the winners. Sophomore David Senecal (North Adams, Drury HS) lit the lantern for West's only goal.

Southeast 9, Central 7

Southeast's Dean Chandler (Hanover, Hanover HS) and Jason Riley (Dedham, Dedham HS) each scored a pair of goals to help their team fend off Central, 9-7. Junior Paul Curran (Milton, Milton HS) chipped in with a goal and three assists. For Central, Tyler Kirby (Hudson, Hudson HS) and Brett Lawson (Milford, St. Mark's School) potted two goals apiece with Kirby also dishing out an assist.

Metro 4, Coastal 1

Junior forward Conal Lynch (Charlestown, Boston Latin) had a hat trick and Kevin Cotrone (West Roxbury, Boston Latin) tallied four points with a goal and three assists to lift Metro over Coastal, 4-1. Defenseman Max Sherman (Rochester, Old Rochester Reg HS) potted the lone goal for Coastal. In net, Peter Cronin (Norwell, Boston College HS) and Ryan Ciavette (Medford, Matignon) combined to 43 saves for the winners. Sean Cleary (Centerville, Barnstable HS) came on in relief for Coastal to make 18 saves while allowing a single goal.

Northeast 5, Southeast 2

Northeast jumped out to a three-goal lead in the first half and held on to defeat Southeast, 5-2. Forward Kevin Doherty (Wakefield, Wakefield HS) potted Northeast's second and third goals. Also chipping in on the Northeast attack was Blaise Heally (Melrose, Tilton School) who registered a goal and an assist. Southeast came out storming in the second half and began its comeback with two quick strikes by David Consigle (Medway, Catholic Memorial) and Brian Higgins (Milton, Milton HS) in the fourth and ninth minute, respectively. Southeast goaltender Stephen Jenner (Abington, Archbishop Williams) made 19 saves including two spectacular diving saves.

Girls Scholastic

Southeast/Coastal 4, Central/West 4

Southeast/Coastal scored twice in the final three minutes to salvage a 4-4 tie with Central/West. Southeast/Coastal got two goals apiece from freshmen Emily Kelly (Norwood, Norwood HS) and Brooke Matherson (Walpole, Walpole HS) including a score from each in the critical final minutes. Kelly also added an assist. Central/West had a balanced offensive attack that was lead by Shannon Reynolds (Belmont, Belmont HS) who had an assist on Colleen Lynch's (Worcester, South High Community School) strike in the first period, and scored in the third period to push the score to 4-2.

SOCCER
Waltham High School – Waltham, MA

Boys Scholastic

Northeast 0, Southeast 0
Great two way game by both teams.

Metro 8, Central 1
Dumbuya (ME) (unassisted) at 2min
Nichole (CE) from Lajoie at 12min
Chajon (ME) from Desouza at 15min
Chajon (ME) from Lo at 17min
B. Pires (ME) from Rolim at 24min
Dumbuya (ME) from Chajon at 45min
B. Pires (ME) from Teixeira at 55min
Murrill (ME) from Irazo at 66min
Murrill (ME) from Irazo at 68min

West 2, Coastal 1
Oupka (WE) unassisted at 33min
Thompson (CO) from Phillips at 55min
Merdcer (WE) from Friedman at 62min

Girls Scholastic

Northeast 2, Metro 0
Havelinan (NE) on assist from McDonough at 20min
McDonough(NE) from DesRosiers at 27min

Central 2, Southeast 0
Miele (CE) from Costa at 6min
Kane(CE) from Adams at 18min

West 3, Metro 0
Delasco0 (WE) from Caney at 22min
Caney (WE) from Bates at 27min
Bovat(WE) at 60min unassisted

Northeast 3, Southeast 0
McDonough(NE) from Cunnerty 10min
May(NE) from Newhall 30min
Digiacomo (NE) from McDonough 44 min

SOFTBALL
Regis College – Weston, MA

Coastal 4, West 3
Northeast 8, Central 1
Southeast 7, Metro 4
Metro 7, Central 0

Northeast v Southeast
Results not available