Boston High School:

Delbarton (N.J.)
December, 21, 2014
12/21/14
12:04
PM ET
By
Jeff Cox
| ESPNBoston.com


CAMBRIDGE, Mass. -- The big question entering the season for four-time defending Super 8 Champion Malden Catholic was who was going to step up and fill the scoring void left with the departure of former ESPN Boston Mr. Hockey winners Ara Nazarian and Tyler Sifferlen.

The answer might be big junior winger Jack Adams, who notched two goals, including the game winner, Saturday night in his team's season-opening 4-3 win over Delbarton (N.J.) School at Harvard University's Bright Landry Hockey Arena.

"Ara and Siff were our guys last year. I still talk to them on a regular basis and get advice from them. Guys need to step up this year. Everyone's writing us off, but we got a lot of guys in this group. We all believe," said Adams.

Northeastern commit Matt Filipe had a goal and an assist and defenseman John McLean also lit the lamp for the Lancers, who took a 4-1 lead before letting the Green Wave back into the game towards the end.

"We wanted to keep it entertaining," joked head coach John McLean. "It made it interesting in the end."

"We got on them early. We closed it out in the end which matters the most. It's a good win to start the season," added Adams.

Adams opened the scoring at the 9:33 mark of the first period on a second attempt shot from the high slot that beat Delbarton goaltender Troy Kobryn low blocker side. Adams' first shot was blocked, but he picked it right up and fired quickly into the far corner.

The Lancers extended their lead to 2-0 just 1:42 into the middle frame on a play generated by hard work along the boards. Filipe battled all the way from the half-wall down to the end boards with a Green Wave defender before gaining control of the puck. He swung around the net and pushed a wraparound attempt past Kobryn for the two-goal lead.

Delbarton answered right back just under three minutes later, when Harrison Newman scored his first of two goals on the night. As he was cutting into the zone down the left wing, his first shot was blocked by a defender, but his second swat went bar down to cut the MC lead in half.

A turning point in the game came with seven minutes to play in the second period. MC senior goaltender Alex Reissis stopped Delbarton's Kevin Obssuth on a breakaway attempt and the Green Wave player took a penalty just five seconds later.

Malden Catholic regained its two-goal lead on the ensuing power play. Filipe fed the puck up to McLean at the right point. The senior defenseman wasted no time firing an absolute rocket that caromed into the back of the net after hitting traffic in front.

Adams gave the Lancers some much-needed breathing room at the 3:00 mark of the third period. Nick Botticelli made a great play with some slick moves down the right boards to gain entry into the zone. After some cycling down low, the puck ended up right on Adams' stick in the low slot for a quick put away into the net for a 4-1 lead.

That three-goal cushion ended up coming in handy for Malden Catholic. Newman scored again off a nice lead pass by defenseman Sean Petrie with 3:11 to play. Just 16 seconds later, Jack Chatwin drew the visitors to within a goal. Filipe was whistled for an interference penalty that allowed Delbarton to have a two-man advantage with the goalie pulled in the final seconds of the game, but the Lancers held off the charge.

Beneficial Offseason: Jack Adams knows a thing or two about what it takes to get a Division I scholarship. His brother Mark plays college hockey at Providence and is a draft pick of the Buffalo Sabres. However, it was a season ending meeting with after last season with McLean that set in motion an offseason of hard work that has paid huge dividends.

"Coach McLean and I had a big meeting at the end of the year. [Skating] was one of the things he wanted me to work on. I'm a big guy. It's sometimes harder for me," said Adams.

Adams worked with veteran skating guru Paul Vincent, who has been around the rinks and worked with countless NHLers over the past few decades.

"I went to Paul Vincent Hockey this summer. They worked on my skating every day of the week. They worked on my stride in the weight room with my trainer Marco Sanchez," explained Adams, who is beginning to draw some interest from Division 1 schools.

The 6-foot-5 junior has always had a scoring touch, but his coach thought he needed to work on his strength and foot speed in order to elevate his game to the next level.

"He's always had the offensive smarts. He's got great hands. He can always finish. You know he's a big kid. Until he fills out it's hard to get going. We talked about it. He needed to get to the gym and work hard. He skated with Paul all summer. So far it's paid off," said McLean.

Reissis Makes the Grade: Goaltending sometimes can get lost in the shadows when a team has players such as Sifferlen, Nazarian and Filipe scoring goals and generating headlines up front. But to his teammates, there is no forgetting the key role goaltending plays in winning hockey games.

"He's been important [all along]. He was good today. He stood on his head as usual. He's a great goalie," commented Adams.

His importance was never more evident than when he made a big save with his right pad on a breakaway in the second period. It really shifted the momentum back in MC's favor.

"That's what he's supposed to do. Make the saves when he has to. Keep us in the game when we make mistakes. It was a great save at the time. 2-2 would have been a completely different game," explained McLean.

Reissis and Malden Catholic are off until after Christmas when they host Hingham in the first round of the Christie Serino Classic at the Valley Forum in Malden.


December, 18, 2014
12/18/14
6:59
PM ET
One of the biggest dates on the Massachusetts high school hockey calendar occurs this weekend, as four-time reigning Super 8 champion Malden Catholic welcomes New Jersey powerhouse Delbarton on its annual tour of the Bay State.
Here's more on Saturday's duel, to be played at Harvard's Bright-Landry Center, per MC's Hazel Kochocki:
The Malden Catholic Lancers varsity hockey team will face off against the Green Wave of Delbarton School of Morristown, NJ, in a game at Harvard's Bright-Landry Hockey Center on Saturday, Dec. 20 at 5:30 pm.

Tickets for the game at Harvard are value-priced at $5 for students, $8 for adults. Alumni, parents and Malden Catholic fans are invited to enjoy a reception before and after the game at the Dillon Lounge, located next to the Bright-Landry Hockey Center.
February, 2, 2014
2/02/14
2:48
AM ET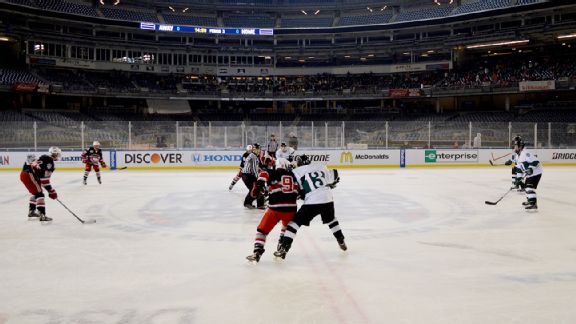 Scott Barboza/ESPNBoston.comCatholic Memorial played New Jersey powerhouse Delbarton School at Yankee Stadium on Saturday, as part of the NHL's Stadium Series.
NEW YORK -- As unnatural a statement it might be, in the elements, it can be said that hockey teams are sometimes out of their element.
Although weather didn't come into play in Catholic Memorial's duel with New Jersey powerhouse Delbarton School, Saturday at Yankee Stadium, the characteristics of outdoor ice sheets are such that no team can play as they would in the controlled environment of the rink.
Take the case of the Green Wave, for instance.
"It's our first outdoor game, so the learning process goes on throughout the game," Delbarton head coach Bruce Shatel said of the game, which was played as part of the NHL's Stadium Series. "We are traditionally an East-West team, but tonight it needed to be North-South. We were trying to stretch them out and back them off."
While skating up and down the length of the sheet for periods, neither team was able to find the back of the net. But when the Green Wave adopted a more conservative dump-and-chase attack in the third period and broke through the Knights' dogged forecheck, the goals came in bowls.
Delbarton skated away with a 3-0 win on the heels of a 20-save shutout from freshman goaltender Troy Kobryn.
[+] Enlarge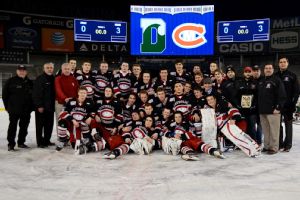 Scott Barboza/ESPNBoston.comCM's Yankee Stadium trip was their second outdoor game in three years, having played BC High at Fenway Park in 2012. The Knights were shut out on both occasions.
"They played uncharacteristic of how they can play," CM head coach Bill Hanson said of Delbarton. "We're not as skilled as they are. We can certainly go up and down the ice and battle with them, as we did for two periods.
"It wasn't pretty for either team, but we went into the third period for the ninth time this year with a chance to get a win."
For the Knights (9-2-2), who have been strong in third periods of late, Saturday was a bit of an aberration.
They outshot Delbarton by an 11-4 margin in the second period, to gain a 16-11 advantage through 30 minutes before meeting the Green Wave's onslaught in the third. That's when Delbarton returned the favor, peppering CM netminder Brandon Collett (18 saves) with an 11-shot barrage.
"We grind it and we find a way to get to the third period," Hanson said. "We've won three out of our last four games in the third period, and another in overtime, that's pretty darned good."
He added, "Both teams are better than what they showed out there tonight, It was tough playing."
After two free-flowing and penalty-free periods, Delbarton broke the stalemate at 4:16 of the third. Tyler Kobryn banked one home with assists from defenseman Michael Gilfillan and Chad Otterman. Gilfillan had a hand in the Green Wave's second tally as well as Harrison Newman redirected his point shot in front of Collett for a 2-0 lead at 9:55.
Will McCarthy rounded out scoring with 2:42 to play with an assist from Sean McLaughlin.
All three Green Wave goals were the result of a strong net-front presence – setting screens in front of the cage, getting sticks on pucks and working hard below the face-off dots.
"We didn't have any of that in the first or the second," Shatel said. "It's great that our kids rose to the occasion on the big stage and made some plays. Obviously, to win a game on this stage against an unbelievable opponent like Catholic Memorial is something that we'll remember forever."
Toeing the rubber:
While Delbarton controlled the pace of play in the third, it was in the second that the Green Wave's first-year goaltender earned his stripes.
With the Knights buzzing in the offensive zone, Troy Kobryn was a factor.
What's perhaps even more remarkable was the young goaltender's cool demeanor. Kobryn, a 1999 birthdate, is just 14 years old and looked mature beyond his years in one of professional sports most iconic settings.
"He's got composure beyond his years," Shatel said. "He's a very talented kid who's got a very bright future in this game. I think he's 14 years old, and to be playing at Yankee Stadium and pitch a shutout, that's pretty impressive."
Next up:
For all the pomp and circumstance that a chance to skate at the Yankees' home brought, it is the Knights' next game that almost certainly will have greater bearing on their postseason hopes and beyond.
A date with archrival No. 1 BC High at Boston College's Conte Forum looms Monday (4 p.m.), so Saturday's disappointment will quickly give way to a more pressing task.
"If we would have stayed home, we would have practiced against each other," Hanson said, "but this was real good preparation for us. We got some pucks in close, but we weren't opportunistic on the chances that we did have."
January, 21, 2014
1/21/14
12:49
AM ET
By
Mike Abelson
| ESPNBoston.com
SALEM, N.H. – Malden Catholic came to the Icenter, pillaged, plundered and left.

The No. 3 Lancers blitzed host No. 5 Central Catholic and rolled to an 8-2 win.

Malden Catholic scored three goals in a 76-second span late in the first period and followed it up with another three-goal eruption over a 75-second span in the second period.

In total, six different Lancers lit the lamp.

"We just kept digging, played our system, five-man defense and you get your chances and we buried them," Malden Catholic coach John McLean said. "I think its good that everybody's getting a little piece of the pie. It''ll make us better down the road."

The Raiders controlled the tempo early, taking advantage of the Olympic-sized ice at the Icenter, but Malden Catholic solved the sheet late in the period. Jack Adams scored on the power play to open the scoring, and Ara Nazarian buried a rebound 33 seconds later to double the lead.

Jake Witkowski took all the wind out of the home fans when he potted one from an impossible angle over the shoulder of Central goalie Colin Soucy.

"It was a real good high school hockey game for a while and then a few dropped in the back of our net and everything fell their way for them," Central coach Mike Jankowski said. "Give them credit, they played really well and made some great plays."

The Lancers fully washed away their 2-1 loss to Delbarton (N.J.) on Saturday in the second period. Malden Catholic fully utilized the extra space on the ice to show the crowd of roughly 1,000 why they have won the last three Super 8 titles.

MC outshot Central, 14-4, in the second period and finished the stanza with goals from Pat Wrenn, Tyler Sifferlen, and Austin Goldstein.

Sifferlen and Wrenn also scored in the second period.

"We had some good opportunities to score and just put the puck in the net," Sifferlen said. "It was a good two points."

Sifferlen's first goal came shorthanded and he played a solid game in all three zones.

"He does all the work," McLean said of Sifferlen. "He's very skilled. He's been that way since he was a freshman. [He] blocks shots, kills penalties, plays the power play. He just plays the game the right way."

While the offense was rolling, Malden Catholic goalie Alex Reissis shut down the Raiders in goal. He turned aside 22 Central shots and didn't surrender a goal until the final five minutes of the game.

"Our goalie came up big," McLean said. "Reissis had a real big game and that's why we named him player of the game for us."

RAIDERS TURN RED: The Central offense has scored four goals or more eight times this season. In two of their other home games this season, they were able to let their speed roam free on the larger sheet at the Icenter and score 10 goals against Billerica and four against Waltham.

Yesterday, the faster, more agile Lancers were able to use that advantage against Central and punish them.

"The bigger ice surface exposed some of our weaknesses from time to time," Jankowski said. "They won battles, they won races, and they just dominated the game from start to finish."

While the Lancer speed was a problem the Raiders did themselves no favors. Central surrendered three goals on special teams, including two shorthanded goals on the same power play, and committed uncharacteristic mental mistakes throughout.

The most glaring came on Wrenn's first goal of the game when the Raiders made a lazy line change and let MC glide in on a four-on-one.

"We dug ourselves a hole," Jankowski said. " I think usually there's great character and we're able to bounce back quickly, but I think there was a different feel. A lot of it was self-induced. Just the turnovers really ended up costing us."
January, 19, 2014
1/19/14
2:48
AM ET
By
Mike Abelson
| ESPNBoston.com
MALDEN, Mass. -- The Delbarton School was a terrible guest Saturday at the Valley Forum.

The Green Wave, of Morristown, N.J., controlled the tempo and disrupted Malden Catholic's offense for most of the game to escape with a 2-1 win over the host Lancers.

"Delbarton's a good team," Malden Catholic assistant coach Pat Driscoll said. "They beat us to a lot of pucks. I thought in the third period we picked it up a bit, but the bottom line is that when you play a team like that you got to play three periods."

The Lancers had scored at least three goals in every game they had played this season before being shut down by the Delbarton defense. The Lancers top line of Ara Nazarian, Tyler Sifferlen and John McLean was responsible for MC's lone goal -- a McLean tally in the third -- but were silenced for the bulk of the 45 minutes otherwise.

The Delbarton defensive pairs of Sean Petrie-Andrew Petrillo and Matt Savarese-Will McCarthy shined. They held their lanes on the back check and poke checked successfully throughout the game.

"I thought our gap control was exceptional," Delbarton coach Bruce Shatel said. "MC's got some real talented players up front, and we took away their space a little bit in the neutral zone. Our back pressure was good, but I've got to credit my defensemen for keeping those high-powered forwards in check for the most part."

Petrillo stepped up to the moment on both ends of the ice. The sophomore scored on a wrist shot from the point on the power play with 2:40 to go to put the Green Wave ahead for good. Tyler Kobryn put Delbarton ahead with a goal early in the second period.

"He's been our shutdown guy all year," Shatel said of Petrillo. "We tried to match him against [Nazarian] and [Sifferlen] all game. I think for the most part he did a real good job against them.

"It's funny in hockey, you draw things up and 99 percent of the time it doesn't work. We talked about Andrew getting his hips around the puck in the middle of the ice because they were butting us with the aggressive rotation on our shooters. It worked out."

These two squads met last year with Malden Catholic cruising to a 5-1 win. Petrillo said the biggest differences in this year's game was determination and physicality.

"I think it was just focus," Petrillo said. "They got a lot of talented, physical guys on that team, but we do as well. We're tough. We're physical. So I think we were able to keep with them."

The Lancers had their chances but were unable to convert. A pair of shots clanged off the post, including one from Sifferlen in the third period.

YOUTH SERVED IN GOAL: Both goalies yesterday were freshman and both played up to the occasion. Delbarton's Troy Kobryn turned aside 23 shots while Malden Catholic's Kyle Casey stopped 18.

"Kyle came out with a couple of big saves," Driscoll said of Casey. "They had a couple of power plays, and he came up with a couple of doorstop saves. He had a great day."

Kobryn showed his mettle in the second period when the Lancers were able to put 10 shots on cage.

"He was fabulous," Shatel said of Kobryn. "He's been terrific for us all year. He's a young pup, but he's getting older every time out because we're throwing him into some pressure situations and he's responded every time."
January, 3, 2013
1/03/13
6:50
PM ET
By
Mike Scandura
| ESPNBoston.com
Maybe Mount St. Charles will win a record 43rd state boys' hockey championship. After all, the Mount returns 13 players from last season's team that posted a 21-8-0 overall record and lost in a pulsating, best-of-three finals to Bishop Hendricken.

But the Mounties were unable to win their own Holiday Face-Off Tournament.
In fact, the Mount didn't even reach the finals of this season's tournament because it was eliminated in the semifinals, 6-5, by Delbarton School of Morristown, N.J.
The Green Wave swamped the Mount by scoring four first period goals, including a hat trick by John Balocco, which trumped a two-goal, two-assist performance by Dan Glod.
But in the finals, Fairfield Prep (Conn.) edged Delbarton, 4-3, on Matt Wikman's goal at 5:50 of a second overtime period.
LaSalle College finished third by blanking La Salle Academy, 5-0, with Ryan Williams also recording a hat trick.
The only Rhode Island team to finish in the top five was Hendricken, as the Hawks beat Bishop Guertin (N.H.), 3-1, with Matt Creamer (the son of head coach Jim Creamer) scoring one goal and assisting on another.
TIGERS CRAWL INTO THE NIGHT
While Mount St. Charles made news (albeit of a negative type) on the ice, Tolman also made news that essentially was disturbing.
Tolman, which has won six Division III state championships, will be dropping boys' hockey after this season because, quite simply, it's going to lack enough players.
The current team dresses only 13 players – eight of whom are seniors. And for the second season in a row, there are zero freshmen on the team which also is minus any sophomores.
Nevertheless, the Tigers are 6-1-1 in their first eight games.
Ironically, Tolman's cross-town rival in Pawtucket, Shea, dropped hockey in 1987 – after winning its only then-Met C title – because of a lack of players.
DRIBBLING THROUGH THE HOLIDAYS
Like most states, Rhode Island featured numerous holiday basketball tournaments.
Following are the results of the more prominent ones:
Ben Bradley poured in 27 points as Cumberland beat Woonsocket, 68-58, in the finals of the long-standing Cumberland/Lincoln Boys & Girls Club Holiday Tournament. Bradley, who was voted MVP honors, scored 13 points and dished out eight assists as the Clippers beat Tolman, 62-46, in the semifinals. The Villa Novans advanced to the finals by beating Lincoln, 53-46, with Nicholas Jusczszyn scoring 20 points.
Kody Greenhalgh clinched MVP honors after scoring a game-high 23 points to lead West Warwick to a 67-57 victory over Scituate in the finals of the West Warwick Holiday Tournament.
Justin Pratt keyed a rally that saw North Kingstown overcome a double-digit deficit and defeat Shea, 74-63, in the Barrington Boosters Holiday Tournament championship game. Pratt scored 26 points – 18 coming on six 3-point shots.
Mackenzie Ramsay and Sarah LaMountain scored five points apiece in overtime and West Warwick converted five free throws in the final moments of regulation as the Wizards beat Coventry, 68-60, in the Coventry Credit Union Classic title game. Coventry's Sarah McGrath forced the extra session when she drained a 3-point shot with seven seconds left in regulation.
Juanita Sanchez boasted the MVP in Elfreda Hoff as it captured the City of Providence Holiday Tournament by outlasting Classical, 37-25, in the finals. Hoff scored 31 of her team's points against the Purple after notching 25 in a 53-19 romp over Hope in the semifinals.
Just before the holidays, Prout's Eric Ramelka surpassed the 1000-point mark for his career as the Crusaders beat Lincoln, 61-46.
EAGLES, PURPLE REIGN
Division I champion Barrington and Division II champ Classical combined to place a total of five players on the First Team All-State Soccer Team.
Eagles earning First Team honors were keeper Andrew Jones (who also was named an All-American); midfielder Christian Egglin; and fullback Carson Hall.
Classical was represented by midfielder Asa Sohn (he played on three consecutive state championship teams, two in Division III and in Division II last season) and forward Julio Jimenez (he led all Interscholastic League players with 27 goals and 11 assists for a total of 38 points).
Rounding out the first team were midfielder Dan Apajee and fullback Greg Forgue from La Salle; forward Christian Rodriguez (21 goals) and midfielder Stiven Montiero from Central Falls; midfielder Brandon Jumoas and keeper Justus Heinstchel Von Heinegg from Portsmouth.
SIGNING ON THE DOTTED LINE
La Salle Academy's All-Everything running back Josh Morris has announced he'll be attending Brown University next fall.
Morris, who led the Rams to the Division I regular-season title, rushed for 2,725 yards and 36 touchdowns over his junior and senior seasons.
Hendricken's Mike King will play his baseball at Boston College, after earning Second Team All-State honors last spring for Division I state champ Hendricken.
Alex Perreault, a First Team All-State selection last spring in lacrosse for Hendricken, opted for perennial power Johns Hopkins.
St. Raphael Academy's Nicholas Karalekas, who received the Carl Yastrzemski Scholarship (a four-year scholarship endowed by the Red Sox Hall of Famer), will enroll at Merrimack College and play baseball.
Mike Scandura has been covering high school sports, college basketball, football and hockey plus minor league baseball in Rhode Island since the early 1970s. A native of Oswego, N.Y, he's a member of the Words Unlimited Hall of Fame which is the statewide organization of sportswriters, sportscasters and sports publicists.
December, 16, 2012
12/16/12
2:48
PM ET


ALLSTON, Mass. –- There's no mystery that a great part of Malden Catholic hockey's recent success can be attributed to some very talented top lines. The two-time defending Super 8 champion Lancers still have perhaps the state's best line in Mike Iovanna, Ara Nazarian and Tyler Sifferlen returning for the 2012-13 season, but the question heading into this season is where else they'd find goals.

If Saturday's 5-1 victory over New Jersey powerhouse Delbarton School is any indication, the Lancers might just have the depth in store to think about a three peat. MC (1-0-0) got contributions from throughout its ranks, particularly its second line of Brian Cameron, Cameron Ferry and Pat Wrenn, in a sound win over the Green Wave in the teams' annual early season meeting.

"We're just trying to work all four lines, trying to get as much chemistry as possible, get going and get as many goals early as we can," said Wrenn, a junior center.

The teams engaged in a tightly checked first period, but the Lancers took a 1-0 lead to room for the first intermission after Cameron worked the end boards and sent a pretty back-handed pass to the slot onto the tape of Wrenn's stick.

MC opened things up during a three-goal onslaught in the second. Defenseman John McLean's blue-line blast gave the Lancers a two-goal cushion at 3:15 of the second. Then, Wrenn added his second of the game at 10:55. Ferry capped the outburst with a Lemieux-like bank shot from a steep angle at 13:51.

"Everyone was feeling jitters a little bit," Wrenn said. "We started hitting our stride more [in the second period] and started playing more as a team."

Delbarton broke up Connor Maloney's shutout bid with M.J. Mellilo's goal with 3:28 remaining in the game. While Delbarton's defense did its best to limit the quality scoring chances of the Lancers' top line, Iovanna rounded out scoring with a rising wrister with 32.9 seconds to play.

STEPPING UP
MC head coach John McLean Sr. talked about the expectation he has for the Lancers' second line filling some of the scoring void this season.

While it didn't start the way he'd envisioned, McLean was pleased with the group's overall effort. In total, MC's second line combined for three goals and two assists on the evening.

"I expect that from them," McLean said. "They're two juniors and a senior and they're going to have to play that way.

"The first couple of shifts, they just didn't click. But after we had some words, they turned it around. We can't have one line, that doesn't work. Then I thought they played great. [Wrenn] was flying around, doing all the dirty work and I really like his game tonight."