Boston High School:

DeMatha Catholic (Md.)
July, 2, 2013
7/02/13
3:45
PM ET
By
Brendan Hall
| ESPNBoston.com
Shooting Touch, Inc. President Justin Kittredge confirmed to ESPNBoston.com this morning that a rematch between Central Catholic and nationally-renowned juggernaut St. Anthony (N.J.) is set for this December, in the third annual Shooting Touch Shootout in Boston.
St. Anthony is an annual participant in the Shooting Touch Shootout, which matches up the MIAA's best squads against some of the nation's best high school basketball programs. Legendary St. Anthony head coach Bob Hurley, one of only three high school coaches inducted into the Naismith Basketball Hall of Fame, serves on the Board of Directors at Shooting Touch, a Boston-based nonprofit that uses the sport of basketball to positively impact the lives of children both on and off the court.
In the first installment of the Shooting Touch Shootout, in December 2011 at the Kroc Center in Dorchester, St. Anthony steamrolled through then-defending MIAA D2 state champion New Mission.
Last December, in the second installment at Emmanuel College, the Friars breezed by eventual D2 state champ Brighton on the first day of the tournament. But in the nightcap of the second and final day of the tournament, before a sellout crowd, Central Catholic gave the Friars a big scare,
nearly snapping their nation-best 70-game win streak before falling 52-48
.
Central went on to win the MIAA D1 North title before falling to Mansfield in the Eastern Mass Final, at TD Garden.
"I've always said let's play the best," Central head coach Rick Nault said. "To play a Bob Hurley-coached team...It was a challenge last year, a lot of fun, something the kids really looked forward to. Hopefully we can go out and play hard again, try to keep it close. We'll see what happens."
D.C. area power DeMatha Catholic (Hyattsville, Md.) is also confirmed to play two games in the two-day event. No opponents are set yet for the Stags, though a source told ESPNBoston.com that Boston City League stalwart New Mission is a possibility.
Other confirmed teams for the Shootout include Christian Brothers Academy (N.J.), Springfield Central and Charlestown.
On the girls side, New Mission and defending MIAA D2 state champ Medfield are confirmed so far.
No venue is set yet for the Shooting Touch Shootout.
January, 14, 2012
1/14/12
11:16
PM ET
By
Brendan Hall
| ESPNBoston.com



SPRINGFIELD, Mass. -- A year ago at this time, in this tournament, on this floor, DeMatha Catholic was getting embarrassed by St. Anthony's on national television, a 50-point loss to New Jersey powerhouse St. Anthony in the Hoophall Classic. Burly big man BeeJay Anye struggled with his weight, and in turn struggled to stay on the floor with his low stamina.

Fast forward 12 months, and the Stags were getting a little bit of retribution tonight, easily downing Northwest Catholic (Conn.), 78-57, behind 24 points, nine rebounds and three steals from the 6-foot-8 junior big man.

"It feels a lot different," said Anye. "We haven't won up here the last two times we've been up here, so getting that monkey off our back feels good. But it's time to move on to Monday [against Bishop Gorman, at Hoophall]."

Anye scored six of the game's first eight baskets to spot the Stags a quick 8-0 lead less than two minutes into the contest. The Stags led 26-9 after one quarter, and 41-21 at the break, largely thanks to his work both underneath and around the perimeter. He had 13 points at the break, and his movement helped them have a 20-12 advantage on the boards (and 39-23 for the game).

Pitt signee Jerami Grant added 14 points, while Marcellous Bell was a perfect 4 of 4 from three-point range to aid the Stags in the win.

"We usually try to get him the ball early to get him going and keep him involved," DeMatha head coach Mike Jones said of Anye. "He's a monster on the defensive end -- he always will be, no matter what -- but when he's able to score for us, it opens up a lot of other things for us."

Meanwhile, Northwest's star junior Kuran Iverson ended up watching most of this blowout on the bench, picking up two fouls in the first quarter and his fourth midway through the third. The 6-foot-10 wing -- who counts offers from Syracuse, UConn, Pitt, North Carolina, St. John's, Oklahoma and Florida, among others -- did minimal damage in this one, with just three rebounds and four points on 2-of-7 from the field in 18 minutes.

"We could have competed, but we didn't," Iverson said. "The foul trouble came, and I was just out of my game from there."

If there was a silver lining for Northwest, it was the emergence of senior guard Zach Lewis, who scored 15 points in the second half to total 23 on the night. Head coach John Mirabello acknowledged that the late-blooming shooting guard's performance tonight could do measures in justifying his affirmation that he's a scholarship player.

"I'm working like crazy, to be honest with you," Mirabello smiled. "I can't speak for a college coach, I know I'm biased, but I think...more people will be coming around now for him. Not that they shouldn't have before -- I don't think he needed this game to prove that -- and he wasn't at his best tonight."



July, 15, 2011
7/15/11
11:54
AM ET
By
Brendan Hall
| ESPNBoston.com
SOUTH BOSTON, Mass. -- Somewhere around 8 this morning at the Boston Athletic Club, a gang of old-timers finished their pickup game, giving way to a familiar-looking old face and a group of Boston-area high school ballers.
And suddenly, heads turned, and they started to whisper precariously, "Is that Bobby Hurley's dad?", or "Was that the guy on 60 Minutes?"
Yes indeed, it was legendary St. Anthony's head coach and Naismith Hall of Famer Bob Hurley entertaining a dozen local high schoolers, as patrons looked on from their treadmills. Hurley has been here all week running a youth basketball camp at Roxbury Latin School in West Roxbury, and this morning at the BAC he worked out a select group of high schoolers involved with Shooting Touch, Inc., a Boston-based nonprofit of which he serves on the Board of Directors.
[+] Enlarge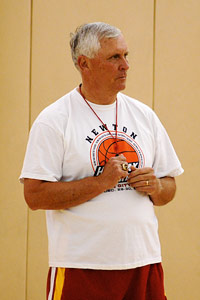 Brendan Hall/ESPNBoston.comBob Hurley was in town at the Boston Athletic Club.
Former Newton North forward and Winchendon post-graduate Tevin Falzon was among the notables in the crowd, which included players from Catholic Memorial, Stoughton and BC High.
Before stepping on the court for some 2-1/2 hours, Hurley spoke with ESPNBoston.com about the allure of visiting Massachusetts year after year, starting when the Friars first started playing New Bedford back in the early 90's. Last year, the Friars came to Newton North High School to take on the Tigers as well as Catholic Memorial, and then visited Springfield three weeks later to take on Maryland power DeMatha Catholic in the Hoophall Classic. Most memorably, St. Anthony point guard Myles Mack outscored the Stags by himself (28 points) in a 75-25 victory on national television.
For Hurley, the speed of the game is one of the attractions to playing up here -- New Jersey doesn't have a shot clock, while the MIAA's is 30 seconds. And year after the year, he finds the hospitality consistently good.
"It's a doable trip for us. It's four hours, so you can bus the kids up," he said. "The hospitality every time we've been up, whether it's Boston or Springfield, has been tremendous. And we've always been able to play competitive games, and the games are always helpful, but the team bonding thing of taking kids away for a few days at Christmas, is very helpful. You go back, you've made some progress as a group that you just can't get at home."
Late this December, over the holiday break, the Friars will be returning to Boston to take on defending MIAA Division 2 state champion New Mission as part of the
"Shooting Touch Shootout" at the Kroc Center in Dorchester
. Of the Titans, Hurley looks forward to what he feels will be a competitive foe.
Ironically enough, New Mission head coach Cory McCarthy was awarded the inaugural
Bob Hurley Sr. Excellence in Coaching Award, at Reebok headquarters in Canton
.
"Met coach last year, I know that they have become Boston's best the last couple of years now," he said. "And it'll be a good game for us during the holidays, to really challenge us."