Boston High School:

Denis Tobin
March, 1, 2014
Mar 1
1:27
AM ET
By
Chris Bradley
| ESPNBoston.com
BOSTON -- Catholic Memorial coach Denis Tobin has been with the Knights for over 30 years, and even after all that time he still has but one way to describe a tournament game against a Catholic Conference foe.

"Nerve-wracking," Tobin said with a laugh, "The hour before the game when you see the packed house and can't do anything about it...you calm down once the game starts. [We] were probably nervous at the beginning, but then it calms down and becomes a basketball game."

One player who clearly wasn't nervous was sophomore star Kellan Grady. In the highest scoring output of his high school career, Grady led the Knights with 32 points –- including eight 3-pointers in all, and 19 points in the second half to seal the 83-73 victory for CM (21-1) over rival BC High (14-8).

Grady had another way to describe the scene leading up the game -- a scene where dozens of fans, turned away because the gym was filled to capacity, stood outside Ronald Perry Gymnasium in hopes of catching the next installment of the teams' 106-100 overtime thriller three weeks ago.

"I wouldn't say nervous, I'd say a little more anxious. Last game we didn't play well against BC High. Even though we scored 106 [points] last time, we really wanted to send a message and beat them on our home court," Grady said.

Though a close game through the first quarter, the Knights were able to build a 13 point lead by halftime to gain some momentum going into the third quarter. Grady hit three treys in the first half, but in the third quarter he managed to one-up an impressive first half performance, knocking down four three-pointers in the quarter –- including treys on back-to-back possessions while heavily guarded to build the Knights' lead up to 62-40.

"Huge breakout game, he's just a sophomore," Tobin said. "I've seen him do it in summer leagues, I've seen him do it in fall leagues, but to break out on this stage for him is terrific. He was in the zone, he was really in the zone and he has been the past couple of games. My sophomores seem to like to step up against BC High, Brandon [Twitty] had 31 in the first game here, and Kellan had 32 [tonight]."

"They have a great sophomore in Jack Loughnane themselves, so we've got two more years of terrific CM-BC High games coming. Kellan's worked hard all year and he has unlimited potential."

Loughnane, whose 17 points led the Eagles to an impressive comeback victory over Wellesley on Wednesday, was able to manage just eight points against the Knights. Aamahne Santos (13 points), Grady, and Guilien Smith (19 points, 7 rebounds) harassed Loughnane on the defensive end all night before he fouled out late in the fourth quarter.

Young fuels Eagles' comeback: When Catholic Memorial went up by 22 in the third quarter it looked as if the deficit might simply be too much for the Eagles' offense, which had been sputtering to say the least, to keep up.

Putting in a warrior's effort off the bench, Eagles' senior captain Steve Young (19 points, 7 rebounds) scored eight straight points to start off the fourth quarter -– helping BC High bring the lead down to seven points with over six minutes to go in the game.

Young, who suffered a slight tear in a ligament in his ankle back in December, looked as if he might be able to will the Eagles all the way back to tie the game up until he fell down hard on his ankle with five minutes left. He was able to return a few minutes later and the Eagles got the lead down to five in the closing minutes, but CM's lead ultimately proved to be insurmountable.

"We made a good run to start the second half to go up 20, but we knew a Bill Loughnane-coached BC High teams was never going to just roll over -– we knew that they had a run in them," Tobin said. "I kept stressing to my guys 'when the run gets made, keep your poise,' and I thought we did. They got it to seven, we took a timeout, and then I think we scored off that timeout to kind of quell their final run a bit.

"They're a very good team, we knew that coming in. We didn't want to draw them, we haven't had the luck of the draw the past few years. Our guys earned two homes games and I think playing on our home court was a big advantage."

On to UMass-Boston: With the win, the Knights will move on to the Division 1 South semifinals on Tuesday. CM will take on a familiar name: defending Division 1 South champion Mansfield. The Hornets, who like CM lost just one game during the regular, knocked off Brookline 63-49 to advance to the semis.

Grady hinted that the Knights are chomping at the bit for a chance at the defending South champs:

"We can't wait. Eastern Mass. champs last year and everybody is talking about them. We want to bring it to them and show them we're the best team in the state."
February, 5, 2014
Feb 5
1:06
AM ET
By
John Botelho
| ESPNBoston.com


BOSTON -- With Guilien Smith's hand hot as ever, there was never any doubt that Catholic Memorial would put the ball in his hands for the final play of regulation, needing two points to tie their Catholic Conference rival BC High.

"We wrote up the play so it would be Guilien," said CM coach Denis Tobin. "We told him in the timeout, 'We want you to go out there and create something. Create a scoring chance for yourself, and if it's not there, Aamahne (Santos) will be right be you.' He found a way to get to the hoop himself."

With seven seconds left, Smith took the inbounds pass out of a timeout just in front of halfcourt. A clear-out play gave the lightning-quick guard a chance to get to the basket, and he took off for the hoop.

As he neared the basket, Knights' senior Gerard Adams sealed off the defender with a perfectly timed screen, and Smith laid the ball in off the hoop to send the game to overtime.

"It didn't go quite like we drew it up, but G opened things up with the screen and gave me an easy chance," said Smith.

He added four of his game-high 33 points in OT to help the Knights (16-1) slip past BC, 106-100, inside McNeice Pavilion on Tuesday night.

Smith's scoring was only a fraction of his impact for CM. He grabbed 11 rebounds in the win, with six coming on the offensive end. He also dished out four assists and was an anchor on defense, despite playing nearly the whole fourth quarter and all of OT with four fouls.

"I'm really proud of the way he handled that," said Tobin. "He sometimes has a habit of getting hit with a bad foul, and the fourth may have been that. So I stressed to him on the bench that he couldn't take one of those, and he was great the rest of the way."

Added Smith: "It was definitely nerve-wracking playing with four fouls. I knew I couldn't reach in and swat at the ball, but the other four guys on the floor with me did a great job picking me up the rest of the way."

Points A Plenty: With both teams reaching triple digits, there was plenty of opportunity to rack up points. Nine different guys in all reached double figures on the night.

Santos, who also had seven rebounds and six assists, finished second on the Knights with 22 points. Kevin Claflin had 17 and Brandon Twitty chipped in 16 to pace the run-and-gun CM offense. Smith, Claflin and Twitty all hit four 3-pointers in the win.

On the other side, Tom Galanek led the scoring charge for BC, pouring in 25 points -- including 17 after the half.

Steve Young finished right behind Galanek, scoring a career-high 24 points off the bench. Phil Leotsakos, who proved to be a high-energy guy for the Eagles all night, added 22 points. He also had 17 rebounds, six assists and five blocks for BC.

"Phil is a really good player and he had a big night tonight," said BC coach Bill Loughnane. "Even that shot he took near the end (a possible game tying three late in OT), that was halfway down before it rimmed out. He's our big guy, but we're confident with him taking that shot.

The Eagles also got 14 points from Isaiah Bowman and 10 Jack Loughnane as they fell to 9-5.
February, 1, 2014
Feb 1
1:10
AM ET
By
Chris Bradley
| ESPNBoston.com
DANVERS, Mass. –- Coming into Friday night's meeting with St. John's Prep, Catholic Memorial coach Denis Tobin wanted his players to treat the game as if it were a playoff game.

With a pre-game routing that included dinner as a team and recapping their gameplan for talented St. John's Prep, Tobin's Knights rose up to the challenge of playing on the road in a playoff atmosphere. Behind 16 points each from Guilien Smith and sophomore Brandon Twitty, as well as 14 points and 10 rebounds by 6-foot-8 center Gerard Adams, the Knights knocked off the Eagles (11-3) on the road, 76-64.

The victory for Catholic Memorial meant clinching the Catholic Conference championship. One year after finishing 13-8 and getting bounced in the first round of the Division 1 South tournament, the 14-1 Knights of one of the favorites to make a deep run in the state tournament.

"They're thrilled down there, especially my seniors -- it means an awful lot to them," Tobin said. "We knew that if we were to win tonight, we'd get the league...We treated it like this was a tournament game so that when we get there, it won't be a first-time experience for them."

The Knights jumped out to a big first quarter lead, going on an 18-6 run to start the game. The quick start was enabled by CM's defense, not allowing Prep guards Kareem Davis and Max Burt get into the paint early on.

"That's CM for ya, they go on runs almost every game: 10-0, 14-0, we've seen them. We tried to cut back on the runs but it's constantly an uphill battle. We spotted them a 10 or 12 point lead in the first couple minutes and we were constantly playing catch-up. They've too good of a team to give them that big of a lead," St. John's Prep coach John Dullea said. "They're so deep, and they're well-coached , they're athletic, they're disciplined, they're tough. They're a very good team."

Burt takes point for the Eagles: Burt, a senior captain, was the game-high scorer with 18 points. He helped fuel a Prep comeback in the third quarter: getting to the rim, setting up forwards Max Butterbrodt and Jake Burt, and knocking down back-to-back three pointers in the third quarter to cut the CM lead down to seven.

"Max has been a strong player all year. He doesn't let anything bother him, he's always battling, it seems like when we've needed a big shot he's been there," Dullea said. "The effort was there, but they're a tough team, they're very good. Obviously there were things we could have done better, but effort-wise I really didn't have any complaints with the guys."

With one of the state's best defenders -- junior Aamahne Santos -- guarding Kareem Davis, Prep made a more concerted effort to get the ball to Burt to play point guard and run the offense.

"Santos is a very good on-ball defender, so we figured that if he was on Kareem [Davis] that we could run more plays with Max at the point," Dullea said. "Sometimes it works, sometimes it doesn't, but [Burt] makes plays when he has the ball so we try to get it in his hands as much as possible."

Adams efficient for CM: Knights' big man Gerard Adams was ultra-efficient for CM in the victory, coming up with 14 points and 10 rebounds 7-for-8 shooting from the floor. After working hard to get in shape so that he can play more minutes, Adams has proven to be one of the state's best big men this year, using his soft hands and feathery touch in the middle for the guard-heavy Knights attack.

"He's been blessed with a great set of hands, but now he's worked himself into shape where he can play a whole quarter at a time," Tobin said. "Our guards, Guilien and Aamahne, do a great job of looking for him off the dribble penetration. Gerard catches everything, and now he finishes everything as well."

The Eagles will next have a big test next Thursday against Catholic Conference foe BC High. At this point in the season, Tobin is confident in his team's ability to play selflessly – the Knights, lately, seem to have a different scorer almost every night:

"They've been playing together in the spring, summer, and fall, and they're completely unselfish there," Tobin said. "It's carried over to this season, they're just a special group of kids."
January, 18, 2014
Jan 18
2:11
AM ET
By
John Botelho
| ESPNBoston.com
WEST ROXBURY, Mass. -- Midway through the third quarter of No. 7 Catholic Memorial's 87-64 win over visiting No. 15 BC High, Knights sophomore Brandon Twitty slid out to the wing, took a pass and unleashed a high-arcing 3-pointer that snapped through the net as he was bumped to the ground.

The ensuing whistle signaled was heading to the free throw line for a chance at a 4-point play. Just about the only thing that went wrong for Twitty all night was the free throw rimming out, but even that ended up working in the Knights' favor.

An offensive rebound allowed CM to set up their offense once more, and Twitty again shifted out to the wing, took a pass from the top of key and sent another crisp shot toward the hoop.

His second 3-pointer in less than 10 seconds put an end to a run that saw the surging Eagles close the gap to just five points. Twitty proved to be a thorn in the BC's side all night long, as he came off the bench and netted a game-high 34 points, including hitting seven 3-pointers, to keep CM unbeaten in the Catholic Conference.

"He was in the zone, and that just happens sometimes," said CM coach Denis Tobin. "I saw it last year when he was playing on the junior varsity and same thing this year. When he gets it going, he really gets it going. He doesn't cool off once he heats up."

Added Twitty: "We're deep, tonight just happened to be my night. On any other night, it could be Kellan Grady or Matt Hanna, or Denis Tobin could be the guy hitting those shots."

It's something about BC High, though, that seems to bring out the best in Twitty, who netted 48 in a JV game against them as a freshman a year ago.

"We took the loss though," remembered Twitty. "Tonight, coming out with 34 but getting the win, this feels a lot better.

In the early going, it looked like a different sophomore was going to be the hero of the night. Jack Loughnane poured in eight of his team-high 18 points in the first quarter for BC as the Eagles raced out to an early 10-point lead.

A pair of 3-pointers to close the first started to close the gap, and impressive defensive showing in the second allowed CM to head to halftime with a 38-31 lead.

"We didn't adjust much," Tobin said. "We basically said the pace of the game was where we wanted it. The idea is to wear teams. It's very hard to play at the pace we play at for 32 minutes. In the first quarter their legs are still fresh, but in the third and fourth quarter, after they've been running for a while, it's tougher to make those."

That proved to be the case on Friday night, as the Eagles seemed to be worn out much of the second half, and despite the hot shooting to start the game, they finished just 25-for-70 from the floor in the loss.

"Their kids enjoy playing at that pace, we enjoy playing at that pace," said Loughnane. "They're just better at it right now than we are. We didn't make them pay when we beat them on the press."

The pace, coupled with Catholic Memorial's torrid shooting in the second half, allowed the Knights to pull away and cruise to the easy win. With Twitty leading the way, the Knights knocked 13 3-pointers in all.

Guilien Smith joined him in double figures, notching 15 points, eight assists and five rebounds, while Gerard Adams chipped in nine points, 10 rebounds and three blocks. Aamahne Santos added nine points, eight rebounds and five assists, as CM remained unbeaten in league -- the last team that can claim that in the Catholic Conference.

"We still have a lot of work to do," said Twitty. "We have three road games against Prep, BC and Malden Catholic, and it's not going to be easy. In the Catholic Conference, nothing comes easy. It's important to defend home court. This was a good win tonight."
December, 24, 2013
12/24/13
12:01
AM ET
By
Josh Perry
| ESPNBoston.com
WEST ROXBURY, Mass. -– It had been 10 days since Catholic Memorial's season opener against Newton South, but if there were any concerns over being a little rusty they were dispelled right from the opening tip on Monday night.
Behind 34 points from junior guard Guilien Smith, the Knights dismantled non-league opponent Franklin 94-62.
[+] Enlarge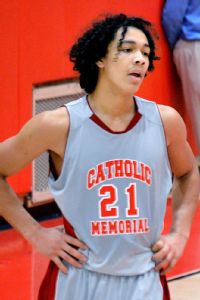 Josh Perry for ESPNBoston.com Junior guard Giulien Smith poured in 34 points in three quarters of work as Catholic Memorial blew out rival Franklin.
"I thought we were a little sloppy in our opener and expected a great deal of improvement from game one to game two," said Catholic Memorial head coach Denis Tobin. "[The improvement] was there and having Guilien out there healthy tonight helped. He was on his game. The guys are just sharing the ball well."
CM jumped out to a 6-0 lead with its high-pressure defense and dribble penetration game causing Franklin a ton of problems. The Knights closed out a 22-8 first quarter on a 10-2 run that included a pair of ankle-breaking crossovers from junior point guard Aamahne Santos that led to a floater and a pull-up jumper.
Smith certainly benefited from the 10 days in between games, as he was bothered by a hip pointer and saw only limited action against Newton South. He had a pair of fast break lay-ups and knocked down a three in the opening eight minutes, but in the second quarter he caught fire.
He started the second with a long straightaway three and then with the score 36-19 he sparked a 17-4 run that finished the half with CM in complete control. Smith -- who had been getting into the heart of the Franklin defense with his dribble drive -- hit a stepback three-pointer in the closing minute of the half, then hit a dagger pull-up three from way beyond the arc to close it out.
Smith scored 18 points in the second quarter alone and went into halftime having outscored the Panther 25-23. That continued with a nine-point third quarter that included another deep -- and contested -- three. When he went to the bench for the last time, Smith led Franklin 34-33 on his own.
Smith, who admitted to needing the 10-day break to rest, deflected the credit for his big night to his teammates, "The shot was feeling good but it was Aahmane spacing the floor, passing at the right time, and us playing defense. We were able to get out in the open court and create."
Tobin added, "Guilien had one of those nights where he was feeling it. Even the last play of the first half, he was supposed to dribble drive but he decided to pull up from about 26. When you're feeling it then we'll let that go."
Franklin head coach Dean O'Connor admitted that his team struggled all night with on-ball defending against the quickness of the CM backcourt. Santos (12 points) was able to get into the lane and that allowed open looks for Smith, Brandon Twitty (12), and Kellan Grady (11). The Knights knocked down eight treys overall.
"We had trouble containing them off the dribble and then we gave them room and they started knocking down shots," explained O'Connor. "We tried a zone figuring that they're going to get threes against man anyway because they drive and kick so well. At least [with a zone] we could limit the dribble drive and then they knocked down everything."
He added with admirable honesty, "They're very talented...I would have liked to have played a lot better than we did; I think we're capable of playing a lot better, but having said that, I'm not sure that we would beat them."
The Panthers were led by senior guard Chris Rodgers with 16 points and also got a decent game from 6-foot-7 junior Marcus Giese, who showed his shooting touch and finished with 15. Sophomore guard Tim Prunier added nine, seven in the third quarter.
Tobin was pleased with his team's progress in game number two and is conscious of the fact that his team can go 10 or 11 deep and fill the court with shooters. Against the Panthers, the Knights did not even need a big contribution from 6-foot-8 center Gerard Adams.
"Both Guilien and Aahmane are very good at beating their guy off the dribble and then the other team is in a tough spot decision-wise because we have three-point shooters that can spot up, if they come and help, and, if they don't then they can get to the rim. So, it's kind of pick your poison with those two."
December, 23, 2012
12/23/12
10:49
PM ET
By
Terrence Payne
| ESPNBoston.com
HOLYOKE, Mass. -- Catholic Memorial used a series of runs throughout Sunday's game to take control against St. Raphael (R.I.) and put it out of reach, en route to an 87-46 victory in Day 4 at the BasketBull Hoops Fest at Holyoke Community College.

The most important run of the game happened at the start of the second half with the No. 13 CM(4-0) leading 42-25. The Knights forced three St. Raphael (4-1) turnovers, including back-to-back steals and finishes by senior guard Pat Hurley, to spark an 11-0 run, taking a commanding 56-25 lead.

"St. Raphael is a good team and I know they were capable of making three's in bunches," CM head coach Denis Tobin said. "We stressed at the half that we wanted to extend it and put them away, so if they did hit a couple of three's we would have enough of a cushion."

Tobin was right about the Saints, they could get hot from behind the arc and they did. Following the run, St. Raphael connected on three consecutive 3-pointers – from Graham Lynch, John Conney, and Charles Correa – to cut the lead to 56-34. The Saints shot 9 of 24 from deep on Sunday.

"At that point, by the 11-0 start, we were OK," Tobin said.

That was the only run the Saints would get on the day. The Knights controlled the glass, outrebounding the Saints 25-16, while forcing 16 turnovers in the game.

"The energy off the bench really helped us," sophomore guard Gullien Smith said. "Our defense really picked up, we closed out on the shooter really well."

Catholic Memorial started the game with a 7-0 run led by the senior backcourt of Hurley and D.J. McClure. Against the zone defense to start the game Hurley found McClure for a 3-pointer from the wing to start the game. Hurley would make a pair of free throws and a layup, before hitting McClure on a fast break lay-in, forcing St. Raphael (4-1) to call a timeout.

The Knights built a double-digit lead with a 6-0 run late in the first quarter to take a 10-point advantage into the second quarter. With the Saints threatening to cut the lead to single-digits heading into halftime, the Knights put together another 7-0 run to close out the half leading by 17.

"It's a big court up here," Tobin said. "The whole plan was to run bodies at them. Pressure them both defensively and then make them run back in transition and hopefully wear them down."

Smith led CM with 16 points, four assists and three rebounds. Hurley was solid all-around with 12 points, four assists, four steals, and two rebounds, while Gerard Adams chipped in 12 points as well, to go along with nine rebounds.

St. Raphael was led by an injured Correa, who had 13 points, five assists, and three steals. Conney led the Saints in scoring with 16 points, including four 3-pointers.

"We caught a break with Charles [Correa] playing with one hand; his weak hand," Tobin said. "But we'll take it. I think it's the best we've played this season."

GUTSY PERFORMANCE
Correa, one of the top players in Rhode Island, was held to just 13 points. It seems like a good defensive performance on paper, keeping a dynamic scorer like that in check. However, Correa was playing with an injured right hand – his shooting hand – forcing him to play the entire game with basically one hand.

"I still have a good left hand," Correa said. "I couldn't let my team down. If we were going to lose, we were going to lose together."

After the game Correa said he had never shot left-handed before. He mentioned a game back in 2005 when then Indiana Pacer Jermaine O'Neal hurt his elbow on a foul from Denver Nuggets center Francisco Elson. O'Neal went to the line and was forced to shoot his free throws left handed.

"He's just an unbelievable athlete. He hurt it the other night in the game," St. Raphael head coach Thomas Sorrentine said. "He could really only go left, so we set him up to go left. He gave us everything he had out there. Obviously he wasn't 100 percent."

Correa was still able to be effective. He was second on the team in scoring with 13 points, he had five assists and came away with three steals in 26 minutes of action. With just his left hand he was still tough to guard, finding his way into the lane.

In the second quarter he knocked down back-to-back left-handed 3-pointers – he had three on the day – to go along with two other lefty layups in the second half.

"That's very courageous of him. A non-league day, out of state, it's very impressive," Tobin added. "Left-handed, he's still very, very good."

Correa injured his right hand two days earlier in a win against Mount Pleasant. The right hand was completely wrapped and as he iced it after the game, the area around his pinky was still swollen. Sorrentine said they will have the an X-ray of Correa's hand soon.

"I couldn't handle the ball with my right hand," said Correa. "I had to keep going back to my left."

CATHOLIC MEMORIAL'S BALANCED ATTACK
This year is different for Tobin. He doesn't have a consistent scorer every night, but he does have multiple players he can rely on game in and game out.

"We're not like past teams, where we've had big go-to guys," he said. "On any given night we have four or five guys capable of scoring 12-15 points.

"I'm very impressed with our unselfishness as well. Everybody's willing to share the ball. We've all bought into the team concept."

In Sunday's win, six players scored eight or more points, 10 players came away with at least one rebound and seven players recorded two or more assists. The team was also solid defensive team in both the full court pressure and well as in the half court set.

The five starters –Hurley, McClure, Smith, Adams, and John McDonough – all contributed in different areas, while Kevin Claflin and Rich Lopez provided a lift off the bench.

"No one is selfish on this team," Smith said. "No one is trying to go out and score 20, we just want to win."

The undefeated Knights have a few days off before heading to Newton as part of a Christmas tournament with Newton North, Newton South, and Lexington.

"We've been there for four or five years and we haven't won it yet," Tobin said. "We'd like to take care of that."

"We have another non-leaguer with Woburn on Jan. 2 and then the rest of the month of January is the league and that's what we're looking forward to."
December, 31, 2010
12/31/10
12:46
AM ET
By
Corey J. Allen
| ESPNBoston.com
NEWTON, Mass. -- What kind of player travels four hours to attend his first Boston area tournament, packs a bag for the trip, but leaves his home uniform in New Jersey? The kind of player that will score 17 points and grab six rebounds after sitting out the first round of the tournament, hoping to earn his starting spot back from his Hall of Fame coach.

Six-foot-six junior Jimmy Hall came off the bench for the St. Anthony Friars (Jersey City, N.J.) and helped lead his team to a 77-33 victory over host Newton North to capture the Garden City Classic tournament tonight.

"Welcome to high school basketball," said St. Anthony (5-0) coach Bob Hurley after the game. "I can see you forgetting a toothbrush, or a book to read while you're on the trip, which we talked about. But I gotta think, that after we finished practice the day before we arrived up here, we had a thirty minute meeting about how to pack your stuff, that the first thing you would have in there would be all of your uniforms.

"That's what I would've thought."

To Hall's credit, he knows just where the uniform is.

"It's at home in my dirty clothes basket," said Hall, who on top of sitting out yesterday's first round victory over Catholic Memorial and coming off the bench today, also had to endure the haranguing his teammates handed him for such a gaffe.

"We got on him all night until he went to sleep," said St. Anthony senior guard Myles Mack, who contributed 14 points and three rebounds. "There was nothing he could do about it. He realized it was his fault, so we've forgiven him."

Bringing the ball up for the Friars was Kyle Anderson, a 6-8 junior, who scored 12 points and added eight rebounds, three steals and a block. He was able to keep the ball moving across half court with relative ease and maintained good ball movement once in the half court set.

"I use [my height] to my advantage," said Anderson, "Being a tall point guard, I'm able to see over a lot of defenses and help make plays for my teammates."

Anderson scored from the perimeter and from the paint, where he was able to catch and put the ball up quickly on in-bounds plays.

"That's another advantage," said Anderson. "Because of the height of most big men, I may be taller than other teams' centers or power forwards."

The leading scorer for Newton North was Avi Adler-Cohen, who scored 11 points, including the Tigers' only four points in the first quarter, which did not surprise Newton North coach Paul Connolly.

"I was really proud of Avi," said Connolly. "He really asserted himself. He's a senior captain, three-year varsity kid. He's been through it with me and I was really proud of the way he hung in there. He didn't back down, but that's what you expect from a senior captain."

Tonight's win was No. 989 for Hurley, but according to him, it doesn't mean much more or less than win number one.

"If I win 1,000 games, I'm still coaching for awhile, so that's just a number," said Hurley, 63. "One week later, I'll be happy or sad about something that my team is doing. Regardless of how many wins, things won't change."

KNIGHTS CLAIM CONSOLATION
In the consolation game of the tourney, Catholic Memorial (3-3) was led by junior guard Dan Powers, who went 8-8 from the free throw line on the way to 37 points, defeating Newton South, 82-71.

Powers' ability to sink free throws, as well as his team who shot 18 of 22 from the line, comes from a tradition that head coach Denis Tobin ends every practice with.

"We'll run them, get them tired, then pair them off with a different partner each day," said Tobin, who then has the pair shoot head to head. "And the loser runs. We think that helps just by putting a little competition into the drill. They're not just firing them up there."

"Nobody wants to run at the end of practice," said Powers, who also had eight rebounds and four steals.

Senior captain Matt Droney had 23 points in the win for the Knights and added nine rebounds, four assists and four steals.

Up 62-47 at the end of the third quarter, Newton South (2-3) outscored the Knights 24-20 in the last quarter, but Droney felt that the team was in control and is always well prepared for the final stretch of games.

"We pride ourselves on being in good shape," said Droney. "Our goal is to have the other team be more tired than us by the end of the game. It's conditioning and mental toughness so that when the fourth quarter comes, we'll be more prepared than they are."
December, 30, 2010
12/30/10
2:21
PM ET
By
Matt Stout
| ESPNBoston.com
NEWTON, Mass. -- The last time Bob Hurley came this close to Boston for an organized basketball tournament, books were written about the experience.

St. Anthony's vs. Durfee, 1993, in New Bedford. Bill Reynolds recounted the experience in 'Fall River Dreams.' Hurley, St. Anthony's veteran coach, said another, 'Pride and Loyalties,' told the story from the Friars' viewpoint.

"And in the two books, there was a sharp contrast between the behavior of the two groups," Hurley said with a smile. "It was a very loose group, that Durfee group. And my group, we had Roshown McLeod, who played in the NBA."

Hurley remembers winning by 15 or 18 points over Durfee, which went on to win a state championship behind Chris Herren.

With more than 30 years filled with 25 state titles, hoards of Division-I prospects and efforts to keep St. Anthony's open, Hurley has every reason to be nostalgic. Then again, he spent most of time following Wednesday's 72-48 victory over Catholic Memorial talking about his team's rebounding and offense.

"Playing well and playing are two different things," Hurley said Wednesday at Newton North's Garden City Classic. "So we played tonight."

Re-routed to Newton after their scheduled trip to a Canadian tournament was canceled, the legendary prep program -- ranked in the top 10 nationally this season -- and its equally legendary coach are doing what all other high school teams do this time of year.

Hurley is evaluating. The Friars are playing without injured stars. One player even forgot his home uniform for the trip, so he didn't play Wednesday either. They have the same hurdles, and then they have different ones. Hurley said St. Anthony's has to raise $1.2 million annually to stay open, no easy feat while other urban Catholic schools around the country and tri-state area are closing.

Hurley sees it. Two of his best players -- the Rutgers-bound Myles Mack and Kyle Anderson -- transferred to St. Anthony's after nearby Patterson Catholic closed its doors. But that's a rarity, he said. They're the only ones not "home-grown" who came up through St. Anthony's JV and freshman programs.

"We're a tiny, urban Catholic school," Hurley said. "We don't really have any advocates. We have to just do whatever we can to keep the mission going."

St. Anthony's does have help. Reebok provides equipment and clothing to the program, and Justin Kittredge, a marketing manager for the company in Massachusetts, contacted Newton North coach Paul Connolly to help get the Friars to Newton. Hurley also does instructional DVDs for Shooting Touch, a Boston-based non-profit that donates proceeds from each DVD sale to the school.

Of course, it also has Hurley, elected this year to the Naismith Memorial Basketball Hall of Fame. In his Hall bio, he's described as "a strict disciplinarian who demands total commitment, self-control, and sacrifice both on and off the court."

While talking to reporters Wednesday, he didn't even skip a beat when he saw his players walk by.

"Take the hat off," he said to one. Then to another, "Take your hat off."

They quickly did without a word.

"I wanted the kids to learn from the experience of playing a national powerhouse," Catholic Memorial coach Denis Tobin, whose team actually led St. Anthony's by a point after the first quarter and trailed by just one early in the third. Then the Friars ripped off a 13-0 run.

"They're clearly one of the best teams in the country," Tobin continued. "I was proud of the effort that my guys put forth and I think we'll be a better team in February and March because of it."

Hurley has the same line of thinking. St. Anthony's (4-0) plays in the second day of the Garden City Classic tonight.

"In high school basketball, you're just playing to get better," Hurley said. "I think that's good for us, because it's made us try to find out what this group could be good at. And after watching us play (Wednesday), I'm not sure what that answer could be right now."