Boston High School:

Dennis Golden
September, 23, 2012
9/23/12
12:43
AM ET
NEW BEDFORD, Mass. –
2:41
Those were the figures emblazoned on the scoreboard Saturday afternoon at New Bedford's Walsh Field. The numbers surrounding it didn't matter much.
[+] Enlarge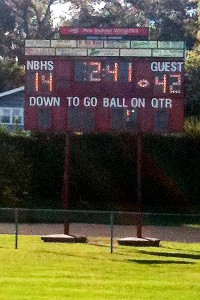 Scott Barboza/ESPNBoston.com
What began as a competitive football game devolved into a showing of ill-will and hostility as the Duxbury and New Bedford coaching staffs convened near midfield to point fingers and hurl accusations at each other. There were two minutes, forty-one seconds remaining in the fourth quarter when the matchup between the No. 5 Dragons and Whalers was called.
Lost in the fray was another All-State worthy performance by Duxbury senior running back Jon Hurvitz. The shifty back tallied five touchdowns (four rushing, one receiving) while racking up 185 all-purpose yards. Hurvitz gained 140 of those yards on the ground on 28 carries.
Duxbury ran to a 28-7 lead at halftime, with Hurvitz scoring all four Dragons touchdowns. But the most telling aspect of the first half came in the teams' interactions. Hits came fast and furious and, at times, in illegal forms. Play teetered on the envelope of acceptable football etiquette.
In total, six personal foul penalties were called against the Whalers, two against the Dragons.
"It was really chippy from the get-go," Duxbury head coach Dave Maimaron said. "We kept telling our kids, 'Nothing after the whistle.'"
To begin the second half, there was the unusual sight of both Maimaron and New Bedford head coach Dennis Golden present at the captains' referee meeting.
But the mood only soured as Duxbury (3-0) added insurance points into the fourth quarter.
The hostilities came to a head with less than three minutes remaining in the game.
On a second-and-11 play, Dragons running back Colin Johnson ripped off a 30-plus yard run into the red zone. He was wrestled down inside by the 20-yard line on the backside pursuit of Whalers defensive back Jeffrey Fernandez. That's where a personal foul penalty set in motion a series of events that resulted in the officials declaring the game final.
Fernandez was assessed a 15-yard personal foul penalty and ejected from the game, which drew the immediate ire of the Whalers' sideline. An additional bench penalty was given as a New Bedford assistant coach accosted the referee after being asked to leave the playing field.
One play later, Duxbury increased its lead to 28 points. On the ensuing kickoff, the game spiraled into disorder.
While flying downfield on Duxbury's kickoff coverage unit, junior Wes Quinzani was shaken up when he became entangled with a New Bedford blocker. Teammates and training staff attended to the injured player on New Bedford's side of the field. Meanwhile, near midfield, the coaching staffs of both sides closed in on each other to within a few paces with expletives exchanged in both directions.
The game was then declared final.
When asked postgame about the tenor of the game and the officials' ability to maintain competitive spirit of the game, Golden answered, "I have no comment on the officiating at all. Both teams were playing hard, both teams were playing with emotion and I'll leave it at that."
No handshakes were exchanged postgame. Duxbury's players and staff returned to their buses behind the visitors' side bleachers. New Bedford's players huddled in an end zone.
On the scoreboard, the visitors' column had 42, the Whalers had 14.
The Dragons had more points, but nobody won.
September, 24, 2011
9/24/11
8:24
PM ET
By
Tom Layman
| ESPNBoston.com
DUXBURY, Mass. -- This was supposed to be New Bedford's chance to show the rest of Eastern Mass. that they were a force to be reckoned with this season.

Duxbury quickly took that notion and passed it to the side.

The No. 2 Dragons (3-0) dominated the No. 20 Whalers (2-1) with a razor-sharp offensive attack in a battle of undefeated teams with a 42-19 victory yesterday at Raymond P. Chandler Memorial Field.

Matt O'Keefe completed 14-of-20 throws for 220 yards with three touchdowns and one interception. The senior quarterback also added two touchdowns on the ground when the Whalers defense was able to flush him out of the pocket.

"We tried to prepare hard for this game and it obviously didn't go our way," said Whalers coach Dennis Golden. "So we are going to prepare harder this week and do what we can to be successful."

The Whalers were riding high coming into the game with wins against Wareham and Silver Lake. The team was averaging over 40 points coming into the game, but the Dragons defense wreaked havoc on the skill position players.

Myles Medeiros looked out of sync through the air, although he did rush for two scores and also hit Jaraud Wood for a 49-yard touchdown pass, as he was held to 12-of-26 for 148 yards.

Marcel DePina was gobbled up for 58 yards on nine carries.

Despite the big loss to one of the class teams in the state, Golden believes there are things that he and his team can learn even though the scoreboard was well in favor of Duxbury in this one.

"We have to make sure that we play our responsibilities on defense," said Golden. "We had some turnovers and penalties that hurt us in the first half when we were in scoring position a couple of times. We need to eliminate those and just battle the whole game."

DUXBURY'S DUAL THREAT QB
The Dragons quarterback may have played on a part-time basis last season, but he looked like a seasoned veteran out there running the Dragons' offense at a blistering pace.

O'Keefe accounted for five touchdowns and led six touchdown drives out of the eight — one drive only lasted one play with a kneel down to end the half — times he took the field. The Dragons were efficient in everything they wanted to accomplish, whether it was by the arm or legs of the talented senior quarterback.

The Dragons signal-caller hit eight different receivers on the afternoon and finished with 71 rushing yards.

"It really goes back to our practice all week," said O'Keefe. "We really focused on having good routes on every play. We executed. The receivers played great and the offensive line gave me the time I needed."

O'Keefe was sharp in the first half, but he was pin-point accurate in the third quarter, which just happened to be the last quarter he played. He finished the third quarter 8-for-9 for 125 yards and a touchdown.

"It was a phenomenal performance through the air and on the ground," said Duxbury head coach David Maimaron. "He manages the whole offense."

HEADS UP PLAY BY SEAMUS
The Whalers tried a little New Orleans Saints Super Bowl magic to begin the second half, when they tried to fool the Dragons with an onside kick to begin play.

The Dragons didn't have the right front to deal with an onsides attempt, but Seamus Connelly stuck his nose in there and pounced on the ball to maintain possession.

"We always say that coming out of the half is the most important drive of the game," said Maimaron. "We always preach that and the kids know that. (Connelly) came up with a huge football play."

With a short field at their own 45-yard line, O'Keefe was able to direct the Dragons on a six play, 55-yard touchdown drive that was capped off by Khai Perry's touchdown plunge from 2 yards out to push the lead to 35-7.

DRAGON TRICKERY
It was a play that the Dragons put in earlier in the week, but it was one that looked like it had been practiced over and over again from the beginning of camp.

After stopping the Whalers on fourth-and-9, the Dragons grabbed possession with 1:19 left from their own 38-yard line. On the first play of the drive, Don Webber came around and grabbed a reverse.

This wouldn't surprise anyone if Webber kept it and used his blazing speed to get around the right edge, but he stopped and delivered a strike to Reilly Naton down the field for a 52-yard gain.

O'Keefe took care of the rest with a 1-yard keeper to score with 35 seconds left on the clock before the half.

"The right time for the right call I guess," said Maimaron. "That put us right down there and kind of changed the momentum of the game and made sure it would stay in our favor in the second half."

New Bedford (2-1) 0 7 6 6 19
Duxbury (3-0) 14 14 14 0 42

DUX – James Burke 27 pass from Matt O'Keefe (Tucker Hannon kick)
DUX – Joe Guilfoile 33 pass from O'Keefe (Hannon kick)
NB – Myles Medeiros 7 run (Jared Tavares kick)
DUX – O'Keefe 37 run (Hannon kick)
DUX – O'Keefe 1 run (Hannon kick)
DUX – Khai Perry 2 run (Hannon kick)
NB – Jaraud Wood 49 pass from Medeiros (kick failed)
DUX – Perry 8 pass from O'Keefe (Hannon kick)
NB – Medeiros 4 run (rush failed)
September, 19, 2011
9/19/11
5:57
PM ET
D-Y, JOHNSON ARE FOR REAL
In the moments following Dennis-Yarmouth's thrilling 28-27 win over Cape rival Barnstable, neither team could do enough evangelizing about the talent on display before them just minutes earlier.

Of D-Y wideout Damion Johnson, first-year Barnstable head coach Chris Whidden said, "If I'm a college coach and I'm anywhere near Cape Cod recruiting, I'm all over Damion Johnson. He's a hell of a football player."

Of the duel between D-Y quarterback Matt Montalto and Barnstable quarterback D.J. Crook (who is inching closer to the state all-time touchdown pass record), Dolphins head coach Paul Funk sung high praises.

"You just saw three of the best players in the state, I don't care where they're from," he told a group of reporters. "Montalto, Crook and Johnson. Those guys can play anywhere in the country, I'll tell you that right now. They're as good as anyone around."

Minutes later outside the D-Y locker room, Montatlo was asked about Johnson's jump-ball ability, and the senior put it bluntly: "Best one I've ever seen in high school. I'll put it down, I think he's the best wide receiver in high school football right now. That's what I'll say about him, yeah."

All the talk is justified, though. The 6-foot-2 Johnson, with his seven catches for 125 yards and two touchdowns, showed what makes him one of the region's more difficult players to defend with his adjustments in the game. Early on, the Red Raiders pressed Johnson heavily and brought safeties over the top; Johnson merely muscled his way to jump balls on deep fades. When they backed off the line of scrimmage, Johnson beat them with crisp comeback routes on the sideline.

"That's what's so difficult about Damion," Montalto said. "When you press him, right away I saw him getting off the press – he's so good with his hands, his feet, everything – he got off the press and got over the top of them, when we're giving him fades. And then they finally loosened up, so we came back to our crossing routes, same thing, he's just as good at that as he is with the deep ball."

Said Johnson, "They kinda loosened up on me a bit, but me and Matt have had our timing down since the summer. We worked on it all summer, preseason, everything."

LINE KEEPS ROLLING ALONG
Coming into this season, questions surrounded New Bedford and how the Whalers would get along without Lance Burlingame anchoring their offensive and defensive lines. While you can never hope to replace a player like that, the Whalers have shown they'll be just fine this season. Without bookends Burlingame and Janny DosReis, guard Darian Sousa-Bizarro has moved over to tackle and provides senior leadership on the offensive side of the ball.

On defense, New Bedford showed they have multiple players ready to step up and make up for the pass rush Burlingame accounted for. In Saturday's 41-20 win over Silver Lake, the Whalers' big men put on a show with Carl Santos picking up three sacks, while Ricky Moraes had two of his own. Junior Tyler Arena is also a player worth keeping tabs on and was disruptive force against both the running and the passing rhythym of the Lakers' offense.

"They're doing well," Whalers head coach Dennis Golden said of the group. "Coach [Nick] Salmon and Coach [Marc] Hayes are doing a great job with them every day. They're giving a good effort in practice. The kids are coming and playing hard consistently. It's a good thing, it's a good situation."

TANNERS SHUT DOWN BILLERICA
While the number of true upsets in Week 2 paled in comparison to the wild Week 1 slate, among the more suprising results of the young season was Woburn's 12-7 triumph over Billerica.

After suffering a 25-point loss to Acton-Boxborough in Week 1, the Tanners bounced back, particuarly on defense to shut down the Indians.

While Billerica quarterback Nick LaSpada got his share of yards through the air and the ground, hovering near 200 all-purpose yards, here's betting Woburn head coach Rocky Nelson would take that result all day, every day. In addition, the Tanners got the big play on offense they need early on with Chucky Ortiz, a legitimate Mr. Football Award candidate, flashing his speed on a 71-yard run that set up his 2-yard touchdown run in the first.

From there, all the Tanners had to do was dig in.

"We tried to change up our fronts and our coverages and send people to try to confuse [LaSpada]," Nelson said of Woburn's defensive game plan. "We were in his face and he didn't take a broken play and take it to the house. We contained him. We were sending our outside linebackers sometimes right from the line, sometimes inside. We had some line stunts that we put in that kept pressure on and we didn't let him scramble and beat us like he did a year ago."

ONE AMAZING CATCH
Skip to the 30-second mark of this highlight package from Friday night's Mansfield-Needham game, and tell us Mark Riley isn't one of the most underrated tight ends around.



"That's one of the nicest catches I've ever seen, that I can remember," Needham head coach David Duffy said. "That was tremendous. He's very fast and instinctive, he's more of an Aaron Hernandez type of tight end, we'll split him out wide sometimes. He's a matchup nightmare for teams, but he can also block."

Needham has sent just one player to a Division 1 school in three decades – Eric Johnson, former Yale tight end and seven-year NFL veteran (and also new beau of Jessica Simpson). For sake of technical terms, we're not counting current Seahawks kicker Steven Hauschka, who played soccer at Needham then Middlebury before walking on to North Carolina State as a grad student.

But in this year's Needham squad – an underrated one based on the run it gave Mansfield on Friday – they might have two. Quarterback Drew Burnett already claims an offer from Bryant, while Riley (brother of WEEI announcer Mike Riley, a good friend of ours here at ESPNBoston) has been seeing interest anywhere from the Ivy and Patriot Leagues down to the NESCAC. He's also a returning All-American in lacrosse, and may head down that route for college.

A few more catches like that, and maybe this story changes.

And by the way, Duffy isn't afraid to make the comparison to the future Mr. Jessica Simpson.

"He reminds me of Eric Johnson -- he could do anything," Duffy said of Riley. "The kid can catch, receive, run, catch a block, anything you ask of him to do he can do it."

FROM THE BIZARRE FILE...
Maybe there's just a proverbial rain cloud hanging over Baker Street, or maybe Catholic Memorial is just encountering bad luck. Either way, this was hardly the start they expected after coming in as the preseason No. 4 in our statewide MIAA poll.

One week after suffering a surprise shutout upset at the hands of unranked Marshfield, the Knights took a 14-0 second-quarter lead over Connecticut Class LL runner-up Trumbull, only to have two of the four lights go out at the stadium. The two teams hit the locker room early for halftime, on the suggestion from officials that they shut all four lights off and try to reboot from there.

And as luck would have it, the lights never came back on, and Trumbull made the three-hour trek back to Connecticut. Reached Monday morning, CM head coach and athletic director said a decision hasn't been made on how this game will go down in the books.

Three weeks, one game. Here's the good news: the Knights will be playing a Saturday afternoon game in Shrewsbury against St. John's. And like every other week, they stand a good chance of probably coming away victorious.

Then again, nothing has gone as planned so far.

WEEK 2 CHAMPIONSHIP
It's hard to tab a second-week game as having playoff implications, but Saturday's South Coast Conference battle between Dighton-Rehoboth and Apponequet is about as close as you'll get. The Falcons and Lakers were the co-champions of the SCC last season, but Apponequet is looking to return to the postseason for the first time since 2008.

The teams were very much evenly matched and resemble each other in many ways with both teams featuring a dual threat at running back with D-R's Adam Benvie and Bryan Rocha and Apponequet's Nate Michael and Zach Nanfelt.

So did D-R take a step closer to their third straight postseason appearance with a 21-7 win?

"I guess this is what they'd say is the first big game in the league," D-R head coach Dave Driscoll told correspondent Adam Kurkjian. "The way the schedule's been it's happened early the last three years. As a result, you get a little bit of a leg up if you win the game. It certainly doesn't mean anything other than you have a win because you have to play the whole season, but it's nice to win.
September, 17, 2011
9/17/11
9:06
PM ET


NEW BEDFORD, Mass. – The question coming into this season was whether New Bedford football would be able to parlay the momentum from last year's Big Three co-championship and playoff appearance into big things this year.

So far so good as the Whalers put up 40-plus points for the second week while rolling to a 41-20 win over Silver Lake on Saturday afternoon.

Even though it was a non-league matchup, it was an important early season marker for New Bedford, as the Lakers have held the upper hand in the teams' recent meetings.

New Bedford (2-0) ran out to a 26-0 halftime lead, outgaining the Lakers with 205 yards of offense compared to Silver Lake's 11 yards gained. Whalers quarterback Myles Medeiros threw for 164 yards and two touchdowns by the half, giving way to Mike Rapoza in the third quarter as the Whalers continued racking up points.

Whalers running back Marcel DePina also got into the act with a rushing touchdown in the first quarter before returning a punt 82 yards for a score, giving New Bedford a 20-0 lead in the second.

"Marcel has the ability to change directions very quickly," Whalers head coach Dennis Golden said. "He's got great vision as a back. "

Medeiros added his third touchdown pass of the game to Jaraud Wood, a 13-yard completion in the third quarter.

Xavier Barros capped New Bedford's scoring in a 2-yard touchdown run with 5:27 remaining in the third.

Silver Lake (0-2 ) finally got on the board inside of two minutes remaining in the third with a 35-yard touchdown pass from Dana Nemes to John Hurley.

Matthew Pinnetti and Jeffrey Reynolds added late rushing touchdowns for the Lakers in the fourth.

New Bedford now eyes next week's challenge against No. 2 Duxbury. While everyone is anticipating the Whalers' eventual date with Brockton, Golden's team has their attention fixed on a worthy opponent.

"Duxbury's one of the best teams in the state, everybody knows that," Golden said. "They haven't lost in a long time and we have our work cut out for us."

BUILDING A LINE
The talk of the offseason was how New Bedford would be able to replace their talented bookends on the line from last season in Lance Burlingame and Janny DosReis. Two weeks in, the Whalers are building an identity as capable pass protectors and run blockers, led by returning starter Darian Sousa-Bizarro. Not to mention, the defensive line has been downright dominant, evidenced by a three-sack day for Carl Santos, two sacks by Servulo Pires and a fumble forced by Ricky Moraes. Throw in an impressive junior in end Tyler Arena and New Bedford once again has the makings of a D-line that can hang with the Boxers. "They're doing well," Golden said of the group. "Coach [Nick] Salmon and Coach [Marc] Hayes are doing a great job with them every day. They're giving a good effort in practice. The kids are coming and playing hard consistently. It's a good thing, it's a good situation."

HOLDING IT DOWN


Medeiros stepped into the starting quarterback role midway through last season and hasn't looked back. He's become more comfortable in the Whalers' offense and stated his experience as a prime factor. "Especially with the O-line, they're giving me great time to throw," said Medeiros, who has eight touchdown passes through two games. "I'm making good reads, the receivers are where they need to be. Our practices have been good. Everything's going good this year, everything's falling into place." Medeiros is a long, lanky passer with the ability to pull the ball down and take off running. However, his pocket presence has improved, has good arm strength and showed good touch on the ball in his 27-yard touchdown pass to Wood in the second, coming on a fade route to the near side pylon. It also helps having a weapon like Wood, a tall 6-foot receiver with the ability to separate himself from defenders with a long reach.

DePINA SHINES
DePina takes over as the feature back in New Bedford's offense this year, following talented track star Phito Gondre. However, the Whalers' aren't loosing much in terms of speed with DePina, a good athlete in his own regard as a member of New Bedford's basketball team. Although he's listed at 5-foot-6, DePina's not afraid to run inside, but it's in the open field where his value is found. Consider the 82-yard punt return he fielded on one hop, juking his way past two Laker defenders and then streaking down unabated down the left sideline as evidence.
November, 30, 2010
11/30/10
11:59
PM ET


TAUNTON, Mass. – The winning equation for St. John's Prep this season has pretty much gone as follows: Give it to Tyler Coppola.

While the talented running back did tear off 212 yards -- eclipsing the 2,000-yard rushing mark -- and a touchdown, it was another of the Eagles' running backs who left his immediate imprint on a 35-7 win over New Bedford in their Eastern Mass Division I semifinal.

On the first series of the game, Alex Moore promptly read the eyes of New Bedford quarterback Myles Medeiros, coming over the route of a Whalers receiver and returned the pick 61 yards for an instant 7-0 lead with Connor Shaw's point after try.

"I dropped back into my deep quarter and I saw the ball come a little high," the sophomore said, "I ran behind the receiver and it came to me."

After forcing the Whalers three and out on the ensuing possession, Dillon Gonzalez spun off one tackler and got a de-cleater of a block from Nate Cyr while rumbling 84 yards on a punt return for a touchdown. However, Shaw's following kick was blocked for a 13-0 Eagles' lead.

"I didn't really see what happened," Gonzalez said about the monster block that set him free. "All I know is that I was looking downfield and seeing who I had to beat."

Then, Moore got back in the act in the second quarter, ripping off a 20-yard touchdown run to give the Eagles a 21-0 lead heading into the half.

"That's really my one running play."

Moore added, "It's really designed to score a touchdown every time."

The Eagles (8-4) kept things going in the fourth quarter when quaterback Tommy Gaudet hit tight end Ryan Delisle in the flat on a 21-yard touchdown pass. Gaudet was a perfect 4 of 4 for 44 yards, as head coach Jim O'Leary sprinkled in the pass here and there.

"Coach has all the confidence in the world in our offensive line, that's what got us here," Gonzalez said. "As a wide receiver, it's nice to see a little bit of both. We'll take it anyway it comes."

Coppola put the exclamation point on the win with a 70-yard score in the fourth.

New Bedford (6-5) got on the board late on Marcel Depina's 6-yard touchdown catch from Medeiros, who finished 15 of 27 for 145 yards.

"We're proud of them," Whalers head coach Dennis Golden said of his Big Three championship team. "We're proud of them for not quitting on one another and becoming a team. That's something we feel is significant, very significant."

The Eagles will face Everett for the Eastern Mass Division 1 Super Bowl Saturday at Gillette Stadium.

SJP 13 8 0 14 -- 35
NB 0 0 0 7 -- 7

First quarter
SJP Alex Moore 61-yard interception return (Connor Shaw kick)
SJP Dillon Gonzalez 84-yard punt return (Kick blocked)

Second quarter
SJP Moore 20-yard run (Tommy Gaudet to Gonzalez)

Fourth quarter
SJP Ryan Delisle 21-yard pass from Gaudet (Shaw kick)
SJP Tyler Coppola 70-yard run (Shaw kick)
NB Marcel Depina 6-yard pass from Myles Medeiros (Justin St. Pierre kick)
November, 27, 2010
11/27/10
7:00
PM ET
WHALERS' ACES IN THE HOLE
No. 21 New Bedford's worst fears were realized in the first quarter against Durfee. Although mired in a scoreless tie, the Hilltoppers carried play early behind their Wing-T attack and running back Keith Omosefunmi. Things only got worse when Whalers offensive and defensive lineman Lance Burlingame when down with a meniscus injury on a defensive play in the first quarter. Durfee later scored the first touchdown of the game, but New Bedford got it right back on the ensuing kickoff with Nate Lewis' 72-yard kickoff return for a touchdown.

Although the Whalers had to mix and match their line, New Bedford was more efficient on offense in the second half. The line provided ample time for junior quarterback Myles Medeiros to throw and created the lanes in which running back Phito Gondre could run. Darian Sousa-Bizarro moved over from guard to left tackle in Burlingame's absence and Tyler Ollivierre filled in at left guard, showcasing New Bedford's depth on the line. Ollivierre was also instrumental in clogging up the middle at defensive tackle.

"The way Coach [Dennis Golden] runs practices, all the linemen get time to practice," Medeiros told Scott Barboza on Thursday, "so when somebody goes down we have the confidence that the next guy can get the job done."

However, the Whalers might miss Burlingame more on the defensive side of the ball when it comes to Tuesday's Division I semifinal playoff game against St. John's Prep. Burlingame was dominant in New Bedford's Big Three win over Brockton in neutralizing Boxers running back Trevon Offley. The same could be said for the Eagles' physicla offensive line and speedy running back Tyler Coppola.

"We're just taking it one game at a time and one day at a time," Medeiros said. "We got to where we wanted to be. We're Big Three champions. Now, we'll focus on what comes next."


IT IS NOT A THIN LINE
The St. John's Prep offensive line is becoming somewhat legendary. Besides from opening up holes, they also escort their running backs down the field for touchdowns.

"Those are the plays that you get pumped for," said Dan Culkeen, a 5'11'', 252-pound senior. "As a lineman, you don't get much glory, but those are the plays that people will see. I'm out there leading my best friend Tyler, and he does his thing. I get one block and he's gone."

The quarterback draws worked well for St. John's, running them through almost every hole on the line, to the point that it seemed that Tommy Gaudet was just looking to run through an open space, but that wasn't the case.

"We're not a read team," Gaudet said. "On the option we are, but mostly we're running where we're blocking. We try to move it up and down the line...get them to where they're not comfortable in their defense. We were just trying to make it hard for them."

"Every lineman on our team is All-Conference," lauded Gaudet. "No matter what hole we run to, it's the same. They're all unbelievable at what they do."

MIDDIES UP TO TASK
Dracut turned in one of its best defensive performances of the season during Thursday's 19-12 triumph over No. 6 Methuen, which entered the contest averaging 31.6 points per game.

The Middies held the Rangers to 268 yards of total offense, but 105 of those 268 yards came on two plays – a 58-yard pass from quarterback Cal Carroll to Eric Lacroix, and Ryan Savastano's 47-yard run.

"They got a couple of big plays, but they didn't really drive the ball against us," Dracut head coach Jason Houston said. "We wanted to stop the run. We felt that was the key, and we did a pretty good job of doing that."

Dracut came up with three turnovers, including two interceptions in the second half.

Savastano, who entered the game with 1,225 yards rushing, was held to 75 yards on eight carries. The Middies (8-3) had surrendered at least 21 points in six of their other 10 games.

"It was one of the better defensive efforts I've seen in a while," Houston said.

The victory gave Dracut a 26-19-3 edge in its series with Methuen, which dates back to 1963.

BIG PLUNGE FOR 'BIG A'

Malden senior Aaron Samano, the team's captain and a humanitarian (literally) off the field, was rewarded for his dedication on Thanksgiving morning in a unique way only befitting for a 6-foot-1, 300-pound nose tackle -- with the rock.

On the Golden Tornadoes' opening drive of their 29-0 win over storied archrival Medford, with the ball at the Mustangs' one yard line, head coach Joe Pappagallo called for a "tackle right", one of their standard plays, only with Samano as the ballcarrier. Samano admitted he was nervous at first when quarterback Kevin Valley came into the huddle with the call.

"It was almost like, I can't believe he's actually calling this right now," said the humble lineman, affectionately called "Big A" by his teammates. "I never thought it would come so early in the game, that we'd open up with it. I didn't want to let anyone down, so I held the ball as tight as I could."

Samano followed his blockers left, then took a reverse pivot and plunged right for the one-yard score, and then celebrated his score with a LaDainian Tomlinson-style flip of the ball and jumping around with his teammates.

"I was excited, I was fired up," Samano said. "It felt great to actually score a touchdown, after four years of blocking, then to actually run one in, it just feels great."

After a slew of preseason hype, the 2010 season was a disappointing one for the Tornadoes, who finished 5-5 and 3-1 in the Greater Boston League. But things are just heating up for Samano, who is being recruited by several Division 1 schools, including Harvard and Duke.

TWO JARRING COINCIDENCES

Flashback #1: It was two years ago, when Longmeadow traveled to East Longmeadow riding a state-best 47-game win streak into Thanksgiving Day weekend 2008. Longmeadow was trailing 16-13 but rallied behind junior quarterback Conor Hobert on a drive in the final minutes.

The game came down to a Longmeadow fourth down with 19 seconds left, when Hobert lobbed up a pass from around 20-yards out to Niko Sierra. Sierra dove for the ball but was covered well by East Longmeadow's Dave Fraboni. Fraboni swatted the ball down in the end zone, and EL upset Longmeadow in thrilling fashion.

2010 implications: Sophomore Austin Sierra, younger brother of Niko, recovered a fumble in the end zone to upend the Spartans 13-7 in overtime on Thanksgiving. The fumble was recovered in about the same spot in the end zone (in front of the right side goal post) where Fraboni knocked down Hobert's pass in 2008.

The fumble recovery won the AA conference title for the Lancers.

"I just saw it drop and all I was thinking was, 'jump on it!'" Austin laughed about after the game. "I think it was great, kind of a hard game and we just came out with the win.

"Defensively we did great, offensively, well -- we had a couple of fumbles."

The Lancers did have several fumbles but only one was recovered by East Longmeadow. It's safe to say that the Lancers will be alright if Austin keeps picking up the mistakes like he did on Thanksgiving.

Flashback #2: Longmeadow had not lost a home game since 2004, and to lose to East Longmeadow would compound the pain. The Lancers had gone up 21-19 over the Spartans on Thanksgiving but were crossing their fingers on a 45-yard field goal that could win the game for EL.

EL's Ray Holloway was well short on the field goal (which was pushed back after an intentional grounding call on the previous play) and took the brunt of the blame for the loss after time expired.

2010 implications: Holloway had a chance at redemption. After his team cut up the Longmeadow defense in the fourth quarter. EL was looking to take the lead 10-7 with 18 seconds left. Instead of going for the end zone though, coach Scott Raymond wanted to play it safer with a field goal attempt. He called a timeout, and the team ran a belly to the left to center the ball between the hashes.

Raymond then called another timeout and after a Longmeadow timeout, Holloway stepped up to the plate again. It is hard to imagine that in a rivalry so close and intense, a circumstance would present itself in such similar circumstances two years in a row.

The crowd hushed as Holloway's kick was pushed well right and short of the goal posts, and Longmeadow survived an epic defensive collapse. The Lancers then seized momentum stopping EL first in overtime and then scoring afterwards.

After the game, it was a tough scene as Holloway and his co-captains let their emotions show on the field. When the fans cleared from East Longmeadow High School, almost 10 minutes had gone by and Holloway was still going over the kick in his mind standing in the same spot.

"You hate to lose the way we lost at the end here, but what are you going to do?" Raymond said after the game.

"I hate to see them hurt. I hate to see them hurt as bad as they are right now," "Especially a kid like Ray…its an awful lot to put that pressure on a kid two years in a row."

No one can blame Raymond for the call. No one can blame Holloway for the kick.

Holloway played his heart out on Thanksgiving even if the numbers didn't show it. He was an integral part of a defense that shut down the number one offense in Western Mass, and a top-15 offense in the state.

Holloway is a stud running back, emotional leader, and certainly in contention for the Daegenais, Bertelli and ESPNBoston.com WMass Player of the Year Award.

COACHING DUEL

Longmeadow coach Alex Rotsko and East Longmeadow coach Scott Raymond both run the Wing-T offense. Both coaches are sticklers for leverage, positioning, timing and execution, and around Western Mass, anyone can tell you that neither call "sexy" plays.

However their bland running styles took a turn on Thanksgiving and both debuted some new additions. In fact, both even showed off an inside shovel pass -- which is uncharacteristic of the Wing-T disciples. East Longmeadow actually brought out a Wildcat set, early in the second half, and used an empty backfield to spread the field on their fourth quarter drive.

"We were trying some different things, but its just that they played so tough," Raymond said. "…it was pretty good football."

"I don't think you could ask for two more evenly matched teams at this point," Raymond said. "Both teams are the best in Western Mass and they're so competitive -- you can't deny that it's been exciting."

"Our defense played really well -- except for the last series of the game," Longmeadow senior Jeff Anderson said. "Our teams run identical offense so we know the insides and outs of them. So we knew basically it was going to come down to who was going to make plays."

"We couldn't establish anything with the inside run game or the outside run game," Rotsko said. "They were just pressing the line of scrimmage."

Both coaches will have to rally their teams back into shape quickly. The first playoff game is set for Tuesday and both teams are hoping for super bowls this year. After the game Rotsko's team was very somber during the post game speech listening to the coach intently.

However when asked about the speech Rotsko paused, and then answered: "I actually don't remember what I said," Rotsko said with a laugh.

Coaches, players and families were caught up in the emotion across the state on Thanksgiving Day 2010, and it was surely one for the ages.

November, 25, 2010
11/25/10
10:37
PM ET


NEW BEDORD, Mass. – It's strange to think that the seeds for New Bedford's Big Three conference-clinching win, 21-7, over Durfee on Thanksgiving Day were sewn in a time when they were 1-3, in a game that they lost, and by a player that very well could have viewed his coach's decision as a demotion.

Before the Whalers' bout with Barnstable in Week 4, head coach Dennis Golden made a quarterback change. He moved senior captain Nate Lewis out from under center to wide receiver and, in his place, junior Myles Medeiros took the snaps.

Medeiros lost his first start to the Red Raiders, but something was different from then on.

"We started out 1-4 and we had a lot of doubters and a lot people who didn't believe in us," Lewis said. "But we just believed, believed, believed. When we were watching film, we knew we had a lot of talent on this team. We just got stronger as a team every single day going forward."

The Whalers' momentum grew by the week. They rattled off three straight wins before delivering a shocking upset of Brockton, the first time they'd beaten the Boxers since 1999. All that was left was for New Bedford was to follow through on its first Big Three title since 2001 in the centennial edition of the Thanksgiving rivalry.

It was fitting that Lewis and Medeiros were again the driving motion behind the Whalers' triumph over the Hilltoppers.

"Not many kids would have or could have handled it the way Nate [Lewis] did," New Bedford head coach Dennis Golden said, "and this championship is a result of him doing that. If he didn't do that, we were dead as a team."

After Durfee (3-8, 0-2) opened scoring with Tresley Dupont's 3-yard touchdown run with 2:50 remaing in the first half, Lewis wasted little time getting it back.

Hilltoppers head coach Robb McCoy called for an angled squib on the ensuing kickoff. Lewis fielded the kick on a hop at the Whalers' 28-yard line and gained the edge on Durfee's coverage unit. With only one Durfee defender left to beat, Lewis hurdled over the lunging would-be tackler and sprinted the rest for a 72-yard return.

Although Durfee had controlled the ball for 14:30 in the first half, they were all square, 7-7, at half.

"I saw the kid going down, so I decided to go up and was lucky enough to score," Lewis said. "That was a great feeling."

Meanwhile, McCoy had a familiar sinking feeling in the pit of his stomach.

"Oh, man," he said, letting a big long sigh in the process. "I couldn't have walked out there and put the ball in a better spot. We just didn't spread out enough [on coverage] and their kid made a great play."

New Bedford (6-4, 2-0) looked to strike on its first possession of the second half, after forcing the Hilltoppers three-and-out. However, Jake Brown picked off a Medeiros pass in the end zone to stall the drive.

The Whalers broke the stalemate with 7:47 remaining on Izaiah Baretto's 1-yard touchdown run, which was set up by a pair passes from Medeiros (11 of 18, 155 yards) to Lewis.

Their chemistry has now been well established.

"Honestly, we just became more of a team," Medeiros said of the Whalers' turnaround. "When we started winning, after the Barnstable game, when I had my first start, we started to bond. We became a real family and that's what we stress. We come in and when we see people walking down the hall in school, we give each other a hug because we're family. I love every single one of those kids."

Phito Gondre added an insurance score on a 15-yard carry, marking his seventh straight game with a touchdown.

Durfee wouldn't go quietly, however, as Keith Omosefunmi (22 carries, 122 yards) continued to pound the ball and McCoy pulled out some football favorites from yesteryear.

In addition to throwing in Wildcat wrinkles into the Hilltopper offense, McCoy started one fourth-quarter drive with three consecutive swinging gate plays, with Omosefunmi taking the snaps. There was also a Muddle Huddle thrown in.

"It's one of those things," McCoy said, "with the extra week of practice, you're able to do more stuff like that."

McCoy certainly went out with a bang, as it was reported after the game that he had informed the school of his resignation, making his indoctrination into the 119-year rivalry his final turn as well.

"It was awesome, especially with what was on the line this year. It was awesome. It was fun. I'm proud that I was able to be a part of it. I'm proud that I was able to be a part of the 100th anniversary game and I'm proud of the kids, I really am."

New Bedford also endured the loss of offensive and defensive tackle Lance Burlingame to a meniscus injury suffered in the first quarter.

It was a just another setback that the Whalers had to overcome this season.

"I'm always going to lead this team that best I can," Lewis said. "I never doubted this team and I know we could do it."

The Whalers will face Catholic Conference champion St. John's Prep on Tuesday in the Division I playoffs.

Durfee 0 7 0 0 -- 7
New Bedford 0 7 0 14 -- 21

Second quarter
Durfee Tresley Dupont 3-yard run (Cory Burns kick)
New Bedford Nate Lewis 72-yard kickoff return (Justin St. Pierre kick)

Fourth quarter
New Bedford Izaiah Baretto 1-yard run (St. Pierre kick)
New Bedford Phito Gondre 15-yard run (St. Pierre kick)
November, 15, 2010
11/15/10
6:35
PM ET
ANDOVER 88, LOWELL 82...NATIONAL RECORD?
This past October 30, two Texas high school football teams combined for 165 points in a battle for playoff position, with Jacksonville High defeating Nacogdoches High, 84-81, in the 12th overtime. According to KLTV, the Tyler, Texas-based ABC affiliate covering the game, that set a national record.
If all that's true, then what went down last Friday night at Cawley Stadium is a national record. Andrew Coke ran for eight touchdowns for Andover to lead the Golden Warriors to an 88-82 victory over Lowell in the eighth overtime. Meanwhile, Raiders quarterback Kyle Edwards threw for eight touchdown passes in the loss, four of them to Josh McGlauflin.
The Red Raiders had an opportunity in the eighth overtime to score, but were stopped inches short of the goal line on a fourth-and-three play. The game was tied at 28 after regulation, and the teams traded touchdowns in seven straight overtime periods -- including six straight successful two-point tries by either side -- before Coke marched in from 10 yards out on the Golden Warriors' first play of their eighth-overtime possession.
"I've never seen anything like that," Andover head coach E.J. Perry told ESPNBoston's Scott Barboza. "It was a tremendous accomplishment by this team to put it all on the line. Now we'll have the chance to play with all the marbles on the line against Central Catholic on Thanksgiving Day. It's been a great honor to coach kids like this that are so resilient.
"But I give a lot of credit to those Lowell kids as well. I went over to talk to them after the game and I told them that they had nothing to be ashamed of."
With that win, the Warriors have set up a winner-take-all battle with Central Catholic on Thanksgiving for the Merrimack Valley Large's playoff berth. But it's a pyrrhic victory, as Boston College-bound tight end Brian Miller went down with a knee injury in the first half; his status for Thanksgiving is unknown right now.
"No real update right now," Perry told correspondent Roger Brown in his recruiting blog
today
. "Brian was not able to get an MRI over the weekend. The orthopedist who was on hand was somewhat optimistic it wasn't an ACL, but without an MRI there now way to know for sure. He's getting that [Monday]."
D-WHAT? D-Y!
Paul Funk arrived at Dennis-Yarmouth in 2001, fresh off a successful stint as an assistant at storied Everett, to find a Dolphins program so barren that it had relegated itself to junior varsity status. D-Y faced problems not only with numbers, but with plain old futility -- the Dolphins had won just six games in the 1990's.
Fast forward to Friday night, and the Dolphins are staring at their second Atlantic Coast League title in four years, thanks to a gritty 14-7 win over Plymouth North.
"In nine years, this is what we've got, and I'm pretty proud of that," Funk told ESPNBoston's Brendan Hall. "It's alot of hard work from alot of people."
It was the usual recipe to success for the Dolphins, with linebackers Tommy Kennedy and Victor Andrade leading a swarming defense that marked hard-nosed fullback Matt Walsh all night and kept the Eagles' vaunted running game stalled in first gear. Meanwhile, Matt Montalto wasn't putting up video-game numbers as usual, directing Funk's high-octane spread attack, but he was good enough in the second half, running and throwing for a touchdown each.
Montalto now joins his brother, Nick, as quarterbacks to lead the Dolphins to a share of the ACL.
"He is as good a competitor, as a winner, as you'll ever find," Funk said. "He's been a winner since he was seven. You always have a chance with him at the helm. His older brother was the same way, (Matt's) just an unbelievable person."
As for that elusive playoff berth...
With the league slates of both D-Y (9-1, 4-1) and Marshfield (5-4, 4-1) wrapped up, fate lies in the hands of North (7-3, 3-1), which has one ACL game left -- Thanksgiving archrival Plymouth South (4-6, 2-2). A North win on Thanksgiving creates a three-way tie for the ACL, and would give the playoff berth to the team that has gone longest without making the playoffs -- in this case D-Y, which has never played past the holiday in the Super Bowl era.
You can be rest assured the Dolphins will be scoreboard-watching on this one. This same scenario played out in 2007, when they went 10-1 but with a loss to Marshfield needed a North win on Thanksgiving to create a three-way tie. South took down North in what was considered a big upset, and the Rams went on to the Division 1A Super Bowl before bowing to Chelmsford on a late field goal.
WHALERS ROCK BIG 3 BOAT
New Bedford could've let its boat sink after suffering four straight losses to start the season, however Dennis Golden's squad righted ship with four wins entering Saturday's matchup against Brockton. Then, the Whalers did the unthinkable, upsetting the Boxers, 23-21.
"Well, we've been much better in the last month than we were in the first month," Golden told Scott Barboza on Sunday. "I'm really proud of the way that our kids have battled back when they very easily could have let things slide."
Now, New Bedford can clinch a Division I playoff berth with a win over Durfee on Thanksgiving Day.
The Whalers jumped ahead of the Boxers, 14-0, at halftime and never trailed in the contest. To close out the win, New Bedford embarked on a 20-play drive, spanning eight minutes and forty seconds of the fourth quarter. Although the Whalers didn't score, Brockton got the ball back with only five seconds remaining, scant time for the Boxers to get a game-winning score.
"Our offensive line was amazing on that final drive," Golden said. "They were just amazing and that was huge for us, keeping the ball out of the hands of their offense at the end of the game."
BLUE RAIDERS PILLAGE EAC CROWN
The Somerset sideline dumped the water bucket over head coach Nick Freitas' with around 30 seconds remaining.
Still, Freitas wasn't about to go Gore v. Bush on calling his team's number in the Eastern Athletic Conference race.
"I didn't feel safe until it was down to point-six second left on the clock there," Freitas said after the Blue Raiders' 49-28 win over Bishop Feehan on Friday.
The Shamrocks once again proved that the EAC runs through them, despite losing their first five games of the season. Feehan won when it counted, taking their first three EAC contests before falling to Somerset.
And the Blue Raiders weren't about to look past their opponent.
"That's all we could think about this year," lineman Ian Levesque said Friday about their matchup with Feehan. "We knew it was going to come down them in our last [conference] game. We knew we had to be ready for them. We had a hard week of practice. We watched extra film. We knew it was going be that tough."
HEAD OF THE CLASS
VALVOLINE PEAK PERFORMERS OF THE WEEK: NEW BEDFORD'S OFFENSIVE LINE
The Whalers line of Jason Brierly, Lance Burlingame, Janny Dosreis, Jacob Medeiros, Oliver Pires and Darian Sousa-Bizarro carried New Bedford in its upset over Big Three rival Brockton.
THE CLASSMATES
Andrew Coke, Jr. QB/RB, Andover
- The leading scorer in Division 1 added immensely to his already-impressive totals by scoring eight touchdowns in the Golden Warriors' 88-82, eight-overtime win over Lowell.
Matt Costello, Sr. WR, Everett
- The senior had another tremendous day receiving in the Crimson Tide's 45-0 win over rival Malden, making eight catches for 195 yards and three scores.
Seth DeMello, Sr. RB, Somerset
- He provided the biggest spark in the Blue Raiders' 49-28 win over Bishop Feehan to clinch their first postseason berth of the Super Bowl era, carrying 20 times for 245 yards and scoring six touchdowns (four rushing, two passing).
Ryan Lipka, Sr. WR, Bishop Fenwick
- With six catches in the first half of a 36-0 loss to St. Mary's last Friday, Lipka became the first player in the state of Massachusetts to catch more than 100 balls in a season.
Quinton Perkins, Jr. ATH, Fitchburg
- The versatile speedster was vicious on the ground for the Red Raiders, carrying the ball 17 times for 278 yards and six touchdowns in a 56-33 shootout win over Gardner.
Andreas Robinson, Soph. QB, Phillips Exeter
- In a 56-33 win over archrival Phillips Andover, Robinson ruled the day with 297 yards and four touchdowns on 31 carries.
August, 27, 2010
8/27/10
11:44
PM ET
NEW BEDFORD, Mass. – When New Bedford High football head coach Dennis Golden talks about his team's accomplishments last year, he is both philosophical and emotional. He is earnest when he talks and could convince any player to suit up for his team.

So it wasn't lost on the Whalers' sixth-year coach what his team really did in finishing 6-4-1 — the best record of Golden's tenure — in 2009.

"They believe they can do well now," Golden said. "The expectations have been pushed higher. We're looking at it from a different view. Doing well is a habit and you always want it to be a habit. The belief in oneself and the belief in one's team is huge."

He also realizes there is no guarantee the strides his team made last year will be carried through to a new year. With only four returning starters on either side of the ball, Golden knows the Whalers have their work cut out for them.

But, with a newfound positive mentality, his players are setting their sights on the next step.

"It definitely gives us a lot more confidence the way we turned things around last year," senior quarterback Nate Lewis said. "But last year's in the past. We're going to work as a team to move forward. We're taking it one step at time and going at it day by day."

For what New Bedford may lack in experience this year, it does have the luxury of pulling from a deep pool of athletes. Nearly every position is manned by a member of the Whalers track and field team. Their athleticism is apparent while watching the players operate in New Bedford's spread offense.

The flashes of speed are not only limited to the skill positions. While running wind sprints that culminated Friday's practice at the high school, it was 6-foot-5, 250-pound tackle Lance Burlingame that was pacing his teammates. He's attracted the attention of Division I schools, such as BC and UMass Amherst, because of his athleticism.

That doesn't mean that Burlingame rested on his laurels this summer.

"I worked on my conditioning and I ran a lot more. I tried to improve on my footwork, getting out of my stance quicker."

That work ethic permeates the Whalers roster. Lewis devoted much of his offseason to working on his footwork with New Bedford's coaching staff. Last year's success has been the impetus to continue to improve and keep a good thing going.

"Winning is good," Burlingame said, cracking a little smile. "Now, we just want to continue on that path and keep up the good work. Hopefully, we'll continue to do that and have another successful season."

So will things finally get a little bit tighter in the Big Three?

"We're focused on the first game right now and nothing beyond that, we'll take it from there," Golden said. "The larger picture is that we'd like to learn how to win in the Big Three, consistently. We want to do that and that's certainly a goal. But we don't want to get ahead of ourselves."

NEW BEDFORD AT A GLANCE
2009 record: 6-4-1 (1-1 Big Three)
Coach: Dennis Golden (sixth year, 43-58-1)
Players to watch: Lance Burlingame, Sr., LT/DE, 6-5, 250 lbs.; Nate Lewis, Sr., QB, 5-10, 165 lbs.; Phito Gondre, Sr., RB/S, 5-10, 165 lbs.; Izaiah Barretto, Sr., RB/DB, 5-8, 150 lbs.; Jaraud Wood, Jr., WR/LB, 5-101, 165 lbs.; Janny Dosreis, Sr., RT/DL, 6-2, 255 lbs.
Strengths: Team speed, athleticism at skill positions, team chemistry.
Weaknesses: Lack of experience.
Outlook: Golden's offensive philosophy is simple: Get the ball in the hands of the playmakers and watch them go. And the Whalers have the horses in their spread offense to do it. Running back Phito Gondre is one of the elite sprinters in the state and has placed at New England Regionals in each of the last two years. One thing to watch is how sophomore Miles Medeiros could push Lewis at quarterback as the season progresses. On defense, it will all come down to how fast the young Whalers can learn the playbook in their 4-3 scheme. "We want to be able to be confident in our reads and then just play with the speed that we have," Golden said.