Boston High School:

Deondre Starling
August, 21, 2011
8/21/11
1:51
PM ET
By
Matt Stout
| ESPNBoston.com
CAMBRIDGE, Mass. -- For nearly an hour Thursday, the pace was frenetic. Weaving through a maze of cones and crossovers, 17 basketball players sprint back and forth from all corners of the Frisoli Youth Center. Their only break from the tireless shooting and dribbling drills is the occasional one-minute breather -- and the far more frequent set of push-ups.
"Stop! Stop!" a voice shouts, freezing everyone on the court. "Push-ups! I'll tell you why afterward."
Dwight Brewington walks around his players as most struggle to finish the set. He then grabs a ball and instead of telling his players the reason for the punishment, he shows them. His slick, 6-foot-5 frame glides quickly through the cones at a gear coaches love to call "game-speed," and Brewington would too if he called himself a coach.
"You gotta push it!" he tells them.
"You're supposed to be doing this at home, aren't you?" he asks.
"Do NOT cheat yourself!" he says.
That encouragement is something Brewington said was rarely passed to him during his formative years.
[+] Enlarge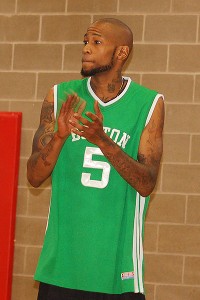 Brendan Hall for ESPN.comAfter stints in two Division 1 programs, the D-League and Europe, Dwight Brewington has discovered a niche in coaching.
Born profoundly deaf, he knows he wouldn't have been able to hear it. But he's making sure others do now.
"Believe me, I'm going to have kids that make it to the NBA," Brewington says, with both defiance and a smile. "I'm going to have kids in the NBA -- with my help."
A NEW DREAM
Once driven by a dream to be the first deaf player in the NBA, Brewington says he's finding true happiness in his second basketball career.
Since May, the 27-year-old Lynn native -- who starred at two colleges before playing in the NBDL and overseas -- has run the Active Skills Basketball Training Program in conjunction with his AAU team, the Active Skills All-Stars.
Together, they draw athletes from Lynn, Cambridge, Boston, Winthrop and beyond. On Thursday, they included kids prepping for middle school tryouts to teenagers preparing for the next step, such as former Newton North star Tevin Falzon, who's set to begin a post-grad year at Winchendon; his brother, Aaron Falzon, who plans to enroll at St. Mark's; and Macam Bak Macam, a deaf Sudan native whom Brewington is trying to help land at a prep school.
Brewington runs training sessions where he can find court time, most recently for two days a week at the Frisoli Youth Center in Cambridge and every Sunday at Winthrop High School. Soon, he'll return every Monday and Wednesday to Breed Middle School in Lynn for a six-day-a-week schedule he's more than happy to offer.
The goal, Brewington said, is to give athletes the help he never had. He's a trainer, he says, not a coach because his focus in on improving the individual as opposed to a team. His sessions feature seemingly non-stop movement, and when a player blows a lay-up or junks a drill, he has push-ups waiting for him.
How many is hard to tell. On Thursday, some did 10, some did eight, others did five. After what mounts to countless sets, they seemed almost eager to get back to running.
"I can feel it when I go to sleep," said Deondre Starling, the former Cambridge star who's training with Brewington before heading to play at Dean College in Franklin. "And I can feel it when I wake up."
Perhaps most importantly, the players display the same passion for playing Brewington does for training them.
"He's found himself," said Mauricio "Mo" Vasquez, Brewington's mentor and former AAU coach with Metro Boston. "It's something where he kind of controls his destiny. It's not up to someone else. And he enjoys seeing guys develop."
'THE KID IS UNIQUE'
There are obstacles, of course. In an area filled with established AAU programs -- Metro Boston, Boston Amateur Basketball Club (BABC) and the Bay State and Middlesex Magic are just a few -- Brewington will have to find his niche.
Born without 60 percent of his hearing in both ears, Brewington still wears hearing aids, and as he did Thursday, he will demonstrate almost as often as he instructs, in case his players don't understand him.
As a child, his disability made him introverted and anti-social, he said. For a long time, it hindered him in school before he utilized professional note-takers. He admits he "didn't want to trust people" when he is was younger, and his guarded nature often went misunderstood. In college, he often butted heads with the coaching staff at Providence College before transferring to Liberty University in Virginia, and he admits he didn't take orders well.
"For some reason, people don't look at me as Dwight Brewington," he said. "They look at me as Dwight Brewington, that deaf guy. People never gave me the chance to get to know me. If you don't give me the chance to get to know me, I'm not going to get to know you."
Even during Brewington's recruitment, Vasquez told coaches that "this kid is unique" and cautioned them of the extra steps needed to make him feel comfortable. For instance, as smart as Brewington is, Vasquez said, he never could grasp sarcasm, most times taking everything anybody said literally.
"You don't understand it because you don't hear it," Vasquez would tell him. "And I used to tell him, 'You think too much.' He's always trying to please everyone. But when he took something in the wrong manner, he already built a wall."
This was the same kid that questioned Vasquez's ability to help him when he first came to him in the eighth grade. The then-6-foot-2 teenager would look down on the 5-foot-6 coach and quip, "For a little guy, you bark a lot."
"Mind you, I'm a short guy," Vasquez said, laughing at the memory of how Brewington would sometimes shut his hearing aids off in a huddle. "The first thing out of his mouth was, 'Are you sure your guys get better?'"
But Brewington remained as loyal as they come. He stayed with Vasquez through all four years of high school, even as he jumped from Wakefield High to Lynn English to Worcester Academy, emerging as a star wherever he went.
LONG ROAD
When he ascended to the collegiate level, he struggled to adjust in many phases -- except for basketball. As a sophomore, he averaged 13.3 points and 4.3 rebounds a game, giving the Friars a second weapon past star Ryan Gomes.
Being deaf never hindered him on the floor, where his athleticism was almost equaled by what Vasquez called a "sixth sense" for feeling the game. As long as Brewington kept eye contact with the coach, the point guard and others around him, he didn't need to hear a play call to make a play.
The problem was, Providence coach Tim Welsh and him "weren't seeing eye to eye," Brewington said. Welsh publicly supported the guard when he decided to transfer, but it wasn't a secret that Brewington was uncomfortable there.
He sat out the fall semester of his junior year, weighing where to go. Arizona and Ohio State courted him, he and Vasquez says, as did Gonzaga. Then, literally days before he was set to leave Providence, Brewington was struck by tragedy. Four of his closest friends were gunned down in a basement recording studio, a brutal killing that shook the Dorchester neighborhood where it occurred.
Edwin Duncan, 21, was shot three times; Jason Bachiller, 20, seven times; Christopher Vieira, 19, four times; and Jihad Chankhour, 22, was shot as he ran for the door, according to news reports. It leveled Brewington, who says there are very few people in the world he can point to and say, "That's my boy."
"There are only like five of them like that," he said. "Four of them are dead."
Feeling lost, he turned to Liberty, a private university steeped in Christian values.
"Even though I knew there was the chance it would hurt me with the NBA and my resume, I needed God," Brewington said of going to the mid-major school. "Liberty was the first school who wanted me. They knew about my four people getting killed. I said, 'I needed God.'"
But despite averaging more than 14.7 points and 4.7 rebounds per game there and declaring early for the NBA draft, Brewington said he sensed he wasn't close to realizing his dream. He wasn't selected and later was taken in the NBDL draft. Never called up to an NBA team during his time there, he then played in Israel, the American-based Premier Basketball League and finally Slovakia.
He returned last December after injuring his left Achilles, again feeling lost and disappointed. He was happy to be back in the U.S. with his wife, Gabrielle, and two children, 7-year-old Dantia and 4-year-old Malakai, but he said he stayed in the house "24/7, trying to figure out what the hell went wrong with my life."
"It made me decide I'm done [playing] ball," Brewington said. "Being far away from home, being far away from your family and knowing that I have two kids and a wife, I'm overseas and [thinking], 'Why am I here? I should be in the NBA.' That was my dream. It was always the NBA. I could never see myself waking up in the morning and going to work."
So he made his own work. In less than five months after starting his program, he's drawing close to 20 kids a night for training, whom he then funnels into his AAU team. This fall, he's planning to coach players at both the junior high and high school levels, and on Sept. 17, he is hosting the Love of the Game Mass. Basketball Tournament Classic at Cambridge Rindge & Latin School, which figures to draw some of the top AAU talent in the region.
It's helped Brewington come to terms with never reaching the NBA.
"Because I'm doing this, it makes me look back and say, 'I'm OK with it,'" he said.
PROVIDING THE PUSH
The night is winding down at the Frisoli Youth Center, and in a circle surrounding their trainer, 17 kids are doing push-ups.
They're sore, they're tired. But you never hear one groan about Brewington's regiment. In fact, most manage a smile while they rest between sets.
"I've never had somebody who sticks on me like he does," said Dan Trentsch, a rising junior at Swampscott High School who's trained with Brewington for the last five months.
In the beginning, Trentsch says, he couldn't get through half of one of Brewington's practices. Push-ups were a foreign concept.
Today, he does more than 300 a day, is taking 500 shots a day under Brewington's watch and can dunk.
"On a good day," Trentsch said with a smile. "He loves to push me, and that's what I love about it."
That's why they're all here. It's why Brewington is too.
"Me being deaf, there were a lot of things I had to deal with it that made me look back and say, 'I want to be in kids' lives,'" he said. "I want to be that guy who can help kids get to where they can be at. They just need someone to push them."
February, 22, 2011
2/22/11
1:38
AM ET
By
Brendan Hall
| ESPNBoston.com


CAMBRIDGE, Mass. -- The quick release, 60-degree arc and sharp follow-through of Kyroe Qualls-Betts might as well be a hand-me-down. For years now, the Cambridge senior guard has sought out the guidance of his older brother, former Falcons great Nathan (a fine sniper himself), to the point where head coach Lance Dottin muses, "He came to us as a good shooter."

Qualls-Betts, the Falcons' 6-foot-1 marksman, was 5 for 9 from deep, part of a 17-point performance in a 60-44 stomping of Brockton (12-6) at the War Memorial Recreation Center last night.

"When he gets fired up, it feels good for the rest of us," said senior forward Deondre Starling, who had 16 points and nine boards. "We see him on the floor and we know he can shoot, and he had some pretty good shots for us today."

Said Qualls-Betts, "When we start nailing down three's, that opens up the post game, so it's easier to kick the ball inside to Jacquil (Taylor), easier for him to score."

And while nobody will question the momentum-shift Cambridge's 6-foot-9 super-sophomore center Jacquil Taylor can turn when he's loose out there -- against the Boxers, he quietly came close to a triple-double (11 points, 11 rebounds, eight blocks) -- expect Qualls-Betts to become that much more important a factor, as opposing defenses continue to try and pack it in with the type of zone looks that delivered Somerville a shocking upset over the then-No. 3 Falcons last week.

"I'd have liked him to hit even more," Dottin cracked about Qualls-Betts. "I mean, the guy was open, we've got to be able to find him. That's what he does, I mean when he's open he can really shoot the ball. He's got a very good stroke, and when he's open he's shooting with confidence, like tonight, which was nice to see.

"But that's not all he can do. Kyroe can move the ball when he needs to move the ball. He can put the ball on the floor when we want him to put the ball on the floor."

Up 25-19 at the half, the Falcons opened the third quarter on an 11-2 run led by Qualls-Betts, who first fed Taylor for a powerful two-handed slam in the post, with a laser of an entry pass from the top of the key. The next trip down, junior Maurice Taylor rebounded his own errant jumper and reversed the ball to the other side, where Qualls-Betts calmly sank his third trey of the night from the left wing to make it 33-21.

At the five-minute mark, Qualls-Betts struck deep from the left wing again, this time on a kick-out from Jacquil Taylor, to make it 36-21 before the Boxers immediately cut it to 36-27 with back-to-back treys of their own from Jamal Reuben and Shane Sims.

That was the Boxers' last punch, as Qualls-Betts came down the floor on the next possession with yet another three to make it a perfect 3 for 3 for the quarter, and give them a 12-point lead that never cut to single digits again.

Cambridge lead by as much as 19 in the second half before the reserves battled off the final few minutes of regulation.
February, 11, 2011
2/11/11
11:46
PM ET
By
Andy Smith
| ESPNBoston.com
CAMBRIDGE, Mass. -- A chant of "We want Brockton!" echoed against the walls of the War Memorial Gymnasium, at the beginning of the fourth quarter of the Falcons' Friday night game against their rival Somerville.
The boisterous, standing-room-only crowd was witnessing what the Cambridge boys' basketball team has done so often this season: take such a large lead into the final quarter that the game already felt it was over. It came into the game beating opponents by an average of 27 points. It took a 30 point lead into the final quarter, which allowed the fans to already look ahead to Cambridge's next challenge, a pivotal Feb. 21 showdown with the No. 17 Brockton Boxers.
"It was a great crowd; it was a live crowd," said Cambridge forward Deondre Starling (18 points, 7 rebounds). "Sometimes we couldn't hear what Coach (Lance Dottin) was saying so we had to go out there and play with each other and know what we see on the floor."
[+] Enlarge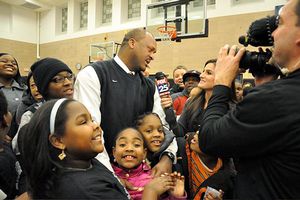 Larry Aaronson for ESPNBoston.comCambridge head coach Lance Dottin was quite satisfied with the Falcons' effort as they clinched the Greater Boston League title.
"We had to get the play from the point guard and see what his view was because he commands the floor," he added. "We went by what his call was because we couldn't hear what the call was coming from the bench."
The impressive part of their 70-39 victory was that it did not come against a conference basement dweller, but against Somerville, the team that was a game behind them in the Greater Boston League coming into Friday.
With the win, Cambridge (16-0) clinched the GBL championship and came one game closer to ending the regular season with an undefeated record.
"We were able to beat a good basketball club, a team that came in at 13-2," Dottin said. "It's a league rival so it's important to us. Tonight, unfortunately it was our night. The guys came out ready to play, and obviously the outcome was what we wanted."
Somerville (13-3) had a difficult time dealing with the inside presence of 6-foot-9 center Jacquil Taylor, who finished with 16 points and 8 rebounds. While those aren't eye-popping numbers, his presence in the paint and shot-altering ability lead to many rebound opportunities for he and his teammates, which they turned into transition baskets in the offensive end.
"We definitely want to get out and run," Dottin said. "Off the glass we want to be able to get out and run and we were able to do that tonight. That's good for us because there's been a couple games where we've been stagnant and we haven't been able to do it, so tonight was really good for us."
Starling was a beneficiary of those transition baskets early, but as the game went along, he was using his quick hands and nose for the ball to create turnovers himself and contribute offense of his own. That included two thunderous dunks that boosted the already loud Cambridge crowd.
"I'm a defensive player, I just try to play everyone," said Starling. "I just match up to the ball and go hard."
Taylor and Starling accounted for 20 of Cambridge's 30 points at halftime.
"They give us good offensive performances basically every night," Dottin said. "Both of them are great offensive players, but they're even better defensive players. With our height we're also able to take advantage on the glass, and tonight we were able to do that."
After falling behind 17-5 after the first quarter, Somerville abandoned the idea of attacking the basket and settled for long-range jump shots that could not seem to find the bottom of the basket. Because of its noticeable height advantage, Cambridge was able to corral most of those rebounds and extend their lead even further with transition baskets.
From the middle of the first quarter to the middle of the second quarter, spanning a total of 7 game minutes, Somerville did not score a basket. They were able to rally back a bit, and cut the lead to 9 with about a minute and a half to go in the half.
In the second half, Somerville had a difficult time hitting shots, and saw the Cambridge lead balloon to as much as 30 in the third quarter. However, regardless of the score, Skerby Odivin (eight points, five rebounds), Kevin Silva (eight, five), and Johnson Thomas (seven rebounds) were still hustling and diving for balls as though the score was much closer than it was.
January, 29, 2011
1/29/11
12:57
AM ET
By
Joe Jasinski
| ESPNBoston.com
EVERETT, Mass. -- Despite averaging 87 points and defeating its opponents by over 30 in each of its last two games, Cambridge entered halftime in a relatively unfamiliar situation; losing by two and totaling 16 points in the first two periods.

"It showed mentally what we didn't have in the first quarter," Falcons guard Kyroe Qualls-Betts said. "[We] weren't mentally prepared."

The second half proved far more habitual for the Falcons, whose stifling defense -- eight steals, six blocks -- limited Everett to 12 points in the third and fourth frames, while dropping 20 fourth-quarter points en route to a 48-31 victory that keeps them undefeated on the season at 10-0.

"Overall, it was a great defensive effort in the second half," said Cambridge head coach Lance Dottin, whose team forced 17 turnovers in the contest. "And it changed the game. It changed the entire complexion of the game for us."

What became clear in the second half was the Falcons' renewed toughness on the defensive end, particular on the interior. Sophomore phenom Jacquil Taylor (seven points, nine rebounds, three blocks, three steals) continually affected basket attempts around the cylinder.

"Defensively, it makes a huge difference when you've got Jacquil [Taylor] on the back side," Dottin said. "Because even if you get beat, you've got someone behind you that can change some shots, that can block some shots. He's a special player, very special."

Alongside Taylor, fellow big men Maurice Taylor (six points, four rebounds) and Marcus Faison (four points, five rebounds) also disabled easy penetration for the Crimson Tide (7-4), who shot 36 percent from the field.

After a relatively back-and-forth first half, Cambridge outscored Everett, 12-3, in the third quarter, despite committing nine fouls. However, Everett squandered on chances to cut the deficit, clanking all three front ends of one-and-one opportunities from the line in the quarter,

Early in the final stanza, the Falcons swelled the lead to 30-21, before the Crimson Tide orchestrated a quick 4-0 run, culminating in a steal and explosive one-handed, fast break dunk by Alain Jeanty (12 points, seven rebounds), his second "steal-to-slam" of the contest.

Alas, that would be the closest the home squad would come.

In rebuttal, the Falcons countered with a 13-2 run of its own, highlighted by a smooth trey-ball from the senior swingman Qualls-Betts (nine points, seven rebounds, two assists) with 4:30 to play.

"We did move the ball a lot better in the second half," Dottin said. "We tried to get Kyroe more involved on the perimeter."

Finding a way to navigate through and around Everett's hybrid 2-3 zone—often times double-teaming and overcompensating on the low-block—became easier with Jacquil Taylor as a target at the high post, Qualls-Betts said.

"The middle was open all night," he said, "And there was one wing man popping out on the shooter, so we had to attack the middle and kick it from there to the other side. They [were] double-teaming Jacquil [Taylor] … so it just gave spacing for us on the floor to get more shots."

On the night, Cambridge' shot 42 percent from the floor. However, forward Deondre Starling (12 points, six rebounds, two steals) served as somewhat of an anomaly, making all six of his field goal attempts, including five in the second half.

Likewise, Everett had its bright points. To go along with Jeanty's team-high in scoring, point guard Kenny Calaj collected 11 points and a couple dimes, while being a pesky on-ball defender, registering three steals. Senior Erno Deshommes was also impactful on the glass, swiping a game-high 11 rebounds.

And as the old adage goes, it may not be pretty, but a win is a win, which was exactly Cambridge's mindset leaving the gym, Dottin said.

"We needed the win," he said. [We got] off to a bad start, but as long as we're able to get the victory. It's a [Greater Boston League] victory, so that's important for us."
January, 12, 2011
1/12/11
2:48
AM ET
By
Brendan Hall
| ESPNBoston.com



CAMBRIDGE, Mass. -- Fifteen points, fifteen rebounds, five well-timed blocks, no matter. The countenance doesn't lie.

And Jacquil Taylor was visibly thwarted as he left the locker room following his No. 5 Cambridge Falcons' all-too-easy 60-44 win over their Greater Boston League nemesis, No. 21 Everett. It was a sloppy night, but one that started on a very high note for his teammates (a game-opening 12-4 run yielded a 32-18 halftime lead) and a very low one for him. The 6-foot-8 sophomore finished strong, and as usual made some highlight-reel dunks to spark the Falcons (7-0), but started the night off 0 for 6.

Not a totally disappointing night -- "We got the win, but we need to make some corrections," he shrugged -- but frustrating?

"Yeah, and it was very bad in my case," Taylor said. "I'd rather start the game off making all six shots instead of missing them. Going 0 for 6, to me that's bad."

Meanwhile, across the hallway, Cambridge head coach Lance Dottin was taking deep breaths and shaking his head about some other perceived deficiencies in the win. Namely, the Crimson Tide (5-1) threw 2-3 zone looks at the Falcons for extended periods of time, especially in the second half, doubling down on Taylor in the post with its long, lean tandem of senior Erno Deshommes and junior Alain Jeanty (13 points, 14 rebounds).

That left junior Maurice Taylor and seniors Kyroe Qualls-Betts and Andre Dottin with a slew of open looks on the perimeter, ones they did not convert into buckets. Overall, the Falcons shot 38 percent from the field, and were 2 of 24 from three-point range.

"There were alot of open shots, and you've got to knock them down when you're open," Dottin said. "I thought we did a poor job of moving the basketball, getting stuck on one side of the floor, but that's what happens when you're settling for shots -- you know, that first pass. We've gotta get out of that first pass syndrome, and we've got to get that ball moving and attacking the zone a whole lot better.

"We'll do that, we'll keep practicing, so we're gonna just get back to work. We're happy with the win, GBL, so we'll just make sure that we've got to work on those things."

But a win -- and a double-digit one over an ESPNBoston MIAA Top 25 team at that -- is a win. And the Falcons proved once again to be special when given the opportunity to push the tempo. Deondre Starling (15 points, 11 rebounds) capped a game-opening 12-4 run for Cambridge with a steal at the right wing and driving layup, after which Everett head coach Bippy Manuel first called for the zone.

The Falcons opened the second quarter with a 10-0 run to push out to a 22-7 lead, highlighted by the first of several explosive dunks by Jacquil Taylor. Jacquil took a long outlet pass from his brother down the left flank, gathered and slammed the ball home with two hands. They followed up on the next possession with Marcus Faison (11 points) converting a three-point play for a 15-point lead with five minutes left in the first half.

Minutes later, with Cambridge holding a 26-10 lead, Jeanty racked up his second foul, and that gave way to another Jacquil Taylor dunk with just over a minute to go in the first half. This time, it was a two-handed tip-slam off an errant three-pointer from Tyrone Dacosta to make it 30-18.

"It's like an energy boost," Starling said of Jacquil Taylor's dunks. "It gives everyone momentum. Everyone gets hyped up, the crowd goes wild, we get hyper, it gets us back to reality, knowing where we're at right now."

Starling, meanwhile, might have been the star of the night. In addition to the presence his lanky 6-foot-4 frame made around the rim at both ends, he was tasked with manning up the Tide's best playmaking guard, Manny Asprilla (13 points). The senior, who is committed to Boston College for football, made some terrific drives through the lane and connected well with his post players, but in spurts. Meanwhile Matt Costello, making his season debut after battling an ankle injury the first month, was held without a point in seven attempts from the field.

"He's always big. I mean, Deondre's big, he's a fabulous player," Dottin said. "He can do so many different things. He can rebound on both ends of the floor, he's great off the offensive glass, but he's even better on the defensive glass. And then, Deondre can pretty much cover anyone we ask him to cover. And tonight we really needed him to pressure the ball, and get on Manny, and that's what he did. That's what Deondre does, he's kind of Mr. Everything."
December, 28, 2010
12/28/10
10:22
PM ET
By
Michelle Bradley
| ESPNBoston.com
Chelsea, Mass. -- Jacquil Taylor, Deondre Starling and Kyroe Qualls-Betts all scored in double figures as No. 8 Cambridge Rindge and Latin School (CRLS) defeated Springfield's Putnam Vocational Technical High, 67-49, Tuesday at the BABC Holiday Classic.

The Falcons improve to an overall record of 3-0, while the Beavers fall to 3-3 on the season.

CRLS came out strong to start the game, scoring 20 points during the opening quarter, while securing its defensive presence on the court by holding Putnam to just 10 points.

The Falcons continued to maintain a double-digit lead for the opening minutes of the second quarter, but Putnam chipped away to the score, coming with five points, 35-27, to end the half.

Lance Dottin, head coach for CRLS, said that during halftime, "I told [my team] to slow down, to be patient."

The halftime pep-talk seemed to work as the Falcons remained dominant on offense, going on a 12-0 run, extending its lead over by Putnam by 16 points. A layup by Putnam's senior guard Alonzo Johnson snapped the Beavers' offensive dry spell, who closed out the quarter with a 9-3 run, making the score 48-37.

During the first minutes of the fourth quarter, the Beavers cut its deficit to nine points, 52-41, but CRLS fired back with a 15-6 run. The Falcons never looked back, recording its third victory of the season, 67-49.

Taylor, the 6-foot-9 sophomore center for the Falcons, led the team with 20 points, while seniors Staring and Qualls-Betts added 14 points each.

Of his 14 points, Qualls-Betts scored 11 points during the first half, including nine points from beyond the arc.

Junior guard Jordan Almore led the scoring for the Beavers, scoring 10 of his 12 points from the free throw line. Seniors Jesus Rosario and John Toledo also chipped nine points each for Putnam.
December, 21, 2010
12/21/10
1:24
AM ET
By
Brendan Hall
| ESPNBoston.com
CAMBRIDGE, Mass. -- Lance Dottin can try, and try he will.
He can blame plain ol' ignorance.
He can blame print's ever-shrinking news hole.
But at some point, the Cambridge boys basketball coach is going to have to come around to the fact that soon there will be nothing mystifying about his 6-foot-8 sophomore big man, center Jacquil Taylor, of whom he can't help but grin when he says the 15-year-old "must be the state's best-kept secret". Talent like this -- someone for his size so adept at getting liftoff around the rim, and getting up and down the court -- can only fly under the radar for so long.
UMass has already offered the sophomore, and Boston College assistant Akbar Waheed was in attendance last night at War Memorial Recreation Center to watch as the Falcons crushed Dorchester, 78-21, in their season-opener. With exception of studs like Haverhill's
Noah Vonleh
, New Mission's Kachi Nzerem and St. John's Prep's
Pat Connaughton
, few players among the MIAA talent have risen on the radar over the last six months as rapidly as Taylor, and that was on display in a variety of ways in the win.
On the opening tip, Taylor merely slapped the ball down court to Deondre Starling, who laid it in. On Dorchester's first two possessions of the game, 6-foot-7 center Debrien Cora-Perez took it into the post only to find himself on the receiving end of a swat, the first two of five on the night for Taylor, the crowd ovations louder with each one.
Then, in the second quarter, Taylor shrugged off an 0-for-4 start from the field with two great displays of athleticism. First, he started the quarter tip-slamming home his brother Maurice's errant three-point play attempt, getting half of his forearm above the rim ("That was amazing," laughed Maurice). Then, with three minutes left, he took a quick outlet pass on the fast break and landed a two-handed dunk to make it 41-13 and force a timeout.
"Last year, my first few games, I was shaky, I didn't know if I wanted the ball in my hands," Jacquil said. "Now, I want the ball, and when I'm double and triple-teamed I want to pass the ball out."
When all was said and done, Jacquil finished with 14 points, eight rebounds and five blocks in three quarters, and didn't get his first foul until 3:35 left in the third (by then with the game well in hand).
"Jacquil is just scratching the surface right now," Dottin said. "Last year he came to us as a freshman, didn't start the first few games, but then when he came back and got in the starting lineup, I mean there was no turning back. Just fabulous all year, and he was the difference maker. I tell everyone he's the different maker at both ends.
"You'll feel his impact alot, especially on the defensive end, but now on the offensive end he's a guy that's capable of putting up double digits. He's got a nice stroke, he makes his free throws, great down in the post, and he's a guy who has a great motor. He's always looking to get better, a desire and determination to get better every day."
If last night's win was a small sample, and not an anomaly, then offensive skill is still an area of improvement. Jacquil missed a handful of shots facing the basket from close and mid-range, and for that he says he stays after practice every day -- often up to an hour, usually with Maurice and an assistant -- working on his game around the rim.
Still, this is a disciplined team with plenty of length in the frontcourt, reinforced by the 6-foot-5 Maurice's abilty to create his own shot off the dribble and through traffic, and perhaps further emboldened later this week when 6-foot-4 junior center Kevin Lovaincy returns to the lineup. The Falcons suffocated in the press last night, and with their length are able to disrupt passing lanes and force offenses back out to the perimeter.
So don't expect Cambridge -- or Jacquil -- to be able to lay low for too much longer.
"Again, he can't be the best-kept secret, but if he is...hey, we'll take it, man," Dottin laughed. "We'll keep flying under the radar."