Boston High School:

Derek Collins
March, 10, 2013
3/10/13
8:57
PM ET
By
Chris Bradley
| ESPNBoston.com


LOWELL, Mass. -– A fierce a competitor on the sidelines, a family man off of the court. It seemed as if everybody at the Tsongas Center on Saturday had their own Mike McVeigh story to tell.

The North Andover coach announced after the Scarlet Knights' loss to Brighton on Saturday afternoon that he would be retiring after 31 year at the helm for North Andover. It was a decision that McVeigh made in his own mind about two months ago, but it was one that left his players in tears, and those in attendance wrapped up in his "aw-shucks" personality and raw emotion that he was never afraid to share with his players and the media.

Derek Collins, one of North Andover's senior captains who has played on the Knights' varsity for four years, has gotten to know McVeigh like few other players have over the course of the coach's long career. Collins came out of the locker room after the game in tears -- not only because he had just played his last high school games, but from what seemed to be his own reminiscing about his long and storied career under McVeigh at North Andover.

Collins quickly got hold of his emotions for his postgame interview, discussing his recovery from back surgery last year and the struggle that he faced in order to get back into playing shape afterwards. McVeigh was there when Collins was a freshman phenom, there when surgery put his career in jeopardy, and there on Wednesday after the Wakefield game to give his recovered senior a hug after perhaps the best game of his career.

"You're the best," McVeigh said to Collins on Wednesday night, wearing the grin of a proud mentor.

For all his gathered emotion, Collins couldn't hold back on Saturday when asked about his reaction in the locker room to McVeigh's retirement announcement.

"I don't know what to think about that," Collins said, with his jaw shaking at a loss for words. He exhaled, "I wish him the best with whatever he goes on doing. He's had a great career through my four years and his whole career—as long as it's been. He's a great coach."

McVeigh finished his career with 497 wins, but learned early in his career that he wanted to be defined by the impact he had on young men, and not so much on his career win total. He reflected on his transformation as a coach:

"I know coaches just say that, I knew [my win total] in my younger years, but man does that go. After 10 years, 12 years, and kids come back with good things, kids come back with tough things, and you want to support them. Your job changes, you appreciate different things as you get older."

One thing that he appreciated the most was the loyalty of his former players to the current program. He said he got several text messages throughout the playoffs from former player from the classes of 1984, 1985, 1989, 1991, and so on.

"I can go right up the list," he joked.

He said that he didn't know what to expect this year. McVeigh knew he had a talented team, but he wasn't sure how his team would fare in their first year in the Merrimack Valley Conference.

The MVC -- with stellar seasons from the Knights, Andover, Central Catholic, and Lowell -- was the state's most competitive conference this year, and McVeigh's team shared the league championship with Central Catholic. Chris Bardwell, a transfer from Central whom McVeigh admits he didn't always get along with early in the season, led North Andover to a 19-4 regular season record and was named the MVP of the conference.

"You ask him, and I think the two of us have a very great relationship. I thought he started to come around to my coaching, and I took a couple breaths sometimes to allow him to be himself," McVeigh said.

Bardwell, a 6-foot-5 forward with smooth post moves and a high motor, came to North Andover with a chip on his shoulder after spending the majority of his junior year at Central on the bench. Bardwell's fiery personality took some adjusting-to for McVeigh, just as McVeigh's zero tolerance policy forced Bardwell to calm his nerves at certain points.

"At first we really didn't have a good relationship -- now, our relationship is off the charts," Bardwell said.

The senior forward described the emotional scene in the locker room after the game.

"I just felt heartbroken, we all really wanted to win the state championship for him because he's never won one," Bardwell said. "Right when he said that [he was retiring], everybody was heartbroken and emotional. We really wanted the state championship—we wanted everything for him."

Captain Isaiah Nelsen, who will be playing hoops on scholarship next year at St. Anselm's, seconded Bardwell's comments.

"Unbelievable coach, better person. It was so much fun to be a part of the program that he has here. Seeing him outside of basketball, he's a great person, I love seeing him and I'm going to miss him a lot," Nelsen said.

Central Catholic coach Rick Nault also praised McVeigh for his illustrious career, but moreso for the way McVeigh always composed himself and garnered respect from players and opposing coaches. Nault said he enjoyed the season series going up against McVeigh, even if it was only for one year.

"If I could ever become like him in terms of his demeanor and the way he conducts himself, and how he represents his school -— that's what I aim for," Nault said. "For him to be stepping down right now, I think he's at peace with that, but I think it's a sad thing for the rest of the basketball community."

McVeigh expressed too, that he was truly at peace with his decision. On several occasions while answering questions after the game, he glanced over at his family. The last time he glanced, he smiled and made sure to mention the sacrifices and support that have come from his wife Jackie, his daughter Erin, and his son John.

"That group right over there, you can't do this job for 31 years without a great family...You can't do it [without them], and they were incredibly supportive."
March, 9, 2013
3/09/13
6:14
PM ET
By
Chris Bradley
| ESPNBoston.com
LOWELL, Mass. -– Brighton is used to making second-half comebacks. On Saturday they added North Andover to the long list of teams who couldn't close the them out, winning the Division 2 North championship game 64-59.
[+] Enlarge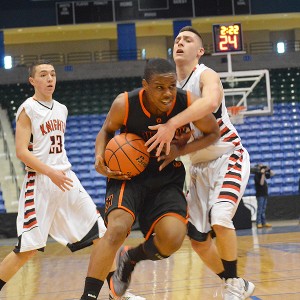 Brendan Hall for ESPNBrighton's Nick Simpson (23 points, 15 rebounds) came alive for the Bengals as they earned their second straight D2 North title.
Nick Simpson (23 points, 15 rebounds) carried the Bengals' offense for the vast majority of the game, especially in the first half when co-star Malik James was struggling to hit shots. James, who led the Bengals to the state championship game last year as a sophomore—shot just 1-for-10 from the field in the first half.
The Scarlet Knights were anchored in the first half by senior forward Chris Bardwell (16 points, 12 rebounds) and guard Derek Collins (16 points, 5 rebounds). In the first half alone, Bardwell had a double-double and had a huge presence in holding Brighton off the glass. Despite his efforts though, the Bengals were able to keep the game within striking distance at halftime, 34-27, thanks to a dominant team offensive rebounding performance.
"I'm really trying to get the guys to have a sense of urgency and realize that we can't wait like sometimes you wait to get a feel, you want to feel a team out," Brighton coach Hugh Coleman said. "I've been stressing, since the playoffs started: get up, get after it, even from the opening tip, attack."
James' slump didn't last long though, he kept driving into the paint in the third quarter—and that finally started to pay off, as he scored 10 of his 12 points in the third quarter. Thanks in part to James and Simpson attacking the rim, Bardwell spent a decent amount of time on the bench late in the third and in the fourth quarter.
"Malik was very frustrated because he felt like his jumper wasn't going down, he tried to take a couple lay-ups that missed and I let him know to stay with it. Sometimes that's the way the ball bounces, unfortunately," Coleman said. "I wanted him to keep staying going to the basket, even though he didn't get a few of the foul calls. And eventually it kind of gets going, so that's what happens for him. And that's big, because once that happens for him, then it opens stuff for Nick and Daivon."
Edwards bounces back:
Daivon Edwards almost didn't make it to the Tsongas Center for the game because he had to take the SAT's, but Coleman reiterated after the game that contact had been made with College Board, the administrator of the test, as well as the schools Edwards is applying to, to ensure that he could send in his SAT scores at a later date.
In return, Edwards had one of his best games of the season for the Bengals, nailing four three-pointers and forcing North Andover's defense to constantly get a hand in his face and keep an eye on him. It was the type of game that Edwards needed, Coleman said, to re-gather his confidence going into the Eastern Mass. championship game.
"I have a lot of confidence in him," Coleman said. "Late in the season, he struggled. He wasn't hitting anything, he wasn't rebounding, he wasn't playing defense -— so we had to take him out of a lot of games and not play him.
"But you know, I talked to him and I said 'I know what you're capable of, you've proven you can do it—stick with it'. Now the last few games, that stroke has been going—and it's mean a lot for his confidence and that meant a lot for our team."
Preparing for the worst, hoping for the best:
Coleman is no stranger to North Andover's talented lineup, they scrimmaged the Knights before the season and Coleman watched North Andover blow out a very talented Wakefield team earlier in the week. After seeing the Knights' play in the semifinal match, Coleman was worried -- to say the least. He said the player that the Bengals prepared most for was Derek Collins, who drained 7 three-pointers in the win.
"[Collins] literally sparked his team, motivated his team. I'll be honest, I kept saying 'I don't know what I'm gonna' do with North Andover . They're tough, I know they're a well-coached team, they're organized," Coleman said, praising the Knights' discipline and attention to detail, "They're disciplined. And when I watched them at Wakefield, I could see it in their eyes that they were listening to their coach's every word. That's a dangerous team to play."
Brighton rotated 10 players into the game on a consistent basis, and Coleman said that was done in particular to wear down Collins, who can get hot from three-point range on the drop of a dime. Collins, as mentioned, finished with 16 points, but had to work hard for his points and was harassed all afternoon by the Bengals' on-ball defenders.
McVeigh announces retirement:
A teary-eyed Mike McVeigh announced after the game that he would be retiring as head coach at North Andover after 31 years running the program. McVeigh said it was a decision that he made in his own mind two months ago, and one that, in a way, helped him enjoy the season and the team that will be the last he ever coaches.
"The feeling I've had for North Andover, for the players I've had for 31 years, all the assistant coaches, the booster program that we have in town, the school administration, the pep band -- you see it, and I think it's pretty darn good here," McVeigh said. "The number of former players is so precious to me, a big part of my life."
Captain Isaiah Nelsen (14 points) praised his coach after the game, hinting that while coming together and gelling as a team wasn't easy, the Knights were motivated by their coach:
"If you told me in November that this team would be Co-MVC champs and make it to the finals at the Tsongas, I'd tell you that you
were crazy," he said. "Everyone made sacrifices, we sacrificed shots, and we did it for the better of the team."
March, 7, 2013
3/07/13
12:41
AM ET
By
Chris Bradley
| ESPNBoston.com
LAWRENCE, Mass. -– Not too long ago, Derek Collins couldn't even touch his toes.
North Andover coach Mike McVeigh was impressed with Collins' play last Sunday against Concord-Carlisle, so much so that the veteran coach went out of his way to compliment his senior guard before practice the next day.
"Man, you look stronger," McVeigh said to Collins, hinting at how much he had improved since having back surgery last winter.
"Coach, I can touch my toes," Collins happily announced.
[+] Enlarge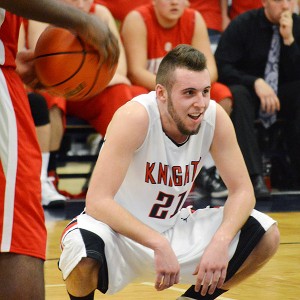 Brendan Hall/ESPNBoston.comDerek Collins sank seven 3-pointers to lift North Andover to its first Division 2 North Final appearance since 2007
On Wednesday night, he took another step in the right direction, tallying 26 points on seven three-pointers, but more importantly, leading the Scarlet Knights (19-4) to a 68-44 win over Wakefield (15-6) in the Division 2 North semifinals.
"That's the old Derek Collins right there," teammate Chris Bardwell (14 points, nine rebounds) exclaimed after the game, going back to Collins' younger days, "That's him in eighth grade. He came out to play, he was firing. It's awesome when you have someone like that who can shoot that good; it just takes pressure off of our offense."
North Andover jumped out to a quick lead in the first half, Collins and Isaiah Nelsen (20 points, eight rebounds) hit back-to-back threes in the opening minutes to build momentum that Wakefield was unable to match. However, behind some hot-shooting from Wakefield senior Kendall Hamilton (18 points), North Andover held just a 31-23 halftime lead.
That's when Collins got hot.
During a critical point in the game, North Andover game out of the third quarter gates with a sprint, led by Collins, who banged in four three-pointers in that one quarter alone. Just like that, the Knights held a 54-30 lead going into the fourth quarter —- a deficit that Wakefield was unable to even come close at chipping away at.
Following the statement victory, McVeigh embraced his star senior and joked about the Mohawk-style haircut that several players on the team got done for the playoffs.
"You're the best," he said to Collins, "and we've got to keep that haircut going."
Brown stays quiet:
Wakefield's sophomore power guard Bruce Brown has been the catalyst of the offense all year, but tonight, he managed just 10 points on 3-for-11 shooting from the field. That was all part of the plan, Bardwell said.
"That was our whole gameplan, was stopping him," he explained. "Pretty much our whole gameplan was playing the 1-2-2 and playing off him—letting him shoot. Every time he took it to the hole, we just jammed him. We did awesome on him."
Bardwell couldn't quite escape Brown's athleticism altogether though. Late in the fourth quarter Brown went up for a high-rising dunk in transition. Bardwell, looking to go for a block or force Brown to adjust his gather, could only joke about what happened next.
"Oh, that was awesome," Bardwell said with a laugh. "Getting dunked on. Yeah, that wasn't good. But whatever, I forget about it."
Bardwell and Nelsen were also able to contain Wakefield forward Mikol Blake-Green down on the post. Blake-Green, one of the most aggressive forwards and fiercest competitors around, has terrorized opposing teams on the offensive glass all year. Like Brown though, he was quiet against North Andover, mustering just eight points.
"We respect Wakefield an awful lot, there's nobody on our team, including the coach, who thought that was going to be the final score," McVeigh said. "[Brown] draws contact with the best of them, but we just tried to use that spacing theory, we space and jam. It was okay, coaches have to say what they want, but the kids have to do it--and the kids did it for 32 minutes."
Bring on the Bengals:
North Andover will move on to face Brighton in the Division 2 North championship on Saturday afternoon. Before the beginning of the regular season, the two faced off in a scrimmage where the Knights outplayed Brighton for nearly the two hours.
McVeigh, though, is cautiously optimistic.
"Who filmed the Brighton/Aorth Andover scrimmage?" he asked rhetorically to an ESPNBoston.com reporter, with a dash of sarcasm.
Bengals star point guard Malik James filmed the scrimmage, of course. Brighton coach Hugh Coleman was disciplining James for being late to a practice, and the returning All-State point guard did not play for the majority of the scrimmage. McVeigh knows they didn't get Brighton's best shot.
"Obviously [suspending James] worked pretty well if you see the way he's playing," he said.
Fresh off one of the best performances of his career, Collins addressed his performance, but also North Andover's business-like approach going into Saturday.
"My teammates found me open [tonight]—they found me in good spots and I was able to knock down some shots. It was just my teammates getting me the ball, really," he said. "Coach has been scouting the whole season, we'll have a good gameplan and we'll be ready."
February, 11, 2013
2/11/13
12:26
AM ET
By
Brendan Hall
| ESPNBoston.com
NORTH ANDOVER, Mass. -- Outside the locker room at North Andover High's field house, where the No. 5 Scarlet Knights had just strung together a nice 73-50 defeat of border rival No. 11 Andover, coach Mike McVeigh was told by a reporter the stat line for senior Chris Bardwell, and he couldn't believe it.

"Jesus, Mary and Joseph," he muttered.

A few moments later, Bardwell appeared from the locker room, and McVeigh turned to him to ask: "Thirty-four, are you kidding me?"

"Wasn't keeping track," Bardwell grinned.

To which McVeigh quickly shot back, chuckling, "Yeah, you better not be."

It was a career-high and career-defining night for the 6-foot-5 senior, who transferred into NA from Central Catholic for his senior season and made his impact felt almost immediately. Tonight's effort -- 34 points, 14 rebounds, and a pair of pretty assists -- rectified that impact.

Good players know how to get to the rim, and Bardwell did exactly that in the first half, starting off 8-of-9 from the field and finishing shooting 66.6 percent from the floor (14-of-21), mostly coming on high-percentage bunnies around the rim or put-backs. Though there were some dazzling plays, like the one-handed underhand finish off a long Derek Collins lob in transition in the second quarter; or getting his own put-back off his own missed free throw; or one of the more good-karma put-backs of his season, positioning himself at the foul line for a long rebound and hucking it back at the rim one-handed.

But mostly, it was about finding open space in the paint and making the most of it -- "Our mentality was just to go all out," he said.

And all of that keeps NA (14-2, 13-1) in the hunt for the Merrimack Valley Conference's Large division title, in the Knights' first year of league membership. Headed into Tuesday's matchup with Central Catholic (14-3, 11-1), the two teams are tied for first, with one loss each in the league (Central to NA on Jan. 29, NA to Andover on Jan. 18).

"I didn't want to lose," Bardwell said. "I know on the line [tonight] was the MVC title. I know us coming into the MVC in our first year and winning the MVC title [would be] outrageous. It's never happened before, a team coming in and winning, so...I was just ready to play. We were all ready to play. We played smart. We were just awesome as a team, everything."

Leading 35-26 at the half, the Knights came out firing on all cylinders from long distance to start the third, outscoring the Golden Warriors (12-5) by a wide margin, 24-8. That included five 3-pointers, including a back-to-back-to-back swing by Derek Collins (11 points) and Brett Daley that put the Knights up 50-31 with 2:42 to go in the frame.

Also helping the cause was a dominant presence on the boards. Just as they were in last week's historic upset of Central Catholic, the Knights were everywhere on rebounds. With margin for error, the Knights unofficially held a 42-16 advantage on rebounds, including a 17-2 edge in the second quarter, thanks to the presence of St. Anselm-bound 6-foot-5 senior Isaiah Nelsen (14 points, 10 rebounds).

That's quite the turnaround from the previous two meetings this year. In their first meeting on Dec. 20, in the first round of the Greater Lawrence Christmas Tournament, the Warriors prevailed 76-63 in overtime. The second time around, on Jan. 18, Andover won 64-52 in regulation.

"There's nothing ever easy about Andover," McVeigh said. "We can't do anything about the first two, all we could do is try to grab one of the three, and that's what the kids did."

Andover was led in scoring by senior Chris Dunn (14 points), who started with three 3-pointers to open the first quarter. The Warriors also got 10 points from Jack Konevich, and nine each from Sam Dowden and David Giribaldi.

Lob City Lite: Late in the third quarter, NA junior forward Casey Walsh heaved up an alley-oop pass from the left wing that found Bardwell on the weak-side post, running for a dramatic lay-in and drawing a foul in the process for a three-point play. McVeigh turned to a reporter seated near the scorer's table and cracked, "You're smiling, but I'm not."

It's not McVeigh's preferred method, but tonight the Knights excelled at the lob, mostly when used as an outlet pass to trigger a fast break. The game opened with a breakaway two-handed slam from Nelsen, firing up the home crowd. In the first 4:20 of the game, the Knights scored three times off deep lobs in the fast break, with either Nelsen or Bardwell crashing down the lane for an easy layup.

"I'm telling you, we're a fast break team," Bardwell said. "They were running a 1-3-1...We'd just bring it up, pass middle, pass to the side, and they just found me. It worked beautifully."

Sentimental visit: Bardwell's visit Tuesday night to Central Catholic's famed Memorial Gymnasium will be his first since he last suited up for the Raiders a year ago. Bardwell had nothing but good things to say about Central, and credits coach Rick Nault (who was in attendance tonight) for helping his development as a rebounder.

But make no mistake, Tuesday night is going to be a big night not just for Bardwell, but for the NA program itself. On Jan. 29, the Knights upset Central in dramatic fashion, rallying from an 18-point deficit midway through the third quarter to earn the program's first win over the Raiders since 1986. Another win over Central on Tuesday would sweep the season series, and put the Knights in pole position for the MVC Large title -- a spot few predicted coming into the season for the Knights, in their first year since moving from the Cape Ann League.

"I'm coming into that game roaring," Bardwell said. "It's going to be unbelievable. We're all pumped up. I'm going to come in with the same enthusiasm I came into with this game, and it's going to be awesome. It's going to be probably the best experience of my life. And we're ready."

And the expected capacity crowd? Bardwell thinks, "It's gonna be insane."

Does he expect that crowd to be riding him?

"All game," he laughed. "I was talking to this kid, he said they've already got chants ready. They're gonna rock."
February, 5, 2013
2/05/13
11:02
AM ET
By
Brendan Hall
| ESPNBoston.com
Notes, thoughts and observations from around the MIAA basketball landscape:

TOUCHING TRIBUTE FROM CANTON
None of the Canton boys basketball players directly knew Devin Ness, the Oliver Ames wrestler who died suddenly the morning of Jan. 25 from an aneurysm. But they knew those OA players, who were set to visit the Bulldogs this past Tuesday for a Hockomock League matchup, were playing with heavy -– no, devastated -– hearts, many of them friends with Ness.

The sudden death of Ness, who captained the wrestling team, sent shockwaves across the town of Easton and its surrounding communities. But just knowing what the Oliver Ames athletics program was going through was enough for the Canton players to approach head coach Ryan Gordy about paying tribute during their Jan. 29 meeting, just four days after the death.

It was a simple idea, but it said a lot. Volunteer assistant Pat Frazier went out to the Nike store at Wrenthm Outlets and purchased a load of orange shoelaces, which the players all wore during the game, a 60-49 OA win.

"At the end of the day, high school sports is a great venue, a unique venue to showcase something like that, something so important and so close to home for the Oliver Ames community," Gordy said. "We got a little too much attention for it, but that's not why we did it. We're rivals, Canton and Oliver Ames, but at the end of the day when you talk about someone's life, basketball is such a small thing. That's what I wanted to point out. We're all just student-athletes here."

The feedback from the OA community was very warm, with OA head coach Don Byron expressing his gratitude for "being class acts", and OA principal Thomas Flanagan sending over an email to Gordy, the administration and athletic department with thanks.

"It was a teachable moment, to be able to sit down with the kids and talk about the value of sportsmanship," Gordy said. "You want to go out and beat guys, but anything to do with life or death trumps any athletic venue. That's something unique bout sports. It's a unique venue to showcase sportsmanship and respect. It was just a teachable moment."

KNIGHT RIDERS
North Andover's thrilling upset over Central Catholic last week was wild for a multitude of reasons. For one, the Scarlet Knights trailed by 18 with four minutes left in the third quarter. For another, Derek Collins sank a half-court buzzer-beater to end the stanza. And perhaps crazier than all, the Knights' 6-foot-5 senior post, Isaiah Nelsen, threw up a 30-footer as the shot clock buzzed with about a minute left to give NA the lead for good.

This marks the Knights' first win over Central Catholic since the 1986 Greater Lawrence Christmas Tournament, and it's the program's first win over a team ranked No. 1. The Raiders at the time were a unanimous selection at No. 1 in virtually every reputable Eastern Mass. poll, as well as ESPNBoston.com's statewide poll.

"It was a real good win, and the fact that those sweet words you just said – No. 1, we've never won versus No. 1 in the state, so certainly it's right up there," head coach Mike McVeigh said on where the win ranks in his long, illustrious career on the NA sideline. "Sometimes there are games that bring you to the next level, and you can never dismiss those. I've had some wonderful young men make some big shots, and certainly this is one of the best."

There were obviously a lot of things that went the Knights' way, but an emphasis on rebounding paid off immensely over the final 12 minutes. The Knights went a little bit more man-to-man in the last third of the game (some coaches will tell you rebounding is easier in man than zone), with Nelsen drawing Central's frenetic energy ball Doug Gemmell down low, and were terrific on switches.

"There's certainly technique in rebounding, but a lot just has to do with attitude, whether offensive or defensive," McVeigh said. "We understood if we going to get back into the game we couldn't give them second chance opportunities, and I don't think we gave them those in the second half."

NEW MISSION LOSES A VICTORY
At times, New Mission coach Cory McCarthy makes the headlines for his outspokenness as often as his team does for its relentless, physical defensive pressure. This was certainly the case following Thursday's loss to Brighton, in which the Titans coughed away a 20-point fourth quarter lead in a matter of six minutes.

McCarthy was calm and subdued following the loss, tipping his cap to Hugh Coleman's squad for a terrific job, but also declaring his squad is still among the best in the state. McCarthy was also disappointed with the recent ruling from the Boston City League that strips the Titans of one of their wins this season. Boston Public Schools Athletic Director Ken Still confirmed to ESPNBoston.com that Madison Park has officially been awarded a forfeit win over New Mission in their Jan. 8 meeting, over the use of an ineligible player.

They ruled that because senior Isshiah Coleman picked up a second foul in the Titans' win over East Boston two days prior, for hanging on the rim, he should have had to sit the next game.

Speaking to ESPNBoston.com following the Brighton loss, McCarthy was peeved.

"He [Coleman] wasn't ejected or anything like that, there was nothing done on him or anything like that," McCarthy said. "I called the athletic department, I said I've got a kid with two techs and was told by the assigners that those were administrative techs and he could play the next game.

"I play him, then they send out an email saying [he shouldn't have played]. So they said, 'Hey, it's OK if you can play him', and then after that they changed their minds. It only happens to New Mission. We're the only team that doesn't get supported or defended."

With the forfeit loss, the Titans currently sit at 10-5, in second place in the Boston City League's top-tier "A" division. After Madison, Mission's only other in-state losses are twice to Brighton, who have now swept the heated season series two years in a row.

THE CASE FOR NO. 1
After we unveiled Mansfield as the new No. 1 in our statewide boys' basketball poll yesterday afternoon, some of my followers from St. John's Prep presented their case via Twitter for why their deserves the top slot over the Hornets. The crux of their argument was the Eagles' strength of schedule, which got me thinking -– yes, the Eagles have some very impressive wins, but is it really superior to Mansfield's resume?

With the help of some mathematics, here's the head-to-head tale of the tape:

Common opponents: Prep and Mansfield are a combined 3-0 against one common opponent – BC High, with Prep taking two of the wins.

Total opponents: Headed into Tuesday night's slate of games, Mansfield's opponents are a combined 103-88; nearly one-third of that loss total comes from two teams, King Philip (3-12) and North Attleborough (2-13). Prep's opponents are a combined 100-82, with four of those opponents currently boasting 11 wins or more.

Quality wins: This can often be a subjective stat, so first let's go solely on wins over opponents with a record above .500 (which means we're leaving out Prep's win over the walking, talking enigma that is 6-10 Charlestown). By this definition, Prep has seven "quality wins" –- Lynn Classical (twice), BC High (twice), Catholic Memorial (twice) and Central Catholic (13-3). Mansfield also has seven such wins -– Sharon, BC High, Amityville (N.Y.), Oliver Ames, Taunton, Franklin and Foxborough.

Breaking that down further, let's take a look at how many of those "quality win" opponents were ranked in ESPNBoston.com's poll, either currently or at previous points in the season. Mansfield has three -– BC High, Taunton and Franklin. Prep also has three – BC High, Catholic Memorial, and Central Catholic -– but if you throw in 6-10 Charlestown (which ranked as high as No. 15 in late December), that's four.

Losses: Each team has one loss. Mansfield took a six-point loss over the Holiday break to New Mission, currently ranked No. 12 in our poll. Two Sundays ago, Prep took a surprise 13-point loss to Waltham, which was good enough to debut the Hawks at No. 23 in last week's poll, a position they've since abdicated (Waltham currently sits in our "Last 10 out" of the poll).

As you can see, a case can certainly be made for Prep at the No. 1 spot. However, the strength of schedule argument can often be a deceptive one, because Mansfield's numbers in that department are somewhat even in comparison.

MISCELLANEOUS
Yesterday, the MIAA reversed its January decision to ban all Gardner High winter sports teams from postseason, following an apology from Gardner Mayor Mark Hawke, who chairs the school committee and had previously made several comments to the media publicly insulting the MIAA. That should come as good news to Gardner's girls basketball squad, which at 8-5 needs just two wins in seven games to quality for the Division 2 Central tournament, starting with archrival Oakmont tonight ... One Eastern Mass. coach on Mount Greylock junior guard Tyrell Thomas, who has been on a tear in Western Mass. as of late: "He is a slashing guard who can really score at the rim. He has decent perimeter skills, but he is better when he gets out in transition. Wiry strong and a hard worker, you definitely know when he is scoring because most of his drives to the basket have a high degree of diffuculty." The Mounties ventured to the Boston area for two games over the Holiday break, losing to both Ashland and Wayland, and figure to be a favorite in Division 3 West.
January, 30, 2013
1/30/13
12:10
AM ET
NORTH ANDOVER, Mass. — Down goes number one.

North Andover surprised everyone at Howard Crozier Gymnasium with a comeback for the ages after being down 18 points in the third quarter to stun Central Catholic, 58-52, in a battle of Merrimack Valley Conference Large division heavyweights on Tuesday night.

Isaiah Nelsen led the way with 20 points, while Derek Collins started the downward locomotive that was the Scarlet Knights in the fourth quarter with a halfcourt buzzer-beater to cut the lead in half to nine at the end of the third quarter.

Nelsen was 5-of-6 from the floor in the fourth quarter and banked in a deep 3-pointer to put North Andover up 55-52 with less than a minute remaining on the clock, and the Scarlet Knights scored the final 14 points of the ballgame to get to within a game of the Raiders in the MVC Large.

The Scarlet Knights roll to 11-2, while the Raiders drop to 13-2 on the season. This marks Central's first loss to an in-state opponent since last March, when they fell to Charlestown in the Divsion 1 North semifinals.

"We had two great days of practice beforehand and tonight we just wanted it more than they did," said Nelsen. "We had a great fan section, coach (Mike McVeigh) did a great job tonight and we came to play. That's why we got the W."

Things were bleak for the Scarlet Knights when the Raiders went up 18 after a Doug Gemmell lay-in late in the third quarter. But North Andover rattled off nine straight points to cut the lead to nine and give itself a chance at a comeback.

The Raiders were throwing all kinds of pressure at the Scarlet Knights in the first three-plus quarters in the backcourt with Tyler Nelson, Joel Berroa and Mike Barry disrupting the ball-handler. In the fourth, the Scarlet Knights just found a way around it, instead of fighting a great stretngth of the Raiders.

Nelsen and the rest of his teammates shot 80 percent from the floor in the fourth quarter, while the Raiders struggled with turnovers down the stretch as well as their shots, finishing 3-of-11 from the floor in the deciding quarter.

Collins drove the baseline and muscled in a basket to tie things at 52 with about two minutes remaining in the game. Nelsen was unsuccessful on a straightaway 3-pointer with more than a minute on the clock, but guard John Enright snuck in for the offensive rebound —- a place the Raiders held a 15-6 advantage -— to keep possession.

Brett Daley found Nelsen deep behind the three-point line on the right wing, and Nelsen just had to let it fly with the shot clock winding down, and it was true off the glass (even though there was no way of knowing if he called it or not).

"I try to make that part of my game," Nelsen said of the outside shooting. "Coach tells me to keep shooting it and I've been working on my shot all throughout the summer. I've always been a good 3-point shooter. Obviously they weren't falling in the first half, but I definitely take them again."

COLLINS CHANGES MOMENTUM
It might not have looked like much in a nine-point game with Central Catholic seemingly in charge, but the Collins heave at the end of the third changed the complexion of this game.

Sometimes all you have to do is see a ball go through the hoop, no matter how much luck was involved, to get a team going. That certainly was the case last night for North Andover.

"That just completely changed the momentum of the game," said Nelsen. "(Collins) hit that shot and the fourth quarter was ours the whole way."

"That's the way it goes sometimes," added Central Catholic head coach Rick Nault. "Sometimes it bounces for you and sometimes it doesn't. They were outstanding tonight, so you have to give them all the credit."

HAMMEL SIDELINED
Nault was missing one of his best perimeter defenders on Tuesday night, as Lucas Hammel sat out with a right thigh contusion. Nault said he is hoping to get Hammel back in the fold within a week.

Hammel won't grab all the attention, but he is a critical part to what the Raiders want to do defensively. He consistently pressures the ball, much like Berroa and company did tonight, and allows Nelson to play off the ball a little more when they are teamed up in the backcourt.
January, 6, 2013
1/06/13
11:04
PM ET
By
Chris Bradley
| ESPNBoston.com
With the majority of teams about a third of the way through their regular season schedule, we reflect on individuals who have stepped up for their team when the lights are bright, underclassmen who have exceeded expectations, and breakout players to keep an eye on for the rest of the season. Included also are comments from opposing MIAA coaches, on the condition of confidentiality.

***

REASSERTING THEIR TALENT

Nate Anderson, 6-7 Sr. F, New Mission
Anderson's improvement has been well documented this year, especially in his rebounding and effort on the defensive end of the floor. New Mission lacked floor leadership last year, as seen with their early bounce from the Division 2 North tournament, but Anderson has stepped up in a big way this year for the Titans, who have perhaps the toughest schedule in all of MIAA hoops. How far supremely-talented New Mission goes in this tournament this year will ride largely on the shoulders of their senior forward.
Opposing coach's take: "I always thought Nate was talented and wondered why he never played more. He's about 6-6, 6-7, which is a center at this level, but he handles the ball and is mobile like a guard. Now that he is a senior and he has become older, more experienced, and is coming out of his shell, I think he has the potential to be dominant."

Sam Dowden, 6-5 Sr. F, Andover
Expectations were high for Andover coming into this season, with several veteran guards back and one of the area's more formidable frontcourt duos in Dowden and sophomore Connor Merinder. Merinder has been out of action since mid-December with a wrist injury, and since then Dowden has stepped up in a big way for the Golden Warriors. Andover sits at 5-2, with their only losses coming by a point to top-ranked Central Catholic and by ten to second-ranked Lowell. Dowden has led them in scoring and rebounding thus far, but he and the Warriors have their toughest challenges ahead of them with four MVC teams ranked in the top 15.
Opposing coach's take: "A matchup nightmare because he can post up against smaller players and is extremely skilled on the perimeter when you try to match up with a bigger player on him. Sam never seems to get rattled or take bad shots during a game. Plays the game the right way and is always a class act on and off the court."

Tyler Nelson, 6-2 Jr. G, Central Catholic
Nelson is the most dangerous shooter in the state, undoubted and no questions asked, but what has made him stand out so far this year is how versatile he has become. Playing AAU this summer with BABC, Nelson had a significant opportunity to improve his ball handling, his ability to run an offense, and his defensive reliability. At the end of last season Nelson's name was always came accompanied by remarks about his shooting ability, but he has become one of the better all-around scorers in the area and a reliable floor leader for Coach Rick Nault.
Opposing coach's take: "I think he's very crafty. I think that he has high IQ. You cannot relax at any time, because he'll knock down three's. If you over-close on him, he's crafty enough to take that extra dribble and get by you and make a play for somebody else or use his pull-up. So that's what I'd say, very crafty, intelligent, high IQ, smart basketball player."

Derek Collins, 6-1 Sr. G, North Andover
Yes, another sniper from the Merrimack Valley. Collins came back and is having a solid year for the Scarlet Knights after missing the majority of last season with a back injury. North Andover is one of the best teams in Division 2 this year, currently sitting at No. 14 in ESPNBoston.com's poll, and while their strongpoint is in their frontcourt with Isaiah Nelsen and Chris Bardwell, Collins prevents other teams to be able to double down on Nelsen and Bardwell very often because that would leave the sharpshooting Collins open in his favorite part of the floor.
Opposing coach's take: "Extremely confident player who can take over the game at any point. Derek has learned how to move without the ball which makes him a much more dangerous offensive player. As a 6-2 guard Derek is much bigger and stronger than most guards he matches up with so he is able to to use his size and strength to score in the paint."

Riyadh Asad, 6-1 Sr. G, West Springfield
Springfield Central got a lot of the pre-season hype following their 24-1 state championship season, starting this season at No. 1 in our preseason poll. However, West Side has emerged in the opening weeks of the season as the potential favorite in Western Mass. Division 1, and Asad is a big reason why. He's averaging just over 21 points per game and has shown to be one of the best guards in Western Mass. With Central looking particularly unreliable early on, we could be in for an adventure in Western Mass the rest of the way, and if Asad can keep up with his high-scoring efficiency, West Springfield is a team to keep an eye on from here on out.
Opposing coach's take: "Asad is one of the more talented players in western Mass. His ability to create and make shots is what stood out to me. He's also been working on his off ball movement ( using screens, cutting hard. etc) which will carry over well for him at the next level. Preparing for him you have to tell your team to be prepared at all times because he loves to shoot!"

Brendan Hill, 6-5 Soph. F, Mansfield
Mansfield is one of the favorites to take Division 1 South, and Hill is a big reason why. Also a football star, Hill's strong hands, crafty footwork, and innate competitiveness have translated to the basketball court this winter season, as perhaps the most reliable player on one of the best teams in the state. Hill got minutes last year as a freshman, but really broke out this summer playing for BABC, where he was able to work on his post moves and improve his outside shot.
Opposing coach's take: "Brendan Hill is the most unselfish player in the MIAA. I don't know what kid comes off a summer playing with BABC and doesn't demand the ball every possession. He's a raw Pat Connaughton without the athleticism. He can stretch you, suck the help in and make the right kick out almost all the time. He can dominate offensively but has to get stronger to absorb the banging he will have to take in the Hock league."

***

FRESH ON THE SCENE

Kareem Davis, 5-8 Soph. G, Lowell
Like any sophomore, he needs to continue to hit the weights so that he doesn't get pushed around by stronger guards, but Davis has proven to be one of the state's best young point guards. Lowell sits as the second-ranked team in the state right now, with a showdown on Jan. 18 with top-ranked Central Catholic coming up quickly. Going up against one of the state's best guards in that game in Tyler Nelson, we'll soon see how for real Davis is.
Opposing coach's take: "Kareem is an excellent ballhandler who sees the floor well. He has complete confidence in his abilities and isn't afraid of anything. What makes him hard to cover is that not only does he push the ball up the floor so quickly, but he can also shoot."

Adham Floyd, 6-1 Fr. G, St. John's (Shrewsbury)
In going through the top 25 poll, there are few freshmen, if any, who are bringing more to their team right now than Floyd; through six games, he is the Pioneers' second-leading scorer with 9 points per game. With senior captain Ken Harrington out injured for the near future, St. John's will somehow need to make up for that productivity in the backcourt – the crafty freshman will take his lumps, but he'll be better for it in the Division 1 tournament, where the Pioneers are infamous for out-executing their opponents.
Opposing coach's take: "Adham is a very talented young man who works hard on his game. He has a very good skill set. He can handle the ball with both hands, he rebounds well and is not afraid to take the big shot. He also plays with poise beyond his years...He is going to be a handful for years to come."

Ben Judson, 6-4 Soph. F, St. John's Prep
Judson's coming-out party was Friday night against BC High, where the sharpshooting sophomore led the Prep with 20 points on their way to their most important win of the season -– he had five threes. This St. John's Prep team has bought into Coach Sean Connolly's system and has no problem scrapping on defense; if Judson can continue his standout scoring performances, this team is a legitimate contender to knock off Central Catholic in Division 1 North.
Opposing coaches' take: "He really didn't get a lot of time last year, they had a lot of older guys and he had to wait his turn. But already this year he has been one of the best shooters in the area. He's big and long for a guard. If he gets bigger and improves off the dribble, we're talking about a scholarship-level player."

Giulien Smith, 6-1 Soph. G, Catholic Memorial
Smith has been the scorer that Catholic Memorial needed this season, especially after the Knights graduated two thousand-point scorers in Dan Powers and Matt Droney. The crafty left-hander has been one of the state's biggest breakout stars thus far, scoring 21 against Lincoln-Sudbury, 16 against Rhode Island power St. Raphael's, and exploding for 28 points in a win over Bay State Conference favorite Newton North. The Knights have emerged as a legitimate top 10 team behind Smith, and have the potential to stay in the top 10 from here on out if their high-scoring sophomore can keep up his effort.
Opposing coach's take: "He's a terrific player, and is really, really smooth. He shoots it, handles it, gets to the basket, has great poise and a pretty good tempo to he's game. I think he's got a big upside."

***

PLEASANT SURPRISES

Allijah Robinson, 6-7 Jr. F, Charlestown
He's bounced around high schools, but it appears that Robinson has found his niche and is becoming quite the on-court leader at Charlestown. With forward Freddy Oliviera playing the post, Robinson has had the opportunity to play his more natural position on the wing -– where he can create his own shot and beat defenders to the rim off the dribble.
Opposing coach's take: "At 6-foot-7, Alijah Robinson is clearly a matchup problem for any opponent in the state. I was impressed by his nice shooting stroke. Once he beefs up a little more and bangs inside more, he will be even more of a force than he already is."

Charles Collins, 6-0 Sr. G, BC High
On most other teams in the state, Collins would be a star. The Eagles have their scorer in Jameilen Jones, but so far Collins has been the perfect complement to his good friend and backcourt mate. His outside jumper needs improving, but Collins has been a floor general for BC High at point guard, often showing to be an extension of Coach Bill Loughnane on the floor. Because of his high basketball IQ, matched with his gifted athleticism, he is one of the more college-ready prospects in the state.
Opposing coach's take: "Charles Collins is a consistent jump shot away from being the MIAA's most versatile player. He can beat you many ways off the drive as well. He is a coaches' point guard because he can not only put offensive pressure on another team, defensively he can take an opposing teams' point guard completely out of his game."

Drew Healy, 6-7 Sr. C, Lowell
Healy can block shots, hit the mid-range jumper, he rebounds at a high rate, and he runs the floor like a deer. Lowell has one of the most talented assortment of guards in the state, and Healy's low post skills make it difficult for opposing defenses to focus on one or two players. Veteran guards always win ballgames in the MIAA, but when thrown together with a 6-foot-7 big man with standout upper body strength, this Lowell team has state title potential written all over it.
Opposing coach's take: "Drew is interesting because he is nowhere near Lowell's top option. He played limited minutes in the Greater Lowell Holiday Tournament, but is very effective when he is on the court. He rebounds well and blocks shots well. He would score much more if Lowell focused on him in the paint and got him the ball. I understand why -- Jonathan Perez and the other Kareem Davis are the focus of the team."

Alex Cooper, 6-6 Sr. C, Wachusett
If you're Central Mass. team trying to earn respect, the one and only way to do that is to beat St. John's, and behind Cooper, the Mountaineers did just that, knocking off the Pioneers last week at the Laska Invitational. Cooper's game isn't always pretty, but he seems to have a knack for getting it done when Wachusett needs him the most, getting double digits in both points and rebounds in wins over St. John's and Doherty. Wachusett shot up the polls to No. 8 after beating the Pioneers, but they have plenty of challenges ahead, with Algonquin, Worcester South, Brockton, St. John's, BC High, and Cambridge still on their regular season schedule.
Opposing coach's take: "He doesn't get outworked. For what he lacks in skill, he makes up for in hustle, and he leads by example."

Dakari Hannahwornum, 6-7 Sr. F, Dorchester
26 points and 28 rebounds. Yes, you read that correctly, Dorchester's standout big man put up 26 and 28 when they beat previously-ranked Madison Park on Dec. 21. Hannahwornum can be an X-factor for the Bears in their run to a Division 2 South title, especially with his ability to take over games from the low block and overpower teams on the glass. Dorchester has been the breakout team in the Boston City League this year, and behind their skilled big man, they have the talent to be in a game with any given team in the state on any given night.
Opposing coach's take: "He's raw but has good potential, he needs to go to a juco or a D2 [college] where they can work with him year round. He erases a lot of defensive mistakes by tossing shots away from the rim."
December, 21, 2012
12/21/12
12:44
AM ET
By
Chris Bradley
| ESPNBoston.com
LAWRENCE, Mass. -– With sophomore forward Conner Merinder out with a wrist injury, it was on senior co-captain Sam Dowden to step up in the post and go up against North Andover's star forwards Isaiah Nelsen and Chris Bardwell on Thursday night for the opening game of the 38th Annual Greater Lawrence Boys Basketball Christmas Tournament.

Merinder, also a goalkeeper on Andover's soccer team, suffered an injury to his wrist towards the end of the soccer season and was forced to have surgery. So for the time being, it's on Dowden to match up against each teams' best post player.

The 6-foot-5 senior was more than up for the task, finishing with 21 points and 10 rebounds and helping rally the Golden Warriors over their border rivals to overtime, where they prevailed, 76-63.

"It's a big win, because we've been playing against them so long," Dowden said. "We've been playing against them since eighth grade."

In a back-and-forth battle with the Scarlet Knights, Andover made its charge late in the fourth quarter. Dowden cut the lead to 56-54 with a put-back, and completing the three-point play with a free throw following a foul. The next trip down, the Warriors' Max Silveira gave them the lead on another three-point play.

Brett Daley then hit a three-pointer with 12 seconds left to cut Andover's lead to 60-59. In the final few seconds, Bardwell went one of two from the charity stripe to tie it at 60 to end regulation.

The overtime session was no contest. Derek Collins' frustrating shooting night continued, Nelsen looked exhausted from his second half performance, and Bardwell fouled out in the final few minutes to take away any chance the Knights had of coming back. The Warriors' great shot selection continued into the overtime session, as the wide majority of Andover's baskets coming in overtime were high-percentage lay ups at the rim.

Overall the Warriors outscored the Knights 16-3 in the bonus frame, capped with a drop-step from Dowden with a minute to go in the frame that gave Andover a 70-62 lead.

"Honestly, I'm proud of our kids," head coach Dave Fazio said. "We're up 12 and came up and just played a vanilla third quarter. Then we had a fight, they hit a three and we went down five, but it's like we tell our kids: we have choices, we can either hang our head or [move on to the] next play."

Dowden's duty against the Knights' bigs was no small saddle, but he more than held his own.

Guarding Nelsen, Dowden held the St. Anselm signee to seven first-half points on four shots. Offensively, he showed his whole arsenal of moves, hitting mid-range jumpers of the dribble, finish drop-step and up-and-under moves around the rim, and putting back offensive rebounds, ending the opening half as the game-high scorer with 12 points and his team ahead 29-17.

Also a constant threat on the glass, Dowden made sure to mention that he certainly didn't do it alone.

"I had to do a good job rebounding tonight," he said, "But we had two really tough guys in Greg Dreyfus and Ty Verrette. They really do a great job on the boards. They play way bigger than they are."

It was practically inevitable that Nelsen was going to get his offensive groove going eventually, and he did just that in the third quarter -- finishing every loose offensive rebound in sight and constantly cutting and moving without the ball. In the third quarter alone, Nelsen stung the Warriors for 13 points and 7 rebounds, not missing a field goal or free throw during the entire eight minute stanza.

Dowden's production was relatively light in the third quarter. After hurting the Knights offensively in the first half, North Andover started collapsing on Dowden every time he touched the ball -– forcing him to kick the ball back out to a guard.

"[The third quarter] was kind of frustrating," Dowden said, "We like to come out in the third quarter and just jump on teams, and tonight we didn't. They're a great team, we knew they were gonna' make a run at some time."

Nelsen's hot hand brought North Andover all the way back from their 12-point halftime defecit, giving the Knights a 37-35 after a big run. Collins hit a three pointer, Bardwell got a couple of isolation touches down low, and North Andover seemed to have the momentum full swing in their direction, especially after Nelsen scored two consecutive baskets on putbacks to increase the lead with just over four minutes to go. But thanks to a three-pointer by John Konevich, the Warriors jumped right back into the game after a big defensive stop on NA's next possession.

The scary part for future opponents about No. 11 Andover's upset over their conference foe, is that this is a team that isn't even at full strength. With Merinder's comeback lingering in the distance, Fazio couldn't help but be hopeful damage that the sophomore star and Dowden will have once Merinder comes back.

"That would be a great Christmas present, and that changes everything for us," he said, "We can put Conner on Nelson, and then we can relieve Sam a little bit. We've been asking a lot of Sam...Kid is a four year starter, a Warrior, I'm happy for him."
December, 2, 2012
12/02/12
10:12
PM ET
By
Chris Bradley
| ESPNBoston.com
NORTH ANDOVER, Mass. -– Brighton and North Andover scrimmaged on Sunday afternoon in a battle between two of the top Division 2 teams in the state. Both teams proved why they could start the year high in our MIAA Top 25 poll.

A few notes and observations:

Nelsen the key for NA: North Andover will go as far this year as senior forward Isaiah Nelsen, a St. Anselm signee, will take them this year. The 6-foot-6 Nelsen is one of the best big men in the state, but his athleticism and offensive versatility are what make him stand out. Nelsen is going to be a nightmare for opposing defenses this year, because of how well he runs the floor and how deep his range is on his outside shot. On several occasions he showed that he can score off the dribble, but he was also unstoppable around the rim, where he had no problem finishing through contact.

Simpson ready to star: Junior guard Malik James gets a lot of the headlines for Brighton, and understandably so, but 6-foot-4 forward Nick Simpson showed to have a great nose for the ball and an impressive offensive repertoire. Simpson knocked down several three-pointers, but also gave the Bengals the type of consistent presence that they're going to need in order to make a long run in Division 2. Keep an eye on Prince Unaegbu as well; he's going to be one of the best rebounders in the deep Boston City League this year.

Bardwell, Collins provide support: Isaiah Nelsen isn't the only dual post threat that North Andover has in the lineup. Senior Chris Bardwell, a transfer from Central Catholic, will provide a great complimentary role to Nelsen this year. Bardwell can score using a variety of moves on the low block, but like Nelsen, he runs the floor exceptionally well for a big man. With the type of athletic forwards that the Knights have, they're going to be able to score on the fast break, or off a set in the half court.

Derek Collins, who missed the majority of last season because of back surgery, showed why he will be one of the most dangerous shooters in the state. He came out with a bang to start off the scrimmage, nailing two three-pointers in the opening minutes to help the Knights develop an early lead.

The day's signature play involved both of these players. Off a turnover in transition, Collins heaved a long bounce pass 50 feet down the court to Bardwell, who quickly dropped the ball behind him for the trailer to score an easy layup.

Shooting woes for James: There's a lot of buzz around James as one of the most promising talents to be seen in the MIAA this year, after the scoring combo guard led Brighton to the Division 2 state finals last March. James sat out the first half today for skipping a practice earlier in the week, and because of that he had a hard time getting anything going offensively once he got into the game. He was one of the better scorers in Eastern Mass. last year, especially off the dribble, so despite his not hitting shots today against North Andover, expectations of the type of season he has the potential to have shouldn't waver.