Boston High School:

Derek Hines Memorial Game
January, 18, 2014
1/18/14
11:32
PM ET


WILMINGTON, Mass. – It's not about the finish, it's about the start. Right?

No. 1 BC High took control of Saturday's Catholic Conference clash with No. 9 St. John's Prep from the get-go, scoring first little more than a minute in and running to a 2-0 advantage by the 5-minute mark.

Behind a pair of goals from senior captain Steve DeForge, BC High held on for a 4-2 win over Prep in the annual Derek Hines Memorial Game.

"It's an honor to play in this game for Derek Hines and his family," DeForge said. "We've been fortunate enough to be a part of it. When we come up here, we want to play for them as well, especially in my four years of coming up here, we'd never gotten a point."

With the victory, BC High (8-0-2, 3-0-1 Catholic) has now earned a point in each of its first 10 games on the season.

Junior center Tim Larocque had BC High running out of the gate with a rebound putback of a Connor Noonan shot at 1:28. DeForge then followed with his first at 3:15, a power-play goal with assists from Ryan Shea and Sam Topham.

"It was a good win off the faceoff and the puck went back to Sam [Topham]," DeForge said, "he dished it back to me down low, passed it back to him and he gave a good D-to-D to [Ryan Shea]. He had a good line to me and I just put it home."

However, St. John's Prep (4-5-1, 0-4-1) got on the board just about a half-minute later with Jimmy Currier being the beneficiary of some slick transition play from Evan Leclerc and Nick Latham.

It remained a 1-goal game at the intermission, but BC High started the second period with fury as well. DeForge tallied his second, from Chris LaLiberte, just 40 seconds into the second.

"We just put ourselves in a hole all day by giving up, I think in the second period, another goal within the first minute," Prep head coach Kristian Hanson said. "In the third period, [there was] a goal in the first minute. Unfortunately, we just couldn't put a full game together – a lot of that credit goes to BC High."

Yet, Prep was able to counter quickly again. Less than two minutes elapsed following DeForge's second tally before Prep again cut the difference to a single goal. Latham earned his second point of the game with a power-play goal at 2:04, with Mark Etherington providing the assist.

But, according to script, BC High held serve, scoring for the third straight period in the first minute with Jake Lemanski potting his sixth goal of the season 59 seconds in.

Prep had a golden opportunity to claw closer once again, with 1:27 of 5-on-3 power-play around the 5-minute mark of the third. BC High's defense tightened around goaltender Brandon Payzant (16 saves), allowing one shot-on-goal in the duration of the 2-man advantage.

"Now, you get out of there and you still have a two-goal lead," BC High head coach John Flaherty said, "there was still a lot of time left on the clock, but you could have been tied or down at the end of a 5-on-3 like that."

Honoring a hero: The true driving force behind Saturday's matchup was the Lt. Derek Hines Soldiers Assistance Fund. The game marked the sixth year Prep has honored its fallen graduate, who was killed in action in Afghanistan in 2005, while deployed with the Army's 173rd Airborne Division.

Hines, who was a standout in his time with Prep hockey, graduated to the U.S. Military Academy, where he served as a graduate assistant with the hockey team while completing Ranger and Airborne school.

In his memory, the Assistance Fund was presented with a $6,500 donation, a $2,500 increase over last year's gift.

Saturday marked the first time in BC High's seniors' time playing in the game that they emerged victorious, having lost in the three previous years.

St. John's Prep is 4-2-0 in the six years of the Hines game.

Midway point: With its 10th game in the books, BC High reached the halfway marker of its season.

The Eagles hold the No. 1 ranking in our statewide Top 25 poll and they've only dropped points to conference rival Xaverian and Rhode Island power Bishop Hendricken in a pair of ties.

Even with its resume to date, BC High is an essential shoo-in for the Super 8 tournament, but Flaherty isn't about to look any further down the line.

"With our schedule, we can't look at what we've accomplished, we have to look at what's ahead of us."
January, 27, 2013
1/27/13
1:02
AM ET
By
Bruce Lerch
| ESPNBoston.com
WILMINGTON, Mass. -- Prior to Saturday afternoon's game against BC High, the St. John's Prep hockey team listened to a pregame talk from Steve and Sue Hines.
The Hines' are the parents of Derek Hines, a former St. John's Prep student and hockey and lacrosse player, in whose honor the game was played. After graduating from the Prep, Derek Hines went on to West Point where he continued his hockey career and graduated in 2003.
He went on to complete Ranger and Airborne school while serving as a graduate assistant with Army's hockey program before joining up with the 173rd Airborne Division. Initially stationed in Italy, Hines was ultimately deployed to his unit in Afghanistan.
On Sept. 1, 2005, in Baylough, Afghanistan, his unit came under attack while conducting security operations. Hines was shot and killed at the age of 25.
[+] Enlarge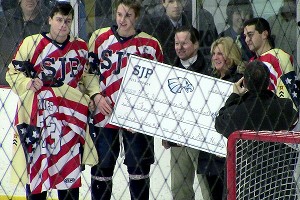 Bruce Lerch for ESPNBoston.comMembers of the St. John's Prep hockey team make a presentation to the family of former Eagles standout Derek Hines. Hines, who also starred at Army, was killed in action in Afghanistan in Sept. 2005.
After completing his first season as the head hockey coach at St. John's Prep, Kristian Hanson created the Derek Hines Memorial Game, which is now in its fifth year. Inspired by Hines' tale of bravery and courage, the Eagles are 4-1 in these games after Saturday's 3-2 victory over BC High.
"For us a hockey program, to give a little bit back to the family, to give something to the foundation, it's special for us, it's special for me as a coach," Hanson described. "It's something that we started five years ago and its grown into something pretty special. Each year we look forward to it and I thought today was a wonderful day overall for the foundation."
Sue and Steve Hines talked to the Eagles about Derek's life, the can-do attitude with which he took to everything, and what it meant to them to be part of the St. John's Prep family.
Steve Hines told the team an emotional story about something his son once told a friend of his named Eddie Hill, a Newburyport native who spent 13 years playing minor league hockey and was a second round pick of the Nashville Predators in the 1999 NHL Entry Draft.
"When Derek was in Afghanistan he had a chance to to talk to Eddie and he explained to Eddie about when he's in a helicopter, getting ready to jump out of a helicopter on a mission, he had the same feeling as in a locker room," Hines said after the game. "He got that same feeling in the helicopter he got in the locker room before a game and that's what I talked to them about. I said, 'You're part of something special and this feeling, not everyone gets to experience that.'"
The speech was so inspiring that Hanson didn't say a word to his team when Mr. Hines was finished speaking. He didn't need to.
"It's such a good cause and when Mr. Hines came in and talked to us, Coach Hanson didn't have to say anything afterward," said Eagles junior forward Jimmy Currier, who was the star of the game with two spectacular goals. "Everything he said ... he gave us his whole story ... his work ethic ... never give up and do it for your team and for everyone around you."
The team had a surprise in store for the Hines family as well. Through fundraising efforts, the players earned enough money to not only make a sizable donation to the 1st Lt. Derek Hines Soldiers Assistance Fund, but also to purchase new uniforms emblazoned with the Stars & Stripes in Derek's honor. The most important jersey of all was one bearing the number 23 and the Hines name, which hung behind the Eagles bench during the game.
Sue and Steve went on the ice before the game where St. John's Prep Athletic Director Jim O'Leary and the team presented them with a check for $4,000 for the foundation.
"He means a lot to our community," O'Leary said. "The parents, there's a scholarship they have at school plus they have this foundation. His brothers played here afterwards also so they are part of our community. As long as Kristian is here and I'm here, we're going to continue to do this kind of thing for them. They're outstanding people."
BC High coach John Flaherty and his team were looking forward to this game as well. Flaherty spoke earlier in the week about what an honor it is for BC High to chosen to participate in the Hines Game for the third straight year and opened his postgame remarks Saturday with thoughts of the Hines family.
"It was a great game for a great person," Flaherty said. "To honor Derek Hines like they're doing, it's quite a tribute and its well deserved. BC High is honored and privileged to be a part of this game. To see Mr. and Mrs. Hines out there accepting a check to help their foundation, it's great."
For the Hines family, the incredible outpouring of support they have received since Derek's tragic passing has been invaluable. While nothing will ever erase the grief of the tragedy they've endured, like so many other military families across the nation, the efforts of the St. John's Prep community have been as helpful as it gets in coping.
"All of this is about people helping people," Mrs. Hines explained. "People helping us deal with the grief that we've had. We can't change what happened but we can use the donations that they give us to make a difference in a soldier's life. It's amazing how the love from these people helps us to help other people."
January, 27, 2013
1/27/13
12:05
AM ET
By
Bruce Lerch
| ESPNBoston.com


WILMINGTON, Mass. -- Jimmy Currier had scored but one goal all season for St. John's Prep entering Saturday's Catholic Conference showdown with league-leading BC High.

It's safe to say Currier is officially "off the schneide."

The junior delivered a pair of highlight reel goals in the second period, one to tie the game, the other serving as the eventual game-winner as the third-ranked Prep claimed a 3-2 victory over No. 2 BC High at in the Fifth Annual 1st Lt. Derek Hines Memorial Game at Ristuccia Arena.

"Jimmy's capable of that and we've felt that way all year," praised Prep coach Kristian Hanson. "He's a really talented offensive player. I see it in practice and sometimes it takes one out there to give a kid confidence to go out and do it again. After he got that first one today, you could see it in him - he was confident handling the puck. It was a beautiful shot on that third goal. Jimmy had a great offensive day today."

The victory pulls the Prep (11-2-0 overall; 5-1-0 CC) into a tie with BC High (9-2-2; 4-1-2) atop the league standings with ten points apiece with a game in hand. Thanks to Malden Catholic's 4-3 victory over Catholic Memorial Saturday evening, St. John's can clinch its first league title since 1994 outright with wins over the Knights and Xaverian next week.

Currier's work on both tallies was a thing of beauty. Just one minute after BC High took a 2-1 lead on a goal by Tom Besinger, Currier went end-to-end, weaving around a pair of defenders like pylons before switching back to his forehand just in time to stuff the puck inside the far post at 6:12.

"When I was coming down, I had my feet moving a lot and after I cut to the middle I saw [linemate Andrew] Brandano and I was like, 'I should have gave it to him' and I just ended up going around him and putting it in," Currier described.

Just under five minutes later, Currier found himself with the puck in the right wing corner deep in the BC High zone. He floated out high and left, all the way over the top of the circle and fired a wrist shot through traffic back to the right side to give his club a 3-2 lead it would not relinquish.

"When I come out of the corner there it brings up so many options," the junior recalled. "I was coming across, moving left to right and the goalie was moving left to right. I just shot it far side and he didn't see the shot because there was a screen in front."

The Prep scored the game's first goal in equally spectacular fashion. Sprung loose up the right wing by one of his defensemen, Cam Shaheen worked his through the BC High zone, pushed the puck between the skates of his defender, then whirled around him and fired a wrist shot while dropping to one knee at 6:49 of the first.

BC High responded just over two minutes later as freshman defenseman Ryan Shea unleashed a rocket from the point for a power-play marker. BC High grabbed its first lead at 5:12 of the second when Besinger swooped in and buried the rebound of a shot by Sam Topham.

"They are a very good team and we knew that coming in and we skated with them," BC High head coach John Flaherty said. "They're a junior-senior team and they are very good. Brian Pinho, Jack McCarthy, Tyler Bird - those kids are as good as any kid around."

"You know they're coming at you and you know you've got to hang in there for the ride," he continued. "The fact that we skated with them for three periods and we were able to hang around and almost have a chance to tie the game at the end, that's a positive. It's an emotional game for them. A tribute to one of their all-time good players at St. John's Prep so its an emotional game for them. We knew that coming in and I'm proud of my guys for hanging in there for three periods and giving ourselves a chance at the end."