Boston High School:

Derek Kwok
March, 12, 2012
3/12/12
12:25
AM ET
BOURNE, Mass. -- Milton senior defenseman Dan Curran screamed to the rafters, which were teeming with his team's supporters, "the Red Army is moving on, the Red Army is moving on."

Indeed the Wildcats from Milton High School are moving on, to the TD Garden next weekend where they will play for the Division I state title.

Third-seeded Milton (19-3-2) got two goals in the first period and held back a feisty Natick (10-9-4) team yesterday at Gallo Ice Arena in Bourne, taking a 3-1 decision to capture the Division 1 south sectional title.

Curran's twin brother Paul Curran was a big reason that Milton's boots are still walking. The senior forward factored in all three of his team's goals, scoring one just 10 seconds into the game and then assisting on the next two.

"It's just something that you've always wanted, something you've dreamed about since youth hockey, senior year to be going to the Boston Garden to play for the state championship. Having all of these fans behind you, having the whole town behind, it just makes it that much better," Paul Curran said after posing for a celebratory photograph at center ice with his teammates.

Wildcats head coach Paul Noonan said that booking the trip to the Garden is a happy surprise for his Wildcats. "I knew that we had a good team with some talent, and a lot of seniors (when the season started)," Noonan said. "It's the best team we've had in a while, so I knew that we'd make at least a half decent run. But if I told you that I knew we'd be going to the Garden, I'd be a liar."

Before the ice had finished drying from its pre-game cleaning the Wildcats were on the scoreboard. Paul Curran was sent in by Brian Higgins and punched it by Derek Kwok to set the tone for the afternoon.

"He's a special player," Noonan said. "He plays with his heart. He's all passion, and he's our leader. He makes things happen."

The 'Cats flew around the ice and dominated the opening 15 minutes of the game, outshooting the Red & Blue by an 8-1 count. Ryan McDougall doubled the lead at 6:32 on a Frisbee from the right point that sailed through a ton of traffic and right by a completely screened Kwok. Terrence Walsh, who also assisted on the first goal, and Curran picked up the helpers.

Natick was lucky not to be down by another goal or two when they were finally able to regroup in the locker room after the period had ended. Curran just missed making it a 3-0 game with a backhander on a power play chance with 4:18 left in the stanza.

"We got an early goal there, and then we got a second one just a little while later and it's easier to play with a two-goal lead, that made it a lot easier for us," Noonan said.

It was during that late power play that Natick finally got a shot on goal when Andrew Newis stole the puck in the neutral zone and streaked in alone against Jay Hankard. Newis was unable to get solid wood on his shorthanded bid and the Milton keeper made the save to keep his team ahead by a pair after one.

"I can't say enough about [Hankard]," Noonan said. "To go the whole period without seeing a shot and then the first one to be a shorthanded breakaway…he's been awesome. We're fortunate to have him."

Hankard stopped 12 of the 13 shots he faced in the game. During the south tourney he allowed just two goals in the three the Wildcats played.

"It's so much better as a forward knowing you've got that wall behind you," Paul Curran said. "He's just been so good, especially in the playoffs."

Each team scored a second period goal. Natick, which came out with much better energy after the break, cut the deficit in half at 4:17 of the second when the puck left a scrum near Hankard and found the blade of Mike Perry in the slot. The Red and Blue forward wasted no time delivering a wrister towards the net that sailed over Hankard's left leg pad and sneaked inside the nearside post to make it 2-1.

Three minutes later Milton reclaimed the two-goal advantage. The high-scoring Higgins finished off a quick strike by the Wildcats. Milton won a faceoff outside the zone and zig-zagged the puck up the right side with Walsh feeding Curran, who slid it to Higgins in the middle. Higgins crossed over and beat Derek Kwok through the five-hole for the Cats' third strike of the afternoon.

Neither team scored in the third period and each spent the bulk of stanza switching between their power play and penalty kill units. The game itself was riddled with penalties as 23 total infractions were cited against the teams.

One team's dream come true was another's nightmare. Natick had an impressive run just to be in the south title game come to a close, finishing off a season that had some very high highs and extremely low lows. Early in the season the Red and Blue were shocked when freshman Justin Bailey passed away unexpectedly. The team had an emotional season and rallied to qualify on the last day of the regular season, beginning a storybook run that had a tough ending.

"I knew that we had the talent to be here. We have the goaltender, one or two solid lines. We had suspensions, injuries, Justin dying, we had some adversity throughout the year," Red & Blue head coach Karl Infanger said. "We definitely had the talent to be here, with a little emotional punch to get over the top. But I think it all kind of caught up with us today."

"I give a lot of credit to Natick. That's a good team over there and they had to take the long road to get here. They had to win their last game of the year to get into the tourney, they had to beat the same team again in the tourney, they had beat Needham, a Super 8 team. Then they had to beat Norwood, the best team in the Bay State League. I tell you, that's a high mountain to climb. We're fortunate to be here," Noonan said.
March, 9, 2012
3/09/12
2:00
AM ET


BOURNE, Mass. –- In this week's practices, Natick hockey head coach Karl Infanger challenged his players to do everything in their power to commit to playing team defense. Facing a familiar opponent in Thursday night's Division 1 South sectional semifinal against Bay State League rival Norwood, the Red & Blue's bench boss didn't want the Mustangs' shifty forwards being their downfall.

"Our game plan tonight was pretty similar to Needham [in quarterfinals], which was to take away their time and space, be physical, take away their passing lanes," Infanger said.

He paused for second and added, "And, if you're caught hanging, you've got to block a shot, you've got to pay the price."

According to plan, Natick lassoed the Mustangs into playing a grind-it-out kind of a game, instead of an up-and-down pace.

Freshman forward Trevor Kaplan scored the biggest goal of his young career – his second to be exact -- and senior netminder Derek Kwok made 24 saves to give Natick a 1-0 shutout victory.

The Red & Blue advance to face another Bay State rival, Milton, in Sunday's South sectional title game, scheduled for 3:30 p.m. at Gallo.

"We knew we were right there with them," Infanger said of the team's first meet on Jan. 14, a 2-2 tie. "But today's game was all about special teams. We really focused on our penalty kill all week. We know their PP is dangerous."

Natick (11-8-4) killed three Mustang power plays while cashing in on one of their two man-advantages. Kaplan followed a rebound off an Andrew Newis shot at 3:58 of the second period.

From there, Kwok took over, making 19 of his 24 saves during the second and third periods.

"My defense has played well," the senior netminder and captain said. "In the playoffs they've really stepped it up. The shots I wasn't able to see, they got blocked before they got to me."

END OF THE ROAD
It was inevitable that one team's emotional story would come to an end Thursday night.

While Natick has dedicated their season to fallen teammate Justin Bailey, Norwood, as in the last three seasons, have devoted their efforts to Matt Brown, who would have been a senior skater with the Mustangs this season.

Even though the Mustangs fell short of their ultimate goal, Norwood head coach Bill Clifford said his group has been one of his most memorable.

"They're a special team, they really are," Clifford said. "They would've like to have gotten a little bit further, but they were a great group."

NOT TO BE OUTDONE
While Kwok might have emerged with the shutout and the win, Mustang netminder Jordan Davis was on par.

Davis, a junior, snagged the save of the game with a glove-side stop in the third period.

Natick forward Mike Pennett broke in on Davis on a breakaway with about 10 minutes to play. Pennett stick-handled into the slot before getting off a quick wrister from between the circles. Davis grabbed the rising shot and held on for a faceoff.

"He had a 1.50 goals against average through the season and he made some unbelievable stops tonight," Clifford said of Davis.


March, 3, 2012
3/03/12
8:05
PM ET
BOURNE, Mass. -- The Bay State League stole the show during Saturday's Division 1 quarterfinals, played at Gallo Ice Arena.

The public school league will see four of its teams in the semifinal round, the notable exclusion being No. 1 seed Needham.

Here's the breakdown of the action from a long day of hockey, along with a couple nuggets of analysis:

NO. 4 NORWOOD 2, NO. 5 BARNSTABLE 1


First period: The Mustangs went on an early power play, getting just one shot off on the Barnstable kill. The Red Raiders took the first lead of the game at 8:35 on Max Willman's strike from Chris Harris and Eric Rogorzenski. Andrew Alty tied the game with 30 seconds remaining on a pretty cross-ice pass from Jake Ranalli. Brendan Cathcart picked up the second assist. Norwood took a 7-6 shot advantage in the stanza.

Second period: Scant scoring opportunities for either side. Norwood carried play for portions of the second, but the Raiders had the best of the latter stages. Still, Barnstable out-shot the Mustangs 9-7 in the period.

Third period: The Mustangs found the go-ahead goal with defenseman Kyle Dolan tallying his second of the season, with some good work down low from Cathcart (2 assists)and Tyler Gover. The Red Raiders were ham-strung by a late penalty (playing with a broken stick) that had them on the penalty kill with just 1:38 remaining. Despite having a couple of offensive zone face-off opportunities in the final minute, the Red Raiders weren't able to find the equalizer. Jordan Davis made 25 saves for the Mustangs in the win, as Barnstable outshot Norwood, 26-22, for the game.

Analysis: What made Norwood successful in this game were a lot of the little things that don't show up in scoresheets. The Mustangs did a terrific job on the back check, keeping pace with a speedy Barnstable roster. When the Red Raiders were able to enter the zone, Norwood collapsed down low and were able to throw sticks, bodies, whatever, in the passing a shooting lanes, limiting quality chances on Davis.

NO. 9 NATICK 3, NO. 1 NEEDHAM 2


First period: Most of the period's play was conducted in the neutral zone, with both teams playing a tight checking game. Natick had its best chance of the game, coming on a 2-on-1 during a late power play. However, Needham actually out-chanced the Red & Blue, 2-1, while a man down. Shots were 10-5 in the Rockets' favor in the first.

Second period: Needham earned its first power play of the game early on, but was unable to cash in with two shots against Red & Blue goaltender Derek Kwok. Natick opened scoring at 5:56 with Andrew Newis tallying his 13th of the season from Mike Pennett and Derek Butler. At 11:52, Butler added his second point with his 16th goal of the season. Just 1:08 later, Pennett picked up his second point of the game with a goal, giving the Red & Blue a 3-0 lead at the second intermission.

Third period: Needham got on the board 4:06 Joey Parsons entering on a partial break on an unassisted goal, his fifth of the season. Play continued on in Natick's end for the bulk of the period. Lucas Davis added an unassisted goal of his own, drawing the Rockets within one, but for the second time this week (after Monday's Super 8 play-in game) their third-period rally fell short.



Analysis: Once again, Needham's tendency to come out slow hurt them. As in their Super 8 play-in game against St. John's (Shrewsbury) on Monday, the Rockets dug themselves into a hole they weren't able to recoup.

NO. 3 MILTON 3, NO. 6 FALMOUTH 1


First period: There was little to speak of scoring chances between the two squads, save for Clipper forward Ben Taylor's shot off the post in the second minute. Not whole lot to say beyond that. Shots were 7-2 in favor of Falmouth.

Second period: After skating to a scoreless first period, Storm Foitu netted the first goal for Falmouth 1:11 into the period. Durham Ghelfi set up the goal with some nice work along the half boards, putting a pass back to Foitu on the left wing circle. Milton tied the game with 30 seconds remaining in the period, thanks to some slick passing in the offensive zone. Brian Higgins set up Paul Curran, skittering a pass across through a Falmouth defender with Curran directing the pass into the net from the goal mouth. Milton took an 11-4 shots advantage in the period.

Third period: Curran and Higgins continued their dazzling offensive show in the third, only to see Falmouth netminder Petey Negri make a couple of circus saves. The middle portion of the period was played predominately in the Clippers' end with the Wildcats sustaining offensive pressure. Curran scored his second of the game, his 21st of the season, the game-winner, with 43 seconds to play, with a shot deflected off a Falmouth defender's skate. Terrance Walsh and Dan Curran had the assists. Higgins notched his second point of the game with an empty-net goal with eight seconds remaining. Hankard made 18 stops to earn the victory.



Analysis: Paul Curran showed why he was one of the most feared scorers in the Bay State Conference this season. His work, along with that of linemate, Higgins, was impressive throughout, creating a bulk of Milton's scoring chances.

NO. 7 BRAINTREE 2, NO. 2 MARSHFIELD 0
First period: The Wamps took a 7-6 shots advantage, but neither team was able to find the back of the net. Braintree went 0-for-2 on the power play, while the Rams were shut out in their only opportunity.

Second period: After being held to just one shot on their third power play opportunity, the Wamps took the first lead of the game on Cody Kingston's goal at 9-minute mark, with assists from James Flaherty and Tom Troy. Braintree claimed a 2-0 lead two minutes later on David Fasano's wrist shot from the right side circle. Troy picked up his second assist of the game with another handed out to Nick Ward. The Wamps claimed a 12-7 shots advantage in the period.

Third period: Marshfield upped its pressure in the offensize zone, but were unable to crack Wamps netminder Dan Murphy. Murphy made 20 saves in the shutout.

Analysis: Marshfield wasn't able to sustain pressure in Braintree's defensive zone throughout. Once Braintree takes a lead, as has become the custom under David Fasano, the Wamps become increasingly hard to play against, clogging up the neutral zone in a 1-2-2 and collapsing down low when set in the defensize zone. Murphy wasn't tested all that often, but when he was he was ready. Wamps all-star defenseman Conor Fenton (3-9-12) was his usual self, playing aggresively and mixing it up physically often drawing the assingment of shutting down the Rams' top line of Mike Carbone, Chris Perry and Connor McLean.
December, 15, 2011
12/15/11
12:31
AM ET
WEYMOUTH, Mass. -- It was typical of an early season game: missed opportunities, room for improvement, et al.
As No. 18 Weymouth and Natick got the Bay State Conference season underway with a 4-4 tie at Connell Rink, like most ties, there were plenty of things to make either side see the glass half full or empty.
For the Wildcats, coming off a Super 8 season, there's the matter of giving up the game-tying goal inside of a minute remaining in play. Red & Blue senior captain Andrew Newis buried a one-timer off of Mike Pennett's feed to knot the score with 48 seconds to play.
[+] Enlarge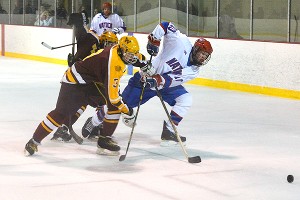 Scott Barboza/ESPNBoston.comWeymouth's Joe Flanagan battles Natick's Andrew Watkins for the puck during the first period Wednesday night at Connell Rink. The teams skated to a 4-4 tie.
In Natick's perspective, there are the three power-play goals scored that would make any coach happy. But there were also three goals surrendered on turnovers committed either in the neutral zone or in the defensive end, including Sean Murphy's short-handed goal that gave the Wildcats a 3-2 lead in the second.
It all went to show that there was a long road ahead for both sides.
"We learn from it because you saw that you make a couple of bad decisions and the puck ends up in the back of the net," Weymouth head coach Matt Cataldo said.
GETTING BACK TO BUSINESS
For a young Weymouth squad, which lost (and not limited to) its top offensive line, top defensive pairing and starting goaltender, the early season will be a particular test.
The Wildcats received solid contributions from some of their key returnees, including Joe Nardone (1 A) and Murphy (1 G, 1 A), along with a player in Shawn Jennette, who they are looking to fill a bigger role this season. Jennette scored two goals within six seconds of the second period to give Weymouth a 2-1 lead.
"It's great having people back from last year's team, but it's more important for those guys to realize that we're a different team," Cataldo said. "They can't be thinking that just because they were a part of that team last year that we're going to get those same results.
"Those guys know what it takes to get to that level, they know the level of competition that we're going to be playing, but they've got to be the leaders on the ice. They have to step it up, everybody does."
MAKING STRIDES
Natick head coach Karl Infanger talked postgame about how he's seen his team steadily improve during the last couple of seasons and now holds higher expectations for his group.
"I think we can surprise some people," Infanger said. "I like to think that we can challenge for the Herget title. We've been building for a couple years now and I think when we play a program like Weymouth, and what with Matt Cataldo's done, and show we can skate with them stride for stride, that's something to build on."
Infanger was pleased with the work of his top line of Tim Dunn (1 G, 2 A) Matt Kustra (2 A) and Newis (1 G).
He was also encouraged with the work of backup goaltender Jeff Rausch, who made 32 saves while making the start in place of starter Derek Kwok, who was sidelined with a high ankle injury.
Perhaps the most impressive player on the ice for either side was Natick defenseman Denis Nagle, who set up two of the Red & Blue tallies. The senior blue-liner is a smooth skater, who likes to jump up into the play and isn't afraid to push the pace of play.