Boston High School:

Derek Paradis
June, 27, 2012
6/27/12
2:07
PM ET
By
Marc Thaler
| ESPNBoston.com
Fundraising totals between the teams competing in the inaugural New Hampshire East-West High School Football All-Star Game couldn't have been much closer.

The game itself? That's a different story.
West's all-stars – widely considered underdogs for the June 23 contest at the University of New Hampshire – proved too tough. The combination of overpowering offense and dominant defense led to a 33-point halftime lead and 44-12 final score.
Thaddeus "Junior" Brown was toughest to cover. Manchester Central High's 6-foot 3-inch, 180-pound receiver made all four of his catches for 87 yards in the first half. Three receptions went for touchdowns, including a 50-yard down-the-right-seam dagger that helped Team West build a 37-6 halftime lead.
"This means a lot. I worked hard for it," Brown, the game's first Bo Dickson MVP, said of the trophy he was handed for his efforts. "The coaches helped me out a lot. I just busted my butt for 10 days. The outcome was this MVP."
Off the field, the outcome of Brown's efforts, as well as the 73 other all-stars, was even more impressive.
Teams East and West combined to raise $51,301.21 for Children's Hospital at Dartmouth-Hitchcock (CHaD) in Lebanon.
Team East was designated the home team. It earned use of UNH football's locker room for winning the head-to-head fundraising contest. Coach Bill Raycraft's players raised $25,751.21 – a mere $201.21 more than West's standouts.
In total, $301,000 was raised for CHaD.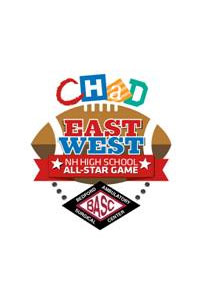 BASCTBD by editorial
"These kids came together and did a heck of a job for a great cause," said Team West coach Keith Jones, whose 6-year-old son, Harris, a CHaD patient, participated in the pre-game coin toss.
Harris was involved in a freak snowmobile accident three years ago. His father has said many times if not for CHaD, right-leg amputation would have been required.
On gameday, the soon-to-be first-grader made an appearance in Team West's locker room prior to warm-ups. It gave the players an additional boost, which carried over to kickoff.
Several playmakers fueled Team West's 37-point first half.
Brown caught a pair of 9-yard TD passes from Manchester West High's Aaron Martin, who also used his speed to sneak inside the left pylon for a 2-yard rushing score.
Merrimack High's Jackson King returned an interception 19-yards for a TD.
Nashua South's Johnny Bieren was crucial to posting a second-quarter safety. He also forced and recovered a fumble on one of his three quarterback sacks.
Central's Stephen Grzywacz – who raised a players-best $5,965 for CHaD – converted five extra points (6-for-6 overall).
East's all-stars committed five of the game's eight turnovers. The favored squad fell behind, 30-0, before Salem High's Jerickson Fedrick returned a kickoff 96 yards to paydirt.
Fedrick, and Pinkerton Academy of Derry stars Kevin Davies and Emmitt Smith, were all neutralized. Combining to rush for 4,649 yards and 57 TDs last fall, the trio managed 99 yards – 28 through two quarters.
Conor Donovan of Division VI cooperative team Inter-Lakes-Moultonborough scored East's second TD early in the third. Derek Paradis of Nashua South answered with an up-the-gut run.
"The first series, I thought we did pretty well. We stopped them (but) right away turned the ball over," Raycraft said. "That's not the way you want to start an all-star game. From there, we pressed a little bit more than we probably should have and, because of that, created more turnovers.
"But, like I told the kids, I had a blast these last (10) days," he added. "I couldn't have asked for a better group of kids. It's going to be fun watching where they go from here. The score will fade, but they set the tone for fundraising."
BASEBALL CHAMPS
Division I
: Dillon Emerson's extra-inning hit snapped two droughts, including a lengthy one for Concord High.
The senior's single down the right-field line scored Pat Cannon and gave the top-seeded Crimson Tide a 5-4 walk-off win over No. 3 seed Merrimack High in the state final June 16 at Northeast Delta Dental Stadium, home of Double-A baseball's New Hampshire Fisher Cats.
Emerson's hit snapped an 0-for-4 skid in the title game and earned Concord (18-4) its first crown since 1980. The Tide lost the state final in 2011.
"I was in the dugout upset over all the missed opportunities I had when coach [Scott Owen] came up to me and said, 'Stick with it. You'll get your at-bat and you'll come through.' He was right," Emerson told the
New Hampshire Sunday News
.
January, 5, 2012
1/05/12
3:54
PM ET
By
Marc Thaler
| ESPNBoston.com
This had to be Merrimack High's mantra for the holiday tournament season: Why settle for just one title?

In the days after Christmas, the Tomahawks rolled to championships in arguably New Hampshire's top tournaments for boys' basketball and hockey.
The school's Division I hoop team, on the strength of a last-second 3-pointer from star guard Dimitri Floras, won the 48th annual Queen City Invitational Basketball Tournament at Manchester Memorial High. The Division II hockey club, thanks to a fourth-round shootout goal from forward Chris Fortin, copped the Bauer Classic crown at Manchester's JFK Coliseum.
Talk about a wild week.
The hockey team's four-day run to the crown was the more surprising story. The reigning state runners-up, the Tomahawks were considered a mystery when the season started shortly before the holiday break. They graduated one of the state's top snipers (Erik Glendye) and said goodbye to their coach (Dan Legro).
They're a mystery no more.
After starting 3-0 in league play, the Tomahawks won four games at JFK. They beat three Division I teams, including defending champion Trinity High of Manchester, 3-1; reigning runner-up and perennial power Hanover High, 4-3 (shootout); and then-No. 1-ranked Memorial, 2-1 (shootout), in the final.
Goaltender Brett Glendye -- who made 45 title-game saves -- was named tournament MVP. Teammate and forward David Downie also earned a spot on the all-tourney team.
"I looked at (the holiday tourney) as a 'prove it' opportunity for the kids," Merrimack coach Kurt Mithoefer said. "Thus far, the kids have proven the naysayers wrong in terms of offensive ability and being a mystery team."
On the hardwood, the Tomahawks ended the feel-good story of the QCIBT.
Floras hit the big bucket that lifted Merrimack a 57-54 win over upstart Manchester West High. The 6-foot 2-inch junior guard -- named the tourney MVP -- drained a lead-changing 3-pointer from the left corner with 7 seconds to play. He finished the contest with 20 points, six assists and four rebounds.
"I missed a lot of easy ones tonight and felt like I let my team down. But I got the one that mattered most, I guess," Floras told the
New Hampshire Union Leader
after the Dec. 28 title-game win.
Merrimack's path to the title round included wins over Seacoast squads Dover High, 59-51, and Exeter High, 58-39.
But in the high-stakes round, it took a charging violation to clinch the win. Jeff Giannelli, a 6-foot-7 tower, held his ground as West's Jocarl Bureau drove the lane for a potential game-winning layup. The pivotal play came with 2.1 seconds remaining in regulation.
The QCIBT runner-up a year earlier, Merrimack reached the championship game for the ninth time in the last 12 years. This year's title was the program's fourth in that span, and first since a three-peat from 2000-02.
"We played good. But my hats off to West," Merrimack coach Tim Goodridge told the statewide newspaper. "They made it come down to one shot."