Boston High School:

Derek Stella
February, 20, 2011
2/20/11
12:23
AM ET


LYNN, Mass. -- If Saturday's contest between St. Mary's of Lynn and Weymouth is any indication of the quality of hockey to be played in the upcoming Super Eight tournament, puck fans should be happy.

The sixth-ranked Spartans went back and forth with the Wildcats at Connery Rink before Weymouth's Trevor King closed it out with the final two goals in a 4-3 win in a matchup of two teams that figure to be a part of the eight-team field.

The Wildcats battled back from a 2-0 first-period deficit and trailed 3-2 more than halfway through the third period.

"This was a good test for us," Weymouth head coach Matt Cataldo said. "To come in, go down 2-0 and then come right back in the second period and tie up. We found ourselves down again, but then we get two quick ones in the third. There were a lot of good things that came out of this game tonight. It was a good test to get us ready for what's coming down the road."

St. Mary's (12-5-3) got the Wildcats back on their heels in the first period while trying to avoid its third straight loss.

Derek Stella got things started, poking one past Weymouth goaltender Brian Brady (20 saves) with assists from Tim Aylward and Jake Witkowski. The Spartans took a 2-0 less than a minute later at the 9:59 mark Cam Kennedy's goal set up by Bobby Mullins.

Brady prevented St. Mary's from taking a three-goal lead, stopping Jordan Manthorne on a short-handed breakaway with 25 seconds remaining in the period.

It helped to refocus the Wildcats.

"We told them to keep working and do the things that we do," Cataldo said of his message to the team at the first intermission. "It's more or less mental with us when teams start to take over. It's more a matter of us managing how we react."

Weymouth (16-2-2) started chipping away at the Spartan lead 33 seconds into the second with Tyler Piacentini's power play goal from Riley Flanagan and King.

Pat O'Keefe drew the Wildcats even with 11:15 to play in the second, beating St. Mary's goaltender Donald Hesse five hole on a rebound.

The Spartans took the lead one more time in the third with 6:33 remaining. Tommy Braswell scored from behind the goal line, flipping the puck off Brady's back and into the net on a power play.

Weymouth made its final charge, led by King and this three-point night. His first goal — the game-tier — came with 4:04 remaining on a faceoff in St. Mary's zone. Flanagan won the draw and sealed off the Spartans' center. King beat the race to the loose puck and fired off a wrist shot.

"Riley [Flanagan] held us his guy and the puck bounced right back," King said. "I had a lot of space and just threw it on net.

King netted the game-winner with 2:27 to go on a 3-on-2 break. Piacentini and Flanagan added assists to finish with two-point games.

Aside from another two points in the standings, King and the Wildcats have yet another boost of momentum going for them heading into the big dance.

"It's a good to win to come up here and beat these guys," King said.
January, 14, 2011
1/14/11
1:16
AM ET
By
Brian Fabry
| ESPNBoston.com
TEWKSBURY, Mass. -- St. Mary's head coach Mark Lee has been around his fair share of goaltenders in his 24 years at the helm. So Lee knows full well when he has a star between the pipes.
No. 8 St. Mary's blanked No. 9 Austin Prep, 3-0, in a pivotal Division 1 Catholic Central League tilt as CC League All-Star goalie, Don Hesse, picked up his second shutout of the season with 14 saves for the Spartans.
While Hesse was rarely challenged in this one, the senior netminder is in his third year as the starting goalie for St. Mary's and was two wins away from his first state title last season. Seems like the Salem, Massachusetts native is just starting to warm up at the right time midway through the season again for Lee's Spartans.
[+] Enlarge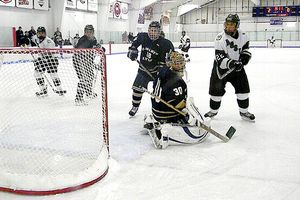 Brian Fabry for ESPNBoston.comSenior goaltender Donald Hesse led No. 8 St. Mary's to a Catholic Central Conference win over No. 9 Austin Prep by notching his second shutout of the season.
"The defense played excellent today, they stepped it up for us," said Hesse. "Keep the momentum going to the next game and so we can actually capitalize because we were a little slow off the start this year."
Other then two wins over St. Bernard's (0-6 overall), St. Mary's was struggling offensively and had settled for three ties within the league against Arlington Catholic, Archbishop Williams and a previous 1-1 tie against the Cougars.
"We've played most of our games starting from behind a goal or two and we have three ties to show for it," said Lee. "But we didn't want to make that same mistake, and we came out strong."
Despite the in-league ties, the Spartans (4-1-3; 3-0-3) remained unbeaten in league play as three different goal scorers helped St. Mary's erase the previously unblemished league record of the Cougars (4-2-1; 3-1-1). Derek Stella and Bobby Mullens potted goals in the first period and freshman Jordan Manthorne put the game out of reach with 1:55 remaining in the second.
"For the first time this year, we played three complete periods of hockey, we worked very hard, and I'm just proud of the guys in this locker room - they deserved that win," said Lee. "We try to keep it simple in all aspects especially in the defensive part of it. The defensive core did a great job with coverage in front of the net and owning the defensive boards limiting their opportunities down low."
Austin Prep got bad news from the get-go as junior forward Ryan Quinn left the game early in the first period with a possible concussion and did not return. Adding insult to injury was Stella, a senior from Revere, and Mullins, a sophomore from Saugus, who scored 32 seconds apart midway through the first period right after Quinn left the ice to shock the Cougars, who held a slim 9-6 shot advantage in the period.
Senior captain Cam O'Neill (two assists) fed a perfect pass to center ice after catching Stella streaking towards the net. Stella came down inside the left slot and once the senior forward got Cougars' junior goalie Nick Luise to commit, the back of the net was easy pickings across the crease with a backhanded score to give Hesse all he needed on the other end at 6:44 of the first period.
Before Austin Prep could even regroup, Mullins potted a wrister sitting pretty outside the right post off the stick of Julian Yourawski. Yourawski slid the puck right behind the Cougars' defense, who were on their heels all night long, right after the ensuing face-off.
"We knew it wasn't going to be over in a period or two and it was going to take a three-period effort. We've been struggling most of the season with putting pucks in the net so it was really good to get up a goal or two early and kind of gave us a little breathing room".
Manthorne's goal came with some extra hard work as Tim Alyward fired a shot from along the boards just outside the face-off circle in the Spartans end. The freshman forward set a perfect screen out in front for Alyward and deflected the shot with his skate only to have Luise (18 saves) stop the redirect initially.
Manthorne spun around and tried to punch in the rebound but settled for the easy backhand on his third try at the net with Luise down on the ice to give St. Mary's a comfortable 3-0 lead in a game the Cougars never seemed plugged into from the start.
Austin Prep had their chances with four power play opportunities but only mustered five shots in total on net during the man advantage. In fact, head coach Louis Finocchiaro pointed out the Cougars had only one shot on net for the entire second period until Nikko Markham picked up a St. Mary's penalty with less than a minute left in the in the seconds stanza.
"I recall one game we've had that the effort has been like that in probably five or six years," said Finocchiaro. "Not to take anything from St, Mary's either as I thought they were disciplined, thought they played a solid game, and I thought they were tenacious on back pressure".
With the win, Lee knows each league win is a step towards the ultimate goal and the goaltending is where the wins start piling up.
"This time of the season – that's the biggest game of the year for us league-wise to stay on pace," said Lee. "I feel like (Hesse) is one of the best goaltenders in the state and he took us to the Division 1 (North) finals last year and we expect big things from him, he's a senior, he didn't disappoint and he really played well and it's like having an extra defenseman out there."
ST. MARY'S (4-1-3; 3-0-3) – 2 – 1 – 0 - - 3
AUSTIN PREP (4-2-1; 3-1-1) – 0 – 0 – 0 - - 0
FIRST – SM, Derek Stella (Cam O'Neill, Cam Kennedy), 6:44; SM, Bobby Mullins (Julian Yourawski, Nikko Markham), 7:16
SECOND – SM, Jordan Manthorne (Tim Alyward, Cam O'Neill), 13:05.
THIRD – NONE
SAVES – SM, Don Hesse (14 saves); AP, Nick Luise (18)