Boston High School:

Derrick Stevens
August, 29, 2010
8/29/10
7:32
PM ET
By
Neil Carroll
| ESPNBoston.com
We kick off our Top 25 countdown today with a visit to Lynn English, the No. 25-ranked team on our list. Be sure to check back daily for previews on all of our top squads in Massachusetts.
LYNN, Mass. -- Lynn English's Travonne Berry-Rogers broke the huddle, jogged outside the hash marks and settled at the line of scrimmage, five yards from the sideline.
The senior receiver got in his stance putting his right foot forward and his hands by his side, and then sent a reassuring look down the line at a trustworthy face staring back at him. He was signaling to his best friend and quarterback, Tyllor MacDonald, as if to say "I've got this one".
[+] Enlarge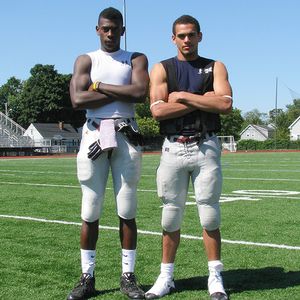 Neil Carroll for ESPN.comTravonne Berry-Rogers (left) and Tyllor MacDonald have formed a strong friendship that translates well on the field.
Berry-Rogers broke on the snap of the ball, used his quickness to get past the Everett High School cornerback in press coverage and then ran a 25-yard fade to the back of the end zone. Meanwhile in the backfield, MacDonald got a low shotgun-snap, took a step back and -- without hesitation -- lofted the football to the left corner.
The ball hung long enough that it seemed the sun took hold of it, but then fell helplessly into the hands of Berry-Rogers, as he and MacDonald paired up for a 25-yard touchdown on Saturday against Everett.
Neither Berry-Rogers' perfect route nor MacDonald's perfect ball were the most impressive part of this play.
Instead, what stood out to the on-lookers at Manning Field was the chemistry between quarterback and receiver.
"They're like brothers," said Lynn English head coach P.J. Holey. "It's almost like a competitive thing. Tyllor gets on Travonne, and Travonne will get on Tyllor, but when it comes down to it they know they can count on each other."
"That's the type of bond that a receiver and quarterback need to have."
The two are entering their second year as a starting tandem for the Bulldogs, but their bond has roots that go back 15 years to a section of West Lynn where they grew up.
Throughout grade school, Berry-Rogers' and MacDonald's families both lived at the Marian Gardens -- a family low-income housing apartment complex across Neptune Boulevard from Lynn Vocational Technical Institute. It was at the Marian Gardens' playground where the two played one-on-one basketball and tackle football, honing the skills they now showcase on Friday nights for Lynn English.
"Tyllor and I are like cousins because we grew up together since we was little," said Berry-Rogers. "Growing up I was always the basketball player and he was the football player, but we would always be throwing the football around in the backyard."
This year, the duo will again try to take that playground-born chemistry to the field. Lynn English is coming off of an 8-3 season, but things are looking up for the Bulldogs because of Berry-Rogers' and MacDonald's familiarity.
Both are looking to play college football next year, however they are not looking over this season at Lynn English.
"Every game is a big game because you gotta take it one by one," said Berry-Rogers of this year's schedule.
While Holey is entering his third season as head coach for Lynn English, it is evident that he does not need to worry about the relationship between his quarterback and wide receiver.
"It's great," said MacDonald about having his best friend at receiver. "I got someone to go to if I need to. I can count on him and I know he's going to come down with it cause he's my boy."
LYNN ENGLISH AT A GLANCE
2009:
8-3 (3-2 Northeastern Large)
Coach:
P.J. Holey (third year, 17-5)
Players to watch:
Tyllor MacDonald, Sr., QB/CB, 5-10, 170 lbs.; Travonne Berry-Rogers, Sr., WR/FS, 6-1, 175 lbs.; Melvin Taveras, Sr., RB/DB, 5-11, 180 lbs.; Josh Baptista,, So., WR/DB, 5-9, 160 lbs.; Jeremy Lessard, Jr., RB/LB, 5-9, 190 lbs; Brendan Holey, Jr., LT/DT, 6-6, 220 lbs.; Erik Holey, Jr., WR/DE, 6-6, 200 lbs.; Nick Flawa, Sr., TE/LB, 6-3, 215 lbs.; Derrick Stevens, Sr., TE/LB, 6-0, 205 lbs.
Strengths:
Skills positions, speed
Weaknesses:
Size, Offensive/Defensive Line
Outlook:
The Bulldogs do not have the size or the depth as many other teams have up front. However they will try to make up for it with speed and quickness on the outside. The zone-read offense suits MacDonald's talents well as a thrower and runner, but teams should not sleep on running back Melvin Taveras. Taveras provides good speed and size in the backfield and is tough to take down once he gets through the first level of defenders. Lynn English will try to sure up the offensive and defensive lines in the coming weeks in order to make a push for a Northeastern Conference title.
August, 28, 2010
8/28/10
8:03
PM ET
By
Neil Carroll
| ESPNBoston.com
LYNN, Mass. -- Two of our
ESPNBoston.com High Schools preseason Massachusetts Top 25
teams squared off on Saturday as No. 25 Lynn English hosted No. 3 Everett at Manning Field in Lynn. The teams showed equally impressive chemistry between quarterbacks and wide receivers, but both coaches know that they have a lot to work on moving forward.
Everett's defense struggled initially to stop quarterback Tyllor MacDonald, wide receiver Trevonne Berry-Rogers and the Lynn English offense. But, after the first series, the group showed a significant improvement.
On the other hand, the Bulldogs defense could not find an answer to quarterback John Dibiaso Jr. and his host of wide receivers. Whether it was Manny Asprilla, Matt Costello, Tony St. Louis or Jakarrie Washington, the Crimson Tide found a lot of room in the Bulldogs secondary. However, it wasn't a true test of Lynn English's defense because they are missing key players Nick Flawa, Brendan Holey and Derrick Stevens due to injury.
[+] Enlarge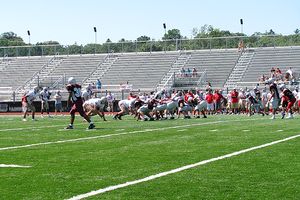 Neil Carroll Two ESPNBoston.com High Schools Top 25 teams faced off when No. 3 Everett traveled to No. 25 Lynn English for a Saturday scrimmage.
Here are some more observations from Saturday's scrimmage:
1. Lynn English head coach P.J. Holey is not afraid to blitz. Missing Flawa and Stevens on the linebacker corps and defensive tackle Brendan Holey, he was forced to bring the pressure with other methods. Linebackers Jeremy Lessard, Zach Adie and Kwame Johnson tried to fill the holes. Holey (who Berry-Rogers and the rest of the team have nicknamed Rex Ryan because of his coaching style) tried to put as much pressure as possible on Dibiaso Jr.
2. The Everett offensive line is impressive. They held their ground while protecting Dibiaso Jr., and opened the run gaps when called upon in the zone-read offense. Sophomore left tackle John Montelus was a formidable opponent for the Lynn English front seven. Montelus, a 6-foot-3, 245-pound lineman, has the size to grow into a solid force for Everett in the future.
3. The Crimson Tide has a talented defense all around, but fell victim to the big play a couple times Saturday. The defense held Lynn English to 15 yards on 15 plays its second time out. But, on the next defensive series, allowed three plays of at least 30-yards, including runs of 75 and 32 yards to Melvin Taveras. The Everett defensive line, led by Shaq Taylor and Ralph Jonathas, disrupted MacDonald enough to get him out of rhythm at points during the scrimmage.
4. Manny Asprilla, Matt Costello, Jakarrie Washington and Tony St. Louis are among the most talented groups of receivers in the state. Asprilla and Costello highlight the group and have a knack for getting open and breaking tackles. Both receivers caught two touchdowns on the afternoon.
"I've said it once and I'll say it again," Everett head coach John Dibiaso Sr. said. "With Asprilla and Costello on one side, and those other guys down the line, our skill guys are the best around."
5. The depth of Lynn English was tested against Everett as the Bulldogs came into the scrimmage with injuries to key players. The offensive line looks to be the weakness of the team, as the unit had trouble snapping the ball to MacDonald at one point on five consecutive plays, and struggled protecting the quarterback when faced with pressure.
"I was concerned about the offensive line and how physical we were going to be going in," Holey said. "I'm pretty happy with what I saw, but we have a long way to go."