Boston High School:

Derryfield School
November, 10, 2011
11/10/11
6:13
PM ET
By
Marc Thaler
| ESPNBoston.com
In his 41st year at the helm of Plymouth Regional's storied football program – a span that's produced a state-record 334 wins and 18 championships – Chuck Lenahan has surely experienced it all.

Yet it was the manner in which the Bobcats won their most recent matchup that had the gruff-voiced grid coach admitting, "I'm kind of numb."
It's understandable. Lenahan approved the call for a fourth-quarter fake punt that produced the game-winning touchdown. Plymouth celebrated a 21-14 Division IV semifinal win Nov. 5 against longtime rival Laconia High.
The scenario: Plymouth was forced to punt from its 32-yard line in a 14-all game. The game clock showed less than nine minutes remained in regulation.
Special teams coach Chris Sanborn persuaded Lenahan to fake the punt. The Bobcats desperately needed a spark. Their rushing attack, which generated two lengthy first-half scoring drives capped by Cole Brooker touchdown runs, was stifled after halftime.
Standout senior Taylor Newberry (37 carries for 205 yards) was asked to fake the punt for the first time in his career. It worked out better than even Lenahan could have expected.
Newberry gained the three yards necessary to extend the drive. He also picked up 65 more yards, cutting left-to-right across the field, dodging would-be tacklers, and ultimately celebrating a 68-yard TD run.
"We actually just set that up (in the week leading up to the semifinal). We were 50-50 on it," Newberry said. "I guess it worked."
Plymouth – a year removed from missing the playoffs on a three-team tiebreaker – actually plays the role of underdog in the Nov. 12 final.
The second-seeded Bobcats (9-1) travel to Manchester's Gill Stadium for a showdown with No. 1 seed Trinity High (10-0). The Bobcats were stunned at home in Week 4 by the Pioneers, allowing a pair of late-game touchdown passes in a 12-7 loss.
It snapped Plymouth's 40-game home win streak.
"Another week," Lenahan said. "The kids wanted it bad. What the heck. We might as well take a trip to Manchester."
October, 13, 2011
10/13/11
8:39
PM ET
By
Marc Thaler
| ESPNBoston.com
The Little Green cross country machine didn't take long to hit high gear.

Both the boys' and girls' teams for Manchester Central High, fresh off last year's NHIAA championship campaigns, served notice in the season-opening race Oct. 11 that they're still the squads to beat.
Dylan Lafond led the boys and Elizabeth Conway paced the girls as Central swept the Manchester City Championship at Derryfield Park.
"This race was the first step (in the championship season)," Lafond told the
New Hampshire Union Leader
after posting the lone sub-17-minute time of 16 minutes, 55.6 seconds. "Our goal is to win states, and if we make New Englands, even better."
Central's boys secured the top three finishes on the 3.1-mile course. Sean Brown and Matt Becker finished second and third, respectively, with times of 17:06.5 and 17:11.2.
Those times helped the Little Green record 26 team points. Manchester Memorial High's Adam Vargas (17:18.1) finished fourth. The Crusaders placed second with 40 points, followed by Manchester West High (70) and Trinity High (74).
Central's girls were equally dominant. Elizabeth Conway had a lot to do with it.
Conway crossed the finish line in 18:54.7. Teammate Laurel Gagnon (20:03.8) finished second – exactly 1:09.1 after Conway. Megan Brockett clinched third with a time of 20:48.5.
Kaitlin George-Blay led the Crusaders. Her time of 21:09 was good for fourth place.
Gang Green scored 20 team points to distance itself from Memorial (56), Trinity (68) and West (102).
"It was scorching on those hills," Conway told the
Union Leader
. "Our team is looking pretty strong, though we do have a couple of girls fighting injuries."
The division championships take place Oct. 29. Central certainly seems posed to, yet again, dominate Division I.
September, 2, 2011
9/02/11
3:58
PM ET
By
Marc Thaler
| ESPNBoston.com
A year ago, underclassmen-laden Pinkerton Academy wasn't supposed to win its 10th Division I football championship since the celebrated 1985 season. But the young Astros, facing foes with far more experience, beat those odds.

This time around, the odds of repeating are overwhelmingly in their favor.
"Our focus doesn't change at all, even when we're not the favorites," Pinkerton head coach Brian O'Reilly said. "We simply strive for championships. That's our goal, otherwise it's not a successful year."
Quite simply, there isn't a more complete team, at present, than the one residing in Derry.
The Astros return almost everyone. Twelve of the team's 20 seniors are returning starters.
Bulldozer Kevin Davies and speedy Emmitt Smith are the focal points of Pinkerton's Wing-T offense. But there's also junior quarterback Chris St. Onge and sophomore Manny Latimore that round out the returning starting backfield.
Andrew Curran, exclusively a top-line defensive back in 2010, will reprise that role this season. But he's expected to earn touches on offense, too.
On a team stacked with superb athletes, Ryan Coombs could prove most dynamic. The 5-foot 11-inch, 178-pound senior kicks, punts, catches passes and patrols the defensive secondary.
"He's a big-game player. He can be a difference-maker. He's got some outstanding athletic ability that other kids do not have," O'Reilly said of Coombs. "He just turned 17 for his senior year. He really doesn't come off the field."
Linebackers Branden Rodgers, Davies and Matt Madden, last year the team's second-leading tackler as a freshman, were huge reasons the Astros excelled in red-zone defense. The linebacking corps added depth with the return of Matt St. Onge, sidelined in '10 with an ACL injury.
Understandably, the Astros were unanimously voted No. 1 in the preseason edition of the fourth-year statewide poll, a joint effort involving the
New Hampshire Union Leader
, WGAM-Radio and WMUR-TV.
Based on history alone, Pinkerton is the preseason pick.
Since O'Reilly's fabled Ryan Mihalko- and Joe Segreti-led 1985 team surprised everyone to win it all (the program's debut season in Division I) the Astros have always won championships in chunks.
The Astros went back-to-back in 1985-86, copped four straight crowns from 1991-94, and rattled off a three-peat from 2005-07.
But don't talk championship pep rally with O'Reilly just yet. Pinkerton's 34-year head coach knows a grid king isn't crowned in the preseason.
"We might be pegged as favorites. But we weren't pegged as favorites last year – and we won," he said. "Our focus is 'Don't allow newspaper clippings to influence hard work.'"
May, 28, 2011
5/28/11
1:37
AM ET
By
Marc Thaler
| ESPNBoston.com
Round-trippers that clear the fence at Campbell High are a rarity. They're so rare, in fact, that nobody associated with the Litchfield school's softball program remembers a single batter going yard.
Correction: Nobody remembers a single batter going yard before May 13.

That's when sophomore designated hitter Chelsea Caynon slugged her way to a career-defining contest. Her 3-for-4 day at the dish included three towering home runs tagged in consecutive at-bats.
"I kind of thought all of them were lucky because nobody has done it before," Caynon of her Friday the 13th fireworks, the last of which was a walk-off that clinched a 13-1 Division III mercy win over Alton's Prospect Mountain High.
Caynon said she was mobbed by teammates after circling the bases for the third time. Her last blast, in the fifth inning, capped Campbell's 13-run outburst over three frames.
Campbell's No. 3 hitter connected in the third, fourth and fifth innings and knocked in five runs. The lasers all landed in the same spot, well beyond the left-field fence stationed 250 feet from home plate.
Coach Laurie Gatherum, in her sixth year at the helm, estimated the shots sailed 260 feet.
"When Chelsea comes up to bat, I get as far away from the third-base box as I can. She's come close to killing me. She's a dead-pull hitter," Gatherum said. "I get as close to the out-of-play line as possible.
"I almost want to warn the third baseman to back up. If she gets a piece of the ball, it's going."
Caynon's powerful performance actually carried into her next game. She went 1-for-3 with a homer against Hopkinton High, giving her four taters in a span of seven at-bats.
But Caynon isn't a stereotypical all-or-nothing power hitter. She closed the regular season with one strikeout in 64 plate appearances.
She also posted a .500 average (28-for-56) with eight walks, five home runs, one triple, 10 doubles, 25 runs scored and 32 RBI. Her production helped the Cougars clinch first place with a 15-1 record.
"I would say she is the best hitter that the program has ever had, as far as consistency and power," Gatherum said.
That's saying something. Caynon is, after all, just a sophomore.
"I wasn't really trying to hit three in row," she said. "I was just waiting for my pitch."
May, 13, 2011
5/13/11
1:29
PM ET
By
Marc Thaler
| ESPNBoston.com
It's a head-scratcher of the highest order.

Tony Johnson, among the Granite State's most successful head football coaches, will not return for his 18th season at powerhouse Bishop Guertin High, the three-time defending Division II champion.
Also the Nashua school's athletics director for the past four years, Johnson announced his stunning decision on May 6. He first broke the news to his assistant coaches and student-athletes.
Word spread quickly.
Pinkerton Academy head football coach Brian O'Reilly – whose Division I champion Astros play yet another much-anticipated season-opening crossover contest with BG this fall – said his reaction was complete disbelief.
"Tony has obviously done an exceptional job at Bishop Guertin," said O'Reilly, entering his 34th season at the helm in Derry. "When I think of Bishop Guertin football, I immediately think of Tony Johnson."
O'Reilly, whose program is a 10-time Division I king, isn't alone.
On this topic, easily obtainable answers exist to four of journalism's five W's: Who?, What?, When?, and Where? The fifth question is much tougher to explain.
Why?
"My passion is coaching," said Johnson, who will remain BG's athletics director. "But really, (BG officials) wanted me to focus on being AD."
Four years earlier, Johnson became AD in addition to coaching football. He said his performance in both roles has been reviewed annually.
Johnson, a Guertin graduate (1977), simply said the powers-that-be wanted him to focus more attention on all sports programs.
Minus any details, which haven't emerged from behind Guertin's doors, this move is baffling. Guertin fields championship-caliber teams in a variety of fall, winter and spring sports.
Let's see how much longer Guertin football remains a force. Johnson and his loyal assistants are a big reason for BG's stranglehold on Division II.
Johnson took over in 1994, fresh off a winless campaign. BG reached the final in 1997, the first of 10 title-game trips under Johnson's tutelage.
The Cardinals finally finished No. 1 in 2004, securing their first crown since Johnson starred for the school's 1975 title team as a junior.
Johnson's juggernaut has won six of the seven state championships since 2004. All that separates the Cards from seven straight titles is, quite possibly, a controversial pass interference penalty late in the 2007 final against Exeter High. The infraction gave Exeter life, and led to a 14-13 comeback decision.
"It will not be the same," O'Reilly said. "Whoever follows (Johnson) is behind the 8-ball."
That's because the successor will work in a giant shadow cast by the former coach, still serving as AD.
"We'll open this thing up. We're going to do an open search," Johnson said. "I owe it to my kids to find the best coach I can."
JOHNSON'S PREPARED STATEMENT
BG's former head coach read this statement to select media members after informing the football team of his decision to leave the sideline:
"My heartfelt thanks goes to the thousands of young men I have had the honor of coaching and teaching over the past 17 years. I want to thank my loyal coaches, thousands of great parents, alumni and friends of BG for their contributions in achieving an unparalleled record of winning football games, developing outstanding scholar-athletes, and to their dedication of the highest principles of good sportsmanship and citizenship."
CLIPPERS CLOSE TO RECORD
Portsmouth High's baseball team (10-0) is close to tying the national record for consecutive wins.
The three-time defending Division II champion won its 73rd consecutive game on May 11. The Clippers beat Amherst's Souhegan High, 9-3.
But it was Portsmouth's 70th straight win that stands out. It certainly qualified as nail-biter baseball. The Clippers clinched a 4-3 comeback win against Dover's St. Thomas Aquinas High on May 2.
Pitching ace Keegan Taylor was tagged for a first-inning home run that placed the Clippers in a 2-0 hole. Jordan Bean, STA's top hurler and Taylor's teammate on the celebrated Portsmouth Little League squad that reached the national semifinals of the 60th World Series in 2006, belted Taylor's third toss of the game.
Portsmouth's third-inning four-spot erased the deficit.
Bill Hartman cracked an RBI double. Matt Feeney ripped a two-run single. Taylor tripled to plate Feeney with the game-winning run.
Taylor threw a four-hitter on 100 pitches. Northeastern's recruit recorded 10 strikeouts and walked one.
The current win streak record-holder is Michigan's Homer High, which beat 75 teams in a row, according to the National Federation of State High Schools Association.
If the Clippers defeat Durham's Oyster River High on May 13, they'll play for a share of the record on May 16 at Kingston's Sanborn Regional.
The potential record-breaker game is May 18 at Pembroke Academy.
LANCERS LOCKED IN
Londonderry High survived a fierce five-game stretch from April 30 to May 11, which kept its state-best girls' lacrosse win streak alive. The streak reached 48 straight games with a 14-4 Division I win over arch-rival Pinkerton on May 11.
It was Londonderry's lone lopsided win in the 12-day span.
The Lancers (11-0) edged the Bay State's Duxbury High, 12-11, on April 30. They worked a 10-8 comeback win at Pinkerton on May 3.
Three days later, Londonderry beat Concord High, 8-6. The Lancers kept the Crimson Tide off the scoreboard for the final 22 minutes, and erased a 6-2 second-half deficit.
They again faced Concord on May 10, and topped the Tide, 12-9.
From front to back, the Lancers displayed their balance. Attackers Leah Walter and Julia Wasserman, midfielders Jenny Thompson and Alexa Bedell, defenders Amy Johnson and Lindsay Conroy, and goalkeeper Crystalle Parent all made critical contributions.
"All the stuff we've been trying to teach throughout the year is just starting to come into place," Londonderry coach Bob Slater said. "This is when we wanted it. This is when we needed it."
SCHOLAR-ATHLETES HONORED
Twenty-nine seniors from schools throughout the state were the honored guests at the 24th annual Joe Yukica New Hampshire Chapter of the National Football Foundation and College Hall of Fame scholar-athlete dinner on May 4.
The number of standouts – celebrated by 200-plus members of the state's football community at the Executive Court in Manchester – tied the record set last year. At least one school from each of the six New Hampshire Interscholastic Athletic Association (NHIAA) football divisions was represented.
A five-man selection committee from the Yukica foundation chose from nearly 50 candidates nominated by their coaches. Prerequisites for consideration included football talent, good grades and high character.
This year's winners included:
Chris Almeida, Souhegan (Amherst)
Jared Barczak, Trinity (Manchester)
Nick Kepka-Calvetti, Souhegan
Matthew Cannone, Salem
Sam Carney, Hanover
Tim Croteau, Nashua North
Stephen Cuipa II, Bishop Guertin
Joseph DiPalma, Salem
Keith Farkas, Nashua South
Benjamin Fee, Winnacunnet (Hampton)
Dan Folger, Bishop Guertin
Nick Hession, Souhegan
Jake Holmes, Laconia
Max Jacques, Salem
Brandon Karkhanis, Nashua North
Jim Kemos, Bishop Guertin
Kevin Kosiorek, Mascoma (Canaan)
Doran Logsdon, Laconia
Anton Marinchik, Nashua North
Sam McClain, Bedford
James Murphy, Nashua North
Cody Patch, Lebanon
Jack Pearl, St. Thomas Aquinas (Dover)
Jonathan Roth, Lebanon
Michael Seaman, Epping
Luke Somers, Pinkerton
Matthew Sullivan, Winnacunnet
Michael Sullivan, Winnacunnet
Nicholas Sullivan, Newport
STARS TO SHINE
The Children's Hospital at Dartmouth-Hitchcock (CHaD) recently announced plans for New Hampshire's first East-West high school football all-star game. The inaugural contest is June 23, 2012, at the University of New Hampshire's Cowell Stadium.
The game will benefit CHaD and the Kristen's Gift fund for pediatric oncology.
Each team's roster will include 36 players based on nominations made by their head coaches. Players must compete for schools recognized by the NHIAA.
Every division will be represented by, at minimum, one athlete. A maximum four players may be chosen from a single team.
Route 3 and Interstate-93 are the dividing lines that create the "East vs. West" matchup.
"The team of organizers that we've assembled will do a masterful job in premiering the state's only all-star football game," event founder Nick Vailas said in a written statement. "New Hampshire football will be elevated by this platform, and players should aspire to make the teams' rosters in order to showcase their skills in an event that will raise awareness and funding for CHaD and Kristen's Gift."
GRANITE STATE GREATS
Bedford High goalkeeper Austin Lauzier made at least 20 saves in consecutive Division II boys' lacrosse contests on May 7 and 9. He stopped 21 shots in a 17-10 loss at Souhegan on May 7. He made 20 saves in an 11-8 win over Portsmouth two days later.
Jack Dowst, a midfielder at Manchester's Derryfield School, totaled seven goals and three assists on May 9. His 10-point effort paced the defending Division III boys' lacrosse champion in a 13-10 win over Lebanon High.
Pinkerton's Ryan Feney was a double threat on the baseball diamond May 9 at Rochester's Spaulding High. He struck out nine batters and hit a two-run homer in his team's 5-3 Division I win.
Mickenzie Larivee and Meggie Whitney each recorded five goals and an assist in Souhegan's 19-3 Division I girls' lacrosse win over Manchester Central High on May 10.
Julia Nolan led Litchfield's Campbell High to a 1-0 Division III softball win over Conant High of Jaffrey on May 11. She fanned 14 batters and celebrated her 100th strikeout of the season.
Oyster River girls' basketball star Danielle Walczak, a scholarship recruit for the University of Maine, secured a spot on Parade Magazine's 35th annual All-America high school team. The 6-foot 1-inch center will be profiled in the publication's May 15 issue.
Marc Thaler is a staff writer for the New Hampshire Union Leader & Sunday News. He can be reached at marc.thaler@gmail.com. You can read his blog, "New Hampshire GameDay" and follow him on Twitter @marc_thaler.
April, 13, 2011
4/13/11
2:48
PM ET
By
Marc Thaler
| ESPNBoston.com
There was a time when, before the season's first face-off, predicting the champion in Granite State boys' lacrosse was a pointless exercise.

Even in the preseason, Pinkerton Academy always had the crown locked up.
The Derry program's rich lacrosse history dates back decades, well before the NHIAA sanctioned the sport in 1994.
Coach Brian O'Reilly – who began his 30th season April 12 with a 400-122 career record – led his Astros to the first four NHIAA titles from 1994-97. O'Reilly & Co. won eight of the first nine championships through the 2002 campaign.
But in the eight seasons since that time, the Astros have won just one title (2006). They last played for the Division I championship in 2008.
"We need to get back to where we were. That's been taken from us the last several years in lacrosse," O'Reilly said. "We're not the defending champions. We haven't been the defending champions in a while."
Yet the Astros are this spring's preseason favorite. They narrowly edge Nashua's Bishop Guertin High, the defending champ that's appeared in six consecutive league finals and won three titles since 2005.
It's unknown whether the Cardinals consider their preseason position a slight. But this much is clear: Depth in Division I is lacking this spring. Pinkerton and BG are the runaway favorites to clash for the championship in June.
"I doubt anybody is talking about us as a top team right now, which is fine by us. It gives us a little more incentive to work hard and be there at the end of the year," said Exeter High coach Gerry Holly, whose reigning runner-up Blue Hawks rank behind Hanover High, the third-best club exiting the preseason.
Several teams, starting with Exeter, were senior-laden a year ago. Pinkerton was an exception. They boast experience, roster depth, speed, toughness and, perhaps most important, balance.
August, 18, 2010
8/18/10
6:13
AM ET
By
Marc Thaler
| ESPNBoston.com
Let's start, simply, with a three-syllable salute to the state whose high school sports provide the content for this notebook.

Six-oh-three!
The area code for New Hampshire — 603 — once again made for the most memorable post-game chant at the Shrine Maple Sugar Bowl on Aug. 7. The Granite State's recent high school graduates, on Windsor (Vt.) High's MacLeay-Royce Field, topped Vermont in the 57th annual all-star football game, 34-20.
New Hampshire clinched a Shrine-record 10th consecutive win in the series, eclipsing its nine-game streak from 1989-97.
As it relates to this year's game, here's how to best explain the superiority of New Hampshire's 35-player squad: It nearly doubled Vermont in turnovers, 7-4, including four first-quarter giveaways, and committed an astounding 18 penalties for 165 yards.
[+] Enlarge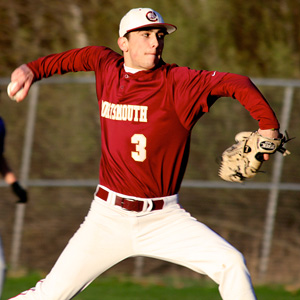 Courtesy of Julie BlackPortsmouth High's Keegan Taylor recently committed to Northeastern University. The right-hander figures to be the Clippers' ace in 2011 and will lead a team that enters the season with state-best 63-game winning streak.
And New Hampshire still won by two touchdowns.
"One-hundred-sixty-five yards in penalties?" Shrine assistant and retired Londonderry High coaching legend Tom Sawyer said in disbelief. "That's almost two football fields."
Fact is, New Hampshire never trailed. Instead, it twice built a lead of 20 points.