Boston High School:

Devon Caveney
December, 30, 2012
12/30/12
11:50
PM ET
By
Ryan Kilian
| ESPNBoston.com
NORTH ANDOVER, Mass. -– It was only fitting that the championship game of the 2012 Greater Lawrence Girls' Christmas Tournament came down to the final shot.
Trailing 44-43 North Andover had the tall task of going the full length of the court with eight seconds remaining in the game. After guard Morgan Lumb received the inbound pass she advanced the ball up the court and found a sprinting Megan Collins, who beat the buzzer and gave the Scarlet Knights a 45-44 tournament championship victory.
"Speechless," exclaimed an overwhelmed Collins after the game. "I was taking the ball out so I was not really expecting that. I just ran down the middle and was wide open. We really wanted to win this one."
Tournament MVP Lumb (19 points) proved why she is one of the State's best guards as the Hartford-bound captain came up with two game changing 3-pointers in the second half comeback. Her first trifecta, with three minutes remaining in the third quarter, gave North Andover their first lead of the second half at 28-27.
"Whoever was open I had to get the ball to," Lumb said after the game. " I knew I was probably not going to shoot it that last time but Megan flashed to the middle, I hit her with a pass and thank god she made it."
[+] Enlarge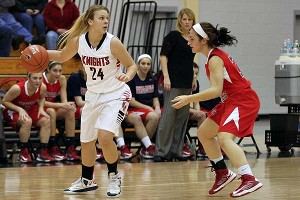 Ryan Kilian for ESPNBoston.comUniversity of Hartford signee Morgan Lumb led North Andover with 18 points in the Greater Lawrence Christmas final to earn tournament MVP honors.
Trailing for most of the game, and by a score of 20-15 at the half, North Andover knew they had to make some adjustments to make the difference in the game.
"When we play our defense it makes our offense," Lumb said. "That was our whole goal, to make them turn the ball over and make them get flustered. That is what we did."
Central Catholic received strong games from their all-tournament stars Casey McLaughlin and Courtney Walsh. The Stonehill-bound McLaughlin scored 17 points to go along with a game-high 11 rebounds. Walsh scored 12 of her 14 points in the second half after the junior point guard got into early foul trouble.
McLaughlin had another stellar game as the 6-foot senior scored eight points in the fourth quarter and hit the go-ahead shot to give Central Catholic the lead with eight seconds remaining.
Lumb scored a game-high 19 points and also did a great job on the defensive end of the court as the hard-nosed guard had four steals and three blocks in the win.
Role Players:
Collins was instrumental off the bench for the Scarlet Knights as she scored nine points to go with eight rebounds and countless hustle plays.
Senior point guard Pam Coufos also had a strong game as she provided good ball pressure on Walsh and totaled four steals on the evening.
Senior forward Michaela Mello and her junior sister Mackenzie Mello provided valuable post-defense and much needed rebounding against a taller Central Catholic front line.
"I have to give a lot of credit to my inside players, Michaela and her sister Mackenzie and Megan Collins," North Andover head coach Susan Breen said. "They did a great job limiting them to one shot and they did a nice job making them work for everything."
Sophomore Leah Chittick (six points) and junior guard Christina Cataldo (two points) also made plays on both ends for the Scarlet Knights.
Defense wins championships:
In their first season as a member of the Merrimack Valley Conference the North Andover Scarlet Knights certainly sent a message that they are a top contender.
North Andover's ability to defend the post along with strong perimeter play sets them apart from their competition early in the season.
"It was a defensive battle on both sides tonight," Breen said. "What a great game and I am just thrilled for the kids. This is a game that that they will remember forever."
All-tournament:
Lumb took home the Most Valuable Player honors for the tournament. Collins and Alex Nagri both earned the coaches awards for North Andover and Central Catholic respectively.
The remainder of the all-tournament team consisted of Michaela Mello, McLaughlin, Walsh, Devon Caveney of Andover, and Emily Hickey of Salem (N.H.)
Caveney hit an impressive seven 3-pointers in a 64-44 win for Andover over Salem (N.H.) in the Third Place game played prior to the Championship.
Methuen and Pinkerton (N.H.) also picked up wins in early tournament action on Sunday.
December, 22, 2012
12/22/12
9:30
PM ET
By
Ryan Kilian
| ESPNBoston.com
NORTH ANDOVER, Mass. -- Central Catholic made some critical halftime adjustments and held Lowell to just 12 second half points as they defeated their Merrimack Valley Conference counterpart, 53-28, in the first round of the 2012 Greater Lawrence Christmas Tournament.
Central Catholic (4-0) led 23-16 at the half in a first half that was dominated by the inside presence of Central Catholic senior Casey McLaughlin and Lowell freshman Alexi Schecter.
[+] Enlarge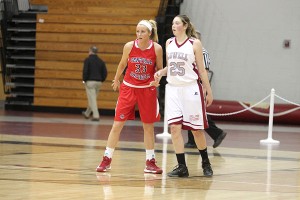 Ryan Kilian for ESPNBoston.com Central Catholic and Casey McLaughlin downed an upstart Lowell and freshman Alexi Schecter with a 53-28 win in the first round of the Greater Lawrence Christmas Tournament.
Schecter imposed her 6-foot-3 inch frame in the key and created problems for Central Catholic on the defensive end of the floor. She finished the first half with 10 points and 10 rebounds.
"We knew we did not play the way we wanted to play in the first half," Central Catholic head coach Susan Downer said. "That was the first time we played against Schecter and she is very good. We focused on fronting her and helping from behind and I think we did a lot better job in the second half."
McLaughlin and Central Catholic came out and turned up the defensive intensity in the second half as they extended their defense and caused numerous turnovers in the third quarter resulting in a 12-point Central lead after three quarters.
"We knew we had to pick it up in the second half," McLauglin said after the game. "We just breathed and focused in the locker room and came out and turned up the defensive effort."
McLaughlin, who walks off the bus with a double-double, led Central Catholic on the evening with 18 points and 20 rebounds. Her relentless effort on the offensive glass and on the defensive end of the floor proved to be too much for Lowell (3-1) to handle down the stretch.
The fourth quarter would prove to be the most dominant for Central as they outscored Lowell 16-3 in the final frame to earn their fourth victory of the season.
Central Catholic also received strong games from junior forward Amanda Williams (11 rebounds) and junior point guard Courtney Walsh (nine points, four assists).
Veteran team:
Despite just having three seniors on their roster Central Catholic returns their starting lineup and a very experienced veteran group.
"Our intensity has been great at practices and we have worked very hard all pre-season," Downer said of her veteran team.
The Stonehill-bound McLaughlin, one of two seniors and four-year varsity veteran, echoed her coaches thoughts.
"We have a very strong team this year," McLauglin said. "I think we have a very fast team and we are always looking to push the ball. We want to win every game, starting with this tournament, as we have never won this one."
Lowell's fab frosh
: Schecter was very impressive for Lowell in the loss. Reminding many in the gym of former Central Catholic standout Katie Zenevitch (Boston College) Schecter showed a mature post-game to go with an aggressive defensive mentality.
Battling double teams and fighting through physical defenders all night Schecter showed why she will be one of the most talked about players in Massachusetts for years to come.
"She made a huge difference in our game plan," Downer said. "You have to be very smart when you play against someone like her. She is agile and has a good knack for the basketball.
Schecter finished the game with a stat line of 15 points, 16 rebounds and seven blocked shots.
In other tournament action:
In earlier action Andover defeated Lawrence 60-40. Andover's win sets up a semi-final match-up with rival Central Catholic. Senior guard Devon Caveney led Andover with 17 points.
North Andover and Hartford-bound senior Morgan Lumb defeated Methuen 52-32 in another semifinal contest. Lumb, who is one of the most explosive guards in Massachusetts, led the Scarlet Knights with 20 points.
Pinkerton Academy (N.H.) and Salem (N.H.) play in the nightcap and make up the final two teams in the annual eight-team tournament.
November, 25, 2012
11/25/12
1:34
PM ET
With the first MIAA-sanctioned practices of the 2012-13 season set to commence tomorrow, today we're looking at the top storylines and top players from across the state.

Check back with us later in the preseason for our first Top 25 poll and our Preseason All-State Teams. But for now, here are the storylines to watch, and our projected Super Teams.

***

Brendan Hall
ESPN Boston High Schools editor

Reading Machine Rages On
Had it not been for Andover and superstar Nicole Boudreau, the Division 2 state champ Reading Rockets would have been garnering far more attention last season. The Rockets were one of the state's most dominant forces from wire to wire, going 25-0 en route to the program's first state title. They were one of the state's most explosive offenses (64.3 points per game), and blew out nearly everyone -- their average margin of victory was 27.1, with their only threats coming in the North final (49-46 over Arlington Catholic) and Eastern Mass. Final (71-64 over Scituate, in overtime).

The conversation in Reading starts with Richmond-bound guard/forward Olivia Healy, a two-time ESPN Boston All-State and one of the early favorites for our Miss Basketball award. The 5-foot-10 senior can play any position on the floor, excels on the boards, and is as physical as they come. But every superstar needs a supporting cast, and you can't do much better than Assumption-bound guard Morgan O'Brien in that regard.

With Andover expected to level off following the graduation of one of the MIAA's best ever (Boudreau), we're most likely looking at Reading starting the year at No. 1 in our statewide girls' poll, which will be released later this preseason.

Fierce, Fierce City A
Over the offseason, the Boston City League voted overwhelmingly to split into three tiers for boys basketball, based on competitive balance. And with it, the city's "A" division instantly becomes the state's toughest league. City A is comprised of Brighton, New Mission, Madison Park, Charlestown and East Boston -- all teams expected to start the season in our statewide Top 25 poll -- and with the new scheduling setup, we're looking at appointment viewing in the city nearly every night.

Charlestown-Eastie, Mission-Brighton and Eastie-Madison are the city's three fiercest basketball rivalries. Now, on top of those series, we're getting two installments of Mission-Madison, Brighton-Eastie, Charlestown-Mission, Madison-Brighton, and so forth. Brighton and MP figure to be the favorites here, but this is going to be an absolute grinder of a league. Of the highest degree.

Swat Team
Anyone that watched the University of Kentucky last season can tell you how valuable Anthony Davis was despite an unpolished offensive game. Heck, he was named the Most Outstanding Player of the Final Four despite going just 1-for-10 from the field in the championship game.

Last year our Defensive Player of the Year award went to a guard, Stoughton's Marcus Middleton, but I'm looking at a number of frontcourt shot-blockers to contend for the award. Any conversation about swatters in the MIAA has to begin with New Mission's Isshiah Coleman, but keep an eye on Cambridge's Fredens Deneus, a 6-foot-6 junior who is expected to have a breakout season. Rockland's Tyler Gibson, a UMass-Lowell commit, will alter many a shot in the South Shore League. Also keep an eye on Holy Name's Dan Kegbeh, only 6-foot-1 but blessed with some impressive ups.

On the girls' side, Holy Name's Brianna Frias is my early favorite for Defensive Player of the Year. The 6-foot junior committed to Providence over the summer, and averaged six blocks per game last season as the Naps went 20-0 in the regular season and captured the No. 1 seed in Division 1 Central.

Sizzlin' Sophs
Across the state, there are a number of Class of 2015 players to get excited about. Springfield Central's Chris Baldwin has yet to play in an MIAA game, having played his freshman season down the street at Hillside School, but he is already garnering significant hype. Wakefield's Bruce Brown showed freak athletic ability at times during his freshman campaign for the Warriors, and figures to be regarded as one of the state's elite by season's end. Same for Mansfield's Brendan Hill and St. John's of Shrewsbury's Davon Jones.

Central Catholic junior Tyler Nelson is on the short list as everyone's favorite shooter, and deservedly so, but Newton North sophomore guard Tommy Mobley is as automatic as they come. He plays a different role for the Tigers than his older brother, 6-foot-8 Yale forward Greg Kelley, did several years ago. But when you talk about the elite shooters in the state, Mobley has the potential to be in that conversation.

Also keep an eye on Falmouth guard Craig Green, a three-sport star who's already on the radar for track and field. He turned many heads last June, when he placed third in New Englands in the 100-meter dash. He has run as fast as a 10.6 in the event so far in his young career.

On the girls' side, we all know the capabilities of Braintree's Molly Reagan. The 6-foot-1 center was a key cog in the Wamps' run to the Division 1 South title last March, and she already holds Division 1 offers. On the flip side, Archbishop Williams' Jaylen Williams committed to Penn State this past summer despite playing limited minutes for the Bishops.

But the potential speaks for itself. For one, Williams is 6-foot-3 and long. For another, there is plenty of pedigree. She is the daughter of former New England Patriots defensive lineman Brent Williams, and the younger sister of two high Division 1 college football players -- North Carolina offensive tackle Brennan Williams, and Ohio State linebacker Camren Williams.

Open Waters in the North
I'm not sure which will be the more interesting race in the North -- Division 1 girls, or Division 2 boys.

In Division 1 girls, we're looking at a number of contenders in the North. Nobody's counting out Andover in spite of the talent graduated, but it should be an interesting race in the Merrimack Valley Conference with Central Catholic and Billerica figuring to start the year high in many polls. Lincoln-Sudbury will be another contender, led by Lafayette-bound forward Ashley Lutz, as will be Lynn English and reigning Northeastern Conference MVP Catherine Stinson. The ultimate wild card might be Cambridge, led by Georgia Tech-bound guard Donnaizha Fountain. And don't count out Somerville, either, with Indira Evans in the fold.

Division 2 North will be an interesting bracket. New Mission returns a strong core, but so does Brighton, behind returning All-State guard Malik James, forwards Nick Simpson and Prince Unaegbu, and one of the state's best shooters, Daivon Edwards. Ditto Wakefield, with Bruce Brown expected to have a breakout year alongside seniors Kendall Hamilton and Mikol Blake-Green.

SUPER TEAMS

Boys
G - Jameilen Jones, Sr., BC High
G - Tyler Nelson, Jr., Central Catholic
G - Malik James, Jr., Brighton
F - Kamari Robinson, Sr., Springfield Central
F - Tyler Gibson, Sr., Rockland

Girls
G - Donnaizha Fountain, Sr., Cambridge
G - Sarah Hope, Sr., Medway
G/F - Olivia Healy, Sr., Reading
F - Ashley Lutz, Sr., Lincoln-Sudbury
C - Molly Reagan, Soph., Braintree

***

Ryan Kilian
Editor-in-Chief, New England Prep Stars

Central Reign
Can Central Catholic represent Eastern Massachusetts in the state finals this season in Division 1? Central returns a battle tested and veteran group that represented EMass Division 1 as the top seed in last season's MIAA tournament. Central boasts key returnees Tyler Nelson, Joel Berroa, Doug Gemmell and Nick Cambio.

Veteran Sophomore Talent
Mansfield's Brendan Hill and Wakefield's Bruce Brown are two of the top returning players in Massachusetts. They are also only sophomores. Both sophomores started and lead their respective teams deep into tournament play as freshman and we can expect even bigger seasons from both this year.

Best Frontcourt?
Massachusetts has a very strong group of point guards this season but the depth in the frontcourt is down in part of the continued flood of players to prep schools. New Mission (Nate Anderson and Isshiah Coleman) and Central Catholic (Gemmell and Cambio) are at the top of the frontcourt ranks but look out for North Andover and Charlestown to also have improved front lines with the development of returning veterans as well as additions of new talent to the mix.

Replacing Boudreau
It will be impossible to replace two-time Miss Basketball Nicole Boudreau (Boston College), but Andover does return senior Devon Caveany, and the glue of the squad in top defenders Jackie and Rebecca Alois. Expect some more classic Central Catholic and Andover battles for years to come in the MVC.

Special time for City of Braintree
The city of Braintree boasts some the best young female talent in the state, with Braintree High School and Archbishop Williams sharing city quarters.

Braintree returns Coach of the Year Kristen McDonnell and a lineup featuring returning senior Rachel Norton, and sophomores Ashley Russell, Bridget Herlihy, and Molly Reagan. Archbishop Williams returns Southern New Hampshire commits Olivia Conrad and Sara Ryan along with Alana Gilmer and Penn State commit Jaylen Williams.

SUPER TEAMS

Boys
G - Bruce Brown, Soph., Wakefield
G - Tyler Nelson, Jr., Central Catholic
G - Jameilen Jones, Sr., BC High
F - Brendan Hill, Soph., Mansfield
F - Kamari Robinson, Sr., Springfield Central

Girls
G - Kayla Burton, Sr., Newton South
G - Donaizha Fountain, Sr., Cambridge Rindge
G - Olivia Healy, Sr., Reading
G - Tajanay Veiga-Lee, Sr., Fenway
F - Saliah Serrette, Sr., Weston

***

Chris Bradley
ESPN Boston correspondent

Springfield Central Is Back
Saying that Kamari Robinson and sophomore transfer Chris Baldwin are the best frontcourt in the state is no stretch. Robinson helped lead Central to last year's division 1 state title, averaging a double double while the Golden Eagles went undefeated against MIAA opponents. The 6-foot-7 Baldwin is already drawing in interest from high major division 1 college programs. A strong, athletic forward who is known for his rebounding and sky-rising dunks, he'll make quite a duo with Robinson, a member of last year's ESPN Boston All-State Team.

Senior Cornelius Tyson could be primed for a big year as well. The 6-foot-1 guard made quite a showing in last year's state championship game against Brockton, knocking down four 3-pointers in the second half to lead Central to the Division 1 title.

Can anyone knock off St. John's of Shrewsbury?
The Inter-High has two legitimate Top 25 teams in Worcester South and Doherty. Will this finally be the year that St. John's doesn't run away with the Division 1 tournament in Central Mass.? The Pioneers have won five consecutive Central Mass. Division 1 championships, and return yet another talented core from last year's team. Sophomore point guard Davon Jones has already asserted himself as one of the best guards in the western half of the state, juniors Charlie Murray and TJ Kelley will be a tough duo on the post, and 6-foot-5 senior Ken Harrington is one of the best shooters in central Mass.

Brighton looking for revenge
Last year's loss to Mahar in the Division 2 state title game was demoralizing to say the least for the Bengals, but another year of maturity should help Brighton come tournament time this year. Junior playmaking guard Malik James will be one of the very best in the MIAA, and he'll have plenty of weapons around him with forward Nick Simpson and guards Theo Oribhabor and Daivon Edwards. The Boston City League will be a rock fight this year, but battle-tested Brighton will reap the benefits of a tough schedule come tournament time.

New Mission young, but talented
Sophomore guards Greg Bridges, Randy Glenn, and Juwan Gooding will make for quite a show this year when put together with 6-foot-5 forward Isshiah Coleman and 6-foot-7 forward Nate Anderson. The Titans will be young, with less experience at the guard position than many of their opponents, but when all is said and done this could end up being the most talented team in the state this year.

Who will emerge in D3?
Picking favorites in Division 3 is like splitting hairs. Wareham has Darien Fernandez, a waterbug considered one of the best point guards in the state. Danvers returns four starters from last year's state title team. Quaboag has one of the best inside-out duos in D3 with Thomas Jankins and sophomore Jake Wisniewski. Hopedale has a deep, versatile lineup. Whitinsville Christian has won three straight central Mass. championships. Out in Pittsfield, St. Joseph Central returns the majority of their core from last year's state finals team—including scoring guard Taverick "Tank" Roberson. Any of these teams could emerge and make a deep run into the tournament in February and March.

SUPER TEAMS

Boys
G - Malik James, Jr., Brighton
G - Tyler Nelson, Jr., Central Catholic
F - Jameilen Jones, Sr., BC High
F - Kamari Robinson, Sr., Springfield Central
F - Tyler Gibson, Sr., Rockland

Girls
G - Kayla Burton, Sr., Newton South
G - Sarah Hope, Sr., Medway
G - Donnaizha Fountain, Sr., Cambridge
F - Casey McLaughlin, Sr., Central Catholic
F - Olivia Healy, Sr., Reading

March, 17, 2012
3/17/12
11:50
PM ET
By
Bruce Lerch
| ESPNBoston.com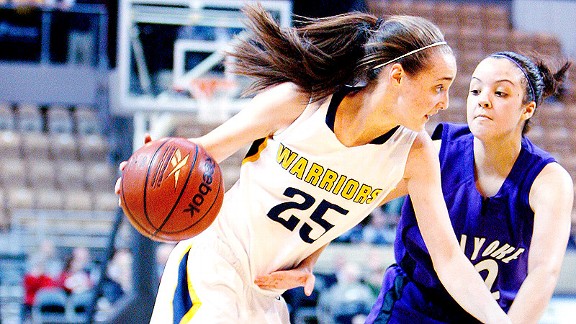 Jon Mahoney for ESPNBoston.comNicole Boudreau exploded for 27 of her 31 points in the second half as Andover captured its third straight Division 1 state title.
WORCESTER, Mass. -- It isn't often when the Andover girls basketball team runs into an opponent that can match its speed and quickness. But as they so often have proved over an amazing three-year run, the Golden Warriors' strict attention to defense knows no limitations.
Boston College-bound senior Nicole Boudreau led the way with 31 points, 11 rebounds and five steals, while fellow senior Ally Fazio chipped in with nine points -- and turned in a stellar defensive performance guarding two-time reigning Western Mass. Player of the Year, Monique Heard -- to lead Andover to its third straight Div. 1 state championship, a 61-45 victory over Holyoke at the DCU Center Saturday night.
"They've had a target on their back all year, people talking about going undefeated and a three-peat," said Andover coach Jim Tildsley of his squad. "It's so much easier to say than to perform and that's why I'm so proud of these kids. We are just so mentally tough. We're good. I mean we're very talented but, mentally tough...we could have packed it in a couple of times and we didn't.
"That's the kind of kids I have. Nicole and Ally are such great leaders and the other kids feed right off them. I'm so proud. Three in a row, and the icing on the cake is going undefeated."
The Golden Warriors (27-0) had to work for this one as Holyoke (22-3) displayed speed and quickness unlike any they had seen this year. The Purple Knights took a 27-25 lead into halftime following a three-pointer by Kirsy Segarra and a free throw by Heard, while limiting Boudreau to just a pair of baskets in the second.
Rather than wilt under the pressure, Andover instead returned to its defensive roots with Fazio taking the lead role while outscoring the Knights, 16-3, in the frame. Both Fazio and Devon Caveney (13 points) knocked down clutch threes in the third, as did Boudreau to get herself back on track.
"We were down and coming out of halftime we were thinking about keeping our heads up," Fazio explained. "The only way you're going to win a game is to keep your head up and have heart. Everyone's always all over Nicole. Nicole will hit any shot from any distance, she can drive, she can do everything so they're going to be all over her and everyone tells us that we have to be ready to step up whenever the opportunity comes."
Holyoke attempted to claw its way back in the fourth and back to back buckets by Alison Littles (eight points, 15 rebounds) and Kelly Reardon cut the deficit to 10 at 51-41. That's when Boudreau came up with one of her biggest moments, draining a long three while getting slammed to the floor, sitting up and pumping her fist as the ball dropped cleanly through the hoop.
"All throughout the game I didn't really have much space," Boudreau admitted. "They played pretty close on me on defense. When I got a little bit of space, luckily I could hit the shot and at the time it was a pretty big shot because they had some momentum going their way and it kind of stopped."
That would be as close as the Knights would get the rest of the way as Boudreau, Caveney and Fazio combined to go 7-for-7 at the free throw line down the stretch.
Heard showed why she has been held in such high regard throughout her career, finishing with a team-high 17 points. But Fazio made her expend every ounce of energy she had and tired enough so that just seven of those points came in the second half.
"Ally said from the beginning that she wanted to cover (Heard) and we had total trust in Ally that she could do it," said Boudreau. "We knew she was going to make her points and make some plays but I think Ally contained her pretty well. As long as she didn't score 30 or 40, we did pretty well. Can't say enough about Ally."
Added Fazio, "Honestly she is the best player I've played against the whole entire season. I was not ready for that at all. I knew she was good but she was very very good. She is so fast. If you give her too much space, she'll just shoot it and if you get too close she'll just go right by you.
"This was the biggest challenge of my whole career. My job for this game was to stay on her. We knew going into it she was their best player so my job was to stay on her. I can't really force her left or right because she's good at both so I just had to play her straight up and play physical."
March, 16, 2012
3/16/12
8:24
AM ET
By
Brendan Hall
| ESPNBoston.com
The MIAA will crown six state champions in boys and girls basketball on Saturday at Worcester's DCU Center. Here are my thoughts on how those six games will play out:
DIVISION 3 GIRLS: PENTUCKET (22-4) VS. SABIS (21-5)
Pentucket Players to Watch:
Tess Nogueira, Jr. C; Leigh McNamara, Sr. F; Sarah Higgins, Sr. F; Nicole Viselli, Jr. G; Alex Moore, Jr. G; Kelsie McNamara, Fr. G
Sabis Players to Watch:
Jazmine Collins, Jr. G; Janaiya Sanchez, Fr. G; Shyanne Washington, Jr. F; Madison Sinkfield, Fr. F; Casie Thurber, Soph. C.
Analysis:
After coming close the last couple of years, Sabis finally got over the hump in their competitive Western Mass. bracket, to land here at the DCU Center. Plain and simple, these Lady Bulldogs are on a mission; and led by a core that includes the dynamic Collins, this is a well-oiled machine. Unfortunately (and this will be the operative word for many of my picks), they run into a Pentucket team that is quite simply swarming on defense. The Sachems' lineup =is among the best in Division 3, and they're on a roll. Pentucket is also motivated -- the last time they were here, in 2010, the Sachems were penned as a favorite, only to run into a gritty Lee team that, quite frankly, pressed like kamikazes.
Hall's Pick: Pentucket over Sabis
DIVISION 3 BOYS: DANVERS (20-4) VS. ST. JOSEPH CENTRAL (20-5)
Danvers Players to Watch:
George Merry, Sr. C; Nick McKenna, Jr. G; Nick Bates, Jr. G; Eric Martin, Jr. G; Jon Amico, Sr. G.
St. Joe's Players to Watch:
Taverick "Tank" Roberson, Jr. G; Mike McMahon, Sr. F; Joe Wiggins, Sr. F; Lavante Wiggins, Jr. G; Jon Bianchi, Jr. G
Analysis:
Credit to St. Joe's for playing an ambitious non-league schedule, which included a rockfight of a bout with Holy Name back in December, and get ready to be introduced to the spunky power that is Roberson -- in my opinion, he's every bit of a tank as his nickname suggests. But after putting in arguably its best performance of the year Monday night in the Eastern Mass. Finals against Wareham, I'm convinced Danvers will come out on top in this one. the 6-foot-7 Merry can step out on the perimeter and facilitate offense for shooters like McKenna and Bates, as much as he can take it inside. Danvers coach John Walsh goes with some of the same offensive principles as his cousin Watertown head coach and two-time D3 state champ Steve Harrington. And if you thought Harrington's four-out, drive-and-kick, dribble drive-oriented motion offensive was frustrating enough, imagine what it's like with size.
Hall's Pick: Danvers over St. Joseph Central
DIVISION 2 GIRLS: READING (24-0) VS. TYNGSBOROUGH (23-1)
Reading Players to Watch:
Olivia Healy, Jr. G; Morgan O'Brien, Jr. G; Melissa DalPozzo, Sr. F; Katie Clements, Sr. G; Katherine Callahan, Sr. G.
Tyngsborough Players to Watch:
Lauren Iadarola, Jr. F; Amanda Hogan, Jr. G; Helena Hamilton, Sr. F; Morgan Mitchell, Jr. C.
Analysis:
The Mid-Wach C champion Tigers avoided a clean sweep of Central Mass. on Wednesday with a dominant 50-35 win over Palmer out in Springfield, getting quality production out of Iadarola, Hogan and Hamilton along the way. But Reading has had the tougher route here, putting away stalwarts Wachusett, Bishop Feehan, Arlington Catholic (twice) and Scituate to get to DCU Center floor. Look for Healy to get hers, but most crucial in the Rockets' overtime defeat of Scituate on Tuesday night was the play of O'Brien, who scored 33 points. Look for her to be the X-factor in this one.
Hall's Pick: Reading over Tyngsborough
DIVISION 2 BOYS: BRIGHTON (21-4) VS. MAHAR (21-3)
Brighton Players to Watch:
Malik James, Soph. G; Theo Oribhabor, Jr. G; Daivon Edwards, Jr. G; Prince Unaegbu, Jr. F; Jerard Mayes, Sr. F; Tre Dowman, Sr. C
Mahar Players to Watch:
Travon Godette, Sr. F; Jesse LaCroix, Sr. G; Phil DiPhillipo, Sr. G; Josef Whitman, Jr. F; Nate Martin, Sr. C; Darwin Duncan, Sr. F.
Analysis:
The relationship between Brighton coach Hugh Coleman and his mentor, legendary Charlestown coach Jack O'Brien, is well-documented. There are ripples of O'Brien's system and tactics sprinkled throughout the Bengals; and we can assure you, there are tons of coaches in Eastern Mass. rooting for Coleman, as good a guy as they come, on Saturday. That aside, the Bengals figure to be favorites in this one. Godette, DiPhillipo and LaCroix combined for impressive whipping of St. Bernard's on Tuesday, but they haven't seen anything like Brighton. Hardened by a brutal schedule, the Bengals lost their best player, sophomore Nick Simpson, before the playoffs, yet somehow haven't dropped off. There's plenty to like -- a frustrating extended 2-3 zone, a swarming press, and a gifted shooter in Edwards -- and I think this will be another big one for promising sophomore point guard Malik James.
Hall's Pick: Brighton over Mahar
DIVISION 1 GIRLS: ANDOVER (26-0) VS. HOLYOKE (22-2)
Andover Players to Watch:
Nicole Boudreau, Sr. G; Ally Fazio, Sr. G; Devon Caveney, Sr. G; Angelice Gonzalez, Jr. G; Jackie Alois, Jr. F; Rebecca Alois, Soph. F.
Holyoke Players to Watch:
Monique Heard, Sr. G; Alison Littles, Sr. C; Kirsy Segarra, Jr. G; Nyomi Walker, Jr. F; Selena Yates, Sr. G.
Analysis:
Our friend and Pioneer Valley legend Adam Harrington is getting giddy over this "dream matchup", Western Mass.'s premier point guard versus, quite frankly, the best female guard to come through Massachusetts in over a decade. We think the crowd on hand will be impressed with Heard, but the Golden Warriors -- despite usually being undersized -- have proven again and again to be unstoppable. It just seems whatever the score is going into the fourth quarter, the Warriors simply turn around and take ownership of it. When you have a team of athletes that get up and down as quickly as these girls, plus a superstar with NBA range, that's a vicious combination.
Hall's Pick: Andover over Holyoke
DIVISION 1 BOYS: BROCKTON (23-2) VS. SPRINGFIELD CENTRAL (23-1)
Brockton Players to Watch:
Jaylen Blakely, Jr. G; Drew Fiske, Sr. F; Jahleel Moise, Sr. F; Jean Thomas, Sr. F; Will Baker, Sr. G; Sayvonn Houston, Sr. C; Jamal Reuben, Sr. F; Jarrod "Bubba" Shelby.
Springfield Central Players to Watch:
Tyrell Springer, Sr. G; Lee Turner, Sr. G; Chris Prophet, Sr. G; Kamari Robinson, Jr. F; Jevaughn McMillian, Sr. C; Trevor Bacon, Sr. F; Cornelius Tyson, Sr. G.
Analysis:
This might be the best matchup of the day. I picked Springfield Central
to win it all before the tournament started
; and since the Eagles are still in it, I'm sticking with the pick. The X-factor here might be the health of McMillian, a game-changing 6-foot-7 shot-swatter who injured his ankle in Tuesday night's thrilling semifinal win over St. John's (Shrewsbury). If he can't go or is less than 100 percent, that could make the matchup down low with Brockton's 6-foot-6 Sayvonn Houston -- by many accounts, one of the state's most efficient true five -- very interesting. Yet it seems the Golden Eagles thrive on adversity -- in the Western Mass. Final, with Springer and Prophet fouled out -- Robinson held his own to stave off a furious Commerce comeback bid. On the flip side, the Boxers have been on a mission since getting trounced by nearly 20 by Charlestown right before the start of tournament play. Blakely has been one of the best point guards of the tournament, and the Boxers have gotten crucial shooting out of Baker, Fiske and Reuben. Look out for Moise, an athletic shot swatter with quality defensive skills.
Hall's Pick: Springfield Central over Brockton
March, 10, 2012
3/10/12
11:44
PM ET
By
Ryan Kilian
| ESPNBoston.com
LOWELL, Mass. --- On Saturday night the Andover High School girls basketball team captured their third straight Division 1 North sectional championship as they defeated Masconomet 61-53 at Tsongas Center in Lowell.

The top-seeded Golden Warriors (25-0) came out firing as they hit six 3-pointers in the opening quarter to open up a 21-12 lead. Boston College bound senior Nicole Boudreau nailed three 3-pointers, junior Devon Caveney drained two and senior Ally Fazio added one to begin the shooting frenzy.

"We shot the lights out in the first period and that was a big difference," said Andover head coach Jim Tildsley.

Masconomet (20-4) hung tough through the first half behind the strong play of seniors Danielle Davis (12 points, 12 rebounds) and Brooke Stewart (18 points, eight rebounds, four steals).

Andover took a 33-21 lead into the half, behind 21 first half points from Boudreau and some successful full court pressure defense that held Masconomet to only nine second quarter points.

"It is an advantage being as small as we are," said Tildsley. "We jump switch everything because we are all the same height and everything is within our rotation."

Andover came out of the halftime break relentlessly attacking the glass as they dominated the rebounding margin in the third quarter 13-7. Many of those rebounds were converted second chance opportunities as Andover found every loose ball and extended the lead to 41-28 after three quarters.

"I was very impressed with our offensive rebounding tonight," said Tildsley.

Masconomet fought hard and did a good job of hanging tough as Stewart scored nine fourth quarter points and Davis added seven to cut into the lead.

"Brooke is a great player," said Boudreau. "We held her down as best we could and she made a run in the third and especially in the fourth quarter, but we expected that."

Every time Masconomet would inch closer, however, Andover would come up with a big shot to push the lead further out of reach. Fazio (10 points) and junior guard Angelice Gonzalez (seven points) each nailed 3-pointers and Boudreau (game-high 29 points) converted four end-of-game free throws to cap the win for Andover.

Alois on the Glass: The tandem of sisters Jackie (11 rebounds) and Rebecca Alois (nine rebounds) dominated the glass for Andover as they came away with many second and third chance opportunities for Andover that resulted in additional opportunities for shots and made baskets.

"What can I say about them," said Tildsley. "They do all the dirty work for us and I do not know how many offensive rebounds we got tonight."

Although the sisters combined to score only three points it was their effort on the 50-50 balls and on the offensive glass that paid the most dividends.

"They are huge," said Boudreau. "They get most of our offensive rebounds and with that we get more opportunities to score."

Senior Strong: Masconomet graduates four of their five starters in seniors Stewart, Davis, Chelsea Nason, and Taylor Evans. Nason scored nine points and Evans scored five points, grabbed five rebounds, played stellar defense and was all over the floor chasing loose balls for Masconomet.

Masconomet's lone returning starter is junior Claudia Marsh, who scored nine points and did a fine job defensively covering Boudreau in the second half.

Back to the Garden: Andover looks to take home their third consecutive Eastern Massachusetts Division 1 championship on Tuesday as they play Braintree High School (22-2), who upset top-seeded Franklin High School 51-46 in the South sectional finals on Saturday.

"We have Tuesday night and if we hopefully win we will have Saturday," said Tildsley. "It is just an unbelievable accomplishment what these kids have done the past three years."
March, 6, 2012
3/06/12
11:33
PM ET
By
Ryan Kilian
| ESPNBoston.com
HAVERHILL, Mass. --- Merrimack Valley Conference Large rivals Andover and Central Catholic met again for the fourth time this season in the D1 North sectional semi-finals on Tuesday night. With Andover winning the prior three contests, Andover Coach Jim Tildsley knew this game would present a big challenge.
"We were concerned with them coming in as the No. 12 seed and playing so well, beating two very good teams in Billerica and Westford on the road," said Tildsley.
[+] Enlarge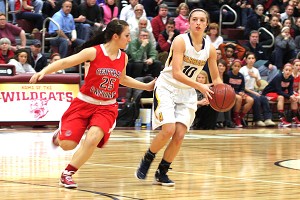 Ryan Kilian for ESPNBoston.comAndover's Devon Caveney scored 12 of her 16 points in the first half to give Andover an early cushion.
Andover did not look concerned on the court, however, as they would come out and take immediate control of the game early and often on their way to a 56-36 victory.
"I am really proud of my kids," said Tildsley. "There is so much pressure on these kids with everyone talking three-peat, three-peat. They are just taking it a game at a time and coming to every game focused and ready to play."
Andover (24-0) set the tempo early as they extended their full court pressure defense right off the opening tip. The pressure and aggressive ball denial was effective as Andover held Central Catholic (14-9) scoreless until the two minute mark in the first quarter. Andover led 11-2 until the first quarter buzzer sounded when Central Catholic guard Courtney Walsh drained a 3-pointer to cut the lead to 11-5 after one quarter of play.
"We came out and stymied them with our defensive pressure," said Tildsley. "That was the whole key to that game. We had to come out during those first four minutes of the game and really play and we did."
The offensive star on the night was Andover junior guard Devon Caveney, who scored 12 of her 16 points in the first half.
"It is all about confidence," said Tildsley of his junior guard.
Andover's Nicole Boudreau saw constant double teams on the evening as Central aggressively tried to take her out of the game with varying gimmick defenses and aggressive ball pressure.
"They were triple-teaming Nicole so one of us had to be open," said Caveney. "I knew I had to hit those shots if we wanted to get the lead going and I did."
Caveney converted three separate three-point play opportunities, with the most impressive being a baseline 3-pointer to start the second half that she drained while hitting the floor after contact. She made the free throw, completing the four-point play, which continued the second half momentum for the Golden Warriors and put the game well in hand.
Central Catholic received strong efforts on the night from junior center Casey McLaughlin (10 points, 13 rebounds), sophomore forward Amanda Williams (seven points, 11 rebounds) and sophomore guard Walsh (nine points).
Miss Stat Sheet:
Boudreau definitely knows how to fill up a stat sheet as the reigning ESPN Boston Miss Basketball found ways to dominate the game without having one of her typical high scoring evenings.
Boudreau scored a game-high 17 points, pulled down 12 rebounds, dished out five assists to go along with six steals and five blocked shots on the evening.
"Nicole made some great passes tonight." said Tildsley.
Two of her best passes came in pressure situations with three Central defenders draped all over her. She had the presence of mind and strength to thread the ball, both times, through the entire defense to open teammates under the basket on the opposite side of the court.
Central's Youth:
Central Catholic will only be better when the ball is thrown up for the 2012-2013 season opener. They return all but two seniors and the future looks as bright as the past has for the Raiders.
McLaughlin is only a junior and has been playing regularly since her freshman year. Walsh and Williams are both sophomores. They also return sophomore defensive specialist Alex Nagri, junior sixth-woman Darion Summers and five other underclassmen who all saw playing time at various points in the season.
Another Title Run:
The elephant in the room for the Andover girl's basketball program is their impressive late season undefeated record and their prior two seasons Massachusetts State Championships.
The road to their third consecutive state championship does not get any easier as they will face the winner of Thursday's other D1 North semi-final match-up between Lincoln-Sudbury and Masconomet. The sectional finals will be played at the Tsongas Arena in Lowell, Mass. on Saturday as a part of a big day of sectional finals for the North sectional girl's and boy's basketball championships.
March, 2, 2012
3/02/12
10:47
PM ET
By
Andy Smith
| ESPNBoston.com
ANDOVER, Mass. -- Andover's Nicole Boudreau receives the most publicity of anyone on her team, and deservedly so. It's hard not to pay attention to one of the most consistent scorers in Massachusetts, especially when she scores over 2,000 points for her career or sets her school's scoring record, like she did Friday night.

Years from now, Andover's 52-35 win Friday over Acton-Boxborough to move on in the Division 1 North tournament might be remembered as the night Boudreau became Andover's all-time leading scorer with 2,099 points.

In the present, it will be remembered as a game where the team rose up around Boudreau and made the plays it needed to win.

She still had an impressive performance (20 points, seven rebounds, two steals, three blocks), but it was contributions from players like Jackie Alois (11 points, four rebounds), Rebecca Alois (seven rebounds, five steals), and Ally Fazio (eight points, three steals) that showed why Andover (23-0) is undefeated and favored by many to win the Division 1 State title again this year.

"My team won us the game," said Boudreau. "It wasn't about one player today. The Alois' worked so hard tonight. Rebecca got a bunch of key rebounds. I had a bunch of assists to Jackie and Rebecca because they were trying to double me and other people, so Jackie had a lot of points tonight and we needed it. When everyone works like that, it takes a lot of the pressure off of me, off of Devon (Caveney), and everyone else. They won us the game tonight."

Andover came out with a full-court press on A-B (13-8) that was smothering at times. When it worked successfully, trapping the ball handler along the sideline, it often lead to turnovers. A-B turned the ball over 20 times in the game.

When it was unable to get the ball, Andover forced A-B to take contested and off-balance shots around the basket.

"Defense is our whole thing," said Andover coach Jim Tildsley. "We like to press teams and that's how we win. We're so small that we have to go to the full-court the whole game and you can see that my kids are in great shape. They can play the whole game and not get tired. They're physical and they're mentally tough, but we still have a long way to go."

Just a speed bump: Towards the end of the first quarter, Andover lead 18-6. Then, with two 3-pointers from A-B to end the quarter and begin the second, it became a six-point game. Coupled that with an Andover cold shooting streak, and before you knew it, it was a close four-point game midway through the quarter.

However, with it's defensive pressure creating opportunities for it that its offense couldn't, Andover was able to hold A-B to one basket over the final four minutes and take a 10-point lead into the half.

"(Pressure) was a huge goal in what we were trying to do to beat this team," said Boudreau. "We knew Elizabeth Belanger (12 points, 10 rebounds) is a great player, so we had to shut her down and we wanted to get her tired. Our full-court pressure does that to people and I think our pressure is what won the game for us tonight. We got a lot of key turnovers and they had a hard time scoring. It really helped us."

Eyes on the Warriors: At this time of the season, everyone knows who the top seeds are some people would want nothing more than to see them lose. Especially when it comes to Andover, who is looking to win its third Division 1 State Championship in a row. One couldn't blame them if they felt added pressure, with a metaphorical target on their back for the rest of the state to try to hit.

"Do you think (it feels like there's a target on my back)?" said Tildsley sarcastically. "There's a lot of pressure on my kids. It's pressure, but we like to play under pressure. There's a ton of pressure on us because everyone's out to get us. I can't blame them either, I'd be wanting to beat us too. You saw how tough Acton-Boxborough played tonight. They would have loved to beat us tonight, but fortunately we came out on top."

Boudreau thinks that having that late-season familiarity is more beneficial than pressure-filled.

"I don't really think there's pressure on us," she said. "We're all used to being in this situation and we have a goal in mind and we just want to get to it. We all have a pretty big advantage being in this situation. Everyone's gunning for us, so we have to be on top of our game."

Up Next: Andover moves on to the Division 1 North Semifinals, where it will face Merrimack Valley Conference foe Central Catholic. As of Friday night, it was unknown where or when the two teams would play each other. The No. 12 seed Raiders knocked off the No. 4 and 5 seeds in the D1 North bracket, Westford and Billerica respectively, to get the opportunity to play unbeaten Andover.

Andover beat Central three times during the regular season, each by double digits. But this isn't the regular season anymore. In a tournament setting, on any given night, one team can play above expectations or extremely below them.

Tildsley won't be taking Central lightly, especially since when they beat two higher seeds to get to where they are now.

"Central is a very good team, especially with (Casey) McLaughlin coming back, that's going to be one heck of a game," he said. "We'll be ready to play on Tuesday or Wednesday, whenever we're playing."
January, 27, 2012
1/27/12
12:16
AM ET
By
Ryan Kilian
| ESPNBoston.com



ANDOVER, Mass. --- The Andover Lady Warriors (13-0) remained undefeated on the season despite a valiant effort from a feisty, upset-minded Billerica squad on Thursday night.

Billerica (11-2) had possession of the ball with 4.4 seconds remaining on the clock, trailing 53-50, but a 3-point attempt fell short and a put back by junior center Joslyn King (14 points, 14 rebounds) was not enough as Andover escaped with a 53-52 victory and sole possession of first place in the Merrimack Valley Division 1 Conference.

Both teams battled back and forth in a game of runs that saw Billerica explode out of the gate to take a quick lead only to see Andover come back to tie the game at 15-15 after one quarter of play. Reigning ESPN Boston Miss Basketball Nicole Boudreau scored nine of her game high 23 points for Andover in the opening quarter including two of her six 3-pointers on the evening.

Andover would build a 12 point lead midway through the second quarter but Billerica hung tough behind the strong play of King and junior point guard Brittany Lomanno. Boudreau and junior guard Devon Caveney each stroked two 3-pointers in the quarter to help propel Andover to a 33-28 lead at the half.

The Indians came out of the break and dominated the third quarter as their size and work on the glass disrupted Andover as King and junior forward Danielle Nickerson owned the boards and gave Billerica a hard-fought 41-40 lead after three quarters

"In the third quarter we did a great job of recognizing what they were in," said Billerica head coach Mike McCarthy. "We had pretty good legs and were able to get the ball up the floor."

Andover's various full-court defenses, which disrupted Billerica at times on the evening, finally came through in the end as the Lady Warriors led by seven with 2:38 remaining in the game.

Billerica, as they did all night, would not give in as they took it all the way to buzzer but timely Andover shooting and disruptive pressure defense were too much for Billerica to overcome.

"We do not want to lose," said Boudreau. "We are the type of ball club that is not going to accept losing so in the fourth quarter, when it is close like that, we like to buckle down on the defensive end."

Fazio steps up down stretch: Senior Co-captain Ally Fazio's two fourth quarter 3-pointers turned the momentum back Andover's way each time and helped settle the pace for the Lady Warriors. Fazio struggled from the field throughout the night but hit the two big 3-pointers when it mattered most to go along with her game high six assists.

"Ally hit some big shots at the end and we came out with the close win," said Boudreau of her fellow Co-captain.

Young veterans lead Billerica: Billerica is led by a talented group of juniors in Lomanno (eight points), King, Nickerson (10 points) and Kayla Leverone (11 points) along with sophomore Shannon Hayes (eight points). Forward Erin Brooks was the team's lone rotational senior to see time on the evening but Chris Doneski's squad has been playing together for a couple of years now and their chemistry is evident.

"They are heck of a team," said Andover head coach Jim Tildsley. "They are very good, well coached and give credit to them."

After going 12-9 last season and losing to Acton-Boxborough in the MIAA Division 1 state tournament Billerica is off to an impressive 11-2 start of the 2011-2012 season.

"I am very proud of the way they played," said Doneski. "They played their hearts out so you could not ask for more."

Valentine's Day Rematch: These two teams will see each other again in a few weeks as Andover will travel to Billerica on February 14 at 7 p.m. in a rematch that could be for the MVC Division 1 championship.

Both Andover and Billerica still have rematch dates with Central Catholic remaining on their schedules but both teams look to be the top of the MVC class and the Valentine's Day rematch should be another competitive battle.

"This will be a war when we play them at Billerica," said Tildsley. "That is for sure."


March, 20, 2011
3/20/11
12:15
AM ET
By
Bruce Lerch
| ESPNBoston.com



WORCESTER, Mass. -- Andover girls basketball: powered by defense, and state championship ready.

While that may sound like a good bumper sticker to jam on the back of Mom's minivan, it couldn't be more apropos when it comes to discussing the Golden Warriors' not-so-secret winning formula.

Taking the adage "defense wins championships" to another level during the 2011 Division 1 girls basketball tournament, Andover capped a great postseason by forcing 23 turnovers and getting clutch contributions on defense from Ally Fazio and offensively from sophomores Devon Caveney (14 points) and Jackie Alois (12), the Golden Warriors put the hammer down on Amherst in the fourth quarter and claimed their second consecutive Div. 1 title with a 61-51 over the Hurricanes Saturday at the DCU Center.

"We knew coming into the game that defense was how we were going to win," said senior guard Natalie Gomez-Martinez, who snared seven of Andover's 18 steals. "Offense just comes. Defensively, you have to have heart and physical aggression. When you have this close of a game, even if you're exhausted, you have to go all out on defense. We made big steals, we made free throws and it showed how when you want to win a game, it's all about defense."

Andover found itself trailing, 47-45, in the opening minute of the fourth quarter before going on a 10-2 run to not only grab the lead back, but pull away for good. After a Nicole Boudreau bucket, Caveney drilled a big 3-pointer that put the Golden Warriors out front, 50-47. She added another basket off a turnover, then added a free throw after a Boudreau runner.

Amherst stopped the run with a hoop, but Alois sealed the deal, taking a pretty feed from Boudreau off a pick-and-roll play that effectively sealed the victory.

"Devon and Jackie stepped up huge," said Boudreau, who scored a game-high 18 points. "We had total confidence that they could and we gave them the ball in situations, especially on pick and rolls for Jackie, where we knew we could get it to them and they would finish or get fouled. They won us that game in the fourth quarter."

Through the first game three quarters, the game was a downright battle. Both teams struggled from the field in the first half, but defense for Andover and the rebounding of Amherst's six-foot center Forbasaw Nkambo (13 boards in the first half) kept things tight.

In the third, it appeared as though Andover was starting to pull away, as a Boudreau three ignited a 9-2 spurt that pushed their lead to 41-33. Rather than wither under the pressure, the Hurricanes mounted a comeback courtesy of a 12-4 run over the final 2:43 of the third to tie the game at 45-all.

Ultimately however, it was the Golden Warriors relentless pressure defense that finally got the better of Amherst.

"That's our game. We know we're small and we press hard on defense. We thrive off turnovers," said Andover coach Jim Tildsley. "We put Nicole on the back line because she's a great anticipator and we have Natalie and Ally up front all over the ball. Devon and Jackie both read well so we have a great full court press. We're also able to switch our presses and that confuses teams, which helps us a lot."

In addition to her outstanding defensive work, Gomez-Martinez chipped in with 10 points for Andover. Brianna Leonard paced Amherst with 16, while Nkambo added 15 points and 18 rebounds and Kristen Ferola finished with 10.
March, 18, 2011
3/18/11
3:53
PM ET
By
Brendan Hall
| ESPNBoston.com
We've got you covered from the first tip-off to the final buzzer tomorrow at Worcester's DCU Center, home of six MIAA basketball state championships. But for now, to whet your appetite, here's high school editor Brendan Hall's picks for each of the six games.
DIVISION 3 GIRLS: LEE (24-1) VS. ST. MARY'S OF LYNN (23-4)
The Lowdown:
In a season of relative unknowns in Division 3, the Wildcats of Lee dominated Western Mass again, albeit to nobody's surprise. Puncutated by wins over Division 1 finalist Amherst and Division 3 juggernaut Sabis (which was averaging nearly 70 points per game before falling in the D3 West final to Lee), the Wildcats are at it again with that famously dogged press of theirs. Always undersized yet always relentless, they blitzed Pentucket a year ago on the DCU floor en route to their sixth state title in 20 years, and could be up to their same old tricks tomorrow morning. St. Mary's, meanwhile, has size all over the place, led by the senior "Twin Towers" of 6-foot-2 center Tori Faieta and 5-foot-11 forward Cassi Amenta. The Spartans beat Lee a month ago, 71-60, in a tournament just before the start of the MIAA playoffs.
Hall's Pick:
History says to never take Lee lightly -- no matter what shape or size it comes in. But unfortunately, there is just too much size to be accounted for on St. Mary's side of things. Not that they're unbeatable, but I just think the Spartans will control the glass.
St. Mary's, 50-45.
DIVISION 3 BOYS: WHITINSVILLE CHRISTIAN (22-2) VS. WATERTOWN (19-5)
The Lowdown:
Another matchup that on paper looks uneven, the Whitinsville Christian Crusaders boast plenty of size behind 6-foot-9 Hans Miersma, who dominated Lenox in Wednesday night's Central/West semifinal. Meanwhile, Watertown's tallest player is 6-foot-3 senior forward Connor Stockdale -- whom head coach Steve Harrington likens to another point guard on the floor -- and Marco Coppola, one of the state's leading scorers with 25 points per game. Whitinsville excels in the 2-3 zone but isn't afraid to quickly drop it and play straight man should they get into early trouble. But this is Harrington's Raiders, which means you're likely to see four things: weakside post, four out, pick and roll, perimeter shots. In other words, don't take the Raiders lightly, especially if they don't try to challenge Miersma immediately at the rim.
Hall's Pick:
The tale of the tape favors Whitinsville, just based on the size it wields in the frontcourt. But Steve Harrington is one of the best coaches in New England, and you can guarantee he's going to draw up a hell of a game plan to try and neutralize the size advantage.
Whitinsville Christian, 65-64.
DIVISION 2 GIRLS: ARLINGTON CATHOLIC (20-6) VS. MILLBURY (23-1)
The Lowdown:
The Arlington Catholic Cougars -- led by Emma Roberson, Nicole Catizone, and sisters Rachel and Maura Buckley -- can be viewed as a green bunch with all of their youth abound. But on Monday night at TD Garden, they pulled off one of the more impressive feats in recent EMass Finals history, clawing back from 18 down with six minutes left in the first half to take a halftime lead over Hopkinton and hold it up. Meanwhile, Millbury has burned opponents in the transition game all season long, beating opponents in the playoffs so far by an average of 16.5 points per game. Out on the break, seniors Julie Frankian (19.1 points, 8.3 rebounds) and Sydney Bloomstein (9.5, 6.1) have been as formidable duo as we've seen in Division 2.
Hall's Pick:
Sorry, AC. That was an amazing comeback you pulled over Hopkinton over the Garden. But this is Julie Frankian's moment in the sun.
Millbury, 60-48.
DIVISION 2 BOYS: NORTHBRIDGE (20-5) VS. NEW MISSION (21-4)
The Lowdown:
Mission was the odds-on favorite in Division 2 headed into the season, and hasn't done a whole lot to convince otherwise. Led by three Northeast-10 ready senior guards in Samir McDaniels, Kachi Nzerem and Darius Davis; as well as Charles Gunter, Leroy Hamilton, and Isshiah Coleman on the blocks; the Titans have begun to find that scoring touch around the rim that was missing for stretches this season. They also like to wear opponents out with a smothering, physical man-to-man defense -- as head coach Cory McCarthy often tells reporters, "The uglier, the better." Good news for the Titans: Northbridge relishes in that style, too. Eight of its players were on the Rams squad that won a Division 2 football Central Mass Super Bowl this past fall, and have brought that aggressive mentality to the floor with forwards (and brothers) Thomas and Harrison Murphy. Also watch out for Corey Pryor, who burned Sabis on Wednesday night with a series of uncontest layups en route to 24 points.
Hall's Pick:
Cory McCarthy is known to fill up a reporter's notebook fairly quickly with his endless arsenal of money quotes. But the one that still resonates above the rest is the one he gave our correspondent Adam Kurkjian back in
December
: "I love these kids. I would do anything for these kids. And I feel like they will eat glass for me." Remember that one if this is close in the waning minutes.
Mission, 58-47.
DIVISION 1 GIRLS: ANDOVER (26-1) VS. AMHERST (22-2)
The Lowdown:
Amherst, written off the in preseason after the transfer of Mariah Lesure to Tabor Academy, has rolled through Western Mass, and arrives in Worcester after a thrilling overtime defeat of Algonquin in Tuesday's Central/West state semifinal. Much of the Hurricanes' emergence has to do with the maturation of their junior class led by Brianna Leonard (11.1 points), Morbasaw Nkambeo (10.0) and Kristen Ferrola (9.3). The Golden Warriors, meanwhile, were one of several heavy favorites in Division 1 headed into the season, and save a lone regular-season blip to Central Catholic have done nothing to deter that thinking. Much has been made of Andover's Division 1-ready backcourt led by Marist-bound senior Natalie Gomez-Martinez and BC-bound junior Nicole Boudreau, the state's newly-anointed Gatorade Player of the Year. But the Warriors excel on the boards, too, behind junior Ally Fazio and sophomore Devon Caveney.
Hall's Pick:
At the risk of jinxing this...should Andover win, I don't think it's out of the realm to think the Warriors have a shot next season at making it the first Division 1 girls three-peat since Haverhill in the mid-90's. Long Live The MVC.
Andover, 70-60.
DIVISION 1 BOYS: ST. JOHN'S PREP (24-1) VS. ST. JOHN'S OF SHREWSBURY (21-5)
The Lowdown:
After the loss of Ryan Kelley (ACL tear) and stalemate of a Central Final defeat of Fitchburg (40-38), some questioned whether Shrewsbury was ripe for the picking. The Pioneers put an end to that doubt on Wednesday night, handling a talented Northampton squad with physical defense and clutch shooting from Matt Harrington. Head coach Bob Foley is known for his Princeton-ish offense, this year led by forward pivots Matt Palecki and Richard Rodgers, but we've seen the Pioneers transition teams to death in state championships past (Lynn English, 2009, anyone?). This marks the fourth straight D1 final appearance for SJS, while Prep is making its first appearance since 1974. The matchup of the day might be Pat Connaughton versus Rodgers (we'll just assume that's what Prep head coach Sean Connolly will do for now), but the Eagles have prided themselves all year long on the work of their role players. Every game, it's a different kid stepping up, between Steve Haladyna, Freddy Shove, Mike Carbone, Owen Marchetti and Isaiah Robinson.
Hall's Pick:
It's going to be a rockfight on the court, and both student sections are going to be rocking out. And I do mean rocking. I literally can't wait. By the way, every high school fan ever, you've got your work cut out for you after Northampton's "Full Metal Jacket" routine the other night at DCU.
Prep, 45-41.
January, 7, 2011
1/07/11
11:19
PM ET
By
Matt Stout
| ESPNBoston.com
ANDOVER, Mass. -- There are few things Jim Tildsley values more than a quick-triggered sniper.

One of them is a left-handed, quick-triggered sniper.

So with his Andover girls basketball team knotted with rival Central Catholic late in the fourth quarter Friday, he drew up one of his more successful inbounds plays to free up southpaw sophomore Devon Caveney. Starting in the low block, Caveney waited for two screens to push down from the elbows, curled toward the top of key and took a pass without a Raider within five feet of her.

"She's got a sweet stroke," Tildsley marveled afterward. "I love lefties."

Caveney nailed the 3-pointer, her second in less than a minute and fourth of the game, and Andover came up with one last stop with under 10 seconds to play to rally past Central Catholic, 53-52, in what so far is the Merrimack Valley Conference's game of the season.

On a night when the Golden Warriors lived and died by the outside shot, Caveney couldn't miss, scoring 22 points to keep Andover (8-0) atop ESPN Boston's MIAA girls basketball rankings. Junior Nicole Boudreau shrugged off a cold shooting touch for 17 points, 10 rebounds and the game-sealing steal in the waning moments, and Natalie Gomez-Martinez added 11 points.

Andover needed every one. Central Catholic (6-2), ranked fifth by ESPN Boston, led by as many as 11 points early, four by halftime and seemed to have the Warriors at arm's length throughout the fourth quarter before Caveney tied the game with a 3-pointer with 1:58 left to play.

The teams then traded turnovers -- Boudreau was called for a travel before the Raiders were tagged on a quick five-second violation -- setting up Caveney's heroics. The 5-foot-8 guard hit four of Andover's eight 3-pointers, using her size on the wing to find great looks throughout the game.

The Warriors' first player off the bench as a freshman, Caveney has proven a fantastic complement to Boudreau and Gomez-Martinez this season, and when necessary, a star herself.

"I knew I had to score, so I needed to hit those tough shots," Caveney said. "We struggled, but we pulled through. We got the win."

Central Catholic didn't, but "heartbreaking," coach Susan Downer said, doesn't necessarily mean disappointed.

Placing an emphasis inside after struggling down low in their 53-43 loss to Andover on Dec. 21, the Raiders thrived behind senior Melissa Miller's 18 points and game-high 16 rebounds. Combined with emerging 6-foot sophomore Casey McLaughlin (13 points, six rebounds), the senior helped control the blocks, scooping in a variety of lay-ups and put-backs while keeping Andover's drivers at bay.

In all, 44 of Central Catholic's 52 points came inside the paint. Downer said Miller "played the best that I've seen her play yet as a high school player."

"There were a lot of things in the end that we needed to do better and we didn't," said Downer, whose team committed 22 turnovers, the majority in the halfcourt. "But I'm proud of them. This is the best game we've played this season. I had three freshmen rotating in there. So there were a lot of positives out of this game."

Momentum swayed throughout the night within Andover's rumbling, jam-packed gymnasium. Down eight points to start the second quarter, Andover ripped off a 10-0 run to take its first lead. Central Catholic then closed the half on a 10-4 stretch to retake the advantage, only to see it switch hands five times in the third.

Miller's lay-up with 2:10 to play staked the Raiders to a 3-point lead, which Caveney erased and then handed Andover with back-to-back 3-pointers.

"We know and I know she can stick the 3," Downer said of the sophomore. "And that's what dangerous about them. You cannot not play anybody. "

Miller hit another lay-up with 34 seconds left to slice it to one, and after Boudreau missed the front end of one-and-one, Central Catholic called timeout to set up its final play. But in a hectic sequence, Gabie Polce (12 points) pushed the ball over midcourt, only to have it stripped by Boudreau, who -- on her back -- passed upcourt to run out the clock.

Andover players rushed to the center of the court in a wild celebration that Tildsley chose to avoid.

"I'm exhausted," he said with a smile afterward. "It doesn't get better than this."

We'll see: The teams meet again Feb. 7 in Lawrence.

"One of our goals is to win the MVC championship, and we know to do it we have to beat Central," Boudreau said. "It's a key win, and it gives us a little bit of boost, a little more confidence."
December, 22, 2010
12/22/10
1:05
AM ET
By
Matt Stout
| ESPNBoston.com
METHUEN, Mass. -- The blare from the final horn still fresh, Natalie Gomez-Martinez celebrated like she meant it. She jumped atop the home team bench, pumped her fist and cheered with her teammates. She even jumped down and gave a male fan a playful slap on the shoulder.

Gomez-Martinez's senior year is only five games old. But it doesn't matter if impressive wins like Tuesday's 53-43 victory over rival Central Catholic come in December or March.

Each one is the last one in its own way. And Gomez-Martinez knows it.

"I've been through a lot of these Central games, and now as a senior, knowing these are one of my last games, I'm going all out," Gomez-Martinez said. "I played the whole game, and I could still play another game. I know this is my last year, and beating Central is the best thing."

Technically, Andover is. Ranked atop ESPNBoston.com's MIAA girls basketball poll, the Golden Warriors (5-0) opened up a 14-point lead over second-ranked Central, held strong when the Raiders cut it to one and then exploded late to advance to the semifinals of the Greater Lawrence Christmas Tournament.

Boston College-bound junior Nicole Boudreau scored 15 points and grabbed eight rebounds, and the Marist commit Gomez-Martinez added 12 points. But while it was Andover's stars providing several of the knockout blows, it was its role players who helped put the Raiders on the ropes.

Junior Ally Fazio shook off a second-half leg injury to score eight points, and sophomore Jackie Alois had as many points (10) as she did floor burns after forcing tie-ups at seemingly every key defensive moment in the fourth quarter.

No small feat for Alois, an under-sized 5-foor-5 forward playing with four fouls.

"I didn't even realize my knee was bleeding at the end," said Alois, who also snagged six boards. "Once I see the ball go down, I grab it. I'm a lot shorter than everyone so once they have it up, I don't really have a chance. So I just try to get down under and be scrappy and get the ball."

Her contributions aren't lost on her Andover teammates. The defending Division I champions know a dominant team needs its role players as much as its stars, and between Alois, Fazio and Devon Caveney (six points, five rebounds), the Warriors feel they have the pieces to surround their future Division-I players.

They helped force the Raiders (3-1) into 25 turnovers and for long stretches, contained Gabie Polce (seven points) and Melissa Miller. And when Miller scored all 10 of her points in a three-minute, 17-second span in the fourth to slice a 36-27 deficit to 43-42, it was Alois who laid in a bucket to break the momentum.

Gomez-Martinez's ensuing lay-up and Boudreau's back-breaking 3-pointer simply finished it off.

"Everybody on the team knows their role," Boudreau said. "Jackie knows she has to be a beast down low, she has to get every rebound, she has to get every loose ball. And then we have players like Devon and Olivia (Biles) who can knock down some shots. Me and Natalie need some help out there, so it's definitely good that other people step up."

Said Gomez-Martinez: "She (Alois) is a sophomore, but I told her, 'You have to step up and play like a senior and just play hard.' She had four fouls and she still played."

Andover needed her to. Central Catholic is learning what life is like without all-time leading scorer, rebounder and current Boston College freshman Katie Zenevitch.

But it has a promising 6-foot sophomore in Casey McLaughlin (12 points, 15 rebounds) to join Miller and Polce, both bound for Division II schools next season. And despite its sloppiness Tuesday -- a good portion of it self-inflicted -- Central Catholic proved it can respond to adversity with its second-half run.

It just couldn't "get over the hump," Raiders coach Susan Downer said. Central Catholic called more timeouts (two) than it scored points (one) in the final 3:48.

"We're only in game four here," Downer said. "I'm still learning about substitution patterns, who's in what position, who can step up in certain pressure situations. … I think the pressure gave us more trouble than I thought it would, so we'll look at that and incorporate our bigs a little bit more when we play them again."

And they certainly will.

"Probably three more times," Andover coach Jim Tildsley said. "We play them twice in the league and we'll probably play in them in the tournament. It's such a great rivalry and it's nice to be on top tonight."

A few more notes and observations:

-- A drop-dead shooter, Boudreau is adjusting to playing more in the blocks this year. At 5-foot-9, she is the tallest player on the team, and had the assignment of McLaughlin for most of Tuesday's game. She also had to sit for a spell during the fourth quarter because of foul trouble.

"Not picking up fouls, as we can see" is a big adjustment, Boudreau said. "It's a different game down low, so I definitely have to adjust."

-- Polce sang the national anthem before Tuesday's game.

-- Andover plays Lowell in their semifinal game at 6 p.m. on Monday in Methuen. Central Catholic and Lawrence meet at 2:15 p.m. that day. Earlier Tuesday, Morgan Lumb scored 19 points in North Andover's 52-38 victory over Methuen.