Boston High School:

Devon Maloof
January, 30, 2014
1/30/14
12:57
AM ET
By
Josh Perry
| ESPNBoston.com
FOXBOROUGH, Mass. - It had not been his strongest game of the season, but in the final minute with his team leading by just a single goal, Franklin senior goalie Devon Maloof made the play that saved the game. His instant reaction allowed him to get a toe to a blast from the point and preserve the Franklin lead.

"He had a huge save at the end," said Mansfield head coach Rick Anastos about Maloof. "That kick-out save…that was a goal from where we were."

The save helped Franklin (7-4-1, 5-0-1) hold on for a 3-2 victory over the Hornets (9-2-1, 6-1-1) on Wednesday night in front of a packed house at the Foxboro Sports Center.

The win propels the Panthers to the top of the Kelley-Rex division and a step closer to another Hockomock League title.

Franklin head coach Chris Spillane reflected, "That's what we expected for it to be -- a rough, physical game that's back-and-forth. I'm glad to get this one behind us. It's Mansfield-Franklin, that's a typical game."

He added, "You hate to say that it's the one that you mark at the beginning of the season but we've been looking at it for a while and we're glad to have it behind us and that it ended up in our favor.

The Panthers looked shaky in the opening couple of shifts, but Mansfield penalties allowed Franklin to settle down on the power play and led to dominating first period in which Franklin outshot the Hornets 15-4.

Senior Vince Geromini opened the scoring for Franklin with 7:28 remaining in the first period. He was on hand to follow up after Troy Donahue drove to the net and had his shot saved by Mansfield goalie Dan Moyer. Nearly two minutes later, Franklin scored again and this time on the power play (Mansfield took four first period penalties). Junior Alec Borkowski buried the shot that doubled the lead.

"The first couple of shifts were pretty shaky, but the rest of the first period we pretty much dominated and I think it was our speed causing them to take penalties," said Spillane.

Anastos could only shake his head at the penalties that allowed Franklin to gain momentum in the first period.

"Penalties kill us," he insisted. "You can't give them power plays; you can't give a good team the opportunity to score. They only scored one power play goal, but you can't give them that many chances."

In the second period, Anastos got the reaction that he was looking for from his team. The Hornets bounced back and started hitting in the second and gained the momentum. Junior defenseman Evan Kershaw made it a game again with a blast from the point that eluded Maloof and made it 2-1. Sophomore Pat Graham tied it with 2:59 left in the period on a low shot to the near post on a two on one.

"I think we got a little comfortable with a two-goal lead coming out in the second period and they jumped on it," explained Spillane. "They were aggressive, they had a two-man forecheck, and they were throwing pucks at the net and they went in."

The Hornets were not level for long though as a minute after Graham's goal, Franklin broke for a three-on-one, odd-man rush. Geromini turned provider with a perfectly placed pass across the crease for Donahue to tap in for what turned out to be the game-winner.

Anastos noted, "We let up a three on one just a minute after tying the game and that killed us. It was a sinker. They won the first period, we won the second period, and it was a tie in the third period -- they just got one more goal."

Spillane praised his senior leadership for coming up big in a huge rivalry game, especially after Mansfield seemed on the verge of taking control.

"[Mansfield was] building on it and they had all the momentum so it was good," he said. "Our seniors stepped up today. Vince Geromini had a goal and an assist and then Troy [Donahue] had a nice goal. We need those guys."

The second and third periods were evenly matched and both goalies came up with big saves. Moyer stuffed Franklin's leading scorer Ryan Spillane from point-blank range and then just a minute later Maloof did the same to Billy Grant. Then with a minute to go, Maloof pulled off his kick save and set off celebrations on the Franklin bench.

Unfortunately, the celebrations turned into more with both teams coming together against the far boards after the final whistle and having to be separated by coaches and officials. The referees pushed both teams off the ice and scrapped the traditional postgame handshake to avoid further trouble.
December, 21, 2013
12/21/13
3:30
AM ET
FRANKLIN, Mass. – Malden Catholic hockey is accustomed to taking the best shot from their opponents, and Franklin brought it through the first period of Friday night's tilt at Pirelli Veterans Rink.

The Panthers, who are making the jump to the Division 1 ranks this season, but played against the Lancers as an exclusionary game, came out with jump and the team defense in front of senior goaltender Devon Maloof held.

Yet, after scoring his first of three goals with seconds remaining in the first, Lancers sophomore center Matt Filipe got his team untracked, setting off a five-goal barrage in the second period of a 7-2 win over the No. 23 Panthers.

Through two games, No. 2 MC has now scored 15 goals.

Here's more from tonight non-league game:

On point: Filipe already has six points through two games on the heels of his hat trick Friday. Perhaps none of his goals was more impressive than his power-play tally at 11:13 of the second.

Filipe gave the Lancers (2-0-0) a 5-1 lead after winning an attack zone faceoff through his opponents' legs and then worked his way toward the crease, finishing on the backhand after sweeping across the paint.

Along with a two-goal game from senior Brian Cameron, Filipe provided the spark after a lack-luster start for the three-time defending Super 8 champions.

"He's a man playing with boys now, which is scary," Lancers head coach John McLean said of Filipe.

McLean credited his hot start as the result of an increased offseason commitment.

"Last year, he was a freshman, and you could see it. But all of a sudden this year … He lifts four days a week, he eats right, he trains right, goes to bed and it's showing," McLean said.

Filipe wasn't the only of MC's young guns to make an impression against Franklin. Freshman goaltender Kyle Casey stopped 22 shots to notch his first varsity win.

"The forwards weren't mentally ready to go at the start," McLean said, "but I thought the defensemen were good and Kyle Casey, freshman goaltender, made some key saves to keep them off the scoreboard."

Blue-line depth: Both teams had to see good things from their defenseman.

For MC, Nick Rolli and John McLean are entrenched veterans. But the Lancers' top four has rounded out nicely with Chris Hopkins and Will Lawrence making contributions Friday. Lancers freshman blue-liner Matthew Yianacopolus is one to watch for the future as well.

However, the Panthers matched MC's "D" stride for stride in the first, with a commitment to playing within their system.

"With a team like that, it's not the guy with the puck that's going to beat you, it's the second or the third guy," Franklin head coach Chris Spillane said. "We talked about that, we practiced that. We did that well in the first period. Everybody stayed home. We were playing the puck, playing aggressively and making them work for their space."

Franklin (1-1-0) has veteran leadership on the back line from senior captain Kyle Powers. Juniors Kyle Filbert and Mason Saunders showed good instincts, particularly in the first period, when the Panthers effectively snuffed out MC's up-tempo transition game through the neutral zone.

However, that changed in the fateful second.

"I think the bigger, stronger, better conditioned kids showed themselves in the second period," Spillane said. "We had a couple of goals where we couldn't finish and every puck battle, they won."
March, 16, 2013
3/16/13
9:55
PM ET
GIRLS' DIVISION 2
No. 1 Duxbury (21-1-2) vs. No. 2 Falmouth (19-1-2), 11 a.m., TD Garden

Players to watch: Duxbury – F Hannah Murphy, F Marissa Fichter, F Jane Dudley, F Meredith Wright, F Julia Nolan, D Ally Hammel, D Payton Donato, G Rachel Myette; Falmouth – F Alexa Scribner, F Rachel Moore, F Madison Haberl, F Kelly Ferreira, D Hannah Ghelfi, D Alexx Good, G Madison Scavotto.

Breakdown: It is perhaps the most predictable of all of Sunday's matchups and the most anticipated. The Dragons and Clippers renew a burgeoning rivalry, intensified by last year's duel at the Garden and invigorated by the fact that either team's lone loss of the season was handed to them by the other. Duxbury has been playing lockdown defense throughout the playoffs and haven't allowed a goal in more than six games, including the regular season. The Clippers' young corps will look to get over the hump, building on a bittersweet experience on the Bruins' home ice sheet one year ago.

X-factor: Scavotto. As dominant as Duxbury's defense has been in front of and including Myette, the Clippers are capable of the same. And their sophomore netminder is a big reason why. She could steal one.

Pick: Duxbury, 1-0.

GIRLS' DIVISION 1
No. 4 St. Mary's of Lynn (18-3-4) vs. No. 7 Arlington Catholic (17-4-2), 9 a.m., TD Garden

Players to watch: St. Mary's – F Alison Butler, F Kaleigh Finigan, F Gabby Crugnale, F Madison Molea, D Tatiana Doucette, D Amanda Donahoe, G Lauren Skinnion; AC – F Adrieanna Rossini, F Jess Piracini, F Duggan Delano, F Hayle Rudin, D Melissa Richard, G Megan Messuri.

Breakdown: The Catholic Central rivals meet for the second straight year on championship Sunday and, like their Div. 2 counterparts, also split their season series at a game apiece. Behind the benches, both the Spatans' Frank Pagliuca and the Cougars' Maggie Taverna have done work worthy of Coach of the Year honors. St. Mary's has the feel of a team of destiny, neither a short bench nor nagging injuries all season long have kept the Spartans from returning to the biggest stage, all while dispatching No. 1 Woburn in the process.

X-factor: Rossini. You'd be hard pressed to find a young player in recent memory who has scored more clutch playoff goals than the AC sophomore.

Pick: St. Mary's, 3-2.

BOYS' DIVISION 3
Swampscott (19-5-0) vs. Westfield (18-3-2), 3:30 p.m., TD Garden

Players to watch: Swampscott – F Corey Carmody, F Noah Maercklein, F Nunzio Morretti, D Chris Carman, D Trevor Massey; Westfield – F Sean Spohr, F Mike Santinello, F Anthony Cagliostro, F Adam Collier, F Neil Parrow, D Nate Barnes.

Breakdown: The Big Blue took down defending D3 finalist and South sectional champion Medway (thanks to an OT goal from Maercklein) to advance to the program's first title game appearance. Westfield returns to the Garden ice after a one-year hiatus after taking a scorched-earth policy to Western Mass. competition, while averaging more than 5.5 goals per game.

X-factor: Swampscott freshman goaltender Tristan Bradley. The first-year backstop has been a key element to the Big Blue's success, maintaining a 91.5 save percentage through the season.

Pick: Swampscott, 5-4.

BOYS' DIVISION 2
Wilmington (20-3-2) vs. Franklin (17-7-2), 1:30 p.m., TD Garden

Players to watch: Wilmington – F Cam Owens, F Brendan McDonough, F Jake Rogers, F Dylan DiNatale, D Brian Pickett, D Cam Collins, G Drew Foley; Franklin – F Cam Curley, F Dennis Pisani, F Aidan Isberg, F Troy Donahue, D Kyle Powers, D Kyle Filbert, G Devon Maloof.

Breakdown: The third of six rematches on the day, after the Wildcats claimed a 3-2 victory over Franklin a year ago on championship Sunday, propelled by a hat trick from Owens. The Panthers will be looking to avoid their third straight fruitless trip to the Garden, having dropped title tilts with Wilmington and Tewksbury. The Wildcats, who had Super 8 aspirations until late in the season, are eying their second straight title.

X-factor: McDonough. He's been the break-out performer of the tournament and provides a great complement to Owens on Wilmington's top line.

Pick: Wilmington, 3-2.

BOYS' DIVISION 1
Burlington (13-6-5) vs. Marshfield (20-6-0), 8:15 p.m., TD Garden

Players to watch: Burlington – F C.J. Grinnell, F Joe Berardi, F Joey Scali, D Adam Crowley, D Sean Costa, G Derek DeCastro; Marshfield – F Mike Carbone, F Pat Burchill, F Joe Admirand, F Pat Shea, D Matt Burchill, D Trevor Salmon.

Breakdown: While this isn't another rematch, these teams are no strangers to this stage, with the Red Devils and Rams representing as the last two Div. 1 state champions. Both teams were near .500 squads through the first month of the season, and closed their regular-season slates with momentum they've carried over into the playoffs. Both these teams can skate with the best of them, but they also pay attention to the little things in the defensive zone as well.

X-factor: Crowley. I'd expect a defensive struggle in this one and so I'm going with the Red Devils' blue-liner who always makes his presence felt.

Pick: Burlington, 3-1.

BOYS' DIVISION 1A – SUPER 8
No. 4 Austin Prep (16-1-6) vs. No. 7 Malden Catholic (15-6-3), 6 p.m., TD Garden

Players to watch: AP – F Nolan Vesey, F Bobby Carpenter, F Frankie Candelino, F George Sennott, F Eric MacAdams, D Andrew Cross, D J.J. Layton, G Elijah Harris; MC – F Ara Nazarian, F Mike Iovanna, F Tyler Sifferlen, F Pat Wrenn, F Austin Goldstein, D Casey Fitzgerald, D Nick Rolli, G Connor Maloney.

Breakdown: AP, while short on years, is not short on talent. I think we all knew coming into this season that they were capable of reaching this stage, but it might have been a question of when. The Cougars earned their way to Sunday after dispatching town rival Reading and then No. 1 seed St. John's Prep in Wednesday's semifinal. It seems like years ago since there was a time when the Lancers were in jeopardy of missing the tournament all together, but they've played the best hockey in the state during the last month.

X-factor: Nazarian. It's his tournament, the rest of us are just living in it.

Pick: Malden Catholic, 4-2.
March, 13, 2013
3/13/13
2:19
AM ET
By
Josh Perry
| ESPNBoston.com
BOURNE, Mass. – The storylines from Tuesday's sectional final at the Gallo Ice Arena will sound very familiar to anyone that has followed Division 2 hockey for the past few years.

For the third straight season, the Franklin Panthers took home the sectional title and, for the fourth straight season, Oliver Ames' season ended against Franklin. The Panthers scored the game's first three goals and held Oliver Ames to just 17 shots to claim a 3-1 victory and return trip to the TD Garden.

The Panthers started quickly with a goal inside the opening 30 seconds of the first period.

Aiden Isberg flipped the puck in front of the net to fellow senior Cam Curley and Franklin's leading scorer in the postseason threw the puck on net. Somehow, through traffic, the puck slipped past Oliver Ames star goaltender Jimmy Tierney and stunned the huge OA crowd stationed behind the net.

Curley remarked, while sporting a freshly broken tooth, that getting in front on the scoreboard was a priority for the Panthers. He also commented that he did not even know that the puck had gotten through.

"I got as much on it as I could and I knew that if I put it on net, good things would happen. I had no idea that it went in until Dennis Pisani started yelling," he noted.

Curley added, "Me and my linemates talked about getting that first one. We got to the net, we put it on net and it went in. And it made it easier for us to play."

Franklin head coach Chris Spillane also spoke about the importance of getting an early goal past Tierney, who has been one of the stars of the sectional to that point. He credited a change in style for the Panthers' strong defensive performance.

"We changed up our forecheck and trapped them,"Spillane said. "They struggled to get the puck out of the zone. I think that was a huge part of our success, not letting the big kids stretch their legs through neutral ice."

Franklin doubled its advantage with just less than three minutes to go in the first period. Eight seconds into the game's first power play, Tierney robbed Franklin with a great kick save only to have the rebound go directly to senior forward Pat Slason, who buried his shot over the sprawling goalie.

The Panthers made it 3-0 midway through the second period on a well-worked goal from the third line. Nick Downie and Alec Borkowski combined at the blue line before defenseman Kyle Powers drove at the net. Powers sent the puck through the crease where Borkowski was on hand to tap home his second goal in as many games.

"That's the way we have been the last couple of years; three or four lines," said Spillane. "You never know when your number is going to get called and you better be ready when we call it."

Oliver Ames scored a consolation goal in the game's final minute. Kyle Hayes scored an unassisted goal with a rocket of a shot over the shoulder of Franklin goalie Devon Maloof. Maloof was not tested frequently, but was solid in net for the Panthers.

Oliver Ames head coach Jim Sullivan was proud of his team despite the loss and was proud of the Tigers' deep run in the tournament.

"We still had the potential to come back," said Sullivan. "The only way I look at it is someone had to win, someone had to lose. You know, we went all the way and gave it all that we had, can't be down."

He added a positive not about the OA program, "We're moving one step at a time - maybe next year."

Franklin will now look to a rematch of last year's D2 final against Wilmington at the TD Garden. Both coach and senior captain are hoping that the third time is the charm.

"We've been there three years in a row and been bridesmaids two years in a row," Spillane reflected. "I just told these kids that I will not be the Marv Levy of high school hockey."

Curley related, "This is great right here, but I want that big one. Three years in a row I've been there and haven't won one. Especially with them taking it from us last year, we want it bad."

This has not been the perfect season and Franklin has not been the dominant team of years past, but regardless of how they got there, in their final season before a move to D1, once again the Panthers are the last team standing in D2 South.
March, 11, 2013
3/11/13
1:04
AM ET
By
Josh Perry
| ESPNBoston.com
BOURNE, Mass. – During two regular season meetings, only a single goal separated Hockomock League rivals Mansfield and Franklin. So, it was no surprise that Sunday's Division 2 South semifinal would come right down to the wire.

A third-period goal by sophomore Alec Borkowski was the difference for Franklin, as the Panthers pulled out a 4-3 victory at Gallo Ice Arena and the two-time defending D2 South champions clinched a spot in their third straight sectional final.

Borkowski, who also assisted on the Panthers' first goal, has been one of Franklin's best forwards in recent weeks and head coach Chris Spillane called him the player of the game.

"He just demands ice time," said Spillane. "He's one of those kids that, in practice, he gets it done and you put him out in the game and he gets it done. As a coach, you just say, alright I'll give you a little more and a little more and he's delivering."

The winning goal came with 8:24 remaining in the game. Borkowski combined with fellow sophomore Nick Downie and, after a great save by Mansfield goalie Rich Shipman, he was on hand to flick home the rebound to make it 4-3.

"I was forechecking near the net, got it off the half boards, Nicky Downie took the shot and I got the rebound," said Borkowski. "It feels really good, especially being an underclassman and first time being in the playoffs."

It was the Hornets (14-6-3) that scored first. Senior forward Brendan Murphy took a pass from classmate and linemate Kevin Flynn, shifted the puck onto the backhand, and beat Franklin goalie Devon Maloof on the short side. It was a great goal for the forward, who had been struggling to find the net in the playoffs.

The lead did not last long, however. Franklin got back into the game thanks to Borkowski. He shook off two Mansfield defensemen with a great spin move and laid the puck on a platter for junior forward Randy Gilbert to tap home and make it 1-1.

Within a minute, Franklin (16-6-2) was in the lead. Senior Aiden Isberg, the hero of Franklin's overtime win against Martha's Vineyard in the quarterfinals, wristed a shot over the shoulder of Shipman and made it 2-1. It was a stunning turnaround for the Panthers.

Despite the goals, Mansfield kept the energy high in the second period and stormed right back.

With 10:35 left in the second and Mansfield on the power play, Murphy laid a pass into the path of sophomore Will Kelleher and the defenseman buried the shot to make it 2-2. Just 35 seconds later, Kyle Hurley's shot hit the post and caromed to another sophomore, Jared Collins, and the forward finished into the open net to make it 3-2.

As the second period was winding down, the Hornets got another power play opportunity, but it was Franklin that took advantage. A loose pass was broken up at the blue line and Isberg stretched to tip the puck into the path of senior sniper Cam Curley, who raced clear and rifled a shot under the crossbar to make it 3-3 heading to the third.

Spillane credited the shorthanded goal as being a turning point for the Panthers.

"Huge, huge…their power play was setting up and they had a couple of beautiful opportunities," remarked the Franklin coach about the importance of the goal. "Cam is our speedster, so anytime that you can get him in the open ice… and he's a finisher."

The third period was filled with chances for both teams. Shipman robbed Dennis Pisani after a behind the back pass from Curley set the senior forward clear in the slot and Maloof stopped a great chance from Murphy on the doorstep.

In the end, Spillane pointed to his team's finishing as what separated the two teams.

"I thought we capitalized on our offensive opportunities," he explained. "We didn't have many of them, but every time that we had that quality opportunity – we scored."

Mansfield head coach Rick Anastos was visibly disappointed after the game.

He said, "This is exactly what we expected, but we expected to win. Unfortunately, we didn't. You couldn't ask for a better game and I think we were that evenly matched."

Anastos also commented that this was a great advertisement for the Hockomock League and the depth of talent within the conference. He was most disappointed for the seniors that had led the Hornets to the sectional finals and semifinals in back to back seasons.

"They've meant a lot to the program. We've got a really great group of kids, a really tight group of kids," said Anastos.

Franklin will now prepare for its third consecutive sectional final. It will be the team's last in D2 as next year the Panthers (along with Mansfield and King Philip) are slated to move into Division 1. The Panthers are confident that they have a good chance at a third straight trip to the TD Garden when they take on another league rival, Oliver Ames.

"If we move the puck, then it neutralizes the physical game and it comes down to who can put the puck in the net," said Spillane. "I think we have the scorers that can get it done."

The final will be played on Tuesday night at 5:15 p.m. at Gallo.
February, 22, 2013
2/22/13
1:20
AM ET
By
Josh Perry
| ESPNBoston.com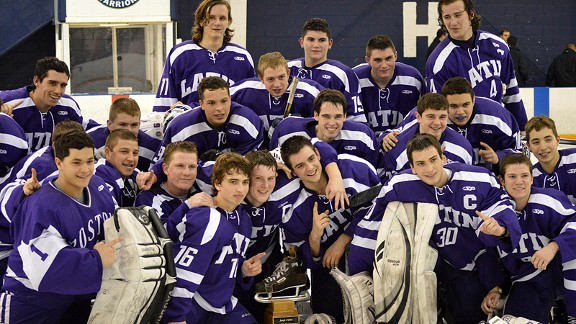 Joshua Perry for ESPNBoston Latin claimed the inaugural Joseph Quinn Tournament championship with a 2-1 win over host Coyle-Cassidy.
RAYNHAM, Mass. -- If the Joseph Quinn Tournament is any indication, the Division 2 state tournament is going to be exciting. All four games at the Raynham Ice Plex were played with playoff-like intensity, with very few penalties, and each was decided by a single goal.
With 7:22 remaining in the championship game and the score tied 1-1, Boston Latin senior forward Joe Gillespie turned with the puck against the near boards. Heeding his coach's advice, Gillespie flipped the puck towards the net where it ricocheted off the stick of a Coyle-Cassidy defenseman, past goalie Brent Petrowski, and into the far post.
In tight games, sometimes it is the bad bounce that decides the outcome. In the tournament final, the Wolfpack was the beneficiary of a fortunate bounce and turned it into the trophy-winning goal in a 2-1 victory.
It may not have been the prettiest of goals, but following the trophy presentation Boston Latin head coach Frank Woods was not complaining.
"We have a lot of kids that work hard and we preach throw the puck at the net because you never know what can happen," he explained. "It's just kind of our game. You give yourself a chance to bang an ugly one or two in, in games like this with competitive teams it's usually the difference."
When asked about how unlucky the final goal was, Coyle head coach Dave Borges simply smiled and shrugged.
"Like we told our guys, come next week those are the kind of pucks that go in the net," Borges said. "You have to get pucks to the net in tight games and you never know what can happen. That's a perfect example. Unfortunately, we're on the short end, but I thought it was a great game."
The Wolfpack (11-6-3) made a conscious effort to get the puck to the net as frequently as possible. Boston Latin dominated the first period, outshooting Coyle ,14-5, and opened the scoring with just 15.9 seconds remaining. Senior captain Ryan Dougherty made a great move through the Coyle defense and punched the puck in on the second attempt.
In the second period, the hosts asserted themselves. Coyle (13-5-1) outshot Latin 10-6 in the period and had a number of scoring chances before finally finding the equalizing goal. Nick Cambria laid the perfect pass in the path of captain Ryan Jones. The forward outskated the defenseman to the net and finished with a backhand over the pads of goalie Michael Murray before following the puck into the back of the net.
Borges praised Petrowski for keeping the team in the game and giving them the chance to turn the game around.
"I told Brent before the game that it's their style," Borges said. "They like to throw the puck at the net and he did a great job of either holding them or kicking the rebounds out to the corners."
He added with a chuckle, "It was a great game…other than losing."
Boston Latin won both games in Raynham by 2-1 scores (the first was on Tuesday against Franklin) and Woods feels that this will give his team plenty of confidence ahead of the state tournament.
"we have a group of seniors that have had a lot of success with this team, been in tournament games and won the league, but it's good to get wins with this particular group," Woods said.
CANTON 3, FRANKLIN 2
The consolation game featured Hockomock League division champions No. 24 Canton and Franklin meeting for the third time this season. The teams had split the opening two games so, in addition to finishing third in the tournament, the game would give one team the edge in the season series.
After losing third period leads in each of its last two games (including Tuesday's overtime loss to Coyle), Canton (15-3-2) held off a late Franklin (13-7-2) flurry to win 3-2 and clinch the top seed in the upcoming Division 2 South sectional.
Bulldogs head coach Brian Shuman understood the importance of his team managing to hold on and get the victory over its league rival.
"In the third period against a good team, you need a lot of things to go right," he remarked. "You've got to give credit to Franklin, they're a phenomenal team, two very even teams and we just scored one more goal than them tonight."
Canton stormed out of the gates and jumped to a 2-0 lead in the first period.
Just 2:50 into the game, senior captain Pat Ward scored his third goal of the tournament as Franklin goalie Devon Maloof was caught too deep on his line and the puck squeezed across the line at the near post. The first goal was fortunate, but the second was a great shot from J.C. Marcone just underneath the crossbar.
At this point, it seemed like Canton would cruise to victory, but Franklin showed the heart of a team that has been to consecutive state finals.
The Panthers got on the board on a redirected shot by sophomore Alec Borkowski, who got his stick to a shot by defenseman Kyle Filbert and sent it through Rich Nee's five-hole. A minute later, captain Mike Patjane pounced on a rebound to make it 2-2 and give the Panthers momentum.
The momentum was short-lived as Canton fully controlled the second period, outshooting Franklin, 14-1. After Maloof robbed Brian Brooks, the Bulldogs got the go ahead goal from junior Ben Lodge, who found space in the slot and fired into the top corner.
Franklin head coach Chris Spillane emphasized the need for his team to play a full 45 minutes if they hope to be successful in the state tournament.
"It's sort of been the season for us," Spillane said. "We haven't played three periods. We always take a period off and tonight it was the second. We had one shot on goal and the puck was in our zone the entire time and it takes a lot of gas out of you."
Canton withstood a strong third period from the Panthers and Shuman was pleased to see that other players besides his top two scorers (Brooks and Ward) got on the scoreboard.
He said, "We had our second power play out there, which doesn't get much run because our first line is pretty talented. They just kept it simple. We always say to win this time of year, you need twenty-four guys. You need those second and third liners contributing and we got it tonight."
February, 20, 2013
2/20/13
12:15
AM ET
By
Josh Perry
| ESPNBoston.com
RAYNHAM, Mass. -- The inaugural Joseph I. Quinn Memorial Tournament kicked off on Tuesday night at the Raynham IcePlex. The tournament pits four Division 2 state tournament qualifiers: Boston Latin, No. 24 Canton, Franklin, and host team No. 21 Coyle- Cassidy. It's a chance for all four teams to challenge themselves against playoff competition.

Coyle head coach David Borges noted that the tournament, which was named in honor of former Warriors coach Joe Quinn, who passed away this summer, meant a lot more to the Coyle program than just the chance to play good teams.

"The guys that played for him can't say enough about how much he gave of his time, his money… it means a lot to us," Borges said. "These guys [the current Coyle team], even though they haven't been around him, we've tried to convey the history of Coyle hockey and they wanted to win for Joe tonight."

Quinn was the head coach of Coyle for 35 years and won 11 division titles during his tenure, before stepping down in 2005. He founded the program and financially supported it while coach.

"He owned the shirt on my back when I played here," Borges said.

Coyle (13-4-1) rallied to earn an overtime win over Canton (14-3-2) in the nightcap.

But, until the game-tying goal went in, the Bulldogs were dominating. This is the time of year when one mistake or one slip can turn a game around and send a team home and the Bulldogs saw that firsthand in 3-2 loss.

Leading 2-1 in the third period, Canton's top line created four great scoring opportunities, but failed to finish any of them.

First, senior captain Pat Ward had the puck roll off his stick in front of an open net after slipping past two Coyle defenders. Then leading scorer Brian Brooks missed short side on a breakaway chance. Minutes later, Ward rifled a shot off the post. Finally, senior Michael Denehy had his one-timer in the slot saved by Warriors goalie Brent Petrowski.

Coyle made Canton pay with 4:13 left in the third period. Senior captain Ryan Jones flicked a pass from behind the net to a wide open Greg DiBona and the senior forward roofed his backhand to make it 2-2. Coyle had chances to win it in regulation but Canton goalie Rich Nee made several great stops to send it to overtime.

In the overtime, both goalies were tested before a slip by Bulldogs senior defenseman Stephen Mullaney gave Coyle an opening. Nick Cambria fired in a wrister just under the crossbar to win the game for the Warriors.

"We sensed desperation down 2-1, but once we scored that goal, we had the confidence that we could keep doing that," Borges said about changing his team's approach in the third period from carrying the puck to chipping it in deep. "That's a great Canton team. They're disciplined, they work hard, and they make you earn every inch of the ice."

As far as the MIAA is concerned, the game finished in a 2-2 tie. This is the second consecutive game that Canton has allowed a third-period lead slip to a D2 tournament team.

That is a pattern that head coach Brian Shuman is working hard to change.

"I think one of the things that we have to learn is when we don't get our scoring opportunities, or when we miss our chances, that we still have to pick up defensively," he explained. "What you saw there was guys get frustrated that they couldn't bury the puck and they lose their defensive responsibility. We've got to figure out a way to close out games."

Jones had the opening goal of the game for Coyle on an assist from DiBona. Ward scored twice in the opening period, including a blistering slapshot into the top corner, to give Canton the lead which the Bulldogs held until the final period.

BOSTON LATIN 2, FRANKLIN 1

The cliché says, "You can't score if you don't shoot."

That was especially true for Boston Latin (10-6-3), which had two deflected goals in its 2-1 win over Franklin (13-6-2) in the tournament opener.

The opening goal came with 5:28 remaining in the first period as defenseman Brian Forgione carried the puck into the attacking zone. The senior had few options so he fired a shot at Franklin goalie Devon Maloof. The puck ricocheted off the post and off the goaltender to make it 1-0.

Following a Troy Donahue short-handed goal that tied the game at 1-1, Wolfpack forward Greg Penella turned and fired a hopeful shot towards the Panthers net. The puck deflected off the skate of a Franklin player and past Maloof to make it 2-1.

Boston Latin head coach Frank Woods admitted after the game that these are the types of goals that his team has to score to be successful.

"That's how we score," he said. "We don't have a very skilled team this year. We have a bunch of kids that work hard and we preach put the puck on net and go get the ugly goals or bang in a rebound."

Despite trailing by a goal, Franklin was outshot in the third period, 12-2, and Panthers head coach Chris Spillane was disappointed that there was no reaction from his team to get back into the game.

"You expect everyone to step up and have a little extra offensive jump in your step and we didn't see that," he said. "We were content just backing up. Anytime that you put the puck on net in a close game, it's a good shot and we just didn't do that."

Spillane added, "I guess if you're going to have a bad game it's better to have it this week than next week. We still have an opportunity to play a good team on Thursday. If we come out and play a good solid hockey game, we'll go into the tournament feeling comfortable."

Thursday night, Hockomock League rivals Franklin and No. 24 Canton will face-off for the third time this season in the consolation game at 6 p.m. and No. 21 Coyle will take on Boston Latin in the nightcap at 8 p.m.
January, 3, 2013
1/03/13
12:06
AM ET
By
Josh Perry
| ESPNBoston.com
FOXBOROUGH, Mass. -- Franklin seniors Mike Patjane and Cam Curley had the chance to be heroes. In the final minute and with a man-advantage, each of the Panthers' captains had a shot to break the deadlock, but both were robbed by acrobatic saves from Mansfield goalie Rich Shipman in the matchup of Hockomock League rivals Wednesday.

The Hornets' senior netminder was the game's standout player. Shipman made 39 saves and earned his team a 2-2 tie against the defending league champions in Wednesday night's encounter – which did not, however, count toward the league standings -- at the Foxboro Sports Center.

With his team hanging on late in the third period, Shipman went post to post to deny Patjane with a kick save before throwing everything he had in front of Curley as the Panthers leading scorer bore down on the net.

"I thought Shipman played phenomenal," said Mansfield head coach Rick Anastos, whose team was struggling with illness and, for the second time this season, had a late bounce go against them. "The second goal went off a skate. That sucks. It's the second time that's happened to us."

Franklin head coach Chris Spillane praised the play of both Shipman and his own goalie Devon Maloof (21 saves), but felt that his team did not do enough to cause problems for a top goalie.

"We created a lot of turnovers, but we just didn't turn them into quality scoring chances," he explained. "He's a good goaltender and he made quality stops but with a goalie of that caliber you need to move him post to post and we didn't do that enough."

The Panthers (2-1-1) dominated the opening period. Franklin out shot Mansfield 15-4 but was unable to find the back of the net. After Maloof started the second period with a great kick save, Franklin finally got on the board.

Junior forward Troy Donahue fired the Panthers into the lead. Donahue chose to shoot over trying to play a pass back to Dennis Pisani, who had hustled to fill the lane, and he picked the perfect spot over the shoulder of Shipman and just under the crossbar.

The goal sparked Mansfield (1-1-3) into life and the Hornets would play their best period of the game, outshooting Franklin, 14-12.

Mansfield evened things up at 1-1 with 2:19 left in the period. Senior captain Brendan Murphy scored on the rebound of a shot by fellow senior Kevin Flynn. With 34.7 seconds on the clock, Murphy was at it again with a scrappy goal on a loose puck on the edge of the crease. While not a pretty goal, it put Mansfield into the lead heading into the final 15 minutes.

Spillane was disappointed in the type of goals that his team has been giving up in recent games.

"It's sort of been our nemesis the last couple of games, turning the puck over and giving up goals like that," he said. "When he made the stop, we didn't do enough to clear the puck away."

"We just tried to be more aggressive and to play our system a little better than we did in the first," noted Anastos about his team's improvement in the second period. "The kids felt a little more confident about their game and I think that's what you saw in the second period."

The third period was all Franklin.

Three minutes into the third Donahue struck for the second time in the game when his shot deflected past Shipman for an unassisted goal to make it 2-2. The Panthers would go on to outshoot Mansfield 14-5 in the period, but could not generate a winning goal.

Spillane said, "You can't win games when you're chasing. Under a minute left you need to put the puck in the net and be a hero. There are no heroes in our room tonight."

Franklin enters its most difficult stretch of the season when it travels to Newburyport on Saturday before hosting Lincoln-Sudbury on Monday night. Mansfield has a road game against league rival Foxborough on Saturday.