Boston High School:

Dillon Mansfield
October, 23, 2010
10/23/10
12:29
AM ET
By
Brian Fabry
| ESPNBoston.com
PLYMOUTH, Mass. -– Plymouth North head coach Dwayne Follette tried to downplay the significance and the motivation behind the win, but senior running back Matt Walsh took it personal.
Under a full moon and a chilly October night with temperatures in the 30s, the No. 22 Blue Eagles shocked No. 7 Falmouth, 28-7, in front of a standing-room only, homecoming crowd and sent the previously unbeaten Clippers' packing in a defining Atlantic Coast League battle.
Forced to play their home games at rival Plymouth South's field a few miles away due to construction, the defense didn't seem to care as they held Falmouth to 11 yards on only 13 plays from scrimmage in the first half alone.
Walsh finished with 102 of the 174 rushing yards for the Eagles on 16 carries and was referring to last season's 41-0 rout at the hands of Falmouth when he said the seniors wanted to "punch them in the mouth" with a victory. With the win, Plymouth North (5-2, 2-0) remains unbeaten in league play and with a 15-0 win last week over the defending league champion Marshfield, this victory puts the Eagles' at the head of the pack with three winnable league games left on the schedule.
"Every time I got the ball there were holes everywhere, it wasn't just one hole at a time," Walsh said. "[Assistant] Coach [Carl] Freyemuth told us this was a big game and we were hyped up beating Marshfield and we knew coming in we needed at least two turnovers and I think we got more then that."
[+] Enlarge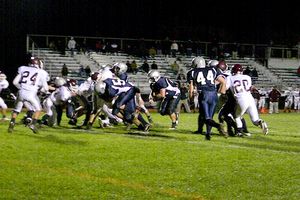 Brian Fabry for ESPNBostonMatt Walsh rumbles in for the first of his two touchdown runs in Plymouth North's 28-7 upset win over Falmouth on Friday.
The Plymouth North defense caused six turnovers overall converting the first three Clippers' miscues into touchdowns in the first two quarters of play.
Plymouth North (5-2, 2-0) was staked to a 14-0 lead in the first 8:43 of play as the Eagles cashed in two forced fumbles for touchdown on Falmouth's first two series. The two turnovers set up Plymouth North with great field position, with the first opportunity coming at the Clippers' 24-yard line after a Mike Cahill fumble recovery.
After two Walsh rushes got Plymouth North to the 11-yard line, quarterback Cody Merritt scored on an 11-yard keeper right up the middle of the Falmouth defense. Falmouth's Jonah Olsen burst off the right end untouched and blocked Vinny Tavernelli's extra point attempt to hold the score at 6-0.
But the momentum never changed as on the very next series, the Clippers' second fumble was on the ground on only the second play from scrimmage. This set up the Eagles' with even better field position inside the red zone at the Falmouth 14-yard line.
Last week's offensive star Zach Zaniboni was credited with the recovery and four plays later, Matty Walsh scored the first of his two rushing touchdowns from two yards out and then Merritt converted the two-point conversion on a swing pass to Walsh for the 14-0 lead.
"We haven't been getting many turnovers and we got a lot of turnovers tonight and we turned them into scores, so it was great we executed," Eagles head coach Dwayne Follette said. "The defense played awesome again but our offense played real well tonight, got some big plays, and turned the short fields into scores and that was the difference."
After the two teams exchanged three-and-outs, Merritt turned around to the defensive side of the ball and picked off the Clippers' Dillon Mansfield at the start of the second quarter to set up the third Eagles' score.
The Eagles methodically ate up over nine-plus minutes of the second half on a 12-play drive – not including a spinning 27-yard run from Zaniboni that was negated on a holding call - that culminated on a fourth-and-one plunge from Walsh with only 50 seconds left before the half. As the teams dispersed for halftime, Plymouth North was firmly in control, 21-0.
"We had a good week of practice and everyone was on key," Walsh added. "We played hard the whole game we didn't give up and we gave it all we could".
The nightmare continued for Falmouth (5-1, 1-1) as they coughed up the ball on their next two possessions of the second half and lost two-sport star Nelson Baptiste to an undisclosed injury before the second stanza started.
Plymouth North smelled blood in the water as Zaniboni had his second fumble recovery and the fifth Falmouth turnover turned into a picture-perfect hook and ladder between Merritt and Liam Cosgrove with the final pitch going to Bobby Savoia for the 32-yard touchdown.
Before Falmouth knew the second half whistle was fired off, the Eagles offense posted 28 unanswered points with 9:08 remaining in the third quarter.
Olsen took it upon himself to ruin a second consecutive Atlantic Coast League shutout for the Eagles with a 40-yard scamper on a sweep to the right as he outran four would be tacklers with 9:03 remaining in regulation.
Said Follette: "We have three league games left and every week you play for controlling your own destiny. We talked (last season's loss) up, but this was a big enough game that we didn't need the extra motivation, but [Falmouth head coach] Steve [Femino] is a great guy, he addressed our team [post-game], he's a class act but we won –- we played the better game".
Falmouth goes back over the Sagamore Bridge to lick their wounds in anticipation of next week's battle with Marshfield, which will essentially knock one of the two ACL powerhouses out of contention for this year's Division 2A Super Bowl playoffs. Plymouth North goes on the road to face non league foe, Barnstable, in a tune up for the remainder of the league schedule.
The rest of the schedule includes road games against Sandwich and the always dangerous Dennis-Yarmouth before the season-ending tilt with in-town rival Plymouth South at the annual Thanksgiving Day battle.
FALMOUTH (5-1) 0 0 0 7 -- 7
PLYMOUTH NORTH (5-2) 14 7 7 0 -- 28
PN – Cody Merritt 11 run (kick blocked)
PN – Matty Walsh 2 run (Walsh from Merritt)
PN – Walsh 1 run (Vinny Tavernelli kick)
PN – Bobby Savoia 32 pass from Merritt (Tavernelli kick)
FA – Jonah Olsen 40 run (Tyrone Reine kick)
October, 4, 2010
10/04/10
3:15
PM ET
Better hold on to your hats.
That was the theme of Week 4 of the local high school football schedule from the perspective of weather and its results. Driving rains and howling winds across Southern New England had many of Friday's games washed out and moved to Saturday. For those who remained steadfast in their Friday schedules or kicked off on Saturday, there were plenty of upsets to be had and much on the line.
Here's what we learned from this weekend's action:
The good ship Falmouth
Down 15-0 at halftime? No problem. Thirty-six players on your sideline? That's enough. Falmouth has now made "upset" wins over BC High old hat.
It was the first time that a Catholic Conference team had traveled to the Cape in more than a decade. And coming off of last year's 22-20 loss to the Clippers, the Eagles had plenty of motivation to return the favor to what Falmouth had done on their turf last year.
Yet, somehow, the Clippers found a way to win. They weren't just playing for themselves and for their teammates, they were playing for the entirety of football on the Cape. That perceived no man's land of football has now definitively proven it is a force.
"Everybody thinks that because we're from Cape Cod that we don't know how to play football," senior Nelson Baptiste told ESPN Boston's Brendan Hall on Thursday.
Things didn't look good for Falmouth's chances early, as BC High running back Preston Cooper (two rushing touchdowns, 2-point conversion) accounted for all but one of the Eagles' 15 first-half points. BC High's front also bottled up the Clippers' option attack, holding Falmouth to just seven offensive plays in the half.
In the second half, Clippers head coach Steve Femino relied on a couple his less-heralded players to lead the charge in the second half.
Bobby Whelan led the rushing attack with 14 carries for 110 yards and touchdown — all coming in the second half. His 21-yard carry on his first touch of the game in the third quarter set the tone for what was to come.
After a Dillon Mansfield score made it 15-14, Falmouth looked for its defense to make a stand.
The Clippers forced the Eagles three-and-out with two plays for negative yardage, as Tyrone Reine and Jonah Olsen make tackles for a loss. Then, it was junior corner Devon Soares who left his imprint with two interceptions on successive BC High drives to close out the win.
"Devon Soares has been our biggest surprise of the year," Femino said. "He's not the biggest kid and some teams look to pick on him because [Nelson] Baptiste is on the other side. But he's done everything we've asked him to do and he's been a great surprise for us."
Though we shouldn't be surprised about anything the Clippers accomplish from here on out.
Armani Reeves is a big-time player with prime-time speed
Asked about the performance his star junior had just put on in a big win over New Hampshire power Bishop Guertin, Catholic Memorial head coach Alex Campea could only exhale deeply as he beamed, draping a hand on Armani Reeves' shoulder.
"This guy can make it happen, this guy can make it happen," he repeated to ESPNBoston's Brendan Hall. "Listen, we have some good players, and tonight in a big game they shone through -- making big catches, big plays, offensively and defensively. But I'm glad we have him. He competes every snap of every game."
We've previously held Reeves -- who lines up at both wide receiver and running back, and also returns kicks and punts -- in
high regard
. But last weekend's performance (193 all-purpose yards, three touchdowns) affirms everything.
Reeves currently holds scholarship offers from Penn State, UConn, Wake Forest and UMass, but we expect more to roll in as more and more coaches discover what a special athlete this kid is.
TVL up for grabs
Holliston entered Friday night's tilt with Tri-Valley League rival Medway looking as though they might run away and hide with the league title. The Panthers were averaging 48 points per game before they met the Mustangs' defense and met their first loss of the season in a 28-16 win over Holliston.
"I think it showed a lot of character that we were down 10 to nothing," Medway coach Dave McSweeney told ESPN Boston correspondent Neil Carroll on Friday. "We didn't panic and we made plays when we had to. Michael [Ozella] broke a nice run off that set up the last second pass so we kind of lucked out there, but I'll take it anyway we can get it."
With the win, Medway threw the TVL standings for a loop, drawing even with Holliston at 3-1 in league play. Both teams stand a game behind Westwood and Norton, who both improved to 4-0 on the weekend. Norton dispatched Medway in Week One, 23-14, but Westwood looms on the schedules of both the Panthers and Mustangs.
So things are about to get really interesting.
Is the Bay State Carey wrapped up?...
So we're not about to go Gore v. Bush in this space, but it's hard to not look at Weymouth's convincing 26-0 whitewashing of Needham as a huge leap forward to deciding the Bay State Carey.
Once again, the Super Colarusso Bros. (Can we get a video game in development for these guys yet?) led the way, combining for 225 yards and four touchdowns.
"This is not a league title tonight," Weymouth head coach Kevin Mackin told our Phil Perry on Friday, tempering the hype. "It certainly puts us in a good spot, but we've got to continue to work because there are other good teams here."

...One things's for certain: the Merrimack Valley Conference isn't
In Jason Houston's first year as an assistant at Dracut back in 2004, he watched as the Middies lost a 63-46 shootout to Division 1A Super Bowl runner-up Chelmsford. Now six years later, Houston won his second career game as head coach -- and his second in as many weeks over a previously-ranked opponent -- by flipping the switch, his team rolling to a 60-42 win over Billerica behind big nights from quarterback Matt Silva (8 of 12 passing, 262 yards, four touchdowns; 17 carries, 110 yards, touchdown), wide receiver Chris Malonis (seven catches, 252 yards, four touchdowns; 95-yard kickoff return touchdown) and running back Keith Hamel (20 carries, 121 yards, three touchdowns).
Dracut, by the way, wasn't even the favorite in the MVC Small headed into the season. Heck, they could very well end up 7-4 or 6-5 in this kind of daunting league schedule.
"In my opinion, top to bottom, this is the toughest league in the state," said Houston, who himself won an MVC title quarterbacking Lowell in the late 90s.
Central showdown
Looking ahead to next weekend, among the things we'll be watching is the matchup of Central unbeatens No. 17 Auburn and Northbridge. Both teams enter at 4-0 and hope to keep their marks unblemished. But the Rockets have an extra motivation in keeping their state-best 28-game win streak in tact.
However, Auburn's already had a couple of brushes this season. The Rockets slipped by Shrewsbury, 6-2, in Week One and escaped 19-15 this weekend's test against Hudson. No doubt Northbridge, which enters the game averaging nearly 29 points per game, will be looking to be the team to finish the deed.
HEAD OF THE CLASS

VALVOLINE CO-PEAK PERFORMERS OF THE WEEK: MATT SILVA, SR. QB, AND CHRIS MALONIS, SR. WR, DRACUT
Talk about an offensive explosion. Silva accounted for 372 yards of offense (262 passing, 110 rushing) and five total touchdowns, linking up with Malonis (seven catches, 252 yards) for all four of his touchdown passes, as the Middies survived a Wild West 60-42 shootout with Billerica. Since losing to Westford 27-13 in Week 2, the Middies have exploded, averaging 43.5 points per game and knocking off previously-ranked opponents in back-to-back weeks. Think things are clicking up on Route 38?
THE CLASSMATES
Sean Amaru, Sr. RB, Westwood
- The speedy Amaru led the Wolverines with 340 yards rushing on 18 carries and six touchdowns, in an easy 48-24 dispatching of Millis/Hopedale.
Andrew Coke, Jr. RB, Andover
- For the second straight week, Coke eclipsed the 200-yard mark on the ground, this time rushing for 214 yards and three touchdowns on 26 carries in the Warriors' 31-0 win over Haverhill -- in pouring rain, no less. The 6-foot-1, 195-pound Coke has accumulated 450 yards and nine touchdowns in the last two weeks.
Matt Costello, Sr. WR, Everett
- Costello had a dominant afternoon for the Crimson Tide in their 43-14 win over Barnstable, catching eight balls for 203 yards and four scores.
Nate Costello, Sr. RB, Assabet Valley Tech
- The senior ran for 232 yards and three scores for the Aztecs, who cruised to a 48-8 win over Nashoba Tech.
Tyllor MacDonald, Sr. QB, Lynn English
- The 6-foot-1 MacDonald threw for 263 yards and four scores, ran for 74 yards and three more scores, and added an interception on defense to lead the Bulldogs in a 47-16 win over Danvers.
John Page, Sr. RB, Bourne
- Page ran for 243 yards and four scores in the Canalmen's 42-14 win over Coyle-Cassidy.
Nick Schlatz, Jr. RB, Bridgewater-Raynham
- Schlatz carries 18 times for 211 yards and four scores as the Trojans rolled to a 42-14 win over New Bedford.

Mike Walsh, Jr. QB, Swampscott
- Down 34-14 at the half, Walsh rallied the Big Blue to a stunning comeback over Revere, tossing for three touchdowns and finishing the day 25 of 43 for 322 yards passing. He threw the game-winning score with 16 seconds left, and the Big Blue converted the two-point try for the 43-42 win.
October, 2, 2010
10/02/10
2:20
AM ET


FALMOUTH, Mass. – BC High's defense had done well to keep Falmouth running back Nelson Baptiste quiet for most of Friday night's game.

The Eagles held Baptiste to a pedestrian six carries for 26 yards. But it was Baptiste's 34-yard game-winning touchdown catch that did all the talking.

"That's fourth down. That's everything. That's our whole season," a loquacious and emotional Baptiste said after the Clippers' win. "That's my senior year. I know I have to make that catch, we have to win this game and bring it home."

When the 6-foot, 180-pounder fell backward into the end zone, after leaping over a team of Eagles defenders, bobbling the ball and then finally securing the touchdown pass from Dillon Mansfield, it wasn't the only amazing element to the play.

The play call came on fourth and seven. Falmouth had attempted just three passes up to that point, none were completed and two ended in interceptions. With field conditions resembling those of a Southeast Asian rice paddy because of torrential downpours throughout the day, Clippers head coach Steve Femino had the fortitude to make a tough decision.

It paid off to the tune of a 20-15 victory for No. 13 Falmouth, which for the second straight year took a surprising win over the fifth-ranked Eagles.

"We noticed earlier in the game they were real aggressive," said Femino, who has the Clippers off to a 4-0 start in his first season. "They were trying to jump him when he was shallow, but we wheeled him down the sideline and Dillon [Mansfield] put it in the one spot that he could come down with it."

BC High (2-2) carried play in the first half with junior running back Preston Cooper carrying the load.

Cooper racked up 18 carries for 101 yards with two touchdowns and a two-point conversion to his credit at the half. Coupled with runs from fullback Luke Catarius (12 carries, 71 yards), the Eagles possessed the ball for the majority of the first half. Falmouth ran just seven offensive plays before heading to the locker room down 15-0.

"Coming out in the second half, we really just needed to start completing our blocks," Clippers senior running back Bobby Whelan said. "Their linebackers were blowing up the plays. Coach went over the reads; nobody was making the right reads. We got our blocks down and everything worked out. The option was really working in the second half."

Whelan (14 carries, 110 yards, TD) kicked off the second half, marching Falmouth down the field on a 15-play, 70-yard drive which culminated in his 1-yard touchdown run to cut the deficit to nine points.

On the ensuing BC High drive, junior cornerback Devon Soares came up with his first of two game-changing interceptions.

"He looked off the other way and then came back my way, I knew the ball was coming," said Soares whose second pick came with a minute remaining in the game to stop a potential BC High comeback.

With the ball back in their hands, the Clippers struck again on Mansfield's 7-yard touchdown run.

It was time for one more defensive stand. The Eagles went three and out. Falmouth had the ball back with 4:54 remaining.

The Clippers embarked on their final drive with good field position, starting at their own 48-yard line. But the drive nearly stalled at the Eagles 34.

That's when the Femino went all-in.

"I loved it," Whelan said of Femino's play call to go for it on fourth down. "Dillon [Mansfield] threw two interceptions, so BC High was probably [thinking] like they're not going to pass it.

"So coming out, Coach showed his heart. He believed in Dillon and we all did."

While the Clippers didn't have an advantage in sheer numbers — Falmouth dressed only 36 players for the game — there was no question about heart.

"Everybody thought we were going to get blown out," Baptiste said. "We just wanted to show the whole state how we play."
September, 30, 2010
9/30/10
8:27
PM ET
ESPNBoston.com High Schools' Brendan Hall talked with Falmouth's Nelson Baptiste to dissect Friday's matchup with No. 5 BC High.



Neil Carroll caught up with Clippers QB Dillon Mansfield ...



... and head coach Steve Femino.


September, 18, 2010
9/18/10
7:53
PM ET
By
Brendan Hall
| ESPNBoston.com
SOMERVILLE, Mass. -- In his first year at the helm of Falmouth High, and his Clippers' first year of running his preferred 3-3 defensive stack, Steve Femino hasn't been afraid to go all-or-nothing inside the red zone. So on third and goal with 40 seconds left, and Somerville standing five feet from the end zone and threatening to send the game to overtime, Femino sent the house. Undersized nose guard Tyrone Reine -- all 5-foot-7 of him -- burst through the a-gap to stuff Josh Scarry for a two-yard loss.

"To be honest, it just all came into me at once and I got through him," Reine said. "I saw the ballcarrier, and I just took him."

The Highlanders found themselves a yard and a half away again on fourth down, thanks to an offside call, but the snap fumbled, A.J. Gonsalves landed on it, and the Clippers escaped Dilboy Stadium with a hard-fought 7-0 win.

"I believe it comes down to heart and desire -- that's really what it is," Reine said. "It's all about heart, it's about wanting to win. Doesn't matter how big you are. You could be 5-3 and go up against a 6-5 guy...doesn't matter. We've got all little guys here. We don't have any big guys, we're just a small team. But it's about heart and desire."

The muffed opportunities left Highlanders head coach Harry Marchetti disappointed.

"The opportunities were there, and we didn't capitalize," Marchetti said. "If we expect to play against this kind of caliber competition, we can't make those mistakes. But the defense played well, to hold that team to seven points, I'm pretty pleased with that. I think we're very confident on defense, and we have to get that confidence to progress through the season over to the offensive side of the ball."

The game's lone score came off another golden opportunity for Falmouth, when a Highlander player misplayed Dillon Mansfield's punt. The ball incidentally tipped off of his hands, and the Clippers came out of the ensuing scrum with the ball at the Somerville 35. Two plays later, Mansfield hit Nelson Baptiste perfectly in stride, in single coverage running a go route from the left slot, for a 35-yard touchdown strike.

"Triple left seam, that's my main play right there," said Baptiste, who totaled 60 yards of offense in this affirmatively defensive affair. "I did the same thing to them last (year) to score a touchdown, so we knew what we've got to do. We've got to score one touchdown, and it's in the books."

Said Somerville head coach Harry Marchetti of the special teams miscues, "They're usually flawless back there. They're sure-handed."

And aside from a few quick tosses to Baptiste on the outside; some bruising scampers from Somerville's 5-foot-11, 210-pound junior fullback Kris Taylor (nine carries, 57 yards); and a few keepers from Somerville's Bobby Pratt (seven carries, 56 yards) up the middle on the Highlanders' final drive; this was a physical battle kept mainly in the trenches. Led by sophomore Ryan Conte and 6-foot-4, 260-pound senior John Wallace (a Division 1 prospect) in the trenches, the Highlanders moved the chains with multiple lead blockers and a confusing single-wing approach that kept the Clippers' 5-3 scheme on its toes.

Losing its three defensive linemen to ankle and shoulder injuries on the game's first six plays, Falmouth was forced to grind it out with underclassmen. But with Baptiste taking tosses from the slot and isolation runs up the middle from Bobby Whelan and Joey Olsen, they kept the Highlanders' defense honest as well.

"That is a strong team," Baptiste said of Somerville, widening his eyes. "They hit really hard. But we get hit all the time, we work every day so hard, so we know what we got to do."

And in the end, the Highlanders nearly won it after nearly coughing up another six points. Mansfield coffin-cornered a rugby-style punt to the left pylon that was fielded at the one yard line, met immediately by Falmouth players, giving Somerville first and 10 with 5:32 and 99 yards to go. Between belly option keepers by Pratt and direct snaps to up-back Eduardo Dias, the Highlanders marched all the way down to the one-yard line before Reine came up with the big hit, and a play later they fumbled the ball away.

"We're a little more aggressive," Femino said of his red zone defense. "We get down there, and we loosen up, they're not as worried down there."

Said Reine, "Our defense, when we're in the red zone, at the goal line, everything changes. Everyone gets together, everyone's yelling at each other. It's all momentum. And obviously, that was a big momentum-changer right there, to win the game."

FALMOUTH 7, SOMERVILLE 0

Fal 0 0 7 0 --- 7
Som 0 0 0 0 --- 0

F - Nelson Baptiste 35 pass from Dillon Mansfield (Tyrone Reine kick)