Boston High School:

Dizel Wright
January, 25, 2014
1/25/14
1:01
AM ET
Brendan C. Hall
ESPN Boston High Schools Editor

FIRST TEAM

G – Tyler Nelson, Sr., Central Catholic
He's always been one of the state's premier shooters, but his game has evolved this season as he continues to fight through box-and-one's. He has grown up quite a bit in terms of toughness.

G – Dizel Wright, Sr., Putnam
One of the state's best on-ball defenders and the humble kid on an otherwise very vocal team, he sets the tone at both ends of the floor for the state's undisputed No. 1 team.

F – Tyonne Malone, Soph., Putnam
One of several prep school transfers that arrived with plenty of hype, the 6-foot-3 slasher has been an integral force on the wing for the Beavers. Long with plenty of athleticism to get to the rim at will, there's a lot of upside to be excited about.

F – David Murrell, Sr., Putnam
It's an MMA fight at times trying to battle on the boards with the Beavers, and the returning All-State forward sets the tone for one of the state's best rebounding teams.

C – Anthony Green, Sr., North Quincy
One of the best revelations of the 2013-14 season, the late-blooming 6-foot-9 center has showed marked improvement from where he was at this time a year ago. And the Red Raiders have been a large benefactor.

SECOND TEAM

G – Tommy Mobley, Jr., Newton North
Some folks would like to see him become more assertive on the glass, but there is no denying Mobley's shooting ability. He might be the most automatic three-point marksman in Massachusetts.

G – Makai Ashton-Langford, Soph., St. Peter-Marian
If you haven't seen him yet, you are missing out. He is the Guardians' most talented lead guard since Naadir Tharpe, and has backed up the mound of hype behind his high-major potential in this first half of the season.

G – Aahmane Santos, Jr., Catholic Memorial
Santos returned from prep school a much more aggressive –- and visibly faster –- player. At times it seems like he is operating at a different speed than the other nine players on the floor, and that's one of the bigger reasons why the Knights are averaging upwards of 86 points per game so far.

F – Asante Sandiford, Sr., New Mission
Franklin Pierce commit proved a lot to me with the way he battled one of the nation's top big men, Karl Towns Jr., at the Shooting Touch Shootout. The Titans have been absolute piranhas on defense this season, with Sandiford at the forefront.

F – Tyree Robinson, Jr., Durfee
It's been a few years since the Hilltoppers were this good, and I'm not sure how competitive they'd even be without landing this Notre Dame Prep transfer.

THIRD TEAM

G – Giulien Smith, Jr., Catholic Memorial
Like seemingly a half-dozen other Knights, Smith can shoot it. But it's his ability to create his own shot that makes him and Aahmane Santos one of the most dangerous backcourts.

G – Rocky DeAndrade, Sr., Mansfield
The Hornets started the season down three starters to injury, yet they haven't skipped a beat. Credit that to DeAndrade, who has become faster after a diligent offseason.

G – Elijah Rogers, Sr., Brookline
You can make the case for Rogers to be a lot higher on this list. The Warriors had a tough start to the season, but they may have hit their stride. When Rogers is on, it is a spectacle.

F – Gary Clark, Jr., Everett
Arguably the best two-way player on one of the state's most tenacious defenses.

F – Fred "Bam" Rivers, Sr., New Mission
This might be the Titans' best squad since 2010-11, and as the nickname implies, this fearless, wide-bodied 6-foot-4 post is one of the primary reasons. There isn't a player in Massachusetts he's afraid to make uncomfortable. Oh, and he can step out and shoot it, too.

Coach of the Year: Kevin Barrett, North Quincy
A few other names here could fit the bill, such as Mansfield's Mike Vaughan, Fitchburg's Jack Scott or North Andover's Paul Tanglis. But a year ago at this time, Anthony Green was a timid kid who moved gingerly and couldn't stay on the court without getting fatigued or racking up fouls. Now, he's become the Raiders' own "Nerlens Lite", and the biggest reason for their 11-0 start. And while we're at it, raise your hand if you'd heard of Eftham Butka at this time last year (Don't lie). Now, he's the Raiders' most dangerous scorer. All of this speaks to Barrett's commitment to player development, a trait that sometimes feels like a lost art in today's AAU-ficated grassroots culture. That shouldn't be overlooked.

***

Chris Bradley
ESPN Boston correspondent

FIRST TEAM

G - Dizel Wright, Sr., Putnam
The most complete player on the state's most complete team. A built, athletic point guard who can guard a variety of positions and put up double-figure rebounding totals, Wright should be considered a serious contender for Mr. Basketball, as should these next four candidates.

G - Tommy Mobley, Jr., Newton North
The state's most lethal shooter has turned into one of it's best overall scorers. Mobley has lit some of the state's best teams up this year, averaging 20 points per game as Newton North has emerged as one of the best teams in Division 1.

G - Guilien Smith, Jr., Catholic Memorial
In terms of pure scoring ability, there may be no better player in the state than Smith. Smith has deep range on his three-point shot, the quickness to get to the hoop off the dribble, and now the upper body strength to finish. He's a big reason why CM is 12-1.

F - David Murrell, Sr., Putnam
Wright may be Putnam's best player, but Murrell is the glue guy for the state's number-one ranked team. Averaging double-figure points and rebounds, he makes for a superior duo with sophomore Tyonne Malone.

F - Anthony Green, Sr., North Quincy
North Quincy has been one of the state's most pleasant surprises this year, and their do-it-all 6-foot-9 center hes led them every step of the way. Several scholarship-level college programs and prep schools have shown interest in Green in recent weeks.

SECOND TEAM

G - Makai Ashton-Langford, Soph., St. Peter-Marian
His 26 point outbreak against St. John's on Friday night is just another reminder why the 6-foot sophomore is considered to be one of New England's best talents. Ashton-Langford has been the guy who makes the Guardians go this year, averaging 17 points a game.

G - Aamahne Santos, Jr., Catholic Memorial
Santos has had several games where he he never reached double-figure scoring totals, yet he seems to have as much of an impact on a game as any point guard in the state. A super athlete who is also lightning-quick with the ball in his hands, Santos is the key behind Catholic Memorial's high-powered offense.

G - Tyler Nelson, Sr. Central Catholic
Much was expected out of Nelson this year, and for the most part, he has delivered for 11th-ranked Central Catholic. The Fairfield University commit has been the main focus of opposing defenses all year long, yet still manages to hit shots at a high clip.

F - Tyonne Malone, Soph., Putnam
Malone struggled at first to find his fit in an extremely talented Putnam rotation, but he has emerged as one of their best reliable players the past few weeks in wins over Woodstock Academy (Conn.), Springfield Cathedral, Springfield Central, and Northampton. A gifted athlete at 6-foot-3, Malone is already on the radar of several mid-major and high-major Division 1 programs.

F - Tyree Robinson, Jr., Durfee
The transfer from Notre Dame Prep has immediately helped turn things around at Durfee -- a team starving for a playoff appearance after several years of relative anonymity. A standout 6-foot-4 athlete who plays AAU for the Boston Amateur Basketball Club (BABC), Robinson's rebounding motor and elite athleticism have made him well worth the price of admission.

THIRD TEAM

G - Elijah Rogers, Sr., Brookline
Rogers has been the catalyst all year long for Brookline, a team who is 7-3 and looking to build off of last year's playoff run. An athletic point who can also make plays for others, he has proven to be one of the top pure point guards in the state.

G - Erick Rosario, Jr., Lynn English
It has been on Rosario to do a lot of the heavy lifting offensively with counterpart Stevie Collins out injured. A quick, clever combo guard, Rosario has proven to be one of the state's best pure offensive threats--whether it's knocking down outside jumpers or finishing acrobatic lay-ups around the rim.

G - Ryan Boulter, Jr., Mansfield
The lone blemish on the Hornets' 12-1 record is Thursday's three-point loss to Hockomock foe Attleboro, and Boulter has been a big reason why. With star forward Brendan Hill out for the year, Boulter has manged to pick up a lot of the slack offensively for Mike Vaughan's Hornets.

F - Gary Clark, Jr., Everett
Everett has been one of the state's best teams, now at 10-0, and Clark's inside-out offensive attack has helped bring some balance to a high-scoring offense. Playing alongside a loaded Everett backcourt, Clark has excelled playing down low: rebounding at a high-rate and finishing shots in the paint.

F - Fred "Bam" Rivers, Sr., New Mission
Rivers may not look the part of a gifted athlete, but to his credit, he has proven just the opposite so far for Cory McCarthy's Titans. At 6-foot-4, Rivers has the foot speed to guard multiple positions, he has shown that he is one of the best rebounders in the state, and he can even stretch the defense with his feathery three-point touch.

Coach of the Year: Cory McCarthy, New Mission
With a few star players in Franklin Pierce-bound forward Asante Sandiford, sharpshooter Shaquan Murray, and do-it-all forward Fred "Bam" Rivers, McCarthy has been able to build around that trio with one of the state's deepest rotations and stingiest defenses -- giving up just 47 points a game. The 11-1 Titans are as tough an out as any team in the state and they appear to be the favorite statewide in Division 2 midway through the season. Catholic Memorial's Denis Tobin, St. John's Prep's John Dullea, and Mansfield's Mike Vaughan should all be in the conversation for this one, but at this point in the year nobody has gotten more out of their team than McCarthy.

***

John Botelho
ESPN Boston correspondent

FIRST TEAM

G - Dizel Wright, Sr., Springfield Putnam
He's been the best player on the best team in the state all year, and only seems to be getting better.

G - Tommy Mobley, Jr., Newton North
The junior is the best shooter I've seen this year, or in recent memory for that matter. Everyone know the ball is going to end up in his hands and still no one seems to be able to stop him. Has a shot to reach 1,000 points this year with another deep tourney run for the Tigers.

G - Aamahne Santos, Jr., Catholic Memorial
The leader of an explosive CM offense that leads the state in points, Sanots has done a little bit of everything for the Knights. Known for his premier offense, his defense might be even better as he's caused fits for Catholic Conference point guards all year.

F - Fred "Bam" Rivers, Sr., New Mission
He's capable of scoring, rebounding, or playing solid defense on other bigs down low for No. 3 New Mission. Combining with Shaquan Murray and Asante Saniford, Rivers has helped make Mission the team to beat statewide in division two.

F - Ryan Boulter, Jr., Mansfield
Unbeaten Mansfield has looked unstoppable early on despite losing returning All-Stater Brendan Hill for the year to a knee injury, and Boulter might be the biggest reason why. The junior has led an explosive offense -- averaging more than 17.6 per game on a team with four guys in double figures

SECOND TEAM

G - Tyler Nelson, Sr., Central Catholic
Pushing him to the second team was one of the hardest calls to make, but I think it speaks more to the impressive guard play statewide this season than anything else. Nelson is one of the most dynamic players in the state, and a second half surge could push him onto the first team.

G - Rocky DeAndrade, Sr., Mansfield
Second for the No. 2 Hornets in scoring behind Boulter, DeAndrade is capable of taking over games and can score from anywhere. He's poured in over 16 per game so far as the Hornets have cruised to an 11-0 mark.

G - Elijah Rogers, Sr., Brookline
The returning All-Stater has taken his game to another level this year, guiding an offense that can run with anyone. He went off for 28 points to hand Bay State rival Newton North it's only loss, and finding a player in the state who elevates his game for big opponents would be a tough challenge.

F - David Murrell, Sr., Putnam
Returning All-Stater gives Putnam arguably the best 1-2 punch in the state with Wright, and is a major reason they've been atop the rankings all season. He was tremendous at the Hoop Hall Classic last week, netting 27 and grabbing 12 rebounds against rival Springfield Central before going off for 15 points and 15 rebounds against defending Connecticut Class L champ Woodstock.

C - Obi Obiora, Sr., Brookline
The big man averaged nearly a double-double a year ago, and looks like he's headed for one this season. A total game changer on the defensive end, he's also capable of taking some focus off of Rogers on offense.

THIRD TEAM

G - Jack Loughnane, Soph., BC High
His offensive game is an impressive one, and he's among the best 3-point shooters in Eastern Mas. He's the catalyst for the Eagles' offense, and is a major reason they're ranked No. 10 in the state.

G - Markus Neale, Sr., Dorchester
The Bears don't have much in the way of height, but Neale plays taller than his 6-foot-2 frame would suggest. He's a playmaker on both ends of the floor, can score from beyond the arc or by going to the hoop, fights for rebounds and bolsters an athletic Dorchester defense.

G - Ryan Roach, Sr., Cardinal Spellman
A Stonehill commit, Roache has been tasked with running a Cardinals offense that features several players who would be the "go-to" guy on a lot of teams. None of the Cardinals are averaging crazy point totals, but the team is unbeaten in league play. Their only losses have come against Mansfield, Franklin and No. 24 St. Bernard's.

F - Matt Nicholson, Sr., Rockland
Tyler Gibson swallowed up a ton of the publicity for Rockland a year ago, but Nicholson gave the Bulldogs a second very good scoring option. This year, with Gibson and Bryan Tavares graduated, Nicholson has been tasked with being the guy for Rockland, and he's delivered to the tune of 22 points and eight rebounds per game for the 7-3 Bulldogs.

C - Anthony Green, Sr., North Quincy
The 6-foot-9 big man for the unbeaten Red Raiders makes his biggest impact in something that isn't quantifiable through statistics, as the number of possessions he changes on the defensive end is staggering. Coach Kevin Barrett said earlier this year that he was blocking seven shots per game during the tourney last year, and altering at least as many. That means he's single-handedly effecting the outcome of more than 10 possessions per contest, and that doesn't include the way the rest of the Red Raiders defense can play in the faces of their opponents, knowing he's back there as a last line of defense.

Coach of the Year: Bo Ruggiero, Cohasset
An argument could be made for plenty of guys this year, and people like Cory McCarthy at New Mission and Mike Vaughn at Mansfield (being unbeaten despite losing Hill is pretty impressive) certainly deserve some consideration. That said, Ruggiero has put together one of his finest coaching performances, which is saying a lot when you consider he's got more than 500 career wins on the sidelines. The Skippers graduated a 1,000 point scorer a year ago in Shane Haggerty, and lack a star to lean on this season. Guys like Chris Haggerty, Rocco Laugelle, Henry Brown and Joe Buckley have just come together to play good fundamental hoops. They've gone all in on defense, and are allowing a South Shore League best 39 points per game this year. At 10-0, they have to be considered among the favorites, if not the favorite, to capture the MIAA Div. 4 crown this year.
January, 18, 2014
1/18/14
3:45
PM ET
By
Andy Smith
| ESPNBoston.com
SPRINGFIELD, Mass. -- Less than 30 seconds into the game, Putnam's Dizel Wright picked off a pass at half court and took off towards his basket. He elevated and threw down a rim-rattling dunk for the first points of the game. He held onto the rim to let defenders pass underneath him, which served as a metaphorical exclamation point on the play.

That set the tone for the rest of the game as No. 1 Putnam beat Woodstock Academy (Conn.), 77-45.

"That was really important," said Putnam (10-0) junior Tyonne Malone (19 points, 9 rebounds). "Dizel always gets those dunks. It gets the team hyped on the bench so we come out with a lot of energy."

Woodstock (9-2), the defending Connecticut Class L champion, came out in a zone defense to try to slow the game down and keep the ball on the perimeter. Putnam , the defending MIAA Division 1 champion, likes to play in transition and work quickly, but they appeared more than happy to play in its half court offense. Even though his team never trailed in the game, Putnam coach William Shepard was not happy to see that zone early on.

"Obviously, if they're setting up in their zone, that means they scored, so I wasn't happy with that," he said. "As far as teams getting into their zone, if we're playing defense like we're capable of playing, we're getting transition baskets because they don't have time to set up the zone. But our defensive intensity wasn't there like it was supposed to be at the beginning of the game. We came into halftime, talked to them, made an adjustment, and they responded well."

As a team, Putnam shot 50 percent from the floor, including 8-of-18 from the three-point line.

Putnam went into halftime with a 36-27 lead and for the second game in a row, blew the game open in the third quarter. The Beavers outscored Woodstock 25-8 in the third frame to put the game out of reach.

"We're trying to change it from last year where we would do that in the fourth quarter," said Putnam senior David Murrell. "We're trying to switch things up because everybody knows our style from last year where we'd start the fourth quarter and try to hop on them. I don't know, it seems like we're not getting our heads in the game early."

For a team known for consistently playing only a few of its bench players, Putnam's bench outscored Woodstock's 15-0.

Woodstock junior Adam Converse lead the way for his team with 14 points and 6 rebounds.

After playing two games in three days over the holiday weekend, Putnam will have a day off on Sunday, but then it is right back to practice on Monday. They're already halfway through its 20 game schedule, so there has not been a lot of time to get in quality practices. Shepard said with the team's game schedule, he was concerned about conserving the team's energy level and not wearing them down outside of games.

Putnam will be back playing a game again Tuesday against West Springfield.

Beasts on the blocks: The Beavers outscored Woodstock 46-22 on points in the paint. For a team that is known for its ability to push the pace and getting out and running in the open court, Saturday was the opposite of that. The game was played mostly in the halfcourt, and Putnam adjusted accordingly.

Murrell and Malone were active on the glass, finishing with 15 and nine rebounds respectively. Thirteen of those came on the offensive end, with both players out-jumping and outmuscling Woodstock's post players to the basketball. As a team, Putnam out-rebounded Woodstock 49-29.

"First thing coach says all the time is you gotta box out," said Malone. "That's the first thing he says, put a body on somebody and see the ball. If you can't get it, just keep boxing out and someone else is going to come and get that rebound."

As the season rolls along, how each player asserts themselves on the backboards will go a long way to determining Putnam's success. It will go up against teams with taller and heavier post players in the postseason, but if Murrell (6-foot-3) and Malone (6-foot-4) play like they did Saturday, their lack of size will not be an issue. Coming off a 27 point, 12 rebound performance Thursday against Springfield Central, Murrell had another double-double Saturday with 15 points to go along with his 15 boards. Malone was one rebound away from a double-double of his own.

"We challenge Tyonne and David to control the boards," said Shepard. "If you're capable of dominating, dominate for however long you're out there. Tyon really took heed today and really took care of the boards and David was his normal self."

January, 17, 2014
1/17/14
2:31
AM ET
By
Andy Smith
| ESPNBoston.com


SPRINGFIELD, Mass. -- It was an intersection of time and place Thursday night at the Hoophall Classic.

At the birthplace of basketball, on the campus of Springfield College, two schools that are less than a mile apart from each other in Springfield met on a neutral court, played for nothing more than pride. They are the last two Division 1 state champions. On one side, the always-running Putnam, last March's winners. On the other side was 2012 champ Springfield Central, coached by Jack O'Brien, who is in his first year coaching the team and most known for his success building a juggernaut at Charlestown, winning five state titles in a span of six seasons stretching more than a decade ago.

In the end, it was the most recent state champ, Putnam, who came away with a 82-57 victory. At least until the two teams play again, the Beavers will have bragging rights over their Roosevelt Ave. rivals.

"The rivalry is tough, it's real tough. We don't like Central and I'm sure they don't like us," said Putnam junior Ty Nichols (12 points, 6 rebounds). "We'll see them again later in the season, and that will probably be more of an intense game because they will have to make the playoffs. Whenever there's a Putnam vs. Central game, everybody's talking about it. We just love it. There's talent out in Western Mass. and people come out and support us."

Putnam (9-0) likes to get out of the gates fast and play in transition as much as possible, and Thursday was no different. It jumped out to a 15-7 lead in the first quarter off the back of its transition offense. The Golden Eagles (4-6) were able to hit timely three's towards the end of the quarter, which cut the lead to 18-15.

Putnam was able to maintain its pressure into the second quarter and stretch its lead to 36-27 going into halftime.

In the third quarter, the Putnam onslaught continued. The Beavers outscored Central 26-10 in the quarter to finally put the game out of reach. It outscored Central 22-6 in the fast break and 35-12 off turnovers in the game.

"I told the guys at halftime, Central is going to come out. They have pride," said Putnam coach William Shepard. "They're going to come out and fight, but it goes back to the foundation, what we do every day at practice. We're going to sustain our energy and intensity for the full 32 minutes.

"Can they do that? Can they do the same? I told the guys we let them back into the game with unforced turnovers. Just keep playing Putnam basketball, keep the intensity, and they really followed through on that in the third quarter and really turned it out."

Putnam is back in action at the Hoophall Classic Saturday at noon at Blake Arena against Woodstock Academy (Conn.).

Battling Baldwin: One of the toughest tasks for any team playing Springfield Central is defending 6-foot-8 junior center Chris Baldwin. In its halfcourt offense, Baldwin can set up in the post to exploit a mismatch against smaller defenders. Defensively, he is the prototypical rim protecter and forceful rebounder every team hates facing.

Thursday night, Putnam used its transition offense as a way of neutralizing Baldwin. When it came down with a defensive rebound, it immediately pushed the ball up the floor and forced the big man to try and catch up. Often, he was behind the play, which gave Putnam an easy lane to the basket.

"We knew Chris coming into the game, he didn't like to run up and down the court, and if he was going to run up and down the court, he was going to get fatigued," said Ty Nichols. "We switched to our full court man defense and it kind of wore them down a little bit. That's when we took control."

On offense, Central wanted to slow the pace down and work in its halfcourt offense. To combat that, Putnam set up in a 3-2 zone to keep the ball away from Baldwin in the post and was more than happy to let Central shoot from the outside. The strategy worked as Central finished the game 6-for-25 from three.

"The kids were actually calling for me to stay in man defense, but what dictated me changing the defense was how the game was being called," said Shephard. "We make adjustments to whatever is being called. Are they going to let us play or is going to be touchy? We got a couple of fouls early, so I went into the 3-2 and it worked a little bit."

For most of the game, Tyonne Malone (13 points) and David Murrell (27 points, 12 rebounds) were charged with defending Baldwin in the post. Both players were at a height disadvantage to the Central junior.

"Ty had his moments there where he was getting a little frustrated and things weren't going right for him," said Shephard. "Dave has been playing against guys bigger than him since he got to Putnam, so that's nothing new to him."

Baldwin ended the game with 16 points and 8 rebounds.
December, 29, 2013
12/29/13
11:31
PM ET
By
Chris Bradley
| ESPNBoston.com
BOSTON -- As the second half continued to carry on, it was quite clear that one team was significantly more energetic than the other.

Top-ranked Putnam withstood an upset bid from New Mission on Sunday afternoon at the BABC Holiday Classic, pulling away in the second half to knock off the Titans, 69-52,

New Mission was able to dwindle the Putnam lead down to six, 36-30 early in the third quarter, but the Titans collapsed down the stretch, playing their third game in as many days against the buzzsaw that is the defending Division 1 state champion Beavers.

Dizel Wright led Putnam with 20 points and 8 rebounds, while Jonathan Garcia (12 points) and David Murrell (10 points) each put up double figures. Forwards Asante Sandiford (14 points, 7 rebounds) and Fred Rivers (13 points, 14 rebounds) led the Titans, who took on Putnam (4-0) after playing New Hampshire power Bishop Guertin and St. Joseph of New Jersey -- who is considered to be one of the best high school teams on the East Coast -- on Friday and Saturday, respectively.

The Beavers' fast-paced attack left New Mission (3-2) exhausted in the second half, taking the Titans out of their gameplan and therefore allowing Putnam to pull away significantly after leading by 9 at halftime.

"We felt like we had a good plan, we knew exactly what they were gonna do, but you can't simulate that speed," New Mission coach Cory McCarthy said. "We tried to do some things in the walk-through today that were pretty effective, but after awhile once you're tired, you stop thinking, and you stop sticking to the gameplan.

"Although they turned the ball over, they were still disciplined enough to beat us down the floor. They've got five guys who will beat you down the floor, we've only got three. That's the difference in the game: their transition points was probably in the 30's or 40's."

Wright turned in an outstanding performance for the Beavers, about 24 hours after he was forced to leave Putnam's game against Cambridge because of a dislocated shoulder. Though Wright said the injury was something he can play through, Putnam coach William Shepard will insist his point guard see a doctor about the shoulder when the team gets back to Springfield.

"I spoke to him about that last night, he said it happened to him several times this year. It comes out, he puts it back in, but we've got to get that looked at. He says he's able to play through it," Shepard said. "He's shown some senior leadership. Dizel's been awesome, in practice, in games, he's just awesome. He's having a great start to his senior year, a great start."

Putnam was able to contain New Mission shooting guard Shaquan Murray, who is considered to be one of the MIAA's best shooters, to 10 points on 4-for-17 shooting from the field.

"That's what we hang our hat on: defense. Being accountable, now let's hope we can hold it down where we have to hold it down: the defensive end. We played the way we were capable of playing," Shepard said.

Murray, the Titans' anchor on the offensive end and defensively on the perimeter, never could get anything going against the Beavers' high-pressure defense. Rarely getting a chance to sit during New Mission's stretch of three games in three days, Murray wore down in the second half.

"I think Shaquan's tired, he doesn't get too much time on the bench," McCarthy said. "He just didn't have any legs, he didn't create any steals...He wasn't Shaquan. Bam and Asante will come out five or six times a game, Shaquan stays on the floor. I think we could have rested him more. We just need him to make people better."

The uptempo play was a speed New Mission hadn't seen all year, and likely won't see for the rest of their schedule, but McCarthy hopes the experience will pay dividends for the talented Titans' – perhaps the favorite statewide in Division 2.

"They got us to play out of character, and they sealed the deal. They're experienced, they're relentless; they're the number-one team in the state for a reason," McCarthy said. "The last two games we played, we won't see anybody that good for the rest on the season. If we can keep it up we'll be on track for bigger goals, we've got bigger goals."

Shepard said the overnight stay in Boston was a bonding experience for his team—a trip that included ordering pizzas and watching movies yesterday afternoon at their hotel in Chelsea after knocking off Cambridge. The Beavers will go home with an undefeated record and Valley League play set to start this coming Friday against West Springfield. The next big challenge for Putnam will likely come Jan. 10, where they'll take on a tough Northampton squad at American International College.
December, 29, 2013
12/29/13
12:55
AM ET
By
Chris Bradley
| ESPNBoston.com
BOSTON —- Cambridge had upset on their mind on Saturday afternoon, especially considering that they were only down by six to top-ranked Putnam after three quarters.

Then the Beavers (3-0) went back to Coach William Shepard's pre-game speech on having fun and trusting their preparation. Through flawless offensive execution in the fourth quarter, Putnam was able to withstand the upset bid, knocking off Cambridge (3-1), 72-57, at the BABC Holiday Classic.

Putnam was led in scoring by forward tandem David Murrell (22 points, 9 rebounds) and sophomore Tyonne Malone (18 points, 6 rebounds), opting for shots in the paint and often working the ball around until they found just the right shot. Shepard made it clear to his team before the game: basketball is a lot more fun when you execute.

"That was our pre-game talk: what we do in practice," Shepard said, "I said 'that's my time in practice guys, this is your time. You guys should be confident in what we do in practice every day, it's why we work you guys the way we work you guys—it's for these statements games like this, you guys can have a good time and enjoy yourselves."

Enjoy themselves they certainly did. The Beavers shot 62 percent from the floor, only deeming it necessary to shoot five three-pointers the entire game.

"Practice is hard, the game is supposed to be fun," Shepard said.

In the losing effort, Fredens Deneus put up 12 points and 13 rebounds for the Falcons, while point guard Isaiah McLeod totaled 14 points. In a game that was a nail-biter until the last few minutes that also boasted an irregular amount of aggressive play, the Putnam coach was just relieved for the game to be over:

"Yes, very relieved," he said. "That was a hard fought game, Cambridge came out prepared and ready to go. We were trying to adjust to what was being called, to make that adjustment, but the kids just played tough and played hard and we came up with the victory."

Murrell comes back strong: The game marked the first of David Murrell's senior season, as he previously sat out injured for the first few games of the year. Murrell wasn't much of a factor offensively in the first half, only finishing with four points after the first two quarters of play.

However, the senior came up big in the second half and was efficient when it mattered, finishing with 22 points on 8-for-10 shooting from the floor. Shepard couldn't have been happier about Murrell's play after the game, especially knowing that Murrell is far from full strength at this point.

"He's still not 100 percent, but he brings that toughness down low, that rebounding and energy," Shepard said. "I think he scored maybe three or four times just off of out-of-bounds plays -- just knowing the plays. Tyonne is still catching up, and they both had those little nuances that got us through it."

The presence of Murrell greatly helped Malone, giving the 6-foot-5 sophomore swingman space to create and score off the dribble – a skill he has shown to be most accustomed to.

"Oh it helps out a great deal -- David helping him out on the boards. Tyonne's new to the system, but he battled back. He was a little confused at times in the first him, but he didn't let that stop him. He battled back and had a great second half," Shepard said.

The Wright stuff: A dislocated shoulder just couldn't keep Dizel Wright out of the game.

Wright finished with 14 points on the afternoon for Putnam, but his more impressive feat may have been his ability to come back for the last few minutes of the game after his shoulder popped out of its' socket late in the third quarter.

So Wright did what he thought was necessary: He went to the locker room and popped his shoulder back into place, iced it for a few minutes, and relentlessly reminded his coach on the bench that he could go back in the game.

"When I looked at it I was scared, it looked real bad, I started asking for medical attention -- I didn't know what to do," Shepard said, "He said when it overextends it pops out sometimes. He came back in and said he was ready to go, I left him out and he kept saying he was ready to go."

Wright came back into the game just in time to finish an acrobatic lay-up at the rim and knock down two free throws to put a bow on the victory for Putnam. The Beavers will take on sixth-ranked New Mission on Sunday afternoon for the final day of the BABC Holiday Classic.
April, 1, 2013
4/01/13
4:11
PM ET
By
Terrence Payne
| ESPNBoston.com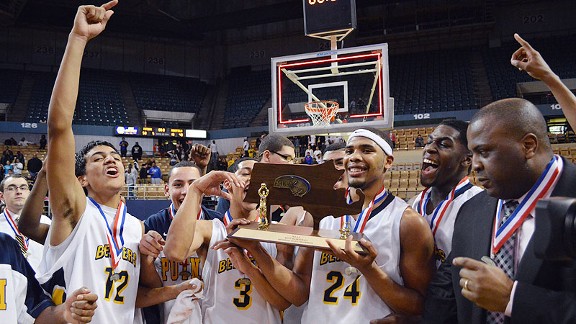 Brendan Hall/ESPNBoston.comDivision 1 state champion Putnam has emerged as a powerhouse, in part because of the way coach William Shepard constantly challenged his players off the court.
It was Friday, March 8, and inside the walls of the brand-new Roger L. Putnam Vocational Technical Academy, the boys' basketball team was still practicing. The Beavers were preparing to venture into unfamiliar territory. It had been 19 years since Putnam basketball had played this long into the season. The following night, the Beavers would square off with the defending state champions -- a rival school less than a mile down Roosevelt Avenue -- Springfield Central.
The Golden Eagles were expected to play for the Division 1 Western Mass. title that Saturday night while the Beavers still had its fair share of doubters, yet none of them were in that gymnasium that Friday.
Putnam head coach William Shepard talked to his team each day after practice, though, he tweaked the postgame speech a bit that day. Each member of the team read a line from Marva Collins' poem "The Creed."
"It applied to basketball," Putnam senior forward Kayjuan Bynum said. "But it also applied to life."
The poem represented the new culture of Putnam basketball, one that Shepard brought into the school four years ago when he decided to leave his head coaching job at Springfield Technical Community College, a position he held for a decade.
"High school is the place I wanted to be at from the start," Shepard said. "I knew there could be great things to be accomplished. I always knew there was talent here."
Shepard made the transition to high school ball to tap into the talent at an earlier age and develop these gifted players into discipline young men. When he began at Putnam, he set the expectations high, never lowering them until the goals were met. Four short years later, Putnam will add its first state title banner. More importantly, Shepard is challenging these student-athletes to apply the hard work and success they've achieved on the hardwood to the classroom and the community. There is one particular line of Collins' poem that underscores how Shepard is changing the perception of Putnam basketball and the city of Springfield.
Society will draw a circle that shuts me out, but my superior thoughts will draw me in. I was born to win if I do not spend too much time trying to fail.
The bus ride to UMass-Amherst for the Western Mass. title game was loose, according to the players. They were listening to music, joking, but when they walked into Curry Hicks Cage, they had the opportunity to dethrone Central as the city/sectional power.
A year earlier, Putnam earned the No. 2 seed to Central, only to be bounced in the quarterfinals. The top two seeds remained the same this season with Central receiving the top spot for a tougher schedule. Sharing the same street puts Putnam in the figurative and literal shadow of Central, where the history of on-court success includes three state titles while producing NBA talent in Travis Best. Despite the 20-1 record, Putnam was still doubted for much of the season.
"It really got me mad when they thought we were Division 2," junior guard Dizel Wright said, referring to one of the criticisms the team heard during the season.
The shifting of the powers started to begin when David Murrell launched a half-court shot, and, as the buzzer sounded to end the third quarter, Murrell's heave banked in, putting Putnam up nine.
"I let it go and I was like 'We got this.'" Murrell said. "We got to take over now."
From there, Putnam cruised to its first sectional final, 61-45, and the school's first ever boys' basketball title. Putnam was still the underdog in the state semifinals where the Beavers beat Milford. 52-39.
That trend continued in the state final against Mansfield. And it wasn't until Ty Nichols hit a pair of free throws in overtime, as the Beavers held on for a 50-48 win, before Shepard's mission became a reality.
Shepard, who was born and raised in Springfield, understands this wasn't the only time his players had been counted out.
Failure is just as easy to combat as success is to obtain. … I have the right to fail, but I do not have the right to take other people with me.
Every day after practice, Shepard talked to his team, less about basketball and more about life and how the choices they make.
"I've told them, you've overcome adversity already," Shepard said. "Basketball is the easy part."
Shepard refers to his players dealing with the pressures of a city with many temptations and as a court officer in Springfield for 14 years. He has seen countless teenagers walk in and out of courtrooms for whatever reasons over the years, whether it is drugs, gangs, etc.
"We talk about a lot of life issues," Shepard said. "It's just not being a follower. To be honest some of their friends are selling drugs, not doing the right thing. They have a choice."
"It's easier for anyone to get caught up in that life," Bynum added. "We use basketball as a sanctuary. We don't need a gang family. We are each other's family.
"No one needs to be out there when you can be in here with us, having fun, practicing, winning state championships."
Through his time at Putnam, Shepard has become a role model and a father figure to those who needed the influence of a male role model in their life. Shepard is like his players, born and raised in Springfield. He won the Lahovich Award (awarded to the region's top player) when he was in high school before starring in college at Western Connecticut State.
In his post-practice speeches, Shepard tells his players to not become followers, and challenges his team to be successful outside of the basketball court and in the classroom. Putnam serves as the city's trade school, although, its six rotation players – Bynum, Murrell, Wright, Nichols, Jonathan Garcia, and Kishawn Monroe – all plan on attending four-year colleges. Within the first two years of his coaching tenure at Putnam, Shepard began to attract the attention of the city's top players. Those, who had a passion for the game and were willing to be a part of something bigger then themselves.
"I had watched them play Northampton in 2011," sophomore Jonathan Garcia said. "I remember I came to watch them and saw Putnam pull out a close one.
"I actually had to beg my mom to let me go to school here. She wanted me to go to Central."
No longer was Central the place where all the talent in Springfield went. Putnam offered a solid education along with a trade in addition to what Shepard had to offer as a basketball coach. That's exactly what Shepard and Putnam provided kids in 2012-2013.
Time and chance come to us all. I can be either hesitant or courageous. I can swiftly stand up and shout: "This is my time and my place. I will accept the challenge."
Ty Nichols stepped to the free throw line with the score tied, 48-48, in overtime of the state championship. He buried the pair of free throws, but coincidentally, the sophomore standing on the free throw line was the one that wanted to quit the team during his first season with Putnam.
"He wanted to quit," Shepard said. "I have to give credit to his mother. She brought him into practice that day."
Nichols, a transfer from Chicopee Comprehensive High School, admits it took some time for him to get used to the brand of basketball Putnam was building.
"Earlier in the year I wasn't used to playing with these guys a lot," Nichols said. "I was used to getting the ball, scoring more. I had to get used to passing the ball, so I had to adapt to how they were doing things at Putnam."
Nichols, who transitioned into the sixth-man role this season for Putnam, will be one of the key players returning to next season's team along with Murrell, Wright, Garcia and Monroe. After four years and with a new $114 million the perception of Putnam have been altered in the city of Springfield.
"Putnam is the place to be here," Shepard said.
Thursday afternoon the team was getting their state championship rings sized. Bynum, a senior is done playing high school basketball as he is on his way to Southern Connecticut State to play football. He's still pulled aside by Shepard as the two have a conversation in the school's cafeteria. Times have changed at Putnam and with Shepard in the mix, it only serves as a positive for the team and provides a guiding influence to the city's youth.
March, 27, 2013
3/27/13
8:15
PM ET
By
Brendan Hall
| ESPNBoston.com
Some final thoughts as we put a close on the 2012-13 high school basketball season...
***
A FLU SHOT HE'LL NEVER FORGET
After committing to Vanderbilt last August, Lynn English's Ben Bowden told ESPNBoston.com he was
leaning towards not coming back out for basketball his senior yea
r, saying "it delayed my pitching", that he lost "alot of interest" from some colleges "because I didn't throw hard as they wanted me to."
"I'm leaning that way so I can be fully prepared, because we've got the [MLB] draft and everything," Bowden told us at the time. "Where it's at right now, I don't see myself playing. But it was fun while it lasted."
Bowden, a 6-foot-4 lefty flreballer, is one of the state's most heralded prospects following his junior season, which started with a perfect game against Marblehead and ended with a spot on ESPN Boston's All-State Team and whispers of draft potential. He was 10 minutes away from spending his winter in the gym sharpening his craft, on his own; but a chance encounter on the first day of basketball tryouts changed all that.
The school was conducting flu shots that day, and the location just happened to be near basketball coach Mike Carr's office. As Bowden's girlfriend was getting her shot, Carr light-heartedly ribbed him about spurning one last winter with the team. After Bowden wished Carr good luck and the two parted ways, Bowden bumped into a half-dozen Bulldogs players, who gave him even more ribbing.
Bowden went home, thought about it, and by 5 p.m. had changed his mind.
And boy, was he glad. The Bulldogs captivated the City of Lynn over the second half of the season and throughout their sudden run to the MIAA Division 1 North finals, with Bowden starting at power forwrad, drawing fans from all four of the high schools to come see their wildly-entertaining brand of run-and-gun. He called the Bulldogs' wild 94-87 win over Everett in the D1 North semifinals "the best atmosphere I've ever played in any sport", and doesn't regret a minute of his time this winter.
"It got me into very good shape, obviously I have no regrets at all," he said. "Even if I got hurt, I wouldn't have regretted playing at all. It was an awesome experience."
Vandy head coach Tim Corbin encourages multi-sport activity out of his high school recruits, a sentiment many high school baseball coaches support for a multitude of reasons -- primarily, that it encourages competitive spirit, and also works different muscle groups to keep the body in prime shape.
Carr heavily emphasized conditioning this year with his team, concluding practice each day with a grueling 10-minute session up and down the school's four flights of stairs, and it's paid off for Bowden. Headed into his first start of the spring, currently slated for April 10, he says this is the "best I've ever felt going into a baseball season."
"I feel my legs are stronger, I'm pushing off the mound better," Bowden said. "My core has gotten stronger. Everything we did for basketball has helped me in a positive way for baseball."
Talking about keeping his arm loose, he added, "I feel the best I've ever felt going into a baseball seasons, and I think it's because I've lost quite a bit of weight. I'm feeling a lot better and a lot lighter, and also because I was throwing more...By the time baseball started [this season] I was on my seventh week of throwing. I was a lot more ready than I was in any other season. I was smart about my decision to play basketball because I knew I had to get throws in."
As basketball becomes more individualized at younger and younger ages in this AAU-ized era of specialization, we sometimes forget that these sports can bleed into each other. Notre Dame hoop coach Mike Brey first heard about Pat Connaughton after a tip from the Irish's baseball coach. Soccer prowess helped Danvers' Eric Martin and Melrose's Frantdzy Pierrot become more elusive runners in the open floor. And some are quietly wondering if football may end up being the meal ticket for Wakefield super-sophomore Bruce Brown, who excels with the Boston Amateur Basketball Club (BABC) but also turned in a pretty nice campaign last fall at wide receiver. Same with another budding BABC star, Brendan Hill of Mansfield.
Unless you're one of the top players in the country at your position, I'll never understand why some physically-mature high school guards don't at least give an additional sport a try -- but that's a probably a topic for a whole other day. Know that for as much accolades as we've all poured on English's talented trio of guards, Bowden may have played the most important position of all -- the Joey Dorsey, the rock-solid post player down low counted on for rebounds that can keep possessions alive, and facilitate a whip-quick fast break going the other way.
And to think, if his girlfriend hadn't gone to get a flu shot that first day of tryouts, we might be talking about a whole different story in Lynn.
***
MORE THAN JUST 'WANTING IT MORE'
You have to think long and hard to find the last time a kid in the Merrimack Valley Conference went from benchwarmer on one team in one season, to league MVP on another team the next.
Chris Bardwell's transformation from garbage-time go-getter at Central Catholic in 2012 to an ESPN Boston Super Team selection at North Andover in 2013 is one that will be held up as a model example of will power. At least, that was the rhetoric being told this winter -- that if you want it bad enough as Bardwell, if you train hard enough, you can make the jump.
Sure, some of this transformation has to do with the mental element. But Mansfield wanted it just as bad as Putnam in the Division 1 state title game, and was unable to prevent the Beavers from continuously leaking out for some uncontested fast break points. Scituate wanted to just as bad as Brighton in the Division 2 Eastern Mass. title game at the Garden, but couldn't cleanly escape on-ball pressure from Nate Hogan long enough to prevent Malik James' last-second heroics.
I think of Bardwell -- also a lefty pitcher with reportedly mid to high-80's velocity -- and I think back to my first months at ESPNBoston.com, in the summer of 2010, when St. John's Prep star Pat Connaughton was one of the hottest names nationally on the recruiting front. In basketball, he was an ESPN 100 prospect with a lengthy list of suitors east of the Mississippi. On the mound, he was an overpowering righty with first five round potential, named by
Baseball America
as one of the nation's top 100 high school prospects.
Connaughton had big hype, and in turn put in a legendary summer workout regimen to back it up, sometimes putting in eight hours of training a day -- quite literally, treating it like a 9-to-5. After signing with Notre Dame, the results spoke for themselves -- a state championship, All-State recognition in both sports, and a Day 3 selection by the San Diego Padres.
OK, so Bardwell's not Connaughton. The point is, situations like Bardwell's are the product of both opportunity and preparation, and all that will power is for naught if you're not training right. Bardwell came into the last offseason more determined, but he also upped his daily cardio, played more basketball, and changed his diet, cutting out junk and carbonated beverages and increasing his protein intake. Training for both basketball and baseball certainly helped him stay sharp.
Let's not forget had Bardwell stayed at Central, he would have been battling for playing time among a deep stable of forwards, duking it out with the likes of Doug Gemmell, Nick Cambio, Joel Berroa and Aaron Hall. At North Andover, he could fit in snugly as a terrific compliment to one of the state's best bigs in Isaiah Nelsen -- though in the end, obviously, Bardwell turned out to be the star of the show.
Success stories come from anywhere. Just take a look at another former Central Catholic baseball product, Dennis Torres, who was cut four times by the varsity during his high school years yet was drafted by the Orioles last June after walking-on at UMass.
Like Bardwell, he wanted it badly. Clearly, Torres was sick and tired of being sick and tired. But as usual, it's never as simple as pure will power and mental maturation. There's a method, and Bardwell played it right.
***
RE-BIRTH OF THE RUN?
When you think of the MIAA's most dominant running teams of the 21st century, there are two programs that come to mind. One is the Charlestown juggernaut of the early 2000's, ranked nationally by USA Today and led by electric scorers like Rashid Al-Kaleem, Tony Chatman, Ridley Johnson and Tony Lee. The other is Newton North, winners of back-to-back D1 state titles behind one of the East Coast's best backcourts in Anthony Gurley and Corey Lowe.
Not about to call it a renaissance, but if there's one thing I'll take away more than anything else from this MIAA season, it's the return of quality running teams to the upper echelon. The two best running teams we saw this season represented two different styles.
There was Lynn English, pushing a white-knuckle pace, using more than 15 seconds of the shot clock only sparingly, and blitzing the opposition coming the other way with in-your-grill, full court man-to-man pressure. It took about half a season for Mike Carr's unique system to click -- but once it did, they were firing on all cylinders. The Bulldogs' backcourt of Freddy Hogan, Stevie Collins and Erick Rosario was as good as any in the state the second half of the season, with the former two earning ESPN Boston All-State honors earlier this week.
With just one real post pivot, senior Ben Bowden, the Bulldogs relied on their guards to generate transiton by forcing turnovers, sometimes flat out ripping the ball out of players' grips for easy fast break points. Carr's emphasis on conditioning was well-known, the the Bulldogs never looked tired.
Many will point to Central Catholic's stark rebounding advantage as to why they were able to lay a dump truck on English in the D1 North Final (they held a 28-7 advantage at the half), but -- follow me here -- that was practically by design. The Bulldogs flat out bailed on offensive possessions once the shot went up, surrendering the advantage and forcing Central's guards to make plays (they did, and did often).
That philosophy stood in contrast to what I felt was the state's best running team this year, Division 1 state champion Putnam. They seemed to play a physical brand of basketball in the City of Springfield this year, and nobody exemplified this better than the Beavers, who made up for lack of height with plenty of linebacker-like bulk in forwards KayJuan Bynum and David Murrell, both ESPN Boston All-State selections.
Throughout the season, Putnam coach William Shepard demonstrated enough faith in Bynum and Murrell's ability to get defensive rebounds that the Beavers' guards could continually leak out of possessions early to get fast break after fast break (Bynum and Murrell combined for 11.4 defensive rebounds, and 19.6 overall, per game this season). When an opposing team's shot went up, guards started strafing up the sidelines in anticipation of a long outlet pass. This led to a slew of production in the D1 state title game from guards Ty Nichols, Dizel Wright, Ki-Shawn Monroe and Jonathan Garcia.
Best of all, these two squads return a ton of talent to keep them in Top 10 consideration for the next two seasons. Both teams must find a replacement for their best big (English with Bowden, Putnam with Bynum), but feature a slew of talented backcourt and wing players to keep the tempo frenetic and the opposition uncomfortable.
***
INTERVIEWS OF THE YEAR
My personal favorites for interviews of the year. First, the short category...
And now, the long category...
***
WILL JACK EVER COME BACK?
After Brighton won its first ever state title, Bengals coach Hugh Coleman held court in the media room at the DCU Center, dedicating the state title trophy and season to his lifelong mentor, legendary former Charlestown boss Jack O'Brien.
Anyone familiar with the bond between O'Brien and Coleman knows it is strong. O'Brien came into Coleman's life at a very hectic time -- being born when his mother was 20, becoming the man of the house at just 6 years old, and watching a number of his family members get rung up on drug arrests. He was under supervision of the Department of Social Services when he first met O'Brien as a freshman at Charlestown in 1993.
O'Brien is probably most known for his run of five D2 state titles in six seasons from 1999-2005 at Charlestown, and Coleman was an assistant on the last three. It's worth noting the 2003 squad, which Coleman's brother Derek captained, was the last squad to win both a city and state championship before Brighton did it this year.
"The way Jack O'Brien came into my life...He never recruited me, no one ever said I was going to Charlestown, I ended up going there by chance, he ended up going to Charlestown and it was special," Coleman said. "I lucked out and got the Brighton job four years ago. I probably wasn't supposed to get it, but I did. A lot of people recruited him out of middle school to go to different schools, but he ended up at Brighton with me. So I think that's such a great blessing. I'm glad that I've been able to be a part of his life, and him a part of my life. He's made me a stronger person and I hope that I was able to rub off on him. He led us to victory this entire season, including today.
"I definitely want to dedicate this to Jack O'Brien. He should be coaching. He should be coaching, and I have no idea why he's not coaching in the state of Massachusetts. In my opinion, he is the best coach in the state of Massachusetts. He is, and not just because he won games. He changed the lives of so many of us young men at Charlestown during that time. We went on to go to college. We went on to be great men, fathers, husbands, and you know what? It's because of what he helped us do from the inside out. He helped us to be great men.
"I'll be honest with you, I coach and I took the coaching job because he's not coaching. I couldn't allow that to...When they said he couldn't coach, or they wouldn't allow him to coach for whatever reason, I said I've got to keep the legacy going. He's healthy, he's a 10 times better man, whatever lesson I guess he was supposed to learn. It's a shame he's not coaching, because he is all that and then some."
Wherever he has gone, O'Brien has had dramatic results, producing McDonald's All-Americans at Salem High and nationally-ranked squads at Charlestown. But he has remained out of coaching since his 11th-hour departure from Lynn English hours before the first practice of the 2006-07 season. His name has been linked to jobs throughout Eastern Mass. over the years, most notably Somerville in 2008, but it's unclear when he'll return to coaching.
Still, with 400-plus wins, six state titles, some of the Bay State's most captivating running teams of the last quarter-century, and his age (he just turned 55 last month), there remains faith that he will turn up somewhere. Just where is anyone's guess.
***
HALL'S TOP 10 FOR 2013-14
1. Mansfield
Hornets lost just one senior from their 2013 Division 1 state championship run and return the most talent of anyone in the state, including reigning Hockomock MVP Brendan Hill. A healthier Michael Hershman should bolster an already-deep lineup featuring Rocky DeAndrade, Michael Boen, Ryan Boulter, Kevin Conner and Kyle Wisniewski.
2. Lynn English
The returning backcourt of Freddy Hogan, Stevie Collins and Erick Rosario, along with wing Danny Lukanda, makes this team a preseason Top 5. Key will be the development of promising 6-foot-6 sophomore Johnny Hilaire, whose pogo-like leaping ability has begun to draw comparisons to former All-Stater Keandre Stanton.
3. St. John's (Shrewsbury)
Pioneers return arguably the state's best backcourt in Davon Jones and Adham Floyd, along with a dynamic frontcourt of T.J. Kelley, Drew Vittum and Charlie Murray. Next year gets interesting in D1 Central, with stalwarts such as Franklin, Westford and Acton-Boxborough joining the fray.
4. Central Catholic
A returning core of Tyler Nelson and Nick Cambio makes the Raiders one of the premier perimeter teams in Eastern Mass once again. Six-foot-6 junior Aaron Hall has big shoes to fill in the frontcourt, with the graduation of center Doug Gemmell.
5. Brookline
If all goes as planned and everyone returns, you're looking at a coach's dream. Elijah Rogers is a virtuoso at the point, and a supporting cast of Obi Obiora, Anthony Jennings, Tyler Patterson and Mark Gasperini makes them a formidable foe on size and skill alone.
6. Springfield Putnam
Beavers stand a legitimate chance at going back-to-back as D1 state champs as long as they can find an able replacement for graduating senior post KayJuan Bynum. By season's end this was the best running team in the state –- who knows what another season of David Murrell, Dizel Wright, Jonathan Garcia, Ty Nichols and Ki-Shawn Monroe will bring?
7. Brighton
All signs point to Malik James having played his last game as a Bengal in the state championship game, but freshman Javaughn Edmonds shows promise to potentially fill the point guard role. Should All-State forward Nick Simpson return, you're looking at a front line of Simpson and 6-foot-5 sophomore Jason Jones that is as good as any across Division 2.
8. Melrose
Scary as his junior season was, reigning Middlesex League MVP Frantdzy Pierrot could turn in an even more monstrous senior campaign in 2013-14 for the Red Raiders. With realignment shifting many teams in the North, and a quality stable of underclassmen led by freshman point guard Sherron Harris, next year is as good a time as any to strike.
9. Wakefield
Sophomore Bruce Brown is expected to return next season, and that alone makes the Warriors a favorite in D2 North. The question will be whether they can turn their early-season promise into deep playoff production, and whether they can get past the semifinal round.
10. Springfield Central
The Golden Eagles are not without talent, with one of the state's most promising big men in sophomore Chris Baldwin. The question will be if the guards and forwards can get on the same page, and we think after some growing pains this year, cousins Ju'uan and Cody Williams will make this team sharper coming off a disappointing Division 1 state title defense.
Others to watch:
Acton-Boxborough, Andover, Braintree, Boston English, Catholic Memorial, Danvers, Haverhill, Holyoke, New Bedford, New Mission, Newton North, St. John's Prep, Wachusett, Watertown
March, 17, 2013
3/17/13
1:35
AM ET
By
Ryan Lanigan
| ESPNBoston.com


WORCESTER, Mass. –- Putnam sophomore Ty Nichols stepped to the line and calmly sank both of his free throws with just 7.5 seconds left in overtime.

Those two simple free throws ended as the difference in a wild, thrilling game, giving Putnam a 50-48 win over Mansfield and the Beaver's their first ever D1 State Championship.

"I stepped to the line and my team had confidence in me," Nichols said. "My coaches had confidence in me. I've been hitting free throws all year and I just took them as regular free throws and they went in."

Mansfield's Rocky DeAndrade sprinted up the court, but his jumper was short and Putnam celebrated their first state title in school history.

"It definitely feels great," Putnam's Kayjuan Bynum said. "We expected to be here, we expected to play our hearts out and try to come out with a state championship, which we did."

The Beavers looked like they were ready to win in regulation, up 40-33 with just over 2 minutes left in the fourth quarter, but Mansfield's Michael Boen came up with a big offensive board and put back while being fouled. His free throw pulled the Hornets within 4. Both teams traded empty trips before Boen hit a corner three to pull within one at 40-39 with 35.7 seconds left.

After Bynum sank two free throws to put Putnam up 42-39, Mansfield's Ryan Boulter was fouled while shooting a three with just 5.5 seconds left. The sophomore sank all three shots and Putnam wasn't able to get a shot off before the buzzer.

In overtime, Bynum sank two free throws only to have Boulter answer with a three to give Mansfield a 45-44 lead. Two more free throws from Bynum followed by a layup from Nichols put Putnam up 48-45.

Mansfield answered yet again, this time with 19.9 seconds left when Boulter again drained a three.

But as time ticked away in overtime, it was Nichols' drive to the basket that drew the foul that ended as the difference.

Mansfield was just 6-of-29 from downtown, but had 19 turnovers, due in large part to a tough Putnam defense.

"At halftime, we spoke about not having hit our stride yet defensively," Putnam head coach William Shepard said. "We've held teams to single digit scoring in a quarter consistently all year. When they came out and held them to 7 points in the third quarter, I could see our guys take a collective breath and say 'OK, we can do this.'"

Bynum finished with a game-high 15 points, including a perfect 8-8 performance from the free throw line in the fourth quarter and overtime. Boulter finished with 14 for Mansfield, nine of which came in the fourth quarter and overtime.

"Hats off to Putnam with their defensive effort," Mansfield head coach Mike Vaughan said. "They did a great job, they took things away."

Putnam finished the season 24-1 with their first ever D1 State Championship. Mansfield finishes 25-3.

"I almost cried, but I stopped myself from crying," Nichols said. "This feels good, Putnam's first state championship, this feels good."

A BRIGHT FUTURE FOR BOTH
Although both Putnam and Mansfield will be losing key seniors to graduation, it's not out of the question that either team could make a return trip next season.

The 2013 D1 State Champions will only lose one starter, Bynum, and will graduate three others. Mansfield will lose five seniors, but none bigger than senior captain Greg Romanko.

For the Beavers, Dizel Wright and David Murrell (13 and 11 points respectively) will look to lead Putnam to a return trip. Sophomore starters Jonathan Garcia and Ki-shawn Monroe will join classmate Ty Nichols again next year.

The Hornets return a solid core, with sophomores Brendan Hill, the reigning Hockomock League MVP, and Ryan Boulter joining a slew of juniors –- Michael Boen, Kyle Wisnieski, Rocky DeAndrade, Kevin Conner, and Michael Hershman -– ready to take over the reigns of this team.

"This is going to sting for a few days," Vaugahan said. "After we wake up in a couple of days, we can make this motivation for next season to get back here. As we said, this isn't easy. We hope we have an opportunity to represent the South again next year.

"It's not an easy road and there are a lot of good teams coming back next year. We're going to show up three days after Thanksgiving and get ready to do this all over again."


March, 14, 2013
3/14/13
11:24
PM ET
By
Brendan Hall
| ESPNBoston.com
MassLive.com online sports producer Jay King and I break down each of the three MIAA boys basketball State Championships taking place Saturday at the DCU Center in Worcester. I'll be providing Eastern Mass. perspective, while Jay handles Western Mass.

***

DIVISION 1: MANSFIELD VS. SPRINGFIELD PUTNAM

School: Mansfield
Record: 25-2
Region: South

How efficient is Mansfield? During Saturday's Division 1 South Final, one North Quincy fan mused that the Hornets might as well be the Illuminati –- and the humorous observation has since taken on a life of its own, with fans printing up "Illuminati" shirts in preparation for Saturday's state final. The Hornets have become one of Massachusetts' most consistent programs under Mike Vaughan, and a big component of that is their perimeter play.

Led by an array of marksmen, the Hornets are one of the state's best shooting teams. The piece de resistance may have been on March 6, when they shot 77 percent from the floor in the first half of their D1 South semifinal with Brookline – including an unreal 9-for-11 from three-point range. Sophomore forward Brendan Hill, the Hockomock League MVP, is the player with the most upside, beginning to build scholarship interest for both football and basketball.

-- Brendan Hall

Key Players
Brendan Hill, 6-5 Soph. F (13.4 points per game) – Fleet-footed point forward is the Hornets' leading rebounder, the MVP of the competitive Hockomock League, and at times demonstrates Zen-like vision in the open court.
Rocky DeAndrade, 5-10 Jr. G (10.8 points) – Even-keeled point guard has been the unsung hero of the tournament, keeping the offense flowing cleanly and providing some nice on-ball defense. Averaging 10.8 points per game.
Michael Boen, 6-2 Soph. F – Nephew of Brockton head coach Bob Boen has made some big shots in this postseason run.
Kevin Conner, 6-3 Jr. F – Promising wing could finally be realizing his potential late in these playoffs, after leading the Hornets in scoring in the Eastern Mass. Final.
Greg Romanko, 6-3 Sr. F (10.4 points) – The lone senior in the starting lineup, and one of several skilled outside shooters.
Kyle Wisniewski, 6-0 Jr. G – Also the quarterback during football season, has been one of the most reliable defenders, marking Central Catholic superstar Tyler Nelson in the EMass Final and holding him to zero first-half points.
Ryan Boulter, 6-3 Soph. F (11.2 points) – One of several marksmen providing spark off the bench.

Road through the playoffs
South First Round: beat Newton South, 72-56
South Quarterfinal: beat Franklin, 57-48 (OT)
South Semifinal: beat Brookline, 68-50
South Final: beat North Quincy, 57-45
Eastern Mass. Final: beat Central Catholic, 55-50

***

School: Putnam
Record: 23-1
Region: West

At full strength, the only time Putnam has been anything but No. 1 in Western Mass this season came when the sectional tournament seedings were announced. The Beavers were given No. 2 behind Central, which said more about Central's strength of schedule than anything else. Based on play, nobody's been close to Putnam all season long.

Sure, West Springfield ruined Putnam's quest for an undefeated season on Feb. 12. But that came with athletic wing Dizel Wright injured and out of the lineup. At full strength, the Beavers have blitzed everybody. Twenty-one of their 23 wins have come by double figures. The other two were by nine points apiece. They've won four postseason games by an average of 17.3 points, meaning they have now outscored their opponents by 23.1 points per game (including the regular season). Putnam trounced Division II state finalist South Hadley by 23 points in early January and smashed defending state champion Central by 16 points in the Western Mass. final.

How has Putnam been so dominant en route to their first sectional title and appearance in the state championship game? Defense, togetherness, unselfishness and a starting five that calls itself a brotherhood. The Beavers aren't tall, but they always seem to win the rebounding battle. They aren't the best shooting team, but they can make shots. They've never advanced so far into the state tournament, but they certainly act like they've been there before.

One major key to beating Putnam: taking care of the basketball. The Beavers aren't a half-court juggernaut, but they force turnovers and use a team-wide passing ability to quickly turn small leads into huge ones.

-- Jay King

Key players:
KayJuan Bynum, 6-3 Sr. F (16.2 points) – Both Putnam's glue and its best scorer, Bynum looks older than the average senior and plays the same way. He leads the team with 39 made 3-pointers, but also uses his strength to deal inside. After scoring 15 points in the state semifinals, he said he felt he played one of his worst games. As good as he's been all season, he might even have been right.
David Murrell, 6-3 Jr. F (15 points) – An inside-outside threat like Bynum, Murrell uses heart and know-how to add a few inches to his game. The junior was quiet with only nine points in the state semifinals, but had 16 second-half points to down Central in the Western Mass. final.
Dizel Wright, 6-1 Jr. G (12.6 points) – One of the better athletes in Western Mass., with length and quickness to go with a defensive tenacity. Great in transition and tough on the glass, Wright had an unfathomable eight offensive rebounds in the state semifinal win against Milford. "Dizel basically – every assignment we've given him this year, he's come close to meeting the task or he has met the task. He's exceptional at his assignment," said Putnam coach William Shepard. "He just thrives defensively. He loves when we put him on another team's best man."
Jonathan Garcia, 6-0 Soph. G (8.5 points) – Garcia's understated elegance on the court might go unseen by the casual observer, but he's as big a reason for Putnam's strong defense as any. The king of deflected passes, the wiry guard seems to be involved in every play, in one fashion or another. Like everyone else in the Putnam starting five, Garcia's a plus-passer.

Road through the playoffs:
West Round 2: beat Cathedral, 71-53
West Semifinals: beat West Springfield, 64-42
West Final: beat Central, 61-45
State Semifinals: beat Milford, 52-39
March, 13, 2013
3/13/13
1:08
AM ET
By
Terrence Payne
| ESPNBoston.com


WORCESTER, Mass. -- Putnam, on the heels of winning its first-ever boys' Division 1 Western Mass. championship, continued its historic season with a 52-39 win over Central Mass. champ Milford in the state semifinal at the DCU Center in Worcester on Wednesday night.

Putnam (23-1) did the way its done it all year, with rebounding and defense. The Beavers outrebounded the Scarlet Hawks 36-16, 16-7 on the offensive glass and forced 18 turnovers, earning a trip to the state final to play Mansfield on Saturday.

The Beavers held a one-point advantage over Milford (20-4) in the third quarter. Putnam up the defensive intensity and rallied off 10 straight points to head into the fourth quarter with a 42-31 lead. Putnam had switched from its typical man-to-man defense to a 1-3-1, which slowed down the Milford offense, which had scored the first six points off the half to take a one-point advantage.

"It kind of confused them for a while," Putnam head coach William Shepard said. "It took away their energy. When we went into the zone, they got a little stagnant and didn't really know what to do. Then they started to settle for jump shots."

Milford hung tough and cut the lead to six several times in the fourth quarter, off threes from Aaron Anniballi and Christopher Brown. Putnam countered by pushing the tempo. David Murrell hit a free throw after getting fouled, Jonathan Garcia came away with a breakaway lay-in and Kayjuan Bynum turned pressure into a transition layup, upping the lead to 11 with under a minute to go.

"That team; the quickness, you can't match that," Anniballi said. "You can't practice for that."

"We played teams that quick, but we haven't played teams that quick with that kind of chemistry." added Mike Tiltlebaum. "We've played good teams where we'd break them a part. Mentally we're tough. That chemistry and their quickness got us in the end."

Putnam led early in the game, 20-9, but when Garcia went to the bench with his second foul, the Scarlet Hawks went on an 11-0 run and used a 2-3 zone to limit the Beaver offense, yet the Beavers regrouped and entered intermission with a 27-22 lead.

Putnam was led by Dizel Wright's 17 points and 12 rebounds (eight offensive). Bynum added 15 and 13 while Murrell and Garcia added nine each. All Milford players were held to single digits with David Mercier lead the Scarlet Hawks with nine points.

Putnam's size is irrelevant: Putnam went up against the heralded front line of Kamari Robinson and Chris Baldwin in the Western Mass. final and out worked Springfield Central's duo to take down its city rival.

No one who played for Putnam on Tuesday night stood more than 6-foot-3. Milford started 6-foot-7 David Mercier and 6-foot-5 Michael Tracy. From the start of the game Putnam was the aggressive on the glass and it showed when 5-foot-10 Dizel Wright hauled in 12 rebounds (eight offensive).

Bynum led the team with 13 boards, but seven of Wright's first eight rebounds were offensive and helped the Beavers head into the locker room with a five-point edge.

"I like to control the ball and see where the ball is going," Wright said. "I try to pace myself. Timing is key."

The Beavers defense on the perimeter has continued to be great and when they went to a 1-3-1 zone in the third quarter it stopped Milford from scoring while Putnam scored 10 unanswered.

"Their 1-3-1 zone is really good, and they're really quick to the ball," Anniballi said. "They leak out too so you have to be prepared for that. The zone hit us hard."

Milford's best offensive success of the night came when Jonathan Garcia picked up his second foul under a minute to go in the first quarter. In the second quarter, Milford went on an 11-0 run, but when Garcia came back on the floor he blocked shots on consecutive plays, deflected multiple passes and steals.

"Jonathan is one of our mainstays defensively," Shepard said. "Something's a little different when Jon Jon isn't in the game."

Milford's season comes to an end: Like Putnam, Milford was a hard working team, overlooked for the majority of the season and often picked against during the postseason. As the clock hit triple zeros and the handshakes were finished senior captain Mike Titlebaum led the team over to the fan section where for minutes after the game hugs and thank yous were exchanged after an incredible season.

"They are one of my favorite groups," Milford head coach Steve Manguso said. "They're good friends, there's good chemistry, good leadership. They've been a blast. It's been a great experience."

Like Putnam, Milford came off an emotional win on Sunday at WPI, dethroning five-time Central Mass. champion, St. John's Shrewsbury 56-54.

"Our first reaction is obviously sad," Anniballi said. "We look back at all the things we did in the tournament, throughout the whole season, and throughout of all high school; it's unreal."

Titlebaum referred to watching Milford lose to St. John's in the 2007 sectional final, sparking a dream all of them had to return the favor to the Pioneers if they ever had the chance.

"We lost, but the dream came true," said Titlebaum. "It was awesome."

Following the three captains shared the media room with Putnam players David Murrell, Kayjuan Bynum and head coach Will Shepard. They stopped their interviews to wish them luck and congratulate them as they walked out the door.

"I wish we were going to practice tomorrow," said Manguso. "But there aren't too many teams practicing right now."

Other scores from Worcester: For the second consecutive year, Western Mass. swept Central Mass. in the boys' state semifinals. Tuesday night Smith Academy beat Littleton 72-56 in the D3 semifinal, followed by South Hadley topped St. Bernard's 63-48 in the D2 semifinal.
March, 8, 2013
3/08/13
1:45
PM ET
By
Terrence Payne
| ESPNBoston.com
The Western Mass. Division 1 boys' basketball final resembles more of a city title matchup between Springfield rivals Putnam Vocational and the defending state champion, Central.

The two schools -- separated by a little more than a mile -- have each played 22 games, but have yet to share the hardwood until Saturday's championship bout at Curry Hicks Cage, on the campus of UMass Amherst.

When the Beavers topped West Springfield, and the Golden Eagles outlasted Holyoke in Wednesday's semifinals in Springfield, it set the stage for the biggest question in the region to be answered -- Who is better, Central or Putnam?

"I've been wanting to play them all year," Central captain Kamari Robinson said on Thursday.

At different points this season, each has been regarded as the top team in the area. It with Central's No. 1 preseason ranking in ESPNBoston.com's statewide poll, then transitioning to Putnam's local dominance, not dropping a game until Feb. 12 -- a loss to West Side with a shorthanded lineup.

"Both (teams) are talking," Robinson said. "We're going to talk of course, but we both have respect for each other."

That respect has developed long before the season began in November. It started in the city of Springfield, with players like Robinson and Putnam guard Dizel Wright sharing a travel team while playing with and against Beavers junior forward David Murrell over the years.

Yet for 32 minutes, Springfield bragging rights are one the line, something both city schools realize and would like to hold over the other one for the next calendar year.

Putnam played the first of two seminfinals at American International College Wednesday night and took the rubber match against West Side, cruising to a 64-42 win. After the win, when asked who the Beavers wanted to win the next game, Murrell made it clear.

"Hopefully Central," Murrell said after pouring in a game-high 22 points and 11 rebounds. "Everybody is saying that we can't beat anybody, hopefully we can prove to Central that we can win Western Mass."

Murrell and senior forward Kayjuan Bynum (16 points, 14 boards) have frontline that, although undersized, can battle with Central's 6-foot-5 Robinson and 6-foot-8 Chris Baldwin.

Match that with the team's willingness to defend, especially on the perimeter, it could end Central's reign over Western Mass. The forwards for Putnam and Central will battle inside, but the guard play is still critical, as it usually is in Western Mass. Central replaced three of four rotation guards from last season's championship run.

Putnam is young but long on the perimeter, with sophomores Jonathan Garcia and reserve guard Ty Nichols. Wright will likely be placed on Central's Cornelius Tyson, the hero of the 2012 state title win over Brockton with 16 points of four 3-pointers, all in the second half.

Putnam opened a new school this fall, and since William Shepard took over the program four seasons ago, he has begun to usher in a new basketball power in the birthplace of basketball.

Central has won two of the last four Western Mass. titles, and has been the home to of the finest players to come through the state. Ten-year NBA veteran Travis Best comes immediately to mind; ironically, his most memorable high school performance came in a 1991 win over Putnam, in which Best scoreed 81 points in a 143-85 victory -- records that stand to this day.

Putnam's success is shadowed in comparison, reaching the sectional final for the first time since 1984.

The Beavers have displayed they don't shy away from a big game, with the best example being Wednesday's win over West Side. The two split the regular season games, though, in both occasions neither team was at full strength. In the semifinals both teams had their best squads on the floor and Putnam proved to be the superior team.

"They play hard, all 32 minutes," Robinson said.

Putnam is looking to shift the powers in Springfield city ball and has that chance Saturday. The question will inevitably be answered. Is Central add to its tradition and remain the city's top team or will Putnam silence the doubters and officially take the top spot in Western Mass.

"It'll be good to play them and see who's really No. 1," Bynum said.
March, 6, 2013
3/06/13
11:27
PM ET
By
Terrence Payne
| ESPNBoston.com
SPRINGFIELD, Mass. –- Putnam Vocational went on a 16-6 run beginning midway through the third quarter and into the first few minutes of the fourth to not only create, distance, but cruise to a 64-42 win over West Springfield Wednesday night at American International College in Springfield.

In the rubber match, Putnam (21-1) continually kept West Side (21-3) from climbing back into the game. Following a Riyadh Asad putback that cut the lead to single digits, 39-31, the Beavers rallied off six straight to end the third quarter with a 14-point edge.

In, the fourth Putnam added to the run and stretched the lead to 51-33 with contributions from several players. Putnam got the lead up to as high as 27 in the fourth.

"That's where we pick it up," Putnam junior David Murrell said. "That's our quarter, the fourth quarter."

Although the offensive surge lifted Putnam into its first sectional final since the 1980s, it was the defense that sparked the win.

"Defense," senior forward KayJuan Bynum said. "We love defense."

Dizel Wright and Jonathan Garcia were able to contain the perimeter for Putnam while Bynum and Murrell controlled the boards. Bynum and Murrell grabbed 25 rebounds between the two of them, aided by Chris Lipscomb's foul trouble. Wright and Garcia held Asad and Paul Bessette to 13 points combined. Andy McNulty was the only player to score in double figures for West Side with 16.

As a team, Putnam kept the three-point shooting Terriers to only four triples on the night -– all in the first half.

"We [held West Side] to a nine-point first quarter and an eight point third quarter," Shepard said. "That in itself showed that we bought into it defensively."

The Beavers started off the game 12-3 and held a single-digit lead for much of the first half. Dewey King connected on a three to get West Side within four, only to have Bynum and Tavis Frazier hit back-to-back threes upping the lead to 10. West Side cut it to six later in the second quarter, but Putnam countered with a Ki-Shawn Monroe three.

"Dizel thrives defensively," Shepard said. "He loves when we put him on the other team's best man."

"Jon Jon (Garcia) has been the most consistent defender we've had all year," added the fourth-year head coach. "He does all the little things."

Murrell ended with 21 points and 11 boards. Bynum added 16 and 14.

For the third time in as many seasons West Side is eliminated in the semifinals. The Terriers three losses came to only Putnam and Springfield Central. Putnam will play the Central Saturday at Curry Hicks Cage at UMass Amherst.

Putnam wins rubber match: On Jan. 25, West Side was without Bessette and like Wednesday Lipscomb was saddled with fouls and Putnam won at home 59-43. West Side returned the favor on Feb. 12, which was senior night for the Terriers. Lipscomb drilled a corner three to give West Side a 52-50 lead. West Side would hold on to win 54-50.

In that loss, Putnam's lone shortcoming this season, Dizel Wright dressed but did not play.

"In the first time he (Bessette) wasn't there," Shepard said. "And when they beat us, we eren't at full strength. Both teams we're at full strength and we were really looking forward to this game.

On Wednesday, both teams were at full strength and Beavers and Putnam avenged last night's loss.

"It was nice to beat West Springfield, after they beat us,'' Bynum said. "That was a good win over a good team.''

Versatility meets size, tradition: West Side threw on a full court press in the fourth, in attempt to get back into the game. But Putnam's balance, including forward Bynum and Murrell being able to handle the ball, turned the press into a fastbreak.

Putnam is an unselfish team and one through five commit to the defensive side of the ball, which has helped the Beavers to a 21-1 record so far this season.

"It's communicating with each other, believing in each other and just being their for each other," Shepard said. "And that's what we've done consistently this year."

Putnam will need one more great defensive effort if they want to top the defending state champs, Springfield Central. The Golden Eagles have won two Western Mass. titles since 2009, while Putnam hasn't made a sectional final since 1984.

"Everyone says we can't beat anybody," Murrell said. "Hopefully we can prove it to Central and beat Western Mass."

Central features 6-foot-8 Chris Baldwin and 6-foot-5 Kamari Robinson on the frontline, standing over Putnam's 6-foot-2 Murrell and 6-foot-3 Bynum as the starting forwards.

Putnam's duo grabbed 25 boards in Wednesday's win, but how will they fare against the state's biggest frontcourts?

The answer could come from the perimeter. Garcia, Wright, and reserve guard Ty Nichols add create length and size, holding the talented West Side backcourt in check in the semifinals. Asad, Bessette, and McNulty combined for 29 points -– 16 coming from McNulty.

Putnam and Central are separated by just 1.2 miles and meet at the Cage for bragging rights.

"This is what you get when you play together for three years," Bynum said. "We're no longer a team we're family."