High School:

Dominic Blad
March, 25, 2013
Mar 25
10:59
AM ET
Flanked by a swarm of reporters, Sean Murphy's eyes darted about as he searched for the words to say. The Burlington senior forward was never the center of attention during his high school career, so he didn't have much experience in such a setting. He scored two goals at the TD Garden last week as the Red Devils' repeated as Division 1 state champions. It was his first time playing at the Garden, having watched last year's final unfold from the perspective of a fan. This was the first year Murphy made Burlington's varsity hockey squad.
As Murphy responded to questions, teammates and members of the Red Devils' coaching staff ribbed him. Their good-natured jabs caused Murphy periodically to break down and smile while he tried to maintain focus on the interview. They all knew the circumstances surrounding Murphy's accomplishment. He'd done from off the team outright to hero.
During freshman year, Burlington didn't host a freshman team. Murphy failed to make the junior varsity squad, so he went a year without playing for his high school. In sophomore year, Murphy earned a spot on the J.V. team, but it was the Red Devils' lower team (the J.V. had been split into two teams). The next year, he moved up to the higher J.V. team, as many of his classmates won their first state crown. Finally, as a senior, Murphy made the varsity team.
He only scored one goal during the regular season, but Murphy broke out in the tournament, scoring five goals in the postseason, including two in the championship game.
When Murphy attracted the attention in the postgame following the Red Devils' 4-2 victory over Marshfield on Sunday, Burlington head coach Bob Conceison watched a few paces away. He beamed and was eager to tell of Murphy's story of stick-to-itiveness.
"That's the kind of story that makes high school hockey great," Conceison said.
A SORT OF CHANGING OF THE GUARD
As Malden Catholic won its third straight Super 8 championship, it would seem as though the Lancers simply picked up where they left off. But anybody who watched the defending champions' season unfold would tell you this most recent run was anything but a sure thing.
In many years, this year's MC model was uncharacteristic from the previous. Yes, the Lancers still had more top-end talent than anyone, with three Division 1 college recruits (and counting). But this was in broad strokes a young team and, more so, one that lacked experience in a Super 8 environment. Building on the contributions of talented senior leaders (Mike Vecchione in 2011 and Brendan Collier in '12) in the last two years, the Lancers had to learn to do it on their own this year.
Helping to bridge the gap was senior captain Mike Iovanna, one of a handful of seniors on MC's roster this year. Iovanna is self-described as someone who leads by example. The soft-spoken UMass commit has been a key cog in the Lancers' run all along, but took on a greater role this year, inheriting the "C" on his sweater.
"You know what the expectations are," Iovanna said of taking on the role of captain. "Knowing what Mike [Vecchione] and Brendan [Collier] meant in the room, I was able to learn from them.
"But I also know that I'm a different person from them. I'm a pretty quiet guy, but I knew I could set an example for the younger players as they had done for me."
Iovanna combined with junior left wing Tyler Sifferlen and sophomore center Ara Nazarian to tally nearly half (113) of MC's points on the season (245) on its top line. Aside from creating the Lancers' scoring punch, Iovanna also contributed intangibles on MC's top penalty killing forward unit beside Nazarian — who changed the face of the tournament with his four short-handed goals.
But aside from the first line, the Lancers relied on a new wave for contributions.
"They have their own identity, but it's a new core," Lancers head coach John McLean said. "It's young, very talented players, with [Austin] Goldstein, [Matt] Filipe, [Jake] Witkowski and [Will] Lawrence on D, I thought John [McLean III] played well."
Nothing was handed to this MC group; it was earned. Sitting a 5-6-3 as the calendar was about to flip to February, the Lancers had to learn on the fly.
"Right around Central Catholic, that was a big win for us and the kid's became a team," McLean said. "We went out to Springfield and, for whatever reason, Springfield always worked for us. We went on a roll.
Of course, none of that reflects the emotional component that followed MC hockey this year. Former head coach and athletic director Chris Serino succumbed after a long fight with cancer shortly before the season began.
His imprint remained in MC's three-peat.
"It's still Chris's team a little bit," McLean said.
COMINGS AND GOINGS
Here's a look at some recent updates in where some of the state's top players are headed next year:
One of our favorite players to watch during the last couple of years was Burlington forward C.J. Grinnell. Grinnell led the Red Devils again in scoring (13-19-32) and is considering prep and junior options for next year, with Connecticut's Canterbury School as a leading candidate. Just a thought that some college coach out there is going to get one heck of a player in a couple years.
Springfield Cathedral wasn't able to get over the MC hump in the Super 8, but will more than likely have several of its graduating players skating on past this year. First-line winger Dominic Blad is heading to South Kent while defenseman Matt Foley is weighing options between Phillips Exeter, Choate Rosemary Hall and Berkshire School, along with college choices for the following year. All-State-caliber defenseman Jack Williams and center Artie Potter are also exploring options for next year.
The Woburn girls' hockey program had perhaps the greatest collection of talent in the state this year. Case and point were made last week as two of the Tanners' top skaters announced their college plans. Forward Kayla Smith gave her commitment to Salve Regina while defenseman Cassandra Connolly will be headed to the University of New England.
MR. AND MISS HOCKEY AWARD FINALISTS
We'll be handing out our awards Monday when we name our Mr. and Miss Hockey Award winners, as the best players in MIAA hockey this year. Here's a look at our four finalists for the honors, in alphabetical order:
Mr. Hockey:
Liam Coughlin, Sr. C, Catholic Memorial: The rangy pivot helped lift the Knights to the Super 8 semifinals, leading the team with 28 goals and 20 assists for 48 points.
Peter Cronin, Sr., G BC High: Undoubtedly, the state's best goaltender for two years running. The three-year starter posted a 94.6 save percentage along with seven shutouts this year.
Ara Nazarian, Soph. C, Malden Catholic: Led the Lancers in scoring (26-20-46) during the regular season in addition to leading all players in Super 8 scoring, while tallying an unheard of four short-handed goals for the three-time defending champions.
Brian Pinho, Sr. C, St. John's Prep: A natural playmaker with vision, the Providence College commit led the Catholic Conference champions with 12-24-36 totals.
Miss Hockey:
Alison Butler, Sr. F, St. Mary's (Lynn): Among the leading scorers in the state (37-25-62), Butler saved her best for last, netting the game-winning goal in the state championship game.
Hannah Murphy, Sr. F, Duxbury: The Dragons captain capped her prolific career with the program's third straight state championship win, scoring 29 goals and adding 24 assists.
Shannon O'Neil, Sr. G, Austin Prep: Led all Division 1 starting goaltenders with a 1.08 GAA and eye-popping 96.8 save percentage to go along with 10 shutouts.
Kayla Smith, Sr. F, Woburn: Perhaps the most feared scorer in the state, Smith finished with 34-29-64 totals for the Tanners.
March, 2, 2013
Mar 2
4:52
PM ET
There are less than 24 hours remaining before the puck drops on the Super 8 tournament Sunday at UMass-Lowell's Tsongas Center.

So we're taking this opportunity to break down the final eight. As the tournament takes on a best-of-three format for its first-round matchups this year, we're taking a look at the head-to-head breakdowns for each series, along with predictions:

Series: No. 1 St. John's Prep (17-2-1) vs. No. 8 Central Catholic (14-5-3)

Players to watch: Prep – F Brian Pinho, F Tyler Bird, F Andrew Brandano, F Jack McCarthy, F Cam Shaheen, D Brent Murray, G Billy Price; Central – F Lloyd Hayes, F Corey Webber; D Nick Gorski, D Alex Lester, G Colin Soucy.

Previous meeting: Central 2, Prep 1 on Dec. 26.

The skinny: Central fought its way into the eight-team field with an improbable comeback against Hingham in Monday's play-in game. But they'll have to be ready to go out of the gate against the top-seeded Eagles. Prep is deepest team in the field — from its forwards to its defensemen — and the Raiders will have to weather the Eagles' ability to wear teams down by consistently rolling four lines (Claude Julien surely would love this Prep team). The goaltenders will also be under the spotlight in this series with both Price and Soucy making their debuts in taking over for tournament stalwarts David Letarte and Kyle Williams, respectively. The play of both goaltenders has been a strength for their teams this year.

X-factor: Can the Raiders parlay some momentum gained from their dramatic play-in game overtime victory into a Game 1 win against the Eagles? Also, what kind of a factor will Central winger Mike Kelleher be?

Prediction: Prep in two.

Series: No. 2 Springfield Cathedral (16-1-4) vs. No. 7 Malden Catholic (12-6-3)

Previous meeting: MC 2, Cathedral 1 on Feb. 21.

Players to watch: Cathedral – F Peter Crinella, F Dominic Blad, F D.J. Petruzelli, F Johnny Leonard, D Matt Foley, D Jack Williams, G John Liqouri; MC – F Mike Iovanna, F Ara Nazarian, F Tyler Sifferlen, F Pat Wrenn, D Casey Fitzgerald, D Nick Rolli.

The skinny: While the Panthers enjoyed some down time this week, MC set about making a statement in its 9-1 dismantling of Archbishop Williams in Monday's play-in game. Perhaps no team in the state has been hotter than the two-time defending Super 8 champion Lancers and they'd like to prove that, once again, this is their time of the year. There will be plenty of top-tier talent on the ice when the team's top forward units face off with Cathedral's line of Crinella-Artie Potter-Blad opposed by MC's Iovanna-Nazarian-Sifferlen troika. The key to this series, however, will be which team's second and third lines come to play.

X-factor: Cathedral goaltender John Liquori. As we saw in the Panthers' game against St. John's Prep in the final week of the regular season, he's capable of stealing points and games for them. He'll need to be at his best to curb the Lancers' attack.

Prediction: Malden Catholic in three.

Series: No. 3 BC High (14-3-3) vs. No. 6 Catholic Memorial (12-6-2)

Previous meetings: BC High 5, CM 1 on Jan. 16; BC High 4, CM 3 on Feb. 2.

Players to watch: BC High – F Tom Besinger, F Pat Kramer, F Steve DeForge, F Chris LaLiberte, D Sam Topham, D Ryan Shea, G Peter Cronin; CM – F Liam Coughlin, F Jack O'Hear, F Kevin Hock, F Aaron Clancy, D Dennis Medeiros, D Sean Heelan, G Brandon Collett.

The skinny: Can't get much better than this, right? Right up there with Bruins-Canadiens. The teams will add another chapter to their storied history in the 50th-anniversary year of their hockey rivalry. While the Eagles claimed both meetings against their Catholic Conference counterparts during the regular season, the play was largely even (minus one second-period outburst in BC High's 5-1 win in January). So expect more of the same in this series.

X-factor: Liam Coughlin. The Eagles had success neutralizing the rangy center during their regular season appearance, both in the offensive zone and in the face-off circle. But we've seen Coughlin (25-16-41) take control at times this season, and he'll have to do so for the Knights to advance.

Prediction: BC High in three.

Series: No. 4 Austin Prep (13-1-6) vs. No. 5 Reading (16-1-5)

Previous meeting: N/A.

Players to watch: AP – F Nolan Vesey, F Bobby Carpenter, F Jake McKenelley, F Eric MacAdams, F George Sennott, D Andrew Cross, D J.J. Layton; Reading – F Rob Devaney, F Mike Thomson, F Jake Barbera, F Mark Dente, G Evan Morelli.

The skinny: The Battle of Reading is just one subplot to a group of first-round series rife with context. The high-flying Cougars attack will have to break through a sticky Reading forecheck that can give opponents fits. AP does enter tournament having played some of its best hockey of the year in the final week of the season, wrapping up a Cape Cod Classic championship. The Rockets, meanwhile, will gain the fan bases of the rest of the state as the lone remaining public school entrant in this year's field.

X-factor: Nolan Vesey. Has the potential to be the best player in the tournament. For a young squad such as AP, however, Vesey's leadership will be vital for their long-term Super 8 chances. He needs to set the tone.

Prediction: Austin Prep in three.
February, 16, 2013
Feb 16
6:25
PM ET
By
John McGuirk
| ESPNBoston.com
WEST SPRINGFIELD, Mass. -- The contrasting styles in demeanor following Saturday's 1-1 tie between No. 1 Springfield Cathedral and No. 2 St. John's Prep was not hard to witness.
On one side, you had the Eagles visibly dumbfounded and discouraged. On the other side, the Panthers presented a look of sheer relief.
For all but the final two-and-a-half minutes of this battle played at the Olympia Ice Center, St. John's Prep owned Cathedral. The Eagles suffocated the Panthers offense, giving them no time or space to generate the kind of offensive they are use to.
The one time the Eagles did give the Panthers a bit of room, it ended up biting them.
[+] Enlarge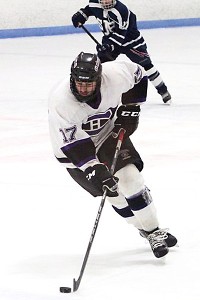 Courtesy of Alfredo DiLasciaSpringfield Cathedral escaped with a 1-1 tie against No. 2 St. John's Prep Saturday, thanks to a third-period goal from winger Dominic Blad.
At 12:33 of the third period, Cathedral senior forward Dominic Blad was left all alone inside the right circle. His hard wrist shot through traffic beat Eagles' goaltender Billy Price keeping the Panthers unbeaten as they improved to 15-0-4.
The Eagles (15-2-1) will come away from this one literally kicking themselves, knowing they let a golden opportunity at victory slip through their fingers.
St. John's Prep proved the aggressor throughout, putting up 35 shots, while its defense blanketed the Panthers, holding them to a mere five over 45 minutes.
"We had a bit of a defensive breakdown with two-and-a-half minutes to go and it was the wrong time to have that," Eagles head coach Kristian Hanson said. "Then we have Billy [Price] sitting there all day not facing many shots and he's cold and it put him in a tough situation. We play strong team defense with our forwards coming back and our defense closing gaps. I thought we did a nice job with that. We didn't want to give them room to move and fortunately for the most part we were able to do that but we just couldn't get the win."
Had it not been for the spectacular play of Cathedral goaltender John Liquori, who knows how many goals the Eagles might have scored. The junior, perhaps, played his best game as a Panther, finishing with 34 saves despite the consistent onslaught put forth by the Eagles.
"It kept me on my toes because I like a lot of shots," Liquori said. "I was able to put the team on my back and ran with it. When you are getting that amount of shots you sort of get into a rhythm. Today the puck looked like a beach ball to me."
Following a scoreless first period in which St. John's Prep put up nine shots to Cathedral's two, St. John's Prep finally solved the Liquori puzzle in the middle frame.
At 7:30, senior forward Cam Sheheen, taking a centering pass from Paul Crehan, slipped a shot past Liquori to give the Eagles the lead.
Despite the many other chances St. John's Prep had in the period, it settled for the one goal lead heading into the second intermission.
Realizing their quest to remain unbeaten was in serious trouble, the Panthers took their level of play up a few notches in the third. Even though it still had problems breaking free from the Eagles' defense, Cathedral appeared to be doing a better job moving the puck away from its own zone. As a result it would pay off thanks to Blad's goal to salvage the tie.
"St. John's played real well and from a skating standpoint I thought this was the fastest tempo game we played this year," Panthers coach Brian Foley said. "For whatever reason, we weren't up for it during the first two periods, but the kids came back Liquori kept us in it. I thought we played with little more emotion in the third period and Dom [Blad] had a nice goal for us."
February, 8, 2013
Feb 8
4:07
AM ET


BOSTON – The only difference between Wednesday's 2-2 tie by Springfield Cathedral and BC High and postseason hockey is the fact that are no ties in the playoffs. UMass-Boston's Clark Center buzzed with a postseason pitch as two of the state's top three teams battled for the second time this season on the Eagles' Senior Night.

After dealing No. 3 BC High its first loss of the season in a 3-2 win on Jan. 12, Cathedral found itself playing from behind at two junctures during last night's action. However, in both circumstances, the Panthers responded and showed resolve while running their unbeaten record to 13-0-3.

"To go anywhere, you're going to have to be a team that battles through adversity," Panthers head coach Brian Foley said. "We did a good job twice of coming back from a goal deficit."

While Cathedral maintained control on play in the first, BC High (10-2-3) claimed the first lead of the game, as freshman defenseman Ryan Shea pinched in to collect the puck and score from below the goal line at 9:06 of the first.

The Panthers wasted little time drawing even. Eighteen seconds later, Peter Crinella potted the rebound from a Bryce Peritz blast from the point.

The teams went to the room tied, 1-1, but the Eagles reclaimed the lead in the second at Pat Kramer's centering pass from Gretzky's office found the tape of Tom Besinger. The goal at 2:49 of the second stood up till the third period, when Cathedral was again able to find the equalizer. D.J. Petruzzelli deked out an Eagles defender, allowing space for a 2-on-1 to develop down low. Petruzzelli then slid a saucer pass across the top of the goalmouth to a waiting Dominic Blad, who went 5-hole for the game-tier.

While BC High closed out the season series with Cathedral without finding an elusive second point, Eagles head coach John Flaherty felt his team had been acquitted.

"If that's the number one team in the state, we're as good as them," he said. "We play a tougher schedule. I think we're right there with them."

WORK IT LOW, SEND IT HIGH
Cathedral outshot the Eagles 30-23, and the difference in margin came largely due to a strong first period by the Panthers.

Cathedral found great success working the puck down low, all the while drawing BC High's collective defense to sag down below the faceoff circles. With the Eagles playing down low in "the house" area, the Panthers' forwards then looked to send the puck back out to the points for shots on goal.

"[Matt] Foley and Jack [Williams], we know they can shoot the puck and we know they're a focal part of their offense," Flaherty said. "They were zipping it up and going D-to-D, so we knew we had to make an adjustment to try to take that away the best the could."

The Eagles made their corrective adjustments and tightened up the passing lanes to limit the opportunities in front of Peter Cronin (28 saves) in the second and third.

YOUNGSTERS ON THE RISE
A couple of the teams' youngest members made their presence felt on the score sheet.

Shea, who's helped bolster the Eagles' blue line all season with fellow frosh Billy Roche, netted his first goal of the season. Yet, at this stage of the season, the younger members' contributions are viewed as compulsory.

"They've played a lot of hockey," Flaherty said of his first-year defensemen, "so they're not freshman any more."

Flaherty added on Shea, "He's a seasoned player, so we expect that more now even more heading down the stretch."

In addition, Petruzzelli, a sophomore, might be playing his best hockey at an opportune time.

"His last two games have been his best two games of the year," Foley said of Petruzzelli. "He's really coming on strong. He put it right on [Blad's] stick, he got it off quick and we were fortunate it went in."
December, 27, 2012
12/27/12
4:47
AM ET


HYANNIS, Mass. – Matt Foley thinks there's no better feeling in the road than being in a hostile rink, game placed on the blade of his stick.

"You can't play in a better atmosphere than on the road," the Springfield Cathedral senior defenseman and preseason ESPN Boston All-Stater said.

With his shootout goal in Panthers' first-round game in the Cape Cod Freeze Out against host Barnstable, Foley was able to silence an otherwise rowdy barn.

No. 5 Cathedral, although dropping their first point of the season in a 3-3 tie with the Red Raiders, won the shootout 3-2 on Foley's game-clincher to advance to Thursday's tournament championship game against Newburyport.

The shootout goal was Foley's second of the evening, having knotted the score 2-2 late in the second period.

Barnstable (2-0-2) came back to grab a point from the contest as junior winger Connor Fries netted his second goal of the game at 9:53 of the third period.

The teams skated to a scoreless overtime period before heading to the shootout. Then, Barnstable and Cathedral volleyed goals back and forth through two rounds before Panthers goaltender Adam Mercer (who replaced starter John Liquori in the shootout) made the first and only stop of the shootout session. Foley then ended it with a pretty back-handed finish.

Eighth-grader Cam Peritz had the Panthers (3-0-1) to a 1-0 lead just 2:28 into the game on Artie Potter's set up from the wing.

Barnstable countered with Fries potting his first of the game, coming on a partial break. Working the left wing boards, Red Raiders leading scorer Max Willman lofted a perfect pass through the neutral zone, settling near the Panthers' blue line on the tape of Fries' stick. Fries took care of the rest with a deke and a back-hander past Liquori.

The Red Raiders then took a 2-1 lead just before the first intermission with Christian Holmes banking in a shot from the right-wing boards near the goal line.

Cathedral pulled even on Foley's goal in the second before netting the go-ahead with Dominic Blad's wrister at 2:54 of the third, with assists from Johnny Leonard and Jack Williams.

STACKING UP
With a talented returning group this season, Barnstable head coach Scott Nickerson has bulked up the Red Raiders' schedule with some of the state's top programs.

Considering his team's performance in their first "Super 8" challenge of the season, Barnstable could be primed to make some noise this postseason.

"They're a perennial powerhouse as far as I'm concerned," Nickerson said of Cathedral. "We've had good years in the past, but we haven't had the schedule too often. So we've loaded up our schedule and try to get games like this every night. I think it can only make us stronger. I thought it was a very good showing for us."

Of course, a big part of any Red Raiders run this season will be galvanized by a talented troika on their top line.

Fries and his two-goal game is just the latest cog in Barnstable's top group to rack up the goals. Willman (2 A) has come out of the gates charging with nine goals scored in the Red Raiders' last three games. Senior Eric Rogorzenski centers the line and is an adept passer with good vision.

"I think our top line is as good as any line that we've seen so far," Nickerson said. "I think they can control the game. We count on them a lot. But I think in a game like that, my first line matches up very well against everybody, but I thought they had a little bit more depth than us."

STEPPING INTO THE RUSH
Cathedral's offense is rooted in its defense, in that the Panthers' blue-liners (led by Foley and Williams) are comfortable stepping up into the rush and pushing play into their opponents' zone.

Foley showed off his offensive acumen on his second-period goal. After gloving down a failed clearing attempt at Cathedral's blue line, Foley coolly batted down the puck and started a slaloming run toward the Red Raiders' crease. He also showed a strong finish on the backhand from low in the right side faceoff circle.

While natural ability takes care of so much, Foley credits Cathedral's coaching staff with his development and comfort turning defense into offense.

"We've always had great defensive coaches, we have Coach [Mike] Rousseau, who was a great player at Holy Cross and a great coach. There's Coach Mike Ashe, who played at Clarkson," Foley said. "Offense has always been in our heads, Jack [Williams] and I, that's the type of players we are. We're not big bricks on the D end, we go both ways."

Panthers head coach Brian Foley has seen a gradual progression through the years leading up to their senior season.

"They're a big part of our offense, a big part of our team," Brian Foley said of Matt Foley and Williams. "They're veterans, they're seniors and have been around for three years. They recognize when the play's going up-ice that they can join in and maybe add some offensive opportunities. They're hungry for points and they're offensive-minded. I think that just comes through experience."


February, 5, 2012
2/05/12
12:23
PM ET
By
Terrence Payne
| ESPNBoston.com
WEST SPRINGFIELD, Mass. -- Springfield Cathedral did what no team has been able to do since mid-December. And that's keep Hingham from leaving the ice with a win. Saturday night at the Olympia Ice Center in West Springfield, two of the state's best clashed for 45 minutes, only to end the game with a 4-4 tie.

The two teams returned to the ice for the third period with Cathedral (7-4-4) clinging to a 3-2 lead. But in the early minutes of the third, Hingham (12-2-1) captain James Gordon, who had two assists in the first two periods, continued his strong play.

Two minutes in, Gordon tied the game off a nice fed from Sam D'Antuono. Just over three minutes later, Gordon gave Hingham its first lead of the game with his second goal of the period.

"It was just great play by my linesmen," Gordon said. "I just found the right spots and he gave me the puck. I was really just lucky out there."

Cathedral responded a few minutes later when senior defenseman Thomas Quinlan ripped a shot from the point past goalie John Grenier, tying that game at four apiece.

"We would have liked to keep the lead there at the end," Hingham head coach Tony Messina said. "But a couple of goals, from both teams, that went in were probably not tailor-made goals. But that's what happens in a tight game like that."

This was unlike the first two periods, which saw Hingham trying to answer Cathedral's goals.

Cathedral started off the scoring in the first period when senior Jordan Kozub rebounded a miss shot and wrapped it around Grenier, squeezing it right inside the left post.

That lead would not last long. Just over a minute later, Gordon's shot was tipped perfectly by D'Antuono, which went over the shoulder of Cathedral goalie John Liquori.

The second period began the same as the first with Cathedral scoring first. The Panthers came out of the gate as the aggressor, scoring in the first 42 seconds. Cathedral captain Frank Crinella, left all alone, took Brendan Ashe's pass and put one past Grenier.

Midway through the period, the Harbormen would tie it on a power play goal from Ryan Linehan. Once again, Gordon got credit for the assist, as he fired a shot from the blue line, which was tipped down and in by his fellow captain.

A Hingham penalty late in the period, set up Cathedral's go ahead goal. Defenseman Matt Foley placed the puck right in front of the net to Dominic Blad, who immediately tapped the puck behind him to freshman D.J. Petruzzelli, who gave Cathedral a one-goal lead with 54 seconds remaining in the period.

"It was a good battle between two evenly matched teams," Cathedral head coach Brian Foley said. "They outshot us in the first. We outshot them in the second. They outshot us in the third. It was just one of those games."

WIN STREAK OVER
On Dec. 21, Hingham's record fell to 1-2 after a 5-1 loss to St. Mary's of Lynn. The Harbormen went on an 11-game win streak after that game, which lasted until Saturday night.

Hingham still has not be beaten since the St. Mary's loss, but the tie is an empty feeling for the Harbormen locker room, who feels the game they played Saturday was enough for the two-points.

"I felt that was the most complete game we've played so far," Gordon said. "It just didn't turn out our way, but it was still a great game."

For the coaching staff and the players, this run has been great, but not something that was envisioned to go this far.

"We take them one-by-one," Messina said. "We have a tough schedule. You can't think too far ahead."

"You don't expect to do this," Gordon said. "It doesn't always play out like this, but we worked very hard in the offseason to get to this point. I feel that we did a great job and it's paying off for us."

Hingham heads into Monday night with another tough opponent in Westford Academy.

"There's no time to hang out head that's for sure," Messina said.

TOUGH MONTH FOR PANTHERS
The month of February is unforgiving for Brian Foley's team. Cathedral has hit the hardest part of the schedule with games this week against BC High and Hingham. Down the road, Cathedral has contests with several of the state's best teams, including another matchup with BC High. The Panthers also have St. Mary's of Lynn and St. John's Prep.

"It's tough. We're going into the stretch here with six games against the top five teams in the state," Foley said. "We're just trying to get as many points as we can out of them and try to stay in contention to get a Super 8 berth."

A win over Hingham could have lifted Cathedral into serious Super 8 talk, but the Panthers will have more chances against the state's elite in the coming weeks.

HINGHAM HITTING THE ROAD
Ten of Hingham's 11 wins during their winning streak came at home.

The road game against Cathedral will help the Harbormen adjust to the last leg of the season, which has the Harbormen at home just once the rest of the way, Monday night against Westford Academy.

After that, Hingham has Malden Catholic, Winchester, and Coyle-Cassidy all on the road before heading to Falmouth for the final three games of the season at the Cape Cod Classic.