Boston High School:

Domonique Bull
October, 29, 2011
10/29/11
9:41
AM ET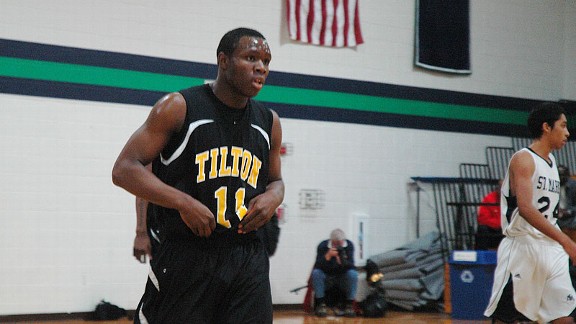 Brendan HallMissouri's aggressive style of play is a good fit for Tilton (N.H.) guard Domonique Bull, who committed to the Tigers on Friday afternoon.
Domonique Bull
committed to Missouri on Friday, reuniting himself with former BABC teammates Phil and Matt Pressey, as well as former Tilton (N.H.) teammate Tony Lester.
Bull, who visited Missouri campus officially last weekend, was previously committed to Rhode Island before re-opening his recruitment last spring.
The Worcester native made a name for himself early in his grassroots career, earning a starring role for the Boston Amateur Basketball Club well before arriving at Cushing Acacdemy as a freshman.
Bull played a pivotal role in BABC's 2010 sixteen-and-under AAU National Championship, teaming with Georges Niang to lead the team in scoring while Nerlens Noel anchored the team's defensive efforts.
Following that summer, and three successful seasons at Cushing, Bull made the decision to join Niang, Noel and fellow AAU teammates Wayne Selden and Goodluck Okonoboh at the Tilton School. Six months later and the group would take another championship, this time the inaugural NEPSAC class AA title.
This past summer Bull made his final appearance on the AAU circuit, and he went out in style with yet another championship, taking the title at the Nike Peach Jam, the culminating event of Nike's Elite Youth Basketball League.
Ultimately, his role in his teams' collective success has repaid him with individual accolades, namely the opportunity to play high-major basketball. Now the question becomes what role can Bull expect upon arriving in Missouri.
Fortunately for Bull, Missouri plays with one of the deepest benches in all of college basketball, and while there is a new head coach in town, there doesn't appear to be a major change in philosophy.
Former head coach Mike Anderson's "40 minutes of hell" system revitalized Missouri basketball, bringing them to three straight NCAA tournaments, and while Anderson left to take the reigns at Arkansas this spring, new head coach Frank Haith appears content to stick with a similar style. So while Haith has yet to coach a game on the Tiger's sidelines, all indications are that Mizzou will continue to defend the length of the floor, attempt to create tempo at every opportunity, and play at least a 10-man rotation.
That's a style of play that suits Bull perfectly. A powerful guard, Bull can make plays on both ends of the floor. Offensively, his bread and butter is his dribble penetration, which allows him to create for both himself and his teammates. Defensively, he likes to attack opposing ball-handlers, using his strong body and aggressive approach to force turnovers.
While Bull's strength are well suited for a transition game, equally important is the system's ability to camouflage some of his deficiencies. While his jumper has improved over the years, it's still streaky. Similarly, while he's a playmaker who likes the ball in his hands, he isn't a pure point. Those traits are much more easily exposed when attempting to grind out a game in the half-court, but given the extra space that the open floor allows, they are much easier to mask.
Ultimately, if Bull's goal was to play high-major basketball there may not be a better place than Missouri where he'll reunite with former teammates and play a style that suits his skills. That's a recipe that has led to numerous championships at the high school and AAU levels, whether or not it will do the same in the SEC is a question that only time can tell.
Adam Finkelstein is the founder and editor of the New England Recruiting Report and also covers recruiting in the northeast for ESPN Scouts Inc. Adam has the rare distinction of having coached or scouted at the high school, NCAA, and NBA levels, having worked as a Division I assistant at the University of Hartford and spent three years under the NBA's director of scouting Marty Blake.
July, 15, 2011
7/15/11
9:07
AM ET
After taking down the Oakland Soldiers earlier this morning, the Boston Amateur Basketball Club will face YOMCA of Memphis in the EYBL Final tonight at the Peach Jam, in North Augusta, S.C. The game will be broadcast on ESPNU at 7 p.m.
The BABC defeated the Soldiers, 78-66, to move on to the final against YOMCA, which beat the Georgia Stars in the tournament's other seminfinal. Yesterday, the BABC notched an overtime win over Ontario power CIA Bounce, and followed up with wins over Howard Pulley of Minnesota and Team Takeover of Washington, D.C..
ESPN recruiting analysts Paul Biancardi and Mike LaPlante
broke down the Final Four field today
, and said the following of the BABC:
The BABC team from Boston is one of the toughest and best defensive teams in the EYBL. It has lost only one game during the regular season and one game in pool play during the Peach Jam. BABC is lead offensively by 5-foot-10 2013 PG Jaylen Brantley (Springfield, Mass./Wilbraham & Monson) and 6-7 2012 PF Georges Niang (Methuen, Mass./The Tilton School), who is committed to Iowa State. SF Jake Layman (Wrentham, Mass./King Philip Regional) is also a good outside shooter and zone-buster.

Defensively, the backbone of the team is 6-10 2013 C/PF Nerlens Noel (Everett, Mass./The Tilton School), who is one of the best shot-blockers in the country. SG Dominique Bull (Worcester, Mass./The Tilton School), 2013 SG/PG defensive whiz Rene Castro (Milton, Mass./Beaver Country Day) and 2014 stud SG/SF Wayne Selden (Boston/The Tilton School) are slashers offensively and solid perimeter defenders.

BABC is a tough team to beat as it forces its opponent to the basket and into the waiting arms of Noel. Offensively, everyone works the ball for the best shot, generally going inside to Niang or outside to Brantley.
January, 22, 2011
1/22/11
8:14
PM ET
By
Andy Smith
| ESPNBoston.com
CHESTNUT HILL, Mass. -- Sometimes when watching the Tilton School basketball team, it is hard to divert attention from the imposing 6-foot-10 figure of
Nerlens Noel
in the middle. But when
Georges Niang
has a game like he did Saturday in a 88-64 victory against Brimmer and May, one could almost forget Noel is even on the court.
Niang, a 6-foot-7 junior, put up 28 points and five rebounds against the home team, and was a perfect 7-of-7 from the free throw line.
[+] Enlarge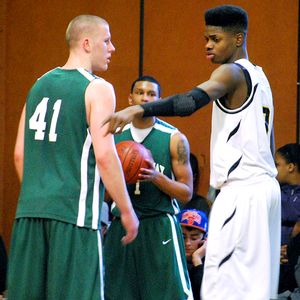 Lucas Shapiro for ESPNBoston.comTilton's Nerlens Noel (right) battled Brimmer's Ryan Canty and came up with 16 points, seven rebounds and seven blocks.
He overshadowed what was a prolific game for Noel, who had 16 points, seven rebounds, and seven blocked shots. He exhibited much of the characteristics that make him the No. 3 recruit in the class of 2013, according to ESPN. When he needed to, he utilized a jump hook, a drop-step move, and thunderous dunks to score on his former Tilton teammate
Ryan Canty
, a Fordham commit.
Defensively, when he wasn't blocking shots, Noel was altering Brimmer players' approach, making life more difficult for them in the paint.
"When you have Nerlens, who blocks everything, and
Goodluck (Okonoboh)
, who are such good rebounders and have such good knacks for the ball, sometimes I can run past a three-point shooter and start heading the other way (on offense)," said Niang. "I hate to do it, but sometimes you're allowed to."
Tilton (13-2) played most of the game in a full-court press, which stymied the Gators (4-10) and forced them to turn the ball over, giving the prep juggernaut layup opportunities that were more often than not turned into points.
"We thought if we just kind of sat back, they are pretty good in the half-court," Tilton head coach Marcus O'Neil said. "They knocked down three-point shots, they're good with their pick-and-roll, pick-and-pop stuff, so we didn't want to just sit back and let them pick us apart. We tried to create turnovers. I wasn't sure if we were going to be able to do it but we did."
His team jumped out to a 10-0 run to start the game and it never looked back. The pressure defense supplied by the likes of
Dominique Bull
, Aaron Law, and
Wayne Selden
wreaked havoc on the Gators' offense, allowing
Marco Banegas
(20 points) and company to get over half-court only three times in the first four minutes of the game.
"We knew they couldn't stay with us if we kept the game moving," said Niang. "We knew they could shoot the ball real well so we tried to push them off the arch. We felt that if we pressed them and made them go up against Nerlens, who blocks everything, that would help."
Tilton even extended their lead to 23-2 with 11 minutes left in the first half, and had a 48-26 lead headed into the break. Brimmer was not the only team to face difficulty against these guys, however. Twelve of the Rams' thirteen wins have been double-digit wins.
With that in mind, it can be hard for some to believe a 13-2 team has to improve on much as the season progresses, but O'Neil knows that to avoid complacency, his team has to keep working to get better, regardless of the record.
"Every day brings new challenges, sometimes those are successes and sometimes they are failures," said O'Neil. "We try to take each day by itself and try to get better. If you don't, you're going to get beat."