Boston High School:

Doug Crook
October, 8, 2011
10/08/11
9:45
AM ET
By
Brendan Hall
| ESPNBoston.com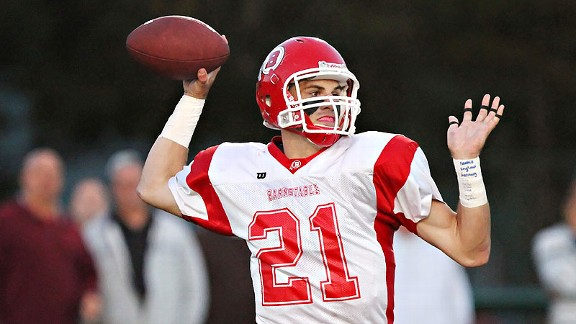 ESPNBoston.comBarnstable quarterback D.J. Crook, who is 11 touchdown passes off the state record, fractured the thumb on his throwing hand last night
In an email to various media members this morning, Barnstable quarterback D.J. Crook's father, Doug Sr., confirmed that his son has a transverse fracture on the thumb of his throwing hand.
D.J. attempted just one pass in the second half of last night's 31-17 loss to New Bedford, and told ESPNBoston's Scott Barboza following the game that he dislocated his thumb on a carry in the third quarter.
"DJ suffered what was initially thought to be dislocation turned out to be a transverse fracture of his thumb," the elder Crook wrote. "It is on his throwing hand. The thumb was set last night by Hand Surgeon Dr. Peter Bentivegna of Cape Cod Hand Surgeons and will be MRI'd this weekend to make sure there is no other damage. He hopes to be back on the field in 3 to 4 weeks in some capacity but the timetable to return as quarterback can not be determined at this time."
Either way, this comes as a blow to both the Red Raiders' offense and D.J.'s quest for the state all-time touchdown pass record. He is currently 11 scoring strikes away from the mark of 85 set by Brockton great Tom Colombo. On the season, D.J. has completed 58 percent of his passes for 922 yards and nine touchdowns to just one interception.
April, 13, 2011
4/13/11
1:45
PM ET
ESPN's Roger Brown
checks in today
on his recruiting blog with Barnstable quarterback
D.J. Crook
, who has suffered a series of setbacks since the end of football season and is still waiting on his first scholarship offer.
Crook, who threw for 2,858 yards and 33 touchdowns for the 7-4 Red Raiders last season, came down with mononucleosis at the start of basketball season. Upon his return, he broke his hand in practice.
"He's back throwing, and he's put weight back on," said Doug Crook, D.J.'s father, who stepped down as head coach after the season. "He's 6-foot-2 and a solid 200. He's heard from a few other schools like Texas A&M and UNC, and just about all the [Ivy League schools] have expressed interest in him. He still wants to get out and visit a few more schools. We're trying to figure out which ones."
D.J. took unofficial visits to UConn and Brown earlier this month. He also plans to attend the spring games this month at Brown, UConn and Harvard, as well as the Elite 11 Camp at Penn State.
"He's put himself in a good position athletically and academically," Doug told Brown. "Hopefully pretty soon he'll have some options."
For more recruiting updates on New England's top high school football talent, be sure to check out Brown's
blog
.
December, 3, 2010
12/03/10
5:13
PM ET
By
Brendan Hall
| ESPNBoston.com
Doug Crook confirmed via email this afternoon that he has resigned as head coach of Barnstable High School's football program.

The Red Raiders went 17-14 in three years under Crook, including a 7-4 mark this season and a share of the Old Colony League title in 2009. Crook was suspended for the Raiders' Thanksgiving game this year against Falmouth, which they won 46-14.
October, 30, 2010
10/30/10
10:55
PM ET
By
Brendan Hall
| ESPNBoston.com
BUZZARDS BAY, Mass. -- Bandaged brow and all, Matt Walsh stood unfazed as he greeted reporters following his Plymouth North Eagles' game with Barnstable. This was a typical night for the 5-foot-11, 210-pound senior, after all -- which is to say, based on recent performances, an unstoppable one.

Whether it was carrying the ball or lead blocking, Walsh punished the Red Raider defenders all night to the tune of 111 yards and two scores on 26 carries, giving the Eagles all the cushion they needed as they pounced on Barnstable, 33-18, last night at Massachusetts Maritime Academy's Clean Harbors Stadium.

"They were loading up on us in the box," said Walsh, who recently committed to Franklin Pierce College for baseball. "They were keying on our power game, and we still powered through them. It was a really nice job by the offensive line."

As for his own game?

"I just want to get the running backs in the end zone," he said, referring to his lead blocks. "I'll do whatever I can for the team."

All night, the Raiders struggled to keep the Eagles off the field, and dominated the clock with their Power-I set in the first half. North was 8 of 13 on third downs, and converted all four of its fourth down tries, thanks to well-executed kick-out and trap blocks from linemen Jeff Synan, Mike Cahill and Justin Maskell that sprung Walsh free. Walsh did the rest, pushing the pile on his own strength at the end of runs and even trucking a few guys.

It's the same method that has delivered North impressive wins over Bridgewater-Raynham, Marshfield and Falmouth in successive weeks following the loss last month to Aquinas Institute of Rochester, N.Y.

"They're a real physical team," Barnstable head coach Doug Crook said. "We knew they were going to come and pound us. Matt Walsh is a load. My defense is laden with sophomores and I'm proud of them, but this is a good tune-up for next weekend (against Bridgewater-Raynham)."

As for that last point, some might consider this a warm-up for both teams' league slate ahead of them. Friday the Raiders look to clinch the Old Colony League crown when they head to B-R, a program known for its suffocating offensive line play and power running have since the days of Doug Bessette and Marc Colombo in the late-90's. The Eagles head to South Yarmouth in two weeks to take on Dennis-Yarmouth -- which runs a more read-option oriented version of Barnstable's spread attack -- for what could potentially be all the marbles in the Atlantic Coast League.

"D-Y is pretty much like Barnstable, so it was good to get a feel for that tonight," Walsh said. "Hopefully it helps us out alot."

The Eagles dominated the clock with their power running game in the first half, putting together two monster scoring drives and moving the ball steadily behind Walsh, Zach Zaniboni and keepers from quarterback Cody Merritt. North marched 63 yards in 12 plays on its opening drive of the game, with Walsh plunging in from four yards out for the initial 7-0 lead.

They pushed the lead to 13-0 late in the second quarter after putting together another drive from good field position, marching 54 yards in 10 plays and punching it in with a one-yard Merritt keeper. Barnstable, after a dismal start, came out blazing in the third quarter, with junior quarterback D.J. Crook (273 yards passing, three touchdowns) hooking up with Jordan Henderson (12 catches, 204 yards, three touchdowns) for a 46-yard pass on fourth down, then punching it in five plays later with an eight-yard comeback to Henderson.

Each Crook touchdown pass to Henderson was responded immediately with more Plymouth pounding between the tackles and scores. Meanwhile, the defense showed its mettle in keeping the quick Barnstable strikes to a dull roar, picking off Crook twice in crucial situations.

So, the North defense did bend. Henderson burned the Eagles' secondary for catches of 48, 46, 33 and 23, all off short passes to the flats; running back Dennis Reddy (nine carries, 79 yards) kept them honest with draws up the middle that went for big gains.

But they did not break.

"(We had to stop) the big play. They can score so fast, they can do everything," North head coach Dwayne Follette said. "They have a great deep passing game, and we didn't give up any big plays as far as deep strikes. We couldn't figure out the crossing route on that empty set they run, but we adjusted and we played well. I was very happy with our defense. They've very dangerous, they average alot more than 18 points (per game)."

PLYMOUTH NORTH 33, BARNSTABLE 18

PLN 7 6 14 6 --- 33
BAR 0 0 12 6 --- 18

First Quarter
P - Matt Walsh 4 run (Vinny Tavernelli kick) 3:49

Second Quarter
P - Cody Merritt 1 run (pass failed) 2:21

Third Quarter
B - Jordan Henderson 8 pass from D.J. Crook (kick failed) 8:35
P - Walsh 6 run (Tavernelli kick) 5:31
B - Henderson 9 pass from Crook (pass failed) 4:22
P - Zach Zaniboni 48 run (Tavernelli kick) 3:26

Fourth Quarter
B - Henderson 3 pass from Crook (pass failed) 4:00
P - Merritt 30 run (kick failed) 2:11
October, 2, 2010
10/02/10
6:55
PM ET
By
Brendan Hall
| ESPNBoston.com


EVERETT, Mass. -- Matt Costello streaked by his defender down the left sideline, in one-on-one coverage, and easily hauled in the long fade from his Everett High quarterback, his fourth and final receiving touchdown of an eye-opening afternoon.

And then, in his typical demeanor, he shrugged it off.

"I tried to make it look like I do it all the time," the 6-foot-1 senior smiled. "I don't like to showboat much, I just like to let it all fly over."

His numbers, however, suggest quite the anomaly for the wide receiver. He finished the day with eight catches for 203 yards and four touchdowns, as the No. 2 Crimson Tide rolled to 43-14 win over No. 24 Barnstable, at Everett Veterans Memorial Stadium. His big day also allowed quarterback Jonathan DiBiaso (293 passing yards, five touchdowns) tie his own school record for most touchdown passes in a game (five), and inch closer to the career touchdown mark set by former Tide great Matt Nuzzo earlier this century (30, to DiBiaso's 27).

"We had a good gameplan, and we knew we could exploit some things in the defense," Costello said. "So we threw the ball around, and me and Jonathan happened to connect alot, so it worked out well."

Said head coach John DiBiaso, "I said at the beginning of the year, Jonathan's blessed that he has the two best receivers in the state," referring to Costello and Boston College-bound senior Manny Asprilla (110 yards of offense, 2 TD). "They both played that way today."

The Tide (3-0) got into the teeth of Barnstable's defense early on, marching all the way down the field on the game-opening drive, and capping the five-play, 66-yard drive with a 20-yard strike from DiBiaso to Costello. The Red Raiders (2-2) went three-and-out on the ensuing series, but Costello got a piece of D.J. Crook's punt, giving Everett a starting drive at the Raider 40. Vondell Langston (six carries, 59 yards) burst through the middle for 25 yards on the first play, and Jonathan DiBiaso did the rest, hitting Asprilla for six yards and finishing the drive with a seven-yard pass to Costello.

Barnstable answered, though, with a 31-yard touchdown pass from Crook (172 passing yards, 2 TD) to speedy wideout Jordan Henderson (five catches, 59 yards). The 6-foot, 180-pound senior blazed by the secondary with his 4.5 speed, and then ran in the ensuing two-point try to make it 14-8.

"He was pretty fast. He was actually pretty good," said Asprilla, who took on an additional role in the secondary this week to defend Handerson. "I wasn't expecting him to come out the way he did. He's pretty strong, he's a good athlete."

But Everett answered forcefully in the second quarter. Jakarrie Washington strip-sacked Crook deep in Barnstable territory, and Kenny Calaj fell on it at the Raider 13. Asprilla then plunged in from three yards out several plays later for a 22-8 score. Two minutes later, with 18.3 seconds to go in the half, the Tide went up 21 with a 79-yard pass from DiBiaso to Costello.

Costello slammed things shut in the second half with his final touchdown grab of the day, a 34-yarder late in the third quarter that made it 36-8.

"I thought we played with them well in the first half," Barnstable head coach Doug Crook said. "They've (Everett) just got so many athletes. Up front, we couldn't give D.J. any time whatsoever and establish any type of running game. He was getting alot of heat, and that limited his throws, and where he could throw to."

EVERETT 43, BARNSTABLE 14

BHS 8 0 0 6 --- 14
EHS 14 15 7 7 --- 43

First Quarter
E - Matt Costello 20 pass from Jonathan DiBiaso (Gilly DeSouza kick) 9:33
E - Costello 7 pass from DiBiaso (DeSouza kick) 6:50
B - Jordan Henderson 31 pass from D.J. Crook (Henderson run) 3:56

Second Quarter
E - Manny Asprilla 3 run (Costello pass from DiBiaso) 2:34
E - Costello 79 pass from DiBiaso (DeSouza kick) 0:18.3

Third Quarter
E - Costello 34 pass from DiBiaso (DeSouza kick) 2:33

Fourth Quarter
E - Asprilla 27 pass from DiBiaso (DeSouza kick) 7:45
B - Matt Delaney 25 pass from Crook (kick blocked) 3:48
September, 18, 2010
9/18/10
2:12
AM ET
By
Brendan Hall
| ESPNBoston.com
YARMOUTH, Mass. -- Matt Montalto sat back in coverage, jumped a route over the middle and put the cap on the most impressive first half of his young high school career with an interception that he returned for a few dozen yards with some of his trademark shake and bake.

The Dennis-Yarmouth quarterback/defensive back then took a late Barnstable hit out of bounds and, in Bledsoe-like fashion, popped right back up, let out a howl and sprinted off the field to the locker room.

"I was hyped up at that point," Montalto laughed. "I was hyped up before the game, I was hyped up all throughout. It felt really good."

The junior signal-caller had just put on a clinic in the through two quarters against his heavily-hyped visitors from two exits down Route 6, accumulating nearly 200 yards of offense and accounting for all four of the Dolphins' touchdowns for a 28-8 lead at the break. This annual rivalry, just as it has in previous years, inevitably turned into a shootout; and in the final minute of action, the Dolphins' secondary picked off Red Raiders quarterback for the fifth time, closing the door on a 41-38 win.

"Our quarterback is a very, very accurate passer," D-Y head coach Paul Funk said. "He might not have the strongest arm in the world, but he is accurate, and if you give him an inch, he's going to put it there."

Said Barnstable head coach Doug Crook, "Montalto gives you headaches with his quickness. He comes up on the run, our defense is young and the kids kids drop off their guy...it's an experience."

That was much the case in the first half. On the Dolphins' first drive, Montalto (213 total yards, 4 TD) found a wide-open Rufus Hamilton on 3rd and 10 for an easy 24-yard gain on the left sideline, then scrambled a few plays later for a nine yard rollout to keep the chains moving. Facing fourth and 10 at the Raiders' 15, Montalto put the finishing touches with a soft toss to Dylan Hodsdon wide open in the left slot for the game's first score.

This pattern of third-down bail-outs and wide-open strikes continued, with Montalto running in two (from 35 and five yards out) and firing one to Justin Clark in the near left corner, and the Dolphins took a 20-point halftime lead.

Barnstable's D.J. Crook (19 of 36 passing, 239 yards, 4 TD, 6 interceptions; nine carries, 87 yards) rallied the Raiders back to within striking distance and put the ball in seven different hands on the night, but overall the Dolphins' secondary seemed to throw him for loops. Over the top, D-Y was airtight, making the Raiders pay for balls over or under-thrown.

Junior fullback Joe Furness (15 carries, 108 yards) made it 41-22 with 1:58 left in the third quarter on a 74-yard break up the left sideline. But still, the Raiders had a chance to win this one late. Mike Holmes hauled in a 15-yard strike from Crook with 44 seconds to go, and Jordan Henderson came up with the point-after conversion pass in the back of the end zone to cut the lead to 41-38.

D-Y recovered the ensuing onside kick, only to have a Barnstable player recover the fumble on an attempted kneel. But on Barnstable's first play of the potential game-winning drive, Damion Johnson picked off Crook deep over the middle.

Dennis-Yarmouth 41, Barnstable 38

BHS 0 8 14 16 --- 38
D-Y 14 14 13 0 --- 41

First quarter
D - Dylan Hodsdon 15 pass from Matt Montalto (John Terrio kick)
D - Montalto 35 run (Terrio kick)
Second quarter
B - Dennis Reddy 3 run (Reddy run)
D - Justin Clark 11 pass from Montalto (Terrio kick)
D - Montalto 5 run (Terrio kick)
Third quarter
B - Andrew Ellis 5 pass from D.J. Crook (pass failed)
D - Damion Johnson 70 interception return (Terrio kick)
B - Mike Holmes 16 pass from Crook (Reddy pass from Crook)
D - Joe Furness 74 run (pass failed)
Fourth quarter
B - Henderson 8 pass from Crook (Matt Delaney pass from Crook)
B - Holmes 15 pass from Crook (Henderson pass from Crook)