Boston High School:

Drew Goodrich
May, 3, 2013
5/03/13
9:29
PM ET
By
John McGuirk
| ESPNBoston.com
NORTHBRIDGE, Mass. -- The way this contest was being played out, you had to figure a dramatic finish was waiting in the wings.

In a game filled with timely hitting on both sides, Northbridge junior Mike Ferraro delivered the biggest one of all at a most opportune time Friday afternoon.

In a tie game, with one out and Austin Young representing the winning run at second base in the bottom of the seventh inning, Ferraro drove an 0-2 pitch to right field for a single that plated Young and give the Rams an 8-7 triumph over SWCL rival Auburn.

"I was actually looking curve ball because (Rockets pitcher Tyler Lamonda) had thrown me one on the previous pitch," Ferraro said. "The next one he threw me was an outside fastball so I just tried to put it in play and was able to get enough of it for a single. This game just kept going back-and-forth. It was very intense but certainly a lot of fun."

The win improves Northbridge to 11-1, as it completes a series sweep over the Rockets (10-3), whom it defeated last month in the final of the Rocket Classic. Earlier in the week the Rams qualified for the post season for a 21st consecutive time.

"We fought our way through this thing," Rams coach John Demagian said. "We got some big hits today. These kids work their butts off so I'm really happy for them."

As expected between these two state juggernauts, this was a see-saw affair from the get-go.

Auburn jumped out to a 2-0 first inning lead on Zack Tower's two out, two-run double. But the Rams answered in the bottom of the frame. With two runners on, Tower, playing third base, fielded a ground ball but threw wildly to second in his attempts for the force out. The ball sailed into right field easily scoring Tyler Galimi, who singled. Moments later senior Matt Niejadlik scored from third as part of a double steal.

Northbridge (13 hits) went up 4-2 the following inning. Lamonda opened things by plunking Rob Fraser. Two outs later, Galimi, a junior, poked a single to left field. Fraser scored from second after left fielder Jason Vrusho's throw took a funny hop off the infield grass that rolled to the back stop. Taking second on the play, Galimi scored moments later on Niejadlik's line single to right. Once again, it appeared as though there would be a close play at the plate, but Drew Goodrich's throw hit the lip of the grass just in front of catcher Zach Clifford and changed direction prior to Galimi sliding across.

"We had a couple of things happen to us that were out of our control," said Rockets coach Eric Swedberg. "I felt we had two guys dead at home that inning but the ball hits the lip of the infield both times and bounces to the back stop."

Auburn got a run back in the third. Tyler Desjardins doubled deep to center off of Rams starting pitcher Brian Carroll and later scored on a fly out. Northbridge was able to re-gained its two-run cushion in the fourth with two out. Niejadlik walked and took second on a pass ball. One out later, the senior trotted home on Jake Ryan's single off of reliever Mike Vaitkunas.

Against a quality opponent like Auburn, no lead can be considered safe. Like Northbridge, the Rockets have solid hitters up and down its lineup. It showed in the fifth after scoring a pair to even things at 5-5. With two runners in scoring position, both crossed the plate following DJ Scavone's ground single to left.

But in the bottom half of the inning it was the Rams' turn at the plate. With a pair of base runners on, Galimi belted a two-run single to right allowing Northbridge to move ahead 7-5.

"We always know facing Auburn it's going to be a tough game," said Galimi, who finished 3-for-4 with 3 RBI. "It's always good to come out with a win. It gives us a lot of confidence to beat this team every year."

The lead would prove to be short short-lived however. In the top of the sixth, Auburn put two runners on with two out. Senior Joe Fahey followed by stroking a single to right off of Young, who replaced Carroll, scoring both and knotting things up at 7 apiece.

"Our guys were locked in and hit the ball on the nose today," said Swedberg, his team banging out 13 hits. "Today we focused on doing our present job and the task at hand. We weren't focusing so much on the score. That was our philosophy coming in."

The Rockets saw a golden opportunity to jump ahead in the top of the seventh fall by the wayside. After retiring the first two batters, Young ran into problems after issuing a pair of singles followed by a four pitch walk. But the sophomore righty tight-roped his way out of danger by inducing Vrusho to pop out on the first pitch he saw to squander the threat.

In the bottom of the frame however, the Rams managed to capitalized on their opportunity. Young led things off with a single and advanced to second on a sacrifice bunt. Ferraro next delivered his game-winning hit to set off a wild celebration once Young touched home.

"Auburn is a good team and I'm sure we will face them again (in the postseason)," said Demagian. "We can hit the ball. We certainly practice it enough. These kids have a lot of confidence in themselves right now. There is a lot of energy coming from that dug out."
November, 2, 2012
11/02/12
2:58
AM ET
ACTON-BOXBOROUGH (6-2) AT LINCOLN-SUDBURY (7-1)
The Skinny: Although the Colonials enter this rivalry game after a letdown against Waltham last week, these teams always have a say in the determination of the Dual County League crown. The Warriors have worked toward reclaiming the division title with help from a talented cast of seniors who have two-way success with the football and the lacrosse teams, including Chris Giorgio, Henry Guild and John Sexton. A-B's wing-T attack is led by a pair of promising juniors in William Tejada (14 TDs) and Tom Saponaro.

Scott Barboza: Bill Maver has the building blocks for a strong group next year, but this senior group from L-S has been primed to make their run during the last two years. The seal the deal for the division, but it's a rivalry game, so throw the records out. L-S, 20-14.

Brendan Hall: The Warriors take the inside track to their third consecutive postseason berth, but because it's A-B they do it in knock-down, drag-out fashion. L-S, 17-10.

DIGHTON-REHOBOTH (6-1) AT WAREHAM (7-1)
The Skinny: Both teams sport a perfect South Coast Conference record entering Friday's tête-à-tête and their only loss came against a common non-league opponent in Somerset-Berkley. Since their opening day loss, the Falcons have run off six straight wins, including a 5-0 record in the SCC. D-R's ground attack is keyed by 6-foot-7 tackle Chuddy Nwachukwu, but the Falcons have also seen dividends in the passing game behind sophomore quarterback Nathan Kowalski. The Vikings, also undefeated in the SCC, have big-play ability with the electrifying Darien Fernandez in the backfield. Yet, Wareham has also brought the lumber on defense, surrendering just 26 points through five league games.

Barboza: In big SCC games, it's hard to pick against a Dave Driscoll-led team. D-R, 16-14.

Hall: As usual, our loyal correspondent Corey comes up with some innovative names, this one "The Fernandez Express". As long as Darien's legs keep churning, the Vikings will stay ahead. Wareham, 17-13.

STONEHAM (7-1) AT BURLINGTON (7-1)
The Skinny: The Red Devils can sew up the Middlesex League Freedom division title with a win over the upstart Spartans. Stoneham saw its undefeated record blemish last week in a 42-28 loss to Wakefield, but the Spartans are capable of throwing a monkey wrench into the race behind Aaron Louis and Darius McPherson. Meanwhile, Burlington's backfield tandem of Anthony Cruz and Marcus O'Diah has few equals in Eastern Mass.

Barboza: Cinderella's ball comes to a halt. Burlington, 33-24.

Hall: Stoneham appears to have a quality foundation for the long haul, but in the short term this Burlington rushing attack will be too much for the Spartans to handle. Burlington, 28-14.

GOVERNOR'S ACADEMY (6-0) AT MILTON ACADEMY (4-2)
The Skinny: The defending ISL champs put their undefeated record on the line in a road game. Gov's 40-6 win over Brooks last week kept its point-per-game average above 41 points a game as Tate Jozokos and Eli Morrissey continue their assault on opposing defenses. Mustangs junior running back Drew Jacobs continued his breakout season with four touchdowns last week in a throttling of Belmont Hill.

Barboza: Opposing teams better hope they have Jacoby Jones or Ellis Hobbs returning kicks for them because it's a 108 yards or bust with Justin Yoon kicking off. Still, Gov's offense takes over. Governor's, 31-24.

Hall: The Governators haven't lost a game since Jim O'Leary took over in 2011. How crazy is that? Governor's, 30-20.

WAYLAND (5-3) AT CONCORD-CARLISLE (4-4) (
The Skinny: Wayland looks for the inside track in the Dual County League's Small division, entering the game with one of the league's stingiest defenses (10.6 points allowed), and two versatile targets in senior wideout Mark Bonner and junior tailback Robert Williams. C-C, the defending league and Super Bowl champs, lost Tim Badgley in the preseason, but running backs Evan Boynton and Shayne McCloskey have picked up the slack.

Barboza: Yeah, I went with the Patriots winning a long time ago, in fact before we learned Badgley would be out for the year. It's political season, so consider me a swing voter here. Wayland, 14-7.

Hall: I have the feeling this game is going to be possession-based. In that case, give me the better defense. Wayland, 10-6.

LOWELL (6-2) AT ANDOVER (8-0)
(The Skinny: Lowell has been on an offensive tear the last four games, going 3-1 and averaging 43 points per game over that span. Cam Latta has spearheaded the surge, but can he outduel Andover's C.J. Scarpa? The 5-foot-8 senior hasn't thrown an interception since Oct. 6, meanwhile the Golden Warriors are averaging over 370 yards of offense a game.

Barboza: Calculators ready? Andover, 46-38.

Hall: Remember the 88-80, eight-overtime game between these two in 2010? Let's do the honorable thing here and move the venue to the Tsongas Center. Andover, 45-40.

NORTHBRIDGE (7-1) AT AUBURN (8-0) (
The Skinny: Auburn, one of the state's stingiest defenses (5.1 points per game), holds first place in the SWCL A division, and can put a vice grip on it with a win over the Rams. Offensively, the Rockets have rode one of the state's biggest lines to bull their way to over 2,000 yards rushing and over 2,700 yards of total offense, led by quarterback Drew Goodrich and Tyler Desjardins. But Northbridge quarterback Matt Phelan (1,344 passing yards, 11 TD; 673 rushing yards, 19 TD) will be one of the more slippery athletes the Rockets will have seen all season long. Can they contain him?

Barboza: Again, more than the score, I'm wondering what the line would be set at on these occurrences: how many times the Rockets venture to pass versus the Rams keeping it on the ground. Think it's a push, but … Auburn, 31-27.

Hall: Classic clash of philosophies here: Jeff Cormier's power running scheme versus Northbridge guru Ken LaChapelle and his pioneering run-and-shoot. Give me the team with the better line, in a physical battle. Auburn, 20-13.

BC HIGH (3-4) AT XAVERIAN (2-6) (
The Skinny: What would you have said if we told you back in August these two teams would be meeting in November with a combined 10 losses? But that's what we have here, as the two Catholic Conference foes will fight to stay alive in a conference that St. John's Prep is favored to take a hold of. If linebacker Luke Catarius is a go for BC High, that should provide an interesting matchup for Xaverian and its talented skill corps of Austin DeCarr, D.J. Pagliuca and Hunter Taute. The key matchup will be in the interior, where two close friends and Division 1 commits will square off – Xaverian defensive tackle Maurice Hurst (Michigan) versus BC High guard Jack McDonald (Virginia).

Barboza: Going with my preseason Catholic Conference pick in this one for whatever that's worth – though it's still probably worth more than Facebook stock. BC High, 21-17.

Hall: Give both teams credit here, they're still fighting hard. But at this point, the Eagles have a little bit more momentum. BC High, 21-10.

BARNSTABLE (7-0) AT BRIDGEWATER-RAYNHAM (5-3)
The Skinny: Once again, these teams engage in a winner-takes-all battle for the Old Colony League crown in this week's Game of the Week. Some elements to watch entering this one will be to see how the Red Raiders secondary is able to shake off a lackluster performance last week against Billerica. Similarly, B-R had its troubles with La Salle Academy and its spread attack a couple weeks back, so we'll see how the Trojans' secondary is able to deal with Barnstable quick and nimble wideouts. Let's not overlook the running backs in this one, however. Hayden Murphy figured prominently into last year's win by Barnstable in this game and Trojans sophomore sensation Brandon Gallagher (12 TDs) will be one to watch for years to come.

Barboza: Because it's what Dan Buron wants us to do anyway, and for the fact I think the Red Raiders repeat. Barnstable, 30-24.

Hall: Any time you have an NFL veteran coaching the secondary, you have to think things will shore up after a bad week. Barnstable, 35-28.
August, 23, 2012
8/23/12
6:04
PM ET
By
Brendan Hall
| ESPNBoston.com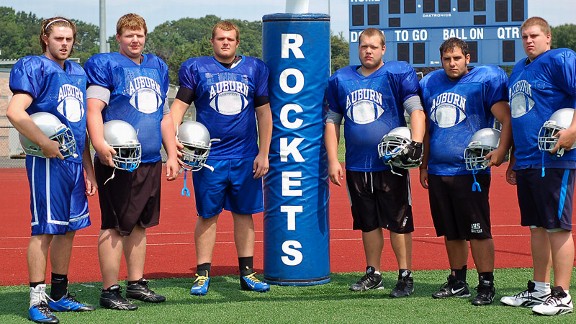 Brendan Hall Led by junior Will Greelish (second from left) and senior Aaron Dyke (third from left), No. 18 Auburn will once again boast one of the state's heaviest lines at nearly 280 pounds across.
AUBURN -– As a unit, they were among the state's most efficient, paving the way to more than 4,200 rushing yards, and among the biggest, averaging nearly 260 pounds across. Paired with a blend of power and finesse between four change-of-pace backs, it was a lethal combination that led to an unprecedented fourth straight Super Bowl championship for the Auburn Rockets.
All five starting offensive linemen return, now averaging nearly 280 pounds across, and the unit is comprised primarily of seniors with two or three years of varsity experience. And yet, true to the Belichickian mantra professed by head coach Jeff Cormier, it's as if they're right back at square one.
"We've got a ways to go," says senior Aaron Dyke, arguably the best of the bunch, and a preseason ESPN Boston All-State selection. "The whole team's got a long way to go. But we take it day by day."
If you've been to one Auburn practice in August, you've been to them all. Humility and brevity are the operative themes, and you can't argue with the method's success given the program's track record under Cormier. The only difference in 2012 is the absence of questions about their win streak, which was snapped at 41 last year to rival Shepherd Hill.
"Once we lost, we blew out every team," Dyke said. "But I know every team's coming back with more studs than they had last year. We bring back 27, but I know Holliston, Shrewsbury, Northbridge, they bring back everybody."
Says senior tackle Steve Domenick, "It's not really about going undefeated, it's about taking it one game at a time. We never focused on the whole streak thing, we just wanted to go out there every game and play some good football."
The Rockets graduated one of the state's most dynamic rushing tandems in the fleet-footed speedster Fred Taylor, now playing defensive back at Dean College, and Dan Flink, an ESPNBoston All-State selection now suiting up for Mass. Maritime Academy. Eric Desjardins is the only back returning with experience, and figures to take the lead role, but it should be a competitive training camp with Zach Clifford and Mark Wright.
Ideally, it would be a smooth transition. The Rockets consistently outweighed opponents at the point of attack in 2011, utilizing tight splits and combo blocks to nullify their opponents' top threats in the front seven. They were especially efficient on the right side with Dyke (6-foot-4, 295 pounds) and junior Will Greelish (6-foot-4, 325 pounds). Both have been receiving varied interest from an assortment Division 1 schools across the Northeast, including Boston College, UMass, UConn and Buffalo.
"I expect them to be very physical at the point of attack," Cormier said. "People know we're gonna run the football, which makes it that much more difficult to run the football. Those guys are gonna be under stress. There's going to be some pressure on those guys, with some young guys back there, they're gonna have to hold their blocks a little longer, move people a bit further. We're gonna have to compensate for our lack of experience at the running positions."
Defensively, where the Rockets have used odd fronts in the past, they will likely stay in a four-man front, given their size and depth in the trenches. As an added ripple, one of those key defensive linemen -- end Steve St. Jean -- will take on a new role this year as tight end.
St. Jean is an imposing figure at 6-foot-4 and 245 pounds, and is gaining interest from the MAC conference for track and field -- last spring, he finished third in New England in the shot put. It's still a work in progress, but if he adapts quickly he could leave Cormier with a favorable amount of options in the passing game for returning starting quarterback Drew Goodrich.
"He's trying to feel that out," Cormier said. "He didn't play tight end a year ago, so it's really square one, just trying to load him up with blocking assignments, kinda settle hiim in. But I think that he's pretty athletic as far as flexibility, and the possibility of options."
AUBURN AT A GLANCE
2011
: 12-1, Won Division 3 Central Mass. Super Bowl
Coach
: Jeff Cormier (14th season, 115-40)
Key Returnees
: Aaron Dyke, Sr. OG/DL, 6-4, 295; Will Greelish, Jr. OT/DL, 6-4, 325 lbs.; Jordan Giampa, Sr. C, 6-2, 285 lbs.; Steve Domenick, Sr. OL/DL, 6-2, 250 lbs.; Matt Ramirez, Sr., OL/DL, 5-10, 240 lbs.; Steve St. Jean, Sr. TE/DE, 6-4, 245 lbs.; Tyler Simmons, Sr. TE/DL, 6-1, 220 lbs.; Avery Sweet, Sr. TE/DL, 6-2, 250 lbs.
Strengths
: Size, experience at offensive and defensive lines
Weaknesses
: Experience at skill positions
Outlook
: The Rockets made headlines last season when their win streak, third-longest active in the nation, was snapped by Shepherd Hill. Then they made headlines again with their imposing line comprised entirely of underclassmen, led by Dyke and Greelish on the right side. As a unit, they are one of the state's heaviest across, and with the graduation of its top two backs (Dan Flink, Fred Taylor) and wide receiver (Connor Fuller) that unit will be taking on an even bigger role. St. Jean brings a unique skill set to the offense this year, his first as tight end, with his athleticism allowing him to play in space in addition to supporting the run, and that has to be pleasing to Goodrich. If the line continues on last year's success, when the Rockets ran for over 4,000 yards, then it should be a smooth transition for the new blood in the backfield.
October, 10, 2011
10/10/11
10:52
PM ET
LONG LIVE THE ROCKETS…?
Call it a fluke, a trap game, or just plain bad night for special teams coverage. However you choose to draw it up, the nation's third-longest active win streak was snapped last Friday night at 41 games.
Unranked Shepherd Hill played foil to SWCL rival No. 5 Auburn, upsetting them 32-22, thanks to a series of long runs. Kenny Mardirosian returned a kickoff 85 yards to the house in the third quarter, and then Brad Picard broke through for a 60-yard touchdown scamper to start the fourth quarter with a 26-7 lead. When the Rockets responded with a 35-yard touchdown pass from Drew Goodrich to Connor Fuller, the Rams immediately fired back with a 51-yard run by Anthony Wilga, for a 32-13 lead and essentially the game.
Aberration? Of course. This is a stout Rockets defense that is sturdy in the trenches and, quite frankly, doesn't give up many long gains.
Shocker? You bet. The Rams are always a tough out, with their vaunted Double-Wing scheme, but few predicted this (including us).
It's a period, not a comma, in the Rockets' storied history under coach Jeff Cormier; but it's hardly the end. The Rockets face Leicester and Tantasqua the next two weeks, followed by a tough three-game road swing against Northbridge, Grafton then Westborough, before the Thanksgiving matchup with Oxford/Sutton.
LIKE FATHER, LIKE SON
[+] Enlarge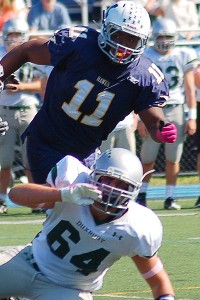 Brendan Hall for ESPN.comXaverian's Maurice Hurst Jr. is establishing himself as one of the state's premier interior defensive linemen.
The picture on the front page of the
Boston Globe's high school section
says it all: yes, that's Maurice Hurst Jr. –- all 6-foot-2, 275 pounds of him –- chasing down Duxbury wide receiver Reilly Naton all the way downfield after a big gain.
Few defensive linemen in Eastern Mass. have asserted themselves the way this junior three-technique has. In Saturday's showdown with No. 2 Duxbury, Hurst fought through double-teams all game to make quarterback Matt O'Keefe's life tough in the pocket, sacking him twice.
"He played a hell of a game," Naton noted. "He was in our face all day, getting double-teamed and making plays."
For those familiar with the Parcells-era Patriots, Hurst's father, Maurice Sr., manned the right cornerback spot for New England for seven seasons, making 102 starts and 27 interceptions; he was named to the team's All-1990s squad for his efforts.
A quick glance at
these highlights from 2011 (so far)
indicate the speed is in the blood. His backside pursuit is exemplary, with a strong bull rush to boot. In other words, keep this kid on your radar.
UNDERRATED? DIAL 4-1-3
Three weeks ago, in an interview with ESPN Boston, Putnam's Melquawn Pinkney declared the Springfield area
"very underrated"
for football, saying "I guess they don't think our players are as good or as talented, but we've got some good players coming out of here, and they'll soon see…I went to a lot of showcases over the summertime, and I'll hang with the best of them."
The reason for us coming out to Springfield, of course, was to honor the 5-foot-9 senior with our Player of the Week honors after rushing for a Western Mass record 421 yards and six scores on just 17 carries, in a 66-0 win over Agawam (four yards off the state record, too). No matter how you cut, 421 yards is pretty darn impressive.
Last season, Pinkney spelled his cousin Lavaughnte Lowe in a terrific season for the Beavers. Both went for over 1,000 yards, as Putnam accumulated over 2,600 on the ground and lost to South Hadley in the Division 2 Western Mass Super Bowl. This season, Pinkney has exploded as the Beavers' feature back, leading all rushers statewide with 1,229 yards and 19 touchdowns. In the last three games
alone
, he's racked up 1,035 yards.
Combined with Longmeadow's T.J. Norris (101 yards last week) and Springfield Central's Sacoy Malone (141), that's a trio that would make the short list on any All-Star team in Central or Eastern Mass.
Give these guys some credit –- it's long overdue.
DRAGONS DOMINEERING UP FRONT
A look down the Duxbury roster shows senior left tackle Gordon Acha at 6-foot-4, 255 pounds; and junior left guard Rob Kosharek, at 6-foot-6, 250 pounds.
A quick glance across the line tells us two things about them: 1. Those listed heights and weights are no stretch, and 2. These two kids are pretty athletic.
[+] Enlarge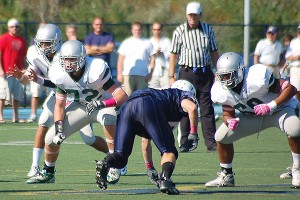 Brendan Hall for ESPN.comDuxbury's Rob Kosharerk (72) and Gordon Acha (69) are both potential Division 1 line prospects.
"They're beasts," senior wide receiver Reilly Naton said following the team's win over Xaverian. "That was a huge game for Gordon, he wants to go play college football, and he proved he can play against the great players like that.
"Kosharek, the kid's amazing. He's gonna be the heart and soul of the team next year on the line, and that's just a great way for them to go out in this game –- on top."
At the end of the day, this might be one of the state's best guard-tackle combinations; the two demonstrated fluid footwork in the passing game, and sturdy leg power in run-blocking. The two matched up with Maurice Hurst Jr. at different times, sometimes combining for double-teams, traps and chips.
Aaron Kramer, a redshirt-freshman left tackle for Boston College, is the measuring stick by which linemen inevitably get judged by in Duxbury. The 6-foot-7, 296-pounder transferred back home from BC High before his junior year, and immediately made his impact felt, helping lead the Dragons to a rout of Gloucester in the 2008 Division 2A Super Bowl and bulling them back to the playoffs a season later.
Asked if he sees shades of Kramer in Kosharek, Naton quickly concurred.
"For sure, he's definitely proven to be one of the best linemen to come through this program in a long time," Naton said. "I mean, the kid's still growing. He's huge. Kid gets bigger every day."
Head coach Dave Maimaron sees the comparison as well.
"Junior year, comparing him to Aaron, I mean yeah, there's definitely some crossover there in their skill level," Maimaron said. "They're both very athletic for their size. Aaron kept getting better, and as long as Rob keeps improving, yeah he could be a D1 kid."
The same could be said for Acha, who like Kramer, plays center for the school's basketball team. Like Kosharek -– and like Kramer before them –- Acha wears a long, lean frame with high athleticism and projectability. BC and Maryland are among the Division 1 feelers who have expressed interest in his services.
"Gordon also has great size and he's really progressing," Maimaron said. "He's real athletic. He has great feet, very similar to Aaron Kramer's, and he has the size."
THROWN FOR A LOSS
You knew something was off. As D.J. Crook, Barnstable quarterback, split out wide in a formation, you expected some kind of trick play, maybe some sort of double pass.
However, that was the last time Crook was on the field during the Red Raiders' game at New Bedford. What at first head coach Chris Whidden thought was an elbow problem, later thought to be a thumb dislocation, turned out to be a fracture of the thumb on his throwing hand.
While Crook's prospect of return is questionable (his father said he hopes to return to game form in 3 to 4 weeks) the injury seemingly will affect his assault at the state's career touchdown pass record; Crook is five off from Tommy Colombo's record of 79 touchdown passes. But more than that, Crook could be absent for the Red Raiders' Old Colony League schedule, which starts this Friday against Dartmouth.
While some on the Cape might be fearful that a promising season might have been lost on a twist of fate, fear not. We're here to provide Red Raider nation with three reasons why 2-3 Barnstable could still pull out an OCL championship sans-Crook.
Barnstable is more than a passing attack: A quick observation of the Red Raiders' opening drive against Whalers shows that the Red Raiders' attack is built on more than just their talented signal-caller. Running back Theo France nearly single-handedly cut through the Whalers' defense, capped off by a 44-yard touchdown run to give Barnstable a 7-0 lead.

An extension of pont No. 1 ... This defense is pretty darned good: Not every Barnstable win needs to be a track meet anymore. Ask any coach who's played against the Red Raiders about junior linebacker Andrew Ellis and they'll throw praise at the 5-11, 215-pounder and free safety Kevin Hardy is perhaps the grittiest player we've seen all year.

There are solutions at QB: Junior Nick Peabody filled in for Crook (promising sophomore Hayden Murphy also took a couple snaps) down the stretch. While the final score didn't exemplify a close game that was in doubt until its final moments, Peabody led the Red Raiders downfield on a couple of promising drives that were cut short by blocking penalties (including a potential game-tying score erased). While Peabody, Barnstable's top receiver, will subtract by being pulled to another position, the Red Raiders still have a deep receiving corps with Dylan Morris and Tedaro France.
September, 24, 2011
9/24/11
1:33
AM ET
By
Brendan Hall
| ESPNBoston.com



AUBURN, Mass. -- Talk about well-coached.

The No. 9 Auburn Rockets reached a milestone tonight in a dominant 35-6 win over No. 19 St. Peter-Marian, extending its state-best win streak to 40 games, good for third-longest active streak in the nation. Not only was it a stellar performance by the Rockets' front four -- which pressured the Guardians (2-1) and their star quarterback Steve Flynn into two interceptions, and held SPM to 83 yards of offense in the first half -- but the Rockets turned in arguably one of the season's most impressive rushing performances.

Behind a steady four-pronged attack of running backs Dan Flink (15 carries, 191 yards, 2 TD), Bobby Sivret (12 carries, 106 yards, 2 TD), Fred Taylor (five carries, 79 yards) and Tyler Desjardins, the varsity of the Rockets (3-0) racked up 462 rushing yards on the Guardians. They set the tone right from the get-go when on the second play of the game, Flink slipped inside of a kickout block from Aaron Dyke and ran a tackle-lead counter 70 yards straight up the gut, all the way down to the five, setting up Drew Goodrich's four-yard scamper two plays later.

"It was a great play, the offensive line did exactly what they had to do," Flink said, adding with a laugh, "I just wish I had some breakaway speed to finish it off."

Three plays into SPM's ensuing drive, Flink came up with an interception on the right sideline, setting up an easy 35-yard scoring drive, punctuated with a six-yard plunge by Flink for a 13-0 score with less than six minutes played.

That set the tone the rest of the way. And in the post-game, the Rockets spoke like a team that not only expected to win, but knew exactly how to act and what they were going to tell reporters.

"I mean, once again, we're just 3-0 right now," Flink smiled.

Said Auburn head coach Jeff Cormier, "We're at three, and we're looking for four next week, and our second one at home. Then hopefully we can get our fourth win next week, and keep rolling."

Longfellow couldn't have said it better.

Some key points from the game:

What a wagon: When informed that his varsity racked up 462 yards on the ground, Cormier cracked, "We're giving Brady a run for his money, huh?"

No matter how you cut it, 462 is the number that sticks out most in this game. Anchored by tackles Steve Domenick and Will Greelish; guards Matt Ramirez and Aaron Dyke; and center Jordan Giampa, the Rockets had their way with the St. Pete front seemingly all night. A group comprised entirely of underclassmen that averages roughly 6-foot-3 and 250 pounds across, they gave the appearance of a unit that has been together for three years, not one.

"Our line stepped up big," Taylor said. "Everybody basically had their A-game."

How difficult is it to prepare for a unit Auburn's? The Rockets ran a fair amount of double-tight jumbo sets tonight, with ends Mykal Diaz and Eric Chionchio providing even more of a mismatch; and with line splits anywhere between one to six inches, that took away some blitz packages right off the bat.

The Guardians saw this tight-split look last week when they took down Shepherd Hill and its vaunted double-wing scheme, but still found themselves outmatched in this one.

"Number one, they're huge, they're the biggest team in Central Mass," SPM head coach Tom Henrickson said. "But they're foot-to-foot and they don't have any gaps. And the backs just bounce off of them, they wait and see a hole and read. It's all zone blocking. They do a great job at that, they're well-coached."

As noted above, the Rockets kept things fresh in the backfield by platooning four running backs. By the second quarter, the wear and tear was evident, as the speedy Taylor danced his way to runs of 25, 22 and 18, totaling 74 yards rushing in that stanza. Flink then made another long run, this time for a score, as he followed a convoy up the left sideline on a sweep before throwing a stiffarm and cutting sharply back towards the hashmarks, coasting into the end zone for a 42-yard score that made it 28-6.

"We've got stuff we've got to work on, but I'm very proud of our kids' effort," Cormier said. "I think I'm going to be very proud of their execution once we look at it on film, and I was very pleased that they were very physical, they flew to the football. I thought we had a lot of guys that got in the game. We were able to use our depth a little bit.

"I think our offensive line is starting to come along, and I give a lot of credit to Dana Giampa for that, really working with those kids. They trust in what he's teaching."

Nullifying Knowles: One of the keys when devising a game plan against SPM is finding a way to neutralize senior defensive end Jordan Knowles, considered one of the region's better pass rushers. Through the first two games he registered 18 tackles and two sacks, but tonight the Rockets did a terrific job keeping him out of the play.

When the Rockets weren't running away from him, they were flushing him away from the point of attack with double teams and chips. When he ripped across Greelish's face and charged the 6-foot-4, 305-pound sophomore's inside gap, the play usually ended up bouncing to the outside, just out of his grasp.

"He's a real good player -- especially if you run away from him, he can run you down from the backside," Cormier said of Knowles. "We were really aware of him on the pass rush, trying to get outside him. We didn't think we'd be able to do that, we we tried to get up inside him, maybe trap him a little bit. But he made his plays. You know he's gonna make his plays, it's just, can you let him make those plays where it doesn't kill you, it only hurts you?"

Stout front seven: Defensively, the Rockets brought the heat tonight. Steve St. Jean and Diaz brought pressure off the edges, while Lincoln Bois found his way in the backfield on blitzes; meanwhile, Flink was efficient supporting both the run and pass.

The key, much like the run game, might have been the continuous rotation of fresh bodies.

"I thought we did a nice job of rolling guys through," Cormier said. "We had some fresh legs in there. I bet you we had up to 10, 12 kids get in there on the defensive line. We were always fresh, so you had guys getting limited reps but giving 100 percent at it. Sooner or later, if you can stay close, I think that wears on people. And I give [defensive line coach Scott Mills] a lot of credit for utilizing the depth that he has there."

Flash of promise? For all the troubles the Guardians ran into, they still managed to pull off one of the plays of the game. Late in the third quarter, sophomore wideout Noah Burke found himself in a one-on-one matchup with Taylor and took him deep down the right sideline on a chair route; quarterback Steve Flynn hit him with a laser, and Burke extended for a one-handed grab, scathing into the end zone untouched for a 69-yard score.

Flynn had his troubles tonight, with two interceptions. But at 6-foot-5, nearly 240 pounds, and equipped on the mound with a fastball that clocks in the mid-80's, he shows plenty of potential and isn't afraid to air it out.

Of Burke's catch, Henrickson said with a chuckle, "He's a great athlete. That was a hell of grab, he makes those in practice. I'm just glad...if he coulda caught it with two, thank God he didn't miss it with one because I would have reamed him."

Trickery peeks its head: The 'Wildcat' fad may have run its course at the pro level, but at Auburn it's still alive. Twice in the first half the Rockets lined up in an unbalanced shotgun formation with two tight ends and two split ends, with Taylor taking a direct snap. Taylor had a potential touchdown pass batted away in the back of the end zone; the other time they lined up, he rolled to the left and changed direction twice before coming up with a 25-yard gain.

AUBURN 35, ST. PETER-MARIAN 6

SPM (2-1) --- 0 0 6 0 - 6
AUB (3-0) --- 13 8 7 7 - 35

First quarter
A - Drew Goodrich 4 run (Steve St. Jean kick) 8:43
A - Dan Flink 6 run (rush failed) 5:29

Second quarter
A - Bobby Sirvet 4 run (Flink run) 6:43

Third quarter
S - Noah Burke 69 pass from Steve Flynn (pass failed) 3:28
A - Flink 42 run (St. Jean kick) :21.7

Fourth quarter
A - Servit 15 run (St. Jean kick) 5:15
August, 30, 2011
8/30/11
11:07
PM ET
By
Brendan Hall
| ESPNBoston.com
AUBURN, Mass. -- In Jeff Cormier's decade-long tenure at the helm of Auburn High football, he's seen the program take on a life of its own, becoming a galvanizing charm in this town rich with history, as they've racked up back-to-back-to-back Central Mass Super Bowl titles.
In this Worcester suburb -- the birthplace of Robert Goddard, creator of the first liquid-fueled rocket -- its baseball program has Mike Paradis, and it has recent first-round draft pick Tyler Beede. Basketball has the electric Javier Mojica. Hockey? Where do you want to start?
But since the Rockets lost their last football contest on September 19, 2008, the popularity and notoriety has only grown. It started with guys like Doug Flink, a defensive line mauler who is now a sophomore at Bryant, and now it's ballooned to a 37-game win streak. That's currently the third-longest in the nation, behind Phoebus High of Hampton, Va. (45), and Hamilton High of Chandler, Az. (41). The last team to threaten Acton-Boxborough's state record 52-game streak was Western Mass. juggernaut Longmeadow, which saw its streak end at 47 in 2008.
An opening stretch that is notably tougher -- the Rockets face Shrewsbury, Holliston and St. Peter-Marian in succession to start the season -- coupled with a new Central Mass realignment that has them paired in Division 3 with No. 25 Hudson, and a group that graduated seven starters on offense and six on defense, is all the more reason for the anticipation each week on Auburn Street.
As head coach, Cormier plays the role of grounder. But he notes he hasn't gotten much resistance from the groundees.
[+] Enlarge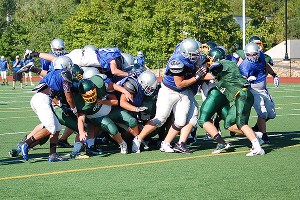 Brendan Hall for ESPN.comWhat the Auburn offensive line lacks in experience, it makes up for in size.
"Credit to our kids, but it hasn't now, and never been, the primary focus," Cormier said. "I mean, we have three goals every year: win the opener, win the league, and beat Oxford on Thanksgiving. Those have been our continuous goals, and they seem to be good to us, so they'll maintain those goals.
"It was never our goal to win 30-something games in a row. Our goal is to win one, and right now our focus is on Shrewsbury, and they're very, very good. We'll have more than our handful on September 10. We've got to get a lot better if we're going to win."
Taking a snapshot of Tuesday afternoon's scrimmage with Oakmont Regional -- another team they could see in November's D3 Playoffs -- the Rockets should stand a chance.
Start at the line of scrimmage, where it's an admittedly green front along the offensive line. Four juniors and a sophomore comprise the current starting lineup, but they should come out of camp averaging 250 pounds across, led by the right side of the line in junior guard Aaron Dyke (6-3, 270 lbs) and sophomore tackle Will Greelish (6-4, 300 lbs). They had their way with Spartan defenders at times, especially in the running game, extending their arms at the point of attack and plowing over -- sometimes pinning -- their man.
Of the steely Greelish, still a raw prospect, Cormier said, "Those defenders aren't going to come to him. He's got to go get them, so hopefully his feet get good, he settles down, and he can get to people. He brings a lot to the table, but we've got to see if he can get his hands on people and move people."
As for the trench guys overall?
"I agree they look good," Cormier chuckled. "If we could gain yardage just by the way they looked, we'd be in pretty good shape, you know? Unfortunately, they're going to have the play the anthem that we play. Or fortunately. We'll see where they get. But I think we have some kids that have some talent on that offensive line, it's just a matter of getting them to work together."
In the backfield, the stocky Dan Flink is expected to shoulder a heavy load with the graduation of Jeremy Lavallee. Meanwhile, Fred Taylor (seven receiving TDs) will be the Rockets' top deep-ball threat, with speed that touches in the 4.5 range; in Tuesday's scrimmage, Taylor beat his man one-on-one deep to haul in a nice 40-yard fade from Drew Goodrich and score easily.
Defensively, this was one of the stingiest units in 2010 (8.2 points per game), and they must find a way to replace stars in the trenches like Marcus Pettigrew. They'll get their leadership from its linebackers and secondary, from captains Taylor, Flink and Connor Fuller. The Rockets will remain a four-man front, but given the girth, look for this to be one of the most stalwart run defenses in the region.
It's a gang of fresh faces, but the early returns are OK.
AUBURN AT A GLANCE
Coach:
Jeff Cormier (13th season, 103-39)
Last year:
13-0, Division 2 CMass Super Bowl Champions
Key Returnees:
Dan Flink, Sr. RB/LB; Connor Fuller, Sr. WR/DB; Fred Taylor, Sr. WR/DB; Eric Chionchio, Sr. TE; Mike Diaz, Sr. WR; Drew Goodrich, Jr. QB/DB; Aaron Dyke, Jr. OL/DL.
Strengths:
Running game, offensive line.
Weaknesses:
Youth, inexperience.
Outlook: Don't mistake the Rockets' youthfulness for a lack of talent, because there is plenty around. Granted, it may be green, but outside of some of the traditional Division 1 powers you'll be hard-pressed to find many offensive lines as beefy as the Rockets' within the Central Mass district. Led by juniors across the board and a 6-foot-4, 300-pounder sophomore at right tackle, the Rockets have the size to bang with anybody. "They look good, and I think the challenge is, a week from Saturday will they be playing good," Cormier said. Dan Flink, brother of current Bryant defensive end Doug Flink, will lead out of the backfield, and like his brother ought to be one of the toughest runners in short-yardage situations. Fred Taylor should build on what was a promising junior campaign (462 receiving yards, seven touchdowns), and figures to be a leader in the secondary as well. Overall, this is a unit that graduated a ton of talent -- seven offensive starters, six defensive starters -- and their state-best 37-game win streak is in jeopardy with a first month that includes Shrewsbury, Holliston and St. Peter-Marian. But the cupboard is hardly bare, and though it's green, it is showing its capability so far in the preseason.