Boston High School:

Drew Jean-Guillaume
November, 18, 2014
11/18/14
11:02
AM ET
DUDLEY, Mass. -- Nearly every time Shepherd Hill quarterback Drew Jean-Guillaume had the ball in his hands during Friday night's Division 4 Central final against St. Peter-Marian, the Rams wound up in the end zone.

Jean-Guillaume threw for a touchdown (three completions) and ran for two more (on two carries) as the Rams rolled, 41-6, setting up this weekend's state semi-final duel with West champion Wahconah. ESPN Boston High Schools editor Brendan C. Hall caught up with him Monday for our Player of the Week interview:



*****

Top 5 performances from the sectional finals:

Nick Athy, Sr. QB, Holliston – Combined for 200 all-purpose yards while throwing for 100 yards (7 of 11, TD) and running for 109 yards in the Panthers' 35-13 win over Middleborough in the Div. 4 South final.

Jake Farrell, Sr. QB, Xaverian – Threw for 153 yards on 10 of 21 passing with two touchdowns while running for another 56 yards in a 24-10 win over BC High in the Div. 1 South final.

Drew Jean-Guillaume, Sr. QB, Shepherd Hill – Threw for 143 yards and a touchdown while running for 71 yards and two touchdowns in the Rams' 41-6 win over St. Peter-Marian in the Div. 4 South final.

Chris Martin, Jr. RB, Dartmouth – Ran for 161 yards and a touchdown in the Indians' 14-0 win over Somerset-Berkley in the Div. 3 Southeast final.

Nick Orekoya, Sr. RB, Everett – Ran for 205 yards on 26 carries with two touchdowns in the Crimson Tide's 31-24 win over St. John's Prep in the Div. 1 North final.
September, 26, 2014
9/26/14
11:55
PM ET
By
John McGuirk
| ESPNBoston.com
LEOMINSTER, Mass. -- All but two minutes and some change remained in the first quarter and Leominster was already staring at a 12-point deficit. Consecutive on-side kick recoveries by Shepherd Hill had put the Rams in control of things so it seemed.

The Blue Devils, who opened their season with back-to-back losses, could've easily bowed their collective heads and let No. 6 Shepherd Hill have its way with them.

They didn't.

Sticking with the old adage "desperate times call for desperate measures," Leominster fought its way out from a wall of adversity by storming back to collect a 34-20 victory Friday night at Doyle Field.

If there was ever a time when the Blue Devils needed a win to turn their season around, this was it.

"We knew we couldn't afford another loss," said senior running back Eddie Rivera, who ran over and around a talented Rams defense for 119 yards on 15 carries. "They were the No. 1 team in Central Mass. so we knew we had to do something about it. Coming in at 0-2 is not Leominster football. During practice this week the coaches and ourselves put a lot of time and work in and the results show on the scoreboard. That's what it comes down to."

Rivera was the offensive ignition Leominster has been searching for. Over their first two weeks, which resulted in defeats to St. John's of Shrewsbury and Lowell, the Blue Devils averaged just 11.5 points per game. Rivera missed both of those games because of disciplinary rules.

But he returned on this night to give Leominster a solid offensive punch. Rivera found the end zone three times, on runs of 1, 20 and 19 yards, respectively, to solidify his spot in the team's offensive plans moving forward.

"Had it not been for my offensive line I wouldn't have been able to do any of this tonight," Rivera said. "They work so hard and they bleed for all of us. It's all about the line here. They make the holes and I execute with the ball."

Leominster (1-2) finished with 256 yards, with 180 of it coming in the final half.

Shepherd Hill (2-1) tallied 292 yards, with the majority of it occurring over the first 22 minutes when it racked up 191 yards. Nick Ostrowski recovered both on-side kicks for the Rams which set up touchdown runs by running back Luis Martinez (2 yards) and quarterback Drew Jean-Guillaume (32 yards) to give them a 12-0 advantage.

Once the sting of those early scores wore off, Leominster came back ready for business to start the second quarter.

Using Rivera exclusively in the Wildcat formation, Shepherd Hill found great difficulty trying to contain the fleet-footed back. The Blue Devils opened the second frame with a 64-yard march to set up Rivera's first score coming at 6:17. Shepherd Hill, running strictly out of the double-wing, found out quickly that Leominster's defense had changed a few things up.

That, in turn, began make life miserable for Jean-Guillaume, Martinez and running back Brady Ravenelle. Scoring with ease with their first two possessions, the Rams could barely moved the ball in the second quarter. Facing a fourth-and-9 from its own 19, Shepherd Hill went for it only to see them turn the ball over on downs. Leominster got the ball back and needed just two plays before Rivera exploded up the middle from the 20 to give the Blue Devils a 14-12 lead which they would carry into halftime.

"We just thought we had to get something going offensively," Blue Devils head coach Dave Palazzi said. "We saw some things that we thought we could run. Eddie has been working hard and our offense line was blocking. And how about our defense to do what they were able to do after our atrocious start to this game. I loved the way our team responded tonight. They played well and our defense battled against a great football team. That team may not lose another game this year."

Four times during the contest, Shepherd Hill opted to go for it on fourth down, twice inside its own 20. But unbeknownst to many, who seemed perplexed by the strategy, with some injuries, the Rams were down to their third center/long snapper who was young and still inexperienced, Rams head coach Chris Lindstrom did not want to place added pressure on his young player or risk the chance of having ball sail over the punter's head and into the end zone.

He felt the odds at the time were better to go for it. On two of those occasions during the quarter, the strategy looked to have paid off brilliantly as Jean-Guillaume broke around left tackle 76 yards for a score and later would hook up with receiver Sean McKeon for a 39 yard scoring reception. But both scores were nullified because of penalties.

After the Rams went four-and-out on their first possession to start the second half, Leominster had the ball in excellent shape on the Rams 19. Rivera needed just one play to push the lead to 21-12 with a quick dash into the end zone.

As Shepherd Hill began its second possession of the half, Jean-Guillaume remained on the sideline trying to work out some cramping issues. Junior Devin Pietz was inserted into the quarterback slot. Behind some solid running by Martinez (18 carries for 89 yards) and senior Tanner Amico (60 yards on 10 attempts), the Rams drove 51 yards on seven plays before Martinez finished it off with a 9-yard carry. A successful conversion run ensued to put Shepherd Hill down by a point.

After both teams traded fumbles a short time later, the Blue Devils opened up their passing attack. Quarterback Noah Gray (5 of 9 for 94 yards) hit receiver Derek Franks in stride for a 43 yard touchdown to increase Leominster's lead to 27-20 with just over a minute remaining in the third. The Blue Devils would put this one in the bank midway through the final quarter. Driving 59 yards, Gray finished things off with a 13 yard scoring scamper down the left sideline.

Jean-Guillaume returned to the field later in the quarter but even he could not resurrect the Rams from a 14-point deficiency.

"Leominster is a very good football team and they had some good schemes against us tonight," said Lindstrom. "They did a good job changing things up. Overall, I thought our players played very hard against a very good team that is well-coached. Obviously with Drew being out for a bit hurt us some. But that is not an excuse or the reason why we lost. Give all the credit to Leominster in the way they played.

LHS Baseball Team Honored: Leominster head baseball coach Rich Barnaby and several team members who captured the Division 1 state championship were honored prior to the start of the game. The Blue Devils defeated Norwood 6-1, marking the third title in school history. Barnaby took over last season for longtime legendary coach Emile Johnson, who guided the Blue Devils to two state championships.
September, 15, 2014
9/15/14
12:32
AM ET
Shepherd Hill senior quarterback/safety Drew Jean-Guillaume received his second Division 1 FCS offer tonight, from the University at Albany, he announced tonight on his Twitter account.

The 5-foot-10, 200-pound Jean-Guillaume was also offered by Central Connecticut State over the summer, and has taken an official visit to the campus. Both schools are offering Jean-Guillaume as a running back, and in his season debut he dazzled in a 44-28 win over Fitchburg. Jean-Guillaume carried just six times for 126 yards and three touchdowns, and also made five tackles on defense.

In his sophomore season of 2012, Jean-Guillaume started at wingback in the Rams' "Double Wing" offense as they reached the MIAA Division 2 Central Super Bowl at Gillette Stadium. Last season, Jean-Guillaume moved to quarterback, and totaled 665 yards and 14 touchdowns on the ground, to go with two passing touchdowns, as the Rams racked up over 3,000 rushing yards as a team.

Jean-Guillaume is also a standout in track and field for the Rams. His fastest 100-meter dash registers in the 10.8-second range.

July, 29, 2014
7/29/14
5:59
PM ET
A pair of region football standouts received their first Division 1 offers from Central Connecticut State on Tuesday.
First, Shepherd Hill announced that rising senior quarterback D
rew Jean-Guillaume
had picked up an offer from the Blue Devils.
Congrats to Drew Jean-Guillaume on receiving his first offer from Central Connecticut St!! @BHallESPN @JimWilsonTG @ESPNScottB @AndyLac32

— ShepherdHillFootball (@SHRHS_Football) July 29, 2014
The Blue Devils are offering the 5-foot-10, 200-pound Jean-Guillaume as a running back. In his sophomore season of 2012, Jean-Guillaume started at wingback in the Rams' "Double Wing" offense as they reached the MIAA Division 2 Central Super Bowl at Gillette Stadium. Last season, Jean-Guillaume moved to quarterback, and totaled 665 yards and 14 touchdowns on the ground, to go with two passing touchdowns.
Jean-Guillaume is also a standout in track and field for the Rams. His fastest 100-meter dash registers in the 10.8-second range.
Minutes following the news on Jean Guillaume, Lowell rising senior outside linebacker/strong safety
Nicolau Coury
also posted on receiving his first Division 1 FCS offer from Central Connecticut.
Excited to say I just received my first D1 offer from Central Conneticut State University, thankful to all those who made this possible

— Nicolau Coury (@NCoury5) July 29, 2014
July, 14, 2014
7/14/14
11:39
PM ET
DUDLEY, Mass. -- Per our yearly tradition, we check in with some of the state's anticipated top teams during the summer months as we prepare for the start of high school football. With about 35 days before the first MIAA practices commence, we kicked off our tour today with Shepherd Hill Regional High School.
Walnut Lane Farm in Dudley was the backdrop for today's setting, where the Rams played up their "country strong" aesthetic for a farmer-themed shoot. (How much pride do they take in it? Word has it when the Rams hosted Doherty in last year's D4 Central playoffs, the city-bred Highlanders were greeted with several bales of hay on their sideline).
The Rams figure to average around 270 pounds across its offensive line, led by Boston College commit Chris Lindstrom Jr. and also including Chase Flibbert, Austin Jones and Cam MacDonald. They'll also be led by quarterback Drew Jean-Guillaume, a true option quarterback with sprinter's speed (10.8 in the 100-meter dash) orchestrating a powerful Double Wing offense. They figure to be among the favorites statewide in Division 4.
Look for the Rams in our annual preseason photo gallery next month. Here are some of the hits from today's shoot:
Fun shoot today with Shepherd Hill offensive line and QB. Special thanks to Walnut Lane Farm for their hospitality pic.twitter.com/8MwSVuuy7N

— Brendan C. Hall (@BHallESPN) July 14, 2014
#Merica pic.twitter.com/sSzu3sADqh

— Brendan C. Hall (@BHallESPN) July 14, 2014
July 14, 2014
July 14, 2014
American Gothic pic.twitter.com/7VS7lJmysp

— Brendan C. Hall (@BHallESPN) July 14, 2014
@BHallESPN You nailed it! Boys had a blast. Thank You. pic.twitter.com/J609NZALzx

— lindstrom6 (@lindstrom6) July 15, 2014
July, 8, 2014
7/08/14
11:52
AM ET
Don't look now, but the first day of MIAA football practices is just 40 days away. Per our tradition every summer, ESPN Boston High Schools editors Brendan C. Hall and Scott Barboza whet your appetite for the gridiron with some players on the rise, surprise teams to watch, top teams and some food for thought.
Brendan Hall
ESPN Boston High Schools Editor
FIVE PLAYERS ON THE RISE
Drew Jean-Guillaume, Sr. QB/DB, Shepherd Hill
With a powerful frame and impressive speed honed during track and field season, Jean-Guillaume is a throwback-type option quarterback, a converted running back who's as adept at powering through defenders as he is at evading or blowing by them. The Rams will be heavy favorites in Division 4, and Jean-Guillaume will have plenty of room to work behind a reportedly heavy line led by Boston College commit Chris Lindstrom.
Mekhi Henderson, Soph. DB, Xaverian
In a defense full of household names, Henderson is one of the Hawks' brightest young stars. Often last season, he was left on an island against an opponent's top target, and often he held his own. With his coverage skills and raw ability, the coaching staff has a luxury to get creative in the secondary.
Shane Combs, Sr. ATH, St. John's (Shrewsbury)
It's assumed that Combs, a Notre Dame baseball commit and ESPN Boston All-State selection during the spring, will take the reins at quarterback from last year's Mr. Football finalist Drew Smiley. The Missouri transplant was one of the state's most productive rushers during the playoffs, going over the century mark in all five postseason contests as the Pioneers reached the Division 2 state final.
Mike Maggipinto, Jr. RB, East Longmeadow
Somewhat quietly, the 5-foot-5 scatback eclipsed the 2,000-yard mark last year for the Spartans, running behind a great blocking scheme that continued to find unique ways to get him in space. Between Maggipinto and Plymouth North's Christian Carr, this could be the year of the pint-sized running back.
Jahkari Carpenter, Sr. RB, Doherty
Among the area's most elusive, Carpenter was a weekly highlight reel during the Highlanders' run to the Division 4 state title, with runs like
THIS
, or
THIS
, or
THIS
. Junior Tavian Vassar is expected to have a bigger role in the backfield this year, which could make for an imposing thunder-and-lightning combination.
FIVE TEAMS THAT WILL SURPRISE
Billerica
The Indians hit a home run this offseason with the hiring of Duane Sigsbury as their new head coach, though they are considered a year or two away. Still, Sigsbury is one of the area's brightest offensive minds, with a track record of making programs relevant in a hurry (see: Boston Cathedral). Similar to his other stops, there are already some terrific talents coming up the pipe.
Boston English
The Blue and Blue made history last fall to end Brian Vaughn's first season at the helm, beating Boston Latin for the first time since 1997. Now, with dynamic dual threat Emmanuel Almonte leading the offense, they'll look to continue last year's momentum.
Cambridge
Long considered a powder keg for skill talent, head coach Ryan Saulnier has tapped into it, and found a lot of success running his brand of spread offense in his first season last fall. With Marcus Collins returning under center, and a new home in the Dual County League, the Falcons ought to be one of the most entertaining teams to watch in Division 2 North.
Leominster
Blue Devils graduated one of their most talented classes ever, but this is a program built to reload, not rebuild, under a great offensive mind in Dave Palazzi. Defensive coordinator Charlie Raff left to take over at Oakmont, but in his place comes former North Middlesex coach John Margarita. It's too early – not to mention, lofty – to make any Neil O'Connor comparisons yet, but keep an eye on sophomore Noah Gray this fall.
Springfield Central
Similar to Leominster, the Golden Eagles have many holes to fill on the heels of its most successful season in school history. But they should have a solid defense again, led by lineman Kaleb Hunter-Sams, and the coaching staff should get a boost from the addition of former Putnam head coach Bill Watson.
Hall's Preseason Top 10:
[+] Enlarge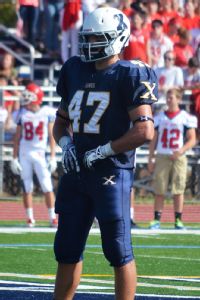 Brendan Hall/ESPNESPN Boston's reigning Defensive Player of the Year, Northwestern commit Joe Gaziano, leads a stacked Xaverian defense.
1. Xaverian
Little drama here as to who's the top dog. With a star-studded defense that includes the likes of Northwestern commit Joe Gaziano, ESPN Boston's Defensive Player of the Year in 2013; linebackers Noah Sorrento, Kenny Kern and D'Aundre Holmes; and defensive backs Damion Wood and Mekhi Henderson; as well as a potent running game behind UMass-bound tackle Joe Parsons, and an innovative playmaker in quarterback Jake Farrell; the Hawks figure to start the year No. 1 in many polls.
2. Everett
Crimson Tide are licking their chops after a disappointing end to 2013 season, and as usual they reload with some of the most gifted skill players in the area. The interesting question is how they'll fit Boston College-bound cornerback Lukas Denis into the offense; originally slotted as the successor to Jonathan DiBiaso at quarterback before injuries derailed his sophomore season in 2012, Denis showed flashes of brilliance in a multitude of positions last year.
3. Central Catholic
The Raiders' featured one of the state's best defenses a year ago in their D1 state title run, and they'll be held in high regard again thanks to linebacker Markus Edmunds and safety Mike Balsamo, who is fielding multiple Division 1 FCS offers at the moment. Also keep an eye on Matt Milano, who was statistically one of the state's most productive quarterbacks in the playoffs last year.
4. Mansfield
The Hornets dramatically altered their offense on the fly late in the season following a season-ending injury to wideout Brendan Hill, and it worked out as they took the D2 state title. A fully healthy Hill and another year of running back Miguel Villar-Perez, one of last fall's most pleasant revelations, should make the Hornets the favorite in a tough D2 South.
5. Bridgewater-Raynham
Trojans always get the benefit of the doubt for their powerful running game and their "anyone, anywhere, anytime" approach to scheduling, and they'll be a force again with Brandon Gallagher returning at tailback. But the question is whether the Trojans can sustain momentum and avoid last year's fate, when they reached No. 1 in our statewide poll early, only to sputter in the second half.
6. Shepherd Hill
In short, Boston College-bound offensive lineman Chris Lindstrom Jr. is a force. But the fact that he is the Rams' most dominant, yet possibly their lightest, should tell you something about what to expect in 2014. They're arguably Central Mass.'s most talented team this fall, and while there's a couple other heavy hitters contending in D4 – Holliston, Dennis-Yarmouth and Wahconah, for starters – these guys are my odds-on favorite. Look for them to put up a ton of rushing yards in head coach Chris Lindstrom Sr.'s double wing scheme.
7. Lowell
The Red Raiders made one of the biggest statements of the playoffs last fall in blanking St. John's Prep 41-0 in the first round of the D1 North tournament. Syracuse commit Shyheim Cullen was exceptional at interior gap blitzes, baiting and confusing potential blockers to create chaos up the middle, and he'll lead a talented defense that includes linebacker Nicolau Coury and defensive back Theo Bryant.
8. St. John's (Shrewsbury)
Boston College-bound free safety Davon Jones is one of several early candidates for Defensive Player of the Year after recording 125 tackles and eight picks a year ago. Offensive coordinator Chris Moriarty is as creative as they come, and how he utilizes Jones and athlete Shane Combs in the offense will be one of the more interesting storylines of the season's earlygoings.
9. Brockton
We're still in wait-and-see mode after another season of unrealized expectations in Brockton, but it's hard to deny the talent the Boxers have coming back. Keep an eye on Boston College-bound lineman Aaron Monteiro, who has some raw potential and a powerful frame at 6-foot-6 and nearly 300 pounds.
10. Dennis-Yarmouth
Division 1 recruit Michael Dunn lined up at nearly every offensive position last year for the Dolphins in their run to the D4 state final, and he may very well do it again. Defensively, this kid is a treat, regarded as one of the state's premier shutdown corners. As usual, Paul Funk's frenetic read option scheme will be a tall task to keep up with.
Others to Watch:
Attleboro, Barnstable, BC High, Doherty, Holliston, Marblehead, Oliver Ames, Plymouth North, Pope John Paul II, St. John's Prep, St. Peter-Marian, Tewksbury, Wahconah, Walpole
FOOD FOR THOUGHT:
1.
Spread offense has been the growing trend in Massachusetts over the last decade, and we're now seeing its influence at all levels of the game. But at the other end of the spectrum, we're seeing more and more teams dip into playbooks from decades and decades ago for some wild success in the running game. We've romanticized Nauset's Single Wing offense for years. At Holy Name, Mike Pucko dug into Dutch Meyer's World War II-era playbook and installed a fullback-less "Triple Wing" offense for the Naps' Thanksgiving contest with Milford, a game they won 35-14. Last year's D5 West Final featured a Pistol Flex Bone (Hoosac Valley) versus a Wishbone (Easthampton). Tewksbury, last year's D3 state champ, calls running plays out of an encyclopedia of formations from every family of offense. Factor in all of the traditional Double Wing success stories like Shepherd Hill, Holy Name and Somerset-Berkley, too. Running offense continues to diversify in this corner of the country, and if you're an X's and O's junkie like me, you are having a blast watching it.
2.
LSU took some negative backlash last fall when they received a verbal commitment from a freshman early in his season after an apparently intense summer of recruitment from a number of SEC schools, but this doesn't appear to be a trend going away any time soon. Early offers are still fairly uncommon for football prospects in this part of the country, though it's worth noting St. Sebastian's incoming sophomore Blake Gallagher received an offer from Nebraska last month. Beyond the concerns about pressure and bloated expectations, the biggest question I have is this: What if the recruit stops growing, or has just peaked earlier than his peers? I'm interested to see if Maryland head coach Randy Edsall's proposals for recruiting reform gain any traction. Among other things, his plan stipulates schools can't make a written offer until a player's senior year, and that the offer must come with permission from the school's admissions department.
3.
I'm on record as saying I hope the true state championship format the MIAA rolled out last year is here to stay, but I'm also in favor of giving it some tweaks. First and foremost, get rid of the second automatic qualifier for leagues. Weak leagues were rewarded at the expense of teams like Medway and Pope John Paul II, teams who finished with winning records in qualification period but were pushed all the way out of the eight-team field in their respective divisions to satisfy undeserved automatic berths. Leagues should be restricted to one automatic qualifier, or two if it is a two-tier league. I also question whether a seven-game regular season is enough of a window to properly gauge a team's strength. Expanding to an eight-game season and starting it on Labor Day Weekend could satisfy that, and could be a good gate opportunity for many schools as well.
***
Scott Barboza
ESPN Boston High Schools Editor
FIVE PLAYERS ON THE RISE
Michael Balsalmo, Sr. RB/FS, Central Catholic
A standout on the Raiders' Division 1 championship season a year ago, the 6-foot-2, 200-pounder holds a couple of offers (Bryant, Wofford) entering the season. Here's better there will be more to follow.
Christian Carr, Sr. RB, Plymouth North
For what Carr might lack in stature, he makes up for in elusiveness. A consistent 100-yard-per-game rusher in his junior season, he broke out with a 351-yard performance in the Eagles' playoff win against Dighton-Rehoboth.
Jake Gibb, Jr. QB, Stoughton
In his first season under center, Gibb led the Knights to the Division 3 South final before falling to Plymouth South. Gibb will have them contending for the Davenport division title again.
Kyle Murphy, Jr. OL/DL, Attleboro
The two-way lineman was a driving force behind the Blue Bombardiers' breakout season last year. It's only a matter of time before the 6-foot-4, 240-pounder starts getting colleges' attention.
James Sullivan, Sr. RB/S, Tewksbury
Sullivan announced himself to a statewide audience on the biggest stage last year, racking up 125 yards and three touchdowns in the Redmen's win over Plymouth South in the Division 3 state title game. With graduations, Sullivan will take on an even bigger role this year.
FIVE TEAMS THAT WILL SURPRISE
Braintree
The Bay State Carey should again be one of the more interesting races to watch across the state this year, and the Wamps might be primed to take a big step forward after last year's 4-7 mark. One to watch is inside linebacker Derek Anson, who's only added to his 6-foot-2, 225-pound frame.
Doherty
The Highlanders were historically good in 2013, capturing their first state title while beating Dennis-Yarmouth for the Division 4 championship. Although several key contributors have graduated, they can still make a run
Natick
It might not be the aerial display we've seen in recent years with Troy Flutie at quarterback, but the Redhawks will be one worth watching as Brian Dunlap returns from a season missed due to injury (Lisfranc fracture) last year.
Quincy
After a 7-4 campaign last season, are the Presidents ready to challenge for the Patriot Keenan title? With promising running back Jhave Handsom-Fields (8 TD as a sophomore) and quarterback James Lam returning, the time could be now.
Somerset-Berkley
The Raiders return a big class of juniors, including feature back Chip Wood back in the fold and Jacob Cabana rushing off the edge. Another EAC title could be in the cards.
Barboza's Preseason Top 10:
1. Xaverian
The Hawks will have some questions to answer on offense, but deserve the top spot on defense alone, with Defensive Player of the Year Joe Gaziano returning along with the state's best secondary group.
2. Central Catholic
The Raiders peaked at precisely the right time last year, capturing the first true statewide Division 1 title. Some of their biggest playmakers have graduated, but Michael Balsamo's primed for a breakout year.
3. Everett
The Crimson Tide are undoubtedly still smarting over last year's home playoff loss to Central Catholic. We all know what that means.
4. Bridgewater-Raynham
Here's betting tight end/defensive end Connor Reagan is one of next year's breakout performers.
5. St. John's (S)
You never know what you're getting from the Pioneers' offense game to game, and it'll be intriguing to see how the group develops this season. But you have to like any group with athletes of ilk of Shane Combs and Davon Jones.
6. Lowell
I'll take my chances with the linebacking corps the Red Raiders have returning, anchored by Shyheim Cullen and Nicolau Coury.
7. Brockton
The Boxers will not be pushed around inside the tackle box, with perhaps the biggest returning offensive line in the state, including Aaron Monteiro (6-6, 300) and Uzziah Hilliard (6-0, 280)
8. Mansfield
Mike Redding will come up with creative schemes to avoid Brendan Hill being double-teamed on both sides of the ball. Connor Finerty will also look to expand on a promising sophomore season.
9. Dennis-Yarmouth
The Dolphins fell just shy of the Div. 4 state title in a riveting matchup with Doherty. They might not be denied this year.
10. Tewksbury
The Redmen might not match the size and physicality of last year's state championship squad, but having James Sullivan in the backfield is still enough to win.
Others to watch:
Arlington, Attleboro, Billerica, BC High, Holliston, Leominster, Oliver Ames, Shepherd Hill, Stoughton, Wahconah, Walpole.
FOOD FOR THOUGHT:
1.
The football playoff system is here to stay – well, at the very least for two more years. While there are still pockets of dissent, the sentiment across the state is that the first year determining true state champions across six divisions was a success. It even drew over some who'd been opposed to the playoff proposal originally and voted against the measure. The build up and drama of the first seven weeks leading up the start of the tournament brought a different dimension of intrigue to the season. Still, detractors remain and, as Brendan ruminated earlier in this feature, there's still room for improvement regarding the means of automatic qualifiers and the discrepancies that exist between the respective athletic conferences' rubrics – including, most importantly, the weight of league games. But with one year in the books, I declare the system to be a success. Now, let's start tweaking the framework.
2.
Which brings me to my next point: get rid of Thanksgiving. This is going to be a highly unpopular opinion in some neck of the woods, but it's simply a reality of what's put in front of us. At the end of last season, I talked to many athletic directors who complained about a diminished gate return from their Thanksgiving Day games. That's a natural feedback of the playoff system – which in some place requires teams to "double up" with their Thankgiving rivals. In change, that has deemphasized the pomp and circumstance surrounding Turkey Day. As a result, that left some Thanksgiving Day matchups to resemble more of an exhibition game in tone – althought don't tell that to St. John's Prep and Xaverian, or Foxborough and Mansfield. The result is a hodgepodge of situations that follow teams into what used to be the biggest day of the regular-season football calendar: ie a non-playoff team vs. a team that's bound for a championship game, or two teams who are playing out the string on a season that's already ended. I counter those scenario's are really no different than what existed in the year B.P. (Before Playoffs), but the current arrangement has only emphasized was already apparent – Thanksgiving is an exhibition. Minus the Catholic Conference or Merrimack Valley Conference duels which resulted in playoff berths in previous years, Thanksgiving largely was such. Only now have the detractors used the playoff system to highlight the faults in Thanksgiving Day that already existed. What Thanksgiving Day has always been about is the rivalry. I ventured to North Attleborough last year when the Red Rocketeers (already eliminated from the playoffs) hosted Attleboro (who were just eliminated the previous week in the sectional final). The scene was what you'd become accustomed to – with an overflow crowd at Community Field. They were all there to watch an exhibition game. Why not make that game mean something more again? Why not play the game before the first frost?
September, 28, 2013
9/28/13
12:02
AM ET
By
John McGuirk
| ESPNBoston.com
DUDLEY, Mass. -- Facing the spread offense in its first two games, No. 6 Leominster spent this past week delving into the nuisances of some old-school football. The Blue Devils opponent Friday night was Shepherd Hill -- a team with a predominant reputation in running the double wing.

Certainly, one week does not allow enough preparation time to handle this style of offense, and during the first half, it showed. Leominster was having trouble figuring out who to key on in this tightly-bunched set-up.

But as good teams learn to do, the right adjustments were made and the Blue Devils threw a net over the Rams in the second half by allowing zero points en route to a 41-14 victory at Carmignani Memorial Field.

"Shepherd Hill grinded us pretty good in the first half but our defense really stepped up in the second half," said Blue Devils coach Dave Palazzi. "That's just getting the job done when you need to get it done. Credit our defensive coaches Charlie Raff, Kevin Murphy and Mike Vaillette for the adjustments they made at halftime. They did a great job coaching these kids up and the kids were listening. There was a lot of violence going on underneath those piles and a lot of big hitting by both teams. I really don't see that team losing to many ball games the rest of the way. They are well-coached and talented."

Leominster, the defending two-time Division 1 Central Mass. Super Bowl champions, improve to 3-0.

But this one did not come easy. As expected, Shepherd Hill (2-1) proved to be a staunch opponent. A Division 4 program, the Rams proved they are a team to be reckoned as the season moves forward. They gave Leominster all it could handle in the opening half, with solid running from junior quarterback Drew Jean-Guillaume and senior running back Jake Gelb. At the half, Shepherd Hill only trailed 20-14.

But the Ram offense looked much different over the final 22 minutes. Leominster showed more patients, waiting to see who would get the ball out of the double wing first and then strike, instead of anticipating. Having rolled up 169 yards in the first half that finished with Guillaume diving in from a yard out to trail by just six points, it appeared as though the Blue Knights had a legitimate fight on their hands.

Getting the ball to begin the second half, the Rams gave it away after failing to convert on a fourth-and-four play. Leominster's offense (438 yards), which has proven that it can score from anywhere on the field, did just that. A 66-yard touchdown run by junior back James Gurley on the ensuing possession had the Blue Devils in front 26-14.

Following a four-and-out by the Rams, Leominster again drove down field, capped off by senior quarterback Neil O'Connor's 38-yard scoring strike to Mayson Williams (3 receptions, 104 yards, 2 TD) to make it a 34-14 contest with a minute remaining in the quarter.

While Shepherd Hill's struggles on offense continued to mount, the Blue Devil offense was chomping at the bit to get the ball back. Late in the final quarter they put a bow on this one after junior Eddie Rivera scored on a 4-yard run around left end.

Leominster opened this tilt off in fine shape. Taking the opening kickoff, the Blue Devils marched 50 yards before O'Connor (9-of-14 for 188 yards, 3 TD, INT) found receiver Jake Allain (3 catches, 62 yards) 10 yards past the secondary for a 47-yard touchdown. Shepherd Hill shook off that score by mounting a drive of its own moments later. The Rams marched 77 yards before Jean-Guillaume (70 yards on 17 carries) busted up the middle from 12 yards away for the score. Jean-Guillaume also added the conversion run giving Shepherd Hill an 8-6 lead midway through the first quarter.

But the Blue Devils responded with another long drive that ended with Gurley (105 yards on 9 attempts) barreling in from the 3. However the conversion pass failed and Leominster had to settle for a 12-8 lead.

"We knew this was going to be a tough game coming in," said O'Connor. "Shepherd Hill is a very tough team that likes to pound it. They're big up front and their running backs and quarterback run hard.

"Our line also played great and were able to open things up for everyone and we were able to create some space. When everything is working we can be tough. Our coaches had us prepared for this one. Coming off wins over St. John's (Shrewsbury) and Lowell last week we were happy to get out of here with a win tonight."

Midway through the second quarter a solid drive by Shepherd Hill, which lost to Nashoba Regional in last year's Division 2 Central Mass. Super Bowl, ended abruptly after coming up a yard short on fourth down. Handing the ball back over to the Blue Devils, they were able to increase their advantage to 12 points after Williams, on a comeback screen, hauled in O'Connor's pass and bolted 57 yards down field into the end zone.

The Rams, once again, didn't fret as they put fourth a sustained drive following the score. They even tossed in a new wrinkle as Jean-Guillaume rolled outside the pocket and connected with Gelb in stride for a 33-yard reception. That, in turn, set up Guillaume's touchdown run in the final minute before halftime, slicing the deficit to six going into the break. Shepherd Hill finished with 273 yards of offense.

"That was a very good, tough football team we played," said Rams coach Chris Lindstrom, a former Boston University standout defensive end who spent three years in the NFL with the Bengals, Buccaneers and Chiefs. "This is new for us to play this level of competition but I thought we held our own for the most part. I feel we're still going to be a very good football team. We just need to re-group but I think we are very explosive. Overall I thought we did a nice job tonight. I felt the longer we were out there playing a very good team on both sides of the ball the better we're going to be."
December, 1, 2012
12/01/12
5:09
PM ET
By
Corey J. Allen
| ESPNBoston.com


FOXBOROUGH, Mass. –- Nashoba wrapped up a perfect 13-0 season Saturday and, in the process, ran its overall winning streak to a state-best 26 games with a 20-6 win over Shepherd Hill in the Division 2 Central Mass. Super Bowl at Gillette Stadium.

Andrew Cross ran for one touchdown and clocked 57 yards on 10 carries. Brady Schartner, the Cheiftans' lead receiver, intercepted a Rams' pass and returned it 22 yards for a touchdown to make it a two-touchdown game late in the fourth quarter.

"We did it together," said Cross of his team's victory. "There's no one person that did it, no one side of the ball, it was the whole team and that's what made it so special is that the whole team contributed."

With 8:21 left in the game, Nashoba began a four-minute 54-yard drive that, had it been executed fully, would have put the game out of reach for Shepherd's Hill. On third and nine though, Kyle Amico caught an errant pass at the back of the end zone, giving Shepherd Hill an opportunity to take the lead with a score and a two point conversion.

"Jack [Sarnoski] was trying to throw it away because he had a lot of pressure from the left side," Nashoba head coach Ken Tucker said.

Amico's touchback brought the ball to the Rams' 20, but Drew Jean-Guillaume was hit for a five-yard loss on the first play. On the second play, the Chieftans front men smothered Shepherd's Hill and forced an interception by Schartner who took it 22 yards to for the last score of the day.

Although Schartner scored on the interception, he deflected praise from his singular deed and stated that the effort was holistic.

"All the credit goes to the defense putting pressure on the quarterback," added Schartner. "All I had to do was step up and it hit me in the chest. "

DEJA VU ALL OVER AGAIN
The first score and the last score on the day were reminiscent of two scores earlier in the season. The first, a Cross 6-yard burst, is a team favorite.

"The first touchdown we scored in the year versus Longmeadow was a '45 Blast,'" said senior offensive guard Michael d'Entremont.

During the team's first scrimmage, they ran they bread and butter and scored on it. Today, when they needed a score, they recalled their staple and ate well.

"That's a play me and Mike have been running all year, 45 blast," Cross said. "Every single time we need five yards we do it and we did it today. We scored on it."

The interception returned for a touchdown was also a rehash.

"This guy here [Shartner], this is his fifth interception of the year, second pick-six," Tucker said. "That's a clutch play by him."

DOUBLE DOWN ON DEFENSE
As the game wore on, the Nashoba defense tightened up, stemming the last two drives by Shepherd Hill following the Rams' 72-yard touchdown pass touchdown from Chris Dutting to Derek Hinckley.

"We're a defense that really likes to pressure the other team," Tucker said. "It's a little tougher against these double-wing teams. We like to blitz people from a lot of different places and the secondary is aggressive. We play a lot of man coverages, a lot of mixed coverages. "

HUME HOLE
Late in the game Zack Hume took a run up the left side of the field. Although he had limited carries since injuring his ankle earlier in the season, this one looked especially odd.

"That was the biggest hole I've ever seen running the ball," said Hume, who carried players on his back during the run. "It was great blocking. I just ran straight, it was a huge hole."

Nashoba (13-0) 0 7 6 7 -- 20
Shepherd Hill (10-3) 0 0 0 7 -- 20

Second Quarter
N -- Andrew Cross 6 run (Drew Korn kick)

Third Quarter
S -- Chris Dutting 72 pass from Drew Ravenelle (rush failed)
N -- Elijah WIlliams 6 run (kick blocked)

Fourth Quarter
N --- Brady Schartner 22-yard interception return (Drew Korn kick)