Boston High School:

Drew O'Connell
June, 6, 2013
6/06/13
4:56
AM ET


DANVERS, Mass. -- BC High lacrosse, in not so many words, is feeling it.

After toppling the state's undisputed dynastic program in Duxbury, BC High parlayed momentum from last week's victory over the Dragons into Wednesday's Division 1 state quarterfinal against Catholic Conference rival St. John's Prep.

BC High connected on each of its first three shots of the game and kept building. By the half, BC High had amassed a 6-1 lead. By the third quarter, the lead swelled to seven.

Still, Prep played with mettle in the fourth, pulling within two goals. But BC High's hot start was too much to overcome as the Eagles from Morrissey Boulevard claimed an 8-6 victory to advance to the state semifinals, where they will face another Catholic Conference foe in Xaverian.

After falling victim to Prep during the teams' two regular-season meetings, BC High (12-9) finally solved the puzzle – albeit with some late tense moments.

"We knew what they were capable of offensively, that they could score in bunches," BC High head coach Tim Kelly said. "But we also knew this would happen. It happens in every game, especially Catholic Conference games, which are always back and forth."

A.J. Kucinski had the hot hand early for BC High, scoring on his first two shots during a span of less than one minute of the first quarter. Finishing the first with a 3-1 lead in tow, Pat Cronin took the reins of the attack, pushing the lead to 6-1 at half with a string of three straight goals in the second.

Pete Timmins and Pat Kearney added goals in the third quarter to pace BC High to seemingly insurmountable seven-goal advantage.

"It was a difficult three quarters," Prep head coach John Roy said. "Going in down seven goals isn't really where you want to be. But they dug in and showed a lot of heart. We got it to a point where we could have pushed it to 8-7. Derek [Osbahr] picked up the pace at the faceoff X and started winning draws. That made a difference."

Prep (13-7) mounted its comeback bid on the backs of its primary offensive weapons: Andrew Gallahue (2 G, 1 A), Drew O'Connell (1 G) and Jack Sharrio (1 G, 1 A). But they would get no closer than two goals, as BC High goaltender D.J. Barrile shined in the fourth quarter, making 7 of his 15 saves in the final period.

X MARKS THE SPOT

The highlighted matchup of the day came at the faceoff X, where BC High's Billy Breen and Prep's Derek Osbahr went head-to-head.

Perhaps the most marked difference between BC High's 13-5 loss to Prep on May 7 and yesterday's victory was the man at the X.

"Billy [Breen] went beyond our expectations," Kelly said. "We were just hoping that he'd tie up Derek [Osbahr] because he's one of the best I've ever seen. We were just hoping to tie him up and make it a 50-50 ball from the wing."

Kelly added that his team went 0-for-21 on faceoffs during the teams' last regular-season meeting, which Breen missed due to injury. With the Duxbury native back in the lineup, BC High is an entirely different squad, able to generate scoring chances through maintaining initial possession.

On Wednesday, it was poetry in practice, as Breen won the majority of draws through the first half, allowing BC High to play from ahead.

"When I got hurt, I just tried to contribute where I could," Breen said. "I just might not be running the field as much as I did in the beginning."

BC High was a bit of a work in progress through the midseason, missing several key contributors on both halves of the field

"It was unfortunate when Ian [Yanulis] and I sort of went out for the same time frame and [Pat] Cronin went down for a little while during that time, too," Breen added.

But, akin to last year's second-half push to the playoffs, this BC High team is again peaking at the right moment. Perhaps all that required was a clean bill of health.

"We didn't see [Yanulis] in the second game and he definitely made a difference, shadowing [Jack] Sharrio the entire game," Roy said. "He definitely bottled Jack up some and that threw a wrench into our offense a little bit. He's a difference-maker when he's out there."

But, of course, it all started at the X.

"The fact that Billy [Breen] was able to win a number of [faceoffs], and put it out away from their side of the field made a huge bit of difference," Kelly said.

NOTEABLE QUOTEABLES

So just how good was Barrile in net during the pivotal fourth quarter, in the teeth of a monumental comeback bid?

"D.J. [Barrile] was stellar," Kelly said. "He's what stopped the bleeding. He was our tunicate."
April, 30, 2013
4/30/13
3:09
AM ET
WEST ROXBURY, Mass. – Jack Sharrio had never experienced anything quite like it before. Last week, the St. John's Prep senior attackman was driving his car when he realized he couldn't see quite as well as usual. It turned out he was suffering an allergic reaction to the eye drops he'd been taking.

Thankfully, Sharrio was fine, but it forced him to miss the Eagles' Saturday game against Division 2 power Hingham – a game they lost, 9-5.

On Monday, he made his return to the Prep lineup and put on a show, leading the No. 9 Eagles with a four-goal, five-point performance in their 14-10 win over Catholic Conference rival No. 19 Catholic Memorial.

"His presence was missed [on Saturday]," Prep head coach John Roy said. "So tonight I think there was a little bit of wanting to step up and it showed. He was aggressive all night."

The Eagles (8-3) halted a two-game losing steak with a renewed emphasis on ball movement, while sending the Knights (6-7) to their third straight defeat – all coming against Catholic Conference competition.

Shawn Waldon compiled a four-point game (3 G, 1 A) while Andrew Gallahue (2 G, 1 A) and Ben Anthony (1 G, 2 A) each had three points. Princeton-bound midfielder Drew O'Connell also dished out two key assists on fourth-quarter goals, providing the Eagles some insurance.

"When we started to cut, Drew O'Connell had his head up and was making the looks," Roy said. "For us, that's something that we've been looking for."

While Prep's streak of games not having allowed a man-up goal was broken on Monday — with CM cashing in on three man-advantages in the first half — the Eagles closed the game with authority, holding while down two men in the final two minutes of the game. Eagles goaltender Tom Casale made two of his seven saves on the game during that man-down situation, snuffing out any thought of a comeback bid.

Derek Osbahr and Anthony Merullo also were instrumental in the victory in their support on faceoffs, winning a combined 16 ground balls.

A FULL DECK
Sharrio, who quarterbacked the Eagles football team to an Eastern Mass. Super Bowl championship in the fall, has been a key cog to the lacrosse team in each of his four years.

However, this is the first year he's shifted up to attack. And while Prep has been averaging more than 10 goals a game, they struggled offensively against Hingham.

With a full complement of players, including Sharrio, the Eagles were able to get back to what's made them effective.

"We were dodging pretty well, trying to find the open man," Sharrio said. "There were sometimes we could've caught and scored a little bit better than we did, but that's something we can work on. I think it just shows that if we keep this up in the future we'll be alright."
April, 18, 2013
4/18/13
2:39
PM ET
By
Shawn Myrick
| ESPNBoston.com
Danvers, Mass. -- Ben Alpern eyed the signal from ball-handler Jack Sharrio as he worked his way the opposite direction behind the goalpost. Catching a pass yards in front of Beverly keeper Kevin Lally, the St. John's Prep midfielder faked left then quickly flicked the ball into the right side of the net.

As the Eagles sideline erupted, the senior embraced his teammates' to celebrate their first lead of the game -- a 12-11 advantage with 1:56 remaining. Playing catchup for 41:15 consecutive minutes, the Beverly native played a crucial role for the Prep boys' lacrosse team (4-1) by scoring both the equalizer and winner in what was a 13-11 comeback against their 32-year-old rival and former Northeastern Conference opponent, Beverly (5-1).

"We have been working a lot with picks on the crease," said Alpern. "They lost me on the crease and I put it in. We knew we had another half to play once we were down by six (and) we kept focusing on getting one goal."

The Eagles went on a nine to one run over the final 22 minutes and netted the last six goals to comeback from what was an early second-half six-goal deficit.

SJP junior Andrew O'Connell used his back to lose his man then bounced a shot past a sliding defender to start the six-tally streak with 2:49 left in the third quarter. Alpern equalized at 11-11 nine minutes later off an assist from junior Andrew Gallahue.

Gallahue lead all-scorers with four goals and an assist, while teammate O'Connell and Alpern netted three goals.

"It came down to momentum", said SJP coach John Roy. "We did a little better on offense possessing the ball and moving (it). We needed to be better shooters."

DIFFERENT TEAMS WITH DIFFERENT HALVES
Beverly dominated the first half by scoring the first three goals, including a 10-yard rocket from the side of the net by senior Dom Abate for the opening tally at 10:53 in the first quarter. The Panthers scored five straight during the second quarter starting with an isolated effort for a goal by Brendan Flaherty at 6:12 in the second quarter.

The senior assisted a score then ripped a 15-yard rocket from just inside the attack area for the 9-3 advantage with 1:02 left in the first half.

"We do a lot of transition in practice and everyday getting the ball into unsettled situations," said Beverly coach John Pynchon. "We have a lot of dynamic midfielders and they did a good job beating their men. They know when to make the next pass."

Flaherty converted a defensive turnover into a breakaway tally for the Panthers' second six-point margin and a 10-4 lead after 1:33 in the second half.

The senior scored three goals and assisted one, while teammate sophomore Nick Albano netted two goals and assisted one. Panthers keeper Kevin Lally was a force throughout with 17 saves.

"Some of our seniors who played football this is the first time they have lost this year," said Pynchon. "[Lally] is very mature about his preparation and has great eyes. You take him out of the game when kids are throwing at him from three yards away."
April, 8, 2013
4/08/13
2:24
AM ET
Attackmen:
Tyler Bogart, Soph., Catholic Memorial
Jordan Dow, Sr., Lincoln-Sudbury
Jay Drapeau, Jr., Westford Academy
Brandon Jaeger, Sr., Dover-Sherborn
C.J. LoConte, Sr., Duxbury
Andrew Melvin, Sr., Medfield
Nick Menzel, Jr., Archbishop Williams
Nico Panepinto, Sr., Needham
Robbie Pisano, Sr., Needham
Tyler Reilly, Sr., Grafton
Andrew Smiley, Jr., St. John's (Shrewsbury)
[+] Enlarge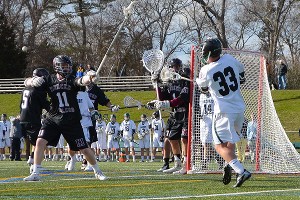 Scott Barboza/ESPN Army commit C.J. LoConte will look to shoulder a bigger part of the offense for defending Division 1 state champion Duxbury.
Midfielders:
Kevin Bletzer, Jr., Catholic Memorial
Will Blumenberg, Soph., Concord-Carlisle
Caleb Brodie, Jr., Hingham
Alec Brown, Sr., Wakefield
Tucker Ciessau, Sr., Scituate
Dan Delaney, Sr., Lincoln-Sudbury
Henry Guild, Sr., Lincoln-Sudbury
Carson Hart, Sr., Wayland
Davis Kraft, Sr., Algonquin
Matt LaCroix, Sr., Westfield
Drew O'Connell, Jr., St. John's Prep
Mikey Panepinto, Jr., Needham
Kieran Presley, Sr., Amherst
Bryan Rotartori, Sr., Grafton
Jack Wheeler, Jr., Xaverian
Long-stick Midfielders:
Nick Brozowski, Jr., Concord-Carlisle
Mike Elcock, Jr., Needham
D.J. George, Sr., Arlington Catholic
John Sexton, Jr., Lincoln-Sudbury
Defensemen:
Evan Boynton, Sr., Concord-Carlisle
Tim Gillis, Soph., Cohasset
Brian Uva, Sr., St. John's Prep
Luc Valenza, Sr., Foxborough
Jay Walsh, Sr., Duxbury
Tyler Weeks, Sr., Andover
Ian Yanulis, Sr., BC High
Goaltender:
Andrew Blood, Jr., Walpole
Matt Comerford, Sr., Reading
Ryan Goodall, Sr., Dover-Sherborn
Nick Marrocco, Jr., Duxbury
Giles Ober, Sr., Algonquin
Jake Reynolds, Jr., Scituate
D.J. Smith, Sr., Billerica
Robert Treiber, Jr., Medfield
Tighe Van Lenten, Sr., Masconomet
May, 30, 2012
5/30/12
9:36
PM ET
By
Bruce Lerch
| ESPNBoston.com
DANVERS, Mass. -- St. John's Prep has been searching for a complete game performance all season long, and if Wednesday's postseason opener is any indication, the Eagles are getting there and may be rounding into form at exactly the right time.

Drew O'Connell ripped home four goals, Mike Harris added a pair and Andrew Belli dished out three assists as No. 13 St. John's Prep claimed a 9-5 triumph over No. 20 Lexington in a Div. 1 preliminary round matchup at Cronin Stadium.

The Eagles (10-9) face a familiar tournament foe in Lincoln-Sudbury in Saturday's first round.

The offense displayed a level of patience that produced quality shooting opportunities for the Prep offense, while the defense locked things down in its own end, something that bodes well in the team's quest to make a fourth straight appearance in the title game.

"There have been times where we've really been connecting and doing what we wanted to do and then there's been times where we just done exactly the opposite," admitted O'Connell. "Putting a full game together has been the key and I don't think it's really happened yet. We just have to keep working towards that and the better we can play, we know our potential, we have a bunch of young skilled players, and if we play our game I think we're a force to be reckoned with."

The sophomore midfielder is unquestionably a force to be reckoned with in his own right. With the Eagles clinging to a 4-2 lead midway through the second quarter, O'Connell and his deadly shot took the game over. He struck for a man-up goal at the six-minute mark, then after Eli Brick potted one for Lexington (10-11), O'Connell struck twice more, burying a shot from the alley and another on a nice rip from up top to help his team take a 7-3 lead into halftime.

"We just worked on possessing the ball, that was our motto," O'Connell said. "We knew they had a good goalie so we just wanted to move the ball as much as we could and really get the best shot possible. We just move our feet and move the ball as quick as we can. Make sure that we're sprinting all the time working hard and just completing our passes without any mental errors. If we connect on all cylinders usually good things happen."

The Colonials scored the only goal of the third quarter when Matt Mazur beat his man along the nice baseline, rolling back toward the field and snapping a shot through inside the far post. SJP responded in the fourth as defenseman Tucker Mathers fired in a goal and O'Connell buried his fourth with 5:16 to play.

The defensive group did its job as well, disrupting passes, forcing turnovers and holding the fort while the offense chipped away.

"Bryan Uva, Lucas Bavaro and Mathers, they're all big," Prep head coach John Roy said of his defensmen. "Dave Letarte gets his stick in all the time it seems to intercept passes. It's really a strong defensive unit. The progress that we've had to make and are continuing to try to make is on the offensive end where we try to control the ball with possession. Here it is a matter of experience and knowing what you can do and if you're able to execute. We have guys that are skilled and now they're getting great experience and hopefully we can build on it."
May, 4, 2012
5/04/12
2:41
AM ET
By
Shawn Myrick
| ESPNBoston.com


WEST ROXBURY, Mass. -- There is no question St. John's Prep is going to face adversity as its closes its season with one of the toughest schedules in the state.

Clashing against top-fifteen ranked opponents in six of his final nine games, Eagles head coach John Roy is looking to make sure his squad is well prepped for the postseason. If a three goal fourth quarter comeback and a 9-8 double-overtime victory over Catholic Conference foe Catholic Memorial on Thursday is any sign of things to come, No. 19 SJP (8-4, 5-2) is up to the challenge.

"It is nerve racking to be on the sidelines for a game like this, but it is valuable for the players to get that experience" Roy said. "This is a great way to start this final run of seven games."

The Eagles upset the host No. 9 Knights (9-3, 5-1) at James R. O'Connor Stadium with three goals and two assists from attack Andrew Gallahue and two tallies by midfielder Drew O'Connell (both sophomores).

With Prep scoring the last five goals of the game, a 15-yard side-arm rocket by O'Connell at 2:26 in the second extra period sealed the victory for the Eagles. As Gallahue worked the sidelines midway the second overtime, the sophomore popped the ball up top to O'Connell who finished along the side post for the win.

"I saw Andrew dodging and I saw an opening," O'Connell said. "I have been playing since the second grade (and) shooting a lot in my back yard. He had been stuffing me a lot all game, but that one went through."

The clincher was the second assist for Gallahue, who set up the game tying goal with 33 seconds left in regulation. After the two leading scorers hit net to open the fourth quarter, Gallahue ran a set play from behind the crease and cut backwards to find a slim gap on the outside to organize the third score of the period.

On his way towards the keeper, the attackman caught a slide and popped the rubber up top to fellow Eagle's sophomore Joey Cavallaro for a wide open five-yard finish.

"[Coach] wanted me to go back left, take a dodge, and feed one of the people in the crease," Gallahue said. "I saw Joey Cavallaro come to me and I just tossed the ball."

"We do run it in practice, (but) it did not go exactly as we had planned," added Roy.

The Knights, who never trailed in regulation, took a 3-2 lead at 4:26 in the first quarter and led for the next 40 minutes. A side-net assist from freshman Tyler Bogart set up an open backdoor cut by fellow attacker sophomore Steve Righini to give CM the edge.

The Knights scored the next four, including a one-timer by sophomore Zack O'Brien off a steal and assist by senior Austin Bannister for a 6-2 lead at 4:57 in the second quarter.

"We were trying to use everybody on offense," CM head coach Kevin Lynch said. "We have come out on the losing end of two overtimes so far and that was our third one."

Gallahue helped Prep battle back with a pair in the final two minutes of the half, but the Eagles gave up two by CM senior leading scorers Tom Stanton (3 G, 1 A) and John Harrison (2 G) to open the third. CM had an 8-2 advantage in man-up opportunities, while outscoring the Eagles 2 -1 with the extra player.

Prep keeper Thomas Casale made 17 saves, while CM senior Miles McCarthy knocked away 14.

"Their keeper was making good saves all night," Roy said. "We needed to move to be able to score."

Both teams have two in-conference games remaining, with second-place Prep a game behind league-leader CM. The Eagles finish their final two weeks of the season with a pair of road games against No. 3 Lincoln-Sudbury (9-2) and No. 12 Billerica (8-4) and two home closers against No. 1 Duxbury (11-2) and No. 6 Medfield (7-2).

With six total games left, Prep needs one more win to reach the postseason, while CM has already qualified.


April, 2, 2012
4/02/12
10:17
PM ET
The high school lacrosse season kicks off this week for many top teams across the state.

Here is our preseason MIAA boys' lacrosse All-State team, as compiled by ESPNBoston.com staff and correspondents.

Attackmen:
Kevin Blair, Sr., Hingham
Peter Crane, Sr., Wellesley
Seamus Connelly, Sr., Duxbury
Jeff Desko, Sr., St. John's (Shrewsbury)
Jackson Finigan, Sr., Concord-Carlisle
Paul Hellar, Sr., Duxbury
Matt McIver, Sr., Andover
Cabot Noyce, Sr. , Norwell
Nico Panepinto, Jr., Needham
Joey Pasquale, Sr., Weston
Connor Roddy, Sr., Medfield
Cam Slatton, Sr., Billerica

Midfielders:
Dan Delaney, Jr., Lincoln-Sudbury
Alex Eaton, Sr., Westford Academy
Kurt Hunziker, Sr., Masconomet
Jonathan Lee, Sr., Hopkinton
Kyle Livingstone, Sr., Cohasset
Drew O'Connell, Soph., St. John's Prep
Billy Polk, Sr., Dover-Sherborn
Mark Riley, Sr., Needham
Oliver Saffery, Sr., Wellesley
Kyle Soroka, Sr., Acton-Boxborough
Tim Towler, Sr., Masconomet

FOGO:
Clay Richard, Sr., Medfield

Long Stick Middies:
James Burke, Sr., Duxbury
Reilly Naton, Sr., Duxbury

Defensemen:
Henry Bumpus, Sr., Concord-Carlisle
Ryan Cassidy, Sr., Wellesley
Pat Hannigan, Sr., Hanover
Jay McDermott, Sr., Duxbury
Nate Menninger, Sr., Newton North
Matt O'Keefe, Sr., Duxbury
Max Randall, Sr., Duxbury
Paul Tocci, Sr., Lincoln-Sudbury
Brian Uva, Jr., St. John's Prep
Ian Yanulis, Jr., BC High

Goaltenders:
Jonathan Barton, Sr., BC High
Henry Buonagurio, Sr., Duxbury
Connor Darcey, Sr., Wellesley
Jared Fong, Sr., Weston
Doug Gouchoe, Sr., Concord-Carlisle
Miles McCarthy, Sr., Catholic Memorial
D.J. Smith, Jr., Billerica
Greg Stamatov, Sr., Foxborough
June, 11, 2011
6/11/11
11:39
PM ET
By
James Walsh
| ESPNBoston.com
NEEDHAM, Mass. --The Eagles weren't even sure if they were going to qualify for the postseason, needing to win two of their final three games just to get in, but now they have the opportunity to repeat as champions after a thrilling 10-9 victory over the Needham Rockets.

It's the third season in a row St. John's Prep will be playing for the title.

"They've gone to Harvard every year of their varsity careers," Eagles coach John Roy said of his seniors. "It's something special. I think once they got a taste they wanted to go back."

"To go back there, it means a lot," said Eagles senior Colin Blackwell. "To start off the season on a rough note, with injuries, and to be able to pull through like this is a big confidence boost, and I'm proud of all the guys."

Prep (14-7) looked to be pulling away from Needham (18-3) early in the second quarter after a Blackwell (1 G, 6 A) goal gave them a 5-2 lead. But Mark Riley's solo effort for the Rockets cut the lead down to two, and the teams went to halftime with Prep ahead 5-3.

A flurry of goals opened up the third quarter. Needham sophomore Nico Panepinto (1 G, 2 A) scored just 13 seconds in, only to have Eagles freshman Drew O'Connell score his only goal of the night just over 40 seconds later. Nico's freshman brother, Mike Panepinto, then scored at 10:56 making Prep's lead just one again. The teams traded goals the rest of the quarter, which ended with Prep in front 8-6.

Riley (3 G) brought the Rockets to within a goal with 2:59 remaining in the game with a thunderous strike from 15 yards out. Just 30 seconds later the Rockets looked certain to tie the game, but Cam O'Leary's bounce shot deflected away off of the crossbar, which was a common theme for Needham all night hitting the post 5 times.

"That's the way it goes," Needham coach Dave Wainwright said about the high number of posts hit by his team. "I do feel there were some momentum shifts that went against us rather than for us."

But Needham got their game tying goal from Will Stenberg with 1:51 left. Stenberg was a game time decision for the Rockets after suffering a shoulder injury in their quarterfinal games verses Masconomet. But his ability to play through sever pain was a boost for Needham.

"For him just to be able to walk on the field made everyone pick up their head just a little more," Wainwright said of his All-American. "His mere presence on the field is like having a player coach."

But the tie lasted just 42 seconds. Blackwell took the ball from behind the Needham net and hit a cutting Matt Scalise with just 1:09 remaining in regulation for the game-winning goal.

"I didn't want to force it," Blackwell said about the game winning play. "All I heard Scalise give me a 'woo' call, he got it, he had some space and he got a nice one in the back of the net."

"Colin's a great feeder," Scalise said of Blackwell passing ability. "He was just working really well with me, [Dan] Mini, the whole offense."

The Eagles took some time after the game to enjoy the victory, but will get right back to work in preparation for Duxbury.

"We've played Duxbury already this year, but we know that we've got our work cut out for us," said Roy after the game. "Gotta' roll up the sleeves and get back to work because it's certainly going to be a battle on Tuesday."
May, 5, 2011
5/05/11
10:54
PM ET


DANVERS, Mass. -- For such a low-scoring affair, there was an awful lot of drama action to the final quarter-plus of St. John's Prep 6-5 overtime win over Xaverian at Cronin Field on Thursday.

First, the Hawks lost their starting goaltender to an injury midway through the fourth. Then, trailing by two goals to Prep, Xaverian clawed back to tie the score with eight seconds remaining.

However, a quick faceoff win, a timeout, a set play and John Farrow's game-winning dodge from behind the cage delivered a crucial 6-5 Catholic Conference win for Prep over the 20th-ranked Hawks.

"It was frustrating especially because last time, down their place, we had a lead as we did today and they were able to come back and beat us by a goal," Farrow said. "We didn't want that to happen [again], so after they scored that goal, we stressed that we didn't want that to happen again."

Xaverian (6-6) trailed by two scores with 8:49 to play in the fourth when senior goaltender Chris Fotta was knocked out of the game. Fotta made a clearing attempt with his feet, taking the ball to midfield before he was inadvertently hit under the chin on a check from Lucas Bavaro.

Fotta suffered a concussion and was taken by ambulance to the hospital for evaluation.

The ensuing three-minute man-up opportunity provided the Hawks with a perfect opportunity to even the score.

Xaverian scraped across one goal during the penalty with Cabot Noyce notching his third point (1 G, 2 A) of the game.

The Hawks have several sterling opportunities at the equalizer in the final minutes only to be rebuffed. But, just before time ran out, Ryan Scheib let one rip from 20 yards and found the top right corner to force the game into overtime.

However, it wouldn't take long for Prep (6-5) to find the game-winner in overtime.

"Mark MacDonald is our faceoff guy and he does a fantastic job," Eagles head coach John Roy said. "We're confident when we have him at the faceoff X. He won it for us, we called the timeout and tried to score that goal.

"It's good getting it out of the way because the longer you go into overtime, it's hectic and you never know what's going to happen."

Farrow ended the game just 32 seconds into the overtime period. Off a set play called during the timeout, Farrow set up behind the cage and made a power move to the front of the crease, bounding one in before his teammates piled on him in celebration.

Farrow led the Eagles with a three-point game including two goals and an assist.

Midfielder Drew O'Connell also had a two-goal game for Prep while Tom Dion tallied a pair for Xaverian.

"Now we've got a couple wins in a row, so we can get things rolling," Farrow said. "But if we would've let that one slip away, that would've been a tough loss definitely."