November, 15, 2011
11/15/11
2:29
PM ET
Rachel Wolsfelt, a senior at Boston Latin School, will be headed to Duke University in the fall after signing a letter of intent to join the Blue Devils' rowing team this week. The Charlestown native was joined by her parents, Nancy Ludwig and Bob Wolsfelt, and Boston Scholar Athlete (BSA) Zone Facilitator Joseph Cappellano.

"We are very proud of Rachel," said Evan Davis, BSA Executive Athletic Director. "She is an outstanding athlete and student and we are thrilled she utilized the support services of the BSA Zone. "Her experience is a perfect example of how the BSA can help improve the academic performance of all scholar-athletes. Facilitator Cappellano was a great resource for Rachel, providing her support and encouraging her to do her best."

Wolsfelt has been a member of the Boston Latin crew team since 2008, when she started on the spring novice crew team. In 2009, she became a first year varsity member. Her team placed third at regionals, qualifying them for the Youth Nationals competition in Cincinnati, Ohio. Wolsfelt was chosen in 2010 for the US Junior National CanAmMex Team, where she raced at Club Nationals in Tennessee and against Canada and Mexico. She has been selected captain for the 2012 rowing season.

In addition to her school activities, Wolsfelt participated in Community Rowing's Youth Competitive Team in the summer and fall of 2011. As part of this team, she raced at Club Nationals in Indiana and the Canadian Henley in Ontario, Canada.

Throughout her rowing career, Wolsfelt has excelled academically. She currently holds a 4.02 GPA, is a member of the National Honor Society, and is taking four advanced placement courses.
October, 19, 2011
10/19/11
2:34
PM ET
Our friends over in the ESPNHS lacrosse office, including Tom Peace, have released their list of the Top 25 girls' lacrosse goaltenders for the upcoming season.
There was only one New Englander to crack the list, but Governor's Academy's Kelsey Duryea, a Beverly native and Duke commit, topped this year's list.
Here's what Peace had to say:
"Duryea was named ESPNHS Second Team All-American and was the starting goalie for the US Under-19 team who won the gold medal this past summer. Duryea had nine saves in the Gold Medal game against Australia."
The entire rankings can be found
here
.
July, 5, 2011
7/05/11
1:50
PM ET
BC High lacrosse defenseman Ian Yanulis has committed to Duke, the Laxachusetts Minutemen lacrosse club announced on its website today.

The rising junior will join Duke's 2013 class. Yanulis will not be the only D1 recruit on the Eagles' backline next year, joining UMass commit Keegan Hayes.

Yanulis is Laxachusetts' second D1 recruit in the 2013 class.
May, 11, 2011
5/11/11
12:14
PM ET
By
Ryan Kilian
| ESPNBoston.com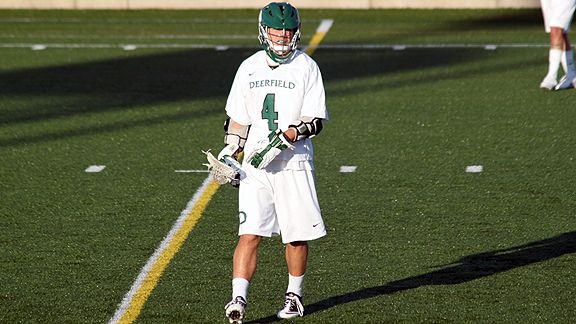 Ryan Kilian for ESPNBoston.com Deerfield Academy's Jimmy Bitter is ranked the No. 2 attack by ESPN, and will join his brother Billy next year at UNC.
Deerfield Academy attack Jimmy Bitter is no stranger to lacrosse success, as he is the youngest of six college lacrosse playing siblings. Jimmy's older brother Billy is currently a two-time First Team All-American attack at North Carolina, where Jimmy will play next season. His eldest brother Matt played at Navy from 2006-09.
Bitter is the No. 2 ranked attack in the Class of 2011 by ESPN RISE, and No. 4 overall. The Manhasset, N.Y., native has been instrumental in Deerfield's success, as they are currently ranked No. 6 in the country in the latest Under Armor/Inside Lacrosse poll.
ESPNBoston.com caught up with Jimmy recently, as Deerfield hits the home stretch in its season.
Q: Being undefeated (11-0) and a top-ranked team in the country, can you talk about expectations and goals for your team?
A:
"As a team, our goal is to win each game, taking it one game at a time. We have to stay disciplined, focused and make sure we do not look ahead or past teams. We must play each game like it is our last game of the season."
Q: How was last season for you both personally, with the injury (Bitter missed six games with a broken thumb), and overall as a team?
A:
Last season was a tough season for me. I got hurt early on in the season and missed a major chunk of the schedule because of this. Then when I returned, I was never able to fully play at 100 percent, which was also frustrating. As for the team, I thought we had a great season, with many of our young players stepping up when the team suffered injuries. If it was not for one loss to Salisbury, who played a great game, we would have won it all."
Q: Talk a little about your summer lacrosse experience? How does summer help with improving your game?
A:
"Over the summer I played for FCA (Fellowship of Christian Athletes), the Under Armour Long Island team, and in the Warrior 40 game. FCA is a great experience because we play top level lacrosse along with learning how to reach out to God along the way. It was quite an eye opener to learn how to feel comfortable talking about my faith with others.
"The Under Armour games and the Warrior 40 were both incredible experiences as well. In both events I was able to play with and compete against the best players in the country. This was very helpful in the development in my game because not only was I competing against great talent but because there was such a wide range of players from diverse places I was able to learn new styles of play and set higher goals for myself."
Q: Can you talk about your family and what kinds of advice you get about the game and what to look forward to in college next year?
A:
"My brothers were all great players and I always looked up to them as I grew up and watched them play. I always tried to incorporate what they did into my game, and I'm still doing that today. As for advice, my family has always been supportive by coming to my games and driving me to all those youth practices and events. In many ways I was blessed to be the youngest, because each of my siblings has had input and enabled me to absorb something they did well. My oldest brother, Ward, was and still is one of the best runners I have ever seen. Matt went to Navy to play lacrosse, and has gone on further to become a Navy Seal. He taught me the meaning of toughness and true-grit. Billy is known for his bursts of speed and dodging. While growing up in Manhasset, I spent many days and nights with my brothers in our backyard. Sometimes I was shooting and often they had me all suited up and they shot on me. I think I am a better shooter today because of it. Also, if they saw anything I needed to work on they wouldn't hesitate to let me know."
Q: Can you talk a little about how the recruiting process went and the main factors that went in to the decision?
A:
"The recruiting process was a very difficult one. My mind was not always set on UNC, I was considering schools such as Duke, Hopkins, Harvard, Virginia, Notre Dame, and Navy, however after discussing it with my family they and I both felt UNC was the best fit for me. I absolutely loved everything about the school from the town, the coaches, the players, the academics, etc. UNC also did very well by Billy and the entire UNC package is almost too good to be true. I can't wait to get to work down there."
Q: Can you talk about the major influences in your life that have shaped you on and off the field?
A:
"The single greatest influence in my life is and has always been my family. As I mentioned earlier, we would play for hours in our backyard together. If I had to choose someone from my family, it would have to be my Dad. He had been my coach ever since I could remember. As a coach he was very knowledgeable about the game of lacrosse, he was an all-American at Boston College, so I was always listening to what he had to say. It's no different now either, he comes to many of my Deerfield games and gives me plays and pointers from the sidelines. He has taught me to plan ahead of games and think during the game about what is happening or how to counter the opponent's efforts. Obviously off the field, my father was my mentor, but my Mom was the best care giver I could ask for. I think both my parents and my siblings are the reasons that I can be so confident about making sure I am making good, sound decisions in life. I also want to give credit to my uncle, Kevin Cook, as the other big coaching influence I can reflect upon."
Q: Can you talk about your overall experience at Deerfield Academy?
A:
"Deerfield has been an amazing place to go to school. Deerfield was my number one choice of all boarding schools from the start. Personally, when deciding boarding schools I couldn't think of any negatives about Deerfield, it has great academics, a very friendly environment, and a top athletic program. Deerfield has been even better than I could have hoped. The school has taught me to push myself academically and grow as a lacrosse player. Coach [Chip] Davis and Coach [Jan] Flaska are very knowledgeable about the game of lacrosse and really make an effort to improve each player. Also, Deerfield promotes playing multiple sports as a way to develop other talents. I was able to play soccer and basketball, which for me were very beneficial to my lacrosse game."
Q: Who are the best long sticks that you have played or will play against this year with Deerfield?
A:
"I would probably have to say the toughest defenders I play against are the ones I go against every day in practice. Will Swindell (Brown), Bobby Osgood (Dartmouth), and Mike Mueller (Dartmouth), are all tremendous players and know a lot of my tendencies making it very difficult to go against them."
Q: What other sports do you enjoy watching or playing?
A:
"If there was sport I wish I could play better it would probably be soccer or skiing, both are great sports. I grew up watching my siblings excel at both of those sports but because of playing so much lacrosse I haven't had the time to ski as much as I would like to."
Q: What do you like doing in your spare time?
A:
"In my spare time I'm mostly just hanging out with friends, maybe playing a pickup game of something of that nature."
May, 6, 2011
5/06/11
10:03
AM ET
Duke University announced yesterday that small forward and South Kingstown, R.I. native
Alex Murphy
has signed a National Letter of Intent with the Blue Devils for the fall of 2011.
Murphy, a 6-foot-8 forward who previously starred at St. Mark's, committed to the Blue Devils last February as a member of the Class of 2012. Last month, he re-classified to the Class of 2011 and transferred out of the Southborough campus, to his hometown South Kingstown High School, where he is expected to receive his high school diploma.
After his freshman year at the Prout School, Murphy transferred to St. Mark's and repeated his freshman year, making this his fourth year of high school. His situation is not unlike that last spring of former Charlestown star Shabazz Napier, who transferred and re-classified to Lawrence Academy after three seasons with the Townies, only to return to Charlestown for the final quarter in order to get his diploma and head to UConn.
April, 25, 2011
4/25/11
2:42
PM ET
ESPN's Roger Brown
checks in today
with New Hampton (N.H.) quarterback
Jake Kiley
, who is drawing interest locally from Boston College and UConn, primarily as a wide receiver or defensive back.
"I met with [BC assistant coach] Sean Devine briefly and they want me to go to a one-day camp," Kiley told Brown. "If I perform there I think I'll be OK. I think I'll be going to their first session [of summer camp]."
Kiley, who has been clocked as fast as 4.56 seconds in the 40, also told Brown that he thought he was close to getting an offer from UConn last season before head coach Randy Edsall bolted for the same position at Maryland.
"I think I'm still in the running for an offer from UConn," Kiley said. "I think I'll know by the time I attend a one-day camp there. I really feel like if I go to camp and do OK I'll be all set."
Kiley, whose father Ed is the head coach at the New Hampton, N.H. prep school, plans to attend camps at BC, UConn, Maryland, Virginia Tech, Duke and Penn State this summer.
For more recruiting updates on New England's top high school football talent, be sure to check out Brown's
blog
.
April, 19, 2011
4/19/11
9:23
PM ET
ESPN's Adam Finkelstein
checks in today
with Tilton (N.H.) big man
Nerlens Noel
, who refuted various internet reports that surfaced over the weekend claiming he had come out with any sort of recruiting list.
The sophomore and Everett native, rated the No. 1 center and No. 3 overall player in the Class of 2013 by ESPNU, told Finkelstein he's waiting "until the fall to make my list."
In the meantime, numerous high-major Division 1 coaches have come by the Tilton, N.H. campus to take in the Rams' talented group. Last week, Kentucky head coach John Calipari made a visit, and extended an offer to both Noel and freshman
Wayne Selden
shortly after leaving.
Most recently, Georgetown head coach John Thompson III was in to visit. Noel told Finkelstein he was told by his head coach Marcus O'Neil that North Carolina, Duke and Syracuse would be among the most notable to visit the next few weeks.
Noel told Finkelstein he's looking for "A coach who cares about his players and can develop them for the next level." As for his own game, his offense seems to be improving. As Finkelstein writes:
In terms of his own development, Noel is best known for his dominance on the defensive end of the floor but his offensive skills have been blossoming at a steady rate as of late with the emergence of a dependable face-up game and signs of a jump hook on the block. Noel is also a good passing big man.

"I'm just working on my all-around game right now and trying to get stronger," Noel said. "Offensively, I'm just trying to establish a go-to move and working on my strength around the basket."

While his offense continues to develop, his defense will always be his claim to fame. Perhaps the best shot blocker in the entire country, Noel's ability to erase mistakes at the rim led his BABC team to the AAU U-16 national championship last year and had them atop virtually every defensive category after Week 1 of this spring's Nike EYBL.

It's not just his length and quick bounce that make him so dominant turning shots away around the rim, it's a combination of other factors that can't be taught with his timing, mobility and instincts that are absolutely off the charts.

Put it all together and Noel is as dominant a defensive big man as there is in the country with a consistently evolving offensive game and a long line of college coaches vying for his services.
For more recruiting updates on New England's top high school basketball talent, be sure to check out Finkelstein's
blog
, as well as his
New England Recruiting Report
.
April, 19, 2011
4/19/11
3:49
PM ET
ESPN's Adam Finkelstein has confirmed that Duke-bound St. Mark's forward
Alex Murphy
is re-classifying to the Class of 2011 and enrolling at Durham this fall, as opposed to next.
The 6-foot-8 Murphy, a Wakefield, R.I. native who repeated his freshman year at St. Mark's after transferring from the Prout (R.I.) School, committed to the Blue Devils last Feburary. But he never ruled out re-classifying back to the 2011 class, telling Finkelstein
at the time of his commitment
, "As of right now, I'm a member of the Class of 2012 and that's the way it's going to stay, at least until the high school season is over...Right now I just want to focus on helping this team. When the spring approaches I'll sit down with my family and discuss the 2011 option."
Today, he told Finkelstein, "It was a very difficult decision but in the end I just thought this was the best thing for my future. It's a great opportunity."
That's also brought a shakeup in the ESPNU rankings, where Murphy was the No. 15 overall player in the Class of 2012. Now as a member of 2011, he sits at No. 40 overall.
Read the full story
here
.
April, 11, 2011
4/11/11
3:21
PM ET
ESPN's Roger Brown
checks in today
on his recruiting blog with Buckingham, Browne & Nichols offensive lineman
Eric Olson
, who came to the Cambridge prep school as a basketball player but will likely leave next spring as one of New England's premier offensive tackles.
Olson, a 6-foot-6, 270-pound junior who transferred from Lincoln-Sudbury following his sophomore year, has scholarship offers from Boston College, UConn, Duke, UMass, Virginia and Wake Forest. He told Brown he also hears regularly from Michigan, Northwestern and Stanford.
He told Brown he is trying to set up visits with Michigan and Northwestern for this weekend. A decision is likely to come before the start of his senior season for the Knights this fall.
BB&N head coach John Papas also told Brown that Stanford "is supposed to visit the school in April."
"He's an incredible athlete for an offensive lineman," Papas told Brown. "He came to us as a basketball player. He was skinny and extremely raw, but I think he's become one of the best linemen on the East Coast."
For more recruiting updates on New England's top high school football talent, be sure to check out Brown's
blog
.
February, 22, 2011
2/22/11
4:54
PM ET
ESPN's Roger Brown checks in today on his
blog
with New Hampton (N.H.) quarterback/defensive back
Jake Kiley
, who earlier this month attended a junior day at Boston College and is scheduled to be at UConn's junior day this weekend. Virginia and Maryland have also shown interest in the 6-foot-1, 170-pounder.
"Penn State is still in the mix," Jake's father Ed Kiley, who is also New Hampton's head coach, told Brown. "He'll probably visit Duke at the end of March. We'll take a look at Villanova, JMU, Richmond and UNH too. He's keeping an open mind."
For more recruiting updates on New England's top football talent, be sure to check out Brown's
blog
.
February, 7, 2011
2/07/11
12:48
PM ET
To no one's surprise,
Alex Murphy
of St. Mark's School has given a verbal commitment to Duke, ESPN.com senior basketball recruiting analyst Dave Telep reported via Twitter this morning.
Murphy, a 6-8 small forward from South Kingstown, R.I., is ranked 15th overall in ESPNU 100 for the Class of 2012 and is ranked second overall by position. Arizona, Kansas, North Carolina and Florida (where his brother Erik plays) were among teams with interest in Murphy.