Boston High School:

Dustin Hunt
June, 28, 2013
6/28/13
12:01
PM ET
STARTING ROTATION

RHP – Tommy McDonald, Sr., BC High
The ace and the workhorse of BC's rotation, which saw the Eagles make their first D1 South Final appearance since 2009, McDonald often went late into games to pick up a win. He was 7-0 on the season, with a 1.90 ERA, five complete games and just 10 walks. The Quincy resident will continue his career next year at UMass.

LHP – Ben Bowden, Sr., Lynn English
The state's Gatorade Player of the Year, Bowden is a repeat selection, having also made the starting rotation of the All-State Team in 2012. On the season he was 4-2 with 84 strikeouts in 52 innings, with just 10 walks for an ERA of 0.67. He also recorded a .459 on-base percentage at the plate, with 13 RBI. Bowden will play at Vanderbilt next year.

LHP – Scott Tully, Sr., Reading
Another repeat All-State selection, Tully dominated the Middlesex League en route to winning the Liberty division's MVP. For the season he went 7-1 with 96 strikeouts and an ERA of 0.54. For his career, he has 29 wins and over 400 strikeouts. Tully is headed to Notre Dame next year.

RHP – Evan Flanagan, Sr., Hingham
The Patriot League's Co-MVP saved his best stuff for the playoffs, as the Harbormen won their first Division 2 state title in school history. On the season he was 6-2 with 79 strikeouts in 56 innings, with five complete games, a 1.75 ERA and a WHIP of 0.93. Flanagan will continue his career next year at the University of Rhode Island.

LHP – Mike Gaughan, Sr., Walpole
One of the state's most elusive lefties, Gaughan helped lead the Rebels to the No. 1 overall seed in D1 South. He was 10-2 on the season with 117 strikeouts and a 1.88 ERA, and held opponents to a .180 batting average. Gaughan is headed to Division 2 Rollins College (Fla.) next year.

STARTING NINE

C – Joe Freiday, Jr., Bridgewater-Raynham
One of the state's leaders in runs plated, Freiday finished the year batting .425, with a .573 on-base percentage, 31 RBI and five home runs. He also drew 21 walks and struck out just 10 times. Freiday is fielding interest from an assortment of Division 1 programs.

INF – Nick Bragole, Sr., St. John's Prep
Part of one of the state's most prolific hitting lineups, Bragole put up .403/.532/.758 totals with 21 RBI and six home runs, along with 10 stolen bases, as the Eagles captured the No. 1 seed in D1 North, won 22 straight games and made an appearance in the D1 North final. Bragole is headed to Division 2 St. Anselm College (N.H.) in the fall.

INF – Kenny Michael, Sr., Norwood
Michael catalyzed the Mustangs late in the season when they snatched the Bay State Conference's Herget Division title in the last week of the regular season. He was named the Herget MVP as he hit .429 with 27 RBI and a home run. Michael will continue his career at Division 2 Southern New Hampshire University.

INF – Alex Toomey, Sr., Beverly
Toomey beat out a number of high-profile players to take the MVP in the Northeastern Conference's Large division, and deservedly so. For the season he his .431 with eight doubles, 31 RBI and five home runs, only striking out five times. On the mound, he went 6-2 with a 1.33 ERA and 61 strikeouts in 42.1 innings. Toomey is headed to Salem State University next year.

INF – Brandon Bingel, Sr., St. John's Prep
This year's recipient of the prestigious ESPN Boston Mr. Baseball Award, Bingel was a force in all three phases of the game to take Catholic Conference MVP for the second straight year. He batted .302 with 20 RBI and two home runs, and went 9-0 on the mound with 76 strikeouts in 58.2 innings, walking just 10 batters, for a 0.97 ERA. Bingel will continue his career at Bryant University.

OF – David MacKinnon, Sr., Oliver Ames
MacKinnon took Hockomock League MVP honors after hitting .500 with 16 RBI. One of the best pure athletes of the bunch, MacKinnon is also an All-American soccer player, and will play both sports at the University of Hartford.

OF – Ian Strom, Sr., Hopedale
Strom was a monster on both the mound and at the plate as the Blue Raiders reached the Division 3 State Final. He hit .514 on the year with 21 RBI and 15 stolen bases, and didn't strike out all season. On the mound, he was 9-2 with 107 strikeouts in 67.2 innings, for a 1.45 ERA. Strom will continue his career next season at UMass-Lowell.

OF – Mike Bruemmel, Sr., Bridgewater-Raynham
The Co-MVP of the Old Colony League saved his best stroke for last, carrying a no-hitter into the eighth inning to lead the Trojans to their first Division 1 state title in school history. On the season he batted .341 with a .505 on-base percentage, with 21 RBI and 11 stolen bases. On the mound, he was 6-1 with 69 strikeouts in 41.1 innings, with a 1.82 ERA. Bruemmel is headed to Wheaton College next year.

DH – Malcolm Nachmanoff, Sr., Boston Latin
The Dual County League's MVP of the Large division, Nachmanoff carried a heavy bat, hitting .507 with 26 RBI and five home runs. He also recorded a 1.45 ERA in 53 innings pitched. Nachmanoff is headed to Loomis Chafee (Conn.) next year for a post-graduate season.


BEST OF THE REST

OF – Dan Avery, Sr., Blackstone Valley Tech
Avery excelled both ways for the Beavers, recording .492/.579/.689 totals at the plate with three triples, 26 RBI, 28 runs scored and 18 stolen bases. On the mound, he was 7-2 with a 1.02 ERA and 81 strikeouts in 62 innings, with just eight walks. He will play both football and baseball at Massachusetts Maritime Academy next year.

3B – Ryan Baldwin, Sr., Fairhaven
One of the state's leaders in home runs, Baldwin hit eight and batted in 34 runs, to finish the season with a .500 average and take South Coast Conference MVP honors. Baldwin will continue his career next year at Barry University (Fla.).

2B – Tommy Buonopane, Sr., St. John's Prep
Another key cog to the Eagles' impressive hitting order, Buonopane registered .354/.457/.585 totals with 21 RBI and three home runs, as the Eagles won the Catholic Conference outright. Buonopane is headed to the University of Rhode Island next year.
.354/.457/.585, 21 RBI, 3 HR

2B – Dan Connors, Sr., Danvers
A three-time Northeastern Conference All-Star, Connors captured the Small division's MVP award after hitting .390, as the Falcons were the top seed in Division 2 North and reached the district final. Connors, a career .365 hitter, will enroll at UMass-Amherst in the fall.

LHP – Mac Curran, Sr., Coyle-Cassidy
A repeat selection, Curran was once again a force on the mound, going 5-2 with a 0.98 ERA as the Warriors captured the Eastern Athletic Conference outright. He also batted .402 with a home run. Curran is headed to Niagara University next season to continue his career.

C – Kyle Devin, Sr., Lynn Classical
One of the state's best arms behind the plate, Devin threw out eight of 12 steal attempts and also had 11 pickoffs. He also hit .410 with 16 RBI, five doubles, two triples, a home run and six stolen bases for the Rams. Devin is headed to Stony Brook next season to continue his baseball career.

SS – Isan Diaz, Jr., Springfield Central
One of the top defensive talents outside of Eastern Mass., Diaz showed off quite a bit with his bat as well, plating 19 runs and registering three home runs as the Golden Eagles once again reached the Division 1 West tournament.

RHP – Drew Foster, Sr., Nashoba
One of the steadiest starters in Central Mass., with a 4-1 record and 0.97 ERA, Foster led the Chieftains through a loaded Division 1 Central field to capture their first district title in program history. Foster is headed to Ohio University next year, where he intends to play club hockey.

RHP – Dustin Hunt, Sr., St. John's Prep
Arguably the state's top closer, Hunt embraced the role as the Eagles reeled off 22 straight wins before falling in the D1 North Final. On the season he struck out 31 batters in 27.1 innings, with a 1.54 ERA and a 1.10 WHIP. Hunt, an Andover resident, is headed to Northeastern University next season.

RHP – Thomas Jankins, Sr., Quaboag
Jankins was dangerous on the mound and in the batter's box this season for the Cougars. He hit .473 with 19 RBI and two home runs, and was 5-3 with a 0.53 ERA and 100 strikeouts in 52.1 innings. Jankins will continue his career next season at Quinnipiac University.

OF – Tom Landry, Sr., BC High
Landry registered .348/.378/.493 totals at the plate and added 16 RBI and two home runs for the Eagles, who reached their first D1 South Final since 2009. He also struck out just 11 times and drew four walks. Landry will play for Wheaton College next year.

SS – Steven Lee, Sr., Braintree
Lee manned the middle of the Wamps' order for the last three years, and put up impressive numbers in his senior season. He batted .376 with 26 RBI, one home run, 27 runs scored and 10 stolen bases as Braintree captured its fourth straight Bay State Carey title. He also committed just five errors in the field. Lee is headed to Stonehill College next year.

RHP – David Longstreeth, Soph., Smith Academy
Longstreeth is already over the 300 career strikeout mark, with 21 wins, in his still-blossoming career for Smith. On the season, he went 11-2 with 132 strikeouts in 80.1 innings, as the Falcons reached the Division 3 West Final.

RHP – Mike Lundin, Sr., Silver Lake
Lundin helped lead the Lakers to a Patriot League Fisher division title with his proficiency on the mound, going 7-2 with 86 strikeouts in 65.1 innings with a 0.67 ERA. Lundin will continue his career at Massasoit Community College next season.

OF – Tyler Lyne, Sr., Agawam
Lyne was a catalyst for the Brownies, who won the Valley League and reached the Division 1 West Final. For the season, he registered 16 RBI and two home runs. Lyne will continue his career at Merrimack College next year.

RHP – Donny May, Sr., Coyle-Cassidy
The other overpowering ace for the Warriors' staff, May went unbeaten as they captured the Eastern Athletic Conference outright. He was 11-0 on the year, with a 0.44 ERA and 89 strikeouts, along with a .438 batting average at the plate. May is headed to Fordham University next year.

SS – David Murphy, Sr., Plymouth North
The Atlantic Coast League's MVP helped the Blue Eagles to another league title, hitting .429 with 29 RBI and three home runs. He only struck out twice all year. Murphy will take his talents to Massasoit Community College next year.

SS – Noah Parker, Sr., St. Mary (Westfield)
One of the more underappreciated talents across the state, Parker was the catalyst for the Saints, who reached the Division 3 West quarterfinals. Parker registered 28 hits, 20 RBI and two home runs on the season. He will head to Seton Hall University next season as a preferred walk-on.

OF – Anthony Perriello, Sr., Norwood
A powerful hitter manning the middle of the Mustangs' order, Perriello led the Bay State Conference in batting average (.507) and added 15 RBI and a home run.

RHP – Alex Person, Sr., Xaverian
The Foxborough resident manned the top of the rotation, as the Hawks tried to defend their D1 state title. On the season he struck out 52 batters in 51 innings, going 5-1 with a 2.06 ERA. Person will continue his career at Southern New Hampshire University next year.

C – Matt Phelan, Sr., Northbridge
Phelan was a force at the plate for the Rams, who reached their fourth straight Division 2 Central Final. On the season he hit .484 with 28 RBI and four home runs, and on the mound was 4-1 with a 1.91 ERA. Phelan is headed to St. Anslem in the fall, where he will play football.

RHP – Brendan Ryan, Sr., Newton North
Ryan earned MVP honors in the Bay State Conference's Carey division, after going 7-1 with a 1.64 ERA and six complete games. Ryan also batted .347 with 17 RBI. He will enroll at the University of South Carolina in the fall.

RHP – Endy Sanchez, Jr., Holyoke
Another member of the 100-K club, Sanchez had one of the best strikeout-to-ratios in Western Mass., fanning exactly 100 batters in 62 innings pitched for the Purple Knights.

RHP – Kevin Superko, Sr., Wellesley
Following in the footsteps of his brother Tim, Superko carried on the name holding down the front of the Raiders' rotation. On the season he recorded 67 strikeouts in 49 innings, with a 1.02 WHIP and holding batters to a .184 average. He will do a post-graduate season at Philips Andover next year.

RHP – Ryley Warnock, Sr., North Reading
Warnock was dynamic both on the mound and on the basepath for the Hornets, who captured the top overall seed in D3 North. On the mound he was 10-1 with a 0.44 ERA and 72 strikeouts, and at the plate he was .360 with 17 stolen bases. Warnock will continue his career next year at the University of Rhode Island.

LHP – Cody Younger, Sr., Middleborough
Younger came on in the second half of the season and led the Sachems through a gauntlet en route to the Division 3 state title, their first since 1997. On the mound, he was 4-2 with 53 strikeouts and a 1.90 ERA, and delivered wins over the top two seeds in D3 South. At the plate, he had .415/.482/.507 totals with 27 RBI. Younger will do a post-graduate season at Bridgton Academy (Maine) next year.

RHP – Zach Zona, Sr., St. Peter-Marian
Zona led the top of the Guardians' rotation as they came on late in the regular season to make the Division 1 Central tournament. On the season he was 5-2 with 64 strikeouts in 46.2 innings, with a 1.05 ERA and two no-hitters. Zona will continue his career next season at UMass-Lowell.
May, 1, 2013
5/01/13
9:10
PM ET
By
Bob McGovern
| ESPNBoston.com
WESTWOOD, Mass. -- As St. John's Prep ace Brandon Bingel spoke to reporters after the Eagles' 7-3 victory over Xaverian, an assistant coach tapped him on the shoulder and said, "Don't worry Mr. Catholic [Conference] MVP, I've got your bag."

The senior righty picked up the win for Prep (12-1), and also scored a run and had an RBI on the afternoon. Bingel said the Eagles were looking for a little revenge –- Xaverian (5-7) beat Prep 6-5 on April 4 for its only loss of the season.

"I think we woke up a little. Last time, it was one of our first games, and they kind of out-powered us," Bingel said. "We came out today, and we were ready. We wanted revenge on them since they were our only loss, so we came ready."

The Eagles didn't waste any time getting after Xaverian starter Worth Walrod. Prep senior Nick Bragole hit a first-inning home run to left field during the second at-bat of the afternoon. Paul Crehan, one of the Eagles' most-feared hitters, hit a two-run single in the third.

Despite going to the bullpen early in the fourth inning, Xaverian pitchers gave up a run an inning for the rest of the game.

"That's a pretty relentless attack, and they got it done today," said Xaverian head coach Gerry Lambert. "We did a good job minimizing, but they just kept coming at us, and that's a sign of a really good team that's playing really well. They're both of those things. They're a really good team, and they're playing really well."

The Hawks scored three runs off Bingel in the bottom of the sixth, capped off by a Ricky Smith two-run home run, but they were unable to carry the momentum. Prep reliever Jack Burke came in with two outs and retired four straight Xaverian batters with three groundouts and a strikeout.

"He's been really good all year. I think he's only allowed one baserunner in eight or nine innings," said Prep head coach Pat Yanchus.

High and Dry: Xaverian had a number of chances to cut into Prep's lead, but time and time again left runners on base. During the bottom of the fifth inning, Adam Chochrek was on first, and Smith was on second with no outs. Bingel proceeded to strike out both Tyler Wolfe and Aidan Desrosiers before forcing Connor Longley to groundout to second.

A similar situation happened in the third, but Aaron Drummey hit into a double play to end the inning.

"One of the things we are fighting right now is that we're having a tough time getting a big hit in a big spot. Sometimes you go through that as a team, and rarely is that only a one-game thing," Lambert said.

Prep's skipper praised Bingel for working his way out of a number of jams.

"He usually settles down, and I think he did today," he said. "During a few innings they had guys on first and second with no outs, and almost always that's at least a run. He worked out of a couple of them."

Back to Front: Bingel had a tough outing during Prep's 6-5 win over B.C. High on April 24, giving up three runs on three singles and a couple of infield errors during the first inning. Since then he's been trying to lead with his off-speed pitches before dishing out a fastball.

"I started to pitch backwards earlier," he said. "Against B.C. High I was throwing too many fastballs early, and they capitalized. Early in the game (against Xaverian), I threw more sliders –- more backdoor sliders -– and kind of surprised them with my fastball more."

When Bingel gave up the two-run home run to Smith in the sixth, he got away from pitching backwards and left a 1-0 fastball up at the letters. He indicated that he still wants to use the fastball when there are men on base.

"I wasn't going to throw a slider because they had a lot of baserunners, so I wanted to pound the zone as much as I could, and he capitalized on it," he said.

Best in Show: While Prep is the No. 1 team in the state and currently sits alone atop the Catholic Conference, Lambert isn't ready to say they're far and away the best team. Right now, he thinks little separates Prep from B.C. High, who Xaverian lost to, 3-1, on Monday.

"(Prep) is a better athletic team, top to bottom. That doesn't mean that they're the best team, but they put a lot of pressure on you," he said. "It looked like they had seven guys on their team that can run the bases, and that's a lot for a high school team. I think you have to give them the edge by a whisker."

Keeping them Grounded: While Prep may have a closer in Dustin Hunt, Burke may be one of the more reliable relief pitchers on the roster. The senior has allowed only one baserunner this season and consistently keeps the ball low in the strike zone to draw grounders.

"Whenever I get in, I just go and throw my pitches. We have a lot of pitchers, so whenever you can get in you just need to do your job," Burke said. "I used my fastball and curveball and tried to mix it up as much as I can. I try to keep the ball low – that always helps. I was just hitting my spots, and the fielders were doing the rest."

Bingel likes having Burke as a late-inning guy. He said it takes some pressure off when he leaves the game.

"I'm pumped when Jack comes in. His ball moves so much that all they do is hit ground balls," he said.
April, 24, 2013
4/24/13
10:14
PM ET
By
Bob McGovern
| ESPNBoston.com
DORCHESTER, Mass. -– Dustin Hunt spun around, crouched and watched as a frozen rope launched by B.C. High's Dan Daugherty flew to deep center field with runners on first and third.

The St. John's Prep closer then pumped his fist and was swarmed by teammates when sophomore outfielder Keith Leavitt tracked it down, clinching a 6-5 win for the visiting Eagles.

"When it came off the bat I was like, 'Oh no.' It was hit so hard, and it kept going," St. John's Prep head coach Pat Yanchus said.

"It was a little nerve-wracking, but we definitely have faith in Dustin," said Prep starter Brandon Bingel, who picked up a win after giving up four runs in five innings of work.

In the end, it was enough to propel No. 2 Prep (8-1) past previously undefeated No. 1 B.C. High (5-1).

After falling behind 3-1, Prep put together a five-run fifth inning to pull ahead of the host Eagles. Senior catcher Paul Crehan capped off the inning with a bases-clearing, three-run double to left field off of B.C. High starter Trent Berg, who left a fastball a little high.

Crehan had popped out in his previous two at bats and was looking for something he could hit a bit farther.

"I just didn't want to strike out, and the pitch came up high so I just hit it as far as I can. Anybody could be in that position, but I happened to be there," he said. "I was pumped. I didn't know if the ball was going to go over (B.C. High left fielder Sean Webster's) head or not. The wind was blowing out, but I was pumped to see it go over his head."

The B.C. High cut the lead to 6-4 in the bottom of the fifth inning when Tom Russo doubled in right fielder Tom Landry. They pulled within one with two outs in the seventh, but Hunt was able to complete the save with Daugherty's loud pop-out.

Berg effective in Losing Effort: Berg put together an impressive four-and-two-thirds innings for B.C. High. The lefty struck out eight Prep batters before senior Tommy Buonopane singled in pinch runner Nick Latham, kick-starting a five-run rally. Berg, who is more of a finesse pitcher, kept Prep off-balance with his two-seam fastball and looping curve.

Victory on the Basepaths: Latham's base running helped spark the Prep's fifth-inning surge. The sophomore pinch ran for Natty Cabral, who had been walked with two outs. He then stole both second and third base before scoring on Buonopane's in-field single.

"He's a smart baserunner, and he's pretty fast," Yanchus said. "He's not just a good baserunner, but he's a good outfielder. We were going to put him in the next inning anyway, so might as well just have him run. It worked out nicely."

Getting Away from the Heater: Bingel had a tough first inning for Prep, allowing three runs on three singles and a couple of infield errors. He said he used his fastball too much to start the game and was overthrowing. After the first inning, he settled down and used his slider to pitch three scoreless innings in a row.

"I started to pitch backwards, and that's what got be through the rest of the way," he said

Injury Puts Damper on Win: Prep senior third baseman Tyler Noe suffered a dislocated right shoulder during the top of the fifth inning. After reaching second base on a Landry error, Noe stole third and B.C. High's Tom Russo landed on him awkwardly. He held his right arm and stood behind the Prep bench in a sling with ice on his shoulder. Yanchus said there was no timetable for his return, but his parents were taking him to the hospital to get checked out.

"That's his trowing arm and his good shoulder. It popped out, and it took him awhile to get it back in," he said. "That's going to really hurt. He's great defensively, and he's our best baserunner. Hopefully he can come back."

Enter Sandman: Hunt has had limited experience as closer for Prep but looked pretty solid against B.C. High. The Northeastern commit struck out three batters in two innings and had good control of the strike zone. He pitched two-thirds of an inning on Monday against Malden Catholic and needed only seven pitches to shut down the side.

April, 5, 2013
4/05/13
12:15
AM ET
By
Chris Bradley
| ESPNBoston.com


DANVERS, Mass. -– Xaverian took an early lead and never looked back, even if things did seem to get a bit interesting along the way. The Hawks knocked off Catholic Conference foe St. John's Prep 6-5, after taking a 3-0 lead in the top of the first inning.

Senior Austin DeCarr got the start on the mound for Xaverian, and he pulled through stongly -— giving up just two runs on two hits in four innings pitched. He struck out five Prep batters and threw 67 pitches. It was all according to Xaverian coach Gerry Lambert's plan.

"Early season, I keep a pretty tight rein on the guys," Lambert said. I think he was at 66 or 67, and that is about our target early-season for our starters. As the year wears on, we're counting on him getting stronger, the weather getting warmer, and eventually he'll be fully stretched out.

"But I promised myself years ago as a coach, I will not sacrifice June 5 for April 5. He wanted to stay out there, I said no."

The Hawks (1-1) got off to a quick start, scoring three runs on Prep starting pitcher Dustin Hunt (3.2 IP, 5 K's, 7 hits, 6 runs) in the top of the first inning. Aaron Drummey started off the run for Xaverian with a base hit, Alex Person was hit by a pitch immediately after. Following a throwing error on a groundball to second base, DeCarr and Jake McLaughlin each chipped in with RBI singles.

"For us to get three in the first inning -— especially [after] they made a mistake, that's an early-season mistake, and we broke the door through," Lambert said. "A good team takes advantage…we were able to parlay that with a couple of extra hits."

Person came up big once again in the second inning, notching a line drive to center field. AJ King scored off the hit, Drummey was thrown out at the plate, and Person was then thrown out trying to stretch his run to third base. However, the damage was already done -— giving the Hawks a 4-1 lead.

Prep added a run in the bottom of the second, sophomore Keith Leavitt came around to score on a base hit by catcher Paul Crehan. Leavitt (2-4, 2B, 2 runs scored) also helped initiate the Eagles' rally in the bottom of the sixth—one inning after Andrew Elliot belted a two-run home run for Xaverian that narrowly cleared the fence in right center field.

"He's been a little out in front," Lambert said. "We talked a little bit about how he has to stay within himself. He obviously has some pop in his bat. If that had only been a double...we'd still be playing right now. We'll take it, it's a game of inches -— sometimes you're on the right side of it."

Down 6-2 in the bottom of the sixth, senior Nick Bragole drew a leadoff walk for Prep. Five pitches later, Leavitt slammed a ground-rule double down the right field line.

In the next at-bat, designated hitter David Bornstein got on base on an error, scoring Bragole, then Crenan (2-2, BB) and pinch-hitter Natty Cabral each had a pair of RBI singles—bringing the score to 6-5 after six innings.

"We had a tough stretch there, we had a passed ball and an error or two, and they jump on you," Lambert said. "Prep is a very opportunistic baseball team. They always are. When they take the momentum, they take it 100%. They've always been like that."

Justin Snyder (2.1 IP, 2 H, 0 R) got the job done on the mound in the top of the seventh the Eagles, forcing Drummey and Person to ground out and fly out, respectively, before striking out Elliot on a fastball to bring his team to bat with one last chance to tie the game.

Senior captain Tyler Noe started off the bottom of the seventh with a leadoff walk, stole second on the very next pitch, and advanced to third on a routine ground ball played by the third baseman. This brought up Bragole, Prep's clean-up hitter, with one out.

Bragole laid down a bunt, but Noe was gunned down via an underhand toss to the plate by Xaverian reliever Worth Walrod. Leavitt flied out in the next at bat to end the game.

"It's a step in the right direction for us early in the season," Lambert said. "We have a ways to go…so that maybe we only have one mistake rather than three or four -— but at least we didn't make five, cause that fifth one would have been the one that would have put them over the top. We were able to stop the bleeding there."


May, 26, 2012
5/26/12
11:26
PM ET
By
Andy Smith
| ESPNBoston.com
DANVERS, Mass.- Is there a better way to prepare for a state tournament than by ending the regular season playing a cross-town rival?

Danvers and St. John's Prep squared off Saturday night in a battle of bragging rights and momentum going into the playoffs. It was a tightly-contested game through the first five innings, but Prep scored five runs over the final two innings to come away with the 8-2 victory.

"This game is always big, we always have a bunch of momentum coming out of it," said the Prep's Brandon Bingel. "We're always pumped to play it, so it's a good game to give us momentum going into the playoffs."

Prep (15-5) got on the board in the top of the first after a Bingel three-run opposite field home run. Coming off the bat, it did not appear to have enough legs to get over the wall, but it did.

Even Bingel was not convinced it was going to get over the wall.

"It didn't feel too good coming off the bat," he said. "As I got down the first base line, I saw the wind carrying it, and it just got over."

Danvers (14-5) got a run of its own in the bottom of the inning after a throwing error by the third baseman allowed Ray Orocho to come around and score.

The Prep lead was being threatened in the fourth inning when Danvers had two runners on with only one out. After a passed ball and a wild pitch, one run scored. Nick Valles flew out to right field, but Anthony Capuano's throw was so strong and on the money that Orocho was stuck at third.

Tyler Dustin grounded out two batters later, preserving the Prep lead.

It was the second run-saving play of the game Capuano made again Valles. In the second inning, back-to-back hits by Dan Connors and Orocho put runners at second and third with two outs.

On the 0-2 pitch, Valles hit a fly ball to right and Capuano laid out and caught the ball in a play that most would say was worthy of Sportscenter's Top Plays.

Danvers was kept off the board for the rest of the game, while Prep added to it's total, including three runs off Arocho in the seventh.

Bulldog Effort: It was a good week for Bingel. After declaring his verbal commitment to Bryant University earlier this week, the junior went 2-for-4 at the plate tonight with a home run, a double, and 4 RBI.

"Committing to Bryant kind of took a lot off my shoulders," he said of the Bulldogs. "There's people here watching and it doesn't effect me at all, I just go out and play. I'm feeling pretty confident after committing, and it helps when I play."

Strong Relief: Prep coach Pat Yanchus saw all he needed to see out of his starter, Dustin Hunt after 4.2 innings. He brought in Bingel to relieve the hard-throwing right hander with the count still at 3-1.

It is hard to blame the coach, considering the sequence of events that lead up to it. Hunt started the inning by striking out Joe Strangie. He proceeded to hit Connors, walk Orocho, and allow the two to advance a base because of a passed ball.

After Valles flew out to right, that left runners on second and third with two outs. Yanchus decided to intentionally walk Scott Hovey. Hunt tossed one of his throws over his catcher's head, which allowed Connors to come home for Danvers' second run of the game.

Yanchus went to the mound right after that, determined not to let the lead slip away.

"He was struggling, they were hitting him hard," he said. "He got up to about 70 pitches, he had to work, and he seemed a little tired, and Bingel's a good pitcher, so we made the change."

Tourney Time: The two teams now wait in anticipation for the tournament seedings to be announced, which will happen early next week.

With the win, SJP is behind only BC High in the Catholic Conference standings and sets itself up to get a high seed in Division 1 North tournament next week.

Yanchus wanted to get his team into the tournament mindset, starting with Saturday's game.

"We tried to get them into the mindset that this is the beginning of the tournament," he said. "Proceeding to win this game is like a tournament game, so let's treat it like such."

He feels there are improvements his team still needs to make, even though his team sits at 15-5.

"We're not hitting like I'd like to be hitting," he said. "Maybe we can break into hitting a little, maybe this gives us a little confidence."
May, 3, 2012
5/03/12
10:23
PM ET
By
John McGuirk
| ESPNBoston.com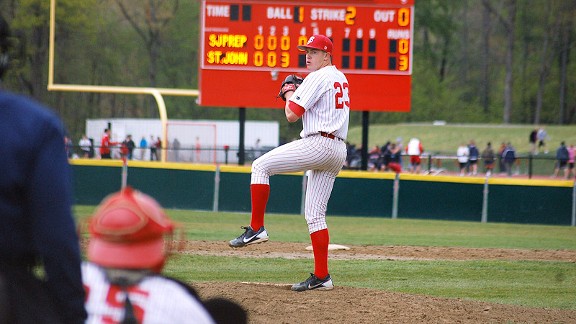 Brendan Hall/ESPNBoston.comSt. John's junior righty Ben White (5.2 IP, 9 K, 2 hits, 109 pitches) put in a workmanlike effort on the mound in the Pioneers' win over St. John's Prep.
SHREWSBURY, Mass. -- Prior to yesterday's non-league tilt against St. John's Shrewsbury, Pat Yanchus, the longtime helmsman of the St. John's Prep baseball program, noted that much of this season's success has been due in part to the Eagles' solid defensive play.
After watching his team commit four errors, all of which played a huge role in his club's 4-3 loss at Pioneer Field, Yanchus may want to re-track those statements.
The Eagles were generous on the defensive side. In turn, it also soured a solid performance by junior righty Dustin Hunt, who allowed just three hits and struck out seven in a complete game effort. All of St. John's runs were unearned.
"We've been playing great defense all year, but today we made some key errors, three in one inning, which was the game," said Yanchus, his team now standing at 11-3. "Dustin pitched great. That's the best he's pitched for us this season. He had all three of his pitches (fastball, curve and change up) working for him. It was a non-league game today so we're still in good position but you still would like to win these games and not give them away like we did today."
In the bottom of the third, the Pioneers struck for three runs on just one hit but capitalized on three Eagle miscues.
With two on and two out, Nick Sieber grounded a ball off of third baseman Tyler Noe's glove which plated Mike Sullivan, who walked. After Hunt issued a base on balls to Owen Shea, Eagles catcher David Maher tried to pick off Shea at first but his throw bounced away from first baseman Nick Bragole allowing Tom Petry, who singled, to score St. John's second run. The play continued as a throw to nail Sieber sprinting to third sailed into left field allowing the senior to come around and cross the plate.
"In a couple of ways we stole this game, but we're not going to give it back," said Pioneers coach Charlie Eppinger, his team improving to 10-2. "Anytime you beat St. John's Prep it's certainly a good victory. We ran the bases well and took advantage in what they gave us."
St. John's starter Ben White was doing a yeoman-like job keeping the Eagle bats silent over the first three frames. But in the fourth, the Prep offense finally awoke. Anthony Capuano walked and Brandon Bingel followed with a single. After a wild pitch advanced both runners, Capuano trotted home with the Eagles' first run on a pass ball.
White (5.2 IP, 2 hits, 9 K's, 109 pitches) set down St. John's Prep in order the following frame, but ran into trouble in the sixth. With his pitch count rising, the junior righthander loaded the bases by plunking Bragole, serving up a single to Andrew Donahue and walking Keith Leavitt. A meeting on the mound did little to sooth White as he then walked to Maher to force in Bragole to make it a 3-2 game.
Pioneer ace Mike Badjo was then called to the mound in place of White to try and get St. John's out of this mess. The senior did just that, striking out Rory Garrison and keeping the Pioneers' slim lead in tact.
"My arm felt the best it has felt all year," said Badjo. "Ben threw a great game for us but got into a little trouble late. I just wanted to come in and help him out. Starting a game in nice because you get your mind set before the game. But coming in relief is nice as well because you come into a pressure situation and that's what you live for. As a reliever you really don't have time to think, you just go out there and throw."
The Pioneers, who defeated the Eagles 4-2 back on April 13th, added a much-needed insurance run in their half of the sixth, on yet again, another St. John's Prep error. In the frame, Shea reached base on a one out walk. Scott Manea followed with a line single to right putting runners on the corners. With Tanner Johnson running for Manea, Eppinger called for a steal. Maher's throw to second was high, tipping off the glove of Bingel, the Eagles' shortstop, and sending Shea home with St. John's fourth run.
St. John's Prep's attempt of a comeback fell one run shy in the final inning. Badjo struckout the first two batters he faced but Capuano worked him for a walk. The senior moved to third following a steal and wild pitch. He came home after Petry, the Pioneer shortstop, failed to handle Bingel's hard grounder cleanly. However the damage was miniscule as Badjo was able to retire Bragole to end the contest and preserve the victory.