Boston High School:

Dwayne Hunter
November, 11, 2012
11/11/12
12:18
AM ET


NORTH ATTLEBOROUGH, Mass. – No. 7 strode on the field, cool and composed. He'd missed a point-after try earlier in the game, but it didn't seem to deter his confidence.

He was about to attempt a 19-yard field goal that could give his team a two-point lead with only seconds remaining in the fourth quarter.

"He said, 'Coach, I can make that.' So I said, 'OK,'" King Philip head coach Brian Lee said.

You couldn't find his name anywhere on King Philip football's gameday roster on Saturday, the mysterious No. 7, the place kicker for the Warriors. He's a freshman at KP who's played football most his life but only started place kicking about a year ago. He only began kicking with the varsity squad a few weeks back in the Mansfield game because injuries sidelined the Warriors' other place kickers ahead of him on the depth chart.

It's a thing straight out of myth.

Although hardly anyone present at Community Field yesterday for the Warriors' Hockomock League battle with North Attleborough knew his name, few will soon forget No. 7.

His name is Derek Roschlein.

"Coach told me to stay down, look at the ball and pretend like no one was here," said No. 7, moments before he was tackled on the field by a swarm of pint-sized high school freshmen.

It was just Roschlein and a couple hundred of his closest friends. And when his kick went sailing through the uprights and out onto the front lawn of a home on the opposite side of Barrows Street, Roschlein and his friends "went nuts."



"I just cleared my mind and knew I could do it."

Although the Warriors (9-1, 3-1 Kelley-Rex) held on for a 16-14 win, moments later, Mansfield finished off a victory of its own over Franklin, giving the division title, and a playoff berth, to the Hornets. In essence, KP's victory allowed Mansfield, which had beaten the Warriors two weeks prior, to take the crown.

But KP wasn't in a position to give up. The Warriors fell behind North, 14-13, on the final play of the third quarter as quarterback Ryan Perron (8 of 16, 191 yards, 2 TD) hit a wide-open Jake Dallaire on a seam route for a 63-yard touchdown.

On the ensuing Warriors' drive, KP saw a promising march stall in the red zone, as North cornerback Dan Cummings intercepted a pass in the end zone.

The Red Rocketeers (6-4, 2-2) thought they'd notched an insurance score on a Dwayne Hunter run following the interception, but for the second time in the second half, a touchdown was scrubbed off the board due to a penalty (KP also had a score called back in the third quarter).

After a North punt, the Warriors took over with 3:13 on the clock, needing a score.

With about a minute to play, it appeared as though KP's comeback attempt would sputter out, faced with a third-and-10 from the North 18-yard line. But, as he'd done for much of the game, Lee put the game in the hands of junior running back Joe Johnston (24 carries, 157 yards, 2 TD). He promptly bounced a run to the left side, going for 12 yards and extending the drive.

North's defense was able to bottle up Johnston on three straight goal-to-go carries, however, posing Lee with the quandary of whether to put the ball in Johnston's hands yet again, or call upon his untested freshman kicker to win the game.

That's when No. 7 made his name known.

KP -- 7 6 0 3 -- 16
North -- 7 0 7 0 -- 14

First quarter
North - Alex Jette 21-yard pass from Ryan Perron (Dwayne Hunter kick)
KP - Joe Johnston 5-yard run (Derek Roschlein kick)

Second quarter
KP - Joe Johnston 1-yard run (kick failed)

Third quarter
North - Jake Dallaire 67-yard pass from Perron (Hunter kick)

Fourth quarter
KP - Derek Roschlein 22-yard field goal
October, 27, 2012
10/27/12
8:08
AM ET


NORTH ATTLEBOROUGH, Mass. – Bewitched, bemused, bewildered, be- anything about the way the season's gone so far in the Hockomock League. Trying to predict which teams will claim the respective division titles this year is a bit like tossing pebbles into the Manchester Pond Resevoir.

And so Friday night's battle between No. 19 Mansfield and North Attleborough did not disappoint, with the Red Rocketeers separating themselves in the fourth quarter in a 36-21 win. It only further obfuscated the playoff picture in the Kelley-Rex division, paired with a Franklin loss to Taunton.

"Welcome to the Hockomock League," North head coach Don Johnson quipped postgame.

The Red Rocketeers (5-3, 2-1 Kelley-Rex) have endured a seemingly never-ending tide of injuries throughout the season, but saw multi-threat running back and defensive back Alex Jette return for their showdown with the Hornets (5-3, 2-1).

North's early offensive play calls massaged Jette into the flow, running him across the field on passing plays as a decoy in the backfield, faking toss sweeps. They also put the ball in the hands of senior quarterback Ryan Perron (7 of 14, 162 yards, 2 TDs) who effectively piloted the Red Rocketeers' passing attack with a steady stream of screens and intermediate routes in three- and four-receiver sets.

Lately, Perron's also shown off a big-play capacity, however, and it showed Friday night with two touchdown passes. On the game's second play from scrimmage, Perron hit Jake Dellaire on a seam route for a 62-yard touchdown and an instant 7-0 lead. Just before the half, Perron connected with Jette on a shallow fade for a 40-yard touchdown pass which provided North with a 20-7 halftime lead.

"That was probably the biggest difference tonight, he made good decisions," Johnson said of his quarterback. "He was just playing with so much confidence tonight, running and throwing the ball."

Mansfield worked its way back in the second half behind a thumping run game. The Hornets bruised their way downfield on a 9-play, 64-yard drive to open the third, capped by Kevin Makie's 6-yard touchdown run to make it a one-score game.

The Hornets claimed their first and last lead of the game on the final play of the third quarter as quarterback Kyle Wisnieski hit Mike Hershman for a 35-yard touchdown. With a successful point-after try, Mansfield took a 21-20 lead.

On the ensuing drive, Perron again piloted the Red Rocketeers' offense, embarking a four-plus minute, 67-yard drive. Perron called his own number for his second rushing touchdown of the game, breaking a tackle in the open field to run 10 yards for a score. He then hit a wide-open Mike Lambert (INT, 2 PD) on a two-point conversion for a 28-21 lead with 6:32 to play.

Looking to even the score, Mansfield was hampered by a couple key penalty calls on its ensuing drive. The Hornets were stung by an illegal forward pass call on what would have been a huge third-down conversion pass to Brendan Hill on third and 14. The call resulted in a loss of downs and forced a Mansfield punt.

With the ball back in their hands and looking to soak the clock, North running back Dwayne Hunter broke the game open two plays later with a 75-yard touchdown run to ice it.

BIG IN STATURE
Listed at 5-foot-7 and 175 pounds, Hunter makes up in punch for what he lacks in stature. His running style belies his stature. He's willing to initiate contact, but also hard to bring down with his low center of gravity.

Hunter (8 carries, 127 yards, TD) came up huge for the Red Racketeers however in the fourth quarter. His 25-yard gain on an outside pitch to the left side on fourth and 2 set up North first and goal from the 10-yard line with under seven minutes to play in the fourth. The next play saw Perron run for the game-winning touchdown. The senior running back then placed an exclamation point on the evening with his 75-yard touchdown, made on his adept cutback across the teeth of a Mansfield all-out blitz.

"The linebackers were blitzing, so I had to cut it up quick," Hunter said of his run. They were overloading on one side, so I had to make a quick decision."

Johnson heaped praise on his back, calling Hunter a "tough nut."

Like the rest of this Red Rocketeers team, he just doesn't crack.

… BUT THEY BEND
North's defensive front seven looked strong throughout, but saw Robbie Rapoza (14 carries, 135 yards, TD) and Co. find success against them in the second half. Yet, the Red Rocketeers turned Mansfield's high-flying aerial attack, which scorched a good King Philip unit a week ago, into a relative non-factor.

Wisnieski was dealt with a steady stream of pressure, applied by rangy defensive end Tadkudzwa Chikomba (3 QB pressures) and linebacker Ben Jette.

Ben Jette, the fraternal twin of Alex, sealed a strong performance and the win for North with a strip-sack of Wisnieski on Mansfield's final offensive drive. Ben Jette finished with three tackles for loss, a sack and a forced fumble.

"That's why I'm so proud of these guys because we've been going through that now for about six weeks, asking guys to play different positions every week," Johnson said. "Losing Harry [offensive/defensive lineman Harrison Carmichael] tonight, he's one of our dominant players on both sides of the ball. We had to use [Sean] Peters at defensive end, he hasn't gotten many reps out there and he's banged up with his shoulder. We had to use [Eric] Beckwith as a guard … We've asked a lot of players to step up and they've done that."

The pressure applied by the Red Rocketeers up front came in concert with strong efforts from Alex Jette and Jack Blasť at the cornerback positions. Jette tallied three passes defended, two of which came on a promising Mansfield drive late in the second quarter that ended in a turnover on downs and set up Jette's touchdown reception.

"We didn't blitz as much as we normally do, we felt that we just couldn't give up the big play against them, so we played a lot more zone," Johnson said. "We'd bring one of two guys here and there, but I think we did enough to keep them off-balance."
September, 15, 2012
9/15/12
12:18
AM ET
By
Andy Smith
| ESPNBoston.com
(Highlights by correspondent Patrick Welter.)
BOSTON- North Attleborough did Friday what some teams spend a whole season hoping to do: walk into a hostile playing environment against a team hoping to prove a point, dominate at the point of attack for four quarters, win, and make a statement along the way.
The No. 17 Rocketeers went into No. 13 BC High and walked out with a 27-7 victory and the attention of the entire Hockomock League.
"I'm about to tear up right now, it's one of the greatest feelings," said North Attleborough's Dwayne Hunter, Jr., who had 11 carries for 130 yards behind its offensive line. "Our goal is to try to get to the Super Bowl, we're trying to do what we gotta do, take it one game at a time. We didn't come out thinking we were gonna smash this team, but as you can see, we did."
After being shut out 21-0 last Friday against Brockton, BC High was out to prove that result was more fluke than anything else. However, it struggled to get anything going offensively.
North Attleborough (2-0) out-gained the Eagles 445 yards to 96 in the game.
The defense was able to keep the team in the game early by intercepting Ryan Perron (6-of-13 for 81 yards) twice in the first quarter, one Tim Johnson took back 40 yards for a touchdown.
[+] Enlarge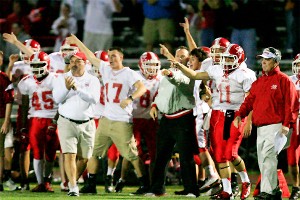 Jon Mahoney for ESPNBoston.comEmotions are running high in North Attleborough after the Red Rocketeers dominated BC High in an upset, outgaining the Eagles 445-96 from scrimmage.
Things got worse from there for the Eagles (0-2). After North Attleborough drove 80 yards on its ensuing possession to make it a one-point game, it was the benefit of its own mistake. Hunter, also the team's kicker, lined up to kick off, but failed to get his foot properly under the ball, which sent a line drive into a BC High blocker. The football bounced back in North's direction and Hunter fell on it to keep possession.
The play went in North's favor so well that some wondered if it was actually a planned, unorthodox onside kick.
"No, that was purely accidental," Red Rocketeers head coach Don Johnson said. "He was instructed to kick it deep and down and hard. The same thing happened at our game last week, and he recovered the kick, so that was just luck."
Three minutes later, Alex Jette took a handoff five yards for a touchdown, and the Rocketeers never looked back.
JETTE'S ON AFTERBURNERS
Just one week after accounting for 345 all-purpose yards against Rhode Island power La Salle Academy, Jette was back at it again for North Attleborough. While his point totals were not nearly as abundant as they were last Friday (just 128 yards and a touchdown on the ground, and 53 yards receiving), he still made an impact on the game.
That kind of productivity, as a team, not just from Jette, will be extremely important for NA as it gets into its Hockomock League schedule if the team's passing game is not clicking as much as it would like.
"We don't have a weak spot," said Jette when talking about his team's run game. "We thought we were going to have a problem running up the middle against them today. They have huge linebackers and a huge defensive line, but we were able to run successful counters and then get the ball to the other side and catch them off guard.
Jette also made an impact on defense with an interception of Collins. He faced a tall order all night, literally, because he was matched up against the 6-foot-4 Lincoln Collins. While he was giving up three inches to the wideout, Jette held Collins to only two catches for 16 yards.
"Obviously he's a great wide receiver," Jette said. "He has a few inches on me, but our defense ran a lot of blitzes tonight, and I think that helped. We got pressure to the quarterback and he wasn't able to get it to Lincoln Collins, so that helped me overall cover him better."
OFFENSIVE WOES
BC High has yet to score an offensive touchdown through the first eight quarters of its season. Its lone touchdown came on Tim Johnson's pick-six of Perron in the first quarter.
The Eagles have struggled to mount consistent offense yet this season, partly due to its well-documented injuries, most notably on offense to quarterback Brandon Craven. Danny Collins, his replacement, was 3-of-9 for 30 yards and an interception Friday.
It appeared the tide could have been turning in the third quarter, when the defense recovered a Hunter fumble at its own 10-yard line. After going three-and-out, the Eagles punted, but North Attleborough's Tyler Sellner muffed the punt and BC High fell on the loose ball.
Unfortunately for them, NA brought a heavy rush on second and third down, getting to Collins each time, forcing a punt again.
--- With a 2-0 record and the way it dominated its opponents the past two weeks, the rest of the Hockomock League has to have its eyes on North Attleborough. As the season rolls on to its third week, the Rocketeers have become one of, if not the team to beat in the division. There will be no sneaking up on anyone.
"We came into these games knowing that they're non-league games, but we could only come out here with a positive game," Jette said. "Especially beating a great team like [BC High], that's just a huge motivation factor, and now we just have to focus on winning our league games and making it into the playoffs."
NO. 17 NORTH ATTLEBOROUGH 27, NO. 13 BC HIGH 7
NA --- 6 6 0 15 --- 27
BC --- 7 0 0 0 --- 7
1st Quarter
BC - Tim Johnson 40-yard interception return (Jackson Bockhorst kick good)
NA - Ryan Perron 3-yard run (Dwayne Hunter, Jr. kick no good)
2nd Quarter
NA - Alex Jette 5-yard run (Two-point conversion no good)
4th Quarter
NA - Perron 2-yard run (Perron 2-point conversion run good)
NA - Jack Blase 13-yard run (Hunter, Jr. kick good)
August, 25, 2012
8/25/12
1:15
AM ET
NORTH ATTLEBOROUGH, Mass. -- It's hard to look back on a one-loss season and not feel pride, even if that one loss made all the difference.

When North Attleborough football walked off the field after a 14-7 win over border rival Attleboro on Thanksgiving Day, the team members soon learned their season had come to an end. They went into the final day of the season needing some help from Franklin pulling off a potential upset over King Philip. After dropping an earlier decision to KP, North needed a game in hand to represent the league in the Eastern Mass Division 2 playoffs.

Even as the Red Rocketeers are in the midst of two-a-days, the memory of last season is fresh. But they've also turned a negative into positive motivation. After all, the Hockomock League Kelley-Rex division co-champions still accomplished something major.

But it was yet another season that ended on Turkey Day, the same fashion it has since Big Red last claimed a Super Bowl title in 2002.

"Everybody counted us out last season, and no one expected us to do anything, so to come out 9-1, " Hockomock League all-star senior lineman Eric Beckwith said, "we're proud of our season, but we just wish we would've went further."

And so Big Red returns with a great sense of urgency.

"We realize now how much one game can mean," senior captain Harrison Carmichael said. That's going to make us all that much hungrier to win every single game. We don't want to have one that we look back on that we're not proud of."

North also returns with much the same identity, a team built on pride with a stingy defense that applies constant pressure on its opponent. However, the Red Rocketeers have something in its returning offensive line that it hasn't often had – size.

With stalwarts Beckwith, Carmichael and Sean Peters anchoring the line, they'll be both experienced and physically imposing.

"Usually we're depending on our scat backs to make things happen," North head coach Don Johnson said. "I still think we have the speed to get to the outside, but I think we have another dimension where if we're in a situation that we need a first down, we can just pound it out."

When talking to a group of senior leaders in between double sessions, it was striking how much energy they had. Johnson is excited for the Class of 2013, a group that is exception off the field as they are talented.

"You just have to bring energy to every practice," inside linebacker Reid Holden said. "You have to set the tone. You bring the energy, ready to hit somebody, that carries you through and gets everybody going."

That intensity isn't about to wane any time soon.

North enters the season with two great challenges, playing Rhode Island powerhouse La Salle Academy in its opener before traveling to Dorchester for a date with the reigning Division 1 Eastern Mass. Super Bowl champions of BC High.

And, of course, there's that always-daunting Hockomock League schedule.

"You have to view every game in the league the same," senior captain Alex Jette said, "that the team who makes the fewest mistakes is probably going to be the team that wins."

NORTH ATTLEBOROUGH AT A GLANCE
2011 record: 9-1 (Hockomock Kelley-Rex co-champions)
Head Coach: Don Johnson (4th year, 27-4)
Players to watch: Alex Jette, Sr. RB/DB, 6-0, 170; Eric Beckwith, Sr. OT/DT, 6-2 ,275; Sean Peters, Sr. OT/DT, 6-4, 225; Harrison Carmichael, Sr .G/DE, 6-2, 195; Dwayne Hunter Jr., Sr. RB/LB, 5-6, 170; Reid Holden, Sr. ILB, 5-9, 170.
Strengths: Size and physicality on line; depth at running back; experience in secondary
Weaknesses: Inexperience at quarterback; defensive depth.

Outlook: The Red Rocketeers have a position battle going on in camp worth watching with senior Ryan Perron and junior James Kummer looking to fill Spyro Varetimos' spot under center. North is settled in the backfield, however, with the multi-talented Jette leading the rushing attack. "He's a great all-around athlete, so our offensive coordinator can dream up a lot of things," Johnson said. "He can run the ball, he can catch it and throw it. The only thing we haven't figured out is how he could throw the ball to himself." On defense, the Red Rocketeers lack depth, but can always get after the quarterback. They galvanize around inside linebacker Holden, who stepped in that role midway through last season.