Boston High School:

Eastern Athletic Conference
October, 29, 2013
10/29/13
7:55
PM ET
By
Josh Perry
| ESPNBoston.com
Silver Lake takes over the top spot in the statewide ESPN Boston boys' soccer Top 20 poll after winning its 17th straight game last week.
The Lakers have outscored opponents 78-9 this season and showed their state title aspirations with a convincing win over No. 8 St. John's Prep last week.
Somerville keeps hold of the No. 2 spot and New Bedford drops from the top spot to No. 5 after losing to Brockton.
There was a lot of movement in the bottom half of the rankings this week as some of the teams struggled in the final games of the regular season, which is to be expected when other teams are desperately fighting for points to qualify for the playoffs.
Holliston enters the rankings for the first time after beating Medway and claiming the title in the competitive Tri-Valley League.
Oliver Ames jumps back into the rankings after winning the Davenport title and starting to show some of the firepower that helped it reach the D1 South semis last season. Meanwhile, unbeaten Martha's Vineyard also enters the rankings at No. 18, but the EAC champs will still have something to prove in the tourney, as some question just how good the team from the island is this season.
Medway, Wachusett, and Framingham each dropped into the Last 10 Out after tough losses over the past week, but all three will be looking forward to a potentially long run through the postseason.
Brockton was right on the edge of the rankings after beating former No. 1 New Bedford, but the Boxers followed with a 2-0 loss to BC High and stay just out of the Top 20.
State tournament brackets will be released on Wednesday.
For this week's full Top 20 poll, click
HERE
.
In This Week:
No. 15 Holliston, No. 16 Oliver Ames, No. 18 Martha's Vineyard
Out This Week:
Medway, Framingham, Wachusett
November, 9, 2012
11/09/12
1:42
AM ET
NO. 5 WALPOLE (9-0) AT NO. 21 NATICK (8-1)
The Skinny: The most anticipated regular-season matchup is finally upon us. A swelling crowd is expected to turn out for this one, as the Bay State Conference's Herget division title is on the line. Natick is looking to bounce back after coming up on the wrong side of one of the year's biggest upsets (a 40-34 loss to Wellesley), but Troy Flutie, Brian Dunlap and co. will have to do it against one of the state's stingiest defenses. Walpole hasn't allowed a point since Sept. 28, and hasn't allowed a touchdown since Week 3.

Scott Barboza: I'm shudder to think that we might not have any questions to answer during our Sunday night chat this week now that we're finally about to give our picks on this game. Walpole, 27-21.

Brendan Hall: I'm sure the primary topic of discussion in this Sunday night's Top 25 chat will be "What's your prediction for Natick-Walpole in 2013?" Walpole, 20-17.

NO. 17 NAUSET (9-0) AT PLYMOUTH SOUTH (6-3)
The Skinny: Raise your hand if you thought this would be the de facto Atlantic Coast League championship back in August. South's Dylan Oxsen leads the state in rushing touchdowns (28), doing so behind a uniquely modified pistol attack that gets the hard-charging junior downhill in a hurry. Written off a month ago, the Panthers are suddenly in prime position for their first postseason berth here, but they'll have to find a way to neutralize all the chicanery that comes with Nauset's single wing attack, led by running back Jimmy Sullivan.

Barboza: It's time we start considering Oxsen as a serious candidate for our Offensive Player of the Year Award. Plymouth South, 13-7.

Hall: If you know me, you know I'm a fiend for the ground-and-pound. For that reason, can't go wrong with either team, but I'm sticking with my preseason pick. Nauset, 28-21.

NO. 23 ABINGTON (9-0) AT EAST BRIDGEWATER (6-3)
The Skinny: Abington can clinch the South Shore League title with a win over the Vikings, and are the favorites here behind a dynamic offense led by Babila Fonkem, Pat Dwyer and Brandon Cawley. Defensively, the Green Wave are allowing just under seven points a game the last three weeks, but they figure to have their hands full trying to slow down quarterback Andrew Benson in the option game.

Barboza: I'm going to mention Brandon Cawley's name again just because the other night on Twitter he's said I only mention the running backs. JK guys, JK. Abington, 32-24.

Hall: If this is truly Abington coach Jim Kelliher's last season, then you can't find a more fitting farewell. Abington, 31-20.

SHARON (7-2) AT FOXBOROUGH (7-2)
The Skinny: Is the clock about to strike midnight on Sharon? The Eagles remain unbeaten in the Hockomock's Davenport division, but still have two big league games on the slate. The first one is Friday night, where they will attempt to contain tailback Kiivone Howard, who leads the Hockomock in rushing yardage (1,405).

Barboza: Foxborough quarterback Mike Slaby could be the difference-maker. Foxborough, 23-17.

Hall: What would a Hockomock League berth be without a little bit of mathematics? Foxborough, 21-7.

MARBLEHEAD (8-1) AT BEVERLY (9-0)
The Skinny: The Magicians claimed the CAL/NEC Tier 2 title last season with a senior-laden team. However, Marblehead's in the mix again, even after a surprise loss to Salem a few weeks back. Meanwhile, the Panthers can clinch the league crown with a win on Saturday. The vaunted Panthers offense (averaging 38 points per game) and its rushing attack is closing in on 3,000 combined rushing yards on the season, led by a backfield of Brendan Flaherty and Kenny Pierce. The Magicians have relied on 1,000-yard passer Ian Maag (13 touchdowns) for a bulk of their offense.

Barboza: It's been a nice bounce back run for Marblehead in an attempt at a repeat title, but, after all, this is the #yearofthepanther. Beverly, 28-14.

Hall: We love Jim Rudloff's mind games as much as the next guy, but the Magicians are simply overmatched here against one of the state's best rushing attacks. Beverly, 35-21.

BISHOP FEEHAN (6-2) AT SOMERSET-BERKLEY (9-0)
The Skinny: As in each of the last three seasons, the Eastern Athletic Conference title will be determined in a matchup between the Shamrocks and Blue Raiders. Feehan came away with a decisive victory last year, but Somerset-Berkley is looking to lay claim to its second crown in the last three years. The Blue Raiders are led by a dynamic back field of Garrett Carlos and Mike Garrant, but they'll encounter a physical Feehan front seven anchored by linemen Chris Barthe, Seamus Cuddy and Mitch Matrin.

Barboza: Nick Freitas escapes with EAC title No. 2. Somerset-Berkley, 27-20.

Hall: In terms of EAC supremacy, Feehan had the 2000's. And now, Somerset has the 2010's. Somerset-Berkley, 24-17.

FRANKLIN (7-2) AT MANSFIELD (6-3)
The Skinny: The Panthers get back into Hockomock Kelley-Rex play after a startling loss to Taunton two weeks ago. If Franklin is to hold out hope of hanging around in the division race, they'll need a win at Mansfield on Saturday. The Hornets are in a similar situation having dropped a close decision to North Attleborough two weeks ago. Look for the Hornets, led by Robbie Rapoza, to pound the ball on the ground and play some ball control in trying to keep the Panthers' spread attack on the sideline. Franklin junior quarterback Nick Zucco has been a revelation this year, but the Panthers can also run the ball behind Kyle Finamore. The Mansfield defense has been bolstered by junior linebacker Alex Ruddy, who currently leads the team in tackles.

Barboza: As predicted a couple weeks back, the Kelley-Rex picture is only obfuscated more. Expect another wild finish. And, of course, another prediction my friends in Mansfield will relish. Franklin, 38-36.

Hall: If the Hornets can establish the run game early, they can do just enough to hold off a furious Franklin rally. Mansfield, 27-24.

KING PHILIP (8-1) AT NORTH ATTLEBOROUGH (6-3)
The Skinny: Another pair of Kelley-Rex teams with one division loss meet in this rivalry game. The Red Rocketeers have cobbled together a three-game winning streak, following a three-game losing streak in the middle of the season. The better news yet for North in recent weeks its improving health, seeing several key contributors return to the field in recent weeks. Meanwhile, King Philip has rolled through Attleboro and Oliver Ames by a combined 75-21 margin since its loss to Mansfield.

Barboza: I find myself simply rooting for another chaotic finish to the Kelley-Rex division race, but I'm sticking with my preseason pick. KP, 24-21.

Hall: This is a new team with Sean Peters and Alex Jette both healthy. I'm looking at a return to early September form down the stretch for the Big Red. North, 30-23.
September, 29, 2012
9/29/12
7:58
PM ET
SOMERSET, Mass. – With two run-oriented attacks in Somerset-Berkley and Wareham squaring off on Saturday, you would've thought going in you count the number of combined passing attempts easily on one hand.

Neither the Blue Raiders nor the Vikings deviated from their game plans, but after being mired in a close game, it was in fact a passing play that helped S-B along to a 35-14 win over Wareham.

On the final scrimmage play of the first half, Raiders quarterback Jack Amarantes hit running back Mike Garrant on a wheel route out of the backfield for a 35-yard touchdown play.

"I don't know what the pass play was itself, but I knew they were playing with just the one high safety so we tried to take advantage of that," S-B head coach Nick Freitas said.

Even though S-B (4-0) went to the locker room down 7-6, the tone carried over into the second half.

The Raiders started the third with the ball and promptly dialed up another big scoring play with Garrett Carlos running 63 yards to paydirt. On the ensuing Wareham (3-1) possession, Garrant grabbed a fumble recovery -- his second takeaway of the game after a first-quarter interception – and had the Raiders rolling again. Six plays later, Amarantes plunged into the end zone over right guard for an instant two-score lead.

S-B didn't relent. It's a tone that Freitas hoped to establish during practice last week leading up to the date with the explosive Vikings and Darien Fernandez (16 carries, 91 yards) calling.

"We probably had our best Thursday practice that we've had all season," Freitas said. "The kids were flying around and having fun."

DYNAMIC DUO
In the early going, the Raiders have gone where their backfield tandem of Carlos and Garrant led them.

Carlos, who entered the game averaging over 10 yards per carry, kept up his torrid pace with 15 carries for 180 yards and two touchdowns. In addition to his momentum-shifting touchdown reception, Garrant also added 91 rushing yards on 12 carries.

Carlos and Garrant seem to pick up where the other leaves off in all ways, even during their postgame interviews. They alternated finishing each other's thoughts, adding in a plug for the offensive line here and a shoutout to the coach staff there.



There are parallels to 2010, when S-B last claimed the Eastern Athletic Conference crown. That year, the Raiders ran behind Seth Demello and Jaron Spear to a Super Bowl appearance at Gillette Stadium.

While Carlos and Garrant both bring different elements to the Raiders offense than did their predecessors, the result might just be the same this year.

"I'm just worried about Dartmouth next week," Freitas said, dousing any hype between another potential meeting between his team and Wareham at a later date.

He paused and then added, "They're good. I think they're a contender for the SCC."

His players were aware of the circumstances, however.

"This is a team [Wareham] that a lot of people are saying is going to come out of the [South Coast Conference] as a winner, we're trying to get out of the EAC, and that's who we could possibly face," Carlos said. "This game is huge and hopefully we'll get to see them again this year."
February, 2, 2012
2/02/12
8:56
PM ET


NEW BEDFORD, Mass. -- In the middle of January, Coyle-Cassidy boys' hockey had already lost their first league game of the season to Martha's Vineyard and they were about to be run out of the rink again, down 3-1 to Eastern Athletic Conference rival Bishop Stang.

Then, something clicked. The Warriors came back to pull out a 4-3 win over the Spartans in their first meeting. That's when C-C head coach Dave Borges said "the team learned how to win."

The Warriors swept the season series with a 5-2 win over Stang on Thursday at Hetland Arena.

It started out as a dominant performance, with Warriors goaltender Brent Petrowski (22 saves) pitching a shutout until 2:29 remained in the third period. But C-C weathered the Spartans' harshest charge and kept pace in the EAC title race with the Vineyarders.

"I thought we controlled the pace of the game and played well in our defensive end," Borges said. "But at the end, they got a power play goal and that brought a little momentum to them. Then, we starting running around a little bit and we didn't do what we needed to do the get the puck out of our end."

The Warriors (5-5-1, 4-1-0 EAC) held a 3-0 lead until Spartans forward Kody Skolis finally beat Petrowski.

The goal set in motion a frenetic flurry to the end of the physically played match.

Stang (10-3-0, 3-3-0) senior forward Ben Lloyd whittled the lead to one goal, banging home a rebound with 1:15 to play. The Warriors responded immediately as Shea Powell turned a neutral zone turnover into C-C's fourth goal six seconds later.

Nick Cambria added an empty-netter for his second goal of the game to round out scoring.

"I think we're starting to come together now and we're playing better hockey," Cambria said.

C-C built a two-goal lead by the second intermission with goals in each of the first two periods. Junior captain Ryan Jones scored on a partial breakaway for a 1-0 lead at 5:08 of the first. Cambria then scored his first of the game at 3:35 of the second.

Warriors defenseman Steve Cogan picked up assists on both tallies, helping to set up the transition game out of C-C's defensive zone.

Greg DiBona had the Warriors to a 3-0 lead at 8:38 of the third, again coming on a partial break stemming from a neutral zone turnover.

WARRIORS UNDAUNTED
While their 5-5-1 record might not rock your socks off, the Warriors will again prove a tough out in the Division 2 South tournament – akin to their Thursday opponents and the D3 tournament.

C-C has traditionally scheduled aggressively, and this year has the tall task of playing four teams who participated in last year's Super 8 tournament, in addition to D1 non-leaguers against St. John's (Shrewsbury) and Xaverian.

It all makes for a battle-tested squad, which Borges believes is coming together at the right time.

"I like where we're headed," Borges added "We're starting to play our best hockey of the season now."

With the early warning shot fired in their earlier loss to the Vineyarders, the Warriors have learned to tighten up where it counts.

"A lot of it's just doing hard work, keeping our heads up, finding the open man and making the right plays," Cambria said.


June, 12, 2011
6/12/11
11:40
PM ET



TAUNTON, Mass. -- Can anybody cool down the bats of Coyle-Cassidy softball?

The Eastern Athletic Conference champions mashed their way through the regular season, scoring 205 runs in the regular season, or greater than 10 runs a game. C-C began the Division 2 South tournament by hanging a pair of 16-run performances on Norwell and Hanover.

The Warriors kept swinging Sunday in their D2 South semifinal against Abington at Jack Tripp Field, pounding out 14 hits and doubling up the Green Wave, 8-4.

"They all know their job," C-C head coach Russell Hunt said. "I could be the number three hitter, or the five-hitter that needs to execute, either on the bunt or to make some contact. They know their jobs and we try to keep it simple here and thus far they've executed."

Part of the key to C-C's success has been its stacked batting order, as exhibited on Sunday. Every Warrior starter had at least one hit and four players (Patty Borges, Julie LeClair, Tricia Quinn and Genna Whelan) had multi-hit games.

Quinn and center fielder Megan Ritchie led C-C (19-4) both drove in a pair of runs.

"The bottom third of our order could be the top third," said Katie Bumila, the Warriors' senior catcher. "You could turn our lineup all around and we would still have the same results because we have that power and we have really just good hitters all the way through the lineup."

That bottom of the order made its presence felt in C-C's four-run fourth inning.

Ritchie, batting out of the sixth-hole, clubbed a two-run single to left. Next up, Warriors starter Katherine Clark delivered an RBI single. Then, No. 8 hitter Brittany Perdigao beat out an infield hit, scoring Clark.

It wasn't all smooth sailing for the Warriors, however. The top-seeded Green Wave (21-2) crawled back within a run at 5-4 in the fifth inning.

Lead-off hitter Mackenzie Gillis hit an RBI double to left-center; she later came around to score on Stephanie Cornish's two-out single.




On the following play, in a scary moment, Cornish went sliding into second base on Haylee Rogers' infield hit. Cornish slid safely into the bag, but her left spike dug into the clay. Play was stopped for nearly 20 minutes as Cornish was taken by ambulance to Taunton's Morton Hospital with a broken ankle.

When play resumed, Clark got Alex Powers to pop out to second with the bases loaded to close the inning.

"We had a good rally going there," Abington head coach Ernie Ortega said. "The kids played hard. They gave up a few more errors than you can commit against a team like Coyle, they take the extra bases. We prepared as well as we could for them, but they played better."

The Green Wave committed three errors in the field, providing the Warriors with several extra outs.

"That's kinda' how we play," Bumila said of C-C's aggressive play on the base paths, "we go all out and we try to make them make mistakes and put pressure."

Katelyn McCarthy earned the save after entering the game for Clark in the sixth. McCarthy retired the final four Green Wave batters in order. Clark earned the win, scattering six hits over 5 2/3 innings while allowing three earned runs and striking out four.

"It's been a full team effort," Hunt said. "They've all given it all that they possibly can, you've got to appreciate that."

Fifth seed C-C will face No. 2 seed Hopkinton for the D2 South title Monday at Taunton High. First pitch is at 7 p.m.
March, 8, 2011
3/08/11
1:26
AM ET
With no action on the local rinks on Monday, we decided to clear out the ole trusty reporter's notebook after a busy first week of tournament play.

Saturday's first-round Super Eight matchup was a family affair for the Evangelista clan.

The family's attention was divided between cousins Conor, of top-seeded Malden Catholic, and Tommy, of eighth-seeded Central Catholic.

Adding another dimension to the matchup was that Conor, a junior defenseman on the Lancers' top pairing, would be duking it out all night with Tommy, a junior center, and the Raiders' top line.

"My cousin's really fast, so I told my uncle that I'd have to break Tommy's blades to have a chance out there, so that he didn't burn me," Conor said with a smile. "We talked a lot before the game though."

Conor may have gotten the last laugh, as Malden Catholic held off Central in a 4-3 victory, but the cousins also have had opportunities to play on the same side while growing and most recently as last summer during the Hockey Night in Boston tournament.

It's also evident that talent runs through the bloodline. Conor was among the top scoring defensemen in the state with 27 points during the regular season, while Tommy has been a consistent scoring threat for Central with 17 goals and 20 assists this season.

"We didn't have anything else on the side," Conor said of his pregame conversations with Tommy, "just bragging rights."

VECCHIONE ON HISTORIC PACE
You can ascribe many labels to Mike Vecchione's play, but you might soon have to apply the title all-time leader to his very impressive resume.

With three assists during Malden Catholic's 4-3 win over Central Catholic on Saturday, Vecchione tied the Catholic Conference's single-season scoring record with his 73rd point. The UNH commit entered Super Eight play with 26 goals and 44 assists for the regular season.

"I had no idea," Vecchione replied after being informed of the milestone. "That's a great feat."

It seems fitting that Vecchione would tie the record with assists since it's the selfless manner that has allowed the winger to prosper to unparalleled heights playing alongside linemates Brendan Collier (63 points regular season) and Ryan Fitzgerald (66 points).

SHEA UNSTOPPABLE
Every year, there seems to be a breakout player who takes his game another level to lift his team in the Super Eight. Think of then junior Tim Driscoll willing the Harbormen to the title last year, including his game-winning goal in the final.

It's safe to say that the early leader in the clubhouse in this year's young tournament is Woburn forward Casey Shea. The junior forward led the Tanners in scoring this season, so his postseason brilliance thus far hasn't come as a surprise. But he's certainly set a tremendous pace.

Shea made a big splash in Woburn's win over Springfield Cathedral in a play-in game on Monday with five goals, including a natural hat trick in the first period. So what did he do to follow up that performance? He only turned in a SportsCenter-worthy goal, beating two St. John's Prep defenders in alone, deking them out of their skates before finding the back of the net once again.

"Casey did what he usually does," Tanners head coach Jim Duran said of the goal.

WARRIORS CAST OFF TOP SEED
Who could've seen Coyle-Cassidy's overtime upset over top-seeded Mansfield in Division 2 South this weekend? Well, we hate to toot our own horn as did have the Warriors as one of our dark horse teams in our postseason picks.

All kidding aside, there's a concurrent theme to C-C's upset, as well as that of Scituate over top-ranked Bourne in D-3 South, and that's strength of schedule.

The Warriors entered postseason play with a marginal record of 9-9-2. However, the degree to which they'd been tested in their 20 game schedule was without parallel in D-2. Aside from turning in their eighth straight Eastern Athletic Conference title, Dave Borges' team played a schedule that included four Super Eight field teams, including BC High, Hingham St. Mary's of Lynn and Springfield Cathedral, and a host of other Division 1 teams. Granted, the Warriors took their lumps against both BC High and Hingham, but they showed why they could be such a dangerous postseason team tying up Cathedral, 2-2, just one week before the Panthers slipped into a Super Eight play-in game.
November, 15, 2010
11/15/10
6:35
PM ET
ANDOVER 88, LOWELL 82...NATIONAL RECORD?
This past October 30, two Texas high school football teams combined for 165 points in a battle for playoff position, with Jacksonville High defeating Nacogdoches High, 84-81, in the 12th overtime. According to KLTV, the Tyler, Texas-based ABC affiliate covering the game, that set a national record.
If all that's true, then what went down last Friday night at Cawley Stadium is a national record. Andrew Coke ran for eight touchdowns for Andover to lead the Golden Warriors to an 88-82 victory over Lowell in the eighth overtime. Meanwhile, Raiders quarterback Kyle Edwards threw for eight touchdown passes in the loss, four of them to Josh McGlauflin.
The Red Raiders had an opportunity in the eighth overtime to score, but were stopped inches short of the goal line on a fourth-and-three play. The game was tied at 28 after regulation, and the teams traded touchdowns in seven straight overtime periods -- including six straight successful two-point tries by either side -- before Coke marched in from 10 yards out on the Golden Warriors' first play of their eighth-overtime possession.
"I've never seen anything like that," Andover head coach E.J. Perry told ESPNBoston's Scott Barboza. "It was a tremendous accomplishment by this team to put it all on the line. Now we'll have the chance to play with all the marbles on the line against Central Catholic on Thanksgiving Day. It's been a great honor to coach kids like this that are so resilient.
"But I give a lot of credit to those Lowell kids as well. I went over to talk to them after the game and I told them that they had nothing to be ashamed of."
With that win, the Warriors have set up a winner-take-all battle with Central Catholic on Thanksgiving for the Merrimack Valley Large's playoff berth. But it's a pyrrhic victory, as Boston College-bound tight end Brian Miller went down with a knee injury in the first half; his status for Thanksgiving is unknown right now.
"No real update right now," Perry told correspondent Roger Brown in his recruiting blog
today
. "Brian was not able to get an MRI over the weekend. The orthopedist who was on hand was somewhat optimistic it wasn't an ACL, but without an MRI there now way to know for sure. He's getting that [Monday]."
D-WHAT? D-Y!
Paul Funk arrived at Dennis-Yarmouth in 2001, fresh off a successful stint as an assistant at storied Everett, to find a Dolphins program so barren that it had relegated itself to junior varsity status. D-Y faced problems not only with numbers, but with plain old futility -- the Dolphins had won just six games in the 1990's.
Fast forward to Friday night, and the Dolphins are staring at their second Atlantic Coast League title in four years, thanks to a gritty 14-7 win over Plymouth North.
"In nine years, this is what we've got, and I'm pretty proud of that," Funk told ESPNBoston's Brendan Hall. "It's alot of hard work from alot of people."
It was the usual recipe to success for the Dolphins, with linebackers Tommy Kennedy and Victor Andrade leading a swarming defense that marked hard-nosed fullback Matt Walsh all night and kept the Eagles' vaunted running game stalled in first gear. Meanwhile, Matt Montalto wasn't putting up video-game numbers as usual, directing Funk's high-octane spread attack, but he was good enough in the second half, running and throwing for a touchdown each.
Montalto now joins his brother, Nick, as quarterbacks to lead the Dolphins to a share of the ACL.
"He is as good a competitor, as a winner, as you'll ever find," Funk said. "He's been a winner since he was seven. You always have a chance with him at the helm. His older brother was the same way, (Matt's) just an unbelievable person."
As for that elusive playoff berth...
With the league slates of both D-Y (9-1, 4-1) and Marshfield (5-4, 4-1) wrapped up, fate lies in the hands of North (7-3, 3-1), which has one ACL game left -- Thanksgiving archrival Plymouth South (4-6, 2-2). A North win on Thanksgiving creates a three-way tie for the ACL, and would give the playoff berth to the team that has gone longest without making the playoffs -- in this case D-Y, which has never played past the holiday in the Super Bowl era.
You can be rest assured the Dolphins will be scoreboard-watching on this one. This same scenario played out in 2007, when they went 10-1 but with a loss to Marshfield needed a North win on Thanksgiving to create a three-way tie. South took down North in what was considered a big upset, and the Rams went on to the Division 1A Super Bowl before bowing to Chelmsford on a late field goal.
WHALERS ROCK BIG 3 BOAT
New Bedford could've let its boat sink after suffering four straight losses to start the season, however Dennis Golden's squad righted ship with four wins entering Saturday's matchup against Brockton. Then, the Whalers did the unthinkable, upsetting the Boxers, 23-21.
"Well, we've been much better in the last month than we were in the first month," Golden told Scott Barboza on Sunday. "I'm really proud of the way that our kids have battled back when they very easily could have let things slide."
Now, New Bedford can clinch a Division I playoff berth with a win over Durfee on Thanksgiving Day.
The Whalers jumped ahead of the Boxers, 14-0, at halftime and never trailed in the contest. To close out the win, New Bedford embarked on a 20-play drive, spanning eight minutes and forty seconds of the fourth quarter. Although the Whalers didn't score, Brockton got the ball back with only five seconds remaining, scant time for the Boxers to get a game-winning score.
"Our offensive line was amazing on that final drive," Golden said. "They were just amazing and that was huge for us, keeping the ball out of the hands of their offense at the end of the game."
BLUE RAIDERS PILLAGE EAC CROWN
The Somerset sideline dumped the water bucket over head coach Nick Freitas' with around 30 seconds remaining.
Still, Freitas wasn't about to go Gore v. Bush on calling his team's number in the Eastern Athletic Conference race.
"I didn't feel safe until it was down to point-six second left on the clock there," Freitas said after the Blue Raiders' 49-28 win over Bishop Feehan on Friday.
The Shamrocks once again proved that the EAC runs through them, despite losing their first five games of the season. Feehan won when it counted, taking their first three EAC contests before falling to Somerset.
And the Blue Raiders weren't about to look past their opponent.
"That's all we could think about this year," lineman Ian Levesque said Friday about their matchup with Feehan. "We knew it was going to come down them in our last [conference] game. We knew we had to be ready for them. We had a hard week of practice. We watched extra film. We knew it was going be that tough."
HEAD OF THE CLASS
VALVOLINE PEAK PERFORMERS OF THE WEEK: NEW BEDFORD'S OFFENSIVE LINE
The Whalers line of Jason Brierly, Lance Burlingame, Janny Dosreis, Jacob Medeiros, Oliver Pires and Darian Sousa-Bizarro carried New Bedford in its upset over Big Three rival Brockton.
THE CLASSMATES
Andrew Coke, Jr. QB/RB, Andover
- The leading scorer in Division 1 added immensely to his already-impressive totals by scoring eight touchdowns in the Golden Warriors' 88-82, eight-overtime win over Lowell.
Matt Costello, Sr. WR, Everett
- The senior had another tremendous day receiving in the Crimson Tide's 45-0 win over rival Malden, making eight catches for 195 yards and three scores.
Seth DeMello, Sr. RB, Somerset
- He provided the biggest spark in the Blue Raiders' 49-28 win over Bishop Feehan to clinch their first postseason berth of the Super Bowl era, carrying 20 times for 245 yards and scoring six touchdowns (four rushing, two passing).
Ryan Lipka, Sr. WR, Bishop Fenwick
- With six catches in the first half of a 36-0 loss to St. Mary's last Friday, Lipka became the first player in the state of Massachusetts to catch more than 100 balls in a season.
Quinton Perkins, Jr. ATH, Fitchburg
- The versatile speedster was vicious on the ground for the Red Raiders, carrying the ball 17 times for 278 yards and six touchdowns in a 56-33 shootout win over Gardner.
Andreas Robinson, Soph. QB, Phillips Exeter
- In a 56-33 win over archrival Phillips Andover, Robinson ruled the day with 297 yards and four touchdowns on 31 carries.
October, 18, 2010
10/18/10
3:06
PM ET
So another new No. 1? Yep, we think so.
Here's What We Learned this weekend:
THE BEST DEFENSE AGAINST EVERETT? SAY "NITE NITE"
Everett running back/linebacker Vondell Langston, like the rest of his charismatic teammates, couldn't help but get a little giddy after the Tide's jaw-dropping fourth-quarter shutdown of the state's No. 1 team, Xaverian. So when asked about the message written across each strip of eye-blackener on his cheeks -- "NITE" was written across each one, so that it read "NITE NITE" going across -- the 6-foot, 200-pound junior was happy to explain.
"This was to put all the hype away, that we ain't even listening to it," he said.
But after a drubbing as impressive as this one -- the Tide held the Hawks' vaunted rushing attack to just 83 yards total -- Everett is undoubtedly the hype. And they'll get their first big test as No. 1 this Friday night when they travel to Viola Stadium to take on the Eagles of Boston College High, themselves coming off a 49-0 smattering of New Jersey power Hudson Catholic.
Not only did the Tide show deceivingly consistent balance between the run and pass, with Langston and quarterback Jonathan DiBiaso showing poise at both aspects of the game, but they're continuing to prove over and over just how tough it is to slow them through the air. Bottle up the lightning-quick, Boston College-bound Manny Asprilla, and deep ball threat Matt Costello will go off for career numbers, carving precise sideline routes. Bottle up Costello, as Joe Colton did exceptionally in Saturday's contest, and Asprilla will torch you.
Asprilla had a hand in all of the 22 fourth-quarter points by the Tide, first making a leaping catch over the middle to set up Langston's go-ahead plunge; then hauling in a 22-yard touchdown slant on fourth and 10; and finally returning an interception Ed Reed-style, 48 yards to paydirt with a bevy of shimmy and shake.
"It seems like, from week to week, teams have been following whoever had the big week last week," Costello said. "If Manny [Asprilla] has a big game, they're spotting him, or whoever it is. And we have so many players who can catch the ball and make plays that somebody's going to get open."
Added head coach John DiBiaso on having so many targets, including Kenny Kalaj and Jakarrie Washington, "It makes a big difference. I have a lot of confidence to throw to Manny, Matt, any of our receivers. You look at the defense, see what they're giving you and then you try to take what they're giving you."
DiBiaso later joked to the group of reporters that he can't wait for the new rankings to come out Monday morning and find somebody else at No. 1.
"I like us better when we have a chip on our shoulder," DiBiaso laughed.
And just for kicks...ESPNBoston.com high school editor Brendan Hall was the only Boston writer to pick Everett to win the game. According to highschoolsportspage.com, which tracks all of the Boston writers' weekly picks, Hall was
27 for 28 on week six picks
, good enough to blow away the rest of the field with a 96 percent clip.
And while we're at it, Scott Barboza also picked the field with a solid B-plus [89 percent, but didn't pick Everett (Wah, wah, wah)] while picking 28 contests, which again begs the question: When is everybody else going to step up their game?
ISL ISN'T QUITE SO TOP-HEAVY -- LEAST, NOT YET
"There's two ways to play our team," Lawrence Academy head coach Mike Taylor told ESPNBoston correspondent Corey Allen following the Spartans' 20-7 win over Governor's Academy. "Either you lay down and die, or fight. These guys did a heck of a job fighting."
Right now, several schools are willing to tango with the four-headed monster from Groton. Had Dan Giovacchini not stopped Elijah Morrissey on fourth down late in the game, we might be talking a whole other story. The Mark Gerry-coached Governors dressed just 27 players against the 4-0 Spartans, who have four players committed to BCS schools and a line that averages nearly 300 pounds across, and came away with a moral victory that should give them momentum the rest of the way.
Meanwhile, BB&N showed no glaring signs of weakness in its 40-20 win over Milton Academy. With elite quarterback Charlie Story out for the Mustangs, BB&N found itself defending some trickeration (see: Wildcat) to start the game. But once things settled down, junior running back/linebacker Chris Coady (23 carries, 241 yards, three touchdowns) showed why he is quickly becoming one of the state's most sought-after 2012 recruits.
Coady, a re-classified junior who visited Duke this past weekend, currently holds lacrosse scholarships from Syracuse, Brown and Harvard (he was a defenseman on St. John's Prep's Division 1 state champion squad last spring). And that lacrosse agility has translated well on the gridiron for the 6-foot-3, 220-pounder.
"He's unbelievable. The kid's a tremendous football player," head coach John Papas told ESPNBoston's Brendan Hall. "To make this transition on both sides of the ball, from quarterback and free safety to running back and linebacker, he's truly been amazing. You saw him, I mean he's strong as a horse, and he's getting better every week. That's the scary part about it."
Meanwhile, Rivers is off to one of the best starts in school history thanks to its tandem of Roxbury cousins and Division 1 prospects Ben Patrick and Taariq Allen. Patrick, who has interest from a number of FCS schools, has nine touchdowns and 837 rushing yards on 86 carries through the first four games. Meanwhile his cousin -- who de-committed from UConn last month and still holds offers from Wisconsin and Nebraska -- has been a threat through the air (23 catches, 332 yards) and ground (24 carries, 233 yards). A win this Saturday against Milton Academy would clinch the first winning football season since 1982.
It should also be noted that St. George's -- the team which caused quite a stir two weeks ago when it decided to forfeit rather than play Lawrence -- notched its first win of the season last Saturday, a 20-8 decision over reportedly-smaller St. Mark's.
THIRTY AND COUNTING FOR AUBURN
The last time the two-time defending Division 2 Super Bowl champs lost to an opponent, period, was Sept. 19, 2008, to Winthrop. The last time they lost within the Central Mass region? You have to go back to November of 2007, when the Rockets dropped a close one to David Prouty, 14-7, a week after getting smoked 42-7 by rival Northbridge.
Jeremy Lavallee (513 rushing yards) has been the stalwart of the Rockets' offense, while Worcester South transfer Atta Oweso carried last weekend's 26-0 shutout of Quabbin with two scores himself. Meanwhile, the defense is allowing just 6.3 points per game, including impressive decisions over Shrewsbury (6-2) and Northbridge (21-7).
Any talk about the Rockets on track to matching Acton-Boxborough's state record of 52 games has to be silly at this point -- it would still take a full two seasons to get within distance. But with just one team with a winning record left on its regular season slate (Thanksgiving, versus Oxford), an undefeated three-peat certainly isn't out of the question.
ROCK 'EM, SOCK 'EM SOUTH SHORE
What a buzzsaw the top of the South Shore League has turned out to be.
None who were in attendance will soon forget Rockland's hard-fought 9-8 win over Cohasset on Friday. But what is the Bulldogs' reward for knocking off the reigning co-league champions? A matchup with another of the South Shore's unbeatens, Abington.
"We feel good about this one, we can celebrate a little," Bulldogs fullback Mike Driscoll told Scott Barboza Friday night. "But we're going to put this one behind us pretty quick and it's all about Abington on Monday."
The Green Wave is also 6-0 overall with a 3-0 South Shore record and is coming off an impressive 22-6 win over another quality league foe, Mashpee.
"We're just going one week at a time," Driscoll added. "We can't look past anybody."
RAIDERS STORM THE VINEYARD
Somerset head coach Nick Freitas let out a sigh and said, "It always feels good after a win."
Talking via telephone Monday morning, there was a feeling Freitas might have had his feet up on the desk while saying so.
That's because his Raiders have made it look easy at 6-0. Their average margin of victory has been about 22 points per game, led by the dynamic running duo of Seth DeMello and Jaron Spear.
On Friday night, the midpoint Eastern Athletic Conference championship game took place on Martha's Vineyard with a battle of unbeatens. Somerset left the island leaving no question who is the best team in EAC, after a 40-0 blanking of the Vineyarders. Quarterback Adam Ledoux and DeMello each registered three rushing touchdowns. DeMello, the bruising running back, finished with 24 carries for 228 yards in addition to 42 receiving yards.
Barring any hiccups in their remaining league games at Coyle-Cassidy (Nov. 5) and versus Bishop Feehan (Nov. 12), the Raiders should be playing beyond Thanksgiving.
HEAD OF THE CLASS
VALVOLINE PEAK PERFORMER OF THE WEEK: SETH DeMELLO, SR. RB, SOMERSET
It's easy to overhype Somerset's win 40-0 win over Martha's Vineyard as the be-all, end-all in the Eastern Athletic Conference this season. However, you cannot undersell DeMello's performance against the Vineyarders. The hard-nosed runner registered 24 carries for 228 yards and three touchdowns. DeMello also created balance in the Raiders' attack with 42 receiving yards.
THE CLASSMATES
Manny Asprilla, Sr. WR/CB, Everett
– What didn't the BC-bound speedster do? Asprilla's five catches for 80 yards and one touchdown don't tell the true story of what he contributed to Everett's win over Xaverian. His 47-yard interception return for a touchdown was an athletic display.
Chris Coady, Jr. RB/LB , BB&N
– Coady put in another impressive performance with 241 rushing yards on 23 carries with three touchdowns in a 40-20 win over Milton Academy. He also registered seven tackles on defense.
Mike Driscoll, Sr. FB, Rockland
– Driscoll's touchdown and 117 tough-gained yards were the driving force behind the Bulldogs' win over Cohasset.
Kemani Jones, Sr. RB, Milton
— Jones ran roughshod over Dedham, led by his 325 yards on 16 carries with touchdown runs of 24, 17 and 82 yards, respectively.
Mike Mercadante, Sr. RB, Minnechaug
-- The 5-foot-11, 220-pound senior had a career night for the Falcons last Friday's 50-38 shootout win over Holyoke. He carried the ball 26 times for 256 yards and six touchdowns, and caught three passes for 32 yards and a seventh touchdown.
Paul McCarthy, Sr. QB, North Attleborough
- It was a highly efficient performance for Big Red's signal-caller, going 7 of 8 for 173 passing yards and four touchdowns in a win over Canton. McCarthy also had a rushing touchdown of 55 yards.
Trae Musumarra, Sr. RB/LB, Central Catholic
– Musumarra took over in a 40-32 win over Lowell, running for 162 yards and six touchdowns, three of which came in the first quarter.
Ben Patrick, Sr. RB, Rivers
- Patrick continued to tear things up with 25 carries for 227 yards and three touchdowns in a win over Brooks. Through four games, Patrick has 837 rushing yards and is averaging 9.7 yards a carry, while Allen has accumulated 565 yards of offense through the ground and air.
Richard Rodgers, Sr. WR/DE, St. John's (Shrewsbury)
– Maybe someday we'll them the "Richard Rodgers Player of the Week Awards". Sound good? Thought so. Another 7-catch, 92-yard performance and chipped in two sacks against St. John's Prep.
Zach Zaniboni, Jr. RB, Plymouth North
– Eighty one rushing yards don't exactly jump off the page, but consider that Zaniboni did so on just six carries while breaking off a 50-yard touchdown that was all the Eagles would need in a 15-0 league win over Marshfield. That should pretty much do it.
September, 25, 2010
9/25/10
6:58
PM ET
DARTMOUTH, Mass. – Hard to believe Somerset ever trailed Bishop Stang during the Blue Raiders' 43-13 victory over the Spartans on Slocum Road.
After assembling a methodical six-play, 66-yard touchdown drive to open the game, Somerset was knocked on their heels by Tyler Dedrick's 71-yard touchdown strike to Devan Clements. The successful extra-point kick had the Spartans up, 7-6.
It didn't last long as Somerset (3-0, 1-0) ran behind their horses, running backs Seth DeMello and Jaron Spear, to an important Eastern Athletic Conference win over Stang (2-1, 0-1).
[+] Enlarge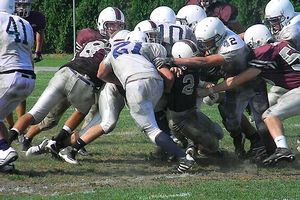 Scott Barboza/ESPNBoston.comFive yards and a cloud of Spartans: Somerset's Seth DeMello (No. 42 white) fights through the pile for extra yardage in the Blue Raiders' 43-13 win at Bishop Stang. DeMello finished with 19 carries for 160 yards and one touchdown.
"[Coming into the game], we wanted to stop the big play," Blue Raiders head coach Nick Freitas said. "We just had a defensive lapse. Luckily, we recovered from that."
Somerset asserted its will on the ground, turning up the turf behind the offensive line led by tackle Ian Levesque.
"He's a big, aggressive kid," Freitas said of Levesque. "I like that."
Spear led the charge with 21 carries for 215 yards and four touchdowns. And DeMello provided the thump to Spear's flash; the bruising back churned out 160 yards on 19 rushes and one touchdown.
Somerset's offensive display of power didn't slow after it lost starting quarterback Adam Ledoux to an injury in the second quarter. Senior Alex Estrella finished out the game under center after he put up the first Blue Raiders' touchdown on a 3-yard touchdown run from the halfback position.
"We got away from some of the things we usually do because our quarterback [Ledoux] got a little dinged," Freitas said. "I thought Estrella did a nice job though considering he only took three snaps at quarterback this week. He did a nice job of running the offense."
The play-calling was made easy for Estrella, who often called DeMello and Spear's number.
DeMello made a living running in between the tackles of Somerset's Wishbone and Wing-T sets, oftentimes carrying several Spartan defenders on his back en route to first downs. DeMello's longest run came on a 46-yard carry in the second quarter, which kick started a drive which culminated in his 13-yard touchdown run to give Somerset a 22-7 halftime lead.
Spear became the Blue Raiders' weapon of choice in the second half, as the halfback tore off touchdown runs of 15, four and 49 yards in the second half to put the game out of reach.
Spear's first touchdown run of six yards in the second quarter reclaimed the lead for Somerset, 14-7.
"What can you say?" Freitas asked rhetorically about the collective performances of DeMello and Spear.
"It all starts up front though. Our offensive line did a terrific job moving the pile all day."