Boston High School:

Ed Wright Cup
February, 3, 2013
2/03/13
1:14
AM ET
By
Bruce Lerch
| ESPNBoston.com
BOSTON -- BC High senior captain Tom Besinger was quick to return the No. 18 jersey that he borrowed from teammate Aidan Foley after Saturday's Catholic Conference clash with rival Catholic Memorial. Foley just better hope that Besinger left a few goals in thats sweater for him.
Besinger scored the first and last goals of the game, the latter capping a stirring, three-goal, third period comeback that lifted the third-ranked Eagles to a 4-3 victory over the eighth-ranked Knights in the 13th Annual Ed Wright Memorial Hockey Classic at Walter Brown Arena.
"I gave it right back to him. I'll say I forgot my shirt at home," joked Besinger afterward.
[+] Enlarge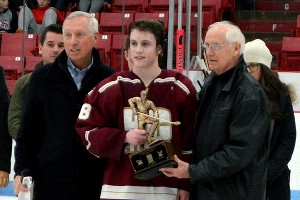 Scott Barboza/ESPNBoston.comOn the 50th anniversary of the BC High-Catholic Memorial rivalry, alumni Jack Parker (CM) and Jerry York (BC High) were on hand to award the game MVP award to Eagles center Tom Besinger.
Besinger was named Most Valuable Player of the game and was presented the trophy by Boston College coach Jerry York (BC High Class of 1963) and Boston University coach Jack Parker (Catholic Memorial Class of 1963). Both were first-line players in the initial game between the two programs in 1962, and they were joined by other members of those squads as well as past Wright Cup MVP winners to help commemorate the 50th anniversary of hockey between the two schools.
What the BC High (10-2-2, 5-1-2 Catholic Conference) captain did not leave at home were his leadership skills and playmaking abilities. Besinger scored the game's first goal at 3:29 of the second period, banging home a one-timer off a feed from Connor Noonan.
Despite giving up the early score, Catholic Memorial (8-6-2, 2-5-0) was in command of the game for the first two frames, piling up 34 shots and getting three straight goals from Liam Coughlin, Beau Starrett and Jack O'Hear to take a 3-1 lead into the third.
BC High head coach John Flaherty knew his team needed a spark and said it was Besinger who provided it, first in the locker room between periods, and then out on the ice in the third.
"Tommy Besinger is a player, he's a competitor. He works hard and I think he took it personal that we were getting outworked the first two periods," Flaherty said. "He was the most vocal in the locker room after the first two periods so I knew he'd be ready for the third. He has the ability to take it to another level and he did that tonight. He raised his game to another level and he put a few away, which we needed. Leadership we needed, and he provided it."
The Eagles responded with their best period of the night and the comeback started when defenseman Sam Topham sniped a shot from the left wing circle at 7:54. Just under two minutes later, a bad CM giveaway at the Eagles blue line led to a breakaway for Patrick Kramer, who raced in alone and shifted to his backhand to tie the game at 3-3.
Then, with 3:42 remaining, Besinger got the game-winner after a strong forecheck resulted in him getting the puck down low and tucked in a wraparound bid.
"We came out real slow in the first and second," Besinger admitted. "We weren't doing what we normally do - chipping pucks low, getting behind their D and trying to get pucks to the net. Come the third period we just knew we had to get a lot of shots on net, keep them low for rebounds and we just had to put them home."
THE GREAT WALL OF CRONIN
With the excitement of the comeback, it can't be forgotten that Eagles goalie Peter Cronin not only gave his team a chance to get back in the game, but also helped the comeback stand up.
The Knights peppered the BC High net with and endless array of shots, 79 total according to CM coach Bill Hanson, with 43 of them getting to Cronin. Some of the senior captain's best work came in the third, when shortly after Kramer tied the game, Cronin (40 saves) stared down a point-blank slapper from Mike Stathopoulous on the left wing dot.
Not long after Besinger notched the go-ahead goal, Cronin stoned Coughlin on another point-blank blast, then turned aside shots on both a 2-on-1 bid as well as a 3-on-1.
"What cannot get lost in this whole thing was Peter Cronin in the third period," Flaherty stated emphatically. "He made save after save after save. I would argue that, they earned their bounces, but they got three very good bounces on those goals. Some goalies would get flustered, some goalies would want to hide in the net and Peter didn't. He attacked, he made the saves. In the third period alone he had three or four point blank shots. Liam Coughlin is probably one of the most dangerous kids in the state and Peter had a point blank stop on him a couple times."
Added Knights coach Bill Hanson, "We put 79 shots out there tonight, [43] on net. [Cronin] played out of his head. We had chances. We had a three-on-one, we had a two-on-one but we just didn't capitalize."
GROWING PAINS CONTINUE
Normally, the Catholic Memorial roster is full of experienced players, bit this group yields just six seniors among its numbers and a number of freshmen are contributing, notably goalie Brandon Collett (23 saves), who has been terrific throughout his rookie season.
Hanson has watched his young team go through several stages and while they remain two points of shy of returning to the postseason after a two-year hiatus with four games left (against Xaverian, Braintree, Central Catholic and Fairfield Prep) he hopes that if his team does qualify, they will have developed into a group that gives others reason to shudder.
"We've had the breakdowns and that first goal was a breakdown," Hanson admitted. "But that's what happens with young teams and we just haven't been able to overcome that. As I said to them, I put the season into three five-game increments. The first five games, we're averaging over five goals a game. Games six through ten, over four. And from 11 through 15 the other other night, we have eight goals and gave up 16. So we have to win by shutouts and we're 0-3-2."
"Tonight we scored enough against a real good goalie to win," Hanson continued. "We had the lead, we're a good third period team but again, they got some fortunate plays. I don't know what their coaches will say but if I was on the other side of the ledger I'd say we escaped with our lives out there tonight."
He added, "I want to make the tournament and when the seedings come out, I don't care where we are. I want everybody to say, 'The one team we don't want to play is Catholic Memorial.'"
January, 25, 2013
1/25/13
2:57
PM ET
On Saturday, Feb. 2, BC High and Catholic Memorial will engage in their yearly Ed Wright Cup game at Boston University's Walter Brown Arena. The archrivals will have an added incentive for bragging rights this season, with two of the programs' most famous alums on hand. College hockey's all-time winningest coach Jerry York (BC High) and legendary BU bench boss Jack Parker (CM) will present the game's Most Valuable Player Award, celebrating the 50th year of the schools' hockey rivalry.
Here's more background info and historical perspective from Wright Cup committee member John Glynn:
Over the past 13 years, the Ed Wright Memorial Committee has presented an annual MVP Award in memory of Edward M. Wright, M.D. This Award memorializes the accomplishments of Ed Wright, a 1965 graduate of Catholic Memorial. It was also established to appreciate and recognize one of the best and oldest high school hockey rivalries in the country between B.C. High and Catholic Memorial. This year's event is special because not only will there be the presentation of the MVP Award, but the co-presenters of the Award will be legendary coaches Jerry York (Boston College) and Jack Parker (Boston University).

This year, in addition to the MVP Award being presented, the Committee is very excited to commemorate the 50th year that these two schools have faced off, the first time being Dec. 31, 1962 at McHugh Forum. Looking through the attached documentation, you will see a rather unique history. One of the most interesting facts pertains to 2 legendary college hockey coaches, Jack Parker at Boston University and Jerry York at Boston College. Both Parker (CM '63) and York (BCH '63) faced off against each other in the very first shift of the first game; Coach Parker was the first line center for CM; Jerry York was the first line left wing for B.C. High. CM had a good night, won the game 7-3; Parker had 2 goals out of the 7 for CM; York had 2 goals out of the 3 for B.C. High. That was the first night that these 2 legends went through the traditional handshake line at the end of the game; just a preview for these two over the next 50 years.

Initially, the game was not a league game; in the early years, CM was in the old South Shore League and B.C. High was a member of the Boston City League. There was a major hockey realignment in the early 1970's which resulted in the strong Catholic Conference emerging, including both B.C. High and CM. They played each other twice in league play and many more times at State Tournaments.

During the past 50 years, the intense rivalry, strong competition, excellent coaching produced many great players and coaches; it also produced high school students who participated as best as they could at the varsity high school hockey level who went on to be very successful adults, both personally and professionally. The tradition also included many sets of brothers who played at various times for these programs.

The Committee is very excited that both Jerry York and Jack Parker will present the 13th Edward M. Wright Memorial Award to the game's Most Valuable Player. The Committee will also be introducing and/or recognizing the past 12 winners of the Edward M. Wright Memorial Award since 2001. In addition to Coaches Parker and York, 2 other original players, as representatives of each team who faced off at McHugh Forum on December 31, 1962, will be part of the post-game ceremony. The Committee expects a strong turnout to see a great hockey game, honor the tradition, and the individual Edward M. Wright, M.D. An attached summary of last year's program about Ed's background will give you an indication as to why Ed's unfortunate passing on February 9, 2000 resulted in this Award in his name.
February, 4, 2012
2/04/12
9:53
PM ET


BOSTON –- It was a kind of glass-half-full tie for No. 11 Catholic Memorial.

Akin to last season's stretch run, the Knights have the quandary of needing points to qualify for the postseason tournament while in the thick of their Catholic Conference schedule – never an easy task.

The Knights were about 49 seconds away from taking two points from No. 5 BC High during their Ed Wright Cup game at Walter Brown Arena on Saturday. While CM settled for one in a 4-4 tie with the Eagles, the Knights came away with more plusses than minuses.

"The good news is in our last two games, we've scored nine goals," an upbeat Knights head coach Bill Hanson said.

Still, the Knights (6-6-1, 2-3-1 Catholic) were in prime position for the victory, only to watch the Eagles (8-3-3, 2-2-3) to tie it in the final minute.

CM forward Aaron Marcel looked as thought he'd found the game-winning goal with 1:51 to play, breaking a 3-3 tie. However, with 49.3 seconds remaining, BC High senior captain Matt Sullivan cleaned up a rebound to knot the score again.

"We were just trying to keep the puck down low, and I think Steve DeForge took the puck off the half wall," said Sullivan, who earned game MVP honors with two points. "He got shot off high on the goalie's shoulder and I was able to get the rebound."

The Knights held the lead on three occasions in the course of the back-and-forth affair.

Jack O'Hear had CM to a 1-0 in the first; Tom Besinger countered for BC High later in the first. Then, eighth-grader Kevin Hock popped in his third of the season for a 2-1 lead in the second.

The Eagles claimed their first lead of the game in the third with Michael Brooks banking in a one-timer in front off of Ryan McDonough's centering pass, after a goal by DeForge had tied it.

John Malewicz tied the score, 3-3, with nine minutes remaining.

"All in all, it was a pretty typical CM, BC High game," BC High head coach John Flaherty summed it up. "Records go out the window."

HISTORICAL SIGNIFICANCE
Hanson, with a quick wit and ability to turn phases with the best of them, was in rare form following the contest.

When fielding a reporter's question about CM's ability to handle opposing team's forechecks in recent weeks, the Knights bench boss pulled out a Korean War reference.

"We're playing a lot better in the neutral zone right now, which is allowing us to get pucks deep," Hanson said. "We're not having opponents coming at us like the [Chinese] Red Army over the Yalu River."

Aside from the colorful description, what was at the heart of Hanson's message was that he was pleased overall with team's ability to make easy transitions out of the defensive zone, coming with speed through the neutral zone. It has been a sore spot in CM's recent efforts, but Saturday marked a vast improvement for the Knights' blue-liners.

"We can play with the confidence that we can come back when we're down," Hanson said.

A MOMENT OF CONCERN
Scary sight in the second period when BC High sophomore forward Chris LaLiberte left the game.

LaLiberte was skating through the neutral zone, near the penalty boxes, when he was sandwiched between the checks of two CM skaters. After laying motionless for a couple of tense seconds, LaLiberte eventually skated off on his own power.

He even tried to swing back toward the Eagles' bench, only to be sent off to the room for the afternoon by Flaherty.

"You just can't take any chances with head injuries," Flaherty added.

LaLiberte's play drew Flaherty's praise, despite giving himself up in the process.

"He's played with one hand, he's played on one leg," he said of the winger. "That's the type of kid he is. … He sacrificed himself to make that play. We went on a 2-on-1 because of what he did. That's what he does, he plays hard every shift."