Boston High School:

Eileen Donahue
October, 8, 2013
10/08/13
5:56
PM ET
The National High School Coaches Association announced its annual national high school Coach of the Year awards across 20 boys' and girls' sport and legendary Watertown field hockey head coach Eileen Donahue has been named as its Field Hockey Coach of the Year.
The Red Raiders, who currently are on an all-time, state- best 102-game unbeaten streak (99-0-3), have won 13 MIAA state titles under Donahue's guidance.
Here's more from the press release:
"Donahue ended the 2012 season by guiding Watertown to its 13th Massachusetts state field hockey championship, which was also the school's 92nd straight game without a loss; going 90-0-2 during the streak. The win streak is tied for the fourth longest all-time in America. In her 27th year as head coach of the program, Watertown finished a perfect 23-0 in 2012 while wining the MIAA Division 2 title. Donahue's lifetime record is 528-30-45."
November, 17, 2012
11/17/12
1:20
PM ET
By
Brendan Hall
| ESPNBoston.com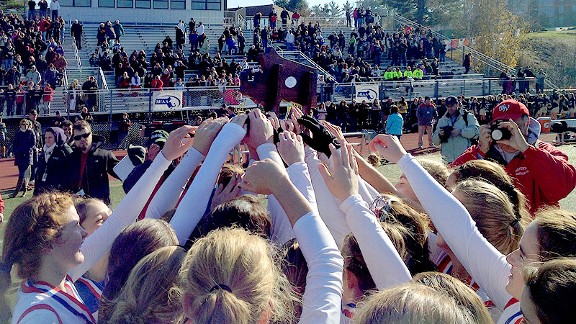 Brendan Hall/ESPNBoston.com Watertown captured its fourth straight Division 2 field hockey state championship, and 13th overall since 1986, with a 1-0 win over Oakmont.
WORCESTER, Mass. -– Lauren Sutherland leaves Watertown High having never lost a game in her storied four-year field hockey career.
What's it like to lose? She couldn't tell you from first-hand experience.
A tie?
"It sucks, it really sucks," the Holy Cross-bound senior forward laughed.
This year has been a perfect slate, however. Sutherland assisted on a goal 10 minutes into the Raiders' contest with Oakmont, then held off a series of rallies late in each half as they held off the Spartans, 1-0, at Worcester State University's Coughlin Field, to capture the program's fourth straight MIAA Division 2 field hockey state championship, and 13th overall dating back to 1986.
Watertown ended its season a perfect 23-0-0, and have gone 93-0-2 since the beginning of the 2009 season. Oakmont, its foil in three of these last four state championship games, ended the season 18-1-3. The Spartans have lost just two games the last two years, both to the Raiders in the state final.
"It's crazy, I feel like I'm on cloud nine, I couldn't believe it," Sutherland says of her four-year run with the Raiders. "At the beginning of the season, we used one word, and that was overwhelm, because we didn't know what we were getting into with so many missing players from last year.
"But we pulled through and exploited all our strengths. To get all the way here is unreal."
Overwhelm is the operative word here, because Sutherland inundated the Spartan defense over the first 15 minutes, outmaneuvering multiple players at a time with some backhand-to-forehand surgery and creating penalty corner opportunities.
The Raiders took the 1-0 lead just 11 minutes into the contest off a penalty corner, set up by Sutherland. Northeastern commit Alyssa Carlson pushed the ball to the top of the circle from the left of the cage, where Sutherland wound up and fired away. The shot was off, pulling to the right, but sophomore Emily Loprete was there at the near post for the redirect.
"She got a smash in," said Eileen Donahue, head coach for all 13 of Watertown's state championship teams. "And Emily is so good around that net. It was nice that we were able to hold that off."
Oakmont tightened up defensively, and swung momentum late in the second half as they began to build plays from the back. Rachel Testa had the Spartans' best chance of the day stopped at the doorstep by goalie Maddie Rocklin; the junior crashed to the weakside post on a free position shot, as the one-timer pass came across the circle, but Rocklin was able to recover and lay out in time with a dive.
The first half ended with two Oakmont penalty corners, but shots by Morgan Caisse, then Kristin Aveni, were turned away.
Watertown dodged a bullet with 10 minutes to go in the game, with Rocklin trying to fall back and recover after coming off her line, but the shot rolled wide right through a scrum. The Spartans then picked up two yellow cards less than a minute apart, playing most of the last 10 minutes down two players.
"This team held their own, and we played field hockey out there," Donahue said. "We played with speed, we played with intensity out there. I was very proud of the way we held our own against a very aggressive type of team."
Bottled up:
The Spartans adjusted to Sutherland's aggression as the first half wore on, not only marking her, but sending an extra defender to trap on the outside and cut off passing lanes. Sutherland typically excels at gravitating to space, but this is a new position for her, having played midfield last year. That, in turn, forced a counter from the star forward.
"We knew that a lot of times they were pressuring us on the outside," Sutherland said. "So I was cutting middle a lot, and trying to get away from my girl. It was happening a lot, where we could trap them to the outside, and then slip it middle really quickly."
And after getting contained for the last chunk of the first half, Sutherland found some rhythm again in the opening minutes of the second half. In one sequence, she played a through pass long in transition, and sprinted for about 30 yards with just a single defender trailing, pulled the ball around a stopper, but was unable to corral it in sharply in front of net.
A few moments later, at the 20-minute mark, Sutherland again fired away from dead center on a penalty corner, only to be turned away by a kick save from Kayla Costa.
With a young and constantly-fluctuating lineup this year, Donahue was glad the Raiders were able to make the necessary in-game adjustments today.
"We were practicing until 7:30 last night," she said. "And that's pretty tough, because we had to leave [Watertown] at 7:30 this morning. So, it just shows you what they're willing to do to do whatever it takes here."
Reeling it in:
Speaking about Sutherland's assist in the first half, Donahue mentioned about the senior getting "too excited" with her first few attempted shots of the last several games, in turn popping it up or misfiring. Donahue has been working with Sutherland the last few weeks on dialing things back a little bit for a more even keel, and the results were evident this morning.
"A lot of times, when I get excited I pick my head up and my shots kid of pop up," Sutherland said. "We've done a lot of practicing on corners, just shooting into the circle where I have to keep my head down and shoulder down. I've worked a lot on it, so it worked today."
Was it a matter of grip on the stick, too?
"Yeah, it's a bunch of different things," she said. "I kind of freak out before I get the ball, and that's a huge reason why."
November, 16, 2011
11/16/11
12:25
AM ET
By
Matt Noonan
| ESPNBoston.com


WESTWOOD, Mass. -- As the helm of 11 state championship teams with Watertown field hockey, Eileen Donahue has seen her fair share of talented players. While she couldn't pick one of the others, senior forward Erika Kelly is among the very best.

Kelly again proved why, setting the tone early as she registered three first half goals, which helped the Red Raiders beat Canton, 3-2, in the Division 2 state semifinals.

"We all had great communication, and we just came ready to play, and I think that's what really helped us," Kelly said.

"Erika has had a wonderful career at Watertown High [School]. The girls fed her that ball beautifully too," Watertown head coach Eileen Donahue said.

Kelly posted her first goal literally two minutes after the opening face-off, and completed her hat trick during the final five minutes, as she scored on a breakaway and penalty shot, which gave the Red Raiders (21-0-1) a commanding lead prior to Canton's first strike, which came off the stick of junior Meaghan McKenna before halftime.



The Bulldogs (20-1-1) then added one more goal in the second half when senior Haley Gaughan scored the team's final goal with roughly six minutes remaining.

"In the halftime, we talked about that we had gone away from our game, we were sitting back and letting them beat us to [the] ball, we weren't going to receive some of the nice passes we had, so we really just talked about getting back into our game, and settling things down," said Canton head coach Fior Griggin, whose team was ousted by Watertown for the third straight season. "In the second half, we did that. We had more passing, we challenged them more, we didn't allow them to receive without any pressure, and I think that made the difference, but we just ran out of time."

"When they scored that second goal, the group actually was almost speechless there," Donahue said. "They were actually angry, and then they composed themselves to we've got to play our game, and we can't give up because Canton clearly had the momentum."

Watertown's defense fended off Canton's remaining scoring chances, earning them a spot in Saturday's state title match against Oakmont and a chance to earn a third-straight state title.


November, 20, 2010
11/20/10
4:23
PM ET
By
Brendan Hall
| ESPNBoston.com



WORCESTER, Mass. -- Rachel Dube made one last go of it, and ended up giving the Watertown Raiders quite the scare.

Out of a Raiders penalty corner, the Auburn senior snatched the ball outside the circle and led a charge all the way to the other end of the field, forcing a Raiders touch penalty with no time left. Field hockey rules state that a game cannot end on a penalty, giving the Rockets, down 1-0, one last corner from the left side.

But the Raiders defense held up, thwarting a Gina Lirange shot and rebound at the post to hold on for a 1-0 win that clinched a perfect 23-0-0 season and a second straight Division 2 state title for the Raiders. This also marks their fourth title in the last 10 years, and 11th in school history.

"That was very intense, very intense on our part," head coach Eileen Donahue said of the final seconds. "[We wanted to] stop the ball and clear it out. I mean it was neat, I was watching my kids at the 50 (yard line) killing themselves to get there and help out. This team's been all about everyone on the offense helping everyone on the defense, so it wasn't just certain people. It's been about everyone, and I think it paid off today."

Said junior Erika Kelly, who scored the game-winner with 12 minutes left, "It was...there were tons, like the crowd is into it, everyone's up, it was just so intense. I just knew I had to get the ball out. Once it got out, game's over...we're usually good on the corners, so it wasn't a worry for us, but there was still a good chance they could have got it. We played it out, and it came through."

Indeed, there were few weaknesses on this squad, which flexed its defensive muscle at times as the Rockets (19-2-2) made flurries of offensive chances in spurts. And for a while, this one looked like it might be coming down to a lucky break in overtime, or even penalty strokes.

But the Raiders made a rare fast break with 12 minutes to go in the contest, with Bianca Jones feeding Lauren Giordano with an entry pass from 40 yards out on the left wing. That drew the Auburn goalkeeper off her line, and with Erika Kelly trailing from the right, Giordano tipped the ball just out of the outstretched reach of the goalie, and Kelly easily tipped it home.

"Wasn't that neat?" Donahue laughed. "Lauren clearly saw Erika wide open, and it was good timing."

Pointing to the Auburn squad leaving the field behind here, Donahue continued, "There it is. It was an element of team play that was awesome, and a nice finish as well."

Of course, the chemistry between Jones and Giordano is no secret. The two connected for a goal, with the roles reversed, in the Raiders' Eastern Mass final win over Canton earlier this week.

"Absolutely, absolutely. We've been working alot on that," Donahue said. "Because as you know, we don't have turf at our field, so we have been practicing alot in Waltham and Woburn, which I'm very thankful for. So for us to be out here and play these teams on turf, we've had to adjust to alot of things."

Kelly joked in the Canton win that her and Giordano were like magnets. Certainly nothing will refute that today.

"Whenever we see each other open, we just give each other the ball. It's just a given," Kelly said matter-of-factly, with a laugh.
November, 17, 2010
11/17/10
2:02
AM ET
NORTH ANDOVER, Mass. -- Through the grueling pace of a tense 60-minute game and more than halfway through the second overtime period, legs were growing weary during Tuesday's Division I state field hockey semifinal between South sectional champion Walpole and North champion Andover, played at North Andover High.

Enter sophomore Meagan Keefe.

She'd only played a couple of minutes, spelling the starters and providing a boost of energy to the front line of the Golden Warriors' attack. Then, eight minutes and 47 seconds into the second overtime period, Keefe tipped home Laura Dimitruk's blast from the top of the penalty area, giving Andover a 2-1 victory and a chance to play for the state title.

"You're always trying to be ready, staying in the game," Keefe said. "Then, when coach tells you to go in, you'd better be ready."

Keefe took full advantage of her opportunity after both teams had seen stellar opportunities go by the wayside in the first overtime.

Walpole (22-1-0) out shot Andover, 4-3, in the first overtime, but Golden Warriors goaltender Dina Hagigeorges was up to task. No save was finer than the senior's effort to stack the pads on a breakaway attempt by vaunted Porkers striker Caroline Malone.

"At the break we had just had previously, one of my coaches told me that if anyone comes on a breakaway, you have to be aggressive," Hagigeorges said. "I was thinking back on that and what I'd been taught before. When you approach breakaways, you can't wait for the ball to come to you, so that's what I did."

Stopping Malone and the talented Walpole offense had been a priority for Andover (23-0-0) heading into the game.

"I think what we tried after watching [Malone] last week and going over some of the films was just to take the pass away from her and try to avoid them getting the ball to her," Golden Warriors head coach Maureen Noone said. "If she does get the ball down low and you make a nice block tackle, then most of the time it works. I think the kids played supportive. If it got by one, then somebody else was there to pick up."

Andover got off to a quick start as Jaclyn Torres buried and nice set up from Anne Farnham a little more than five minutes into the contest.

The Porkers answered midway through the first half on Hannah Feeley's goal, assisted by Meghan Murphy off of a penalty corner, but were unable to find the back of the net again.

Walpole has now bowed out in the state semifinal round in each of the last four seasons, after winning the Division I crown in 2006.

Andover will play Central champion Algonquin -- which beat South Hadley, 2-1, on Tuesday -- for the state title at Worcester State College, Saturday at 10 a.m.

WATERTOWN HOLDS OFF CANTON
Bitten twice shy, Canton had experienced the same fate just a year before.

For the second straight season the Bulldogs fell, 1-0, to Watertown in the Division II state semifinal, the early game on the slate at North Andover on Tuesday. In 2009, the Red Raiders slipped past Canton by the same score en route to their 10th state field hockey championship.

"I think to start the girls were maybe a little nervous, they were a little too excited," Bulldogs head coach Fior Griggin said. "Once we settled in, we had a lot of breaks. We had more shots than they did. We had more corners than they did. I thought we had more possession time than they did."

Canton (20-1-1) carried play early, but Red Raiders goaltender Kayla Costa kicked out chance after chance to keep her team in it during the first half.

"I thought our team should have been more intense, matching them," Watertown head coach Eileen Donahue said. "I thought we were lucky to hold against them."

The Red Raiders emerged from the break a different team and immediately went on the offensive. Erika Kelly found Lauren Giardano for the game's lone marker 1:12 into the second half.

Kelly likened her chemistry with Giradano to the attraction of magnets — they simply know how to find each other.

"I saw her running down the right side, so I just smashed it across field and that was it."

Watertown had an excellent chance to strike again when Kelly squared off with Bulldogs goaltender Sarah Healey on a penalty stroke midway through the second stanza. Healy robbed Kelly with a blocker save on the shot that was ticketed for the nearside post.

"That was sick," Griggin said of Healey's save.

Canton rode the momentum their keeper provided them, pushing the Red Raiders to the end. The Bulldogs had seven penalty corner chances in the final 12 minutes of play, but were unable to connect.

Watertown will face Central champion Auburn (who beat Mohawk Trail, 2-1 in overtime) at Worcester State College, Saturday at noon with the chance at state title No. 11 on the line.