Boston High School:

Eleana Cardarelli
March, 5, 2014
Mar 5
12:07
AM ET
By
Phil Garceau
| ESPNBoston.com


STONEHAM, Mass. – Each Colonial player had to dig deep to find their motivation if they wanted any chance of avoiding an upset.

For the hero of the Acton-Boxborough squad, Eleana Cardarelli, it was the thought that it could be the last competitive ice hockey game of her life.

The Colonials scored the last three goals in their Division 1 quarterfinal match with Barnstable, the last coming 1:07 into the overtime period capping off a wild, come-from-behind, 5-4 victory over upset-minded Barnstable.

"I know when I was in front of the net, the puck kind of popped out and I just hit it," said Cardarelli of her game-winning goal. "My motivation was, I'm playing field hockey in college, so I will never play competitive ice hockey in my entire life again. So that was my motivation but that whole overtime was 100 percent the team."

Late in the second period, the Red Raiders led 4-2 and had no signs of slowing down but the Colonial turnaround can be traced back to one specific moment. An early timeout from Acton-Boxborough head coach Brian Fontas.

With 3:26 left in the second period and the Colonials with 53 second of 5-on-3 power play coming up, Fontas knew he couldn't squander the opportunity for his team to get back in the game.

Thirty-eight seconds after the timeout, Kaitlin Hoang netted her first of two goals, when she picked up the puck in the slot, turned and fired to the far post to bring A-B within one.

"We were a little tired and three of our top five power play people were out there and we just said this is it, we need to put the puck on the 5-on-3 and we did," said Fontas of his timeout.

When the Colonials took the ice for the third period, the team was resurrected. They outshot the Red Raiders (thanks in part to two power plays), 9-4, in the final stanza. Despite the dominance in shots and possession, Barnstable goalie Olivia Sollows stood on her head and kept the game tied.

But 9:17 into the third period, Hoang struck for her second goal of the game and was mobbed by her teammates immediately after the goal.

Once the game was tied, the wind that was in the sails of the Red Raiders was gone and instead it was A-B that controlled the tempo.

After an emotional frenzy to end regulation, it took the Colonials just 1:07 to stamp their ticket to the Division 1 semifinals.

"In the tournament you can't take shifts off, can't take periods off because every team wants to win," said Fontas. "It means absolutely nothing what our regular season record is."

"When we entered this tournament, everybody is 0-0. We want to play in the Garden but need to play better than that."

Upset on their mind: Acton-Boxborough knows that they escaped by the skin of their teeth.

"I just told the Barnstable coach you deserved to win the game and they did," Fontas said.

It won't make the loss any easier to swallow if you are a Red Raider on Wednesday morning, but the gave A-B everything they had.

The Red Raiders shot out of the gate, led by junior Lindsey Phelan, who had one of the best games of her season, setting up Callie Rogorzenski on a short-handed breakaway in the first period and scoring two more goals in the second period.

The backbreakers for Barnstable, however, were a goal in the final 10 seconds of the first period and a 5-on-3 power play late in the second period.

With 10 seconds to go in the first, Annie Messuri took a shot from the right point that deflected off a Barnstable stick down low and over the pad of Sollows.

Barnstable-Acton-Boxborough III: For the second consecutive year, the Colonials have eliminated the Red Raiders in overtime in the postseason. Last season, it was a 3-2 loss in the preliminary round.

When the two teams took the ice on Tuesday night, there were a combined six seniors who suited up meaning that the cores of both teams will be coming back next season, meaning that we could see this postseason matchup for a third time, and possible it will be over a state title.
February, 21, 2013
2/21/13
11:48
PM ET
By
Mark Goodman
| ESPNBoston.com
HINGHAM, Mass. -- The Woburn girls' hockey team is a team on a mission.

A five-point night from junior center Emily Lissner helped the No. 1 Tanners complete their first undefeated regular season since 2003-04, as Woburn defeated No. 12 Acton-Boxborough, 5-3, Thursday in the second night of The 8 Showcase at Pilgrim Arena.

Colonial freshman Megan Barrett scored a pair of third-period goals – the second coming with 2:54 left in the game – to turn a comfortable 4-1 Woburn lead into a 4-3 nail-biter. The Tanners held on in the closing minutes though and put the game away on an empty-net goal from junior Ashley Moran with just a second left on the clock. Lissner set up the play by breaking up a rush from A-B junior Eleana Cardarelli at the Tanner blue line and finding Moran, who backhanded the puck from neutral ice into the empty net.

It was Moran's second goal of the game, as she had scored at 5:49 of the third off a face-off in the A-B zone that Lissner worked toward the net. Moran scored two goals in both of the Tanners' games in this competition.

The No. 1 star Thursday night, however, was Lissner, who scored all three of her goals in the first 18 minutes of the game to give head coach Bob MacCurtain's Tanners (17-0-3) an insurmountable lead.

"Finishing, I wouldn't necessarily say that's her greatest strength, but she did a great job of it today," MacCurtain said. "She's gotten better and better at it this year."

Lissner and her linemates set the tone early with a terrific opening shift that resulted in a goal just 43 seconds into the game, as senior Kayla Smith set up Lissner in the slot from behind the net for a 1-0 lead.

"We always try and get a quick start," Lissner said. "We've learned to get the quick goal but also stay in the game and not get too far ahead of ourselves."

Lissner scored her second with 12 seconds left in the period, establishing position in front and tipping home a shot from the point from sister Erica.

Woburn would have led by even more at the first intermission but for the efforts of A-B freshman goalie Cali Loblundo, who denied Smith on two golden opportunities in front.

Despite it being even on the scoreboard, Woburn dominated the second period to the tune of a 15-5 shot advantage. Lissner completed her hat trick at 2:56 of the period with the Tanners on the power play, taking a pass across the slot from Smith and finishing past Loblundo.

The Colonial goalie again made some fine saves to keep her team in it, as A-B didn't get its first shot of the period until there was 5:01 left in the frame. But sophomore Alex Loblundo put the team on the board with 59 seconds remaining, stuffing home a rebound off a shot by freshman Kaitlin Hoang.

Woburn's group of defensemen – led by senior Cassandra Connolly and featuring senior Haley Rafferty, junior Gabby Mourousas, and freshmen Morgan Bishop and Madison Cole – helped limit A-B (13-6-2) to just nine shots through the first two periods.

"It's been a little bit of a work in progress over the course of the season, but they're all playing really well right now," MacCurtain said.

After beating Arlington Catholic, 4-1, in the Showcase's first day of action Tuesday, Woburn has likely established itself as the team to beat in the MIAA Division 1 state tournament that kicks off next week.

ARLINGTON 3, HINGHAM 3
A goal by Arlington senior Katie Cummings with 4:08 to play capped a wild third period that featured four goals and several good saves, as No. 18 Arlington and No. 6 Hingham played to a 3-3 draw in Thursday night's final game.

The Harborwomen (13-6-3) had come back from a 2-0 second intermission deficit to take a 3-2 lead, with senior Jane Freda's second goal of the night at 5:49 of the third period putting Hingham ahead. That goal came in the midst of a four-minute major penalty against Arlington, during which Hingham senior Alexandria Gong scored at 4:08 to tie the game.

But the Spy Ponders (11-8-1) wouldn't give up, and Cummings was in position to put in a centering pass from senior defenseman Hannah Wright to earn Arlington a point. Junior goalie Katie Gilligan came up big for Arlington with four stops in the final 90 seconds, including a great double-save on Freda with 21 seconds to go.

"She's been flawless these two games," Arlington head coach Jeff Mead said. "That's a good confidence booster for her going into the tournament."

Arlington came into the week on the heels of a 4-0 loss to Reading, but a win over Acton-Boxborough followed by this tie will certainly give the club some momentum going into the state tournament.

"I think they want to prove a point and they want to prove that you might not want to face us in the first game of the playoffs," Mead said. "The kids battled hard. Win or lose, we were competitive all week."

Senior Carolyn Woodin gave Arlington a 1-0 lead at 6:56 of the first. Senior Shannon Hickey made it 2-0 with 4:58 left in the second after a terrific individual effort, beating two Hingham players in the offensive zone before putting the puck past Hingham junior goalie Taylor Walsh.

Freda got Hingham back in the game just 2:12 into the third, and Gong tied it off a pair of good passes from Freda and sophomore Hannah Falvey with the Harborwomen enjoying a 5-on-3 advantage.

Head coach Tom Findley's team finished with a 30-15 advantage in shots, but had to settle for the draw.

"That's our season in a nutshell," Findley said. "We get a lot of shots on net -- sometimes they go in, sometimes they don't ... I think the team played really well in the first two periods. They just didn't score."

ALL-STARS
Each team had two all-stars named for the tournament. Representing their programs from the second half of Thursday's festivities were: Smith and Connolly (Woburn); Barrett and Cali Loblundo (Acton-Boxborough); Woodin and Wright (Arlington); Gong and Freda (Hingham).
November, 17, 2012
11/17/12
5:36
PM ET
By
Corey J. Allen
| ESPNBoston.com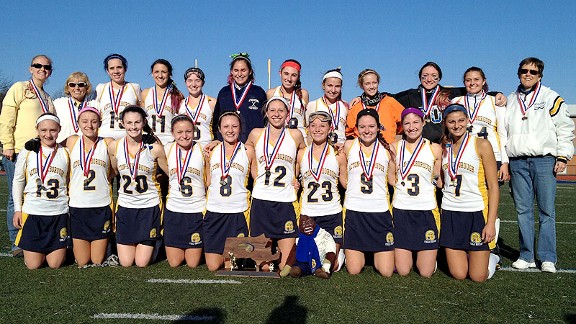 Brendan Hall/ESPNBoston.comActon-Boxborough captured its third Division 1 field hockey state title in six years, and fourth overall in the program.
WORCESTER, Mass. -- For the third time in six years, the Acton-Boxborough girls' field hockey team has brought home the Division 1 gold medals, today blanking previously-unbeaten Shrewsbury, 3-0, at Worcester State University's Coughlin Field.
Credit the defense for carrying the day. Shrewsbury only made four shots on goal, three of them coming in the second half.
"I can remember coming to the state championship game the last time they won, I was in the seventh grade, sitting in the stands and saying, 'Oh my God, I want to win a state finals game", junior captain Eleana Cardarelli said.
As she thought back to last year's girls' ice hockey state championship loss at TD Garden, she used that bitter taste as motivation to do everything in her power to avoid the feeling of making it to the big dance and watching your date leave with someone you don't even know.
"The first day of practice, during try-outs even, we were doing push-ups saying, 'States, States, States', like we really want to get there," she said. "Finally getting here and winning is so awesome."
With 5:11 on the cloack in the first half, Colleen Fowler opened up scoring for A-B (22-1-1) on a corner insert.
"That was a new corner we did, we just came up with it last practice," Fowler said. "Cara [Conery] inserted it into me and when I shot, I thought the goalie had it, but it got in. I play defense. I don't score many goals as a defender; I've only scored three or four all season. To have one of them be in the state championship, in my senior year, was amazing."
The next two scores started with Eleana Cardarelli and ended with Eleni Neyland knocking the ball in. The first score came with 2:59 left in the first half.
"I'm just the one who put it in; it was everybody, the whole team worked so hard to get it there," Neyland stated humbly. "Eleana had dribbled the ball into the corner and passed it. It came in a little high, so I knew I couldn't stop it, and I just got my stick on it, swung, then it went high and into the corner of the net."
The second came with 7:57 left in the game. Shrewsbury's Christa Dilorio received a yellow card less than a minute earlier for pushing (8:44) and A-B took advantage of the numbers and placed the game out of reach.
One of the more skilled players for A-B, Eleana providing two assists in today's game made no difference to her – she just wanted to win.
"As long as someone scored, I was happy. Me and my sister (Leah Cardarelli) work so well together, people know that, so they put three people on each of us," added Eleana. "When they focus on us, it frees up other people."
Gorilla Glue
: In the team championship photo, there is one small member of the team without a jersey on, but dons a blue and yellow "AB" scarf –- Apey the Gorilla.
"I don't kiss the gorilla," laughed Coach Mae Shoemaker. "They all kiss the gorilla for good luck."
"Apey [the Gorilla] is our mascot," exclaimed Conery while holding the gorilla. "He's been around for 50 years. He's really important to the team. He provides team spirit, gets everyone pumped of for home games and is really special to the team."
This year, the team spent much time around Apey, during practice and games, but also in between athletic events, supporting something bigger than a stick, a skirt and a trophy -– a tradition that the towns of Acton and Boxborough have shared for decades and will carry forward, developing young talent and maintaining a strong field hockey program and overall athletic operation. The championship team fielded only four seniors for this championship game.
"There are so many things that I did not do with my friends because I would spend a Friday night with the team," added Eleana Cardarelli. "We spent more time together this season than I have with any other team. We spent so much time bonding and it showed on the field. A lot of sacrifices that involved excluding normal routines to stay with the team."
"We have a 7th program and an 8th grade program," Shoemaker added regarding the team's long-term growth strategy." Our coaches at that level are so good, a lot of skill work, and the girls come ready to play."
November, 14, 2012
11/14/12
11:07
PM ET
By
Shawn Myrick
| ESPNBoston.com


READING, Mass. -- Strong defense on corners and one smart play lead to victory for Acton-Boxborough field hockey last night.

Catching the Walpole defense overly offensive on a corner, Colonial Eleana Cardarelli assisted sister Leah Cardarelli on a counter to give the A-B (21-1-1) a 1-0 victory over Walpole (22-1-0) as it advanced to the Division 1 state championship.

A-B plays Shrewsbury (19-2-1) at Worcester State on Saturday in its quest for a third championship in six seasons.

"(Eleana) said 'If you can get the corner out (of) there (they are) putting everybody in there and we are standing out here free," Acton-Boxborough head coach Mae Shoemaker said. "It was almost like we scripted it. We practice all the time clearing to the side and we make our goalies kick really hard."

The play started with a pass to Eleana Cardarelli at center-field who delayed her next hit to loose the one remaining defender. Lead Cardarelli caught the pass from her sister in motion and shot five yards from the right post to slip the winner under the keeper with fifteen minutes left.

"I was so no nervous because earlier in the season I missed the net on one of those," Leah Cardarelli said. "I saw the goalie dive and I just hit it under her."

"Usually, they leave one or two defenders back on the line and there was nobody on the line," added Eleana Cardarelli.

NO CUTTING CORNERS
Walpole attempted fourteen corners to A-B's six but struggle to shot through the Colonials' defenders.

The Porkers nearly scored when Brooke Matherson returned a corner pass back to fellow junior Caroline Feeley for a shot along post at 11:30 in the first half. Minutes later, Matherson held the ball and ricochet a shot off the near-post.

"They made them make mistakes in the circle, but we did not capitalize on it," Walpole head coach Marianne Murphy said. "We always have people up (because) that is our formation. Balls come off you stick and the fly gets out there that is the chance you take."

A-B junior Katie Neyland smothered the second pass off the last Walpole corner attempt in the final minutes to seal the victory.

HISTORY REPEATS
If history means anything yesterdays' the win was a big sign for A-B.

The Colonials defeated Walpole in the state semifinals in each of its last two state championship in 2007 and '09.

Walpole has been to eight of the last nine state semifinals, but has only won twice, during its state title runs in 2004 and '06.

"We did not capitalize today on corners," said Murphy. "That is basically it."