Boston High School:

Eli Morrissey
May, 15, 2013
5/15/13
1:54
AM ET
By
Ryan Kilian
| ESPNBoston.com
BYFIELD, Mass. – Governor's Academy lost their first game of the season on Saturday to a St. Sebastian's team who has been playing its best lacrosse in the second half of the season.

Gov's midfielder Tate Jozokos knew that they needed to come out strong on Tuesday against fellow top ISL opponent, Noble and Greenough.

"We were down coming off that big loss but with the one practice he had in between we knew that it was going to make us better in the long run," Jozokos said after the game.

In a defensively charged game, it was Governor's Academy (12-1, 11-1 in ISL) who would come out on top as they held Nobles (11-4, 9-3 in ISL) to a season-low four goals to earn a 6-4 victory and remain tied at the top of the ISL with Belmont Hill.

"This was a big game and an important game for both teams," Gov's head coach Peter Bidstrup said. "We knew we were facing an excellent team today."

Nobles would jump out to an early 1-0 lead as star middie Morgan Cheek scored in transition at the 7:29 mark in the first quarter.

Gov's would net two goals in the final three minutes of the first quarter on scores from Jozokos and Teddy Bettencourt to take a 2-1 lead into the second quarter.

With both teams struggling to execute possessions early it was the work of both team's defenses that kept each opposing offense at bay.

"We defended very well but they also defended very well," Bidstrup said. "Toward the end of the season these games can get a little defensive between these good teams."

Gov's middie Drew Pirie would give the home team some minor breathing room as he scored with 7:10 remaining in the second quarter on a dodge from the top. He would also add another two minutes later on a man-up strike assisted from attack Larsen Bidstrup.

Nobles middie P.J. Bell would score a crucial goal on a beautiful dodge, with 24 seconds remaining in the half, to cut the Gov's lead to 4-2 and give Nobles some much needed momentum headed into the half.

The third quarter would begin with a burst of rare offense as Gov's would get goals from middie Jesse Gwozdz and attack Ben Stafford and Nobles would get one back on a strike from middie Parker McKee.

Gov's goalie Eddie Gilman would do his best work in net in the second half and neither team would score in the final 15 minutes of the game as Gov's would hold on for the narrow win.

Despite the loss the Nobles defense, led by sophomore goalie Teddy Strzetelski (14 saves), stood tall all evening. Strzetelski made numerous big saves to help keep Nobles in the game throughout.

Gov's has three ISL games remaining on their schedule. They will take on Thayer, Brooks and Middlesex to conclude the season. Despite defeating Belmont Hill, 12-7, earlier in the season, Gov's shares the top spot with BH as both squads head into the final stretch run of their schedules.

D-Middie Dominance: Gov's controlled the possession edge in the game, winning 7-of-8 draws in the first half and 11-of-14 in the game.

Gov's long-stick middies Andy "Bug" Carper and Eli Morrissey were instrumental in both the midfield defense and the faceoff edge.

"We definitely focused on our defense today," Jozokos said. "On the faceoffs, we had our double poles going and wanted to put pressure on whoever was taking the faceoff for them. We were strong with the checks today."

Jozokos, Bettancourt, Gwozdz and the rest of the Gov's middies also did a great job of playing two-way midfield as they helped neutralize one of New England's top midfield units of juniors Cheek (1 Goal, 1 Assist), Bell (1G, 1A), and McKee (1G) throughout the game.

"We are really athletic in the midfield," Bidstrup said. "We are a group of guys who can play hard, tough defense and we did that today against a team that has a group of very good dodgers."
November, 2, 2012
11/02/12
2:58
AM ET
ACTON-BOXBOROUGH (6-2) AT LINCOLN-SUDBURY (7-1)
The Skinny: Although the Colonials enter this rivalry game after a letdown against Waltham last week, these teams always have a say in the determination of the Dual County League crown. The Warriors have worked toward reclaiming the division title with help from a talented cast of seniors who have two-way success with the football and the lacrosse teams, including Chris Giorgio, Henry Guild and John Sexton. A-B's wing-T attack is led by a pair of promising juniors in William Tejada (14 TDs) and Tom Saponaro.

Scott Barboza: Bill Maver has the building blocks for a strong group next year, but this senior group from L-S has been primed to make their run during the last two years. The seal the deal for the division, but it's a rivalry game, so throw the records out. L-S, 20-14.

Brendan Hall: The Warriors take the inside track to their third consecutive postseason berth, but because it's A-B they do it in knock-down, drag-out fashion. L-S, 17-10.

DIGHTON-REHOBOTH (6-1) AT WAREHAM (7-1)
The Skinny: Both teams sport a perfect South Coast Conference record entering Friday's tête-à-tête and their only loss came against a common non-league opponent in Somerset-Berkley. Since their opening day loss, the Falcons have run off six straight wins, including a 5-0 record in the SCC. D-R's ground attack is keyed by 6-foot-7 tackle Chuddy Nwachukwu, but the Falcons have also seen dividends in the passing game behind sophomore quarterback Nathan Kowalski. The Vikings, also undefeated in the SCC, have big-play ability with the electrifying Darien Fernandez in the backfield. Yet, Wareham has also brought the lumber on defense, surrendering just 26 points through five league games.

Barboza: In big SCC games, it's hard to pick against a Dave Driscoll-led team. D-R, 16-14.

Hall: As usual, our loyal correspondent Corey comes up with some innovative names, this one "The Fernandez Express". As long as Darien's legs keep churning, the Vikings will stay ahead. Wareham, 17-13.

STONEHAM (7-1) AT BURLINGTON (7-1)
The Skinny: The Red Devils can sew up the Middlesex League Freedom division title with a win over the upstart Spartans. Stoneham saw its undefeated record blemish last week in a 42-28 loss to Wakefield, but the Spartans are capable of throwing a monkey wrench into the race behind Aaron Louis and Darius McPherson. Meanwhile, Burlington's backfield tandem of Anthony Cruz and Marcus O'Diah has few equals in Eastern Mass.

Barboza: Cinderella's ball comes to a halt. Burlington, 33-24.

Hall: Stoneham appears to have a quality foundation for the long haul, but in the short term this Burlington rushing attack will be too much for the Spartans to handle. Burlington, 28-14.

GOVERNOR'S ACADEMY (6-0) AT MILTON ACADEMY (4-2)
The Skinny: The defending ISL champs put their undefeated record on the line in a road game. Gov's 40-6 win over Brooks last week kept its point-per-game average above 41 points a game as Tate Jozokos and Eli Morrissey continue their assault on opposing defenses. Mustangs junior running back Drew Jacobs continued his breakout season with four touchdowns last week in a throttling of Belmont Hill.

Barboza: Opposing teams better hope they have Jacoby Jones or Ellis Hobbs returning kicks for them because it's a 108 yards or bust with Justin Yoon kicking off. Still, Gov's offense takes over. Governor's, 31-24.

Hall: The Governators haven't lost a game since Jim O'Leary took over in 2011. How crazy is that? Governor's, 30-20.

WAYLAND (5-3) AT CONCORD-CARLISLE (4-4) (
The Skinny: Wayland looks for the inside track in the Dual County League's Small division, entering the game with one of the league's stingiest defenses (10.6 points allowed), and two versatile targets in senior wideout Mark Bonner and junior tailback Robert Williams. C-C, the defending league and Super Bowl champs, lost Tim Badgley in the preseason, but running backs Evan Boynton and Shayne McCloskey have picked up the slack.

Barboza: Yeah, I went with the Patriots winning a long time ago, in fact before we learned Badgley would be out for the year. It's political season, so consider me a swing voter here. Wayland, 14-7.

Hall: I have the feeling this game is going to be possession-based. In that case, give me the better defense. Wayland, 10-6.

LOWELL (6-2) AT ANDOVER (8-0)
(The Skinny: Lowell has been on an offensive tear the last four games, going 3-1 and averaging 43 points per game over that span. Cam Latta has spearheaded the surge, but can he outduel Andover's C.J. Scarpa? The 5-foot-8 senior hasn't thrown an interception since Oct. 6, meanwhile the Golden Warriors are averaging over 370 yards of offense a game.

Barboza: Calculators ready? Andover, 46-38.

Hall: Remember the 88-80, eight-overtime game between these two in 2010? Let's do the honorable thing here and move the venue to the Tsongas Center. Andover, 45-40.

NORTHBRIDGE (7-1) AT AUBURN (8-0) (
The Skinny: Auburn, one of the state's stingiest defenses (5.1 points per game), holds first place in the SWCL A division, and can put a vice grip on it with a win over the Rams. Offensively, the Rockets have rode one of the state's biggest lines to bull their way to over 2,000 yards rushing and over 2,700 yards of total offense, led by quarterback Drew Goodrich and Tyler Desjardins. But Northbridge quarterback Matt Phelan (1,344 passing yards, 11 TD; 673 rushing yards, 19 TD) will be one of the more slippery athletes the Rockets will have seen all season long. Can they contain him?

Barboza: Again, more than the score, I'm wondering what the line would be set at on these occurrences: how many times the Rockets venture to pass versus the Rams keeping it on the ground. Think it's a push, but … Auburn, 31-27.

Hall: Classic clash of philosophies here: Jeff Cormier's power running scheme versus Northbridge guru Ken LaChapelle and his pioneering run-and-shoot. Give me the team with the better line, in a physical battle. Auburn, 20-13.

BC HIGH (3-4) AT XAVERIAN (2-6) (
The Skinny: What would you have said if we told you back in August these two teams would be meeting in November with a combined 10 losses? But that's what we have here, as the two Catholic Conference foes will fight to stay alive in a conference that St. John's Prep is favored to take a hold of. If linebacker Luke Catarius is a go for BC High, that should provide an interesting matchup for Xaverian and its talented skill corps of Austin DeCarr, D.J. Pagliuca and Hunter Taute. The key matchup will be in the interior, where two close friends and Division 1 commits will square off – Xaverian defensive tackle Maurice Hurst (Michigan) versus BC High guard Jack McDonald (Virginia).

Barboza: Going with my preseason Catholic Conference pick in this one for whatever that's worth – though it's still probably worth more than Facebook stock. BC High, 21-17.

Hall: Give both teams credit here, they're still fighting hard. But at this point, the Eagles have a little bit more momentum. BC High, 21-10.

BARNSTABLE (7-0) AT BRIDGEWATER-RAYNHAM (5-3)
The Skinny: Once again, these teams engage in a winner-takes-all battle for the Old Colony League crown in this week's Game of the Week. Some elements to watch entering this one will be to see how the Red Raiders secondary is able to shake off a lackluster performance last week against Billerica. Similarly, B-R had its troubles with La Salle Academy and its spread attack a couple weeks back, so we'll see how the Trojans' secondary is able to deal with Barnstable quick and nimble wideouts. Let's not overlook the running backs in this one, however. Hayden Murphy figured prominently into last year's win by Barnstable in this game and Trojans sophomore sensation Brandon Gallagher (12 TDs) will be one to watch for years to come.

Barboza: Because it's what Dan Buron wants us to do anyway, and for the fact I think the Red Raiders repeat. Barnstable, 30-24.

Hall: Any time you have an NFL veteran coaching the secondary, you have to think things will shore up after a bad week. Barnstable, 35-28.
October, 6, 2012
10/06/12
10:50
PM ET
By
Shawn Myrick
| ESPNBoston.com
CAMBRIDGE, Mass. -- Jesse Gwozdz new perfectly when to hit the hole and when to wait in what was a multi-layered performance against host BB&N this afternoon.

Shadowing his trap blocker up the field, the junior opened his day by turning a simple dive play into an 80-yard touchdown scramble late in the first half. A drive later, Gwozdz was masterfully bobbing and weaving behind his punt blockers for a 66 yard score and a defining 29-12 halftime lead for the defending ISL champs

Doubling as both a big play producer and the defensive back tasked with covering 6-foot-5 Wake Forest-bound tight end Brendan O'Neil, Gwozdz totaled 173 yards and two touchdowns to drive Governor's (3-0) to the program's 12th consecutive victory with a 36-12 defeat of the Knights (1-2) at Nichols Field this afternoon.

"I stepped up the field real quick and no one was back there so I kept running," said Gwozdz.

"Might be one of the best high school games I have seen one kid play on both sides of the ball," added Governor's coach Jim O'Leary.

The Governors were aided by another strong performance from senior Elijah Morrissey who ran 21 times for 127 yards and a touchdown. The senior rushed for the Red Dogs' first score then broke a nine yard dive to set up the winning touchdown.

Down 12-7, Governor's senior quarterback Tate Jozokos found the outside edge on a bootleg sweep and scrambled nine yards for the
winner a 15-12 lead at 4:56 in the first.

"The defense has to take away certain things we do and as soon as they do that we go to the next option," said O'Leary. "We keep setting each other up."

Governor's scored 22 points in the final five minutes of the first half.

Early Prowess, Late Trouble: The Knight's looked to be in control early after forcing a pair of first-half turnover's to set up the first score then adding a touchdown to maintain there lead. However, 29 unanswered points and four second half turnovers stunted BB&N.

The Knights opened the scoring by turning a fumbled redzone pitch into a six-yard delayed pass through triple coverage from sophomore Cole O'Connor to O'Neil for a 6-0 advantage at 2:46 in the first quarter.

After allowing an 11-yard trap-play for six points by Morrissey, O'Connor worked a pair of quick passes to O'Neil and senior Willie Peoples, for seven and ten yards respectively, to set up another score.

A two-yard dive by O'Connor put the Knights ahead 12-6 early in the second half.

"We tried to find a couple weaknesses in their defense," said BB&N coach John Papas. "(Quick passes) are part of our game plan. We just fell apart the last four minutes of the first half.

BB&N failed on an onside kick attempt following the score.

Quest to Repeat: A one yard pass from Jozokos to sophomore Colin Smith with six minutes remaining added the final points in what was another undefeated run to start the season for second year coach O'Leary. The Governor's head man lead his program to a 9-0 record last year, grabbing both the ISL title and a NEPSAC Bowl championship.

"It is just repetition," said O'Leary. "You just have to keep going and get better and better at everything. We knew we were in for a fight and we came to play."

GOVERNOR'S 36, BB&N 12
GOV (3-0) 7- 22 - 0 - 7 --- 36
BBN (1-2) 6 - 6 - 0 - 0 --- 12

B – Brendan O'Neil 6 pass from Cole O'Connor (kick failed)
G – Eli Morrissey 11 run (Colin Smith kick)
B – O'Connor 2 run (pass failed)
G – Tate Jozokos 9 run (Jozokos run)
G – Jesse Gwozdz 80 run (Smith kick)
G – Jesse Gwozdz 66 punt return (Smith kick)
G – Smith 1 pass from Jozokos (Smith kick)
October, 4, 2012
10/04/12
1:44
AM ET
1. WHAT IS THE BIGGEST STATEMENT YOU GOT OUT OF BARNSTABLE'S UPSET OF EVERETT?

Scott Barboza, ESPN Boston High Schools Editor: Aside from the defense, which was phenomenal by all accounts, the manner in which the Red Raiders were able to pull off the upset was impressive, meaning that the offense was firing on all cylinders for most of the game. In other words, Barnstable can win ugly. When you hear about the offense and all the things the Red Raiders can do on offense, it's sometimes easy to overlook the fundamentals. They can do all the things that constitute a potentially successful playoff team in that they can run the ball when called upon, get the back stop when required and they don't turn the ball over. When you have one of the top quarterbacks in the state like Nick Peabody, that's all you need to win. And, if Hayden Murphy runs the ball as he can and the defense, led by Andrew Ellis, is on, Barnstable is difficult to beat, no matter the conditions.

Brendan Hall, ESPN Boston High Schools Editor: For me, more than anything, it was a throwback statement. At the end of the day, it doesn't matter how much Division 1-caliber talent you've stockpiled, how heavy your line is, or how many of your skill players run a 4.5. All that matters is who puts themselves in the best position to win -- period. Barnstable demonstrated that to a T on Friday night.

Of course, this Red Raiders team isn't an underdog. They came into the game at No. 3 in our statewide poll, and I think the general consensus was that this would be a one-score type of affair. Nick Peabody is in a quarterbacking class of his own through the first month of the season, Dylan Morris is beginning to enter Matt Costello territory in terms of production, and the Raiders' linebacking corps is one of the two or three best in the state.

Barnstable coach Chris Whidden dialed up a great defensive gameplan in the pouring rain, playing outside contain on the Crimson Tide's gifted receivers, and getting great push in the trenches with a deceivingly athletic front four that fired quickly off the ball. These guys were not as big, but they certainly were fast, and above all else they hit with a level of abandon replicated by very few teams in the state.

At the end of the day, it was a pleasant reminder that things haven't gotten soft in the game of football. At the end of the day, the overarching theme remains -- if you come out complacent, someone's going to knock you around.

Adam Kurkjian, ESPN Boston correspondent: Year after year, while Everett always seems to have its share of explosive skill players, the foundation of its success is consistent and dominant line play on both sides of the ball.

The biggest statement Barnstable made Friday night was that it can go toe-to-toe with Everett's front and get the better of the exchange. That is rare, and it speaks to the level of offseason commitment the Red Raiders have made the past few seasons. While Barnstable may have the reputation as a finesse team because of the amount of times it puts the ball in the air, it looks like the Red Raiders shattered that notion last week.

Bruce Lerch, ESPN Boston correspondent: Defense, defense, defense. Staring at Everett's offensive line with 300-pounders across the board is daunting for any opposition but the Raiders didn't seem intimidated at all. In fact, they set the tone and managed to stuff the Tide twice on fourth-down tries from the one-yard line.

All 11 starters, plus the others that rotate in made plays. Jason Frieh and the defensive line held their own Everett's blockers, linebackers Brian Hardy, Andrew Ellis, Terrence Mudie and Robbie Stuart made tackles all over the field. Safeties Ryan Litchman and Kevin Hardy were tremendous in support against the run and corners Tedaro France and Derek Estes won their matchups with Everett's speed merchants at the receiver positions.

John Botelho, Editor-in-Chief, South Shore Sports Journal: Nick Peabody and the offense have been well publicized -- and deservedly so -- all season. Going into the Everett game, they had scored an astounding 145 points in three games. But the biggest statement made while snapping Everett's 28-game win streak was that the Red Raiders' defense is just as good as their powerful offense. Division 1A should be real fun to watch come December.

Everett and Barnstable Round II is already a Super Bowl many people are excitedly calling for, but neither has an easy path to get there. Everett is likely headed for a first-round playoff game with Lincoln-Sudbury, and Barnstable has to worry about beating Bridgewater-Raynham during the regular season just to reach the playoffs.

2. NAME YOUR FIVE BEST WIDE RECEIVERS IN THE STATE

Barboza:
1. Brian Dunlap, Natick – Might not be No. 1 on any other list, but come his senior season, he's going to be right there on the top of all the volume stats list.

2. Jalen Felix, Everett – Seeing, in person, the catch he made during last year's BC High game at Memorial Stadium is something I'll likely never forget. It's the same feeling I had watching Randy Moss make impossible catches.

3. Jakarrie Washington, Everett – One of the best route runners around since those Asprilla and Costello kids were the go-to targets in Everett.

4. Dylan Morris, Barnstable – Hard to argue with Morris' production thus far this season with his eight touchdown catches.

5. Will Heikkinen, Andover – Spies tell me Xaverian had Heikkinen blanketed with double coverage throughout most of last week's game. That's the ultimate compliment paid to a wideout.

Hall:
1. Dylan Morris, Barnstable - You'll be hard-pressed to duplicate his five-catch, 207-yard performance in Week 2, and right now he's on track for 20 touchdown receptions and over 1,000 yards receiving. Bar none, best wideout in the state right now. And to think, some have mused he may be a better baseball player.

2. Jakarrie Washington, Everett - You could rotate this spot with Jalen Felix, who had an explosive performance against Springfield Central, but right now you've got to with Washington based on game-breaking ability. Against Leominster and St. John's Prep, he turned the game on its heels seemingly on a dime with one back-breaking catch or run.

3. Brian Dunlap, Natick - A versatile route-runner, he's got crunch-time knack (see his game-winning catch against Norwood with 10 seconds to go) and makes the most of his touches (17.25 yards per catch, 6 TD).

4. David Harrison, Weymouth - Has seven receiving touchdowns, and in the last two games running a pistol offense at quarterback, has thrown for six. He's just plain productive.

5. Sam Blake, East Longmeadow - Doesn't get a lot of touches in the Spartans' system, but in terms of athleticism I've heard some pretty crazy stories. In his last two games, he has 232 receiving yards and four touchdowns on just seven catches.

Kurkjian:
Tough to say for me because most of the games I have been to have featured mainly run-oriented teams.

That said, looking around the state, Lincoln Collins of BC High needs to be mentioned for his size and improved speed.

Jakarrie Washington of Everett may be the fastest receiver out there right now.

Speaking of guys that can motor, Andover's Cam Farnham has been pure lightning all season as well.

As far as pure production goes, there aren't many who do more on a week-to-week basis than Natick's Brian Dunlap.

If anyone can outdo Dunlap in that department, though, how about Shawsheen receiver Devonn Pratt? One of the top wrestlers in the state, Pratt has 11 touchdown receptions already, including five in a ridiculous, 15-catch, 268-yard performance against Cambridge two weeks ago.

Lerch:
1. Dylan Morris, Barnstable - Seems to have a tremendous mind meld going on with quarterback Nick Peabody. Has eight TD receptions on the season, including two clutch catches in the 13-7, double OT win over Everett.

2. Jalen Felix/Jakarrie Washington, Everett - I'm cheating a little by putting both in, but it's hard to argue against the fact that these speedsters are two of the biggest gamebreakers in Massachusetts.

3. Bryan Vieira, Thayer Academy - Eight receptions for 200 yards and a TD in the opener (along with an interception return for a score) and six more catches for 179 yards and three TDs in week two. The top receiver in the ISL.

4. Brian Dunlap, Natick - Just a sophomore, Dunlap continues to team up with QB Troy Flutie to put up big numbers week after week. I may be underrating him because of his age, but all signs point toward Dunlap someday taking over at the top of this list. Maybe sooner rather than later.

5. David Harrison/Tyler O'Brien, Weymouth - It's a cheat day for me in the roundtable as I'm going with a duo once again. The Wildcats receivers have combined to catch 13 TD passes and O'Brien seems to be Harrison's favored target when he switches under center as Weymouth's quarterback.

Botelho:
1. Dylan Morris, Barnstable: This is sort of a chicken and egg thing. Is Nick Peabody such a good quarterback because he has Morris to throw to, or is Morris the beneficiary of a standout QB. I think the answer is Peabody is a tremendous QB and Morris an elite receiver, and the results have indicated that so far.

2. Lincoln Collins, BC High: Collins might not have the gaudy stats some his peers do (he's caught just one TD this year) but he's a D-1 scholarship athlete going to Villanova for a reason. The Eagles have been the victims of bad luck and bad timing this season, dealing with some of the toughest teams in this state - and New Jersey - while figuring out how to replace injured stars like Brendan Craven and Luke Catarius.

3. Brian Dunlap, Natick - Like Morris, Dunlap has a premier QB throwing him the ball. He's pulled in 6 TD from Troy Flutie, and is one of the biggest reasons Natick is scoring more than 30 points per game.

4. Dondre James, Whitman-Hanson - James single-handedly changes game plans of opposing teams, often drawing more than one defender on passing plays. He's spread out defenses all season, allowing QB Tom Sapienza to throw 8 TD already. James' speed and athleticism are clear with one looks at the Panthers on offense, but what he contributes away from the ball might be even more impressive. James has sprung more than one ball carrier this year with a big block.

5. Rory Donovan, Cardinal Spellman - The Cardinals aren't matching their regular season success from the last two years, but Donovan is among the toughest receivers for defenses to match-up with. At 6-5 and with an impressive vertical, not many defenders can go up and get a jump ball against him. He's averaging a touchdown a game right now and could get better as Spellman's line matures this season.

3. WHO IS THE BEST QUARTERBACK FROM A SMALL SCHOOL?

Barboza: Right now, I'm looking at Hopkinton's Hank Rudden. The Hillers have been off and running in the Tri-Valley League, averaging more than 34 points per game through four weeks. Whether the Hillers can keep it going into the meat of their TVL schedule is another thing, but the 6-foot-1 senior is a dependable pocket presence.

Hall: Hard to argue with the production of Northbridge's Matt Phelan. Head coach Ken LaChapelle (who won his 300th career game last weekend) is famously inclined towards the pass -- and a passing pioneer for this state, really -- but through the first four games of the 2012 Phelan has been arguably better on his feet (41 carries, 448 yards, 12 TD) than through the air (42 of 50, 514 yards, 2 TD). LaChapelle has joked that he would like to once coach a game where he doesn't call a running play, but he tends to yield some freelancing to his quarterbacks when he feels they're up for it. And understand, for LaChapelle to loosen the reigns, you have to be a special player.

Kurkjian: Let's go into the Boston City South Division where Latin Academy junior Kyle Dance is putting together a fantastic season through four games.

To this point, Dance has had a hand in 13 touchdowns (nine passing, four rushing). You want to know how many touchdowns the Dragons have as a team? Fourteen. In other words, Dance is doing it all for this team, and it will be exciting to see how the rest of his season and career develops.

Lerch: Since taking over in week two, Shawsheen's Mike O'Hearn has produced eye-popping numbers and ranks fourth in the state with 11 touchdown passes, including a six-TD performance against Cambridge. With the 6-foot-3, 190-pound senior at the helm, the Rams have put up 98 points in their last two games.

Botelho: Assuming "small" school means any outside of Div 1, 1A, 2 or 2A, the best small school QB might be Dan Eckler at Stoughton. They're a run-first offense with tons of weapons, but he's been the point man for all of their success this year.

Hanover's Ryan Bennett and Middleborough's Troy Rossi both have big arms and ideal QB size and have been fun to watch early on.

Abington's Brandon Cawley has all of the tools to run the offense for the Green Wave. He's tall, has a cannon of an arm and can tuck it and run if need be. Andrew Benson also comes to mind in the South Shore League. After sliding over from RB to QB when the Vikings didn't have an obvious heir apparent to Tim O'Brien, Benson has handled the transition well. He's very athletic and gives EB a similar look on offense they had a year ago.

4. WHAT'S WRONG WITH THE CATHOLIC CONFERENCE?

Barboza: (Disclaimer: None of this argument has to do with St. John's Prep right now.) Honestly, I'm not trying to make excuses here, and this has happened a couple of times during the last couple seasons, but it's not as though the teams are playing easy schedules. On the other hand though, I think the rest of the state has caught up with the parochials a little bit. Some inside the Catholic Conference used to scoff at the idea of a Hockomock team (North Attleborough anybody?) hanging with one of those teams. Use this weekend's Xaverian vs. Duxbury matchup as another proof positive. I think the Hawks will find out that last year's win by the Dragons at the Hawk Bowl was no fluke. And, while most of the state still cannot match the numbers the Catholics have on their sidelines, there's plenty of talent to be had.

Hall: With St. John's Prep, nothing. With the rest of the conference (a combined 4-12 heading into this weekend's games), where do you start?

Expectations weren't high on Malden Catholic or Catholic Memorial coming into the season, but the way BC High and Xaverian (preseason Nos. 2 and 3, respectively) have stumbled out of the gates is concerning. Then again, they've endured brutal schedules, and few teams in Massachusetts would come out of September with better than their 1-3 records. Still, the way in which they've lost is not convincing, between BC High getting dominated from scrimmage by North Attleborough and Xaverian laying eggs against Brockton and Andover. Bottom line, BC High and Xaverian so far haven't lived up to the preseason hype.

Something tells me they'll turn it around. BC High will be getting All-State linebacker Luke Catarius (ankle) back this month, and quarterback Brendan Craven (knee) sometime soon, and you can't say enough how much that could change things quickly. Xaverian finally showed signs of life in the second half of the Andover upset, and Mike Brennan has been bringing steady production to what has been an otherwise stale offense.

How quickly does Xaverian turn it around? Jury's out, because the rest of the Hawks' 2012 schedule, in order, goes like this: Duxbury, Everett, Bridgewater-Raynham, St. John's (Shrewsbury), BC High, Catholic Memorial, St. John's Prep. Talk about skating uphill.

Kurkjian: Well, there's not much wrong with St. John's Prep right now, as they've looked outstanding in their three wins and only have one loss to Everett in a game many observers thought could have gone the other way with a few breaks.

As for the rest? BC High has been decimated by injuries, but the Eagles are starting to heal up and it would not be a total shock to see them make a run at the league title once everyone is back.

Xaverian does not have nearly the amount of team speed it usually does and has not looked physical at all on the lines.

Catholic Memorial has, as expected, struggled on offense, and you simply don't improve when graduation takes away as much talent as it did for the Knights.

Malden Catholic is this year what it has been nearly every year, which is the fifth-best team in the league.

Lerch: The coaches won't make excuses but we can. Injuries have absolutely decimated BC High while graduation hit both Xaverian and Catholic Memorial pretty hard. Not to mention that these teams all play among the toughest schedules in the state. That said, St. John's Prep is still a top-three team in Massachusetts and don't think for a second that the aforementioned trio won't put it together by the time league play rolls around. Anyone who counts these teams out when we're not even halfway through the season is making a big mistake.

Botelho: BC High and Xaverian has certainly underachieved, but their schedules have been absolutely brutal. BC is also dealing with a whole mess load of injuries. That said, what looked like the best league in the state before the season needs a turnaround in the second half to avoid an overall disappointing year. If things continue like they are, St. John's Prep will coast to a league title behind Jonathan Thomas and Alex Moore. The Prep, in my mind, is probably the favorite to win the Div. 1 Super Bowl right now (I still love Brockton, but missing Austin Roberts is going to hurt them in a big way).

5. THERE HAVE BEEN A LOT OF SHOOTOUTS IN THE FIRST TWO WEEKS OF ISL PLAY. WHICH IS THE BEST OFFENSE?

Barboza: I think this was supposed to be Thayer's year to shine behind wide receiver Aaron Gilmer and the Tigers haven't disappointed, putting up 76 points in their two games. But they still have nothing to show for it, losing two close barn-burners against Governor's and Roxbury Latin. But it's hard to ignore the defending ISL champions at Governor's. We've extolled about Tate Jozokos' two-sport excellence for a couple years now, but running back Eli Morrissey has been a true revelation in the early going. Gov's should face a test this weekend against BB&N, but with 103 points scored in two games, it's hard to pick against anything short of a repeat performance of 2011.

Hall: If what Duxbury's been doing the last couple of years doesn't tell you enough about the value of lacrosse skill in football, then Governor's senior quarterback Tate Jozokos will. The UNC lacrosse commit led a renaissance last fall, leading the Governors to the ISL championship, and is off to a quality start this season. He is as a true a dual-threat quarterback as you will find in Massachusetts.

Running back Eli Morrissey has been just as productive (5 TDs), and is arguably one of the best backs in the ISL -- not the biggest, but definitely one of the most complete, and a tough runner. Overall, the Governors have averaged 51.5 points per game in their first two contest. Hard to argue with a number like that.

Kurkjian: Tough to say with such a small sample size, but it's hard to go against what Governor's Academy has accomplished in the first two weeks. With 103 points in two games, the Governors are simply running past, over, around and through everyone in their way.

We will see whether or not that continues this weekend as they travel to Cambridge to face an always-tough BB&N squad.

Lerch: When in doubt, I always say go with the team led by the lacrosse guy. Governor's is stacked with talent on offense with quarterback/dynamo/North Carolina lacrosse commit Tate Jozokos leading the charge. Along with standout running back Elijah Morrissey, the duo has combined to score nine rushing TDs in the first two games. Until some team finds a way to slow these two guys down, the Red Dogs will keep piling on the points.
September, 19, 2012
9/19/12
10:17
PM ET
By
Ryan Kilian
| ESPNBoston.com
BYFIELD, Mass. -- Second year head coach Jim O'Leary could not have drawn up a better outcome when he took over at the helm of the storied Governor's Academy program last season. Gov's went a perfect 9-0 in O'Leary's first season and completed the perfect campaign with a 35-0 victory over New Hampton School in the Jack Etter Bowl Championship.
"When I look back at last season it really was surreal," O'Leary said. "Things just fell into place and the kids really bought into the program. At the beginning of the season we were not looked at as favorites in the ISL but the kids came to practice and worked hard and it just gelled real fast."
O'Leary took over as head coach last season after being an assistant with the team under former head coach Mark Gerry. Gerry led Gov's for 18 seasons and the transition could not have gone any smoother.
[+] Enlarge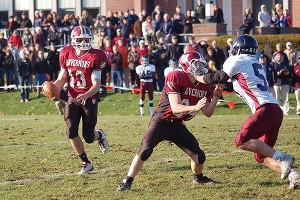 Brendan Hall/ESPNBoston.comQuarterback Tate Jozokos, a UNC lacrosse commit, led Governor's Academy to the ISL championship last fall.
"When I came in as an assistant I always envisioned things that I could do if I became head coach," O'Leary said. "As a Salem, Mass. guy I learned under one of the best in Ken Perrone, who knew more about offense and especially how to win with smaller teams."
O'Leary introduced the triple-stack offense and saw immediate benefits with the lack of large numbers in the program.
"It has worked wonders," O'Leary sad about adopting the old Salem High offense. "It may seem complicated at first but once the kids understand it everything gets much easier. This year we plan on adding some additional other things to the mix as well."
2011 ISL MVP and returning senior quarterback Tate Jozokos will lead Gov's as one of their quad-Captains in 2012. Jozokos, who is committed to the University of North Carolina to play lacrosse, is an elite athlete who can beat you with his legs or through the air.
"Tate is very confident in himself and his ability," O'Leary said. "He is what I call a gamer. He plays his best football in game situations and when the game is on the line he wants the ball in his hands."
Jozokos is one of 10 returning letterman and of the 10 returnees seven of them are lacrosse players with four (including Jozokos) already committed to play Division 1 lacrosse. Fellow senior captain Ryan Macri and junior Andrew "Bug" Carper are also UNC lax commits and O'Leary sees the crossover sport as a big advantage.
"Thank god we are getting these kids to play football," O'Leary said. "They really represent the total athlete. They can run, they are tough and with both sports being open field games the running and speed is a big advantage."
GOVERNOR'S ACADEMY AT A GLANCE
2011:
9-0 (ISL Champions, Co-New England Champions)
Coach:
Jim O'Leary (2nd season, 9-0)
Key Returnees:
Tate Jozokos, Sr. QB/DB, 6-0, 193 lbs.; Colin Smith, Sr. TE/DE, 6-4, 221lbs.; Ryan Macri, Sr. OL/LB, 6-1, 235 lbs.; Eli Morrissey, Sr. RB/LB, 5-9, 180 lbs.; Andrew "Bug" Carper, Jr. LB, 6-0, 192 lbs.; Austin Smith, Sr. RB/DB, 6-0, 185lbs.; Jesse Gwozdz, Jr. RB/DB, 5'11, 182 lbs.; David Adams, Soph. OL/LB, 6-1, 214 lbs.; Lucas Bombardier, Sr. WR/DB, 5-9, 187 lbs.
Strengths:
Offensive backfield, team speed, toughness.
Weaknesses:
Inexperienced offensive and defensive lines.
Outlook:
Gov's returns the reigning ISL MVP in Jozokos and three other experienced captains in OL Macri, running back Eli Morrissey, whom O'Leary calls "the toughest player in the ISL", and Division 1 tight end recruit Colin Smith. Govs returns 10 lettermen from last year's undefeated championship team with six starters returning on each side of the ball. O'Leary is excited about the development of Carper, who he predicts will be a star and a kid who plays "100 miles-per-hour." Of the newcomers to the program in 2012 OL Tyler Harrington, OL Mark Hoffman and ATH Thomas Vailas are all players to keep an eye on. "There is never an easy game in the ISL," stressed O'Leary. "It does not matter if a team is 1-6 or 0-7 it is a competitive game each week. BB&N is always great, Lawrence Academy should bounce back, Milton has great tradition, and Belmont Hill is always at the top of the league. We start with Thayer to open the season and they are big and strong and should also be one of the better teams in the league this year."
November, 12, 2011
11/12/11
6:04
PM ET
By
Brendan Hall
| ESPNBoston.com



BYFIELD, Mass. -- The abrupt one-year turnaround at Governor's Academy has come full-circle.

Coming off a 4-4 campaign in 2010 and with a first-year head coach at the reigns, there was some unknown with the Governors in spite of their now-evident talent. But the Governors have merely taken the Independent School League by storm, winning the league outright this afternoon with a 41-14 rout of rival Belmont Hill, in Hillers coach Kevin Fleming's last ISL game after three decades at the helm.

Both the Governors (8-0) and Hillers (7-1) now await the results of tomorrow's NEPSAC Bowl seedings, with the former assured a spot in one of the five games to be played next weekend are various prep schools across New England. Belmont Hill figures to have a good shot as well.

"It's surreal," said junior quarterback Tate Jozokos, a UNC lacrosse commit who totaled 203 yards and four scores. "We have a new coach who's been great for us, and [being] ISL champs was goal we had for ourselves at the beginning of the season. We wanted to play nine games, and now we're going wherever we are."

Said Governors head coach Jim O'Leary said he knew there was some talent when he took over the program last offseason, but was taken aback by the determination of the kids.

"I said, 'Let's set some goals', and one of our captains stands up and goes, 'Coach, there's only one goal -- play nine games'," O'Leary recalled. "I looked them in the eye, and looked around, and they all believed in it. And from day one, that day forward, that's what they worked for.

"They come to practice ready to play, they come to games ready to play, it's just a great atmosphere. Just great kids."

Jozokos, the dual-threat signal-caller from Wolfeboro, N.H., controlled the tempo of this game from outset, and showed why the Governors are considered the league's premier offense. He opened up the afternoon's scoring seven minutes in with a one-yard sneak, set up by the running of junior running back Eli Morrissey (25 carries, 127 yards, 2 TD).

Then in the second quarter, he blew the game open, first connecting with Frank Barba on a 41-yard strike, his only touchdown pass of the game. The 6-foot-5 tight end presents a mismatch problem to many a defense, and head coach Jim O'Leary looked to exploit that, dialing up a deep post route down the left seam; Barba was left in single-coverage, and made the play easily for a 13-0 score (the kick failed).

"We usually do it with a 'blast pass', where we fake it to Eli and then I come around and just settle in, then deliver a pass to Frank," Jozokos said. "You know, 6-6, 6-5, it's an easy target to throw to. So I just threw it up there and hoped for the best, and he brought it down."

After stopping the Hillers on fourth down on the ensuing drive, Jozokos came back with some more nifty playmaking, running of scampers of 18 and 15 to set up a three-yard Morrissey plunge that made it 19-0 (the two-point rush failed).

Belmont Hill snuck in a nifty 45-yard touchdown pass from Connor Murphy to Alfredo Barros just before the half closed, but the Governors came out firing on defense to start the third quarter, led by linebacker Kirk Ryder (sack, interception) and defensive backs A.J. Enchill and Lucas Bombardier.

Morrissey punched in his second rushing touchdown to start the second half scoring, followed by touchdown runs of 17 and 14 by Jozokos to go up 41-7 in the fourth quarter.

Fleming's swan song: It wasn't the ideal way to go out for Belmont Hill head coach Kevin Fleming, who is retiring after three decades at the helm, but he's not going to hang his head -- "I told them I'm proud of them at 7-0, am I going to tell them I'm not proud of 7-1?" he chuckled to reporters.

Asked what he'll miss most about coaching in the ISL, Fleming smiled.

"It's been 40 years, I've been involved in coaching all my life, and athletics all my life," he said. "I think it's a great league to coach in, and I think this game was two schools, last season playing for the championship, so I give them my do."

Culture change: The difference between this year and last? Asked about what O'Leary brought to the table, Jozokos said, "He is just all about football."

"I come in on Sundays, on weekends, and he's watching film," Jozokos said. "Some of the assistant coaches are even like, he's watching film constantly. He's analyzing, and really putting us in the best spot to succeed. He's all into football, and we feed off his energy."

Throughout the fall, we've talked about the lacrosse-football overlap almost ad nauseum when it comes to describing Duxbury's defense. For the Governors, one of the ISL's premier lacrosse programs, there is similar overlap. But where Duxbury utilizes the spread for its lacrosse stars, the Governors may well represent the opposite end of the spectrum.

Getting Jozokos to stretch the edge of the field paid off time and again this afternoon, but the Governors didn't throw a plethora of exotic three-or-four receiver sets at the Hillers. The Governors prefer to utilize their athletes from a mix of shotgun and under-center looks; a number of times, in short yardage and red zone situations, they came out in a "Stack-I" set, with three running backs lining up in the I formation.

"He's bringing everything in, you know, smash-mouth football," Jozokos said of the jumbo package. "But we also spread it out, because we have the senior with speed, as you see. And Eli keeps running and running and running, so our running game he has in that stack opens up the defense when we go into the spread. Those kinds of things -- the Stack-I, I'd never seen before -- that helps us getting out in space."

GOVERNOR'S 41, BELMONT HILL 14
BH (7-1) 0 - 7 - 0 - 7 --- 14
GA (8-0) 7 - 12 - 14 - 7 --- 41

First Quarter
G - Tate Jozokos 1 run (Colin Smith kick) 5:44

Second Quarter
G - Frank Barba 41 pass from Jozokos (kick failed) 10:53
G - Eli Morrissey 3 run (rush failed) 4:51
B - Alfredo Barros 45 pass from Connor Murphy (George McLaughlin kick) 1:58

Third Quarter
G - Morrissey 2 run (Smith kick) 7:38
G - Jozokos 17 run (Smith kick) 3:18

Fourth Quarter
G - Jozokos 14 run (Smith kick) 7:11
B - Eric Oberg 16 pass from Petros Davos (McLaughlin kick) 1:13