Boston High School:

Emily Loprete
December, 19, 2013
12/19/13
7:32
PM ET
Presenting our MIAA boys' hockey preseason All-State team:

1st Team
F – Ashley Moran, Sr., Woburn
F – Ali O'Leary, Soph., Reading
F – Adrieana Rossini, Jr., Arlington Catholic
D – Tatiana Doucette, Sr., St. Mary's (Lynn)
D – Annie Messuri, Sr., Acton-Boxborough
G –Rachel Myette, Sr., Duxbury

2nd Team
F – Amanda Conway, Jr., Tewksbury/Methuen
F – Emily Lissner, Sr., Woburn
F – Brittani Lanzilli, Sr., Medford
D – Ally Hammel, Sr., Duxbury
D – Caroline Seibold, Soph., Reading
G –Courtney Davis, Sr., Woburn

3rd Team
F – Maggie Layo, Sr., Sandwich
F – Emily Loprete, Jr., Watertown/Belmont
F – Nicole Woods, Sr., Beverly
D – Tori Messina, Sr., Hingham
D – Kendall Stouffer, Jr., Falmouth
G –Madison Scavotto, Jr, Falmouth
April, 1, 2013
4/01/13
7:11
PM ET
FIRST LINE
F - Alison Butler, Sr., St. Mary's
This year's ESPN Boston Miss Hockey award winner, Butler captained the Spartans to their fourth Division 1 state title, scoring the game-winning goal against Arlington Catholic at the Garden. The St. Anselm's commit was third in Division 1 in scoring with 37-25-62 totals. It is her second ESPN Boston All-State nomination.
F - Hannah Murphy, Sr., Duxbury
The fulcrum to Duxbury''s run of three straight Division 2 state championships. Murphy, a three-sport athlete, finished fifth among all Division 2 scorers, putting up 29-24-53 totals. Murphy will play lacrosse at UMass-Amherst.
F - Kayla Smith, Sr., Woburn
One of the most talented pure scorers in the state, Smith finished second in Division 1 across the state in scoring with 34 goals and 24 assists for 63 points. The three-time ESPN Boston All-Stater will continue her hockey career at Salve Regina.
D - Cassandra Connolly, Sr., Woburn
The repeat ESPN Boston All-Stater finished fourth on the Tanners in points (2-15-17) while helping goaltender Courtney Davis notch seven shutouts on the season. Connolly will continue her playing career at the University of New England next year.
D - Hannah Wright, Sr., Arlington
A shut-down, physical blue-liner, Wright also finished tied for fourth on the Spy Ponders with 17 points (3 goals, 14 assists). She will attend Castleton State College next year where she will play hockey.
G - Shannon O'Neil, Sr., Austin Prep
Pitched a remarkable 10 shutouts on the season, along with a dazzling 96.8 save percentage. O'Neil, a Franklin Pierce commit, was also among the statewide leaders in goals against average with a 1.08 marka.
SECOND LINE
F - Kaleigh Finigan, Sr., St. Mary's
Despite missing time with an injury, Finigan still managed to finish second on the Spartans in scoring - following Alison Butleró with 17-28-45 totals. The Medford resident is also a standout on St. Mary's softball team.
F - Jane Freda, Sr., Hingham
A two-time ESPN Boston All-State selection, the Harborwomen captain finished among the Top 10 scorers in the state, tallying 31 goals to go along with 16 assists.
F - Ashley Moran, Jr., Woburn
The rangy winger made great strides this season, finishing among the Top 10 scorers in the state, posting 25 goals and 31 assists.
D - Brooke Matherson, Jr., Walpole
The blue-liner led the Rebels in scoring this year with 33 points points and her 24 goals were also a team-best. Matherson is also a standout player on Walpole's field hockey team.
D - Annie Messuri, Jr., Acton-Boxborough
Messuri was named the DCL/MVC Large division Most Valuable Player this year after posting 13-17-30 totals.
G - Courtney Davis, Jr., Woburn
Led the Tanners to an undefeated regular season while registering seven shutouts. The three-year starter registered a 92.1 save percentage while posting a 1.35 goals against average.
BEST OF THE REST - HONORABLE MENTION
Forwards
Carolyn Avery, Sr., Lexington
Megan Barrett, Frosh., Acton-Boxborough
Christie Caliendo, Sr., Billerica
Leah Cardarelli, Soph., Acton-Boxborough
Molly Connolly, Sr., Wellesley
Amanda Conway, Soph., Tewksbury/Methuen
Gabby Crugnale, Sr., St. Mary's
Jackie Denning, Sr., Lexington
Cecily Docktor, Soph., Wellesley
Kara Donati, Sr., Winthrop/Lynn
Erin Dwyer, Sr., Archbishop Williams
Marissa Fichter, Soph., Duxbury
Ela Hazar, Jr., Westwood
Shannon Hickey, Sr., Arlington
Emily Kelly, Jr., Norwood
Olivia Konaxis, Sr., Beverly/Danvers
Brittani Lanzilli, Jr., Medford
Maggie Layo, Jr., Sandwich
Sara Lehman, Sr., Lexington
Emily Lissner, Jr., Woburn
Kim Lizotte, Sr., Westford Academy
Emily Loprete, Soph., Watertown/Melrose
Meaghan McKenna, Sr., Canton
Rachel Moore, Soph., Falmouth
Ali O'Leary, Frosh., Reading
Adrieana Rossini, Soph., Arlington Catholic
Nicole Woods, Jr., Beverly/Danvers
Defense
Allison Cunningham, Soph., Arlington Catholic
Tatiana Doucette, Jr., St. Mary's
Erin Ferrara, Sr., Fontbonne Academy
Hannah Ghelfi, Soph., Falmouth
Alexandria Gong, Sr., Hingham
Ally Hammel, Jr., Duxbury
Melissa Richard, Sr., Arlington Catholic
Caroline Seibold, Frosh., Reading
Goalies
Megan Messuri, Jr., Arlington Catholic
Rachel Myette, Jr., Duxbury
Madison Scavotto, So., Falmouth
Lauren Skinnion, Jr., St. Mary's
Coach of the Year
Frank Pagliuca, St. Mary's (Lynn)
While piloting to the Spartans to four Division 1 state championships, perhaps Pagliuca's finest job behind the bench came this year, as St. Mary's knocked off Catholic Central rival Arlington Catholic in a rematch of the 2012 title game.
Finalists:
Todd Fletcher, Westford Academy
Michael Golden, Reading
Friend Weiler, Duxbury
November, 17, 2012
11/17/12
1:20
PM ET
By
Brendan Hall
| ESPNBoston.com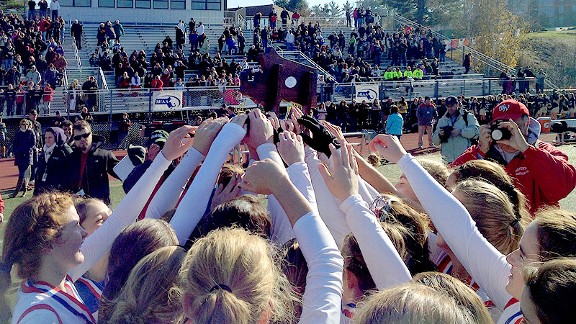 Brendan Hall/ESPNBoston.com Watertown captured its fourth straight Division 2 field hockey state championship, and 13th overall since 1986, with a 1-0 win over Oakmont.
WORCESTER, Mass. -– Lauren Sutherland leaves Watertown High having never lost a game in her storied four-year field hockey career.
What's it like to lose? She couldn't tell you from first-hand experience.
A tie?
"It sucks, it really sucks," the Holy Cross-bound senior forward laughed.
This year has been a perfect slate, however. Sutherland assisted on a goal 10 minutes into the Raiders' contest with Oakmont, then held off a series of rallies late in each half as they held off the Spartans, 1-0, at Worcester State University's Coughlin Field, to capture the program's fourth straight MIAA Division 2 field hockey state championship, and 13th overall dating back to 1986.
Watertown ended its season a perfect 23-0-0, and have gone 93-0-2 since the beginning of the 2009 season. Oakmont, its foil in three of these last four state championship games, ended the season 18-1-3. The Spartans have lost just two games the last two years, both to the Raiders in the state final.
"It's crazy, I feel like I'm on cloud nine, I couldn't believe it," Sutherland says of her four-year run with the Raiders. "At the beginning of the season, we used one word, and that was overwhelm, because we didn't know what we were getting into with so many missing players from last year.
"But we pulled through and exploited all our strengths. To get all the way here is unreal."
Overwhelm is the operative word here, because Sutherland inundated the Spartan defense over the first 15 minutes, outmaneuvering multiple players at a time with some backhand-to-forehand surgery and creating penalty corner opportunities.
The Raiders took the 1-0 lead just 11 minutes into the contest off a penalty corner, set up by Sutherland. Northeastern commit Alyssa Carlson pushed the ball to the top of the circle from the left of the cage, where Sutherland wound up and fired away. The shot was off, pulling to the right, but sophomore Emily Loprete was there at the near post for the redirect.
"She got a smash in," said Eileen Donahue, head coach for all 13 of Watertown's state championship teams. "And Emily is so good around that net. It was nice that we were able to hold that off."
Oakmont tightened up defensively, and swung momentum late in the second half as they began to build plays from the back. Rachel Testa had the Spartans' best chance of the day stopped at the doorstep by goalie Maddie Rocklin; the junior crashed to the weakside post on a free position shot, as the one-timer pass came across the circle, but Rocklin was able to recover and lay out in time with a dive.
The first half ended with two Oakmont penalty corners, but shots by Morgan Caisse, then Kristin Aveni, were turned away.
Watertown dodged a bullet with 10 minutes to go in the game, with Rocklin trying to fall back and recover after coming off her line, but the shot rolled wide right through a scrum. The Spartans then picked up two yellow cards less than a minute apart, playing most of the last 10 minutes down two players.
"This team held their own, and we played field hockey out there," Donahue said. "We played with speed, we played with intensity out there. I was very proud of the way we held our own against a very aggressive type of team."
Bottled up:
The Spartans adjusted to Sutherland's aggression as the first half wore on, not only marking her, but sending an extra defender to trap on the outside and cut off passing lanes. Sutherland typically excels at gravitating to space, but this is a new position for her, having played midfield last year. That, in turn, forced a counter from the star forward.
"We knew that a lot of times they were pressuring us on the outside," Sutherland said. "So I was cutting middle a lot, and trying to get away from my girl. It was happening a lot, where we could trap them to the outside, and then slip it middle really quickly."
And after getting contained for the last chunk of the first half, Sutherland found some rhythm again in the opening minutes of the second half. In one sequence, she played a through pass long in transition, and sprinted for about 30 yards with just a single defender trailing, pulled the ball around a stopper, but was unable to corral it in sharply in front of net.
A few moments later, at the 20-minute mark, Sutherland again fired away from dead center on a penalty corner, only to be turned away by a kick save from Kayla Costa.
With a young and constantly-fluctuating lineup this year, Donahue was glad the Raiders were able to make the necessary in-game adjustments today.
"We were practicing until 7:30 last night," she said. "And that's pretty tough, because we had to leave [Watertown] at 7:30 this morning. So, it just shows you what they're willing to do to do whatever it takes here."
Reeling it in:
Speaking about Sutherland's assist in the first half, Donahue mentioned about the senior getting "too excited" with her first few attempted shots of the last several games, in turn popping it up or misfiring. Donahue has been working with Sutherland the last few weeks on dialing things back a little bit for a more even keel, and the results were evident this morning.
"A lot of times, when I get excited I pick my head up and my shots kid of pop up," Sutherland said. "We've done a lot of practicing on corners, just shooting into the circle where I have to keep my head down and shoulder down. I've worked a lot on it, so it worked today."
Was it a matter of grip on the stick, too?
"Yeah, it's a bunch of different things," she said. "I kind of freak out before I get the ball, and that's a huge reason why."