Boston High School:

Emmitt Smith
June, 27, 2012
6/27/12
2:07
PM ET
By
Marc Thaler
| ESPNBoston.com
Fundraising totals between the teams competing in the inaugural New Hampshire East-West High School Football All-Star Game couldn't have been much closer.

The game itself? That's a different story.
West's all-stars – widely considered underdogs for the June 23 contest at the University of New Hampshire – proved too tough. The combination of overpowering offense and dominant defense led to a 33-point halftime lead and 44-12 final score.
Thaddeus "Junior" Brown was toughest to cover. Manchester Central High's 6-foot 3-inch, 180-pound receiver made all four of his catches for 87 yards in the first half. Three receptions went for touchdowns, including a 50-yard down-the-right-seam dagger that helped Team West build a 37-6 halftime lead.
"This means a lot. I worked hard for it," Brown, the game's first Bo Dickson MVP, said of the trophy he was handed for his efforts. "The coaches helped me out a lot. I just busted my butt for 10 days. The outcome was this MVP."
Off the field, the outcome of Brown's efforts, as well as the 73 other all-stars, was even more impressive.
Teams East and West combined to raise $51,301.21 for Children's Hospital at Dartmouth-Hitchcock (CHaD) in Lebanon.
Team East was designated the home team. It earned use of UNH football's locker room for winning the head-to-head fundraising contest. Coach Bill Raycraft's players raised $25,751.21 – a mere $201.21 more than West's standouts.
In total, $301,000 was raised for CHaD.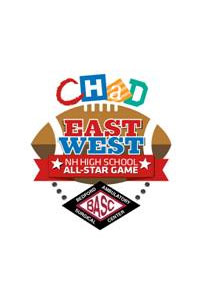 BASCTBD by editorial
"These kids came together and did a heck of a job for a great cause," said Team West coach Keith Jones, whose 6-year-old son, Harris, a CHaD patient, participated in the pre-game coin toss.
Harris was involved in a freak snowmobile accident three years ago. His father has said many times if not for CHaD, right-leg amputation would have been required.
On gameday, the soon-to-be first-grader made an appearance in Team West's locker room prior to warm-ups. It gave the players an additional boost, which carried over to kickoff.
Several playmakers fueled Team West's 37-point first half.
Brown caught a pair of 9-yard TD passes from Manchester West High's Aaron Martin, who also used his speed to sneak inside the left pylon for a 2-yard rushing score.
Merrimack High's Jackson King returned an interception 19-yards for a TD.
Nashua South's Johnny Bieren was crucial to posting a second-quarter safety. He also forced and recovered a fumble on one of his three quarterback sacks.
Central's Stephen Grzywacz – who raised a players-best $5,965 for CHaD – converted five extra points (6-for-6 overall).
East's all-stars committed five of the game's eight turnovers. The favored squad fell behind, 30-0, before Salem High's Jerickson Fedrick returned a kickoff 96 yards to paydirt.
Fedrick, and Pinkerton Academy of Derry stars Kevin Davies and Emmitt Smith, were all neutralized. Combining to rush for 4,649 yards and 57 TDs last fall, the trio managed 99 yards – 28 through two quarters.
Conor Donovan of Division VI cooperative team Inter-Lakes-Moultonborough scored East's second TD early in the third. Derek Paradis of Nashua South answered with an up-the-gut run.
"The first series, I thought we did pretty well. We stopped them (but) right away turned the ball over," Raycraft said. "That's not the way you want to start an all-star game. From there, we pressed a little bit more than we probably should have and, because of that, created more turnovers.
"But, like I told the kids, I had a blast these last (10) days," he added. "I couldn't have asked for a better group of kids. It's going to be fun watching where they go from here. The score will fade, but they set the tone for fundraising."
BASEBALL CHAMPS
Division I
: Dillon Emerson's extra-inning hit snapped two droughts, including a lengthy one for Concord High.
The senior's single down the right-field line scored Pat Cannon and gave the top-seeded Crimson Tide a 5-4 walk-off win over No. 3 seed Merrimack High in the state final June 16 at Northeast Delta Dental Stadium, home of Double-A baseball's New Hampshire Fisher Cats.
Emerson's hit snapped an 0-for-4 skid in the title game and earned Concord (18-4) its first crown since 1980. The Tide lost the state final in 2011.
"I was in the dugout upset over all the missed opportunities I had when coach [Scott Owen] came up to me and said, 'Stick with it. You'll get your at-bat and you'll come through.' He was right," Emerson told the
New Hampshire Sunday News
.
April, 28, 2012
4/28/12
4:58
PM ET
By
Marc Thaler
| ESPNBoston.com
In a six-day span, the three teams perched atop the statewide rankings for NHIAA boys' lacrosse – all of them perennial powers in the Granite State – suffered setbacks.

No. 1 Bishop Guertin High of Nashua, No. 2 Pinkerton Academy of Derry, and No. 3 Exeter High actually combined to lose five contests between April 16 and 22.
Bishop Guertin lost just once. But it was the biggest stunner. BG wasn't expected to lose an in-state matchup this spring. The two-time defending Division I champion is extremely talented and very, very deep.
But BG isn't invincible. Hanover High – No. 1 as a result of its 14-9 upset win April 20 – proved it.
"They beat us in two state finals (2007, 2009). Other than Hanover, nobody has beaten us, in New Hampshire, in the playoffs since 2007," BG coach Chris Cameron said. "There was no reason for us to take them lightly because they're a quality program."
Cameron's club was without UMass recruit Bob Fahey. BG's shut-down close defender sat out the second half of Guertin's previous game, a 14-8 win at highly ranked Needham (Mass.) High, with an ankle injury.
Guertin's coach, however, didn't use Fahey's absence as an excuse. BG still boasted four other close defenders recruited to play college lacrosse.
The Marauders led at the end of every period. Attackman Alex Krass (two goals, three assists) and midfielder Christian Wolter (four goals, assist) played with purpose. Christian Johansen and Ryan Brigham (11 of 25 faceoff wins) added three goals apiece.
Goaltender James Washington settled down nicely after BG scored the game's first goal in the opening 30 seconds. The senior made 15 saves.
"They were pretty happy. But (their post-game reaction) wasn't like they won the state championship," said Hanover coach Jeff Reed, whose club from the state's Upper Valley was blasted by BG, 15-3, in the April 10 season-opener at Nashua's Stellos Stadium. "They reacted like it was a big win, but not 'the win.' They know there's a bigger goal at the end."
No. 2 Pinkerton twice lost to teams known as the Lancers.
The Astros started their three-game week with an 11-9 league loss April 16 at arch-rival Londonderry High. The tough stretch closed with a 14-9 home loss April 21 versus Longmeadow (Mass.) High.
Maintaining focus was an uncharacteristic problem for Pinkerton in both losses.
Furthermore, offensive production almost exclusively came from the attack. Josh Gallant tallied three goals and three assists at Londonderry; Dom Corsetto went for three goals and an assist against Longmeadow.
"Maybe a little of it is conditioning. We could not get our faceoffs in the second half and we could not pick up ground balls," Pinkerton coach Brian O'Reilly said after the Astros lost to Longmeadow, which erased a 4-1 first-period deficit. "It's the same thing as the Londonderry game."
Exeter's defeats, in a sense, were understandable. The Blue Hawks, in a four-day span, lost competitive contests to the teams ranked ahead of them: BG (9-6 on April 16) and Pinkerton (8-6 on April 19).
Goaltender Jake Pleadwell (18 saves) stood tall against an early Pinkerton onslaught. Close defenders Jamie Vogt, Joe Moser and Zach Adler also enabled the Seacoast squad to pull within striking distance.
"The fact that we went down to BG, 3-0, and they never quit, and then we were down, 5-1, against Pinkerton and made it a game, it shows their resilience," Holly said. "That's the one thing you can take out of it."
Here's one lesson, stressed by BG's coach, that is applicable to every power program:
"There are too many good teams out there," Cameron said. "We can't just show up and expect to win."
March, 2, 2012
3/02/12
3:32
PM ET
By
Marc Thaler
| ESPNBoston.com
Plain and simple: You can't have a true conversation about New Hampshire's rich history of hockey unless the discussion includes Berlin High.

The small-school Mountaineers, representing a tight-knit town at the base of the White Mountains, have long competed at the highest level of NHIAA hockey.
"Our community is a hockey community. They love us and support us," said second-year Berlin coach Mike Poulin, the face of a program that has made 27 championship appearances since 1947 and nine times finished No. 1.
But this season, there was buzz about Berlin for a different reason: the program was making its final go-round in Division I.
The Mountaineers next season will skate in Division III. Poulin cited the program's consistent decline in participation as the reason for such a precipitous drop. Tough economic times in a town long known for its lumber and paper mills hasn't helped.
Berlin's 2011-12 team featured just 20 skaters, including a mere four seniors. Ten skaters played almost every minute of the varsity team's 18 regular-season games.
"It's a numbers thing," said Poulin, a 1993 Berlin graduate. "Our youth hockey, we have to continue to build. We're only pulling (athletes) from the Berlin area. It's not like we have a co-op school.
"We have a school of (517) students," he added. "We're pulling kids out of the hallway to play JV, or kids cut from basketball to play JV. It's difficult to turn around and put them in a Division I game."
Which makes this story, though sobering, remarkable, too.
Poulin's team – led by co-captains Ethan Dorval and Jeremy Rivard – very nearly qualified for the Division I tournament. Berlin's bid to punch the 10th-and-final tourney ticket came down to the regular-season finale Feb. 25 at Salem.
Know this: Berlin won only three of its first 10 contests. Yet it entered Salem's Icenter with a 7-10-0 record.
The Mountaineers extended their late-season win streak to four games Feb. 22. In their final Division I home game at Notre Dame Arena – Senior Night for the co-captains, goaltender Steve Martin and forward Curtis Riendeau – they celebrated a 5-4 decision against playoff-bound Londonderry High.
"Those kids worked super hard in that game. They were down, 2-0, and they battled. They struggled through their year, but they were right in it until the end," said Londonderry coach Peter Bedford, whose Lancers secured the No. 8 seed, won their first-round game and advanced to the quarterfinals. "That's an attribute everybody should recognize."
Tournament qualification required Berlin beat Salem for the second time in seven days. The Mountaineers won a 7-6 affair Feb. 18 against the Blue Devils.
Berlin's bubble, however, burst with a 6-0 setback.
Should the six juniors and seven sophomores on this year's roster return next winter, the Mountaineers figure to be very competitive in Division III.
Poulin said he hopes to someday see the Mountaineers again skating in Division I.
He isn't alone.
"I wish them nothing but the best," Bedford said.
TIMBERLANE TRIUMPHS – AGAIN
Twenty-six-year coach Barry Chooljian said he spent this season guiding his youngest team in some time. Youth, though, didn't hurt the state's premier wrestling program a lick.
Timberlane Regional locked up its ninth straight Meet of Champions crown Feb. 25 at Londonderry. The Plaistow program celebrated its 18th state championship, and 17th title in the past 20 years.
That's a run that dates to 1993.
Ten Owls were place-winners, and nine of them advanced to the championship match in their respective weight classes.
Those efforts fueled the team's 280-point performance. Second-place Manchester Central High earned 134 points.
Four Owls celebrated individual championships. Juniors Adam Corey (120 pounds), Josh Burnham (132) and Harry Denoncourt (182) survived their brackets.
But senior Zach Bridson, a Division I scholarship recruit for Tennessee-Chattanooga, was the big winner. He captured the crown at 113 pounds. The three-time MoC king was also named the tournament's Outstanding Wrestler.
"Coming out of the Division I championships (Feb. 18), we did really well, but we're so young the question was if we could repeat (the effort)," Chooljian told the
New Hampshire Sunday News
. "Then we took nine out of 10 matches in the semis and we knew we had it.
"That's hard enough to do in a local tournament," he added, "let alone the state one."
So, only one question remains. Can the Owls win their 10th New England championship, and fifth in a row?
They'll have their chance March 2 and 3 at the Providence (R.I.) Career and Technical Center.
SHRINE ROSTER RELEASED
New Hampshire's roster for the 59th annual Shrine Maple Sugar Bowl was released Feb. 21. The Granite State seeks to extend its series-record win streak against Vermont to 12 games when the teams meet Aug. 4 at Dartmouth College.
All-Stars from the 603 area code include:
Bedford
: Jordan Garron, LB; Nate Harrington, DT
Bishop Guertin
: Nate Chartrand, SE
Dover
: Eric Miller, DT
Epping-Newmarket
: Dustin Jarosz, CB
Exeter
: Adam Morin, OG; Brad Tiernan, OT
Franklin
: Brian Pickowicz, DE
Hanover
: Dan Gorman, SE
Hollis/Brookline
: Colin Pellerin, S
Inter-Lakes
: Conor Donovan, LB
Laconia
: Raige Hollis, OG
Lebanon
: Alexander Morrill, OG
Manchester Central
: Junior Brown, SE; Jared Chandler, Slot
Manchester Memorial
: Cody Dalton, DB
Merrimack
: Jackson King, Slot; Sam Prive, OT
Milford
: Jordan Gaudette, OG
Nashua South
: Jon Bieren, OC
Pinkerton
: Kevin Davies, TB; Emmitt Smith, Slot
Plymouth
: Nick Reisert, DE
Salem
: Jerickson Fedrick, TB
Sanborn
: Dylan Spence, DB
Souhegan
: Tim Beliveau, SE; Chris Chininis, Slot; Rob McCormick, QB
Spaulding
: Dillon Couture, DE
Stevens
: Cam Blewitt, CB
St. Thomas Aquinas
: Tom Cifrino, LB
Timberlane
: Evan Bidgood, QB
Trinity
: Josh Hughes, LB; Mike Leonard, LB
Winnacunnet
: Matt Myers, DT
Marc Thaler is a reporter for the New Hampshire Union Leader & Sunday News. He co-hosts the "N.H. High School Sports Show" on Manchester's WGIR-AM 610 and the Seacoast's 96.7 FM every Saturday from 7-9 a.m. Read his "New Hampshire GameDay" blog and follow him on Twitter: @marc_thaler.
January, 5, 2012
1/05/12
3:54
PM ET
By
Marc Thaler
| ESPNBoston.com
This had to be Merrimack High's mantra for the holiday tournament season: Why settle for just one title?

In the days after Christmas, the Tomahawks rolled to championships in arguably New Hampshire's top tournaments for boys' basketball and hockey.
The school's Division I hoop team, on the strength of a last-second 3-pointer from star guard Dimitri Floras, won the 48th annual Queen City Invitational Basketball Tournament at Manchester Memorial High. The Division II hockey club, thanks to a fourth-round shootout goal from forward Chris Fortin, copped the Bauer Classic crown at Manchester's JFK Coliseum.
Talk about a wild week.
The hockey team's four-day run to the crown was the more surprising story. The reigning state runners-up, the Tomahawks were considered a mystery when the season started shortly before the holiday break. They graduated one of the state's top snipers (Erik Glendye) and said goodbye to their coach (Dan Legro).
They're a mystery no more.
After starting 3-0 in league play, the Tomahawks won four games at JFK. They beat three Division I teams, including defending champion Trinity High of Manchester, 3-1; reigning runner-up and perennial power Hanover High, 4-3 (shootout); and then-No. 1-ranked Memorial, 2-1 (shootout), in the final.
Goaltender Brett Glendye -- who made 45 title-game saves -- was named tournament MVP. Teammate and forward David Downie also earned a spot on the all-tourney team.
"I looked at (the holiday tourney) as a 'prove it' opportunity for the kids," Merrimack coach Kurt Mithoefer said. "Thus far, the kids have proven the naysayers wrong in terms of offensive ability and being a mystery team."
On the hardwood, the Tomahawks ended the feel-good story of the QCIBT.
Floras hit the big bucket that lifted Merrimack a 57-54 win over upstart Manchester West High. The 6-foot 2-inch junior guard -- named the tourney MVP -- drained a lead-changing 3-pointer from the left corner with 7 seconds to play. He finished the contest with 20 points, six assists and four rebounds.
"I missed a lot of easy ones tonight and felt like I let my team down. But I got the one that mattered most, I guess," Floras told the
New Hampshire Union Leader
after the Dec. 28 title-game win.
Merrimack's path to the title round included wins over Seacoast squads Dover High, 59-51, and Exeter High, 58-39.
But in the high-stakes round, it took a charging violation to clinch the win. Jeff Giannelli, a 6-foot-7 tower, held his ground as West's Jocarl Bureau drove the lane for a potential game-winning layup. The pivotal play came with 2.1 seconds remaining in regulation.
The QCIBT runner-up a year earlier, Merrimack reached the championship game for the ninth time in the last 12 years. This year's title was the program's fourth in that span, and first since a three-peat from 2000-02.
"We played good. But my hats off to West," Merrimack coach Tim Goodridge told the statewide newspaper. "They made it come down to one shot."
November, 27, 2011
11/27/11
9:35
PM ET
By
Marc Thaler
| ESPNBoston.com
Bill Ball and his Exeter High Blue Hawks, in their second season competing against the state's largest schools, took the express elevator from cellar to penthouse.
It's one way to explain Exeter's voyage.

As is this: "It's just the ultimate roller-coaster. That's what it is," massive lineman Brad Tiernan said after his team stunned heavy favorite and statewide No. 1 Pinkerton Academy, 23-13, for the Division I championship at Memorial Field in Derry.
The Division I final on Nov. 19 was supposed to be a formality. The Astros, after all, topped the statewide poll since the preseason, securing every first-place vote in the process. They were one win from completing the first wire-to-wire run at No. 1 in the four-year era of rankings.
They were facing a former Division 2 power, but a program that went 0-8 in its Division I debut (1-9 overall) last season.
The Blue Hawks (11-1 overall, 9-1 Div. I) didn't forget those season-long frustrations. But they didn't dwell on them, either.
This team was confident. This team was composed. This team was clutch.
How else to explain the title-game comeback? Exeter erased a 13-3 second-quarter deficit.
Conor Carrier scored the fourth-quarter touchdown that placed Pinkerton in panic mode. The senior's big run off-tackle went for 37 yards and six points. The score snapped a 13-all tie with 7 minutes, 10 seconds left in the season.
Touchback-machine Logan Laurent added the extra point. He also iced the contest with his 23-yard field goal -- a kick preceded by 35- and 40-yard boots -- in the final minutes.
Tyler Grant touched the rock 31 times. He totaled 120 yards in Exeter's old-school straight-T offense.
Jamie Tymann tossed a second-quarter touchdown to Lucas Gajewski. The 15-yard strike sparked the 20-point run to the title.
The toss was the second of Tymann's five attempts. Exeter's senior signal-caller entered the final with just 29 pass attempts on the season.
But defense was the biggest difference-maker. Grant, Carrier, Ethan Joyce and Brian Henry led Exeter's disciplined perimeter defense. It surrendered 77- and 78-yard touchdown runs to Emmitt Smith in the second frame, but little else.
Exeter celebrated its sixth championship under Ball, who capped his 19th season at the helm. The coach previously won five Division II championships in 1997, 1998, 2002, 2003 and 2007.
"To get this done is just amazing," Ball said. "It's amazing."
October, 13, 2011
10/13/11
8:39
PM ET
By
Marc Thaler
| ESPNBoston.com
The Little Green cross country machine didn't take long to hit high gear.

Both the boys' and girls' teams for Manchester Central High, fresh off last year's NHIAA championship campaigns, served notice in the season-opening race Oct. 11 that they're still the squads to beat.
Dylan Lafond led the boys and Elizabeth Conway paced the girls as Central swept the Manchester City Championship at Derryfield Park.
"This race was the first step (in the championship season)," Lafond told the
New Hampshire Union Leader
after posting the lone sub-17-minute time of 16 minutes, 55.6 seconds. "Our goal is to win states, and if we make New Englands, even better."
Central's boys secured the top three finishes on the 3.1-mile course. Sean Brown and Matt Becker finished second and third, respectively, with times of 17:06.5 and 17:11.2.
Those times helped the Little Green record 26 team points. Manchester Memorial High's Adam Vargas (17:18.1) finished fourth. The Crusaders placed second with 40 points, followed by Manchester West High (70) and Trinity High (74).
Central's girls were equally dominant. Elizabeth Conway had a lot to do with it.
Conway crossed the finish line in 18:54.7. Teammate Laurel Gagnon (20:03.8) finished second – exactly 1:09.1 after Conway. Megan Brockett clinched third with a time of 20:48.5.
Kaitlin George-Blay led the Crusaders. Her time of 21:09 was good for fourth place.
Gang Green scored 20 team points to distance itself from Memorial (56), Trinity (68) and West (102).
"It was scorching on those hills," Conway told the
Union Leader
. "Our team is looking pretty strong, though we do have a couple of girls fighting injuries."
The division championships take place Oct. 29. Central certainly seems posed to, yet again, dominate Division I.
October, 7, 2011
10/07/11
12:16
AM ET
By
Roger Brown
| ESPNBoston.com
EXETER, N.H. -- Here's one reason why time of possession can be a misleading statistic: Pinkerton Academy had the ball for 39 seconds in the second quarter Thursday night and still managed to outscore Exeter by 21 points during that 12-minute span.

Pinkerton ran three offensive plays in the quarter and scored a touchdown on each. It was part of a 42-16 Pinkerton victory that had some in attendance wondering if the Astros are the best team in New England.

"Offensively we nickled and dimed enough to hang, but defensively we didn't hold up," Exeter coach Bill Ball said. "If you miss those guys they go, and they go real fast. That's a very good team."

With Pinkerton leading 7-3, fullback Kevin Davies scored on a 67-yard run. Senior running back Emmitt Smith scored the two other second-quarter touchdowns. His TDs came on a 96-yard run and a back-breaking 80-yard run with 13.9 seconds left in the half.

Smith finished the game with 289 yards rushing and four touchdowns on eight carries. He also scored on a 23-yard run in the fourth quarter. His last rushing attempt came with 9:42 to play.

"We've been really working on getting to the outside and I had a clean corner for most of my runs, so I was able to run as fast as I could and usually in a straight line," Smith said. "We can hit quick. That really knocks the air out of you. "

Pinkerton, the No. 3 team in ESPN Boston's New England Top 10, led 35-3 after three quarters.

The victory raised Pinkerton's record to 6-0 overall, and 5-0 in Division 1. Exeter, which entered the contest as the only other unbeaten team in Division I, dropped to 5-1 overall and 3-1 in Division I.

"Speed is a wonderful thing to have," Pinkerton coach Brian O'Reilly said. "Emmitt Smith is track fast obviously. There isn't anyone in this division who can contend with him. There is no one that is as good a speed running back as Emmitt Smith. No one, because Emmitt can block, Emmitt can run, Emmitt can catch and Emmitt can cut back. So I'm happy to have him on our team."

Backchecking: Davies, a 240-pound senior, also scored three touchdowns in the victory and ended his night with 114 yards on seven carries.

In addition to his 67-yard TD run in the second, he opened the scoring on a 3-yard run in the first quarter, and added 4-yard TD run on Pinkerton's opening possession of the third.

"The real secret to our team is that Kevin Davies is a beast," O'Reilly said. "If you don't pay attention to him he's fast enough to run by you and he's obviously tough enough – he likes to run over people. For defensive backs that causes problems. Most defensive backs don't like to see that coming at them."

Sophomore Manny Latimore, Pinkerton's No. 3 running back, may be the best college prospect on the Pinkerton roster. Latimore gained 68 yards on six carries against Exeter.

"The only thing wrong with Manny is he's a sophomore and Coach O'Reilly doesn't let him have the ball as much as the other guys, but Manny will be around for the next two years after this," O'Reilly said.

Numbers game: The Astros have outscored their six opponents 251-50, and have scored at least 41 points in each of their five Division I victories.

Pinkerton has already navigated the toughest part of its schedule. The Astros beat Nashua South 56-14 and dismantled Salem 49-14. Nashua South, Salem and Exeter each have one loss.

"We're hard to contend with because we can go left, right, up the middle and we can throw the ball a lot more than we do, I just don't want to do that," O'Reilly said. "There isn't much we can't do as far as what part of the field can we hit. We can do that if we really have to.

"I knew we had a good team, but yes, I am continuously surprised how our kids keep answering the bell week after week after week."

Mass. appeal: Brockton is next on Pinkerton's schedule. The Boxers, who are 1-3 and have been shut out twice, will make the trip to Derry, N.H., Saturday for a 1 p.m. contest.

"Now we'll get ready for Brockton," O'Reilly said. "We'll give the kids three days off this weekend and then they come to our place next Saturday. I'll go watch them [Saturday night] at Fitchburg."

PINKERTON 42, EXETER 16

PA (6-0) 7 21 7 7 --– 42
EX (5-1) 3 0 0 13 --- 16

First Quarter
P – Kevin Davies 3 run (Ryan Coombs kick)

Second Quarter
E – Logan Laurent 23 field goal
P – Davies 67 run (Coombs kick)
P – Emmitt Smith 96 run (Coombs kick)
P – Smith 80 run (Coombs kick)

Third Quarter
P – Kevin Davies 4 run (Coombs kick)

Fourth Quarter
E – Tyler Grant 1 run (kick blocked)
P – Smith 23 run (Coombs kick)
E – Ethan Joyce 5 run (Laurent kick)
September, 15, 2011
9/15/11
12:51
PM ET
By
Marc Thaler
| ESPNBoston.com
Imagine if Jerickson Fedrick and Emmitt Smith – rather than running the football for rival teams in the Granite State's heavyweight division – lined up an arm's length from one another behind the same signal-caller.

Coaches would truly quiver in their head sets.
Salem High's Fedrick and Pinkerton Academy's Smith certainly made the heads of opposing mentors spin in Week 2, which kicked off NHIAA Division I play. The duo combined for 341 rushing yards on 29 carries, 84 receiving yards on four catches, two near-length-of-field kick-return scores and 10 total touchdowns.
And Smith only played three quarters.
But let's begin with Fedrick, widely considered the state's most coveted college prospect. The 5-foot 10-inch, 195-pound senior, a tremendous blend of speed and power, scored six touchdowns in Salem's 50-28 Sept. 9 win at Manchester Central High.
Salem head coach Jacki Gati said Fedrick is garnering interest from Boston College as well FCS programs Fordham, Maine and Rhode Island. The star's statistics against Central explain why college coaches are keeping tabs.
Fedrick, on 19 carries, ran for 141 yards and four TDs (his rushing total took a hit when he unselfishly fell on Salem's third-quarter fumble 20 yards behind the line of scrimmage). He also recorded run-oriented Salem's three receptions for 37 yards.
Yet he was best on special teams. Fedrick broke free for two first-half touchdowns – of the 98- and 99-yard variety – before halftime.
"I just want to keep moving on the field," Fedrick told
New Hampshire GameDay
. "Just don't stop, basically."
Smith was equally spectacular. He scored four of top-ranked Pinkerton's eight touchdowns in a 56-14 thrashing of No. 2 Nashua South High on Sept. 10.
The 5-foot-8, 152-pound sparkplug turned the corner on his first offensive touch and raced 57 yards down the right sideline for the score.
It sparked a 200-yard game on the ground. Smith hit the mark on just 10 carries, his ninth and 10th attempts going for 43- and 45-yard scores. He also slipped past the defensive secondary for a 47-yard touchdown reception.
"All of our options were doing well (Sept. 10). It wasn't just one guy contributing," said Smith, whose teammates Kevin Davies and Manny Latimore each rushed for 100-plus yards and a touchdown. "That can create problems for the other team … so it's a good thing for us."
Makes you wonder what these two talents will do in this year's Salem-Pinkerton Homecoming matchup. The teams play at Salem's Grant Field in Week 4 (Saturday, Sept. 24).
September, 2, 2011
9/02/11
3:58
PM ET
By
Marc Thaler
| ESPNBoston.com
A year ago, underclassmen-laden Pinkerton Academy wasn't supposed to win its 10th Division I football championship since the celebrated 1985 season. But the young Astros, facing foes with far more experience, beat those odds.

This time around, the odds of repeating are overwhelmingly in their favor.
"Our focus doesn't change at all, even when we're not the favorites," Pinkerton head coach Brian O'Reilly said. "We simply strive for championships. That's our goal, otherwise it's not a successful year."
Quite simply, there isn't a more complete team, at present, than the one residing in Derry.
The Astros return almost everyone. Twelve of the team's 20 seniors are returning starters.
Bulldozer Kevin Davies and speedy Emmitt Smith are the focal points of Pinkerton's Wing-T offense. But there's also junior quarterback Chris St. Onge and sophomore Manny Latimore that round out the returning starting backfield.
Andrew Curran, exclusively a top-line defensive back in 2010, will reprise that role this season. But he's expected to earn touches on offense, too.
On a team stacked with superb athletes, Ryan Coombs could prove most dynamic. The 5-foot 11-inch, 178-pound senior kicks, punts, catches passes and patrols the defensive secondary.
"He's a big-game player. He can be a difference-maker. He's got some outstanding athletic ability that other kids do not have," O'Reilly said of Coombs. "He just turned 17 for his senior year. He really doesn't come off the field."
Linebackers Branden Rodgers, Davies and Matt Madden, last year the team's second-leading tackler as a freshman, were huge reasons the Astros excelled in red-zone defense. The linebacking corps added depth with the return of Matt St. Onge, sidelined in '10 with an ACL injury.
Understandably, the Astros were unanimously voted No. 1 in the preseason edition of the fourth-year statewide poll, a joint effort involving the
New Hampshire Union Leader
, WGAM-Radio and WMUR-TV.
Based on history alone, Pinkerton is the preseason pick.
Since O'Reilly's fabled Ryan Mihalko- and Joe Segreti-led 1985 team surprised everyone to win it all (the program's debut season in Division I) the Astros have always won championships in chunks.
The Astros went back-to-back in 1985-86, copped four straight crowns from 1991-94, and rattled off a three-peat from 2005-07.
But don't talk championship pep rally with O'Reilly just yet. Pinkerton's 34-year head coach knows a grid king isn't crowned in the preseason.
"We might be pegged as favorites. But we weren't pegged as favorites last year – and we won," he said. "Our focus is 'Don't allow newspaper clippings to influence hard work.'"
October, 15, 2010
10/15/10
11:43
PM ET
By
Adam Kurkjian
| ESPNBoston.com
BROCKTON, Mass. -– You want to see an exciting high school football game? Go see No. 4 Brockton. Chances are you'll get your money's worth.
The Boxers have lived on the edge in every game but one this season. The hosts escaped an upset bid from Pinkerton Academy (N.H.) Friday night at Marciano Stadium with a 21-14 victory, sealed in the final minute when senior Ralph Cherry intercepted a Chris St. Onge pass inside the Boxer red zone with 20 seconds remaining.
With the victory, Brockton improves to 5-1, while Pinkerton drops to 5-2.
"It was big, real big," said Cherry, who also had a fumble recovery, of his game-saving pick, which was initially deflected by cornerback Davidson Barthelmy. "Defense came together at the end. We always have our backs to the wall but we came together as a family, got the interception, game over."
Other than a few key defensive stops and turnovers, the Boxers were able to come away victorious due to the running of senior tailback Trevon Offley, who had 188 yards and a touchdown on 24 carries. Quarterback Paul Mroz only completed four passes, but one of them was a 48-yard touchdown to Albert Louis-Jean (3 catches, 68 yards) to open the scoring. Mroz also had a 2-yard touchdown run in the second quarter to help give the Boxers a 13-8 lead at the half.
Here are a few observations on yet another dramatic Brockton contest:
Getting Offley back from a shoulder injury earlier in the season has been huge for the Boxers. Sure, the Brockton offensive line has been improved over the course of the season, but what makes Offley so special is that he can make a big play when the hole isn't there. As good as the Brockton passing game has looked at times with Mroz finding players like Louis-Jean, Cherry and juniors Jesse Monteiro and Lucas Depina, having Offley dance around defenders opens this offense up that much more. Or, as coach Peter Colombo said, "He's the bread and butter." Generously listed at 5-feet, 8-inches tall, Offley isn't the biggest back around, but if you want to find a more elusive player with his combination short-area quickness and lower-body strength, you'll be looking a long, long time, because you're not going to find anyone like that around here.
Speaking of that offensive line, the Boxers were faced with a dilemma two weeks ago when junior left guard Khahleell Alcide went down with an injury that will likely keep him out another few weeks. The solution that offensive line coach David Grein came up with was to put 6-3, 300-pound defensive tackle William Carruthers in his spot next to senior left tackle Jacques Janvier (6-1, 300). That move has paid off pretty well so far. When Brockton runs to that side, Carruthers and Janvier – who have the nifty footwork and explosiveness off the snap that belies their bulk – simply collapse the edge to make way for Offley, who knows what to do with holes that large. "I'm pleased with the way our offensive line is starting to come together and give (Offley) the room he needs," Colombo said.
The Boxers have a ton of playmakers on defense, but the one who is probably making the most right now is senior defensive end/outside linebacker Saquaan Louis (6-1, 215). "Tiny," as his teammates call him, isn't at all tiny, neither in stature nor ability. According to the Boxer coaches, Louis made 19 tackles against Fitchburg. He didn't have that many against Pinkerton, but he did make the most bone-jarring hit of the night when he absolutely leveled an Astro back on a run up the gut in the second quarter. The play resulted in a fumble and recovery by James Flores. Louis is most likely headed to a junior college or prep school next year, but whatever Division I school happens to pick him up after that will be lucky to have him. Louis has the ability to not only play at that level, but be a difference-maker from the outside linebacker spot. If you want a comparison to a recent Boxer linebacker, think Tyronne Pruitt (Boston College).
Although it technically would have been an upset if Pinkerton won, the Astros are an excellent team that could compete with anyone in Eastern Mass. If you want to pinpoint it, Pinkerton runs the Wing-T, but the Astros aren't a typical Wing-T team in that they run it out of more formations and with greater versatility than is typically run around these parts. Also, while Brockton definitely had a speed advantage, the Astros have their fair share of burners. Freshman Manny Latimore (5-9, 175) looks and runs like a senior, while junior Emmitt Smith (5-9, 150) was shaking the Brockton defenders out of their shoes all night. The two combined for 152 yards on 26 carries and a touchdown. But maybe the most impressive-looking player on the Astros' roster is junior lineman Jesse Trottier (6-3, 265). Pinkerton fell just short against the Boxers, but with just nine seniors on the roster and a bevy of underclassmen starting, the Astros have a lot to look forward to and will only get better from having faced a team of Brockton's caliber.
Pinkerton 0 8 6 0 - 14
Brockton 7 6 8 0 - 21
B - Albert Louis-Jean 48 pass from Paul Mroz (Lucas Depina kick)
P - Kevin Davies 4 run (Branden Rodgers pass from Sean Conroy)
B - Mroz 2 run (rush failed)
P - Manny Latimore 1 run (rush failed)
B - Trevon Offley 4 run (Austin Roberts rush)