Boston High School:

Eric Barsalou
June, 15, 2013
6/15/13
3:26
AM ET


WORCESTER, Mass. – It was a perfect finish in more ways than one.

Tied 6-6 heading into the fourth quarter of Friday's Division 2 state championship boys' lacrosse game, West sectional champion Longmeadow had to hunker down against Eastern Mass. champion Medfield. The Lancers, who'd beaten the Warriors by 15 goals during the teams' regular season meeting, knew they were going to see a different Medfield team and had gotten exactly what they expected – a tight game.

That's when Keegan Dudeck made a lasting impression.

Already netting a hat trick in the first half alone, the Lancers senior midfielder started the fourth quarter with back-to-back goals, setting in motion a string of three straight Longmeadow goals in its 10-7 victory over Medfield at Foley Stadium.

The Lancers finish the season with a perfect 25-0 record while delivering their first state title since the 2008 season.

"Whey that they weren't going to make it a 16-1 game again," Dudeck said, recalling the Lancers' drubbing of the Warriors in May. "Before the game, we told the team not to be too overconfident and make sure that weren't not too cocky because this team was going to come out and they wanted it as bad as we wanted it."

Truer to the capabilities of both sides, the teams spent the better part of three quarters exchanging the lead or tied. It wasn't until Dudeck's fifth goal of the game, scored at 8:38 of the fourth, that either team established a lead of more than one goal. Soon after Drew Kelleher provided the Lancers with a three-goal lead and they wouldn't look back.

"If teams go on a three- or four-goal run on us, we're usually able to punch back, but we weren't able to, Warriors head coach John Isaf said. "We thought we were right where we wanted to be entering the fourth quarter. We've always pulled out games in the fourth quarter this year. That was the plan, it just didn't happen."

Putting a painful loss in the back mirror, Medfield (22-4) jumped out to a lead 1:43 into play with senior captain Andrew Melvin (1 G, 1 A) hitting the cutting Tyler Hagan. And while the Warriors put forward a much-improved offensive showing the second time around, including two-goal games from Matt Crowell and Thomas Sears, the Lancers' finishing touch proved too much.

Despite being held without a goal in the third quarter, the Lancers rode the momentum gained by Dudeck's early fourth-quarter strikes.

It was simply a performance fitting of one of the state's top talents this year.

"He's been fighting through an injury for the last two, three weeks," Lancers head coach Ryan Liebel said. "He's fought through it. He tries to get open, he's our hardest worker and one of the best players on our team. When it came down to it, he was able to get that ball and put it in the net."

"Dudeck was phenomenal off-ball. He was moving, he was cutting, he was shifty."

In short, he did a little bit of everything that meant a whole lot.

RETURN TO THE BIG STAGE
The Western Mass. powerhouse turned in its first championship in five year under the direction of a first-year head coach. Liebel, a Longmeadow alumnus who previously coached at Belchertown, is no stranger to the program.

But perhaps things came together quicker than anyone could have anticipated. With only four seniors on the roster this year, the Lancers had to rely on consistent contributions from its underclassmen.

"They stepped up huge for us today," said senior Kevin Barry, who led the Lancers in goals during the regular season, "especially our midfielders, they're young. Our attacks are freshmen and juniors and they played amazing."

While Friday marks the crowning achievement for Barry, Dudeck and their fellow graduates Eric Barsalou and Noah Gurzenski, don't write off the Lancers bid at a repeat performance in 2014.

A LESSER VICTORY
While Medfield ultimately struck out on the title bid, the Eastern champions went down swinging.

After Friday night's game, Isaf recalled the somber ride from Longmeadow back home on May 12, his team trying to come to terms with what had just unfolded.

"I think everybody had to reflect and decide what we were going to about it," he said.

The resolve was clear. Following the 15-goal loss to Longmeadow, Medfield finished the regular season with four straight wins, including one against Division 1 power St. John's Prep. Entering Friday's action and including the postseason, the Warriors had built a nine-game winning streak, falling just one quarter shy of their ultimate goal.

That's a point that wasn't lost on their coach.

"From that point forward, we played our best lacrosse of the season," Isaf said. "And tonight, we wanted to show them that wasn't us back in May. I'm really proud of this team how they rallied and rebounded from that."


June, 11, 2013
6/11/13
8:31
PM ET
DIVISION 3

Dover Sherborn (18-4) vs. Cohasset (17-3)

Players to watch: D-S – D Rogers Boylan, A Matt Davies, G Ryan Goodall, M Matt Huemme, A Brandon Jaeger; Cohasset – G Jack Conte, LSM Tim Gillis, M Will Golden, A John Mills, M Colin Whelan.

Breakdown: The Raiders eye their second straight Division 3 title, but face a Skippers team that has won nine straight games dating back to a May 9 regular-season loss to D2 finalist Hingham. D-S feeds off of their goaltender, Goodall, who is equally adept making tough stops as he is springing the transition game with his long-strike passing ability. The Skippers are guided to Harvard by first-year head coach James Beaudoin, who hopes to lead the program to its first championship since 2010.

X-factor: For the skippers to win, they'll need Golden to bring his A-game to the faceoff X and control play. He's capable.

Pick: D-S 11, Cohasset 7.

DIVISION 2 WEST/CENTRAL SEMIFINAL

Longmeadow (23-0) vs. St. John's of Shrewsbury (18-3)

Players to watch: Longmeadow – A Kevin Barry, M Eric Barsalou, G Matt Draymore, M Keegan Dudeck, A Zack Lukus; SJS – G Andrew Arnold, A Hunter Burdick, A Josh Freilich, FOGO Connor Maloney, A/M Andrew Smiley.

Breakdown: The two district champions met once during the regular season, with the Lancers invading Shrewsbury and keeping their perfect season in tact with a 10-8 victory. Both of these teams have their share of offensive firepower, but they can also stop it, highlighted by Pioneers pole Aidan Fox. As their prior meeting, this game will likely be decided by the midfielders and which team is able to win 50-50 ground balls.

X-factor: Another matchup where I'll be watching the faceoff X. Maloney will need to be on point for the Pioneers to reverse the previous result.

Pick: Longmeadow 11, St. John's 10 (OT).

DIVISION 2 EASTERN MASS

Hingham (21-3) vs. Medfield (21-3)

Players to watch: Hingham – G Tommy Bannan, M Caleb Brodie, M Jacob Brodie, A David Freitas, D Jack Ullrich; Medfield – D Ben Cox, M Matt Crowell, A Andrew Melvin, G Robert Treiber.

Breakdown: The last time these teams squared off at Harvard Stadium (2010), the result was a double-overtime instant classic. The Warriors, who were then on a run of two straight state titles, hope the result is near the same. These squads have been near lights-out in front of their goaltenders, so expect a low-scoring struggle.

X-factor: Cox and Ullrich: Two of the state's best operating in their own end, they are game-changers.

Pick: Medfield 7, Hingham 5.

DIVISION 1

Lincoln-Sudbury (18-2) vs. Xaverian (15-6)

Players to watch: L-S – M Dan Delaney, A Jordan Dow, M Chris Giorgio, A Matt Hall, LSM Eamon Hunter, LSM John Sexton; Xaverian – D Rob Breed, M Ryan McClellan, M Ryan Scheib, A D.J. Sperzel, M Jack Wheeler.

Breakdown: It's been a while since the two teams met in the first week of the season on April 6 (a 10-5 win for L-S), and many things have changed. The No. 1 seed Warriors held serve through the bracket, running through their opponents by a combined score of 41-11 on the road to Harvard. Meanwhile, the Hawks had to dispatch last year's D1 finalist Needham and fend off Catholic Conference rival BC High — in overtime – in the semifinals.

X-factor: It doesn't matter where he is (taking faceoffs, on defense, on the man-up), Sexton is a force. It's always worth watching the manner in which head coach Brian Vona deploys Sexton in the game plan.

Pick: L-S 9, Xaverian 6.
May, 16, 2013
5/16/13
3:00
AM ET
SHREWSBURY, Mass. – When chasing the brass ring of a perfect season, a team needs to hold itself to a higher standard.

Case and point was No. 6 Longmeadow's 10-8 win over No. 7 St. John's of Shrewsbury at Pioneer Field on Wednesday. The Lancers remained undefeated, moving to 17-0, but in the postgame, first-year head coach Ryan Liebel was more apt to point to the things his team didn't do.

"The game was pretty ugly off the bat," Liebel commented on the nearly instant 3-0 hole Longmeadow dug in the first quarter.

However, the finish is what counts most and the Lancers got the better of the fourth quarter, scoring a string of three goals to round out a two-goal victory.

Senior midfield Eric Barsalou tallied a hat trick while fellow middie Keegan Dudeck tallied the game-winning goal with less than six minutes to play.

"Ball possession was obviously huge and we took advantage of that," Leibel said.

That advantage was due in no small part to junior midfielder Drew Kelleher, who reached double-digits in the ground ball battle. Also, Longmeadow owned the faceoff X in the second half, winning more than 60 percent of those draws.

"They dominated the faceoffs, it was at least two-to-one, if not more," St. John's head coach Terry Leary said. "I think all those extra possessions hurt us."

The teams went into the half tied, 4-4, before the Lancers again seized the lead with two quick goals to start the third from Barsalou and Max Chipouras. But the back-and-forth continued through the second half. With five lead changes occurring in the game, the Pioneers (11-3) held a lead as late as the 9:55 mark of the fourth quarter, with Kevin Butler's third goal of the game.

The Lancers again came back to make it a tie game just 34 seconds later on Barsalou's third before taking the lead for good on Dudeck's game-winner.

LIFE IN THE MIDDLE

While the tightly contested battle was indicative of what you'd expect from two of the top Division 2 programs in the state this season, and although the Pioneers fell short, there was plenty for St. John's to take away from Wednesday's performance.

The biggest positive that Leary saw from his team was offensive production from midfield — namely Butler's hat trick.

"We have three very dangerous attackmen in [Andrew] Smiley, [Josh] Freilich and [Hunter] Burdick, and typically a majority of our scoring comes from them," Leary said. "But if teams are collapsing on them, we've been working all year to get more and more middie production."

With both teams heading down the home stretch of their regular-season schedules, there's reason to believe they could meet again in the not too distant future, in a potential Div. 2 Central/West championship game matchup.

Neither side believed they played their best game under Wednesday's soggy conditions, but they've separated from the pack. Further proof came in Longmeadow's 16-1 dismantling of Eastern Mass. power Medfield last weekend.

For the first-year Lancers head coach, he's just enjoying the ride for now. Liebel, a Longmeadow alumnus who played for the program and former head coach at Belchertown, couldn't ask for a better group that – when it's all said and done – might be historically good.

"It's a talented group of players," he said. "It makes coaching a lot of fun."
September, 15, 2012
9/15/12
8:11
PM ET
By
Brendan Hall
| ESPNBoston.com
SHREWSBURY, Mass. -– St. John's quarterback Andrew Smiley noticed receiver Micah Cummins putting on a red basketball-like compression sleeve on his left arm before this afternoon's visit from Longmeadow, and kept things real –- "You drop a pass, I'm gonna be all over you about it," Smiley cracked to him.
Done and done.
[+] Enlarge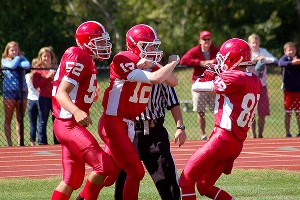 Brendan Hall/ESPNBoston.comQuarterback Andrew Smiley (12) and receiver Micah Cummins (88) connected for two touchdowns to lead St. John's to a 35-14 win over Longmeadow.
Not only did Cummins refrain from a drop, but the 5-foot-11 wideout came up with two pivotal touchdown catches in the first half that put the No. 18 Pioneers ahead for good. The defense did the rest in the second half, forcing the No. 6 Lancers into three straight turnovers on downs en route to a 35-14 win at Pioneer Field.
After a dazzling debut in his first varsity start last week against Holy Name (353 yards, 4 TD), Smiley once again went over the 300-yard mark in total offense. He was 16-of-18 passing for 246 yards, and carried the ball 15 times for 96 yards, with four touchdowns total.
Meanwhile Cummins finished with four catches for 74 yards for St. John's (2-0), but earned most of his yardage after the catch with some slippery moves. At 160 pounds, Cummins is not the biggest or most intimidating target for the Pioneers – but he may have the best body control.
That was perhaps best explicated on Cummins' second touchdown catch, a 30-yard snag at the two-minute warning of the first half that put the Pioneers ahead 21-14. The play called for Cummins to run a "jerk" route to the left sideline, in which the receiver fakes like he will sit in a zone hole before continuing his shallow crossing route. He hauled in Smiley's short dart with a few feet of real estate left, then planted upfield, spun through one defender, juked to the right of another, and marched the final 25 yards untouched.
That was preceded by a 47-yard strike to Cummins towards the end of the first quarter that put the Pioneers up 14-7. Cummins ran a post route up the left sideline, facing man coverage with a safety shaded to his side, and was sprung free by a pick from John Giacoppe (5 catches, 62 yards) to make the grab behind the safety and glide into the end zone.
"He's so shifty, hard to tackle," Smiley said. "He's not the strongest kid out there, but he's quick. He's just hard to tackle."
Smiley came up with two more scores in the third quarter to put this one away, first calling his number for a seven-yard scamper, then finding Davon Jones on a seam deep downfield for a 30-yard pass.
Improved defense:
The Pioneers came away with the win last week against Holy Name, but were not satisfied with the run defense, giving up 463 yards and five scores on the ground to the Naps' vaunted Double Wing scheme (282 coming from Quron Wright). This week, they split that number in half, allowing 233 yards and two scores against the Lancers' modified Wing-T scheme (which today also showed elements of the "Flexbone" formation, with heavy personnel groupings).
Give credit to the front four for that marked improvement. Against a Longmeadow's senior-laden offensive line that is considered one of the state's best -- averaging over 260 pounds across, and led by road graders Rob McClure and Lou Calabrese -- the Pioneers held their own. Led by juniors Jeff DeMango and Connor Gatto, and sophomore Sam Norton, they were able to stuff the interior gaps ably.
The hallmark of today's defensive effort was the aforementioned second-half effort, in which the Lancers ended three straight drives with a turnover on downs in Pioneer territory.
"They've gotten some confidence every week, and they're getting better," St. John's head coach John Andreoli said. "We've played some tough teams all along – Brockton, New Bedford, Shepherd Hill [all three were scrimmages], Holy Name, I mean those are great teams. And our kids stepped up and played disciplined.
"We stayed in a lot of base fronts today, they trusted their reads, and ran to the football. That's what they did, and that's what they've been doing all year."
Longmeadow quarterback Frankie Elder led the Lancers with 86 yards and a score on 16 carries, but a had a forgettable day through the air with 74 yards on 5-of-17 passing, with two picks. Fullback Austin Sierra also had 14 carries for 68 yards.
Dejection, but praise:
Some Lancers felt their hearts sink to their knees in the moments following the game. Elder, for one, sat on the grass, helmet still buckled and lay motionless with a thousand-yard stare.
With legendary former head coach Alex Rotsko leaving behind arguably one of the Lancers' most talented senior classes in a while, there have been high hopes for this year's squad, with a No. 6 preseason ranking in ESPNBoston.com's statewide MIAA poll. A win today would have satisfied Longmeadow's wishes to be taken seriously as one of the state's elite programs.
But in the eyes of many, they already are, and have been for some time.
"It's a respectable win [today], because Longmeadow is a very good program," Cummins said. "I think in a couple articles, they said they wanted to get themselves into the elite of Massachusetts football, and I think they already are elite. I look back at the stats, and they're one of the top programs in the state year in and year out.
"They're well-coached, and I have all the respect in the world for them."
One aspect of the Lancers' gameplan that worked particularly well today was their defense of St. John's running back Shadrach Abrokwah. Coming off a 205-yard, three-touchdown performance last week over Holy Name, the Worcester resident was held to 36 yards on seven carries, but did have a nice 40-yard reception off a swing pass.
But as the stats indicate from today's game. Keying Abrokwah on the zone read opened the field once again for Smiley and the air attack.
"They're just athletic," Longmeadow head coach Nick St. George said. "They're good athletes, they have good receivers, they get the ball out to their guys in space and they force you to make tackles. We missed a lot of tackles today."
Flash cards?
One of the most interesting nuggets from today's post-game interviews was the suggestion from Smiley that the Pioneers may begin to utilize flash cards from the sideline to speed up what has already been a turbo-charged playcalling system.
But not just any ol' flash cards. One of the main storylines with the Pioneers' early season is how they have adopted the "Blur offense" tempo popularized by the University of Oregon under coach Chip Kelly. In recent years, Kelly's assistants have used posterboard-sized placards consisting of four panels with seemingly any sort of picture on it –- a number, a color, a school logo, a mascot, characters from
Caddyshack
, hosts from
ESPN College Gameday
, and so forth.
Even among the increasingly-innovative college coaching ranks, Oregon's method of calling in plays is considered radical. The only thing that's come close so far in the MIAA in recent years might be Duxbury, which dresses five JV players in bright orange hats (
nicknamed "The Amigos"
) and gives them color-coded cards to hold up.
"Oh, we might be bringing those out," Smiley said when a reporter asked about replicating the "Blur" tempo and referenced the Ducks' flash cards.
Have they been working on it?
"Yeah, a little bit," Smiley said.
It could be an innocent comment, and ultimately nothing could come of this. But given the progression of this offense, it could also be the next natural step.
ST. JOHN'S 35, LONGMEADOW 14
LHS 7 7 0 0 --- 14
SJS 14 7 14 0 --- 35
First Quarter
L – Frankie Elder 3 run (Eric Barsalou kick) 6:36
S – Andrew Smiley 8 run (Pat Lehane kick) 6:16
S – Micah Cummins 47 pass from Smiley (Lehane kick) 1:50
Second Quarter
L - Joe Lee 1 run (Barsalou kick) 6:51
S – Cummins 30 pass from Smiley (Lehane kick) 2:00
Third Quarter
S – Smiley 7 run (Lehane kick) 8:02
S – Davon Jones 30 pass from Smiley (Lehane kick) 1:52
April, 21, 2012
4/21/12
4:31
PM ET
By
Marc Thaler
| ESPNBoston.com
DERRY, N.H. -- Dylan Kelleher dreaded the idea of making the 2-hour bus ride back to Longmeadow High after losing to the same Granite State boys' lacrosse power for the fourth consecutive season.

The senior attackman's four goals – and a monster effort from his teammates – helped ensure a far different outcome in the latest meeting with Pinkerton Academy.

Kelleher contributed to a 12-goal second half for the No. 18 Lancers, whose emphatic 14-9 win Saturday at Memorial Field snapped a losing streak to the Astros that started in 2009.

"Last year, they came out and smashed us right away (15-7). Two years ago, they beat us in overtime (12-11), which was unfortunate," said Kelleher, whose club improved to 7-0. "I'm not really sure about my freshman year, but I know we lost (17-8).

"This is my senior year," he added. "My goal was to beat Pinkerton. Finally."

After the first period, Pinkerton appeared poised to win in a rout. Joe Appolonia (two goals) one-hopped a shot that gave New Hampshire's No. 2 team the lead just 34 seconds into the contest.

The Astros possessed the ball throughout the first frame. They forced turnovers with timely stick checks, won ground balls, recovered nicely when caught out of position, and built a 4-1 lead.

"We came off the bus a little slow. Down, 4-1, it showed the character of the team to battle back," Longmeadow coach John Rauseo said. "We outscored them, 13-5, after the first quarter. That's a nice win."

Momentum began to shift in Longmeadow's favor just before halftime.

Coming out of a timeout, Bennett Leveillee (three goals) scooped a deflected pass and, atop the crease, popped a quick shot past Pearce Connal (eight saves). It was the period's lone marker, registered with 12.2 left on the clock.

Pinkerton (4-2) regained its three-goal cushion after the break. Evan Sweeney charged in uncontested after Cody Desmarais forced a turnover at midfield.

Then, the game-changer: An unnecessary roughness penalty on the Astros. The flag was thrown a moment after the Lancers were whistled for a cross-check.

"It was 5-2 when we get the penalty on them and we decide to retaliate because we were upset that the kid pushed us down, and kicked the kid in the face to get the matching penalties," Pinkerton coach Brian O'Reilly said. "They scored two quick goals and the game wasn't the same after that."

Leveillee buried his chance in 5-on-5 play. Keegan Dudeck (three goals, assist) fired from the top of the restraining box. The goals, scored in a 41-second span, pulled the Lancers within 5-4.

But they were only heating up.

Leveillee again capitalized on a ground ball with a quick pick-and-pop near the crease. Kelleher finished an easy catch-and-shoot from the left post to briefly give the Lancers their first lead.

Drew Kelleher was also instrumental, particularly in the second half. The sophomore took 19 of the game's 27 faceoffs. He won possession for his team 10 times.

Pinkerton's Dom Corsetto (three goals, assist) whipped a game-tying, man-up goal past Glenn LaFountain (seven saves), the unsung hero of the third period. The senior stopper made point-blank saves on Josh Gallant and Peter Field midway through the stanza to prevent Pinkerton from stopping the onslaught.

Longmeadow simply crushed it in crunch time. Eight goals. Five different goal scorers.

Ryan Coombs (two goals, assist) pulled the Astros even at 7-apiece with a long-distance submarine-style shot from the top-right corner.

But, as the clock dipped under 11 minutes, Eric Barsalou (two goals) snapped the deadlock. The Lancers, on top for the third time, didn't relinquish the lead.

Instead, they poured it on.

"Pinkerton is always a good challenge for us," Rauseo said. "It helps us gauge where we are."

Where might that be?

"We're 7-0," Rauseo said. "That's all I know."