Boston High School:

Eric Trickett
August, 27, 2014
8/27/14
12:34
AM ET
By
Mike Uva
| ESPNBoston.com
LYNN, Mass. -– It's rare to see two football teams scrimmage twice in five days during preseason, but that's exactly what No. 3 Everett and Lynn English have scheduled this year. The second meeting between these teams was held tonight under the lights at Manning Field, and there were several positives to take away as the regular season quickly approaches.

Sophomore sensation: At 6-foot-4, sophomore quarterback Jordan McAfee not only has the size, but also the tools to become one of the best quarterbacks in the state. His mechanics are smooth, has a solid arm and demonstrates a knack for finding the open receiver. One of his best throws came on a tremendous 37-yard hookup with Boston College commit Lukas Denis. But McAfee's play of the night came during 7-on-7 drills, when he threw a miraculous 33-yard bullet to Denis, this time squeezing the pass in-between three Lynn English defenders.

Everett did a tremendous job of optimizing the space on the field, mainly as a result of their splits, running several wheel routes with slots and running backs and motioning receivers to create rub routes heading back towards the outside.

"[McAfee] gives us a few more options than we've had the past few years," said Everett head coach John DiBiaso. "If he can continue to progress, and stays on track, which we hope he does, and stays healthy, he gives us that added dimension of throwing the ball, which makes the running game that much more effective."

Based on the talent at quarterback and a speedy group of receivers, Everett's offense should look more like they did in 2011, when record-setting quarterback Jonathan DiBiaso was under center, in comparison to more recent years when their offense seemed to change on a weekly basis.

Solid line play: The Crimson Tide controlled the line offensively behind linemen Eric Trickett, D.J. McDonald and Jefferson Palencia. The holes helped running back Jackinson Joacine stand out on several plays, as the shifty back has a knack for changing direction on a dime with excellent ball carrier vision, that allowed Everett's run game to be effective. There were several times they came out in pistol and incorporated jet sweep, getting Denis in the mix on the ground. Overall, Everett's offensive line may be one of the bigger ones in the state and played extremely physical.

Taking control: Despite three of Lynn English's starting wide receivers not playing, third-year starting quarterback Lucas Harris showed great composer in the pocket and allowed his experience to bring the offense together. What was most impressive with Harris was his ability to make decisions quickly as his rapid release on throws gave his receivers opportunities to make plays.

Most of the Bulldogs' biggest plays on offense came on completions that were caught for four to seven yards, and then turned into bigger gains. Receiver Miguel Martinez made a plethora of those catches, including a snag on a post route to the back of the end zone during 7-on-7.

Although there were several dropped passes, what's more important to take away, since this was a scrimmage, is the fact that the Bulldogs can depend on Harris' leadership when the team needs him most. It's tough to ask a teenage to take control and lead a team, but Harris certainly is capable of answering the call.

Aggressive approach: Heading into tonight's scrimmage, the Lynn English coaching staff stressed they had to be more physical. The message must've got through, as both the offensive and defensive lines had their moments led by the play of junior offensive/defensive linemen Jeremy Garcia and Victor Morales.

On offense, the blocking allowed senior running back Stevie Collins -- an All-State basketball guard who returns after missing all of last season with a lower body injury -- to turn several runs into big gains, showing off his speed once he got to the outside. Defensively, the Bulldogs were out-sized up front versus a much larger Everett offensive line, but played physical and swarmed to the ball.

"We were much better tonight than were versus Everett Friday night," said Lynn English coach Peter Holey. "The running game was clicking a little big tonight with Stevie [Collins] and I liked how Lucas [Harris] looked. The offensive line is a work in progress and we missed some assignments but I was pleased with how we came out and played physical."

For Everett, coach DiBiaso didn't think his team tackled well but noted that it's not necessarily his players' fault.

"It's hard to blame the kids when you're only in pads for four days," DiBiaso said. "We don't have double-sessions because school started early so it's tough, but we'll have to improve on it."
September, 2, 2013
9/02/13
12:36
AM ET
By
Brendan Hall
| ESPNBoston.com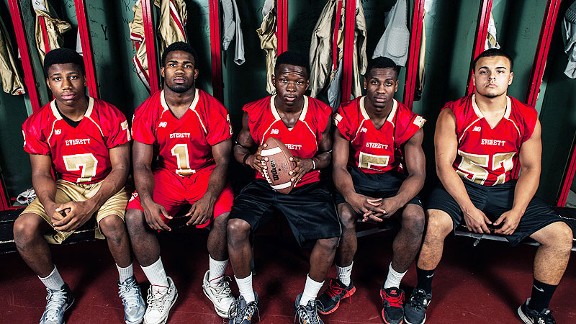 Michael Thorpe for ESPNBoston.comAfter going 28-1 over the last three seasons, Everett may take a step back -- but it's all relative.
It was one of the most dominant three-year runs in MIAA history, going 28-1 with three straight MIAA Eastern Mass. Super Bowl titles. They scored early and they scored often, including a 2010 run in which they outscored opponents by nearly a 30-point margin per game. They had high-profile talent in high-profile places, sending recruits off to places like Notre Dame, Wisconsin, Boston College, UMass, the Ivy League and seemingly everywhere else in between.
And now, it appears Everett High could be in for potentially a rebuilding year -- of course, in Everett that means more than one loss. There are some parallels to that last "rebuilding" team that went 8-3 in 2009. Back then, the Tide were coming off a three-year run that saw them win back-to-back D1 Super Bowls, and fall to eventual champ BC High in a playoff the third year. They graduated a load of talent, including Isaac Johnson, Walter Fallas, J.R. Suozzo and brothers Jim and Rodman Noel. Jonathan DiBiaso, the state's all-time leader in passing touchdowns, was a ripe sophomore.
That team took its lumps early on -- including an unheard-of 48-14 September beatdown at the hands of Dracut (a game which became just as well-known for coach John DiBiaso's post-game remarks, specifically "I just hope they don't take us off their schedule now" -- which they did, as it turns out).
But sooner or later, they figured it out, rolled to their 15th straight Greater Boston League title and a D1 Super Bowl berth, where they were shut out by rival Xaverian amidst the snow at Gillette Stadium. The lumps of that season gave way to the furious three-year run that concluded last December in similar snowy conditions, a 20-19 thriller over state No. 1 Barnstable to avenge an early-season loss and conclude a third straight Super Bowl title.
This year, the Tide must find replacements in the trenches, which graduated four starters from one of the nation's heaviest offensive lines and featured one of the East Coast's top recruits in John Montelus (Notre Dame). They must find new speed on the perimeter, where versatile threats Jakarrie Washington (Wisconsin) and Jalen Felix (Eastern Arizona JC) stressed defenses in so many different ways.
But does anybody truly, seriously doubt that these guys won't figure it out?
After all this was a team that last year was wholly unsettled at quarterback before the season even started, down to their fourth-stringer by their season-opener against Leominster. Raheem Wingard took over the reigns midway through the season, and the Tide never looked back.
The 5-foot-7 Wingard is back under center this season, and he has looked confident thus far in the preseason, putting better zip on the ball from a higher arm slot. Wingard developed a reputation last season as a running quarterback; working in the zone read out of the pistol, one of the new staples of Everett's offense this year, Wingard has shown the ability to make the right read on defensive ends.
He also maintains a chip on his shoulder, wanting to show the state last year's three-peat run was not the sole doings of last year's class.
"I feel like I'm one of the quarterbacks that gets overlooked a lot because I'm smaller, but that just gives me a little more motivation," said Wingard following a recent scrimmage. "And it makes me push my team that much farther, that much harder."
There are questions abound, particularly on the offensive line, where Zach Pierre is the lone starter. They aren't one of the nation's heaviest like last year, when they averaged 324 across, but this is still big by Bay State standards, averaging nearly 285. Keep an eye on junior Guerschwon Jean-Louis (6-5, 350) and sophomore J.J. Collimon (6-3, 245) as potential prospects down line, and don't forget about juniors Eric Trickett (6-1, 260) and Muhammad Raouie (6-0, 290) either.
Questions lie at the receiver positions as well, though it's apparent there is some talent with this group. Lukas Denis will be a focal point at wide receiver, alongside Lubern Figaro, but one name to keep an eye on is Joe D'Onofrio. After earning Catholic Central Small honors (
and some high praise from his former coach
), D'Onofrio returns to Everett and should make an immediate impact on both sides of the ball.
Where there won't be questions, as usual, is in the secondary. Figaro, who laid the wood from both slot corner and strong safety last year, was one of the most sought-after recruits in the offseason. He currently holds a dozen Division 1 FBS offers, and has chosen a final five of Boston College, Syracuse, Vanderbilt, Michigan State and Wisconsin; after initially saying he would decide before the start of the season, Figaro has pushed his selection date back to at least October, possibly later.
EVERETT AT A GLANCE
Coach:
John DiBiaso (22nd season at Everett, 263-64-1 overall)
Last Season:
11-1, won Div. 1A Eastern Mass. Super Bowl
Returning Starters:
Eight (three offense, five defense)
Key Returnees:
Sr. DB Lubern Figaro, Sr. LB C.J. Parvelus, Sr. QB Raheem Wingard, Sr. LB Angel Duarte, Sr. C Zach Pierre, Jr. ATH Lukas Denis
Strengths:
Secondary, linebackers, passing game.
Weaknesses:
Inexperience at offensive and defensive lines.
Outlook:
This might be the youngest, greenest team Everett has rolled out since 2009, when they got off to a rusty start before marching to the D1 EMass Super Bowl. Like that 2009 team, it might take a bit for everything to come along, but does anybody seriously doubt the Tide won't figure it out? Last year's offensive line, led by Notre Dame freshman John Montelus, was one of the nation's heaviest at nearly 324 pounds across. This year's line is lighter, but still heavy by Massachusetts high school standards, and with a few intriguing young prospects who still have some growing to do, mentally and physically. Expect senior Joe D'Onofrio, a transfer from cross-town Pope John XXIII, to be a focal point of the passing game; he's already made an immediate impact during the preseason, able to stretch defenses vertically with high-4.5 speed. Wingard has shown improvement at passing, and that he's ready to take leadership reigns, and when coupled with Figaro, Denis and newbie Miguel Lopes, there's faith that the Tide will figure it out. The Tide should have one of the state's best secondaries once again, led by Figaro, who holds a dozen scholarship offers and is deciding between Boston College, Syracuse, Vanderbilt, Michigan State and Wisconsin.
August, 24, 2013
8/24/13
3:06
PM ET
By
Brendan Hall
| ESPNBoston.com
EVERETT, Mass. -- This morning at Everett Memorial Stadium, the No. 2 Everett Crimson Tide hosted Lynn English in their annual first-weekend preseason scrimmage. In two series of varsity on varsity, Everett's offense scored four times, while the Bulldogs failed to reach the end zone.
This was our first look in the 2013 preseason at Everett, which is undergoing some wholesale changes in personnel after going 28-1 with three Super Bowl championships the last three seasons, as well as a good measure on several promising stars for English. Below are some notes and observations:
Radio Raheem:
If there was any dash of speculation before about who was going to be taking snaps under center, incumbent senior Raheem Wingard made it clear who was in charge. The 5-foot-8, 170-pound Wingard is built low to the ground and gets overlooked for his height, but he has a better arm than given credit for, and is excellent at making the proper read on backside defensive ends.
After graduating one of the program's most talented classes ever, led by the likes of Jakarrie Washington (Wisconsin), John Montelus (Notre Dame) and Jalen Felix (Eastern Arizona JC), Wingard takes the reigns with a chip on his shoulder. Everett was down to its fourth-string quarterback by opening night of the 2012 campaign, but Wingard moved over from running back to QB full-time midway through the year, and gave the Tide another running threat out of the backfield.
"He's stepping it up," Tide coach John DiBiaso said. "I think Raheem wants to prove it wasn't just Jakarrie [Washington], Jalen Felix, Kenny Calaj, Gilly De Souza, you know, that he had a hand in it a little bit. A lot of these kids have been the same way."
Said Wingard, "I feel like I'm one of the quarterbacks that gets overlooked a lot because I'm smaller, but that just gives me a little more motivation, and it makes me push my team that much farther, that much harder."
[+] Enlarge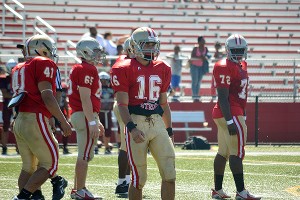 Brendan Hall/ESPNBostonPope John XXIII transfer Joe D'Onofrio looked sharp Saturday, and should factor significantly into the Everett offense this season.
Everett primarily operated out of two-by-two double slot formations, pairing Lukas Denis and Lubern Figaro on one side opposite newcomers Mike Lopes and Joe D'Onofrio. That opened up the field for a series of slippery zone read plays up the middle, which Wingard usually orchestrated correctly.
D'Onofrio off and running:
The prettiest play of the afternoon belonged to D'Onofrio, who connected with Wingard for a 55-yard touchdown pass towards the end of the Tide's first of two offensive series. Split wide just outside the numbers, D'Onofrio gained a step on his defender cutting diagonally on a post route, slipped behind the safety coming over the top, and let the ball softly drop over his shoulder into his outstretch hands, sprinting the final 20 yards to paydirt.
The 5-foot-11, 182-pound D'Onofrio was the Catholic Central Small MVP last year at cross-town Pope John XXIII after rushing for 1,356 yards and 16 touchdowns, his second straight 1,000-yard rushing season. But school has since gotten rid of its football program, leading D'Onofrio back to Everett, where he dabbled as a freshman.
If this morning is any indication, D'Onofrio is making a seamless fit into the Everett passing game. His slender frame blended with top-end speed and crisp routes draws comparisons to former Everett great Matt Costello, the 2010 ESPN Boston Mr. Football now playing for Princeton University, with the ability to stretch a defense vertically and take the top off. They're slightly different players, though -- D'Onofrio is a bit more physical, what with playing outside linebacker on defense.
"He's a real good player," DiBiaso said. "I've known him since he was five years old, he grew up in [Everett's] Pop Warner and everything. He did the couple years at Pope John, and now he's back with us. We're happy to have him, he's a good addition to the program. He's a good athlete."
Green in the trenches:
Last season, the Tide had one of the nation's heaviest lines, averaging 324 pounds across, led by the 6-foot-5, 330-pound Montelus. This year's line is smaller, but still pretty impressive by high school standards at nearly 286 pounds across. Senior center Zach Pierre (5-11, 284) is the lone returning starter, and the Tide are breaking in new guards in juniors Eric Trickett (6-1, 260) and Muhammad Raouie (6-0, 290).
Two of the most intriguing newbies may be at the bookends. Junior Guerschwon Jean-Louis is in his first year of ever playing organized football, but at 6-foot-5 and nearly 350 pounds he held his own at the left tackle position. Sophomore right tackle J.J. Collimon is almost athletic enough to be a tight end, and may project the highest at 6-foot-3 and 245 pounds.
Today was a good matchup for the young but promising Everett line, which had to deal with ESPN Boston Preseason All-State selection Chris Tinkham on the interior. The 6-foot-3, 280-pound senior has attracted Division 1 interest and is an impressive bull-rusher on the interior, but everywhere else the Tide were able to take control.
Offensively, the Tide moved the ball consistenly downfield, with linemen consistently getting into the second level. In one of the more impressive plays of the varsity action, Raouie charged up the left sideline on a screen and sealed off an English defender 15 yards downfield.
Defensively, Tinkham high-walled ends from the left tackle spot, but from the right side the Tide registered two sacks in the second English offensive series, including a nice speed rush from three-technique tackle Sidney Brimas, while 180-pound tackle Josh Palmer caused disruption shooting the inside gaps.
Harris-Javier battle heats up:
One of the more intriguing camp battles is at English, where Lucas Harris is the incumbent but has been getting a good run from junior transfer Jordan Javier. At Haverhill High last year as a sophomore, the 6-foot-4 Javier excelled at wide receiver, but over the summer he has gotten plenty of reps at quarterback -- a move that's merited, as he makes difficult throws look effortless.
Javier, laboring through a tweaked meniscus from earlier in the week, took most of his snaps at quarterback, and took a few lumps early in the first series. On one play, he scrambled down the right sideline only to be stopped cold by Everett's C.J. Parvelus 10 yards down field. Two plays later, Javier threaded a laser deep down the left slot, only to watch highly-touted safety Lubern Figaro stip the ball from Harris' grip at the last second.
Both Harris and Javier made some great plays on the run, hitting receivers with tight balls just steps from the sidelines on deep comeback routes. And when Javier did line up at receiver for a few plays, he made the most of it, including an impressive catch from Harris on a square-in route from the left.
So far, Javier has shown promise, but Harris has done nothing to suggest he shouldn't be the quarterback. Receiver appears to be Javier's more natural position, based on history, so perhaps there is a compromise.
It will be worth monitoring Javier's left knee, which he re-aggravated late in the varsity series, having to be carried off by teammates and barely putting weight on his left leg. It's considered nothing serious, another tweak of the meniscus, according to English coaches.
Miscellaneous:
One name to keep an eye on down the line: Jordan McAfee. The 6-foot-3 freshman is the Tide's third-string quarterback behind Wingard and Pat Long, but demonstrates remarkable maturity for a 14-year-old kid and made two terrific throws on comeback routes in the morning's final series. ... When the Tide got inside the red zone, they went to their familiar "Double Wing" package, experimenting with Raouie at fullback. Twice they scored on five-yard power sweeps, one in each of the two varsity series, from Denis and D'Onofrio. ... The linebacking corps appears to be set for now, with Angel Duarte at middle linebacker and Parvelus and D'Onofrio playing outside. ... In the secondary, keep an eye on junior Richard Jean, who made a good break on a deep pass late in the second series, deflecting a would-be touchdown at the sideline from about 10 yards out. ... DiBiaso on the roles expected of Figaro and Denis: "They've got to be leaders. We don't have that many experienced [players], so they've got to be leaders on the team. Lubern and [Lukas], those are the two bigger names out there."