Boston High School:

Ernie Chatman
February, 26, 2014
2/26/14
12:16
AM ET
By
Andy Smith
| ESPNBoston.com
EVERETT, Mass. -- When the single elimination state tournaments begin, teams look for any form of motivation they can to help it achieve its ultimate goal. Before its 80-43 victory over Malden in the opening round of the Division 1 North playoffs, Everett was no different.
"The kids were greatly motivated," said Everett coach John DiBiaso. "I just want to thank my friend [ESPN Boston High Schools editor] Brendan Hall for picking us to lose and that motivated them a lot. They were very emotional. They felt like they were disrespected, they were the league champs and were picked to lose, one and done. Tell him thanks."
The Everett players wanted to use the game to not only make a statement against a fellow Greater Boston League team, but the rest of the state as the playoffs get underway.
[+] Enlarge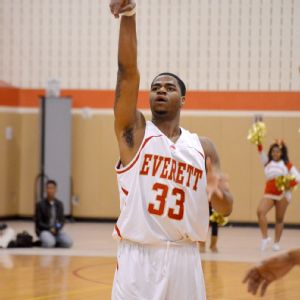 Brendan Hall/ESPNTimmance McKinney (25 points) picked up the slack for Everett after its starting point guard went down to injury on the game's opening possession.
"We felt we got no credit, no one's giving us credit," said senior Timmance McKinney (25 points, four steals). "We put a chip on our shoulder. We talked about it yesterday, that we felt like we were really underrated, and we just came out here and played hard."
Everett (17-4) played like a team that was not willing to end its season just yet. Things started going downhill for Malden in the first quarter when Jordan McAfee hit a three to make the score 13-5. Malden called a timeout, but Everett continued its attack on both ends of the floor.
For seven minutes spanning parts of both the first and second quarters, it allowed Malden (10-11) to score only one point. By that point, Everett had jumped out to a 25-5 lead.
"We've got a lot of depth. We play 11 guys and I feel like Malden played about 6," said McKinney. "That definitely plays a big part in the game. We've got a lot of depth so we were able to wear them down."
Everett took a 41-18 lead into halftime and did not allow that lead to slip in the second half. Malden made its loudest offensive impact three minutes into the third quarter when Bryan Mitchell-Rodriguez (10 points, 8 rebounds) posterized an Everett defender, throwing down a left-handed dunk in traffic. The dunk sent Malden fans into a frenzy, but the shock and awe quickly wore off when its team went down by 30 points later in the quarter.
Tuesday was a vastly different result from the first two times the Greater Boston League rivals played each other this season. Less than a month ago, on Jan. 31, Malden beat Everett 59-51. On Valentine's Day, Everett avenged that loss with a 57-44 victory. This time around, it was not even close.
"The biggest difference between tonight and those games is tonight they played as a team and played very unselfish," said DiBiaso. "They made the extra pass and I thought we played fantastic on the ball defense. We got back on defense, we didn't give up any easy hoops. For a lot of the first half, they were in single digits."
Chatman (ankle) leaves game:
Ten seconds into the game, Everett lost its starting point guard Ernie Chatman. The Crimson Tide recovered the opening tipoff and set up its offense. Chatman hit a jump shot from the right wing and immediately fell down holding his ankle. He was carried off the floor by teammates and did not return to the game. The extent of his injury was unknown immediately after the game.
"I have no idea (the extent of the injury)," said DiBiaso. "We've got him on ice. We're probably not going to know until later tomorrow or maybe the day after."
Whether Chatman is able to play Friday or not, Everett will be back on its home floor Friday to play another GBL foe, Somerville, in the quarterfinals of the Division 1 North playoffs. Somerville defeated East Boston 56-45 Tuesday night to advance.
"We need Ernie," said McKinney. "That's our point guard. We go when he goes, but we'll have to play without him if he's not well."
Lubern Figaro, the Wisconsin football commit, stepped up in Chatman's absence, finishing the game with 11 points and 7 rebounds. Ridley Renois was also active on the glass with 9 rebounds in the game.
January, 11, 2014
1/11/14
1:50
AM ET
By
Chris Bradley
| ESPNBoston.com
EVERETT, Mass. –- It seemed as if whenever Cambridge made a run on Friday night, it was Everett's ball pressure and high-octane offense that got the Crimson Tide the lead back.

Despite being down after three quarters, Everett (6-0) was able to overcome Greater Boston League rival Cambridge, 74-63, thanks to an outstanding second half from sophomore Ernie Chatman (16 points) and forward Gary Clark (15 points, 8 rebounds).

Trailing 42-36 at the beginning of the third quarter, it was Chatman -- playing with a hurt ankle -- who had a major hand in bringing the Crimson Tide back into the game. A flashy point guard with a quick crossover, Chatman nearly blew the roof off the gym when he crossed up a defender and finished an acrobatic lay-up early in the third. A few minutes later Chatman pulled up and swooshed a three-pointer from 28 feet out.

Chatman, who transferred to Everett from Boston English in the offseason, has had a smooth transition to the Crimson Tide program.

"[Ernie] has done well, the kids have accepted him," Everett coach John DiBiaso said. "We've got some great senior leadership -- our seniors are a great group. They wanted to build it to the next step, we went to the semis last year and our goal is to go a little bit further this year."

With his team down a point to Cambridge (4-2) after three quarters, Clark came up big for the Crimson Tide in the fourth, scoring 8 of his 12 second half points during a three-minute span in the final period. It came of little surprise to his coach.

"Gary's one of the best players in the state. We're very fortunate to have him, but the thing that epitomizes us is that we're a team," DiBiaso said. "The scorebook says that about nine guys scored, you don't see that in high school...It looks like an NBA box score."

With Clark sitting out injured in the first half, as well as Chatman struggling to move around at first on his hurt ankle, it was Everett's depth that helped them stay in the game in the early going. Timmance McKinney (12 points), Rodwell Blanc, and Debrien Cora-Perez all managed to score, force turnovers in the halfcourt, as well as assert their power on the defensive glass.

"I thought it was our depth, we went 12 deep on the bench tonight. We had guys in foul trouble, we had guys hurt," DiBiaso said. "Everybody I thought stepped up and came to play."

Slowing down McLeod, Deneus: Cambridge point guard Isaiah McLeod and 6-foot-5 center Fredens Deneus have been as good as any inside-out punch in the MIAA this year. McLeod, a playmaking point guard who has taken on a primary scoring role for the Falcons, was contained to just 12 points -- with a couple of those baskets coming in garbage time at the end of the game.

"They're a good team. [McLeod] is a good guard, they churn the momentum around, they broke the press and got some lay-ups, but to our credit we bounced back and stayed true to what we were trying to do," DiBiaso said. "We were going to press until the end and that wore them down at the end I thought."

The longtime coach at Everett, DiBiaso always enjoys playing Cambridge because of the talent that coach Lance Dottin's Falcons always seem to bring to the table in the Greater Boston League (Cambridge is moving from the GBL into the Dual County League next season).

"The great part about having Cambridge in the league, they came in the [Greater Boston League] in 1991. It upped the ante for everybody; it made everybody in the league better," he said. "Before they came, teams were going to the tournament one-and-done because we didn't play anybody during the season of their caliber. By having them in the league it raises the bar for everybody."

Deneus (10 points, 13 rebounds), who has been drumming up plenty of interest from college coaches since the start of his senior season, was dominant on the glass despite a rather inconsistent offensive performance.

Athletic big men like Deneus come at a premium at the MIAA, but DiBiaso said that Deneus' length, skill, and athleticism didn't force Everett -- a team known for attacking the rim -- to change up its gameplan much offensively.

"All we said was that on offense we were going to take the ball right to him—we weren't going to let him change the game," DiBiaso said. "We were going to the basket, and I thought we did a good job of going to the basket."
March, 26, 2013
3/26/13
5:52
PM ET
By
Chris Bradley
| ESPNBoston.com
In the biggest game of the year in MIAA hoops, the Division 1 state title game, it seemed as if the sophomores were hitting all the big shots. With hundreds of Mansfield fans directly behind the basket screaming and waving, Putnam sophomore Ty Nichols nailed two free throws with eight seconds left in overtime to seal the Beavers' first state title in school history.

But let's not forget how the game got to that point. Rewind to the end of regulation.

Mansfield sophomore Ryan Boulter put on one of the gutsiest performances that we saw all season. After he was fouled on a three-point attempt with five seconds to go in the fourth quarter, Boulter went to the line with an opportunity to tie the game and send it into overtime. Miss one, and his team, in all likelihood, would lose the game.

Not only did Boulter hit all three free throws, he did so without ever taking his eyes off the rim -— not even to catch the bounce passes that came from the referee following each of the first two free throws. He sent the game into overtime, then hit a three-pointer from the wing to give Mansfield the lead.

Following a four point swing by Putnam, Boulter put the team on his back one last time -— draining a three-pointer to tie the game with just seconds to go in overtime. Enter Nichols, and game over.

While Putnam's entire team circled around their trophy in the pressroom after the game, a few of Mansfield's players sat across the room waiting to be interviewed. Boulter fought back tears. Brendan Hill -- a sophomore who was Hockomock League MVP and considered to be a Division 1 prospect in both football and basketball -- stared at the floor, head in hands.

While listening for Putnam senior KayJuan Bynum talk about the pride that Springfield has in basketball, I couldn't help but glance over at Hill and Boulter across the room. Both fierce competitors with unbelievable poise, they sat in the shadows of the pressroom while Putnam's players hugged each other in celebration.

That was the ringing overtone talked about for days following the state title game: Mansfield will be back.

It was the same reaction seen on the floor of the Tsongas Center only a week earlier. After a crushing defeat to a more experienced Central Catholic team, Lynn English sophomore guard Stevie Collins pulled his jersey over his face as the final buzzer sounded, hiding tears from watching Central Catholic celebrate the Division 1 North championship.

The playoff run was an unexpected one for the Bulldogs, and English can be expected to be back next year. With Collins' classmates Johnny Hilaire (6-foot-6 forward) and Erick Rosario (6-foot guard) both returning, as well as juniors Freddy Hogan and Danny Lukanda, expect a big run from English once again. The Bulldogs' run to the North final almost wasn't possible, mainly because of 20 points from Everett sophomore Gary Clark in the quarterfinal match -- a high-scoring, back-and-forth match that left English the 94-87 victors.

English, Putnam, and Mansfield, and Everett are not alone in boasting talented young players, though. Statewide, the MIAA's depth in the 2015 and 2016 classes is one of the best we have seen in recent memory.

***

DAVIS, COLLINS LEAD LONG LIST OF POINT GUARDS

Collins leads a long list of talented floor generals in the 2015 and 2016 classes. Those included (and very close behind him) are Lowell sophomore Kareem Davis, who ignited one of the state's most exciting offenses this year; New Mission's Randy Glenn, a left-handed playmaker who was pivotal in helping the short-handed Titans make a run to the Boston City League championship; St. Peter-Marian freshman Makai Ashton, a fearless point guard who is considered to be the best long-term guard prospect in the Worcester area; and Melrose frosh Sherron Harris, whose "on-court killer" style of play is scarily similar to his cousin, Cushing Academy star Jalen Adams.

-- St. John's (Shrewsbury) sophomore Davon Jones has more big-game experience than any of the point guards listed above, as he has helped lead Bob Foley's Pioneer squad to WPI each of the last two years. As mentioned with Hill, Jones is considered to be a Division 1 football prospect.

-- Boston English freshman Ernie Chatman will win a lot of games for Boston English over the next three years, Chatman is a great ballhandler who is also lightning quick and a great floor leader.

-- Along with Glenn and Chatman, Brighton freshman Javaughn Edmonds will make a major impact in the Boston City League in the coming years. Edmonds will be looked to to step in and help fill in some of the production missing from departing ESPN Boston Mr. Basketball Malik James.

***

MIAA'S TOP PROSPECT HEADS FORWARDS

There is no question who has the highest ceiling of any player in the MIAA. It is Springfield Central's 6-foot-8 sophomore Chris Baldwin. A sureshot Division 1 prospect who can block shots, rebound at a high rate, and score in a variety of ways, Baldwin will make sure Central remains one of the state's best hoops programs after making the Western Mass. Division 1 championship game once again this year.

St. Peter-Marian freshman Greg Kuakumensah will have big shoes to fill next year for the Guardians, especially as they soon graduate forward Tim Berry, the heart and soul of their offense. Kuakumensah, the younger brother of Brown University forward Cedric Kuakumensah, will join Ashton in what should be a very bright future for St. Peter-Marian. At 6-foot-4, he is a great shot blocker like his older brother, but is also tremendous athlete and competitor.

-- SPM isn't the only squad returning a talented young duo though. Brighton, the Division 2 state champion, will, alongside Edmonds, return 6-foot-5 sophomore forward Jason Jones, who played a lead role in helping the Bengals to their first Boston City League championship.

-- Andover's 6-foot-5 sophomore forward Connor Merinder was limited in minutes this year as he recovered from a severe wrist injury. However, he was able to recover by playoff time and led the Warriors to the Division 1 North semifinals, knocking off Medford and St. John's Prep in order to do so.

-- For all the attention to the prospects at larger Division 1 and 2 schools, keep an eye on 6-foot-5 sophomore forward Jake Wisniewski out of Quaboag. After averaging over 20 points per game for Quaboag this past year, the already-experienced post scorer is one of the state's top prospects in Division 3. A talented forward at Division 3 New Leadership, 6-foot-6 freshman Davidson Pacheco, will take his talents elsewhere after averaging 10 points per game this year, what with the expected closing of the Springfield-based charter school.

***

MOBLEY, JUDSON CAN MAKE IT RAIN

Newton North sophomore Tommy Mobley was one of the state's most feared scorers this year, leading the Tigers to a 20-4 record and picking up Bay State Carey MVP. Mobley and St. John's Prep sophomore guard Ben Judson showed that they can be two of the MIAA's best scorers again next year. Like Mobley, Judson's three-point range extends all the way out to 25 feet—as both were known to drop a barrage of three-pointers on opponents this year, heavily guarded or not.

New Mission's Juwan Gooding, New Bedford's Tyree Weston, and Catholic Memorial's Guilien Smith, were all early exits from the state tournament this year. But as three of the MIAA's most talented pure scorers in the 2015 class, they'll be back for big runs next year. Smith and Gooding are finesse guys who use their quick first step to get to the rim, while Weston uses his sculpted frame to overpower opponents and score inside-out.

-- One other Springfield product to keep an eye on is Cathedral sophomore Darrick Boyd. The young, talented sharpshooter scored 19 points per game this year, leading Cathedral to a 13-9 record. Danvers sophomore Vinny Clifford, also a dead-eye shooter, will be looked at to be a leader for the two-time defending Division 3 state champion. Clifford, the younger brother of Merrimack College forward Mike Clifford, was an integral piece this year for a team led by Eric Martin, Nick Bates, and Nick McKenna.

-- Yet another two-sport star, Wakefield sophomore Bruce Brown, helped the Warriors make a deep run in the Division 2 North tournament this year, eventually falling to a deeper, more experienced North Andover team. Brown is an elite athlete who, at his best, is nearly unstoppable because of his upper body strength. On the football field, Brown caught seven touchdown passes as a wide receiver last fall.

-- Two 14-seed over 3-seed upsets in the first round of the Division 1 North tournament should be remembered going forward. Freshman Saul Phiri's heroics in a first-round upset win helped lead Haverhill past Westford Academy, while frosh Keyshaad Dixon's three-pointers sparked perhaps the most surprising win of the first round, as Braintree knocked off heavily-favored BC High.

-- St. John's (Shrewsbury) freshman Adham Floyd, was a very important piece for the Pioneers' run to the Central Mass. Division 1 title game, starting several games during the season. Bishop Feehan freshman Mike Nelson, a teammate of Floyd's with the Shooting Stars AAU program, showed great poise in leading his team to an impressive run in the Division 3 South tournament, falling narrowly in the quarterfinals to eventual D3 South champion Martha's Vineyard.

***

Picking the Super Team for this year's ESPN Boston MIAA All-State Team sparked as much debate as any Super Team selection in recent years. The statewide parity, talented young players bolting to prep school, and lack of scholarship-level talent in the upper classes forced careful consideration and a never-ending debate about picking out the MIAA's elite upperclassmen.

However, with the amount of freshmen and sophomores who made a name for themselves on a big stage this year -- the instant-classic Division 1 state final between Mansfield and Putnam being the prime example -- it's likely we won't spend too much time worrying about the pipelines of scholarship-level talent coming up the ranks in MIAA basketball.