Boston High School:

ESPN Boston Mr. Lacrosse
June, 26, 2013
Jun 26
7:49
PM ET
ESPNBoston.com and its high school section announced today that Nico Panepinto, senior attack of the Needham Rockets, is the recipient of its third "Mr. Lacrosse" award, presented annually to the top player in Massachusetts.
The Mr. Lacrosse winner was chosen by a panel of experts made up of ESPNBoston.com staff, correspondents and state lacrosse coaches. Panepinto will be presented with the award at a later date.
[+] Enlarge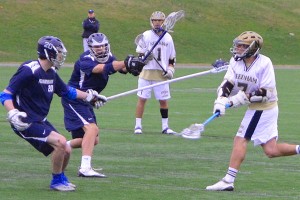 Scott Barboza/ESPNBoston.comNeedham attack and Fairfield University signee Nico Panepinto is our third Mr. Lacrosse award winner as the best player in MIAA lacrosse this season.
"In what might have been our most wide-open year of considering the recipient of the Mr. Lacrosse award, Panepinto established himself as the most consistent force in the state this year," said ESPN Boston high schools co-editor Scott Barboza, who coordinates the site's boys' lacrosse coverage. "This season, as in the last several high school seasons, Nico has been the focus of opposing teams' game plans and was still able to produce at a prodigious rate despite being a marked player."
Panepinto, who has signed a national letter of intent to Fairfield University, is the third Mr. Lacrosse winner, joining previous recipients Grant Whiteway (Billerica Memorial, UMass) and Max Randall (Duxbury, Dartmouth).
Panepinto also was a two-time Eastern Mass. Lacrosse All-American, as selected by the Eastern Mass. Lacrosse Coaches Association, earning the honor in each of the last two seasons. He also was named an ESPN Boston MIAA All-State selection during both of those seasons.
In his high school career, Panepinto also was a standout on the Rockets football team and was a driving force behind Needham's Division 1 Eastern Mass. Super Bowl appearance.
"Whether it's on the lacrosse or football field, Panepinto has excelled at the highest level of competition," Barboza said. "He was a player that commanded attention no matter what the season."
May, 27, 2013
May 27
6:45
PM ET
With the state lacrosse tournaments underway, we're taking a moment to preview the field for our third annual Mr. Lacrosse Award, to be announced at the completion of the season.
Without further ado, the five candidates are, in alphabetical order:
Nick Brozowski, Jr. LSM, Concord-Carlisle
- The Maryland commit has been an absolute ground-ball machine for the Patriots. He's helped a C-C defensive unit that has allowed less than six goals per game during the regular season.
[+] Enlarge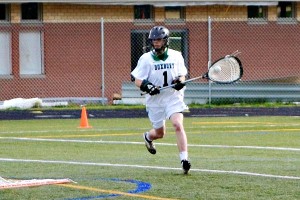 Scott Barboza/ESPNBoston.comIn his first season as Duxbury's starting goaltender, junior Nick Marrocco is a candidate for our third annual Mr. Lacrosse award.
Jay Drapeau, Jr. A, Westford Academy
- Drapeau has been one of the most feared scorers in the state during the last several seasons and is again among the state leaders in scoring with 95 points during the regular season, including 65 goals.
Nick Marrocco, Jr. G, Duxbury
- In his first season as the Dragons' starting netminder, the Georgetown commit has been downright stringy. Among the state leaders with Marrocco in net, Duxbury has surrendered just 84 goals on the season.
Nico Panepinto, Sr. A, Needham
- The Fairfield signee is a huge reason behind the Rockets' No. 1 ranking in our Top 25 poll, closing out the regular season. Looking for a validating performance as to why Panepinto should be included? Look no further than his four-goal performance against Duxbury, ending the Dragons' 48-game winning streak against MIAA competition.
John Sexton, Jr. LSM/D, Lincoln-Sudbury
- The Notre Dame commit has done a little bit of everything (and well) for the Warriors this year -- from taking faceoffs to stepping up to play on the man-up unit. One of the most versatile players in the state, Sexton is also among its most revered defenders.
June, 25, 2012
6/25/12
4:50
PM ET
ESPNBoston.com and its high school section announced today that Max Randall, senior defenseman of the Duxbury Green Dragons, is the recipient of its second annual "Mr. Lacrosse" award, presented annually to the top player in Massachusetts.

The Mr. Lacrosse winner was chosen by a panel of experts made up of ESPNBoston.com staff, correspondents and state lacrosse coaches. Randall will be presented with the award at a later date.

"What makes Max Randall so great is that you hardly ever notice him on the lacrosse field, unless you're paying close attention," said ESPN Boston High Schools co-editor Scott Barboza, who coordinates the site's boys' lacrosse coverage. "Game after game, Randall would systematically take out the opposing team's top offensive player with little fanfare. That's exactly why he's our Mr. Lacrosse this year."

After playing alongside a bevy of fellow Division 1 college recruits on the Duxbury defense, Randall will play at Dartmouth College next season. The 5-foot-10 close defender was a three-time Patriot League lacrosse All-Star while being named to both the ESPN Boston football (Best of the Rest selection) and lacrosse (First Team) All-State teams as a senior. He also earned an Eastern Mass. lacrosse All-American nod this season.

During his athletic career at Duxbury, Randall was a part of three Dragons' lacrosse state titles while winning Super Bowls with the football team in both 2010 and 2011.

"Randall has been a terrific role model to future players and his peers," Barboza said. "Not only has he excelled in multiple sports at a high level, he's also served as captain in his time with the football and lacrosse teams and maintained a high GPA in the classroom. We're proud to honor Max as this year's award recipient for his accomplishments both on and off the field."
June, 29, 2011
6/29/11
1:41
PM ET
ESPNBoston.com and its High School section today announced its inaugural Mr. Lacrosse Award recipient, recognizing Billerica Memorial High senior attackman Grant Whiteway as the top male lacrosse player in Massachusetts.

The Mr. Lacrosse Award winner was chosen by a panel of experts made up of ESPNBoston.com staff, correspondents and state lacrosse coaches. Whiteway will be presented with the award at a later date.

"Grant Whiteway established himself as one of the most feared scorers in Massachusetts during the last four years," said Scott Barboza, co-editor of ESPN Boston High Schools. "He has many times over written his name into the record books alongside some of the greatest players who have ever played the game in this state."

Whiteway became one of six players nationally to have ever reached the 500-point plateau for his high school career before finishing with 539 career points (353 goals, 186 assists). The UMass-Amherst commit broke his own single-season state scoring record this season with 115 goals for 181 points.

That followed a record-setting performance during his junior year in which he broke Duxbury's Max Quinzani's single-season record for goals (113) and establishing a record for points in a season with 169.

The two-time Eastern Mass. All-American was a four-year starter for head coach Craig Flynn's team and a four-time Merrimack Valley Conference All-Star.

The Indians' captain also stood among the nation's scoring leaders in 2011 in goals, points and points per game average.

"The Whiteway family is synonymous with lacrosse in Billerica and it is fitting that Grant is our first Mr. Lacrosse winner as he serves as a terrific ambassador to both his community and the game," Barboza said. "There is no finer example of a player who embodies the qualities of skill and leadership."