Boston High School:

ESPN Boston Mr. Soccer
December, 18, 2013
12/18/13
4:04
PM ET
ESPNBoston.com and its high school section today announced that Thayrone Miranda, senior forward for the Somerville Highlanders, is the recipient of its second annual "Mr. Soccer" award, presented annually to the top high school soccer player in Massachusetts.

The Mr. Soccer award winner was chosen by a panel of experts made up of ESPNBoston.com staff and correspondents. Miranda joins Needham's Mac Steeves (2012) as the award's recipients.

Miranda will be presented the award at a later date.

"I've never seen a player like Thayrone," Somerville 11-year assistant coach Tiago Moreira said. "He's something special. Mentally, I think he was ready this year to take the team to the title game."

Miranda helped to lead the Highlanders to the Division 1 state title game this season. In 2013, Miranda tallied 20 goals and 12 assists while being named Most Valuable Player of the Greater Boston League for a second time, despite missing some of the season due to an offseason knee surgery. He swept through all the Coaches Association's honors, claiming Eastern Mass. (third time), All-State (third) and All-New England (second) honors while being named an All-American.

For his career, Miranda scored 78 goals and was a Greater Boston League All-Star in each of his four varsity seasons.

"He's a fully developed player," Moreira said. "He has so much control over his body, you just can't teach that stuff."
December, 11, 2013
12/11/13
11:42
PM ET
We're announcing our finalists for our second annual Mr. Soccer and Miss Soccer awards today, with the winners to be announced on Friday.

Here's a look at the finalists:

MR. SOCCER FINALISTS:
Adam Grammer, M, Masconomet
Beraa Ibas, M, Ludlow
Brendon Vazquez, M, Amherst
Paul Beatty, F, Silver Lake
Klisman Sousa, M, New Bedford
Dave Stapleton, M, Oliver Ames
Michael Dushman, M, Bedford
Lucas Rezende-Verge, G, Weymouth
Mike Skarbelis, M, North Andover
Connor Henry, M, Algonquin

MISS SOCCER FINALISTS:
Breanne Moreau, M, Belchertown
Kayla Steeves, M, Needham
Aly Leahy, D, Newburyport
Taylor Coglaino, F, Franklin
Gabriela Kenyon, F, Notre Dame (Hingham)
Angela DeBruzzi, G, Concord-Carlisle
Courtney Walsh, M, Central Catholic
Caitlin Harty, F, Beverly
Brooke Murphy, F, Monson
Lucy LeBlond, F, Algonquin
September, 3, 2013
9/03/13
4:50
PM ET
By
Josh Perry
| ESPNBoston.com
Somerville takes over the No. 1 spot in the first ESPNBoston.com boys' soccer Top 20 poll of the 2013 season (
CLICK HERE
).
The Highlanders were ranked No. 2 at the end of last season, after losing to state champion Needham in the semifinal, and bring back senior forward Thayrone Miranda, one of the most dynamic players in the state.
The defending champion Rockets drop down to no. 9 in the poll after losing 9 of 11 starters from last year's team, including the program's all-time leading scorer and ESPNBoston.com Mr. Soccer Mac Steeves. As many coaches have pointed out this preseason, with legendary head coach Don Brock prowling the sidelines it is impossible to count out Needham.
New Bedford and star midfielder Klisman Souza jump into the No. 2 slot on the advice of just about every coach and player that was spoken to this preseason. The Whalers have the potential and depth to be a great team, as long as they stay focused and avoid getting frustrated against teams that are going to be physical and try to kick them out of games.
FRANKLIN STILL ON TOP
On the girls' side, defending D1 champion Franklin holds on to the No. 1 ranking that it claimed at the end of 2012 (
CLICK HERE FOR POLL
). Although the Panthers will not have prolific, All-American forward Kristi Kirshe, Franklin brings back 8 of 11 starters and will expect junior Taylor Cogliano to provide the team with offensive punch.
As one coach put it, "The road to the D1 title still runs through Franklin."
A number of the teams that held on to top spots last year have dropped because of the graduation of superstars (more on that below), including No. 9 Medfield, which went unbeaten in winning the D2 title. The Warriors could very well be at the top of the poll at the end of the year but, with five freshmen on the roster and a host of players taking on more responsibility, it may be a while before Medfield reaches its potential.
Needham is a team to watch out for this season with junior midfielder Kayla Steeves and sophomore forward Rachel Kingston, among others. The Rockets could make a run similar to the one that the Needham boys went on last season. Other teams making preseason noise are Winchester and North Andover, which each drew praise from opposing coaches over the past two weeks.
September, 3, 2013
9/03/13
4:29
PM ET
By
Josh Perry
| ESPNBoston.com
With MIAA soccer matches kicking off this week, here are four storylines to watch for the new season:

1. Realignment changes dynamic of postseason.

The MIAA realigns this season and a number of teams will be competing in different divisions this year. The biggest change is that Division 2 now only exists in Eastern Mass. This means a shift for several teams out West, including Belchertown, which now has its girls playing in Div. 1 while the boys are expected to dominate in Div. 3. Two-time defending D2 state champion Groton-Dunstable also faces a jump up to D1 in Central Mass.

In the boys' South sectionals, these changes have suddenly created a D2 tournament that will be as difficult as just about any sectional in the state. Division 1 South semifinalists Dartmouth and Oliver Ames, along with fellow playoff teams Nauset, Walpole, and Catholic Memorial will all be dropped down. The teams combined for seven wins in the 2012 D1 playoffs and, when added to D2 mainstays like Canton, Medfield, and Hingham, will provide a deep bracket filled with potential state champs. One team not included in that list is last season's D2 South winner, Medway, which will now compete for the D3 title.

All of the movement will add some spice come October and November as many of the teams (for example the Dedham girls, who have been moved to D3) compete in leagues with teams in higher division or schedule those opponents to prepare for the playoffs.

2. What happens when the face of the program leaves?

The Needham boys will be without their all-time leading scorer, Mac Steeves, this season and on the girls' side there are a number of programs that have lost not only good players, but among their best ever.

Franklin's Kristi Kirshe, Peabody's Hayley Dowd, Oliver Ames' Kendall Andrew, Canton's Lauren Berman, Nashoba's Kim Slade, and Concord-Carlisle's Andrea O'Brien are just a few of the graduates that have left question marks around entire programs. (Apologies to anyone not mentioned - it's a very big list.)

Many of these teams are familiar faces in the rankings and will find a way to be successful even without the big name (Franklin for instance is still considered the team to beat in D1), but that is an amazing amount of talent moving on and it has changed the whole perspective on how successful these teams can be. It has opened the door for new league and sectional champions.

In many cases these players were not only the best player and the talent that produced wins on the field, but also the foundation on which the team formulated its game plan. Now, coaches may have to adjust to lesser talents that are not able to decide games on their own and players will have to step up and take responsibility where before they could simply pass to the star. It's a challenge that will be interesting to watch this season.

3. A true rivalry out West.

Ludlow, boasting 17 state titles, has long been the dominant force in the West region, but last year Amherst earned its first ever sectional title and showed that it could compete with the best. This season, Ludlow is considered the team to beat but, with seniors Brandon Vazquez and Eric Gooden, Amherst believes that it has closed the gap. Both teams are ranked in the preseason Top 10 and now there are two teams that people out East have to ask about at the start of every year.

If the fans of Belchertown had their way, there would be a third team to add to the rivalry. The Orioles put up numbers last year that would make Barcelona jealous, but it is hard to determine the caliber of teams that they are competing against. With the drop into D3 this season, the gap between Belchertown and the top teams in the West is even larger, making it even more difficult to rate them.

4. Mr. Soccer and Miss Soccer races heat up.

Going into the season, there are a number of players to watch out for and the race for the second annual ESPNBoston.com Mr. and Miss Soccer awards (won last year by Mac Steeves of Needham and Kristi Kirshe of Franklin) has the potential to be very close.

Here are preliminary lists of some of the male and female players to watch heading into 2013:

Boys – Thayrone Miranda (Sr., F, Somerville); Dave Stapleton (Sr., M/F, Oliver Ames); Klisman Souza (Sr., M, New Bedford); Brandon Vazquez (Sr., M, Amherst); Noah Martins (Sr., M, Dartmouth); Aram Ouligian (Jr., D/M, Needham); Michael Dushman (Sr., M, Bedford); Paul Beatty (Sr., F, Silver Lake); Bobby Ivatts (Jr., M, Walpole); Lucas Resende-Verge (Sr., K, Weymouth).

Girls – Caitlin Harty (Sr., F, Beverly); Taylor Cogliano (Jr., F, Franklin); Kate Holleran (Sr., M, Oliver Ames); Lauren Petit (Sr., M, Medfield); Kayla Steeves (Jr., M, Needham); Breanne Moreau (Sr., M, Belchertown); Brooke Murphy (Sr., F, Monson); Maddie Jolin (Jr., F, Bishop Feehan); Alexis Fruzetti (So., F, Whitman-Hanson).
December, 11, 2012
12/11/12
4:28
PM ET
ESPNBoston.com and its High School section today announced that Mac Steeves, senior striker of the Needham Rockets, is the recipient of its first-ever "Mr. Soccer" award, which will be presented annually to the top high school soccer player in Massachusetts.
[+] Enlarge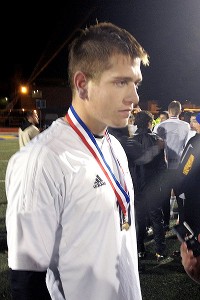 Courtesy of Josh PerryNeedham captain Mac Steeve led the Rockets to a Division I state title and will play soccer at Providence College next year. .
The Mr. Soccer award winner was chosen by a panel of experts made up of ESPNBoston.com staff and correspondents. Steeves will be presented the award at a later date.
"Mac was the best player on the best team in the state," ESPN Boston High Schools soccer correspondent Josh Perry said. "He has great touch for someone his size, a powerful shot and surprising quickness when taking on defenders. Not to mention, he was pretty handy as a defensive midfielder when Needham was protecting a late lead."
Steeves, a four-year varsity starter, capped his prolific high school career with a strong run in the Rockets' MIAA Division 1 state championship season. The All-American was named the MIAA tournament's MVP, matching his father Jay's accomplishment in 1983. He will play soccer at Providence College next year.
For his career, Steeves finished as the program's all-time leading scorer with 67 goals and 51 assists for 118 points after a 20-goal, 25-assist season in 2012.
But, according to legendary Rockets head coach Don Brock, what made Steeves so dynamic in his Needham career was his ability to play multiple positions.
"Many times during the year and through the tournament, we gave him the green light to move back and play defense, like he did against Somerville and Amherst [state championship match] in the final eight minutes," said Brock, who completed his 45th year with the program this year. "I'll probably never have another player quite like him."
Those aren't the only attributes which made Steeves special in Brock's eyes.
"Of all the key things about him, the best is that he was supposed to play academy and he chose to play high school," Brock said. "Thank god for us he chose to do that. Without him, we don't win the state championship without him scoring the last three goals."
November, 20, 2012
11/20/12
1:20
PM ET
For the first time in site history, we're pleased to announce that ESPN Boston will honor the top boys' and girls' MIAA soccer player with its first-ever Mr. and Miss Soccer Awards this year.
The winners will be announced on Monday, Dec. 3, but we've whittled down our lists to a final five candidates today.
Without further ado:
MR. SOCCER FINALISTS:
Felix DeBona, Sr. F, Somerville
- The D1 North champions were led by DeBona's 29 goals, including the lone goal against St. John's Prep that clinched the sectional title. DeBona's scoring propelled the Highlanders to 15th in the NSCAA national rankings, a Greater Boston League title, and an undefeated regular season.
Dave MacKinnon, Sr. GK, Oliver Ames
- MacKinnon was named an All-American for his commanding play in net for the Davenport division champions. He gave up only four goals during the regular season with 13 shutouts and was named the Hockomock League MVP. In the playoffs, MacKinnon's save during the shootout helped the Tigers beat league rival Franklin in the opening round.
Nate Pomeroy, Sr. F, Groton-Dunstable
- Pomeroy, who is bound for Brown University next season, notched two goals in the D2 state finals to clinch back-to-back titles for the Crusaders. Pomeroy was named to the All-New England team and named Mid-Wach B MVP this season. He had eight goals in the 2012 postseason run.
Cody Savonen, Sr. F, Nauset
- Savonen led Nauset to the D1 South sectional quarterfinals and eclipsed the 20-goal mark for the season. He had a hat trick in a 3-0 win over Plymouth South that wrapped up the third Atlantic Coast League title of his career and scored the winner in the opening playoff game against Wellesley.
[+] Enlarge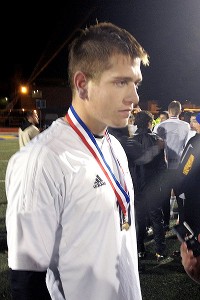 Courtesy of Josh PerryNeedham senior captain Mac Steeve led the Rockets to a Division I state title and is a finalist for our inaugural Mr. Soccer Award.
Mac Steeves, Sr. F, Needham
- The Rockets all-time leading scorer was named an All-American this season and led Needham to the Division 1 state title. Steeves also showed his ability to step up in big games. He scored both goals (and drew the penalty for the second) against Somerville in the state semifinals and scored the winning goal in the state finals against Amherst.
Honorable Mentions:
Osla DeBrito (New Bedford), Mike Lynch (Weymouth), Thayrone Miranda (Somerville), Brandon Miskin (Needham), Ryan Rose (Acton-Boxborough), Justin Rothemich (Sutton), Zach Scafati (Franklin), Stowe Simonton (Concord-Carlisle), Dave Stapleton (Oliver Ames), Brandon Vazquez (Amherst).
MISS SOCCER FINALISTS:
Lauren Berman, Sr. F, Canton
- With over 40 goals this season, Berman was the standout player for the Davenport division champions and a Hockomock League All-Star. Berman's accomplishments earned her All-American status and she will be playing in the ACC for the University of Maryland next season. She finished her career with over 130 goals.
Kristi Kirshe Sr. F, Franklin
- Kirshe eclipsed the 100-goal plateau for her career during the D1 playoffs. She scored in the state semifinal and scored both goals to lead the Panthers to the program's first-ever state title.She is an All-American as well as the state MVP. Compiling more than 30 goals this season, Kirshe helped a young Franklin team to an undefeated season.
Jen Narlee, Sr. M, Medfield
- Narlee is the leader of a very strong defensive unit for the D2 state champions. A physical presence in the center of the field, Narlee does many of the little things that do not get on the scoresheet. Many of the Warriors' opponents saw their attacks snuffed out by Narlee's positional play. That strong defense has helped Medfield win two of the past three state titles.
Andrea O'Brien, Sr. F, Concord-Carlisle
- O'Brien finished her career with over 100 goals and will take her talents to Boston College next year. An All-New England selection and submitted for All-American consideration, O'Brien helped lead the Patriots to a Dual County League title and to the second round of the tournament.
Kimberly Slade, Sr. F, Nashoba
- Slade is one of the brightest stars in the Central region. The senior forward was an All-New England selection and her playmaking ability helped lead the Chieftains to a sectional title and trip to the state championship game, where she scored the team's only goal.
Honorable Mentions:
Kendall Andrew (Oliver Ames), Mimi Borkan (Medfield), Jillian Cavanaugh (Belchertown), Taylor Cogliano (Franklin), Laura Courtney (Nashoba), Hayley Dowd (Peabody), Caitlin Harty (Beverly), Maddie Jolin (Bishop Feehan), Alexa Poulin (Central Catholic), Kayla Steeves (Needham).