Boston High School:

Fairfield University
August, 26, 2013
8/26/13
4:10
PM ET
By
Christian Bradley
| ESPNBoston.com
Central Catholic senior guard Tyler Nelson made a verbal commitment to Fairfield University on Monday afternoon, he told ESPN Boston.

Nelson, a 6-foot-2 sharpshooter, averaged 17.2 points per game last season for Central Catholic, leading the Red Raiders to the Division 1 North championship and garnering his second consecutive ESPN Boston All-State nomination.

This summer, playing for Boston Amateur Basketball Club (BABC), Nelson picked up offers from Jacksonville, George Washington, Vermont, Fairfield and Binghamton. Dartmouth offered him in January.

He narrowed his choices down to Fairfield, Binghamton, and Dartmouth, and ultimately chose the Stags.

"I recently have been thinking about it a lot, and I wanted to make my decision before the beginning of my senior year. I narrowed it down to three schools who [sic] were at a level of play I could play at and get a good education," Nelson said following his commitment.

He visited Fairfield, unofficially, earlier in the summer, and came away impressed with what the school and the basketball program had to offer. He'll visit Fairfield, officially, on Sept. 5.

"I really enjoyed the unofficial visit to campus, and I like the coaches a lot…I'll have a good chance to play a lot as a freshman."

Nelson was one of the most feared scorers on the Nike EYBL summer circuit, shooting 46.8 percent from behind the three-point line. While he admits the long summer schedule wore him down quite a bit, especially towards the end, he was able to reap the benefits and draw in widespread Division 1 attention.

"I just played out of my mind, I played well at EYBL. I was scoring well against some really good teams. I was one of the leading scorers for my team. That's where I really did all my damage," he said.

Playing on a relatively young BABC squad for coach Leo Papile, Nelson said he was able to pick up plenty of pointers from his AAU coach about competitiveness.

"All he wants to do is win, he doesn't care who plays good, who doesn't care who does what. That's a good mindset to have going into college…you just want to win."

There is also a noticeable amount of relief from Nelson, as he can now focus on team goals: leading Central to a deep run in yet another loaded Division 1 North field. Coach Rick Nault's Red Raiders will again be one of the area's most talented teams.

"I'm really pumped, I'm looking forward to having a good senior year," Nelson said, "We're going to be a lot better than people are giving us credit for."

He attributes Central's high in-house expectations to Nault, whom Nelson says is constantly pushing him to be better. As the Assistant Principal and Dean of Students at Central, Nault's high expectations of Nelson and the team come on and off the court.

"I've known him a long time, he's my favorite coach I ever played for. He's always been there pushing me, he pushes me every day in practice. In school he's the same way."
April, 12, 2013
4/12/13
5:12
PM ET
NEEDHAM, Mass. – When Needham lacrosse is operating in the offensive half, you can hear attack Nico Panepinto and his midfielder brother Mike. They go back-and-forth volleying messages about positioning while on the field. They're equally as vocal during timeouts, going over previous plays and the ways things could have gone better, both on their own and with Needham's coaching staff.
During an early season league game against Framingham on Thursday, the Panepintos were frustrated through the first half and the Rockets trailed in the third quarter. After a couple of lackluster looks at the cage to start the second half, they finally synced. They began a string of absolute rips on the net, turning a once tight game into a non-competitive one by the fourth quarter.
[+] Enlarge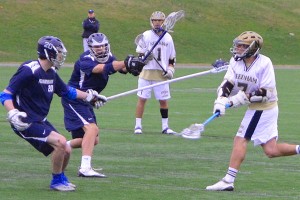 Scott Barboza/ESPNBoston.comNeedham attackman Nico Panepinto was among the state scoring leaders in 2012 with 54 goals and 30 assists while being selected an All-American and to the ESPN Boston All-State Team.
Offense can be a struggle for all teams this early juncture of the year and the Panepintos are no exception. They understand they'll improve – and they know they'll have to improve as the Rockets eye a repeat final appearance at Harvard Stadium come June. But they also know they have one major advantage over their competition; that is the ability to be each other's harshest critic.
"I think the best thing is that we can say anything to each other and not take it personally," said Nico, who signed his National Letter of Intent to play at Division 1 Fairfield University in November. "It might sound bad, but if I was open and Mikey took a bad shot, I would tell him, 'What are you doing.'"
And – perhaps more importantly – the business of lacrosse remains just that.
"Even if we say something not so nice to each other, we get over it pretty fast because we live together," added Mike, who has a verbal commitment to UMass-Amherst in place.
For the last couple of years, the name Panepinto is synonymous with Needham athletics. Whether working on offense with the Rockets football team or the lacrosse team, they've been targeted players by the opposition.
Nico has been among the top offensive weapons in the state on the lacrosse field for the last couple of years. He nearly single-handedly led the Rockets in a second-half comeback bid against Duxbury in last year's Division 1 state title game. While Needham fell short, 10-8, Nico's four-goal performance made the Dragons sweat out their ninth championship in a decade and turned a game that was supposed to be a laugher into a spell-binding nail-biter. He finished 2012 with 54 goals and 30 assists while being selected to ESPN Boston's All-State Team.
Mike, aside from his lacrosse talent, carved out a name for himself during football season last fall. As Rockets head coach Dave Duffy searched for a starting running back during summer scrimmages, Mike moved to the forefront. He won the job and ran with it for more than 2,000 yards and 26 touchdowns – good for best among Division 1 teams in Eastern Mass.
Both brothers claim lacrosse is their favorite sport to play, but both echoed the sentiment of the importance of playing different sports.
"It's just fun," Mike said. "Why not play football? Why not do something different in the offseason? Plus, college coaches love that. They're interested in what else you're doing. I think everybody should play as many sports as they can."
He tailed off for a moment and then added, "I would play basketball, too, but I'm just so bad at it."
If basketball is the Pinepintos' athletic kryptonite, there's still a lot left over. They take after their father, who went to Hamilton College to play football and ended up adding lacrosse to his repertoire while there. Their mother, Cristina, danced ballet. They always encouraged the boys' athletic development, but of late lacrosse has come to the forefront – if mostly because it's portable and less destructive.
"Lacrosse, you can do it anywhere, anytime," Nico said. "Football is something that's real organized. You can't really play a game of pickup football."
To which Mike chimed in, "Well, we did play football. Until everybody started getting hurt."
Of course, lacrosse is a shared experience for the brothers. They played together on youth teams and on out-of-season travel teams. That's developed into a shared brain of lacrosse acumen; two bodies pulling in the same direction, both knowing how the other will react.
Aside from the natural chemistry shared by siblings, they're also finding out how they fit in the dynamic of this year's Needham squad. The Rockets are talented with a mixture of Division 1 talent in attack Robbie Pisano (Marquette) and long-stick midfielder Mike Elcock (UMass). But they're also inexperienced in other areas. So the early season has turned into a bit of a trial by fire, which fits perfectly into head coach Dave Wainwright's mentality.
"You see it every day in practice and our games, we have four, five different kids playing at attack right now," Mike said. "Coach says it every time, that every practice, every game is a tryout."
Still, the Rockets enter the season ranked third in ESPN Boston's MIAA Top 25 poll. They are among the favorites in Division 1. That might fly in the face of everything Wainwright preaches, but a state championship isn't outside of the realm of attainable goals. The mindset will not change. All the Rockets have to remember is what they proved in defeat a year ago.
"I think it showed that we have a lot of heart and how far our program has come," Nico said. "Going into that game, we were looking at the scores that everybody was predicting for the game. We came in as real underdogs, and that's what we like, being under the radar."
And for the all the praise that have been heaped upon the Panepinto Bros., they remain understated. Spending even a couple minutes in their combined presence and you'll find a pair of siblings who legitimately seem to enjoy each other's company. Nothing is forced. They have a knack – not for finishing each other's sentences — but for picking up on each other's thoughts and running with it.
When talking about how they each other's harshest critic, they both engaged in a bout of putting themselves down – not for lack of confidence, but for out of respect for each other's accomplishments.
"I wouldn't say that we're some kind of dynamic duo or anything," Mike droned.
But combined, they might just be good enough to get Needham over the hump.
March, 21, 2011
3/21/11
11:14
PM ET
ESPN's Adam Finkelstein is reporting on his recruiting
blog
that South Kent (Conn.) post-graduate big man
Nemanja Djurisic
verbally committed to the University of Georgia yesterday.
Finkelstein writes that Djurisic, a native of Podgorica, Montenegro, took visits earlier this month to both UGA and Kansas State, after visiting Arizona State earlier this season. He was also considering St. John's, Charlotte, Rhode Island, East Carolina, Fairfield and Stony Brook.
"Nemi really enjoyed the coaching staff," South Kent head coach Kelvin Jefferson told Finkelstein. "And he feels that he has a chance to compete for minutes on a team that has a chance to be very good."
Finkelstein also thinks that Djurisic -- believed to be one of the best uncommitted 2011 big men left on the East Coast at the time of his verbal -- could serve a versatile role for a program like UGA. He writes:

Djurisic offers something unique because he is a skilled power forward who can go both inside and out and has a game that is tailor made for offensive structure at the next level.

"Nemi is a very skilled four-man," Jefferson said. "He can score and rebound in the paint or he can stretch defenses with his ability to shoot the 3."

While he may never end up matching the 20 points and 10 rebounds he averaged this year at South Kent, I believe this is an important commitment for Fox and his staff. Djurisic is the type of guy who is going to have a long four-year career and continue to get better. The versatility of his skill set is exceeded only by his feel for the game. He is also a terrific passer, solid team defender on the interior and high-volume rebounder.
Scouts Inc.'s latest evaluation of Djurisic reads as follows:
Strengths:
Djurisic is a versatile big man who can impact the game in a variety of ways. He is a rugged big man with a strong body and willingness to play through contact, but also possesses an inside out skill set, good feel for the game, and crafty instincts inside the paint. He scores with both hands around the rim, is a capable low post scorer, can stretch opposing defenses to the arc, and handle the ball in the open court. He doesn't mind banging on the block, has a good nose for the ball, goes hard to the glass on both ends, and is a well schooled team defender.

Weaknesses:
While Djurisic is a little more mobile laterally than he looks he isn't an exceptional athlete vertically and so can run into match-up problems against bouncier and more explosive big men, especially when he can't match their size or length. Offensively, he is a bit of a jack of all trades but master of none as he doesn't have any one overwhelming weapon that consistently allows him to create his own shot.

Bottom Line:
Djurisic is solid in all aspects of his game and his biggest strength is his ability to do so many little things to help his team win games without having to score in high volume to make an impact. He projects as a solid role player at the high-major level or an impact player at the mid-major level.
For more recruiting updates on New England's top basketball talent, be sure to check out Finkelstein's
blog
.