Boston High School:

Frank Carey
June, 10, 2014
Jun 10
8:04
PM ET
By
Andy Smith
| ESPNBoston.com


LOWELL, Mass. -- Tuesday's 2-1 extra inning loss meant the end of the storied career of North Reading coach Frank Carey.

After 47 years coaching the varsity, he is retiring as the all-time winningest coach in Massachusetts high school baseball history with 736 career wins.

"I'm at ease with (retirement)," he said following the loss. "I honestly didn't know if we were going to make the tournament. We had a lot of kids that had to play up and a lot of kids that had to make big improvement from last summer. I kept telling them that we have to wait for that perfect game and today was about as close as the perfect game and I can't think of a better place and time to do it than a game of this magnitude."

His teams won 25 league titles, three Eastern Mass titles, five North sectional championships, and two state titles. His most recent state championship came in 2012 when North Reading won Division 3. Not bad for someone who started his career as a science teacher in 1964 and began coaching varsity baseball in 1968.

North Reading had an opportunity to keep its season alive in the top of the eighth. A walk and two singles loaded the bases with no outs. Ryan Sanborn lined out to third, then Angelo DiSanto was picked off third by Bellingham catcher Michael Ryan. Scott Allan grounded out to third to strand two runners.

Ryan led off the bottom of the inning with a double to deep left. After a sacrifice bunt moved him over to third, Allan balked in the losing run to end the game.

Carey is the first to tell anyone that the players make the program. When the game was over, he encouraged his players to keep their heads up and shake Bellingham's hands. As noble in defeat as he is in victory, Carey never missed an opportunity to teach a player a lesson regardless of how tough the situation is.

"I'm going to miss the kids," he said. "I missed the kids when I stopped teaching. There's some days where it's a little challenging, but I'll really miss the camaraderie, dealing with the kids, the give and take. The regimen of practice and hopefully within the regimen of practice, there's certain lessons we learn. There's some things there that go beyond the baseball field."

Carey's successor has not been named yet. Whoever it ends up being will have a large legacy to live up to.

"There's no regrets, not on my part and not on the players' part," he said. "It was a terrific year. From a personal standpoint, it can't get any better than retiring on a sectional championship."

"I don't know what I'm going to do next year," he added. "I know one thing: I won't be coaching."
May, 9, 2014
May 9
12:44
AM ET
By
Andy Smith
| ESPNBoston.com
NORTH READING, Mass. -- When it was over, there was no pomp and circumstance.
After North Reading defeated Newburyport twice on Thursday, the team gathered at the foul line in front of its dugout, briefly exchanged high-fives, slapped its coach on the back, then went to shake its opponents hand.
It was not until the Hornets took care of business and came back to the dugout that the coach allowed himself to soak in the moment.
[+] Enlarge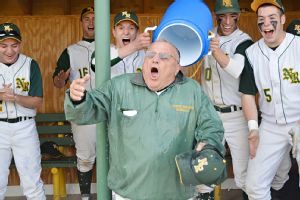 Brendan Hall/ESPNNorth Reading's Frank Carey notched his 726th career win Thursday to become the state's all-time wins leader.
The parents, loyalists, and players all stood to give Frank Carey a standing ovation. He was now a part of history after all.
With the two wins, he passed Leominster's Emile Johnson for first place on the all-time Massachusetts high school baseball wins list. Johnson retired last season, so Carey's 726 wins and counting will not be threatened any time soon.
"I see Emile at our state coaches clinic all the time," said Carey. "Emile is a terrific coach in his own right. The other coaches would say, 'Hey, how many more do you need?' and I'd say I don't know. Emile is a great coach."
As he stood alone almost like it was his own personal on-deck circle, he raised both arms in the air and in the most Frank Carey-like show of gratitude said, "Thank you! And I'm sorry what I might have said to your son earlier!"
For a 70-year old coach, he still moves with the speed and energy of a younger man. He still runs his team's fielding practice before every game, hitting the baseball to both the outfield and spots in the infield with ease. On the field, he never misses an opportunity to teach, no matter the score.
Before playing their regularly scheduled game Thursday afternoon, the teams first had to finish a game that was suspended back in April. They picked up the game in the top of the tenth inning tied 2-2. North Reading went to work early and put up seven runs in the top of the inning. Even with the game 9-2 and well out of reach, Carey was chiding his players whenever possible.
On a pickoff attempt at first base, he asked the baserunner why he did not slide head first back to the bag, even though he was safe anyway. There was a sequence later in the inning where two runs came around to score on a base hit, but the second run was a play at the plate.
As the team was offering congratulations at home plate, Carey walked over and asked again why a player chose not to slide, which put an abrupt end to the celebration. It did not matter that his team had just gone up by five runs. It was an opportunity to make his team better.
Throughout his 49-year career Carey has won 25 league titles, three Eastern Mass titles, four North sectional championships and two state titles. His most recent state championship came in 2012 when North Reading won Division 3. That is remarkably consistent for someone who started at the school as a science teacher in 1964 and just hoped to supplement his income by coaching baseball.
"There are three characteristics I look for in a team," he said, after getting doused with ice water by his team. "I look for kids with character. We don't have a tryout system, everyone is part of the program. The kids that come eventually to the varsity are the kids that have character. They also have a certain mental toughness, because we put them through an awful lot.
"The last thing is loyalty here. There's loyalty from me as a coach to them, I'll do whatever I can to help them get into college. In the meantime, when they get into college and get out of college, they do whatever they can to help my kids right now. So over that period of time we've built up a real good group of alumni here."
His teaching and attention to detail manifested itself early in the record-breaking 3-2 win. Tommy Day walked to start off the bottom of the first. Shane Driscoll laid down a bunt to move Day to second. Noticing the defensive coverage had shifted and there was no one covering third, Day took off in a sprint to the next base. The first baseman overthrew the play and Day was able to score after he was only supposed to take second. His heads-up play gave his team the early lead.
It is those minute details practiced on field bearing the coaches name and in the school gymnasium on rainy days that give his team the advantage it needs to win all the games he has. His team won its 2012 state title hitting only six extra-base hits all season.
"I never said a word about (the record) to the team," Carey said as the crowd was dispersing. "We never said a word about it or focused on that. We just took it one game at a time and whatever happens, happens. It happened, so.. I'm glad."
Like almost all of his teams over the years, this one has postseason aspirations. The two wins Thursday made North Reading 10-3 on the season. Carey has admitted last year was the first time he thought about retirement. How long will he keep coaching? Only he knows. With the record now broken, he can turn his attention back to what he loves: coaching baseball.
"This record means we've had some good players that have come through this program over the six decades that we've been here," he said. "This is a tribute to all the kids that have played here because we play good baseball here at North Reading. Our kids take it pretty serious. Down the road 10 years from now I'm going to think about it, but right now I'm just glad that we won two games."
June, 2, 2013
6/02/13
12:26
AM ET
By
Richard Murray
| ESPNBoston.com
NORTH READING, Mass. -— The old adage in baseball is that pitching wins championships, and with the way North Reading pitcher, R.J. Warnock threw against Swampscott on Saturday, the Hornets must like their chances.

"Whenever R.J. pitches, we are always in the game," North Reading coach Frank Carey said.

Warnock threw a complete game only throwing 70 pitches, as No. 1 seed North Reading (19-2) cruised past No. 17 seed Swampscott (10-11), 6-1, in the first round of the Division 3 North playoffs. He allowed an unearned run in the first inning, but had few problems after that. He was shaken up on a play in the first inning, but he retired 10 batters in a row after the run scored to get on track.

"I kind of slammed my head into the ground going for the ball, I got a little dizzy, but I was fine after that," he said. "I was basically in the zone the entire game, I felt good and threw strikes."

Although Swampscott's run came as a result of an error it isn't something the Hornets are overly concerned about as it was their only error of the game.

"If we only make one error in a game, I will take it the rest of the playoffs," Carey said.

North Reading's hurler was not too shabby at the plate recording two hits, an RBI, and a run. On the mound, he struck out seven and only allowed three hits; as his team's defense picked him up when he needed them.

"My teammates picked me up by turning a double play, [and] they were catching everything," Warnock said. "If they hit the ball over their heads that is on me."

The Hornets surged offensively in the second and fourth innings by scoring three runs in both. In the second, Warnock and third basemen Thomas Day highlighted the inning at the plate. Warnock smacked a single up the middle brining home Michael Brandano. Day followed Warnock by driving a ball deep into the gap, in left, scoring Warnock as Day ended up on second, with a double.

"Tom is very underrated," Carey said. "He isn't going to hit the balls out and off the trees here, but he has a very good swing, a good inside out stroke, and he has a good of a swing as anyone on my team."

Swampscott pitcher Al Wallach walked home the third run of the inning before getting out of the jam as he got Dennis Rollfs to pop out to shortstop.

When the Hornets surged again, in the fourth, Eric Gordon picked up two RBIs on a single and Shane Driscoll drew a walk with the bases loaded. The six runs were more than enough for Warnock as he was in cruise control on the mound.

"He is a very good pitcher, and I have all the confidence in the world in him," Carey said about Warnock.

Wallach battled for Swampscott throughout the game, but errors came back to bite The Big Blue as only two-of-the-six runs he allowed were earned.

"[Al] gave us a chance to win, but we didn't help him out," Swampscott coach Jason Calichman said. "We had too many errors. When you don't play your best against a team like [North Reading] this is what happens."

North Reading will next host No. 8 seed Newburyport (15-7) in a Tuesday quarterfinal.
June, 9, 2012
6/09/12
10:02
PM ET
By
Andy Smith
| ESPNBoston.com
LOWELL, Mass. -- Lynnfield's Chris Lang was hanging tight in the batters box with two outs in the bottom of the eighth inning.
His team had the bases loaded with two outs against North Reading's Riley Warnock. He had already survived a six-pitch at bat to keep his team's season alive.
With the game in the balance still, Warnock threw a pitch on the low-and-inside corner. The umpire put up his hand, ruling then that Lang was out.
[+] Enlarge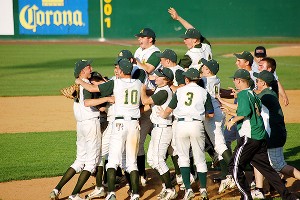 Brendan Hall/ESPNBoston.comNorth Reading needed extra innings but won the rubber match with Cape Ann League nemesis Lynnfield to win the Division 3 North title.
In that moment, Lynnfield's season was over, and North Reading is the Division 3 North champions with its 3-2 victory.
"It was a very, very, very exciting high school game," said North Reading coach Frank Carey. "To Lynnfield's credit, every time they fouled a ball off, I said that's typical Lynnfield. Those guys don't give up, they just don't quit, they don't die. They've won games all year long in the bottom of an inning, or the last at-bat. It's characteristic of them. They had a great season, and it took a great effort on our part to beat that team."
"We don't out-hit anybody, but we got some hits today."
Lynnfield (20-4) struck first when a walk and back-to-back singles plated Carmine DeCesare.
North Reading (20-4) scored a run each of the sixth, seventh, and eighth innings when it needed it the most off Lynnfield's pitcher Chris Dehueile.
Even after No. Reading was getting to Dehueile, Lynnfield coach John O'Brien stuck with his senior in the eighth.
Two singles and a walk loaded the bases, which brought up the No. Reading pitcher Ryan McAuliffe. Dehueile hit him with a pitch, thus walking in the eventual winning run.
"We've had good defense and good pitching and timely hitting all year," said O'Brien. "We just tried to stay one pitch at a time, which has been our philosophy. It's worked all year. Today was the same. We were right there with them and had a couple of chances to break the game open and we did not.
"I would expect nothing less. We play them twice a year and we go to war every time we play them. It's a one-run game every time, and today was the same again. I give them credit, they stuck with it. They got one more run than us, one more big hit than us. It says a lot about them, but it says a lot about my kids that they keep coming back and they keep playing with poise and they play with class. That's what I expect from them and they've delivered all year."
North Reading moves on to the state semifinals to play the winner of tomorrow' South Final between East Bridgewater and Apponequet, to decide who will move onto the state finals.
No Love Loss:
Saturday was the third meeting of the year for these Cape Ann League rivals. North Reading won the season series 2-1.
"Oh my God," exclaimed McAuliffe. "When I found out they won a couple days ago, I was more than pumped. Everyone on my team just couldn't wait to play. We knew it was going to be a great game. I mean, it was 3-2."
It was another chapter in the rivalry that will surely play on in the future.
"The first game this year was a great game, we won 1-0, and both pitchers pitched very well," he added. "Second game, we had already won the CAL title, but they won so they shared it with us. So we came out here pretty made, just played baseball, and we won."
Roster Rule Explanation:
There was about a 20-minute delay in the top of the seventh as the two teams tried to figure out if a player was eligible.
After North Reading's Eric Gordon singled to to start the inning, Carey wanted to pinch hit Shane Driscoll for Michael Brandano. The only problem was Driscoll's number was not on the roster.
On the roster that was submitted to the officials, Driscoll was listed as No. 9, not the No. 24 he was wearing. O'Brien brought the issue to the umpire's attention, who wanted Driscoll called out due to an illegal substitution.
There was much discussion back and forth between the umpires, league officials, and the coaches, but it was eventually determined that Driscoll could pinch hit, as long as he changed his jersey to the No. 9 that was listed on the officially submitted roster.
Driscoll laid down a successful sacrifice bunt, putting pinch runner Jonathan Gravallese on second for the eventual go-ahead run.
"I don't want to blame administration," said Carey. "The kid was on our roster, but he had a different number. We had two No. 9's on the roster. I saw the roster before the game and said, 'This thing is totally inaccurate,' so I made some changes. I tried to get as many of the correct numbers down, and Shane, who is on the roster as a player as No. 9, when he went up, wore No. 24. They claimed that was an illegal player, plus they were alleging that he didn't report in.
"The rules say you don't have to report, it's a courtesy. There's no rule against not reporting in. So I tried to clear that up, and then there was a controversy about the number. They were trying to say he wasn't on the roster. I said he's on the roster, Shane is on the roster. But it got rectified.
"I thought it was a mute, small point. It would've been a shame if because of an administrative error on our roster, that we would've had to take the littlest guy on the whole field and take him out of the batters box and claim that he's an illegal player."
May, 23, 2012
5/23/12
9:41
PM ET
By
Tom Layman
| ESPNBoston.com
LYNNFIELD, Mass. — Chris Dehuelle knew it would take a solid effort from his right-arm to help Lynnfield earn a share of the Cape Ann League title for the first time in six years.

The senior produced, and then some, for the Pioneers.

Dehuelle struck out seven and only scattered five hits in a complete-game shutout as Lynnfield (15-3) defeated perennial power North Reading, 4-0, this afternoon at home.

"It means a lot," Dehuelle said of getting the clinching victory for the Pioneers. "It's what we work for. It was our first goal and next we are on to the state tournament. They are a great team and I knew I was going to have to pitch great to beat them."

The Hornets (14-4) are a team that likes to consistently get the bat on the ball and be annoying outs for opposing pitchers. According to head coach Frank Carey, the Hornets haven't been whiffed four or more times in a game at any point during the season.

Dehuelle wracked up three in the first inning.

He needed 22 pitches to strike out the side in the first, but he showed off his true strength by keeping his strong defense sharp and in the game as he needed 12 or fewer pitches in four of his final six innings.

"Once he's going he gets a lot of ground ball outs and that's what we are looking for because we have a nice littler infield," said Pioneers head coach John O'Brien.

Quick with the glove, too: When runners did manage to get on, Dehuelle was able to erase them quickly.

In the third inning he displayed a bit of self defense to start an inning-ending double play. Tom Day lined a 1-0 pitch right back up the middle in the direction of Dehuelle's head, but he has able to move to his left and stick out his glove to record the out.

He then fired over to first to double off Jon Gravalese to end the inning.

"It wasn't going to hit me," he said. "But I just kind of got out of the way and stuck my glove out."

Dehuelle started another double play in the fifth inning with runners on first and second in a 2-0 game. Dennis Rollfs rolled one back to Dehuelle and the righty spun to start a 1-6-3 twin killing to escape the only time that the Hornets were able to put on two runners in an inning.

Fundamental Baseball: Craig Anderson delivered a solo home run for the Pioneers, but O'Brien's club has made a living with some small ball this season.

The Pioneers put down three successful sacrifice bunts and two of the sacrifices led to runs.

"We bunt everyday," said O'Brien. "I don't know if a lot of other teams do, but we bunt everyday at practice. With the new bats it's really come full-circle into our favor. We are a more old school team. … Our kids do they do the job, whatever it is. One through nine if it's your turn to bunt then you get the bunt down and we move on."
May, 15, 2012
5/15/12
11:17
AM ET
By
Brendan Hall
| ESPNBoston.com
The following coaches will be honored at the Second Annual Coach of the Year/Student Athlete Banquet on May 30, 2012. Each coach below has been named Coach of the Year by the MIAA for their respective sport:

Robert Mahoney, Notre Dame (Tyngsborough) -- Girls Volleyball
Amelia Davis, Algonquin -- Gymnastics
Kevin Burchill, Braintree -- Girls Ice Hockey
Jack Stoddard, Duxbury -- Boys Golf
Alex Naumann, Everett -- Boys Ice Hockey
Michael Foley, Framingham -- Swim
Fred Jewett, Hingham -- Indoor Track
Jim Leonard, King Philip -- Softball
Phil Maia, Lowell -- Cross Country
David Duffy, Needham -- Football
Frank Carey, North Reading -- Baseball
Rick Kates, Notre Dame (Hingham) -- Outdoor Track
David Gianferante, Notre Dame (Hingham) -- Girls Golf
Kim Penney, Reading -- Girls Basketball
David Curley, Rockport -- Boys Soccer
Ed Scollan, Westford -- Boys Basketball
Leslie Frank, Westwood -- Girls Lacrosse