Boston High School:

Frank Woods
February, 22, 2013
2/22/13
1:20
AM ET
By
Josh Perry
| ESPNBoston.com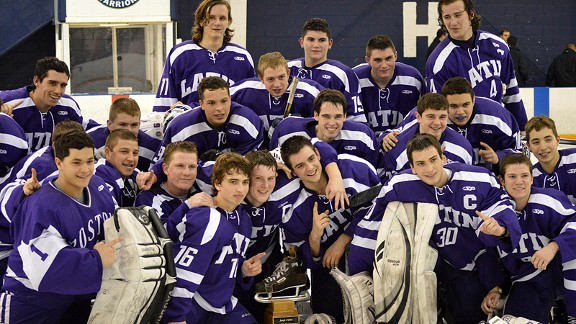 Joshua Perry for ESPNBoston Latin claimed the inaugural Joseph Quinn Tournament championship with a 2-1 win over host Coyle-Cassidy.
RAYNHAM, Mass. -- If the Joseph Quinn Tournament is any indication, the Division 2 state tournament is going to be exciting. All four games at the Raynham Ice Plex were played with playoff-like intensity, with very few penalties, and each was decided by a single goal.
With 7:22 remaining in the championship game and the score tied 1-1, Boston Latin senior forward Joe Gillespie turned with the puck against the near boards. Heeding his coach's advice, Gillespie flipped the puck towards the net where it ricocheted off the stick of a Coyle-Cassidy defenseman, past goalie Brent Petrowski, and into the far post.
In tight games, sometimes it is the bad bounce that decides the outcome. In the tournament final, the Wolfpack was the beneficiary of a fortunate bounce and turned it into the trophy-winning goal in a 2-1 victory.
It may not have been the prettiest of goals, but following the trophy presentation Boston Latin head coach Frank Woods was not complaining.
"We have a lot of kids that work hard and we preach throw the puck at the net because you never know what can happen," he explained. "It's just kind of our game. You give yourself a chance to bang an ugly one or two in, in games like this with competitive teams it's usually the difference."
When asked about how unlucky the final goal was, Coyle head coach Dave Borges simply smiled and shrugged.
"Like we told our guys, come next week those are the kind of pucks that go in the net," Borges said. "You have to get pucks to the net in tight games and you never know what can happen. That's a perfect example. Unfortunately, we're on the short end, but I thought it was a great game."
The Wolfpack (11-6-3) made a conscious effort to get the puck to the net as frequently as possible. Boston Latin dominated the first period, outshooting Coyle ,14-5, and opened the scoring with just 15.9 seconds remaining. Senior captain Ryan Dougherty made a great move through the Coyle defense and punched the puck in on the second attempt.
In the second period, the hosts asserted themselves. Coyle (13-5-1) outshot Latin 10-6 in the period and had a number of scoring chances before finally finding the equalizing goal. Nick Cambria laid the perfect pass in the path of captain Ryan Jones. The forward outskated the defenseman to the net and finished with a backhand over the pads of goalie Michael Murray before following the puck into the back of the net.
Borges praised Petrowski for keeping the team in the game and giving them the chance to turn the game around.
"I told Brent before the game that it's their style," Borges said. "They like to throw the puck at the net and he did a great job of either holding them or kicking the rebounds out to the corners."
He added with a chuckle, "It was a great game…other than losing."
Boston Latin won both games in Raynham by 2-1 scores (the first was on Tuesday against Franklin) and Woods feels that this will give his team plenty of confidence ahead of the state tournament.
"we have a group of seniors that have had a lot of success with this team, been in tournament games and won the league, but it's good to get wins with this particular group," Woods said.
CANTON 3, FRANKLIN 2
The consolation game featured Hockomock League division champions No. 24 Canton and Franklin meeting for the third time this season. The teams had split the opening two games so, in addition to finishing third in the tournament, the game would give one team the edge in the season series.
After losing third period leads in each of its last two games (including Tuesday's overtime loss to Coyle), Canton (15-3-2) held off a late Franklin (13-7-2) flurry to win 3-2 and clinch the top seed in the upcoming Division 2 South sectional.
Bulldogs head coach Brian Shuman understood the importance of his team managing to hold on and get the victory over its league rival.
"In the third period against a good team, you need a lot of things to go right," he remarked. "You've got to give credit to Franklin, they're a phenomenal team, two very even teams and we just scored one more goal than them tonight."
Canton stormed out of the gates and jumped to a 2-0 lead in the first period.
Just 2:50 into the game, senior captain Pat Ward scored his third goal of the tournament as Franklin goalie Devon Maloof was caught too deep on his line and the puck squeezed across the line at the near post. The first goal was fortunate, but the second was a great shot from J.C. Marcone just underneath the crossbar.
At this point, it seemed like Canton would cruise to victory, but Franklin showed the heart of a team that has been to consecutive state finals.
The Panthers got on the board on a redirected shot by sophomore Alec Borkowski, who got his stick to a shot by defenseman Kyle Filbert and sent it through Rich Nee's five-hole. A minute later, captain Mike Patjane pounced on a rebound to make it 2-2 and give the Panthers momentum.
The momentum was short-lived as Canton fully controlled the second period, outshooting Franklin, 14-1. After Maloof robbed Brian Brooks, the Bulldogs got the go ahead goal from junior Ben Lodge, who found space in the slot and fired into the top corner.
Franklin head coach Chris Spillane emphasized the need for his team to play a full 45 minutes if they hope to be successful in the state tournament.
"It's sort of been the season for us," Spillane said. "We haven't played three periods. We always take a period off and tonight it was the second. We had one shot on goal and the puck was in our zone the entire time and it takes a lot of gas out of you."
Canton withstood a strong third period from the Panthers and Shuman was pleased to see that other players besides his top two scorers (Brooks and Ward) got on the scoreboard.
He said, "We had our second power play out there, which doesn't get much run because our first line is pretty talented. They just kept it simple. We always say to win this time of year, you need twenty-four guys. You need those second and third liners contributing and we got it tonight."
February, 20, 2013
2/20/13
12:15
AM ET
By
Josh Perry
| ESPNBoston.com
RAYNHAM, Mass. -- The inaugural Joseph I. Quinn Memorial Tournament kicked off on Tuesday night at the Raynham IcePlex. The tournament pits four Division 2 state tournament qualifiers: Boston Latin, No. 24 Canton, Franklin, and host team No. 21 Coyle- Cassidy. It's a chance for all four teams to challenge themselves against playoff competition.

Coyle head coach David Borges noted that the tournament, which was named in honor of former Warriors coach Joe Quinn, who passed away this summer, meant a lot more to the Coyle program than just the chance to play good teams.

"The guys that played for him can't say enough about how much he gave of his time, his money… it means a lot to us," Borges said. "These guys [the current Coyle team], even though they haven't been around him, we've tried to convey the history of Coyle hockey and they wanted to win for Joe tonight."

Quinn was the head coach of Coyle for 35 years and won 11 division titles during his tenure, before stepping down in 2005. He founded the program and financially supported it while coach.

"He owned the shirt on my back when I played here," Borges said.

Coyle (13-4-1) rallied to earn an overtime win over Canton (14-3-2) in the nightcap.

But, until the game-tying goal went in, the Bulldogs were dominating. This is the time of year when one mistake or one slip can turn a game around and send a team home and the Bulldogs saw that firsthand in 3-2 loss.

Leading 2-1 in the third period, Canton's top line created four great scoring opportunities, but failed to finish any of them.

First, senior captain Pat Ward had the puck roll off his stick in front of an open net after slipping past two Coyle defenders. Then leading scorer Brian Brooks missed short side on a breakaway chance. Minutes later, Ward rifled a shot off the post. Finally, senior Michael Denehy had his one-timer in the slot saved by Warriors goalie Brent Petrowski.

Coyle made Canton pay with 4:13 left in the third period. Senior captain Ryan Jones flicked a pass from behind the net to a wide open Greg DiBona and the senior forward roofed his backhand to make it 2-2. Coyle had chances to win it in regulation but Canton goalie Rich Nee made several great stops to send it to overtime.

In the overtime, both goalies were tested before a slip by Bulldogs senior defenseman Stephen Mullaney gave Coyle an opening. Nick Cambria fired in a wrister just under the crossbar to win the game for the Warriors.

"We sensed desperation down 2-1, but once we scored that goal, we had the confidence that we could keep doing that," Borges said about changing his team's approach in the third period from carrying the puck to chipping it in deep. "That's a great Canton team. They're disciplined, they work hard, and they make you earn every inch of the ice."

As far as the MIAA is concerned, the game finished in a 2-2 tie. This is the second consecutive game that Canton has allowed a third-period lead slip to a D2 tournament team.

That is a pattern that head coach Brian Shuman is working hard to change.

"I think one of the things that we have to learn is when we don't get our scoring opportunities, or when we miss our chances, that we still have to pick up defensively," he explained. "What you saw there was guys get frustrated that they couldn't bury the puck and they lose their defensive responsibility. We've got to figure out a way to close out games."

Jones had the opening goal of the game for Coyle on an assist from DiBona. Ward scored twice in the opening period, including a blistering slapshot into the top corner, to give Canton the lead which the Bulldogs held until the final period.

BOSTON LATIN 2, FRANKLIN 1

The cliché says, "You can't score if you don't shoot."

That was especially true for Boston Latin (10-6-3), which had two deflected goals in its 2-1 win over Franklin (13-6-2) in the tournament opener.

The opening goal came with 5:28 remaining in the first period as defenseman Brian Forgione carried the puck into the attacking zone. The senior had few options so he fired a shot at Franklin goalie Devon Maloof. The puck ricocheted off the post and off the goaltender to make it 1-0.

Following a Troy Donahue short-handed goal that tied the game at 1-1, Wolfpack forward Greg Penella turned and fired a hopeful shot towards the Panthers net. The puck deflected off the skate of a Franklin player and past Maloof to make it 2-1.

Boston Latin head coach Frank Woods admitted after the game that these are the types of goals that his team has to score to be successful.

"That's how we score," he said. "We don't have a very skilled team this year. We have a bunch of kids that work hard and we preach put the puck on net and go get the ugly goals or bang in a rebound."

Despite trailing by a goal, Franklin was outshot in the third period, 12-2, and Panthers head coach Chris Spillane was disappointed that there was no reaction from his team to get back into the game.

"You expect everyone to step up and have a little extra offensive jump in your step and we didn't see that," he said. "We were content just backing up. Anytime that you put the puck on net in a close game, it's a good shot and we just didn't do that."

Spillane added, "I guess if you're going to have a bad game it's better to have it this week than next week. We still have an opportunity to play a good team on Thursday. If we come out and play a good solid hockey game, we'll go into the tournament feeling comfortable."

Thursday night, Hockomock League rivals Franklin and No. 24 Canton will face-off for the third time this season in the consolation game at 6 p.m. and No. 21 Coyle will take on Boston Latin in the nightcap at 8 p.m.
February, 14, 2013
2/14/13
12:13
AM ET
By
Richard Murray
| ESPNBoston.com
TEWKSBURY, Mass. — Despite trailing during two different occasions, Derek Petti put his team on his back, and he carried Tewksbury from behind to beat Boston Latin, 5-2, Wednesday night in a DCL/MVC Division 2 matchup.

"We have been down before, and we know how to keep our composure out there," Tewksbury head coach Derek Doherty said. "It doesn't matter if you are up or down a goal because we just have to keep playing hard out there."

Petti finished with four points on the night as he scored twice and dished out two highlight reel assists. His first goal of the game proved to be the game winner.

"It took a little bit to get him jump-started in the third [period] because they were keying in on him," Doherty said. "We spoke about it in between periods, and he realized he was going to have to play through it. That is what he did."

Kyle Paquette stopped 13 shots to record the win in goal for the Redmen, and on the other end of the ice Latin's Michael Murray turned away 14 of 17 shots (2 empty net goals).

Latin (8-6-3, 6-3-2) drew first blood as freshman Jimmy O'Leary fired a rebound into the Tewksbury goal on the man advantage.

"We had our second power play unit out there, and we just kept throwing the puck to the net," Boston Latin head coach Frank Woods said. "Jimmy [O'Leary] got a rebound, and it was just really basic hockey."

Tewksbury (13-2-1, 9-1-1) was struggling to create much of an offensive rhythm in the first period, so Tewksbury turned to its third line to create some energy.

Alex Hamilton lined up a gigantic open ice hit that with just under 1:30 remaining in the period, and, just 45 seconds later, the Redmen were able to get on the board.

"We play better when we are physical," Doherty said. "We expect our third line to play physical, and keep the puck out of the net."

Petti found his younger brother Ryan in front of the Latin goal, and the younger Petti smashed the puck home to draw things even heading into the second.

"We were one a two-on-one, so I knew that if I slid it over to Ryan he would put it in the goal," Derek Petti said.

In the second period, both teams locked down on the defensive side of the puck not allowing either team to create many opportunities. Tewksbury's Matt Donovan had one of the best chances of the period blasting a one-timer in on Murray, but Murray was able to slide over to ward off the shot.

Latin turned on the forecheck early in the third period, which led to Joe Gillespie sneaking one in past Paquette.

"We chipped the puck, and we were able to get down low on the forecheck," Woods said. "We created a turnover, and Joe was able to put it home."

Only a few minutes later and trailing, 2-1, Doherty called a timeout as the Redmen got a power-play opportunity.

On the power play, Derek Petti once again showed off his smooth playmaking skills by setting up Patrick Doherty for a back door one-timer that Murray had no chance on.

"It was a set play by coach to go to Pat on the back door, he has no problems finishing," Derek Petti said.

With less than two minutes remaining, Derek Petti went into hero mode. He flew up the right wing and used his quick release to rifle the puck past Murray.

"I have been trying to use the defense as a screen all year, and I was able to use the defense as a screen to get a good shot off," Derek Petti said.

The Wolf Pack went into desperation mode in the final minute of the game by pulling Murray. But Derek Petti and Patrick Doherty both added their second goals of the game hitting the vacated goal.
February, 1, 2012
2/01/12
1:41
AM ET


BOSTON -- The inevitable finally caught up with the Wolfpack.

Tuesday's DCL/MVC hockey division crossover game between No. 21 Andover and No. 22 Boston Latin was circled on the Wolfpack's calendar. Posting an undefeated record through 12 games (9-0-3), Latin was aiming to keep their streak alive, while making a statement against one of the upper division's best teams.

But after watching the prospect of a perfect season dashed in a 4-1 loss to the Golden Warriors at Northeastern's Matthews Arena, Latin head coach Frank Woods could only think his team's good fortune expired.

"We've had some games where we've been a little bit inconsistent, but still have been able to win," Woods said. "And I think today that caught up with us."

Latin (9-1-3) fell behind 2-0 with Andover's Matt McIver and C.J. Boillard bookending the first period with goals. The hole grew deeper midway through the second, when Golden Warriors center Liam Centrella scored his eighth of the season on a wrist shot deflection off a Latin defender's leg.

Andover (8-4-2) did provide plenty of opportunities for Latin to crawl back into the game, however. The Wolfpack were on the power play seven times, including two 5-on-3 advantages, but were shut out.

"[The power play] is something we work on every day," Woods said. "You've got to cash in on those opportunities."

Latin broke up Andover netminder Colby Gilbert's shutout bid in the third, however, with senior captain Conal Lynch netting his 21st goal of the season.

Scott Campbell rounded out scoring for the Golden Warriors, wringing a wrister underneath the crossbar. It was Campbell's team-leading 10th of the season.

PICKING UP STEAM
While Latin's streak went by the boards, they were the only team heading into Tuesday's action with a head of steam.

Coming off a mini mid-December two-game losing skid, the Golden Warriors are 5-1-1 in their last seven and seem to be building toward the postseason.

"The funny thing about that patch was that it came down to the final three minutes of one game, the next game was 18 seconds," Andover first-year head coach Mike Ciarletta said. "We were at least that amount of time from getting at least a point. But I think we've learned from those experiences as team."

So what has made the difference since then? It's all about the basics.

"We're just starting to do a lot of the little things better," Ciarletta said. "We're starting to pay attention to some of the details, taking care of the puck."

PUT IN THE REARVIEW
Latin doesn't have long to mourn their formerly unblemished record; the Wolfpack have an all-important meeting with defending Division 2 champion Tewksbury on Saturday.

The team's first meeting of the season ended in a 1-1 tie, so expect the second go-round to look much the same, given its significance to the DCL/MVC Div. 2 title race.

"The first goal of our team is to qualify for the state tournament, but we want to be competitive [in the tournament] and win our league," Woods said. "We have that opportunity, we're at the top of the league … we're looking forward to that challenge."