Boston High School:

Frankie Elder
October, 13, 2012
10/13/12
2:07
AM ET


LONGMEADOW, Mass. -– When Ju'uan Williams was asked to slide into the quarterback role in place of his suspended star cousin two weeks ago, a position he hadn't played since the fourth grade, he didn't just serve for Springfield Central. He flat out dazzled, putting up over 200 yards from scrimmage in a blowout of East Longmeadow.

Tonight, amidst a 14-all deadlock with rival Longmeadow, with the ball in field goal range and 15 seconds left in regulation, Williams didn't just bring in the play from the sidelines, a power-option right out of a two-back shotgun look aimed at simply moving the ball to the right hash mark for roughly a 30-yard field goal attempt.

No, it's never as simple as just that with these Central kids. Somebody's always got to make it interesting.

Williams brought the play into the huddle, told his linemen "Leave it all on the field", then proceeded to cut back the opposite way from that intended hash mark to paydirt, a 15-yard scamper with six seconds left, to give the Golden Eagles (5-1) a dramatic 21-14 comeback win over Longmeadow that folks on Roosevelt Ave. will surely be talking about for a while.

It's the second year in a row the Eagles have beaten the Lancers (4-2) in the regular season, having won 21-20 last October in equally-dramatic fashion. But it was also a revenge game; the Lancers rolled Central, 35-7, in the rematch at Gillette Stadium last December for the Division 1 West Super Bowl title.

"This game was personal," said tight end Luis Ortiz. "We came out here, we fought, and we give it to our big men [the offensive line]. Without them, we can't do anything."

Williams (16 carries, 68 yards, TD; 8-of-14, 129 yards, 2 TD) was equally deferential to the trench, where linemen like Ishmael Figueroa and Shawn Lee seemed to get more push as time elapsed.

"The hogs were working to get the outside," he said. "I couldn't have done it without them, and everyone that was blocking for me."

But really, this was about a team collectively making a statement with its two biggest stars on the sideline. Quarterback Cody Williams, the cousin of Ju'uan, served the second of a two-game suspension tonight for his involvement in a fight on the field two weeks ago. Two-way lineman Shawn Lockett, a preseason ESPN Boston All-State selection, hobbled off the field in the game's opening series, re-aggravating the ankle injury that has already kept him out of three games this season.

And the way this game started off made one wonder for a second if this was going to get out of hand. The Lancers opened the game with a 10-minute, 16-play, 72-yard drive, punctuated with a one-yard sneak by quarterback Johnny Falcone on fourth and goal. Central's ensuing drive ended after three minutes thanks to Frankie Elder's tip-drill interception, and the Lancers put together another monster drive. This one went 91 yards and nearly six minutes, capped again with a one-yard sneak by Falcone.

The Eagles responded on the ensuing drive with the first of two well-timed touchdown strikes from Ju'uan to receiver Tejano Smith (3 catches, 31 yards, 2 TD). Facing third and goal from the five, Smith crashed to the back left pylon on a smash route and hauled it in easily amid single-coverage.

After some struggles in the third quarter, Central got a good break early in the fourth when Lancers fullback Austin Sierra (13 carries, 90 yards) fumbled the ball at his own 40 yard line, and Kenneth Marshall quickly pounced on it and rolled out of bounds.

A half-dozen plays later, Smith came up with the play of the night, this time rolling to the right back pylon as Ju'uan threw a high knuckler that came off his fingertips looking like it was going to sail over the back line. But Smith came down with it, diving with about a foot of real estate to go and getting a foot in before rolling out of bounds. That tied the game at 14 with 6:31 to go.

After forcing a three-and-out on the next series, Central took the ball at its own 30 with 4:04 to go, and Ju'uan did the rest, leading them on a nine-play, 70-yard drive using a mix of spread and offset power-I looks out of the no-huddle and punching it in with his 15-yard change-of-direction rush.

The Education of Ju'uan: Ju'uan Williams last played quarterback in fourth grade before this current stint, and naturally it wasn't a totally polished effort tonight, veiling play-fakes thinly and sometimes overthrowing his intended receiver, which ended up costly at least once (Elder had a second tip-drill pick negated on a roughing the passer penalty).

Tonight, Ju'uan was at his best seemingly when he was at his most unpredictable, taking off on scrambles or rolling out to his right and leading a short crossing receiver with some soft touch. He has worn many hats so far in his time with the Eagles, and will probably wear many more, but the one overarching theme with it all is speed.

With Cody Williams under center, the Eagles have a more balanced attack, able to drop back rather than play on the run. But with Ju'uan under center, it's a unique look, essentially putting 11 on 11 with the added threat of extending the play with his feet.

"We're spreading the receivers out, and if Ju'uan doesn't see anyone open, he just runs," Smith said. "He can run it. He can run it."

You can darn well bet Ju'uan has been consulting his cousin Cody a lot these past two weeks -– "It's been amazing, he's been there every step of the way,". But with Cody coming off his suspension and resuming his role under center this week comes potentially a new added ripple. All that time with the scout team has taught Brower a few more things about Cody's ability.

"He was scout safety [these past two weeks], and we found out he can play a little safety," Brower said of Cody Williams. "He was excited about that. He made the scout defense pretty competitive."

Underrated? Asked about the play calls on Smith's two touchdown grabs, Brower chuckled, "25 T.J. Smith."

It's easy to overlook Smith, listed comfortably at 5-foot-7 and 150 pounds. But he seems to be acutely aware of the spacing he has to work with, how he'll exploit it, and seems to have this intuitive nose for making worthwhile athletic plays.

Take his second touchdown, for instance, a ball that appeared to be overthrown at first glance. Whereas some may have slowed up when seeing the ball, Smith accelerated to get under it, then laid out with a few short steps to go. Smith told reporters of the catch, "It just came to me, really," saying he just wanted to get underneath the ball and let his feet come along for the ride.

"Ju'uan threw a knuckleball, and I had to adjust to it," Smith said. "It came out of the dark, but it was a good throw."

"He's a great athlete, man," Brower said. "He studies a lot of film, and he studies a lot of different things. He just loves football, loves football, and he's a great athlete. The kid high-jumps 5-11 and he's about 5-4. He's just a little freak.

"So, you can't really teach that stuff. He kinda just does it in practice, you know, it just kind of comes natural to him. He's just a good athlete."

Good athlete, but underrated? Smith seems to carry a chip on his shoulder. When asked about how he got open on his two touchdown catches, he veered off onto one of his favorite topics.

"They went man, and honestly, I think I'm one of the best in Western Mass.," he smiled, adding with a laugh, "But I guess I'm underrated."
October, 12, 2012
10/12/12
2:49
AM ET
NO. 9 SPRINGFIELD CENTRAL (4-1) AT NO. 16 LONGMEADOW (4-1)

The Skinny: This battle between the two top teams in Western Mass. should be must-see material. Central snapped Longmeadow's 52-game league win streak last October in thrilling fashion, 21-20, but took one on the chin to the Lancers in the rematch, the Division 1 West Super Bowl at Gillette Stadium. Central will be without quarterback Cody Williams in this one, while 'Meadow has looked sharp with Frankie Elder moving back to his natural position of tailback.

Scott Barboza: Picking with tradition here. Longmeadow, 26-21.

Brendan Hall: Speed is the name of the game in this one, and the Eagles tout too much for Longmeadow to harness. But expect the Lancers to play ball control in this one. Central, 28-25.

NO. 1 BARNSTABLE (5-0) AT DARTMOUTH (2-3)

The Skinny: After an emotionally-charged upset of Everett on September 28, Barnstable suffered a hiccup last weekend, nearly falling upset to New Bedford before Tedaro France pulled them through. In a three-team Old Colony League, there can be no hiccups, and if the Red Raiders come out sloppy again, something tells us Dartmouth could throw a haymaker.

Barboza: I look for the Red Raider to get the vertical passing game going early and often. Barnstable, 31-17.

Hall: I'll never count out Dartmouth as long as Rick White is running the show over there. How does that sound? Barnstable, 21-14.

PINKERTON ACADEMY (N.H.) (5-1) AT NO. 8 BROCKTON (3-2)

The Skinny: We don't know what to think going into this one. Last season, the Boxers traveled north of the border and delivered a 21-14 win over heavily-favored Pinkerton, en route to a 5-6 season. This year, though, the Astros have a breakout campaign on their hands with junior running back Manny Latimore. It will also be interesting to see how the Boxers respond without Augie Roberts under center in this one, but Micah Morel has done an adequate job so far. Brockton has won seven of the last eight meetings headed into this one.

Barboza: Astros get thrown for a loop like George Jetson on the space treadmill. Brockton, 28-17.

Hall: I just can't get 2011's result out of my head, and that's not to be taken as a shot against the Astros' 2012 squad. It's just Brockton has had their number for some time, and always finds a way to win. Brockton, 17-10.

NO. 2 EVERETT (4-1) AT XAVERIAN (1-4)

The Skinny: One team (Everett) looked sloppy in a 51-30 win. The other (Xaverian) showed encouraging signs in a 20-16 loss. Something's got to give, and while picking Everett in this one sounds like a sure thing, one has to wonder if the Hawks are starting to turn the corner and figure this out at just the right time.

Barboza: BHall, duck and hide time? Xaverian, 34-31.

Hall: No, you may not have my mailing address. Xaverian, 13-10.

NO. 15 ST. JOHN'S OF SHREWSBURY (4-1) AT NO. 3 ST. JOHN'S PREP (4-1)

The Skinny: Few teams have been as strong on the ground so far as St. John's Prep, with its dynamic duo of senior Alex Moore and junior Jonathan Thomas, and the Eagles have begun to open the playbook the last few weeks. St. John's of Shrewsbury, on the other hand, is coming off a disappointing loss to its rival just a half-mile down Route 140, Shrewsbury High. But not just any loss -- a 51-45 shootout loss. Can the Pioneers rebound for an upset of Prep, or will they fall victim to a strong run game again?

Barboza: There will be running holes to be had. Prep, 45-41.

Hall: If you can run on this Shrewsbury squad, you can do a lot of things, and Prep can certainly move the ball on the ground. But the Pioneers will make this interesting with its hyper uptempo pace. Prep, 38-35.

SHARON (5-0) AT NO. 11 KING PHILIP (5-0)

The Skinny: What's more surprising: the fact that the Eagles are off to their first 5-0 start since 1998 or that they're 9-4 in their last 13 games dating back to last season? Either way you slice it, Sharon isn't to be trifled with anymore. On the other hand, KP's fast start isn't a surprise, but we haven't really seen what the Warriors are capable of as they're just getting started against their Hockomock League schedule. This should be a good measuring stick for both squads.

Barboza: Either way, somebody loses. How about that for a hot sports take? KP, 20-7.

Hall: Warriors will win out in this one, but how does the old Pink Floyd axiom go? Can't have any pudding if you don't eat your meat. KP, 28-10.

NO. 17 BRIDGEWATER-RAYNHAM (3-2) AT LA SALLE ACADEMY, R.I. (4-1)

The Skinny: The Rams' lone loss of the season came against an MIAA foe (North Attleborough) in Week 1 and have been terrorizing the Ocean State ever since. An underrated Trojans' secondary will have to endure against the big arm of La Salle quarterback Anthony Francis. After getting run over to the tune of 228 yards by St. John's Prep's Alex Moore, B-R's defense will look to bounce back against another of New England's top backs (Josh Morris) with a big day up front from defensive ends Kevin Johnston and Dan Noviello.

Barboza: I look for a closer game in this year's meeting between the club, but the same result. B-R, 28-20.

Hall: After seeing the way North dominated La Salle, I'm confident in saying the Trojans can win the battle at the line of scrimmage. That will be the difference here. B-R, 20-7.

NORTH ATTLEBOROUGH (3-2) AT NO. 23 STOUGHTON (5-0)

The Skinny: The Red Rocketeers enter this week desperate to avoid falling to .500 and in need of some offensive spark. North has scrounged up just 13 points in back-to-back losses to Foxborough and Franklin and were shut out against the Warriors. Meanwhile, the Black Knights received a highlight offensive performance from Marcus Middleton in last week's emotional 20-0 blanking of Foxborough, a game dedicated to fallen teammate David Wade.

Barboza: I truly think there's something special brewing in Stoughton this year. Stoughton, 13-7.

Hall: Red Rocketeers really need a healthy Alex Jette, more than ever, to right this ship. Stoughton, 25-13.

NO. 12 NATICK (5-0) AT NO. 10 WEYMOUTH (5-0)

The Skinny: Our Game of the Week for Week 6 features two unbeaten squads vying for playoff spots in their respective divisions in the Bay State Conference. Weymouth's offense has evolved through the weeks, with multi-dimensional athlete David Harrison getting snaps under center. The Red Hawks enter Friday's action allowing an average of six points per game on defense, led by Mike Abbruzzese and Mike Dunlap. The Wildcat defense, led by senior captain Sean Murphy will hope to slow down a potent Natick passing attack, but running back Nick Lee is also a force.

Barboza: I think this game will mirror Weymouth's earlier battle with Needham, in terms of complexion. It'll be a different result. Natick, 34-28.

Hall: Wondering if we'll see a combined 700 yards of offense or more in this one. Weymouth, 40-34.
September, 15, 2012
9/15/12
8:11
PM ET
SHREWSBURY, Mass. -– St. John's quarterback Andrew Smiley noticed receiver Micah Cummins putting on a red basketball-like compression sleeve on his left arm before this afternoon's visit from Longmeadow, and kept things real –- "You drop a pass, I'm gonna be all over you about it," Smiley cracked to him.
Done and done.
[+] Enlarge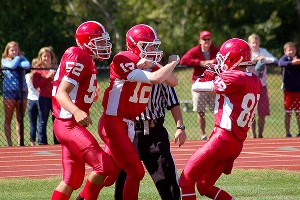 Brendan Hall/ESPNBoston.comQuarterback Andrew Smiley (12) and receiver Micah Cummins (88) connected for two touchdowns to lead St. John's to a 35-14 win over Longmeadow.
Not only did Cummins refrain from a drop, but the 5-foot-11 wideout came up with two pivotal touchdown catches in the first half that put the No. 18 Pioneers ahead for good. The defense did the rest in the second half, forcing the No. 6 Lancers into three straight turnovers on downs en route to a 35-14 win at Pioneer Field.
After a dazzling debut in his first varsity start last week against Holy Name (353 yards, 4 TD), Smiley once again went over the 300-yard mark in total offense. He was 16-of-18 passing for 246 yards, and carried the ball 15 times for 96 yards, with four touchdowns total.
Meanwhile Cummins finished with four catches for 74 yards for St. John's (2-0), but earned most of his yardage after the catch with some slippery moves. At 160 pounds, Cummins is not the biggest or most intimidating target for the Pioneers – but he may have the best body control.
That was perhaps best explicated on Cummins' second touchdown catch, a 30-yard snag at the two-minute warning of the first half that put the Pioneers ahead 21-14. The play called for Cummins to run a "jerk" route to the left sideline, in which the receiver fakes like he will sit in a zone hole before continuing his shallow crossing route. He hauled in Smiley's short dart with a few feet of real estate left, then planted upfield, spun through one defender, juked to the right of another, and marched the final 25 yards untouched.
That was preceded by a 47-yard strike to Cummins towards the end of the first quarter that put the Pioneers up 14-7. Cummins ran a post route up the left sideline, facing man coverage with a safety shaded to his side, and was sprung free by a pick from John Giacoppe (5 catches, 62 yards) to make the grab behind the safety and glide into the end zone.
"He's so shifty, hard to tackle," Smiley said. "He's not the strongest kid out there, but he's quick. He's just hard to tackle."
Smiley came up with two more scores in the third quarter to put this one away, first calling his number for a seven-yard scamper, then finding Davon Jones on a seam deep downfield for a 30-yard pass.
Improved defense:
The Pioneers came away with the win last week against Holy Name, but were not satisfied with the run defense, giving up 463 yards and five scores on the ground to the Naps' vaunted Double Wing scheme (282 coming from Quron Wright). This week, they split that number in half, allowing 233 yards and two scores against the Lancers' modified Wing-T scheme (which today also showed elements of the "Flexbone" formation, with heavy personnel groupings).
Give credit to the front four for that marked improvement. Against a Longmeadow's senior-laden offensive line that is considered one of the state's best -- averaging over 260 pounds across, and led by road graders Rob McClure and Lou Calabrese -- the Pioneers held their own. Led by juniors Jeff DeMango and Connor Gatto, and sophomore Sam Norton, they were able to stuff the interior gaps ably.
The hallmark of today's defensive effort was the aforementioned second-half effort, in which the Lancers ended three straight drives with a turnover on downs in Pioneer territory.
"They've gotten some confidence every week, and they're getting better," St. John's head coach John Andreoli said. "We've played some tough teams all along – Brockton, New Bedford, Shepherd Hill [all three were scrimmages], Holy Name, I mean those are great teams. And our kids stepped up and played disciplined.
"We stayed in a lot of base fronts today, they trusted their reads, and ran to the football. That's what they did, and that's what they've been doing all year."
Longmeadow quarterback Frankie Elder led the Lancers with 86 yards and a score on 16 carries, but a had a forgettable day through the air with 74 yards on 5-of-17 passing, with two picks. Fullback Austin Sierra also had 14 carries for 68 yards.
Dejection, but praise:
Some Lancers felt their hearts sink to their knees in the moments following the game. Elder, for one, sat on the grass, helmet still buckled and lay motionless with a thousand-yard stare.
With legendary former head coach Alex Rotsko leaving behind arguably one of the Lancers' most talented senior classes in a while, there have been high hopes for this year's squad, with a No. 6 preseason ranking in ESPNBoston.com's statewide MIAA poll. A win today would have satisfied Longmeadow's wishes to be taken seriously as one of the state's elite programs.
But in the eyes of many, they already are, and have been for some time.
"It's a respectable win [today], because Longmeadow is a very good program," Cummins said. "I think in a couple articles, they said they wanted to get themselves into the elite of Massachusetts football, and I think they already are elite. I look back at the stats, and they're one of the top programs in the state year in and year out.
"They're well-coached, and I have all the respect in the world for them."
One aspect of the Lancers' gameplan that worked particularly well today was their defense of St. John's running back Shadrach Abrokwah. Coming off a 205-yard, three-touchdown performance last week over Holy Name, the Worcester resident was held to 36 yards on seven carries, but did have a nice 40-yard reception off a swing pass.
But as the stats indicate from today's game. Keying Abrokwah on the zone read opened the field once again for Smiley and the air attack.
"They're just athletic," Longmeadow head coach Nick St. George said. "They're good athletes, they have good receivers, they get the ball out to their guys in space and they force you to make tackles. We missed a lot of tackles today."
Flash cards?
One of the most interesting nuggets from today's post-game interviews was the suggestion from Smiley that the Pioneers may begin to utilize flash cards from the sideline to speed up what has already been a turbo-charged playcalling system.
But not just any ol' flash cards. One of the main storylines with the Pioneers' early season is how they have adopted the "Blur offense" tempo popularized by the University of Oregon under coach Chip Kelly. In recent years, Kelly's assistants have used posterboard-sized placards consisting of four panels with seemingly any sort of picture on it –- a number, a color, a school logo, a mascot, characters from
Caddyshack
, hosts from
ESPN College Gameday
, and so forth.
Even among the increasingly-innovative college coaching ranks, Oregon's method of calling in plays is considered radical. The only thing that's come close so far in the MIAA in recent years might be Duxbury, which dresses five JV players in bright orange hats (
nicknamed "The Amigos"
) and gives them color-coded cards to hold up.
"Oh, we might be bringing those out," Smiley said when a reporter asked about replicating the "Blur" tempo and referenced the Ducks' flash cards.
Have they been working on it?
"Yeah, a little bit," Smiley said.
It could be an innocent comment, and ultimately nothing could come of this. But given the progression of this offense, it could also be the next natural step.
ST. JOHN'S 35, LONGMEADOW 14
LHS 7 7 0 0 --- 14
SJS 14 7 14 0 --- 35
First Quarter
L – Frankie Elder 3 run (Eric Barsalou kick) 6:36
S – Andrew Smiley 8 run (Pat Lehane kick) 6:16
S – Micah Cummins 47 pass from Smiley (Lehane kick) 1:50
Second Quarter
L - Joe Lee 1 run (Barsalou kick) 6:51
S – Cummins 30 pass from Smiley (Lehane kick) 2:00
Third Quarter
S – Smiley 7 run (Lehane kick) 8:02
S – Davon Jones 30 pass from Smiley (Lehane kick) 1:52
August, 30, 2012
8/30/12
1:36
PM ET
By
Jimmy Kelley
| ESPNBoston.com
LONGMEADOW, Mass. -– It is never more apparent why Longmeadow football has become the powerhouse that it is than right after the high school team wraps up their practice around 5:30 p.m. at Longmeadow's Williams Middle School. As the big guys walk off the field, on come the future in the form of sixth, seventh and eighth grade teams dressed in all black and running that same Wing-T offense.

Not long ago, the Lancers' senior class was taking that 6 p.m. shift at Williams and doing things the exact same way. Winning included.

"Eight games, we went 8-0," said Steve Krushell, one of the team's five senior captains. "We used to sign a contract saying we wouldn't score more than 21 points so we wouldn't run up the score"

Krushell, along with his co-captains Austin Sierra, Mike Sell, Rob McClure and Frankie Elder, is one of 34 seniors on the Lancers roster. This group has lost just six games since that eighth grade season and credits their success to the family culture around the program.

Legendary coach Alex Rotsko stepped down after last season having brought the Lancers to 15 straight Super Bowls, winning 11 of them. Instead of going outside for a hire, Longmeadow kept it in the family by hiring longtime assistant Nick St. George.

"We like to put a big emphasis on family," said McClure. "We have so much experience and with Coach St. George it's the same offense, practices are run the same. It's got the same feel and we're a very close group this year."

All of that experience has not only eased the transition for the players, but also for St. George himself. After 25 years as Rotsko's right-hand man he is pleased with the way the seniors have taken ownership of this team.

"The seniors have done a great job this year," said St. George. "They set the tone, they teach the younger kids, they want to do this the right way. They want this to be a good team but they want this to be a close group. They genuinely care about each other."

The Lancers' Wing-T offense has been the crux of the program's success and this year will feature two of the most diverse running backs in Western Mass. in Sierra and Elder. Sierra, who's older brother Niko ran for 1,427 and 23 touchdowns in 2008, will fill the fullback role at 6-foot-4, 200 pounds while Elder will be more of the speed back at just 5-foot-7 and 170 pounds.

Sierra replaces T.J. Norris who last year ran for 1,313 yards and 23 touchdowns but dealt with injury problems that allowed Sierra to get some seasoning last year.

"I feel great [about replacing Norris]. I got some good reps when I started rotating in towards the end of the season," said Sierra, who ran for 522 yards and 5 touchdowns in 2011, including 171 yards against Northampton. "I feel like I can be just like T.J."

The biggest part of ensuring success for Sierra, Elder and junior-quarterback John Falcone will be their offensive line. The Lancers starting line is comprised of all seniors with the smallest being ESPNBoston Preseason All-State guard Lou Calabrese at 6-foot-1, 245 pounds, who shed 30 pounds during the offseason.

"I think if you went across the team you would see that we're in better shape than we were last year," said St. George. "Having Louie in shape and stronger is going to help us and it is going to make him a much more effective football player."

McClure (6-3, 260 lbs.) and Calabrese are joined on inside by Zach Calman (6-2, 245) while Mark Gentile (6-2, 275 lbs.) and Krushell (6-3, 275) will handle the outside. The offensive line's average of 260 pounds makes them one of the biggest -– and fastest –- lines in the state.

This group of seniors, with all of their success -– two super bowls and just the six losses -– still have one fish to fry: St. John's of Shrewsbury.

"We took that loss last year really personally," said Krushell of last season's 26-21 loss to the Pioneers. "They are the one team we haven't been able to beat in our four years."

"Nobody like's losing," added McClure. "A lot of us were extremely upset after those losses and goal is to eliminate that. We want to win every game and we think that we can."

The Lancers will take on St. John's on Sept. 15 at Pioneer Field in Shrewsbury.

These players have not lost sight of what makes Longmeadow football so special, however.

"We've been playing together for 10 years, since third grade," said Elder as his fellow captains all laughed. "Same offense, same everything; nothing's changed, just the positions,"

As the older guy's leave the field, the sixth grade team takes the field and gets into their Wing-T formation. Indeed, nothing has changed.

LONGMEADOW AT A GLANCE
2011: 11-2, won Division I West Super Bowl
Coach: Nick St. George (1st year)
Key Returnees: Frankie Elder, Sr. RB/S, 5-9, 170 lbs.; Austin Sierra, Sr. RB/DE, 6-4 200 lbs.; Mike Sell, Sr. TE/MLB, 6-1 215 lbs.; Rob McClure, Sr. OL, 6-3 260 lbs.; Lou Calabrese, Sr. OL, 6-1 245 lbs.; Mark Gentile, Sr. OL, 6-2 275 lbs.; Zach Calman, Sr. 6-2 245 lbs.; Steve Krushell, Sr. OL, 6-3 275 lbs.
Strengths: Experience, Leadership, Offensive Line.
Weakness: Quarterback
Outlook: To say that quarterback is a weakness for Longmeadow is actually a bit nit-picky considering their vaunted Wing-T offense is not particularly reliant on the position. The Lancers' offensive line will once again pave the way for one of the state's best rushing offenses which will run through Austin Sierra and Frankie Elder with several other players also in the mix to get some carries. Sierra will be playing the fullback position vacated by T.J. Norris (1,313 yards, 23 TD in 2011) but showed last year that he is more than up to the task (620 yards, 7 TD). The always stingy defense is looking particularly quick again in 2012 and points will certainly be at a premium when playing against Longmeadow. The Lancers will play that crucial game against St. John's (Shrewsbury) on Sept. 15 in Shrewsbury.
June, 21, 2012
6/21/12
3:14
PM ET
By
Ben Larsen
| ESPNBoston.com
LONGMEADOW, Mass. -- When people look back on Alex Rotsko's tenure as head football coach at Longmeadow, it won't necessarily be the eye-popping records set and accolades acquired that are remembered first.

It won't be the career 184-39 record or the 15 straight Super Bowl appearances. It won't be the 11 Super Bowl victories, 10 straight league titles or that 47-game winning streak that captured national recognition.

It will be the gigantic footprint Rotsko left on high school football in Massachusetts that first comes to mind.

Rotsko, who will become the head football coach at Marshwood High School in South Berwick, Maine this fall, obviously left quite the impression on the town of Longmeadow. But Rotsko's influence didn't stop at city limits. No, Rotsko's impact was felt at all levels of high school football in Western Massachusetts and throughout the MIAA.

And, now, Rotsko's most proud of how his involvement in such organizations has led to other area coaches becoming engaged.

"I'd like to think it's improved over the years," he said. "I see a lot more coaches involved. I know that when I was coaching at AIC and was involved in the National Football Foundation, the first year I came to Longmeadow, I was the only high school coach involved.

"Here's an organization that does most of their work involving high schools and I'm the only high school coach. It was embarrassing. Now, you have a lot more coaches involved. (East Longmeadow's) Scott Raymond, (Westfield's) Bill Moore, (West Springfield's) Chad Labonte; those guys have done a wonderful job getting involved."

Rotsko has been instrumental in the growth of various local organizations devised to improve high school football and served as Western Massachusetts' unofficial ambassador to the state's football coaches association as well as the MIAA.

He became the president of the Western Mass. chapter of the National Football Foundation, helping the group grow to new lengths and serving as founder of the annual Shriners Chowder Bowl, which pits the top seniors from Western Mass. against those from Central Massachusetts. In 2009, he was honored by the National Football Foundation and College Hall of Fame for his leadership.

"He has the highest integrity," said Nick St. George, who'll take over the Lancers after being Rotsko's right-hand man for the past 19 years. "He has work ethic you try to teach people about. I've heard many players refer to his work ethic. They see how hard he works and don't want to let him down. He always does the right thing. He talks about playing football the right way and living the right way."

Of course, when it comes to Rotsko, it will be hard not to speak of the impressive winning resume. Longmeadow, under his reign, won its 11th Super Bowl championship this past December at Gillette Stadium. With a team putting its third-string quarterback under center because of a rash of injuries, the Lancers didn't skip a beat, ultimately dismantling upstart Springfield Central for yet another title.

It was among the best coaching jobs on a long list of them for Rotsko, who will remember the dirt-dog teams even more than some of his most talented.

"Some of the years we were 8-3 and had to work a little harder were among my favorite," Rotsko said. "Those teams and the ones like we had year, those are the most fun for coaches. We may not have had the most talent but we got the most out of the kids."

Rotsko was celebrated Wednesday at Longmeadow High School. Or at least he was supposed to be. In true Rotsko fashion, the coach spent time remembering the people and stories that will stick with him forever, regardless of his location.

He remembered Spencer Kimball, the player who practiced all season to play only on Thanksgiving Day because religious beliefs prevented him from playing on Fridays and Saturdays.

Or the one about Niko Sierra, who played the majority of the Lancers' 21-0 Super Bowl victory over Leominster in 2007 with a broken foot. Sierra, a running back and linebacker, didn't have the heart to tell Rotsko, who was fired up about proving wrong a report in the Worcester Telegram that questioned the toughness of kids from Longmeadow.

He remembered the 80-55 win over Minnechaug in 2008, which, as Rotkso puts it, was simply, "unforgettable."

Or the time his team was receiving their Super Bowl rings at a ceremony in school and a student asked one of the players the cost of the rings. The player's reply: "About nine months of hard work."

Even this year's win at Gillette Stadium: "I won't remember the game," he said. "But the whole scene going to the stadium, walking past the Patriots, the sights and sounds and seeing the Patriots watch us play."

Rotsko leaves Longmeadow football in terrific shape. The system has worked for years and St. George returns with 25 years of experience and a complete coaching staff.

"I think with Nick stepping in, it'll be a natural transition," he said. "He's been around here longer than I have and knows the town, the people and the system. I don't imagine he's going to change a lot of things."

The Lancers also return a large chunk of their 11-2 Western Mass. Division I Super Bowl championship team. Frankie Elder, who powered Longmeadow in the Super Bowl victory as quarterback, will return to his normal position and be the featured back in the team's Wing-T offense. John Falcone, the incoming junior quarterback who missed nearly the entire 2011 season because of an injury, will enter camp as one of the top passing threats in Western Mass.

The only thing that will change, it seems, is the man roaming the sidelines.

"Right now, it's about keeping the kids hungry and keeping the desire to excel and keep doing what we're doing," St. George said. "You can't replace Alex Rotsko but we're going to do the best job we can."

Rotsko leaves Longmeadow with a lot of wins and only one regret. He wishes he would have enjoyed the run more.

"My biggest regret is not slowing down, relaxing and enjoying it," he said. "It's game after game, practice after practice, year after year. And, all of a sudden, it's 19 years later and it's done. You look back and say, 'why didn't you enjoy it more' but you get focused on what you're doing and that's how it is.

"But, on a night like this, you get to look back and remember everything."
December, 3, 2011
12/03/11
6:23
PM ET
By
Corey J. Allen
| ESPNBoston.com
FOXBOROUGH, Mass. -- For the second year in a row, the Longmeadow Lancers are the MIAA Western Massachusetts Divison I Super Bowl champions, but for the first time they were able to play at Gillette Stadium.
Overcoming multitudes of hurdles, including numerous injuries with those to starting quarterback Jake Lazarus and running back T.J. Norris and an earlier loss to Springfield Central, 21-20, on Oct. 15, the Lancers' victorious finale under the lights in Foxborough was nothing short of a miracle.
"In my 25 years of coaching, I have never seen anything like this," Longmeadow defensive coordinator Nick St. George said whose . "But we pulled it together."
Earlier this season
, Rotsko discussed the importance of developing a program in which underclassmen develop throughout their time in the system so that when it is their time to carry the torch they are ready to do so. This season, junior Frankie Elder, who started off as a running back, took over at the quarterback position from Norris, who took it over from Lazarus, and lead the Lancers to a 35-7 win over Central in a rematch of last year's title game.
Although an amazing feat for some, Rotsko did not expect anything less from Elder, as this is not the first time he has broken the normal for Longmeadow.
"He's been a starter since his sophomore year," Rotsko said. "Actually he started on defense as a freshman, and I think we've had two freshmen in my 19 years that are staring and he's one of them. He's been around a little bit and has a lot of confidence. Playing a new position, I don't know if he could've done a better job than he did today."
Although Elder filled the big shoes, leading a team that has won 11 of the last 15 Division 1 Super Bowls, it did not coming without reservations.
"To be completely honest, I didn't really want to play quarterback, I'm a running back at heart," Elder said. Despite what his personal preference was, he was able to lead to his to glory, even with some doubt of his own abilities. "I can't really throw the ball, but we all got it done today and it was fantastic, it was awesome."
In the previous game, the Springfield Central Golden Eagles were able to score 21 points on the Lancers but today they only scored one touchdown in the second quarter, a 31-yard pass from Cody Williams to Joshua Malone. The difference in scoring and inability to run the ball (Certral had 50 yards on the ground) was summed up by junior lineman Louie Calabrese.
"We struck the keys, hit them in the chin and didn't let them drive us back like last time," Calabrese said. "Last time... it's probably that they embarrassed us. They embarrassed us last time, we were mad, real mad, but we got back at them though."
"When you get down, you've got to get back up and keep working harder," said Lazarus, who missed the first five games of the season with a broken right thumb and played today with a cast on his left arm for the same reason. "With an opportunity like this, you can't let injuries overcome you."
September, 17, 2011
9/17/11
12:23
AM ET
By
Michael Wood
| ESPNBoston.com
LONGMEADOW, Mass. -- Make it three consecutive years that Longmeadow has gone into a game against St. John's of Shrewsbury with hopes of defeating the Pioneers, and three consecutive years it has come up empty.

The latest was a 26-21 triumph by the Pioneers on Friday night.

The No. 8 Lancers (1-1) thought they had it this season as No. 6 St. John's (2-0) graduated two of the top players in the state in Richard Rodgers and Dan Light following last season, and it barely survived a close game a week ago against Holy Name.

Leading by one-point with less than three minutes to play, the Lancers thought they had finally cornered the Pioneers. Then, when they forced St. John's to punt on fourth down with just over two minutes to go, Longmeadow was sure of it.

But, for a third-straight season, they were mistaken.

The Pioneers forced Longmeadow into a three-and-out and, after a short punt, regained possession just shy of midfield with 1:45 left on the clock and 55-yards from victory.

St. John's quarterback Connor Kurtz took it from there. Kurtz dropped back in the pocket, avoided the oncoming rush, and heaved the ball deep into double-coverage down the middle of the field. Somehow, his target, Drew Ortone, was perfectly positioned between the defenders, made an acrobatic catch and sprinted the rest of the way to pay dirt, putting the Pioneers ahead to stay.

The ensuing two-point conversion attempt failed, but the touchdown proved to be all St. John's needed.

Longmeadow quarterback Frankie Elder's last-ditch effort ended in an interception, and sealed the game for the Pioneers.

While it was a lot closer this time than in the last two seasons, in the end, Longmeadow couldn't quite conjure up enough magic for one last comeback.

"It makes us feel good, even though we lost," Lancer tailback T.J. Norris said. "It's 26-21 and we just proved that [against] one of the top teams in [Central] Mass, we hung with them, and we could've beat them."

Norris carried his team in the loss, powering through defenders for 206 rushing yards on 25 carries and finding the endzone twice.

St. John's head coach John Andreoli gave Norris credit for his performance, calling him, "a tough kid and an impressive football player."

"He always keeps his feet moving and his yards after contact are always big yards," Andreoli said. "A couple times here we had five or six guys [lined up in the box] and he was just moving the pile. He's impressive and he's a tough football player."

On the Pioneer side, running back Sean Wilson ran for 110 yards on 13 carries including a touchdown, Efrain Montalvo caught three balls for 45 yards, and John Giacoppe hooked up with Kurtz four times for two touchdowns and a two-point conversion.

Kurtz finished the game 9-of-22 for 162 yards with three touchdowns and one interception. He also scrambled out of the pocket 11 times for 31 yards.

"He's gotten better every day since we started, and that's what you look for," Andreoli said. "The way he was throwing the ball [tonight] with confidence, getting on top of it, he was throwing a nice ball. And then that last throw [to Ortone] was just a gutsy throw. He had a good matchup, [Ortone] right down the seam, and he was able to get the ball right in the right spot."

Despite Longmeadow's heroic comeback efforts throughout the game, a close loss like this one is tough to swallow.

"If we had stuck it out and won the game we would have just showed everybody that we're back on top and that this is a totally different team [than in past seasons]," an emotional Norris said. "It was a good game this year, and I think we still sent the memo, it's just that we fell a little short at the end.

"It would've been great if we had won this game."
November, 24, 2010
11/24/10
6:40
PM ET
By
Neil Carroll
| ESPNBoston.com
LONGMEADOW, Mass. -- Across the state, most football-powerhouses meet their match on Thanksgiving Day. They face off against a similarly talented team, the records get thrown out, and it's a no-holds-barred battle for Turkey Day supremacy.
In the Central and Eastern parts of Massachusetts there are plenty of games to choose from: Xaverian and St. John's Prep, Marshfield and Duxbury, Andover and Central Catholic or Fitchburg and Leominster -- just to name a few.
But for everyone west of Worcester, if you want to see a consistently close game between two of the most successful programs in the region, you head to the annual Longmeadow-East Longmeadow Thanksgiving Day matchup.
This heated rivalry wasn't forged in 1882 like Wellsley and Needham's game, nor has it involved the trading off of some kind of historical relic, but time-after-time this contest comes down to pure competition between two of the best in the West.
If you're trying to pick a favorite in this game, then good luck. This year's contest is a headache to break down.
At first glance, the two teams' records stand out. East Longmeadow (9-0,6-0 AA) has a chance to go undefeated for the first time in Coach Scott Raymond's career, and Longmeadow (9-1, 6-0) has one loss to out of conference opponent St. John's (Shrewsbury).
The Longmeadow Lancers come in with a stronger schedule as they lost to St. John's (Shrewsbury) and beat Catholic Memorial earlier in the season, but according both coaches, strength of schedule won't matter on the field on Thursday.
"I don't see [our schedule] as a factor at all. I think they could have just as easily gone out to St. John's and got their butt kicked as we did," Longmeadow coach Alex Rotsko joked. "I don't know if they're better than Catholic Memorial or not -- I'm not sure we are better than CM.
"We beat Catholic Memorial that night and did some good things, but if you look at the common opponents [with East Longmeadow], the scores are very comparable actually."
"I don't think the kids even look at [the out of conference games]," Raymond said. "They've played against Longmeadow since their youth days and the can judge their competitive level with that."
After last year's conference realignment, East Longmeadow has now moved up into the AA conference with Longmeadow -- even though they are in Division II as far as the MIAA playoffs are concerned. Longmeadow has won or shared a whopping nine-straight league titles (although one year Longmeadow tied with Minnechaug Regional High School) but this year's game -- like last year's -- is for the league title.
The Spartans will host the Lancers for the last time on the current field at East Longmeadow High School (before it's replaced with turf in the offseason) and they are hoping to continue a win-streak that dates back to 2006. The last time East Longmeadow lost at home was against -- you guessed it -- the Lancers. And speaking of streaks, Longmeadow has not lost to a conference opponent since 2004, when the Lancers fell to Agawam at home.
"The excitement of playing Longmeadow has changed a little bit for us, because we've gotten to the point where we feel we can compete with them," Raymond said about Longmeadow. "They're such a great program and our kids get excited because they want to play the best -- and they've always demonstrated that they are the best."
The two teams are very familiar with each other. Raymond used to coach at Longmeadow High before Rotsko became the head coach, and he and Rotsko remain friends despite their teams' rivalry. But it doesn't stop there.
In the offseason, Rotkso and Raymond team up to run the Wing-T Camp at either Longmeadow or East Longmeadow High every summer. This gives teams from around the region an opportunity to learn from some of the best Wing-T minds in the area. It also gives East Longmeadow and Longmeadow a chance to measure up against one another before they put the pads on.
That familiarity with each other's offense makes the Thanksgiving Day game an annual chess match between coaches. Whether Rotsko will dust off his patented sweep-series "sucker"-trap (where the guard pulls outside to draw a linebacker), or Raymond will implement the sweep-series quarterback keeper to get an extra athlete in front of the normal outside-run, both coaches will pull out all the tricks they have.
While ball possession will surely be a factor in the game because of the 10-minute quarters now implemented in the Thanksgiving Day games, it is worth seeing what the coaches thought (outside of the clock) will be a factor in the game.
When asked about what the keys to the game will be Rotsko gave his textbook vanilla-answer.
"First, we're trying not to give up big plays, and secondly execution," Rotsko said. "The team that executes better will win the game."
When asked about what stands out about Longmeadow's team, Raymond paused and laughed.
"What doesn't stand out?" Raymond responded.
KEYS TO VICTORY:
Unlike how the coaches responded, if you look at the offensive stats, both teams stack up well against another. Longmeadow's top two rushers (T.J. Norris and Frankie Elder) have combined for 22 rushing touchdowns, while East Longmeadow's lead backs (Ray Holloway and Bryce McAllister) racked up 26 touchdowns.
Look for Holloway to have one big return against a Longmeadow kickoff team that always seems to be a weakness (if there was one) for the Lancers. Holloway -- like Minnechaug's Mike Mercadante earlier in the year -- will have a lot of success against the Lancers, but Longmeadow will try to completely shut down the rest of the Spartans offense.
Don't be surprised if Rotsko decides to air it out with Jake Lazarus. Although the Thanksgiving Day game usually presents raw or wet weather, by this time in the year, Rotsko typically gains enough confidence in his signal-callers to expand the playbook.