Boston High School:

Fred Taylor
October, 19, 2011
10/19/11
7:19
PM ET
ARE TRIPLE-DIGITS OUT OF THE QUESTION FOR LIL' DIBS?
Barring catastrophe, we fully expect Everett quarterback Jonathan DiBiaso to break Tom Colombo's all-time passing touchdown mark of 85 before the month is over. He's four away, and he's got two games to do it – this Saturday against BC High, and on Oct. 28 in the Crimson Tide's Greater Boston League opener against Medford.

The question now is that, with seven games left on the schedule (let's just declare them Super Bowl-bound now), whether he can surpass the century mark. Last season, he threw for 16 scores in the Tide's four GBL contests, and another five in two playoff wins over Andover and St. John's Prep.

All evidence points to DiBiaso shattering the state mark and putting the record nearly out of reach, when all is said and done.

IS NO. 16 NEEDHAM FOR REAL?
A few weeks ago, when the Rockets upset then-No. 6 Weymouth, we would have told you yes. Even before that, when the Rockets went toe-to-toe in an eventual 36-30 loss to Mansfield, we'd have told you Needham's on to something.

Now? We're not sure what to think. Drew Burnett , a senior quarterback with Division 1 offers, broke his ankle in two places during Saturday's 49-14 win over Milton, putting an end to one of the more promising seasons in the Bay State Conference. With a healthy Burnett, we like their chances of not only controlling their destiny in the Bay State Carey, but against whomever comes out of the Big 3 conference for the Division 1 playoffs.

Head coach David Duffy told ESPNBoston correspondent Matt Noonan earlier today that he will use a rotation of three guys at quarterback in Friday's crucial tilt with No. 17 Walpole. The Rockets have shown to lineup quality athletes in Dan Pierce, Nico Panepinto, Ian Riley and Mark Riley (no relation), but you have to wonder how quickly the understudy can adapt to Duffy's system, which has begun to diversify the last few years.

AUBURN'S OFFENSIVE LINE IS A WAGON
We've sung their praises several times before, but it bears mentioning again: even after a bump in the road, No. 14 Auburn's line is rising as one of the state's best units.

Comprised entirely of juniors and sophomores – including a 6-foot-4, 305-pounder who is just 15 years old – this makes the Rockets at team to watch over the next few years. With short splits and a precise zone-blocking scheme, these guys are a cohesive unit up front and have been blowing teams off the ball to the tune of 17 rushing touchdowns. Dan Flink is the Rockets' Peyton Hillis, but give speedster Fred Taylor some room to run and he is one of the shiftier players in the Worcester area.

Within the Central Mass sphere, this will continue to be one of the more dangerous teams in Division 3.

HOW TOUGH WILL THE ALL-STATE RACE BE AT RUNNING BACK?
Extremely tough.

But such is the beauty and the beast of picking a true statewide All-Star team that doesn't just simply reward the 25 best running backs in Eastern Mass. – when you've got just four slots to pick from 300-plus schools, an elite player inevitably gets left off the list.

Andover's Andrew Coke came into the season as the lone returning All-State running back (Catholic Memorial's Armani Reeves was an athlete selection). But as good as he's been for the 4-2, Golden Warriors, there have been better resumes through the first half of the season.

BC High's Preston Cooper has 14 rushing touchdowns through six games and is coming off a 202-yard performance in a 32-0 blanking of a tough Marlborough squad. Concord-Carlisle's George Craan would be on pace for a ridiculous senior season if not for the emergence of Tyquan Culbreath, and the overall ease with which the Patriots have disposed of opponents so far.

Meanwhile, a trio of Western Mass. tailbacks have emerged on the scene forcefully, all averaging seven yards or more per carry.

Springfield Putnam's Melquawn Pinkney currently leads the state in rushing yards (1,526) and rushing touchdowns (24). Longmeadow's T.J. Norris (1,003 rushing yards, 15 TD) is a fire hydrant at 5-foot-8 and 220 pounds. Folks within the Everett program still tell us Springfield Central's Sacoy Malone (916 yards, 7 TD) is one of the best backs they've faced in two years. If his performance in the Eagles' 21-20 upset of Longmeadow last week is any indication (194 yards, 2 TD), he could be in for a terrific second half.

Also not to be forgotten is King Philip's Charles Ruffin, who is coming on strong after a 147-yard performance in last week's win over North Attleborough. The track star's elite speed is known about statewide, but he's starting show his toughness between the tackles. Health will be key, as he's already missed some time with injury.

GIVE P-FUNK CREDIT
Back when Paul Funk was still an assistant at Everett, the program at Dennis-Yarmouth was in such shambles that the school was thinking of dropping the program altogether.

In his first year, back in 2001, the Dolphins played only JV games. Since then, he's slowly built up a program that has become arguably the Cape's most consistent over the last half-decade. Since their last losing season in 2006, the Dolphins are 38-12, including a 6-0 mark this year; if the Dolphins stay the course, they will wrap up their third 10-win season in six years, and their second-straight Division 2A playoff berth after earning their historic first a season ago.

This year, the Dolphins boast one of the state's elite jump-ball receivers in Damion Johnson and arguably the toughest pound-for-pound quarterback in Matt Montalto. But it's not about the superstars that make this program go.

More often than not, D-Y wins with undersized players who are neither big nor athletic, but embrace contact and love to hit. With little depth, most of the starters go both ways, and guys like 5-foot-7 defensive tackle Tommy Kennedy are relied upon to shoot the gaps rather than fill them. At the end of the day, this is a well-conditioned, disciplined team that has to be one of the favorites in Division 2A if all goes to plan.

WILL THE KNIGHTS BE RIDING COME DECEMBER?
Have you heard about Catholic Memorial's four FBS recruits? Have you heard about their opening day loss to Marshfield?

It's all old news, but now the question is whether the Knights can heed the lessons learned from the Rams debacle and translate that into a Catholic Conference championship.

Following a bye week last week, the Knights will embark on their four-game conference schedule, which is bisected by a matchup with Brockton in two weeks, on Friday against Malden Catholic. The biggest of those game occurs in their Thanksgiving Day game against BC High, provided there are no missed steps along the way. You have to like CM's chances against Malden Catholic and the Prep, but if CM can knock off Xaverian, that would set up the winner-take-all matchup at the end of their regular season schedule.

There's no question the Knights have the talent to beat Xaverian, or the third-ranked Eagles for that matter. But, as has been the case in the last couple of seasons, it's not about if, it's about when. Is this the time that the group led by A.J. Doyle, Donovan Henry, Armani Reeves and Camren Williams prove good on their promise?

CAN NEW BEDFORD WIN THE BIG 3 AGAIN?
When New Bedford knocked off Brockton in their Big Three meeting last November, it was a shocking upset.

If the Whalers are to repeat the feat this year, a New Bedford victory wouldn't be greeted with such surprise.

Myles Medeiros (11 TD passes) has the Whalers offense firing with a legitimate down-field threat in receiver Jaraud Wood, while running back Marcel DePina needs only a yard to shake loose from defenses in the open field. In addition, the defense, led by junior lineman Tyler Arena has been strong.

Meanwhile, Brockton pulled off an upset last week against New Hampshire behemoth Pinkerton Academy (its fifth straight win against the Astros), so you can't count out the Boxers quite yet, despite a slow start (1-3) to the season. But clearly the balance of power in the Big Three (read: Brockton, Brockton and, ahem, Brockton) isn't quite what it used to be.

… THAT BEING SAID
The most encouraging thing you can say about Brockton's season thus far has been the emergence of quarterback Austin Roberts. The junior signal-caller had his biggest game yet last week against Pinkerton. Roberts completed 14 of 22 passes for 207 yards and three touchdowns to down the Granite State's top team.

If Roberts can keep the big plays coming, Brockton is still very much a threat.

ROCK 'EM, SOCK 'EM
No. 4 Chelmsford showed once again last week why the Merrimack Valley Conference Large runs through them in a thorough victory over Andover on Saturday.

But let's not crown the Lions and Mr. Football challenger Tim Joy champions just yet. After all, they still have a pesky Central Catholic team on the schedule, in addition to huge games at Lowell and at Billerica to finish on Turkey Day. Both the Red Raiders and Indians made their debuts in our Top 25 this week after both teams have been flying under the radar a little at 5-1. Dynamic quarterback R.J. Noel has Red Raider nation believing that this could be the team to unseat Chelmsford, while the Indians feature a defense that is much improved from last year's edition.

Plus, Billerica still has that LaSpada kid causing havoc for defenses and you can't underestimate that.

ROCK 'EM, SOCK 'EM: PART DEUX
Akin to the MVC, the Hockomock League always fields one of the most competitive leagues in the state from top to bottom. And we've seen that parity play out in the first half, what with Stoughton's shocking win over Mansfield.

What is for certain is that the league, which now has two playoff bids for the first time for its Davenport and Kelley-Rex winners, is still wide open.

Mansfield remains in the driver's seat in the large division with wins over King Philip and Attleboro, but the Hornets' game against North still looms. In the Davenport, the likely winner-take-all meeting between Oliver Ames and Stoughton is still three weeks away, but the Tigers' matchup with Mansfield on Friday will be a good indicator of how far they've come this season.
September, 27, 2011
9/27/11
10:14
AM ET
THE MYTH OF KENNY
By day, he's just an unassuming high school student. Come Friday night, he's a legend.
Beverly running back Kenny Pierce inspired some tall tales while racking up five touchdowns in the Panthers' come-from-behind 36-35 win over Lynn English. The hashtag #KennyPierce had Twitter abuzz on Friday night.
"I wanted to get it trending," tech savvy athletic director James Coffey said Monday at the high school.
While the myth of Pierce's performance, which was highlighted by an 81-yard touchdown return for a score, continues to grow, all the mild-mannered running back was concerned with was next week's game against Winthrop. For the returning Division 3 Eastern Mass. Super Bowl champions, it's just another test in getting back to where they want to be.
"We had everybody rooting against us last year," said Pierce of the Panthers who entered postseason play at 5-6 last season, "that just motivated us more. We just want to get back there."
SO FAR, SO CLOSE, SO UNDERRATED
Melquawn Pinkney's performance for Putnam Friday night is the stuff of instant legend: 17 carries, 421 yards, six touchdowns.
The undersized speedster was the catalyst Friday for a Putnam squad that is quickly erasing that "underrated" moniker, coming four yards short of the state record in his eye-popping performance (Lynn English's Brandon Guy went for 425 in a 2001 win over Swampscott).
The Beavers debut at No. 20 this week in our statewide MIAA poll, and it's a recognition well-deserved. Some wonder if these guys are on par with Longmeadow – we'll have to give it a few more weeks before we jump to that conclusion.
But back to Pinkney – just how underrated are these guys?
"Springfield as a whole is underrated. I guess they don't think our players are as good or as talented, but we've got some good players coming out of here."
He continued, "I went to a lot of showcases over the summer time, and I hung with the best of them."
SHOCKING THE HOCK
Two of the state's strongest two-tier conferences already find themselves full of twists and turns after a weekend full of surprises.
Stoughton provided the upset of the weekend when the Black Knights faced a Mansfield squad that had been averaging 33.5 points per game and promptly shut them out, 8-0. The Knights held a slim 3-0 lead headed into the fourth quarter, then tacked on a safety and last-minute field goal to preserve the shutout.
Did we see this coming? No. Were were totally shocked? As with most things, the truth lies somewhere in between. Take note of the youth on the squad, and pay attention to the secondary featuring juniors Marcus Middleton and Aaron Calixte. The latter is already known on the hardwood, ranked as one of the top junior point guards in New England; but on a whole, this is a unit that sticks out on film for its athleticism.
With King Philip off to a dominating start on defense (4.6 points per game allowed) and North Attleborough being its usual self; combined with promise from Foxborough and Oliver Ames; and the wild card that is Attleboro; this is far from the last upset. Fasten your seat belts.
NEW-LOOK TROJANS
If you weren't paying attention, you might not have recognized the Bridgewater-Raynahm offense in the Trojans' 28-15 win over Marshfield on Saturday.
[+] Enlarge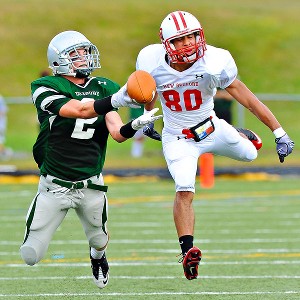 Jim Tarbox Reilly Naton leads a No. 2 Duxbury's defense, which Bridgewater-Raynham head coach Dan Buron calls the best he's ever seen.
After struggling to move the ball on the ground during their first offensive series, Trojans head coach Dan Buron made the decision to flex out hard-nosed running back Nick Schlatz out wide. Without Schlatz to key on the in backfield, B-R diversified it's approach, putting the ball in fellow running back Branden Morin's hands as well as letting quarterback Brad Deluliis make plays with his feet.
The spread look, which included four-receiver sets and some trips alignments, is a far cry from the meat and potatoes I-form rushing attack common at B-R.
"We've been doing it a little the last couple of years … with [Brad] Deluliis, Mike Connolly and even Billy Zolga last year, we spread it out and threw a little bit more," Buron said. "But now what we've done is split Nick Schlatz out there and then we have Arcel Armstead, who's a pretty good running back, too, on the other side, so people have to worry about them because they're good receivers, too."
Subtle adjustments like those have gotten the Trojan offense back on track after having a shutout thrown at them by Duxbury on opening night.
Though Buron was not without some weighty praise for the No. 2 Dragons and their swarming defense.
"That's the best defense I've ever seen," Buron said. "We were just trying to get out of there alive."
AUBURN'S O-LINE AMONG STATE'S BEST
With true Belichickian aesthetic, Auburn head coach Jeff Cormier tends to err on the side of caution when giving out praise. Compliments aren't exactly handed out like candy on Auburn Street – and honestly, when you've won a state-best 40 straight games, why change?
When pressed about making it 40 straight following Friday's 35-6 domination of St. Peter-Marian, "We're 3-0" was the repeated theme amongst coaches and players alike. But holding back on praise for the big guys in the trenches continues to be an upwardly difficult journey.
Tell you what, we're not afraid to say it anymore.
Auburn –- yes, Auburn, the birthplace of the modern rocket, tucked away neatly beneath the I-290 loop -– boasts one of the best offensive lines in the state. Doesn't matter if they're in Central Mass Division 3, or one of the power conferences in Eastern Mass. As a unit, they're already one of the biggest around, averaging 6-foot-3 and 250 pounds across. But what separates them from some of the state's other beefy lines is their surgery.
There's a significant difference between outweighing your opponent at the point of attack and overpowering them, and the Rockets certainly fall into the latter. Line coach Dana Giampa deploys an aggressive zone-blocking scheme (think Shanahan-era Broncos) that his players ran to near perfection on Friday night. Star SPM defensive end Jordan Knowles found himself out of the play most of the night, after factoring significantly in the Guardians' first two wins over Shepherd Hill and Fitchburg.
The unit of tackles Steve Domenick and Will Greelish; guards Matt Ramirez and Aaron Dyke; and center Jordan Giampa, paved the way for 462 rushing yards by the varsity, including 191 from Dan Flink.
"I think our offensive line is starting to come along, and I give a lot of credit to Dana Giampa for that, really working with those kids." Cormier conceded after the game. "They trust in what he's teaching."
Said running back Fred Taylor, "Our line stepped up big. Everybody basically had their A-game."
Time to start taking these guys seriously.
And by the way, what's scarier, the rushing totals reminiscent of 90's Nebraska, or the fact that the line is entirely comprised of juniors and sophomores?
September, 24, 2011
9/24/11
1:33
AM ET
By
Brendan Hall
| ESPNBoston.com



AUBURN, Mass. -- Talk about well-coached.

The No. 9 Auburn Rockets reached a milestone tonight in a dominant 35-6 win over No. 19 St. Peter-Marian, extending its state-best win streak to 40 games, good for third-longest active streak in the nation. Not only was it a stellar performance by the Rockets' front four -- which pressured the Guardians (2-1) and their star quarterback Steve Flynn into two interceptions, and held SPM to 83 yards of offense in the first half -- but the Rockets turned in arguably one of the season's most impressive rushing performances.

Behind a steady four-pronged attack of running backs Dan Flink (15 carries, 191 yards, 2 TD), Bobby Sivret (12 carries, 106 yards, 2 TD), Fred Taylor (five carries, 79 yards) and Tyler Desjardins, the varsity of the Rockets (3-0) racked up 462 rushing yards on the Guardians. They set the tone right from the get-go when on the second play of the game, Flink slipped inside of a kickout block from Aaron Dyke and ran a tackle-lead counter 70 yards straight up the gut, all the way down to the five, setting up Drew Goodrich's four-yard scamper two plays later.

"It was a great play, the offensive line did exactly what they had to do," Flink said, adding with a laugh, "I just wish I had some breakaway speed to finish it off."

Three plays into SPM's ensuing drive, Flink came up with an interception on the right sideline, setting up an easy 35-yard scoring drive, punctuated with a six-yard plunge by Flink for a 13-0 score with less than six minutes played.

That set the tone the rest of the way. And in the post-game, the Rockets spoke like a team that not only expected to win, but knew exactly how to act and what they were going to tell reporters.

"I mean, once again, we're just 3-0 right now," Flink smiled.

Said Auburn head coach Jeff Cormier, "We're at three, and we're looking for four next week, and our second one at home. Then hopefully we can get our fourth win next week, and keep rolling."

Longfellow couldn't have said it better.

Some key points from the game:

What a wagon: When informed that his varsity racked up 462 yards on the ground, Cormier cracked, "We're giving Brady a run for his money, huh?"

No matter how you cut it, 462 is the number that sticks out most in this game. Anchored by tackles Steve Domenick and Will Greelish; guards Matt Ramirez and Aaron Dyke; and center Jordan Giampa, the Rockets had their way with the St. Pete front seemingly all night. A group comprised entirely of underclassmen that averages roughly 6-foot-3 and 250 pounds across, they gave the appearance of a unit that has been together for three years, not one.

"Our line stepped up big," Taylor said. "Everybody basically had their A-game."

How difficult is it to prepare for a unit Auburn's? The Rockets ran a fair amount of double-tight jumbo sets tonight, with ends Mykal Diaz and Eric Chionchio providing even more of a mismatch; and with line splits anywhere between one to six inches, that took away some blitz packages right off the bat.

The Guardians saw this tight-split look last week when they took down Shepherd Hill and its vaunted double-wing scheme, but still found themselves outmatched in this one.

"Number one, they're huge, they're the biggest team in Central Mass," SPM head coach Tom Henrickson said. "But they're foot-to-foot and they don't have any gaps. And the backs just bounce off of them, they wait and see a hole and read. It's all zone blocking. They do a great job at that, they're well-coached."

As noted above, the Rockets kept things fresh in the backfield by platooning four running backs. By the second quarter, the wear and tear was evident, as the speedy Taylor danced his way to runs of 25, 22 and 18, totaling 74 yards rushing in that stanza. Flink then made another long run, this time for a score, as he followed a convoy up the left sideline on a sweep before throwing a stiffarm and cutting sharply back towards the hashmarks, coasting into the end zone for a 42-yard score that made it 28-6.

"We've got stuff we've got to work on, but I'm very proud of our kids' effort," Cormier said. "I think I'm going to be very proud of their execution once we look at it on film, and I was very pleased that they were very physical, they flew to the football. I thought we had a lot of guys that got in the game. We were able to use our depth a little bit.

"I think our offensive line is starting to come along, and I give a lot of credit to Dana Giampa for that, really working with those kids. They trust in what he's teaching."

Nullifying Knowles: One of the keys when devising a game plan against SPM is finding a way to neutralize senior defensive end Jordan Knowles, considered one of the region's better pass rushers. Through the first two games he registered 18 tackles and two sacks, but tonight the Rockets did a terrific job keeping him out of the play.

When the Rockets weren't running away from him, they were flushing him away from the point of attack with double teams and chips. When he ripped across Greelish's face and charged the 6-foot-4, 305-pound sophomore's inside gap, the play usually ended up bouncing to the outside, just out of his grasp.

"He's a real good player -- especially if you run away from him, he can run you down from the backside," Cormier said of Knowles. "We were really aware of him on the pass rush, trying to get outside him. We didn't think we'd be able to do that, we we tried to get up inside him, maybe trap him a little bit. But he made his plays. You know he's gonna make his plays, it's just, can you let him make those plays where it doesn't kill you, it only hurts you?"

Stout front seven: Defensively, the Rockets brought the heat tonight. Steve St. Jean and Diaz brought pressure off the edges, while Lincoln Bois found his way in the backfield on blitzes; meanwhile, Flink was efficient supporting both the run and pass.

The key, much like the run game, might have been the continuous rotation of fresh bodies.

"I thought we did a nice job of rolling guys through," Cormier said. "We had some fresh legs in there. I bet you we had up to 10, 12 kids get in there on the defensive line. We were always fresh, so you had guys getting limited reps but giving 100 percent at it. Sooner or later, if you can stay close, I think that wears on people. And I give [defensive line coach Scott Mills] a lot of credit for utilizing the depth that he has there."

Flash of promise? For all the troubles the Guardians ran into, they still managed to pull off one of the plays of the game. Late in the third quarter, sophomore wideout Noah Burke found himself in a one-on-one matchup with Taylor and took him deep down the right sideline on a chair route; quarterback Steve Flynn hit him with a laser, and Burke extended for a one-handed grab, scathing into the end zone untouched for a 69-yard score.

Flynn had his troubles tonight, with two interceptions. But at 6-foot-5, nearly 240 pounds, and equipped on the mound with a fastball that clocks in the mid-80's, he shows plenty of potential and isn't afraid to air it out.

Of Burke's catch, Henrickson said with a chuckle, "He's a great athlete. That was a hell of grab, he makes those in practice. I'm just glad...if he coulda caught it with two, thank God he didn't miss it with one because I would have reamed him."

Trickery peeks its head: The 'Wildcat' fad may have run its course at the pro level, but at Auburn it's still alive. Twice in the first half the Rockets lined up in an unbalanced shotgun formation with two tight ends and two split ends, with Taylor taking a direct snap. Taylor had a potential touchdown pass batted away in the back of the end zone; the other time they lined up, he rolled to the left and changed direction twice before coming up with a 25-yard gain.

AUBURN 35, ST. PETER-MARIAN 6

SPM (2-1) --- 0 0 6 0 - 6
AUB (3-0) --- 13 8 7 7 - 35

First quarter
A - Drew Goodrich 4 run (Steve St. Jean kick) 8:43
A - Dan Flink 6 run (rush failed) 5:29

Second quarter
A - Bobby Sirvet 4 run (Flink run) 6:43

Third quarter
S - Noah Burke 69 pass from Steve Flynn (pass failed) 3:28
A - Flink 42 run (St. Jean kick) :21.7

Fourth quarter
A - Servit 15 run (St. Jean kick) 5:15
September, 17, 2011
9/17/11
2:31
AM ET


HOLLISTON, Mass. -- Friday night's battle of Top 25s Auburn and Holliston could have been viewed more by what didn't happen rather than what filled up the box score.

A fumble that cost a potential touchdown, a 98-yard interception return for a touchdown whistled back by a penalty and a possible fumble on the final play of the game helped to shape No. 10 Auburn's 14-13 escape from Holliston High.

But games are played in reality, not in the subjunctive and the Rockets did just enough to extend their winning streak to 39 games, the third longest active streak in the nation.

Even though the Rockets still don't talk about it.

"We look at it as two in a row now," Auburn running back Dan Flink said after the Rockets ran their record to 2-0.

Flink terrorized the Panthers' defense to the tune of 156 yards on 28 carries while accounting for both of Auburn's scores, with touchdown runs of 16 and 30 yards. Running behind an offensive line that averages over 250 pounds, anchored by junior guard Aaron Dyke, the Rockets were able to set the tone and pace of the game.

"As athletic and spread out and dangerous as their skilled kids are, as good as they are, we were hoping we'd be able to grind the ball a little bit, chew the clock up and limit their possessions," Auburn head coach Jeff Cormier said. "But, again, their defense in the second half gave us more three-and-outs than we wanted."

As much as Auburn dictated the complexion of the game, the weren't able to stop Holliston (1-1) from jumping out to a 7-0 lead on a 7-yard touchdown run by quarterback Dan Barone (18 carries, 90 yards) with 1:16 to play in the first.

However, the Rockets responded with an 11-play, 67-yard drive to tie the score.

On the ensuing possession, the Panthers marched down the field again with Barone reaching the end zone on a 2-yard keeper up the middle, but the point after try was blocked by Auburn's Mykal Diaz and Mike Lavin.

Flink scored again before the half was out from 30 yards out to give the Rockets their final margin of victory.

"We wanted to have long drives and we knew that we wanted to be physical with them and we knew that their offense was very explosive," Flink said. "We did it, we executed well."

The Holliston defense tightened up in the second half, forcing the Rockets to turn over the ball on downs in their first possession. But the Panthers' promising drive following the defensive stop fizzled after a fumble.

Holliston was dealt another blow on what would have been a 98-yard interception return for a touchdown by Barone. The play was called back after a block in the back penalty. The resulting Panther drive ended with a punt.

As time began to click away, Auburn tried to run out the clock.

Although there was one final moment of intrigue on the Rockets' final play from scrimmage, a rush by Fred Taylor. Taylor was met by the Panther line and, after a scrum developed, a Holliston player emerged with the football. However, officials had blown the play dead before the strip occurred.

"It was just wasn't meant to be," Holliston head coach Todd Kiley said.

And a few more thoughts:

-Cormier was pleased by his team's ability to answer both of Holliston's early scores. It was clear from the beginning the Rockets intended to play a ball-control game and letting the Panthers' offense out of its cage would have spelled an end to that.

-That being said, Cormier stressed that there's room for improvement. He cited the Rockets' inability to put together a sustained drive (like the two Odysseyian drives of the first half) to end the game as a sore spot. But there were other bright spots. "I thought our special teams were good," Cormier said. "That was the difference in the ball game, blocking the PAT."



-From Holliston's perspective, it's tough to tell if this was a glass half-full or half-empty type of game. Kiley was encouraged by his team's performance in a 'playoff-like atmosphere,' but being so close to ending the Rockets' prolific streak, which now stands just 13 games shy of Acton-Boxborough's state record, has to sting. Kiley was democratic when asked postgame about the flag which called back Barone's return, but added it looked like a block in the side from his perspective. "We'll look at the flim and we'll learn from this," Kiley said.
September, 15, 2011
9/15/11
7:44
PM ET
By
Brendan Hall
| ESPNBoston.com
AUBURN, Mass. -- We stopped by Auburn High School this afternoon to check in with the No. 10 Rockets as they prepare for Friday night's pivotal matchup with Defending Division 3A Super Bowl champ Holliston, currently ranked No. 25 in our statewide poll. Here's what they had to say:

Head coach Jeff Cormier:



Senior Connor Fuller:



Senior Dan Flink:



Senior Fred Taylor:





August, 30, 2011
8/30/11
11:07
PM ET
By
Brendan Hall
| ESPNBoston.com
AUBURN, Mass. -- In Jeff Cormier's decade-long tenure at the helm of Auburn High football, he's seen the program take on a life of its own, becoming a galvanizing charm in this town rich with history, as they've racked up back-to-back-to-back Central Mass Super Bowl titles.
In this Worcester suburb -- the birthplace of Robert Goddard, creator of the first liquid-fueled rocket -- its baseball program has Mike Paradis, and it has recent first-round draft pick Tyler Beede. Basketball has the electric Javier Mojica. Hockey? Where do you want to start?
But since the Rockets lost their last football contest on September 19, 2008, the popularity and notoriety has only grown. It started with guys like Doug Flink, a defensive line mauler who is now a sophomore at Bryant, and now it's ballooned to a 37-game win streak. That's currently the third-longest in the nation, behind Phoebus High of Hampton, Va. (45), and Hamilton High of Chandler, Az. (41). The last team to threaten Acton-Boxborough's state record 52-game streak was Western Mass. juggernaut Longmeadow, which saw its streak end at 47 in 2008.
An opening stretch that is notably tougher -- the Rockets face Shrewsbury, Holliston and St. Peter-Marian in succession to start the season -- coupled with a new Central Mass realignment that has them paired in Division 3 with No. 25 Hudson, and a group that graduated seven starters on offense and six on defense, is all the more reason for the anticipation each week on Auburn Street.
As head coach, Cormier plays the role of grounder. But he notes he hasn't gotten much resistance from the groundees.
[+] Enlarge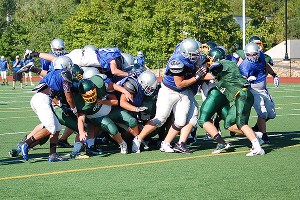 Brendan Hall for ESPN.comWhat the Auburn offensive line lacks in experience, it makes up for in size.
"Credit to our kids, but it hasn't now, and never been, the primary focus," Cormier said. "I mean, we have three goals every year: win the opener, win the league, and beat Oxford on Thanksgiving. Those have been our continuous goals, and they seem to be good to us, so they'll maintain those goals.
"It was never our goal to win 30-something games in a row. Our goal is to win one, and right now our focus is on Shrewsbury, and they're very, very good. We'll have more than our handful on September 10. We've got to get a lot better if we're going to win."
Taking a snapshot of Tuesday afternoon's scrimmage with Oakmont Regional -- another team they could see in November's D3 Playoffs -- the Rockets should stand a chance.
Start at the line of scrimmage, where it's an admittedly green front along the offensive line. Four juniors and a sophomore comprise the current starting lineup, but they should come out of camp averaging 250 pounds across, led by the right side of the line in junior guard Aaron Dyke (6-3, 270 lbs) and sophomore tackle Will Greelish (6-4, 300 lbs). They had their way with Spartan defenders at times, especially in the running game, extending their arms at the point of attack and plowing over -- sometimes pinning -- their man.
Of the steely Greelish, still a raw prospect, Cormier said, "Those defenders aren't going to come to him. He's got to go get them, so hopefully his feet get good, he settles down, and he can get to people. He brings a lot to the table, but we've got to see if he can get his hands on people and move people."
As for the trench guys overall?
"I agree they look good," Cormier chuckled. "If we could gain yardage just by the way they looked, we'd be in pretty good shape, you know? Unfortunately, they're going to have the play the anthem that we play. Or fortunately. We'll see where they get. But I think we have some kids that have some talent on that offensive line, it's just a matter of getting them to work together."
In the backfield, the stocky Dan Flink is expected to shoulder a heavy load with the graduation of Jeremy Lavallee. Meanwhile, Fred Taylor (seven receiving TDs) will be the Rockets' top deep-ball threat, with speed that touches in the 4.5 range; in Tuesday's scrimmage, Taylor beat his man one-on-one deep to haul in a nice 40-yard fade from Drew Goodrich and score easily.
Defensively, this was one of the stingiest units in 2010 (8.2 points per game), and they must find a way to replace stars in the trenches like Marcus Pettigrew. They'll get their leadership from its linebackers and secondary, from captains Taylor, Flink and Connor Fuller. The Rockets will remain a four-man front, but given the girth, look for this to be one of the most stalwart run defenses in the region.
It's a gang of fresh faces, but the early returns are OK.
AUBURN AT A GLANCE
Coach:
Jeff Cormier (13th season, 103-39)
Last year:
13-0, Division 2 CMass Super Bowl Champions
Key Returnees:
Dan Flink, Sr. RB/LB; Connor Fuller, Sr. WR/DB; Fred Taylor, Sr. WR/DB; Eric Chionchio, Sr. TE; Mike Diaz, Sr. WR; Drew Goodrich, Jr. QB/DB; Aaron Dyke, Jr. OL/DL.
Strengths:
Running game, offensive line.
Weaknesses:
Youth, inexperience.
Outlook: Don't mistake the Rockets' youthfulness for a lack of talent, because there is plenty around. Granted, it may be green, but outside of some of the traditional Division 1 powers you'll be hard-pressed to find many offensive lines as beefy as the Rockets' within the Central Mass district. Led by juniors across the board and a 6-foot-4, 300-pounder sophomore at right tackle, the Rockets have the size to bang with anybody. "They look good, and I think the challenge is, a week from Saturday will they be playing good," Cormier said. Dan Flink, brother of current Bryant defensive end Doug Flink, will lead out of the backfield, and like his brother ought to be one of the toughest runners in short-yardage situations. Fred Taylor should build on what was a promising junior campaign (462 receiving yards, seven touchdowns), and figures to be a leader in the secondary as well. Overall, this is a unit that graduated a ton of talent -- seven offensive starters, six defensive starters -- and their state-best 37-game win streak is in jeopardy with a first month that includes Shrewsbury, Holliston and St. Peter-Marian. But the cupboard is hardly bare, and though it's green, it is showing its capability so far in the preseason.