Boston High School:

Freddy Hogan
March, 27, 2013
Mar 27
8:15
PM ET
Some final thoughts as we put a close on the 2012-13 high school basketball season...
***
A FLU SHOT HE'LL NEVER FORGET
After committing to Vanderbilt last August, Lynn English's Ben Bowden told ESPNBoston.com he was
leaning towards not coming back out for basketball his senior yea
r, saying "it delayed my pitching", that he lost "alot of interest" from some colleges "because I didn't throw hard as they wanted me to."
"I'm leaning that way so I can be fully prepared, because we've got the [MLB] draft and everything," Bowden told us at the time. "Where it's at right now, I don't see myself playing. But it was fun while it lasted."
Bowden, a 6-foot-4 lefty flreballer, is one of the state's most heralded prospects following his junior season, which started with a perfect game against Marblehead and ended with a spot on ESPN Boston's All-State Team and whispers of draft potential. He was 10 minutes away from spending his winter in the gym sharpening his craft, on his own; but a chance encounter on the first day of basketball tryouts changed all that.
The school was conducting flu shots that day, and the location just happened to be near basketball coach Mike Carr's office. As Bowden's girlfriend was getting her shot, Carr light-heartedly ribbed him about spurning one last winter with the team. After Bowden wished Carr good luck and the two parted ways, Bowden bumped into a half-dozen Bulldogs players, who gave him even more ribbing.
Bowden went home, thought about it, and by 5 p.m. had changed his mind.
And boy, was he glad. The Bulldogs captivated the City of Lynn over the second half of the season and throughout their sudden run to the MIAA Division 1 North finals, with Bowden starting at power forwrad, drawing fans from all four of the high schools to come see their wildly-entertaining brand of run-and-gun. He called the Bulldogs' wild 94-87 win over Everett in the D1 North semifinals "the best atmosphere I've ever played in any sport", and doesn't regret a minute of his time this winter.
"It got me into very good shape, obviously I have no regrets at all," he said. "Even if I got hurt, I wouldn't have regretted playing at all. It was an awesome experience."
Vandy head coach Tim Corbin encourages multi-sport activity out of his high school recruits, a sentiment many high school baseball coaches support for a multitude of reasons -- primarily, that it encourages competitive spirit, and also works different muscle groups to keep the body in prime shape.
Carr heavily emphasized conditioning this year with his team, concluding practice each day with a grueling 10-minute session up and down the school's four flights of stairs, and it's paid off for Bowden. Headed into his first start of the spring, currently slated for April 10, he says this is the "best I've ever felt going into a baseball season."
"I feel my legs are stronger, I'm pushing off the mound better," Bowden said. "My core has gotten stronger. Everything we did for basketball has helped me in a positive way for baseball."
Talking about keeping his arm loose, he added, "I feel the best I've ever felt going into a baseball seasons, and I think it's because I've lost quite a bit of weight. I'm feeling a lot better and a lot lighter, and also because I was throwing more...By the time baseball started [this season] I was on my seventh week of throwing. I was a lot more ready than I was in any other season. I was smart about my decision to play basketball because I knew I had to get throws in."
As basketball becomes more individualized at younger and younger ages in this AAU-ized era of specialization, we sometimes forget that these sports can bleed into each other. Notre Dame hoop coach Mike Brey first heard about Pat Connaughton after a tip from the Irish's baseball coach. Soccer prowess helped Danvers' Eric Martin and Melrose's Frantdzy Pierrot become more elusive runners in the open floor. And some are quietly wondering if football may end up being the meal ticket for Wakefield super-sophomore Bruce Brown, who excels with the Boston Amateur Basketball Club (BABC) but also turned in a pretty nice campaign last fall at wide receiver. Same with another budding BABC star, Brendan Hill of Mansfield.
Unless you're one of the top players in the country at your position, I'll never understand why some physically-mature high school guards don't at least give an additional sport a try -- but that's a probably a topic for a whole other day. Know that for as much accolades as we've all poured on English's talented trio of guards, Bowden may have played the most important position of all -- the Joey Dorsey, the rock-solid post player down low counted on for rebounds that can keep possessions alive, and facilitate a whip-quick fast break going the other way.
And to think, if his girlfriend hadn't gone to get a flu shot that first day of tryouts, we might be talking about a whole different story in Lynn.
***
MORE THAN JUST 'WANTING IT MORE'
You have to think long and hard to find the last time a kid in the Merrimack Valley Conference went from benchwarmer on one team in one season, to league MVP on another team the next.
Chris Bardwell's transformation from garbage-time go-getter at Central Catholic in 2012 to an ESPN Boston Super Team selection at North Andover in 2013 is one that will be held up as a model example of will power. At least, that was the rhetoric being told this winter -- that if you want it bad enough as Bardwell, if you train hard enough, you can make the jump.
Sure, some of this transformation has to do with the mental element. But Mansfield wanted it just as bad as Putnam in the Division 1 state title game, and was unable to prevent the Beavers from continuously leaking out for some uncontested fast break points. Scituate wanted to just as bad as Brighton in the Division 2 Eastern Mass. title game at the Garden, but couldn't cleanly escape on-ball pressure from Nate Hogan long enough to prevent Malik James' last-second heroics.
I think of Bardwell -- also a lefty pitcher with reportedly mid to high-80's velocity -- and I think back to my first months at ESPNBoston.com, in the summer of 2010, when St. John's Prep star Pat Connaughton was one of the hottest names nationally on the recruiting front. In basketball, he was an ESPN 100 prospect with a lengthy list of suitors east of the Mississippi. On the mound, he was an overpowering righty with first five round potential, named by
Baseball America
as one of the nation's top 100 high school prospects.
Connaughton had big hype, and in turn put in a legendary summer workout regimen to back it up, sometimes putting in eight hours of training a day -- quite literally, treating it like a 9-to-5. After signing with Notre Dame, the results spoke for themselves -- a state championship, All-State recognition in both sports, and a Day 3 selection by the San Diego Padres.
OK, so Bardwell's not Connaughton. The point is, situations like Bardwell's are the product of both opportunity and preparation, and all that will power is for naught if you're not training right. Bardwell came into the last offseason more determined, but he also upped his daily cardio, played more basketball, and changed his diet, cutting out junk and carbonated beverages and increasing his protein intake. Training for both basketball and baseball certainly helped him stay sharp.
Let's not forget had Bardwell stayed at Central, he would have been battling for playing time among a deep stable of forwards, duking it out with the likes of Doug Gemmell, Nick Cambio, Joel Berroa and Aaron Hall. At North Andover, he could fit in snugly as a terrific compliment to one of the state's best bigs in Isaiah Nelsen -- though in the end, obviously, Bardwell turned out to be the star of the show.
Success stories come from anywhere. Just take a look at another former Central Catholic baseball product, Dennis Torres, who was cut four times by the varsity during his high school years yet was drafted by the Orioles last June after walking-on at UMass.
Like Bardwell, he wanted it badly. Clearly, Torres was sick and tired of being sick and tired. But as usual, it's never as simple as pure will power and mental maturation. There's a method, and Bardwell played it right.
***
RE-BIRTH OF THE RUN?
When you think of the MIAA's most dominant running teams of the 21st century, there are two programs that come to mind. One is the Charlestown juggernaut of the early 2000's, ranked nationally by USA Today and led by electric scorers like Rashid Al-Kaleem, Tony Chatman, Ridley Johnson and Tony Lee. The other is Newton North, winners of back-to-back D1 state titles behind one of the East Coast's best backcourts in Anthony Gurley and Corey Lowe.
Not about to call it a renaissance, but if there's one thing I'll take away more than anything else from this MIAA season, it's the return of quality running teams to the upper echelon. The two best running teams we saw this season represented two different styles.
There was Lynn English, pushing a white-knuckle pace, using more than 15 seconds of the shot clock only sparingly, and blitzing the opposition coming the other way with in-your-grill, full court man-to-man pressure. It took about half a season for Mike Carr's unique system to click -- but once it did, they were firing on all cylinders. The Bulldogs' backcourt of Freddy Hogan, Stevie Collins and Erick Rosario was as good as any in the state the second half of the season, with the former two earning ESPN Boston All-State honors earlier this week.
With just one real post pivot, senior Ben Bowden, the Bulldogs relied on their guards to generate transiton by forcing turnovers, sometimes flat out ripping the ball out of players' grips for easy fast break points. Carr's emphasis on conditioning was well-known, the the Bulldogs never looked tired.
Many will point to Central Catholic's stark rebounding advantage as to why they were able to lay a dump truck on English in the D1 North Final (they held a 28-7 advantage at the half), but -- follow me here -- that was practically by design. The Bulldogs flat out bailed on offensive possessions once the shot went up, surrendering the advantage and forcing Central's guards to make plays (they did, and did often).
That philosophy stood in contrast to what I felt was the state's best running team this year, Division 1 state champion Putnam. They seemed to play a physical brand of basketball in the City of Springfield this year, and nobody exemplified this better than the Beavers, who made up for lack of height with plenty of linebacker-like bulk in forwards KayJuan Bynum and David Murrell, both ESPN Boston All-State selections.
Throughout the season, Putnam coach William Shepard demonstrated enough faith in Bynum and Murrell's ability to get defensive rebounds that the Beavers' guards could continually leak out of possessions early to get fast break after fast break (Bynum and Murrell combined for 11.4 defensive rebounds, and 19.6 overall, per game this season). When an opposing team's shot went up, guards started strafing up the sidelines in anticipation of a long outlet pass. This led to a slew of production in the D1 state title game from guards Ty Nichols, Dizel Wright, Ki-Shawn Monroe and Jonathan Garcia.
Best of all, these two squads return a ton of talent to keep them in Top 10 consideration for the next two seasons. Both teams must find a replacement for their best big (English with Bowden, Putnam with Bynum), but feature a slew of talented backcourt and wing players to keep the tempo frenetic and the opposition uncomfortable.
***
INTERVIEWS OF THE YEAR
My personal favorites for interviews of the year. First, the short category...
And now, the long category...
***
WILL JACK EVER COME BACK?
After Brighton won its first ever state title, Bengals coach Hugh Coleman held court in the media room at the DCU Center, dedicating the state title trophy and season to his lifelong mentor, legendary former Charlestown boss Jack O'Brien.
Anyone familiar with the bond between O'Brien and Coleman knows it is strong. O'Brien came into Coleman's life at a very hectic time -- being born when his mother was 20, becoming the man of the house at just 6 years old, and watching a number of his family members get rung up on drug arrests. He was under supervision of the Department of Social Services when he first met O'Brien as a freshman at Charlestown in 1993.
O'Brien is probably most known for his run of five D2 state titles in six seasons from 1999-2005 at Charlestown, and Coleman was an assistant on the last three. It's worth noting the 2003 squad, which Coleman's brother Derek captained, was the last squad to win both a city and state championship before Brighton did it this year.
"The way Jack O'Brien came into my life...He never recruited me, no one ever said I was going to Charlestown, I ended up going there by chance, he ended up going to Charlestown and it was special," Coleman said. "I lucked out and got the Brighton job four years ago. I probably wasn't supposed to get it, but I did. A lot of people recruited him out of middle school to go to different schools, but he ended up at Brighton with me. So I think that's such a great blessing. I'm glad that I've been able to be a part of his life, and him a part of my life. He's made me a stronger person and I hope that I was able to rub off on him. He led us to victory this entire season, including today.
"I definitely want to dedicate this to Jack O'Brien. He should be coaching. He should be coaching, and I have no idea why he's not coaching in the state of Massachusetts. In my opinion, he is the best coach in the state of Massachusetts. He is, and not just because he won games. He changed the lives of so many of us young men at Charlestown during that time. We went on to go to college. We went on to be great men, fathers, husbands, and you know what? It's because of what he helped us do from the inside out. He helped us to be great men.
"I'll be honest with you, I coach and I took the coaching job because he's not coaching. I couldn't allow that to...When they said he couldn't coach, or they wouldn't allow him to coach for whatever reason, I said I've got to keep the legacy going. He's healthy, he's a 10 times better man, whatever lesson I guess he was supposed to learn. It's a shame he's not coaching, because he is all that and then some."
Wherever he has gone, O'Brien has had dramatic results, producing McDonald's All-Americans at Salem High and nationally-ranked squads at Charlestown. But he has remained out of coaching since his 11th-hour departure from Lynn English hours before the first practice of the 2006-07 season. His name has been linked to jobs throughout Eastern Mass. over the years, most notably Somerville in 2008, but it's unclear when he'll return to coaching.
Still, with 400-plus wins, six state titles, some of the Bay State's most captivating running teams of the last quarter-century, and his age (he just turned 55 last month), there remains faith that he will turn up somewhere. Just where is anyone's guess.
***
HALL'S TOP 10 FOR 2013-14
1. Mansfield
Hornets lost just one senior from their 2013 Division 1 state championship run and return the most talent of anyone in the state, including reigning Hockomock MVP Brendan Hill. A healthier Michael Hershman should bolster an already-deep lineup featuring Rocky DeAndrade, Michael Boen, Ryan Boulter, Kevin Conner and Kyle Wisniewski.
2. Lynn English
The returning backcourt of Freddy Hogan, Stevie Collins and Erick Rosario, along with wing Danny Lukanda, makes this team a preseason Top 5. Key will be the development of promising 6-foot-6 sophomore Johnny Hilaire, whose pogo-like leaping ability has begun to draw comparisons to former All-Stater Keandre Stanton.
3. St. John's (Shrewsbury)
Pioneers return arguably the state's best backcourt in Davon Jones and Adham Floyd, along with a dynamic frontcourt of T.J. Kelley, Drew Vittum and Charlie Murray. Next year gets interesting in D1 Central, with stalwarts such as Franklin, Westford and Acton-Boxborough joining the fray.
4. Central Catholic
A returning core of Tyler Nelson and Nick Cambio makes the Raiders one of the premier perimeter teams in Eastern Mass once again. Six-foot-6 junior Aaron Hall has big shoes to fill in the frontcourt, with the graduation of center Doug Gemmell.
5. Brookline
If all goes as planned and everyone returns, you're looking at a coach's dream. Elijah Rogers is a virtuoso at the point, and a supporting cast of Obi Obiora, Anthony Jennings, Tyler Patterson and Mark Gasperini makes them a formidable foe on size and skill alone.
6. Springfield Putnam
Beavers stand a legitimate chance at going back-to-back as D1 state champs as long as they can find an able replacement for graduating senior post KayJuan Bynum. By season's end this was the best running team in the state –- who knows what another season of David Murrell, Dizel Wright, Jonathan Garcia, Ty Nichols and Ki-Shawn Monroe will bring?
7. Brighton
All signs point to Malik James having played his last game as a Bengal in the state championship game, but freshman Javaughn Edmonds shows promise to potentially fill the point guard role. Should All-State forward Nick Simpson return, you're looking at a front line of Simpson and 6-foot-5 sophomore Jason Jones that is as good as any across Division 2.
8. Melrose
Scary as his junior season was, reigning Middlesex League MVP Frantdzy Pierrot could turn in an even more monstrous senior campaign in 2013-14 for the Red Raiders. With realignment shifting many teams in the North, and a quality stable of underclassmen led by freshman point guard Sherron Harris, next year is as good a time as any to strike.
9. Wakefield
Sophomore Bruce Brown is expected to return next season, and that alone makes the Warriors a favorite in D2 North. The question will be whether they can turn their early-season promise into deep playoff production, and whether they can get past the semifinal round.
10. Springfield Central
The Golden Eagles are not without talent, with one of the state's most promising big men in sophomore Chris Baldwin. The question will be if the guards and forwards can get on the same page, and we think after some growing pains this year, cousins Ju'uan and Cody Williams will make this team sharper coming off a disappointing Division 1 state title defense.
Others to watch:
Acton-Boxborough, Andover, Braintree, Boston English, Catholic Memorial, Danvers, Haverhill, Holyoke, New Bedford, New Mission, Newton North, St. John's Prep, Wachusett, Watertown
March, 26, 2013
Mar 26
5:52
PM ET
By
Chris Bradley
| ESPNBoston.com
In the biggest game of the year in MIAA hoops, the Division 1 state title game, it seemed as if the sophomores were hitting all the big shots. With hundreds of Mansfield fans directly behind the basket screaming and waving, Putnam sophomore Ty Nichols nailed two free throws with eight seconds left in overtime to seal the Beavers' first state title in school history.

But let's not forget how the game got to that point. Rewind to the end of regulation.

Mansfield sophomore Ryan Boulter put on one of the gutsiest performances that we saw all season. After he was fouled on a three-point attempt with five seconds to go in the fourth quarter, Boulter went to the line with an opportunity to tie the game and send it into overtime. Miss one, and his team, in all likelihood, would lose the game.

Not only did Boulter hit all three free throws, he did so without ever taking his eyes off the rim -— not even to catch the bounce passes that came from the referee following each of the first two free throws. He sent the game into overtime, then hit a three-pointer from the wing to give Mansfield the lead.

Following a four point swing by Putnam, Boulter put the team on his back one last time -— draining a three-pointer to tie the game with just seconds to go in overtime. Enter Nichols, and game over.

While Putnam's entire team circled around their trophy in the pressroom after the game, a few of Mansfield's players sat across the room waiting to be interviewed. Boulter fought back tears. Brendan Hill -- a sophomore who was Hockomock League MVP and considered to be a Division 1 prospect in both football and basketball -- stared at the floor, head in hands.

While listening for Putnam senior KayJuan Bynum talk about the pride that Springfield has in basketball, I couldn't help but glance over at Hill and Boulter across the room. Both fierce competitors with unbelievable poise, they sat in the shadows of the pressroom while Putnam's players hugged each other in celebration.

That was the ringing overtone talked about for days following the state title game: Mansfield will be back.

It was the same reaction seen on the floor of the Tsongas Center only a week earlier. After a crushing defeat to a more experienced Central Catholic team, Lynn English sophomore guard Stevie Collins pulled his jersey over his face as the final buzzer sounded, hiding tears from watching Central Catholic celebrate the Division 1 North championship.

The playoff run was an unexpected one for the Bulldogs, and English can be expected to be back next year. With Collins' classmates Johnny Hilaire (6-foot-6 forward) and Erick Rosario (6-foot guard) both returning, as well as juniors Freddy Hogan and Danny Lukanda, expect a big run from English once again. The Bulldogs' run to the North final almost wasn't possible, mainly because of 20 points from Everett sophomore Gary Clark in the quarterfinal match -- a high-scoring, back-and-forth match that left English the 94-87 victors.

English, Putnam, and Mansfield, and Everett are not alone in boasting talented young players, though. Statewide, the MIAA's depth in the 2015 and 2016 classes is one of the best we have seen in recent memory.

***

DAVIS, COLLINS LEAD LONG LIST OF POINT GUARDS

Collins leads a long list of talented floor generals in the 2015 and 2016 classes. Those included (and very close behind him) are Lowell sophomore Kareem Davis, who ignited one of the state's most exciting offenses this year; New Mission's Randy Glenn, a left-handed playmaker who was pivotal in helping the short-handed Titans make a run to the Boston City League championship; St. Peter-Marian freshman Makai Ashton, a fearless point guard who is considered to be the best long-term guard prospect in the Worcester area; and Melrose frosh Sherron Harris, whose "on-court killer" style of play is scarily similar to his cousin, Cushing Academy star Jalen Adams.

-- St. John's (Shrewsbury) sophomore Davon Jones has more big-game experience than any of the point guards listed above, as he has helped lead Bob Foley's Pioneer squad to WPI each of the last two years. As mentioned with Hill, Jones is considered to be a Division 1 football prospect.

-- Boston English freshman Ernie Chatman will win a lot of games for Boston English over the next three years, Chatman is a great ballhandler who is also lightning quick and a great floor leader.

-- Along with Glenn and Chatman, Brighton freshman Javaughn Edmonds will make a major impact in the Boston City League in the coming years. Edmonds will be looked to to step in and help fill in some of the production missing from departing ESPN Boston Mr. Basketball Malik James.

***

MIAA'S TOP PROSPECT HEADS FORWARDS

There is no question who has the highest ceiling of any player in the MIAA. It is Springfield Central's 6-foot-8 sophomore Chris Baldwin. A sureshot Division 1 prospect who can block shots, rebound at a high rate, and score in a variety of ways, Baldwin will make sure Central remains one of the state's best hoops programs after making the Western Mass. Division 1 championship game once again this year.

St. Peter-Marian freshman Greg Kuakumensah will have big shoes to fill next year for the Guardians, especially as they soon graduate forward Tim Berry, the heart and soul of their offense. Kuakumensah, the younger brother of Brown University forward Cedric Kuakumensah, will join Ashton in what should be a very bright future for St. Peter-Marian. At 6-foot-4, he is a great shot blocker like his older brother, but is also tremendous athlete and competitor.

-- SPM isn't the only squad returning a talented young duo though. Brighton, the Division 2 state champion, will, alongside Edmonds, return 6-foot-5 sophomore forward Jason Jones, who played a lead role in helping the Bengals to their first Boston City League championship.

-- Andover's 6-foot-5 sophomore forward Connor Merinder was limited in minutes this year as he recovered from a severe wrist injury. However, he was able to recover by playoff time and led the Warriors to the Division 1 North semifinals, knocking off Medford and St. John's Prep in order to do so.

-- For all the attention to the prospects at larger Division 1 and 2 schools, keep an eye on 6-foot-5 sophomore forward Jake Wisniewski out of Quaboag. After averaging over 20 points per game for Quaboag this past year, the already-experienced post scorer is one of the state's top prospects in Division 3. A talented forward at Division 3 New Leadership, 6-foot-6 freshman Davidson Pacheco, will take his talents elsewhere after averaging 10 points per game this year, what with the expected closing of the Springfield-based charter school.

***

MOBLEY, JUDSON CAN MAKE IT RAIN

Newton North sophomore Tommy Mobley was one of the state's most feared scorers this year, leading the Tigers to a 20-4 record and picking up Bay State Carey MVP. Mobley and St. John's Prep sophomore guard Ben Judson showed that they can be two of the MIAA's best scorers again next year. Like Mobley, Judson's three-point range extends all the way out to 25 feet—as both were known to drop a barrage of three-pointers on opponents this year, heavily guarded or not.

New Mission's Juwan Gooding, New Bedford's Tyree Weston, and Catholic Memorial's Guilien Smith, were all early exits from the state tournament this year. But as three of the MIAA's most talented pure scorers in the 2015 class, they'll be back for big runs next year. Smith and Gooding are finesse guys who use their quick first step to get to the rim, while Weston uses his sculpted frame to overpower opponents and score inside-out.

-- One other Springfield product to keep an eye on is Cathedral sophomore Darrick Boyd. The young, talented sharpshooter scored 19 points per game this year, leading Cathedral to a 13-9 record. Danvers sophomore Vinny Clifford, also a dead-eye shooter, will be looked at to be a leader for the two-time defending Division 3 state champion. Clifford, the younger brother of Merrimack College forward Mike Clifford, was an integral piece this year for a team led by Eric Martin, Nick Bates, and Nick McKenna.

-- Yet another two-sport star, Wakefield sophomore Bruce Brown, helped the Warriors make a deep run in the Division 2 North tournament this year, eventually falling to a deeper, more experienced North Andover team. Brown is an elite athlete who, at his best, is nearly unstoppable because of his upper body strength. On the football field, Brown caught seven touchdown passes as a wide receiver last fall.

-- Two 14-seed over 3-seed upsets in the first round of the Division 1 North tournament should be remembered going forward. Freshman Saul Phiri's heroics in a first-round upset win helped lead Haverhill past Westford Academy, while frosh Keyshaad Dixon's three-pointers sparked perhaps the most surprising win of the first round, as Braintree knocked off heavily-favored BC High.

-- St. John's (Shrewsbury) freshman Adham Floyd, was a very important piece for the Pioneers' run to the Central Mass. Division 1 title game, starting several games during the season. Bishop Feehan freshman Mike Nelson, a teammate of Floyd's with the Shooting Stars AAU program, showed great poise in leading his team to an impressive run in the Division 3 South tournament, falling narrowly in the quarterfinals to eventual D3 South champion Martha's Vineyard.

***

Picking the Super Team for this year's ESPN Boston MIAA All-State Team sparked as much debate as any Super Team selection in recent years. The statewide parity, talented young players bolting to prep school, and lack of scholarship-level talent in the upper classes forced careful consideration and a never-ending debate about picking out the MIAA's elite upperclassmen.

However, with the amount of freshmen and sophomores who made a name for themselves on a big stage this year -- the instant-classic Division 1 state final between Mansfield and Putnam being the prime example -- it's likely we won't spend too much time worrying about the pipelines of scholarship-level talent coming up the ranks in MIAA basketball.
March, 26, 2013
Mar 26
4:58
PM ET
THE SUPER TEAM
G – Malik James, Jr., Brighton
The 6-foot-1 point guard was named ESPN Boston's "Mr. Basketball" last week after an explosive playoff campaign that saw him average 20 points in six games and deliver the Bengals the MIAA Division 2 state championship, their first state title in school history. James is expected to finish up his high school playing career at a prep school next season.
G – Darien Fernandez, Sr., Wareham
One of the state's flashiest lead guards, the 5-foot-7 Fernandez once again took the South Coast Conference by storm with his no-look passes and rainbow jumpers. He averaged 23 points, eight rebounds, seven assists and five steals as the Vikings went unbeaten through the SCC for the second straight year, and returned to the D3 South title game for the third time in four seasons.
F – KayJuan Bynum, Sr., Springfield Putnam
The 6-foot-3 Bynum was a physical presence on the boards, leading the Beavers in rebounds in the MIAA Division 1 state title game as they downed Mansfield in an overtime thriller. For the season, Bynum led the Beavers in scoring (15.7 points), ranked second in steals (2.5) and rebounds (9.6), and shot 39 percent from three-point range (40-for-103). Bynum is headed to Southern Connecticut State in the fall, where he will play linebacker on the football team.
F – Chris Bardwell, Sr., North Andover
In one of the most remarkable transformations in years, the 6-foot-5 Bardwell went from a benchwarmer on Central Catholic as a junior last year, to MVP of the state's most competitive league, the Merrimack Valley Conference, as a senior at North Andover. For the season, Bardwell averaged 21 points, nine rebounds and 1.5 blocks as the Knights reached their first Division 2 North title game in six seasons.
C – Tyler Gibson, Sr., Rockland
The 6-foot-6 senior lived up to the hype garnered after an explosive summer, leading the Bulldogs to a South Shore League title and D3 South semifinal appearance. He averaged 21.4 points, 15.3 rebounds, 4.8 blocks and 2.1 assists per game while seeing many a double-team. That includes at least eight games with 20 points and 20 rebounds. Gibson is signed with UMass-Lowell for next season.
BEST OF THE REST
Riyadh Asad, Sr. G, West Springfield
One of the most talented lead guards outside of the Eastern Mass. region, Asad led a deep and talented West Side backcourt to one of the top seeds in Division 1 West, where they lost to eventual state champion Putnam in the semifinals. For the season, he averaged 19.4 points per game.
Jaleel Bell, Sr. G, Wayland
One of the most decorated players in school history, the 6-foot Bell leaves Wayland as a two-time Dual County League Small MVP, and three-time DCL Small champion. The four-year starter led the state in scoring average this season (27.4 points per game), and leaves Wayland with 1,244 career points.
Zack Berman, Sr. G, Wachusett
The Mountaineers won respect around the state with a challenging non-conference slate, taking down squads such as Cambridge and Brockton, and leading the way was the 6-foot Berman. The two-time Mid-Wach A MVP and three-year captain averaged 14 points, six assists and four rebounds as the Mountaineers reached the semifinals of the Division 1 Central tournament.
Joel Berroa, Sr. F, Central Catholic
One of the state's premier rebounders, the 6-foot-5 Berroa picked up the slack as injuries piled up for the Raiders, helping them to a second Division 1 North title in four seasons. He averaged 14.6 points, 9.4 rebounds and 2.7 blocks this season. Berroa is currently considering Northeast-10 interest as well as post-graduate options.
A.J. Brodeur, Soph. C, Algonquin
The 6-foot-8 Brodeur is one of the most promising young stars in Massachusetts, and played a big part in the Tomahawks capturing the No. 1 overall seed in Division 1 Central this season. He averaged 17.5 points, 14.4 rebounds, 8.5 blocks and 4.5 assists; that also includes four triple-doubles of points, rebounds and blocks. Brodeur is headed to NEPSAC powerhouse Northfield Mount Hermon next season.
Stevie Collins, Soph. G, Lynn English
The Bulldogs were one of the state's most fascinating teams to watch in the second half, and the 5-foot-9 Collins was the catalyst in their run. English's run to its first D1 North Final since 2009 included a monster 38-point performance from Collins in the semifinals against Everett. For the season, Collins averaged 14.5 points and six assists per game.
Brendan Hill, Soph. F, Mansfield
Playing in the competitive Hockomock League, the 6-foot-5 Hill came away as the league's MVP as just a sophomore, as the Hornets made their first Division 1 state final appearance in school history. He averaged 13.4 points and was the league's leading rebounder. Hill is also a standout wide receiver on the Hornets' football team.
Freddy Hogan, Jr. G, Lynn English
The Bulldogs' most consistent player from the get-go, he averaged 20 points per game over the first 12 games of the season before English hit full throttle en route to the D1 North finals. For the season Hogan led the team in scoring (16.9 points), and also averaged six assists.
Jameilen Jones, Sr. G, BC High
Another returning All-Stater, the 6-foot-3 Jones navigated the Eagles through a tough Catholic Conference en route to one of the top seeds in Division 1 South. For the season, Jones averaged 18 points, seven rebounds and five assists as the Eagles took a surprise first round exit in the playoffs. Jones will be pursuing post-graduate options for next season.
Eric Martin, Sr. G, Danvers
One of several point guards making the list primarily for their distribution, the 6-foot Martin was the Northeastern Conference's MVP this season after averaging 8.8 points, 7.2 assists and 3.7 steals per game. The two-time NEC All-Star led the Falcons to their second straight MIAA Division 3 state championship this season, and also has over 100 career goals for the Falcons' soccer team, good enough for best all-time in the school.
Tommy Mobley, Soph. G, Newton North
One of the state's premier shooters made headlines throughout the season for his marksmanship, hitting 94 three-pointers and twice hitting nine in a game. He was named MVP of the Bay State Conference's Carey division after averaging 18.4 points and five rebounds per game. He was also named to the All-Tournament Team of the Comcast IAABO Board 27 Classic.
Brian Mukasa, Jr. G, Sharon
The 6-foot Mukasa navigated the Eagles through a wide-open Division 2 South, losing to district champ Scituate in the semifinals. For the season, he was the Hockomock League's leading scorer at 18.1 points per game, to go along with 4.7 rebounds, 4.2 assists and 1.9 steals.
David Murrell, Jr. F, Springfield Putnam
An athletic slasher, the 6-foot-3 Murrell was another defensive stalwart for a Beavers squad that earned their first MIAA Division 1 state championship in school history. For the season, he averaged 14.9 points and a team-best 10 rebounds, and also shot 53 percent from the field.
Isaiah Nelsen, Sr. F, North Andover
The 6-foot-6 post leaves North Andover as a two-time All-Star, and one of the program's all-time leading scorers and rebounders. For his senior season he averaged 18.9 points, 10.1 rebounds and two blocks as the Knights made their first D2 North Final appearance since 2007. Nelsen is signed with St. Anselm College for next season.
Tyler Nelson, Jr. G, Central Catholic
Another one of the state's premier shooters, and one of several returning All-Staters, Nelson shot 41 percent from three-point range as the Raiders captured their second Division 1 North title in four seasons. For the season, he averaged 17.2 points and 4.7 assists, and shot 89 percent from the free throw line.
Frantdzy Pierrot, Jr. G, Melrose
The Red Raiders were the state's final remaining unbeaten before they fell to state champ Brighton in the D2 North semifinals, and the 6-foot-3 Pierrot was the catalyst. He was named MVP of the Middlesex League after averaging 21 points, 11 rebounds and five assists; that number includes averages of 18 points, 10 rebounds and four steals in the playoffs, with an injured ankle. Pierrot is also a highly-regarded soccer player for Melrose during the fall.
Kamari Robinson, Sr. F, Springfield Central
Another returning All-Stater, the 6-foot-5 Robinson slid over to the wing position after leading the Golden Eagles to a Division 1 state championship in 2012 as a power forward. The move produced dramatic results, as he averaged 20.8 points per game and was named the Western Mass. Player of the Year.
Elijah Rogers, Jr. G, Brookline
The 6-foot Rogers controlled everything for the Warriors in surprise blowouts of New Bedford and Marshfield, en route to the program's first Division 1 South semifinal appearance since 2004. For the season he averaged 14.9 points, 5.4 assists and 3.4 rebounds. Rogers has been receiving varied amounts of interest across Divisions 1 and 2.
Nick Simpson, Jr., Brighton
In his first run through the Division 2 playoffs, the 6-foot-5 Simpson was instrumental, helping the Bengals earn some dramatic wins throughout the tournament. For the season, he averaged 25 points, eight rebounds and three assists as the Bengals won their first Division 2 state title in school history.
Justin White, Jr. F, Holyoke
Also a star quarterback for the football team, the 6-foot-3 White brought that toughness underneath to impressive results, as the Purple Knights reached the Division 1 West semifinals. For the season, White averaged 16.3 points, 13.2 rebounds and 2.5 blocks.
DEFENSIVE PLAYER OF THE YEAR
Joel Berroa, Central Catholic
As injuries to key frontcourt players continued to pile up, Berroa saddled up and took on the brunt of the duties down low, marking the best forwards and keeping them in check. He was one of the Merrimack Valley Conference's leading rebounders (9.4 per game) as the Raiders reached their second Division 1 Eastern Mass. Final in four seasons.
COACH OF THE YEAR
Mike McVeigh, North Andover
Long a Cape Ann League stalwart, the Knights began their first season in the state's best league, the Merrimack Valley Conference, and made their presence felt immediately by capturing a share of the MVC Large title. The Knights also reached their first Division 2 North final since 2007 in the process, putting a nice bow on what has been a storybook career for the long-time coach. After 31 years on the sideline, one of the truest class acts in the game is calling it a career, with an overall record of 497-176 and a playoff appearance in every season.
All-Defensive Team
Lucas Hammel, Sr. G, Central Catholic
Joel Berroa, Sr. F, Central Catholic
Prince Unaegbu, Sr. F, Brighton
Tyler Gibson, Sr. F/C, Rockland
Obi Obiora, Jr. C, Brookline
All-Shooters Team
Tommy Mobley, Soph. G, Newton North
Tyler Nelson, Sr. G, Central Catholic
Tim Dufficy, Sr. G, Whitinsville Christian
Tyler Desrosiers, Sr. G, Agawam
Daivon Edwards, Sr. G, Brighton
Justin White photo is courtesy of MassLive.com and the Springfield Republican
Brian Mukasa photo is courtesy of HockomockSports.com
March, 6, 2013
Mar 6
1:35
AM ET
By
Chris Bradley
| ESPNBoston.com
BEVERLY, Mass. -– Even when the shots aren't falling for Stevie Collins, his confidence never falters and his swagger goes untouched.

"Like Kobe," he said with a smirk, referencing his favorite NBA star. "Keep shooting, keep shooting,"

'Keep shooting' enabled Collins to punch his team's ticket to the Division 1 North final against Central Catholic. Thanks to 34 points on 14-for-15 shooting from the charity stripe from the sophomore guard, Lynn English (18-5) knocked off Everett (15-8) 94-87 in a fast-paced offensive game.

Everett guard Tyree Gregory dominated the first half, scoring 15 points over the first two quarters and giving the Tide a strong presence off the dribble. However, Gregory mustered just two points after halftime.

The two teams were knotted at 45 at halftime, and then started the game of runs. English had a 9-0 run over the course of the first two minutes of the third quarter, and after a timeout, Everett matched with a run of their own—going on a 10-0 run, keyed by junior guard Timmance McKinney (17 points) to take a 55-54 lead.

Then Collins caught fire. The sophomore knocked down two straight three pointers in the third quarter, and finished an acrobatic layup to beat the third quarter buzzer, giving his team a 67-61 lead going into the fourth quarter.

Bulldogs' senior forward Ben Bowden (13 points), who is committed to Vanderbilt to play baseball, stepped up and took a little pressure off of Collins in the beginning of the fourth quarter -- he scored seven straight points to start off the period to give English a commanding 74-63 lead with five minutes to go.

"Ben Bowden, who I tease about being a great baseball player and maybe not being a fantastic basketball player, was outstanding," Lynn English head coach Mike Carr said. "He had a spurt there where he scored for us and did things that maybe he hasn't been able to do consistently all year--but in the big game, he stepped up."

Moments later, Collins canned his fourth 3-pointer of the night, and with the 14-point lead, the Bulldogs had all but sealed the victory.

But Everett wouldn't go down without a fight.

"We got [the lead] to fourteen midway through the fourth and my kids were starting to get comfortable there. As a coach, you never get comfortable until that final horn goes," Carr said.

Thanks to a quick 9-0 run following Collins' fourth trey, Everett built momentum, forced Collins and Erick Rosario (17 points) into several turnovers down the stretch via their full-court press, and were able to chip away at English's lead thanks to some late-game heroics from sophomore Gary Clark (20 points, 7 rebounds). Bulldogs glue-guy Danny Lukanda (8 points, 14 rebounds) and Rosario both fouled out of the game with just under two minutes to go, forcing Carr to put in 6-foot-6 sophomore Johnny Hilaire.

A long-armed, physically-gifted forward, Hilaire went 3-for-4 from the free throw line in the final minute of the game, and also helped seal off the paint with a big block that helped English hold a 90-87 lead.

"We had a little left in the tank at the end we made a nice comeback, got it down to two points, got the ball, and the kid made a great block," Everett coach John DiBiaso said. "I told my kids in there, 'It showed a lot of guts, that kid coming off the bench hitting free throws'."

Carr added: "With the foul trouble, I put him in at the end thinking he would give us some rebounding, and maybe a defensive presence. Thankfully, he stepped up and hit some big foul shots."

Outrunning the Crimson Tide: Carr and Collins both attributed the Bulldogs' impressive late-season run to their brutal in-season conditioning. Even despite carrying the majority of the offensive load for most of the game, Collins and Rosario never showed to tire even in the slightest late in the second half, when they were able to build a lead that Everett wasn't quite able to come back from.

"It's huge. Running the stairs for 15 minutes after practice: we're exhausted—coach tells us 'fight through it'. If we don't, he adds time. So we just gotta' get through it," Collins said.

Added Carr: "We are what we are, we're team that's built on our guards, we're built on our press. If a team that's similar to us takes us down to the wire, then so be it...we're not tired, and I certainly feel that they (Everett) maybe were. "

Lynn English has played its best basketball over the last month, and though Carr and his staff had limited expectations for how far his young team could come, he also exuded a confidence in his gameplan and the ability of his players to execute said plan.

"No one wants to run with us —- this was the first team all season who did. For the most part I thought we did a pretty good job of handling it," Carr said.

Missed opportunities: Everett had several opportunities to chip away at the lead earlier in the fourth quarter, but was unable to convert on several easy lay-ups inside. The Tide also shot 21-for-32 from the line -— not a bad number, but one that DiBiaso used as an example of opportunities that Everett had to regain the lead—something they were unable to do after they held the mentioned 55-54 lead early in the third quarter.

"We didn't make our layups and we didn't make our free throws -— enough of them," DiBiaso said. "They're a tough team, we battled, we were always coming from behind.

"We dug a whole too many times; you can't come from behind that many times. We got it down to 89-87 and we had the ball, that's all we can ask for. But you've got to make your free throws in games like this; I don't think we shot well from the line."

Cinderella no longer: After beating Springfield Central and St. John's Prep to win the IAABO 130 Classic by surprise, the verdict was no longer out on the young, but talented Bulldogs. They moved on to beat Somerville in the opening round of the Division 1 North tournament, crushed Haverhill in the quarterfinals, and following Tuesday night's win over Everett, English will go into Saturday's showdown with Central Catholic having not lost a game in nearly a month.

Collins said beating Central and Prep, who at the time were considered two of the top Division 1 teams in the state, gave them exactly the fuel they needed to make the unexpected burst.

"It gave us huge momentum, we felt like nobody could beat us after that. I still feel like nobody can beat us, I think we're the number one team in the state."

Gameplanning and conditioning can only go so far, and Carr said his team's chemistry is perhaps the biggest reason why they have been able to make a run all the way to the D1 North finals.

"We never thought 'This group, this year'," Carr said. "We thought, 'Maybe next year', but we just gelled at the right time. That's the whole thing."

But his star sophomore, killer instinct and all, refused to admit the same.

"I expected it," the always-confident Collins said, straight-faced. "I think nobody could beat us and I still feel like nobody can beat us. We practice hard, the only way we lose is if we beat ourselves."
March, 1, 2013
Mar 1
11:20
PM ET
By
Shawn Myrick
| ESPNBoston.com


LYNN, Mass. -– Erick Rosario's generally quite and calm demeanor plays a crucial role in his success on the court.

One moment appearing to stare off at the stands in a daze the sophomore almost instantly swoops in on someone else's man and is cruising untouched down the court. Never showing his defensive vision in his gaze, the guard nonchalantly turned tough steals into easy layups for No. 6 Lynn English (17-5) all night yesterday.

Leading the way in his team's man-to-man press, Rosario and the Bulldogs never trailed as they cruised to a 76-47 victory over No. 14 Haverhill (12-10) to advance to the Division 1 North semifinals for the fourth time in the past five years.

"For us everything is primarily based out of the man so the trap is always coming from a different direction," said Lynn English coach Mike Carr. "It is all based of if someone dribbles at you. The hardest thing for us to pick up as a team is what happens behind it (and) for our 'bigs' to rotate."

Rosario scored 19 points in what was a 23 steal effort for Lynn English.

The Bulldogs frantic pace lead to a 16 point game opening run.

After nine points in four minutes from the paint for English, Rosario nailed a 30-footer to edge ahead 12-0 at 3:30 in the first quarter. A pair of rebounds by Rosario set up layups for junior Danny Lukanda and sophomore Stevie Collins and a 16-0 advantage a minute later.

Lukanda had nine points and 13 rebounds.

"The way we push the ball everyone has a set spot they end up in," said Carr. "We have a man we call the fly man that we release so we always push to that fly man. If we don't get that fly man then we are supposed to look to the other side."

Good body position on a layup by senior Shain Roche and a baseline trey through coverage by junior Matthew Jameson cut the margin to 18-7 for Haverhill after one quarter. After gaining little ground in the second, English outscored Haverhill 24 to 9 in the third to seal the victory.

"We were on a little stretch where we made some baskets," said Haverhill coach Mike Trovato. "I got a chance to watch them Wednesday and I needed my inhaler three times just watching them. We practiced with twelve kids on the court, but sometimes it doesn't work the way you draw it out."

Rosario hit a pair of top corner three-pointers to help push the margin 49-24 at 4:34, while junior Fred Hogan (12 points) nailed a dish-out assist from behind-the-arc for a 59-28 margin two minutes later.

"I just want to steal the ball that is all that is in my head," said Rosario. "We practice one-on-one and close outs. That is all we do is practice defense."

Junior Anthony Dion lead Haverhill with 12 points and six rebounds.

Far From Overlooked: It is hard to believe the Bulldogs were overlooked by anyone headed into last February.

English has jumped onto the scene after winning 13 of its last 14 games including victories against Division 1 top-seeds Springfield Central (17-4) of the West and St. John's Prep (19-3) of the North.

The Bulldogs have an average victory margin of 22 points in their first two playoff games.

"It is a system that takes a while for us to put in," said Carr. "It is really not till midway through the season that everyone kind off clicks on it. We started off the season 4-4 basically because of that."
February, 22, 2013
Feb 22
1:29
PM ET
ESPN Boston High Schools editor Brendan Hall and Cristo Rey head coach Malcolm Smith break down last night's Boston City Championship action, won by Brighton for the first time in the program's history. Hall and Smith also give quick thoughts on the forthcoming MIAA State Tournament, on the eve of Friday's seedings.

(Video by Derek Malloy)


February, 20, 2013
Feb 20
2:38
AM ET
Notes and observations from around the world of MIAA hoops:
SPLIT DECISION
This has always been a pretty spirited debate in the basketball world, and it's had some resurgence this season in the college game. With a three-point lead, late in the game, do you foul? Or do you defend?
Perhaps the most dramatic case came on Feb. 9, when Wisconsin's Ben Brust sank a miracle 40-footer against Michigan to send the game into overtime, and then proceed to beat the Wolverines in the extra frame.
Last night, Indiana came out of a timeout with seven seconds left and let Michigan State try to be a hero. It almost backfired when Gary Harris was unintentionally fouled going for a three-pointer with 3.8 seconds left, but he front-rimmed the first of three free throws.
And so on, and so forth.
Safe to say, the nightcap of Sunday's slate of IAABO Board 130 Classic action has provided more fodder for this argument at the high school level. Before a packed house at Central Catholic's hallowed Memorial Gymnasium, the host Raiders nearly completed a 17-point second half comeback over St. John's Prep before falling 64-62. The game will most be remembered for Drex Costello's unnerving three-pointer with five seconds left, but the ensuing play going the other way almost cancelled the senior's efforts out.
Central's Tyler Nelson brought the ball up, and though Prep coach Sean Connolly was looking to foul in the backcourt, he couldn't get his wish thanks to a well-executed back-screen from Central. Nelson sprung free to the right corner, where the marksman was fouled as he attempted a three. The foul was called on the floor, though, giving Nelson two shots. He made the first, deliberately missed the second, but the Raiders were unable to put up another shot.
After the game,
I posed this question on Twitter
: Up three late in the game, foul or no foul? The response pretty much evenly divided into two schools of thought.
ESPN analyst Paul Biancardi
believes it depends on how much time is left
, and says to foul if there are less than six seconds left. This is consistent with most people who believe in fouling in this situation. Over a certain amount of time (usually six or seven seconds), let the kid try to be a hero.
Others, such as Mansfield coach Mike Vaughan,
say to play the odds
, and believe the percentages work in the favor of those who foul.
This was the line of thinking for Connolly, who wanted to foul Nelson in the backcourt coming up the floor.
"Percentage wise, I think I'd rather let them try to make one, miss another one, get the rebound and score," he said following the win over Central. "I'd rather play the percentages and foul. If it's under five, six seconds, we'll probably do that."
Then there are others, such as Central coach Rick Nault, who simply put faith in their defense and let the reigns go.
"I think you play defense straight out," he said following the game. "I believe in our defense, and I think let's just get the stop, as opposed to putting them on the line. Like we did, we got the offensive rebound and a chance to tie, I'd rather force a tough shot from 17 feet away. Some coaches take different approaches to it, mine is just different from them.
"I think [defense] is something we take a lot of pride in. Maybe it's the wrong move, I don't know, maybe it's the wrong strategy to have, but in that situation I guess it would depend on the coach. Personally, I would try to get the stop."
And then there is the unique third school of thought, shared by coaches such as New Mission coach Cory McCarthy,
who believes it depends on the dimensions of the gym
.
Allow the MIAA's mad scientist to explain...
"If I'm in a small gym, I'm up three, and the other team is bringing the ball down court, I put them on the line for free throws," he said. "If I'm at Brighton, Arlington Catholic, South Boston, small gyms like that, I [virtually] don't have a baseline. The chances of turning the ball over after I foul go up twice as much as before, as opposed to playing honest defense.
"I would foul if I'm at Emmanuel [College, an often-used neutral site], because I'm more than sure we can get the ball inbounds at Emmanuel's gym. Getting the ball inbounds is a hard thing to do, because sometimes the refs fall in love with the game and allow more contact. They're humans. I'd foul in our gym, but I wouldn't foul if we were in these smaller gyms."
He added with a laugh, "Take it from the guy that blew a 20-point fourth quarter lead," referring to the Titans' loss to Brighton last month.
There is no right or wrong answer, which is why this tends to become such a spirited debate. Two good reads for further thought:
*** Ken Pomeroy, the one-time Utah meteorologist whose advanced statistics on his popular
KenPom blog
have revolutionized college basketball,
had this interesting post last week
. Basically, those "statistics" Connolly talked about actually favor teams who choose to defend, by nearly two percentage points.
*** Rhode Island College head coach Bob Walsh
had this post late last month on his popular blog
, breaking down piece by piece how he fouls up three. Walsh believes in fouling with under 10 seconds, rather than six or seven. The Anchormen, for the unfamiliar, are one of the New England's most successful Division 3 programs, having made the last six NCAA Tournaments, wrapped up another Little East Conference title over this weekend, and leading Providence College at the half earlier this season in an exhibition game.
RUNNIN' DAWGS
After a surprise storming of the IAABO 130 Classic field, starting with a blitzkrieg of Springfield Central and culminating in a buzzer-beater over St. John's Prep for the tournament title, Lynn English is affirmatively on everyone's radar.
The Bulldogs made their season debut in ESPNBoston.com's statewide Top 25 poll at No. 12 this week, locked up the No. 6 seed in Division 1 North (good enough for a first-round home game), and are sitting pretty at 15-5, winners of 11 of their last 12 since a Jan. 8 loss to Danvers put them at 4-4.
"We've kinda flown under the radar for the most part this season," head coach Mike Carr said. "We came in with low expectations, we were picked low even in our own league. Everyone thought this would be a rebuilding year."
If there's a familiar feel to it, you're not paranoid. Whether this is the Bulldogs' best chance at a deep state tournament run since 2009 –- when they reached their first D1 state final in program history -– isn't totally out of left field, if only because there are some parallels.
The state final year of 2009 was Carr's first on the English bench, brought over to Buzzy Barton's staff after two decades at Stoneham. He installed a fast-paced, full-court man-to-man pressure defense that they rode to a 20-2 regular season record, a No. 3 seed in D1 North, and surprise upsets over heavy favorites Central Catholic and Brockton to make the state final in Worcester.
This season, Carr's second as head coach, the Bulldogs are often scoring in the high 70's and low 80's, just like four years ago, and apply similar pressure, often heaving the ball upcourt immediately after a basket.
Same as it ever was, the M.O. in Lynn is "Go, go, go."
The biggest difference, though, is the lack of a true superstar. Ryan Woumn exploded onto the scene that fateful year, eventually earning a scholarship to East Tennessee State before transferring to Division 2 Merrimack College for this season. This year's Bulldogs are incredibly young and devoid of size, relying on their backcourt of Freddy Hogan, Erick Rosario and Stevie Collins to set the tone early, and for senior center Ben Bowden to clean up underneath.
When you think of the great running teams of the 21st Century, you think of Newton North's back-to-back state championship squads, led by one of the nation's best backcourts in Anthony Gurley and Corey Lowe; you think of Jack O'Brien's Charlestown juggernaut, winners of five D2 titles in six seasons with virtuosos like Rashid El-Kaleem, Tony Chatman, Alan Taylor, Ridley Johnson and Tony Lee.
It's generally perceived that in today's climate, teams across Massachusetts are less inclined to press. There are some terrific pressing teams out there, from New Bedford's 2-2-1 zone to Everett's diamond trap, but you won't find many teams playing Carr's style.
Carr prefers the man-to-man method for its unpredictability. Unlike zone looks, where there are clearly-defined trap spots and zone holes, the traps in Carr's look are always coming from different angles. For that, it's hard to teach – Carr estimates it usually takes about half a season – but when it clicks, it's hard to break.
Exhibit A –- or perhaps, the piece de resistance –- was Sunday's 81-73 upset of defending D1 state champ Springfield Central, in which the Bulldogs forced 37 turnovers by the Golden Eagles, or an average of 1.15 per minute. Central's highly-touted sophomore big man Chris Baldwin attempted just five field goals on the afternoon, mainly because the Eagles' guards struggled to get the ball over halfcourt.
"The reason we do it with our kids, they're so athletic," Carr said. "They're city kids, and you find it's a more fun way to play. For us, every kid has a place they're supposed to end up, but it's more about allowing kids to be creative, more aggressive and play to our strengths, making kids constantly come down the floor.
"A lot of times, I'm sure people sit in the stands and think it's street ball. But there's much more to it."
For all the talk about English's sudden surge behind the run, and their dedication to conditioning during practice, due credit also goes to the Bulldogs' renewed dedication to offseason weightlifting. Assistant coach Steve Stranahan, known for leading the team's post-practice stair drills, installed a basketball-specific lifting program that transformed the guards' upper bodies.
"Erick Rosario is a skinny little kid, but he lived in the weight room during the offseason, from the end of last year to this year, in there every day," Carr said. "I think it's given him confidence. He's a shy kid, but the weight room has given him a different strength. It's given them a little bit of swagger.
"Stevie Collins is one of the best competitors I've ever coached in my career. Freddy Hogan didn't have the greatest of tournaments [at IAABO], but he lived in the weight room, with a weighted vest. I truly feel the weight room has helped us."
Looking up and down the roster, the young depth, and the young promise –- from the backcourt, to forwards Danny Lukanda and Johnny Hilaire –- it's hard not to like the Bulldogs' chances in 2013-14. But the future may have arrived ahead of schedule.
CITY PREDICTIONS
With the help of correspondents Chris Bradley, Rob Sarmiento and Ryan Kilian, here are our picks for Boston City Championships, which begin this afternoon at Madison Park High School and conclude Thursday night.
Brighton (13-6) vs. South Boston (11-7)
Brendan Hall:
The last time Southie was relevant, Monty Mack and Jonathan DePina were leading the Knights to coach Bill Loughnane's third state title in five years. That was almost 20 years ago. Nice story for Southie here, but too much offensive virtuosity to handle here.
Brighton by 10.
Rob Sarmiento, Beantown Hoops:
Southie is a great story, but there's way too much talent on Brighton's side, and they are battle tested after their showing at the Comcast Tournament.
Brighton by 12.
Ryan Kilian, Mass. Prep Stars:
It is exciting to see Southie basketball back on track and in the hunt for the city title again. That being said, Brighton is too talented and battle tested and should get back to the Boston City league title game. Brighton plays one of the state's toughest schedules and is coming off a recent second place finish in the Comcast IAABO Board 27 Classic title at Babson College. After defeating a balanced and heady Danvers team, Brighton dropped the championship game to BC High.
Brighton over Southie
Chris Bradley, ESPN Boston correspondent:
Brighton has been playing good basketball in the second half of the season, but even after beating Danvers at the Comcast Tournament and coming within four points of a very good BC High team, I'm still not sure they've fully shaken off the inconsistency that we saw from them for the majority of the first half of the season. Because of their major size advantage on Southie, I'll take the
Bengals by double digits.
New Mission (13-5) vs. Dorchester (13-7)
Hall:
Upset special. Dorchester is riding high after upsetting Brighton on Friday, and the Bears have as good a group of talent as any in the city. Plus with the return of junior D'Bryant Coraperez, that's now two 6-foot-7 big men to account for, freeing up the talented guards. New Mission needs its young backcourt to grow up quickly if the Titans are going to make a run.
Dorchester by 5.
Sarmiento:
What New Mission team will show up this week is the big question. The one that beat Mansfield or the one that blew a big lead to Brighton? That being said I think Coach McCarthy is due for a city championship and although talented, Dorchester hasnt been on this stage before and New Mission has.
Titans by 6.
Kilian:
The other semi-final between Dorchester and New Mission should be a battle. Dorchester is one of the better stories of the 2012-2013 basketball season and showed that they belong after a recent win over Brighton. New Mission should be very hungry to get that City championship and I think they get there as they have nice balance and when clicking on all cylinders are one of the best teams in the State.
New Mission over Dorchester
Bradley:
New Mission simply isn't the same team after losing Fred Rivers and Isshiah Coleman (who could still potentially be back for the D2 North tournament). Dorchester has a lot of shooters around talented big man Dakari Wornum, but those shooters are also very aggressive guards who have the ability to attack the rim on every possession. Given all the attention that will go to Wornum, I think New Mission will have too many lapses defensively to win. It will be a close one, but I'll take
Dorchester 50-49.
City Championship
Hall:
This one's going to be about who can bang on the boards the hardest, and you can't get much better than Brighton senior Prince Unaegbu. Bengals coach Hugh Coleman, one of the truest class acts you'll ever come across, gets his first Boston City League championship.
Brighton, 65-55.
Sarmiento:
New Mission won't blow a big lead this time as the game will be back and forth. But they are one of the few teams in the state can match up with Brighton' s athleticism.
New Mission, 55-52
Kilian:
There will be no letdown for New Mission in the Thursday's night's title game as the challenge of beating a team three times in one-season plays a large factor here.
New Mission, 65-60
Bradley:
Brighton vs Dorchester in the finals will be an interesting matchup--both have talented forwards, guards who can hit big shots from outside, yet both teams have also been pretty inconsistent in their play this season. Dorchester beat Brighton this past Friday by double digits, however, given the fact that the stakes have been raised since then, expect a rockfight in this game. I'll take Dorchester as this year's city champion.
Dorchester, 56-51
February, 19, 2013
Feb 19
5:03
PM ET
We updated our statewide MIAA Top 25 boys basketball poll this afternoon. To view it,
CLICK HERE.
EDITOR'S NOTE: This will be the final boys basketball poll update of the regular season. The next poll update will be on March 18, following the MIAA state championships in Worcester.
A few notes and observations about this week's poll:
Bulldogs bite heavyweights:
Two state title contenders, Springfield Central and St. John's Prep, were upset on consecutive days by Lynn English in the IAABO Board 130 Classic, at Central Catholic's Memorial Gymnasium. In the championship game over Prep, junior guard Freddy Hogan sank a 10-foot runner at the buzzer to send the place into a frenzy. With the win, the Bulldogs have now won 11 of their last 12, and make their season debut at No. 12 in our poll.
Big shifts:
A number of upsets to ranked teams made for quite the interesting shuffle. Follow along:
*** Central Catholic drops one spot for its loss to St. John's Prep in the IAABO 130 semifinals, but avoids dropping further on account of an impressive win over Springfield Central, thrashing the Golden Eagles by 25 in the consolation game.
*** North Andover takes a drop six spots to No. 11 following its loss to Westford Academy on Monday. Hard to drop the Scarlet Knights much further, on account of their record in the Merrimack Valley Conference -- the Knights have a win each over Central (4), Lowell (8) and Andover (21).
*** Danvers drops five spots to No. 9 following losses to Brighton and Newton North in the Comcast Tournament. The previously-unbeaten Falcons lost point guard and Northeastern Conference MVP Eric Martin to an ankle injury in the second half of the Brighton loss, and his presence was sorely missed in a 58-42 North thrashing the following day.
*** Mansfield and St. John's Prep each suffered a loss this week -- the Hornets in overtime to rival No. 23 Franklin, and Prep to Lynn English in the IAABO 130 final, at the buzzer. Considering the scenarios, everybody else losing, each team following up with a win over a Top 25 squad, and both teams holding wins over No. 3 BC High, we decided to keep Mansfield and Prep at the Nos. 1 and 2 spots respectively.
*** Two Western Mass. powers stumbled. Putnam fell six spots to No. 14 following its first loss of the season, to West Springfield. Springfield Central took the most dramatic drop of any team this week, plunging 12 spots to No. 22.
Debuts and returns:
In addition to Lynn English, North Reading is also making a season debut in the polls, at No. 25. The 19-0 Hornets are one of two remaining unbeatens in Massachusetts, along with No. 5 Melrose (19-0). Westford (19) and Franklin (23) make returns to the poll this week after extended absences.
Here's how the poll breaks down this week by league affiliation:
Merrimack Valley - 4
Boston City League - 2
Catholic Conference - 2
Hockomock - 2
Mid-Wach A - 2
Northeastern - 2
Valley Wheel - 2
Bay State - 1
Big Three - 1
Cape Ann - 1
Central Mass. Conference - 1
Dual County - 1
Dual Valley - 1
Middlesex - 1
South Coast - 1
Valley League - 1
February, 18, 2013
Feb 18
1:20
AM ET
LAWRENCE, Mass. -– Erick Rosario was asked about his flammable night in the IAABO Board 130 Classic, a career-high 38 points on 13-of-19 from the field in a surprise 81-73 upset of No. 10 Springfield Central in Central Catholic's Memorial Gymnasium, and the shy Lynn English sophomore mumbled a few terse clichés.

But when the 5-foot-10 guard was asked about the team's frenetic pace, and whether it was tiring (it wasn't), his head coach Mike Carr couldn't help but chime in from beyond his shoulder.

"Tell them about the stairs," he said with a smile.

Rosario let out a giggle. "We go hard," he said of the daily post-practice routine, an intense 10-minute session involving sprints up and down the four-story steps of his high school.

At times, the Bulldogs' pace became more chuck-and-duck than run-and-gun. Other times, it was just plain blitzkrieg. All of it overwhelmed the Golden Eagles (15-3) more and more as the game wore on, turning a 35-31 halftime lead into double-digits as the forced turnovers and ensuing fast breaks continued to mount.

In all, the Eagles committed 37 turnovers for the game, unable to cleanly break the full court man-to-man press of the Bulldogs (14-5). Things began to unravel late in the third quarter, after Central's Ju'uan Williams darted through the lane with a euro-step and completed a three-point play to tie it at 44.

The Bulldogs took a 54-51 lead into the final frame, and shot out of the gates with a 12-4 run to build a comfortable cushion. Fueling the run was the play of Rosario and junior Freddy Hogan, who combined for 10 steals in the final frame.

One particular sequence at the start of the fourth put them over the top. First, Central's Josh Malone was trapped near the scorer's table by Rosario, who then lobbed the ball downcourt to Hogan for an easy lay-in. The next time down, Hogan came up with a steal near the volleyball line and threw a quick dish to Rosario.

The next time down, Rosario shimmied a defender with a euro-step and foul, completing the three-point play. That was followed up with another Rosario strip-and-rip fast break layup, followed by an unforced error from Central for a 67-55 English lead with 5:03 to go.

"If we're not playing that style, we're not a very good basketball team," Carr said. "I think we wore them down in the first half, with that style I don't think they're used to it, the up and down. We're growing, we're getting better as a team. We're young. I just think it's our style, it's starting to make us a better basketball team."

Central head coach Mike Labrie conceded that the pressure -– in particular, the on-ball pressure from Hogan and Rosario – was at a level they're not accustomed to.

"We haven't faced that kind of pressure all year," he said. "So, I think this is a good experience for us. It's kind of embarrassing, frustrating, but I think we'll be better for it.

"I don't think I've ever coached a team that's committed that many turnovers in a game. But you've got to give credit, they kept after it too. They didn't get tired. We weren't strong with the ball at all. We shot over 60 percent from the floor, so when we got shots up we were in good shape."

Senior center Ben Bowden was the only other Bulldog in double-figures, with 16 points. Hogan turned in an impressive stat line otherwise, tallying seven steals and four assists, while sophomore guard Stevie Collins and junior forward Danny Lukanda pitched in with eight points apiece.

Central, dressing just nine players, had four of its five starters in double-figures. Senior wing Kamari Robinson led the Eagles with 22 points, while Cornelius Tyson (15), Ju'uan Williams (13) and his cousin Cody Williams (11) all played significant hands.

The Eagles' fifth starter, 6-foot-8 sophomore phenom Chris Baldwin, had just seven points on 3-of-5 from the field, but was big on the defensive end. He totaled 15 rebounds -– all of them defensive -– and blocked five shots.

Running –- to a stand still: At times, the Bulldogs' tempo resembled something from Paul Westhead's famous "seven seconds or less" squads at Loyola Marymount, heaving long outlet passes upcourt immediately after a basket and wasting no time on the shot clock.

Other times, surprisingly enough, they were patient with the ball, running the clock down and working to get an open look. For all the talk of steal after steal, and frenetic speeds up and down the court, English also demonstrated patience in the half-court.

"It's something we talk about, too. We run the flex quite a bit, and it's a methodical offense," Carr said. "It takes a while. Sometimes during the course of the season, because we're so up and down, the first pass in the flex they shoot it. The last couple of days we've improved on that, and they did a great job today coming off screens."

Running –- to a marathon: After each practice, Carr has his team run up and down the four flights of stairs in the school building, adding on to an already-heavy concentration on conditioning.

"Even our basketball drills, our first hour is up and down the court," Carr said. "Every drill, we do man-to-man defensive drills…It's just constant, we don't stop for an hour, then we get our shooting in."

That grueling routine paid off in games like tonight's, where the backcourt looked like it could run all night. Hogan and Rosario were relentless in the Bulldogs' full court man-to-man pressure, picking up their man immediately, staying on their hip and denying clean passes.

"This style, you give up layups, you give up open looks," Carr said. "It's more that we feel we wear teams down as the game goes. I feel we've had some success with that."

Coming on strong: On paper, the Bulldogs figure to be a preseason favorite in 2013-14, with the graduation of just one player – Bowden, who is signed with Vanderbilt's baseball program for next year. But lo and behold, since their Jan. 9 loss to Danvers , they have won 10 of their last 11 games, the lone blemish a one-point loss to Beverly.

That Danvers loss put the Bulldogs at 4-4 on the season. One month later, they're looking at potentially a No. 6 seed in a loaded Division 1 North bracket, good enough to earn a first-round home game.

"I couldn't be more proud of where we've come from the beginning of the season to now," Carr said. "I said at the beginning of the season, we're a young team and we'll get better. Over the last week or two, it's been a steady progression. I think our tempo, and everyone's understanding of what we want, is why we're starting to have success."

Up Next: With the win, Lynn English moves on to Monday's finals against St. John's Prep, which survived a late rally from Central Catholic in the nightcap before a capacity crowd, 64-62. The boys final goes down at 7:15 p.m. and will conclude the two-day tournament. Springfield Central will face Central Catholic in the consolation game, at 3:45 p.m.
January, 10, 2013
Jan 10
1:40
AM ET
DANVERS, Mass. -- Devoid of real depth in the size department, Lynn English looked to push tempo and run at all times Tuesday night. And stocked with multi-sport athletes accustomed to continuous sprints, No. 4 Danvers was more than up for the track meet.
The Falcons took a slim four-point lead into the break, but exploded for 30 points in the third quarter, and outscored the Bulldogs 48-32 in the second half overall to pull away with a nice 90-70 victory in its own field house.
"We went into this game thinking, if it's in the 60's or 70's, we lose," head coach John Walsh said. "Obviously it wasn't our goal to play at that level with that many points scored, but they make you do that. They make you run. For a minute there, I thought they had us."
With that in mind, perhaps just as impressive is the fact that the Falcons (6-0) used just six players on the night. Five of them scored in double-figures, led by seniors Nick McKenna (23 points) and Dan Connors (20 points, eight rebounds). Senior Eric Martin also notched a solid night distributing, finishing with 13 points and eight assists.
[+] Enlarge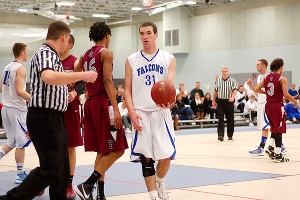 Brendan Hall/ESPNSenior forward Dan Connors exploded for 14 of his 20 points in the third quarter for Danvers, en route to a 90-70 win over Lynn English.
Walsh admitted he thought Martin looked tired by the end of the game, even calling a timeout with a minute left worried that his senior point guard "was going to pass out". But in the same thread, Martin's star career on Danvers High's soccer pitch has him conditioned for this type of action.
"I was definitely tired at the end there, but for most of the game I can keep going more than other kids because of soccer," Martin said.
Holding on to a 42-38 halftime lead, the Falcons took command of the game in the third quarter with a 30-point outburst. English forward Ben Bowden picked up his fourth foul early in the quarter, leaving the Bulldogs (4-4) shorthanded underneath the basket. The Falcons took advantage, running a slew of sets through Connors as he repeatedly either found space around the rim for easy bunnies, or simply stretched behind the blocks to either clear the runway for Martin or set up an open three with a screen.
Connors was a perfect 7-for-7 from the field in that quarter, while Danvers was 4-for-5 on three-pointers overall, getting two each from McKenna and Vinny Clifford (16 points).
Danvers led comfortably 72-52 headed into the final frame.
Postal Service:
With Bowden on the bench with four fouls, the Falcons exploited the ensuing mismatch down low with Connors in a multitude of ways.
"We just started doing everything right, just flashing the ball like we were supposed to," Martin said. "I think Danny was open five times under the hoop, just getting it down to him, he started finishing his layups. So once we took care of all the little plays that we didn't [do] in the first half, things just opened up for us."
He added later, "We knew if we got him the ball, at least if he didn't score they were going to foul. So we started getting him the ball, and everything else just opened up. We started moving it from inside-out, and everything else started opening up."
One particularly successful method involved cross screens, or screens set with lateral movement to create an opening in the post area. As a cross screen was set underneath the basket for Connors, Martin was usually coming off of a flare screen, or a screen set near the three-point line aimed at releasing the shooter fading to the wing for an isolation play.
"AFter Vinny Clifford sets the initial screen, when he gets to the corner, it's almost like...if you don't switch it, he's going to get an open look in the corner," Walsh said. "Which he did, so he hit a couple of three's. And that makes it so that you have to know where he is at all times. And if not, Danny Connors is coming to the back, almost like a flex cut, but it's set by the point guard and then they have to decide whether to go after Vinny or Danny. It worked out well."
Run, and run some more:
To establish their affinity for the uptempo, the Bulldogs came out pressing from the get-go, switching off between man-to-man and 1-2-2 looks -- and still, later some 2-1-2 sprinkled in, which Danvers solved with some movemenet up the sidelines.
To keep pace with it, that requires a certain level of conditioning. Most of the Falcons are multi-sport athletes. Some, such as Martin, are accustomed all of this run-and-gun style from his standout career as a soccer player, having scored more than 100 career goals for the varsity.
"We're blessed with Eric, because he's a soccer player that can legitimately run forever -- I mean, forever," Walsh said. "And our other kids are just used to it. It's a philosophy I've had."
Young, but promising:
With just two seniors on the roster, the Bulldogs are a bit green this year. But that isn't to say there isn't talent abound in the program, with players like junior Freddy Hogan (23 points) and sophomore Erick Rosario (10) leading the backcourt.
One in particular to keep track of the next few years might be Johnny Hilaire, a 6-foot-6 sophomore slasher with an above-the-rim style brought on by a fairly impressive vertical leap. Hilaire exploded for eight points in the fourth quarter on a perfect 4-for-4 clip from the field, highlighted by a tomahawk dunk in transition. He finished the night with 12 points overall.
Both Walsh and English coach Mike Carr made a comparison to former ESPN Boston All-Stater Keandre Stanton, who had some low Division 1 interest before settling at Frank Philips Junior College, in Borger, Texas, where he is a freshman.
Said Carr: "He's an athlete, he does a lot of nice things. He's only a sophomore, he just has trouble picking some things up, that's why he's not playing as much. But he will, he's a good kid. It's a great group, they work hard."
Said Walsh: "He's going to be him [Stanton]. It's freaky how quickly he gets off the floor. I don't know he jumps as high as Keandre -- I don't know if I've ever seen anyone in my life jump as high as Keandre ever -- but he's pretty close. And he's only a sophomore, so that team is loaded -- loaded -- for the next couple of years."
January, 31, 2012
1/31/12
11:01
PM ET
By
Shawn Myrick
| ESPNBoston.com


LYNN, Mass. -- Whenever or where ever Lynn English needed a pickup on Tuesday, Catherine Stinson was ready to give it to them.

In a battle of Northeastern Conference division leaders, it was the sophomores guard's complete shooting range that proved the difference for the No. 6 Bulldogs .

Scoring 17 points from all over her side the court, Stinson propelled host English to a 40-34 victory over Swampscott.

"I told Catherine (to) keep shooting," said English coach Fred Hogan. "She will make the big assist, she will make a great pass, and she will hit the big shot. She does not get bothered or rattled."

With the Bulldogs (13-1, 12-0) and the Big Blue (10-3, 9-2) each holding a solid lead in their divisions (Lynn in North, Swampscott in South), the win was a statement as to who was the best in the conference at the halfway point in the season.

The two teams started the game slow, but a deep step-back 3-pointer by Stinson helped heat the Bulldogs up with a 7-6 lead. After missing eight behind-the-arc attempts in the first quarter, English hit four treys in the second to pull ahead.

An in-motion jumper by senior Tyeisha Lewis six minutes later sent the Bulldogs into half up 18-12.

"I just do a stepback then I feel it and shoot," said Stinson. "We could score up and after that we could get back on defense. I feel (the shot) in the motion."

By attacking underneath Swampscott managed to keep in range, but were unable to offset the Bulldogs shooting. A three-of-seven foul-line ratio to open the second half hurt the low-paint focused Big Blue.

Swampscott did not lead again since squandering an advantage early in the second quarter.

A planted 3-pointer hit through a blocker's hand by Lewis gave English its biggest margin of the night at 34-20 with 4:30 left.

"We had to make it our style of game (by) going to the hoop and making our shots," said Hogan. "We came out (of the half) with a lot of full court man-to-man. We will have to play real (strong) man-to-man in the state tournament."

Swampscott showed life in the final minute when a drained corner trey by junior Ara Talkov brought the score to 39-34 with 19.6 seconds left. However, a blocked inbound attempt by Talkov and a swiped pass under the basket by the Big Blue did not produce points.

"We are never going to stop playing and a lot of the kids made their shots (late)," said Swampscott coach Jack Hughes. "We finally made some shots, but we did not make too many overall."

Stinson is fully recovered from an ankle injury that she suffered in 51-37 win over Saugus. The sophomore flipped six assists and grappled five blocks, while teammate senior captain Taylor Newhall grabbed eight rebounds.

Junior Ara Talkov led Swampscott in scoring with 14 points and 13 rebounds, while Laskaris had 13 points and 10 rebounds.

"(Laskaris and Talkov) are our two most experienced players and they have to come through," said Hughes. "We tried some zone and man, but struggled offensively."